About Parked In Paradise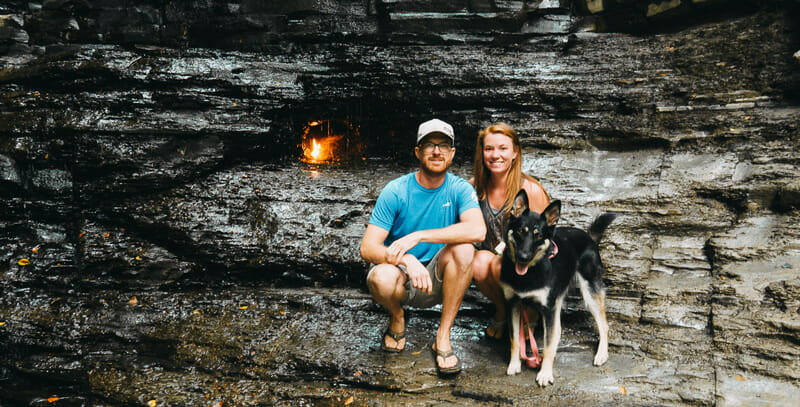 Hello! We are Kate and Ian and we've been living in a van with our dog Harper since March 2017.
With as much research as we did when planning our adventure, we still encountered plenty of surprises on the road!
This website came into fruition to help others who are thinking about living in a van or beginning the build process.
We noticed a lot of vanlife blogs have great detailed breakdowns of the owner's particular build. However, it's harder to find guides that help you build your camper van rather than someone else's.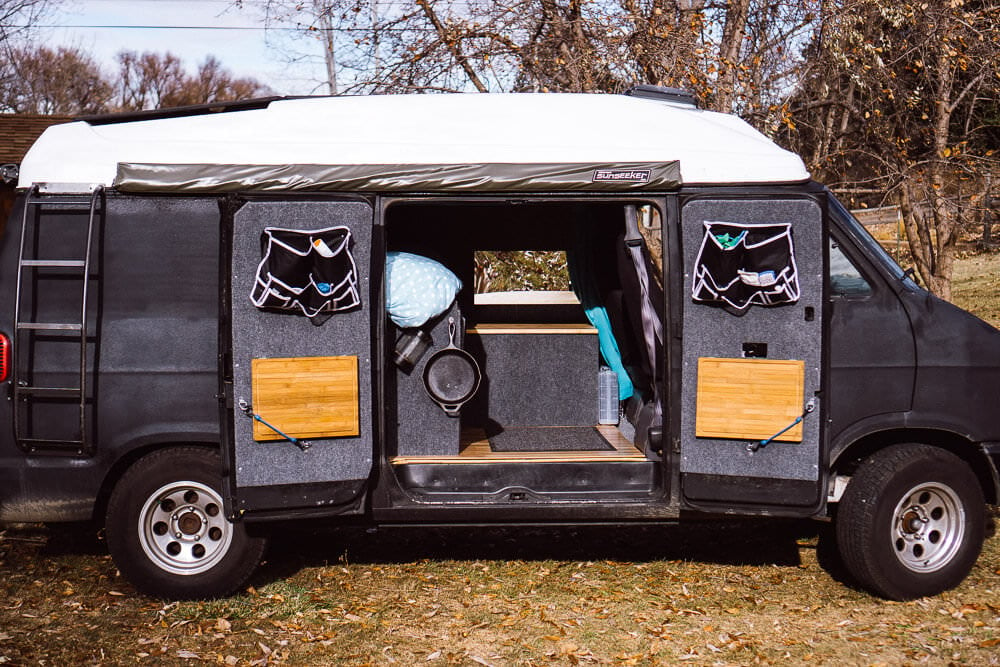 Our goal with Parked In Paradise is pull all of this information together and create a resource of the most popular and available options to vanlifers.
We want you to be able to confidently build a van personalized to your lifestyle.
You'll notice there are few definitive answers on this site. There is no 'best way' to live vanlife because it differs for everyone. Read each post with an open mind and enjoy the journey!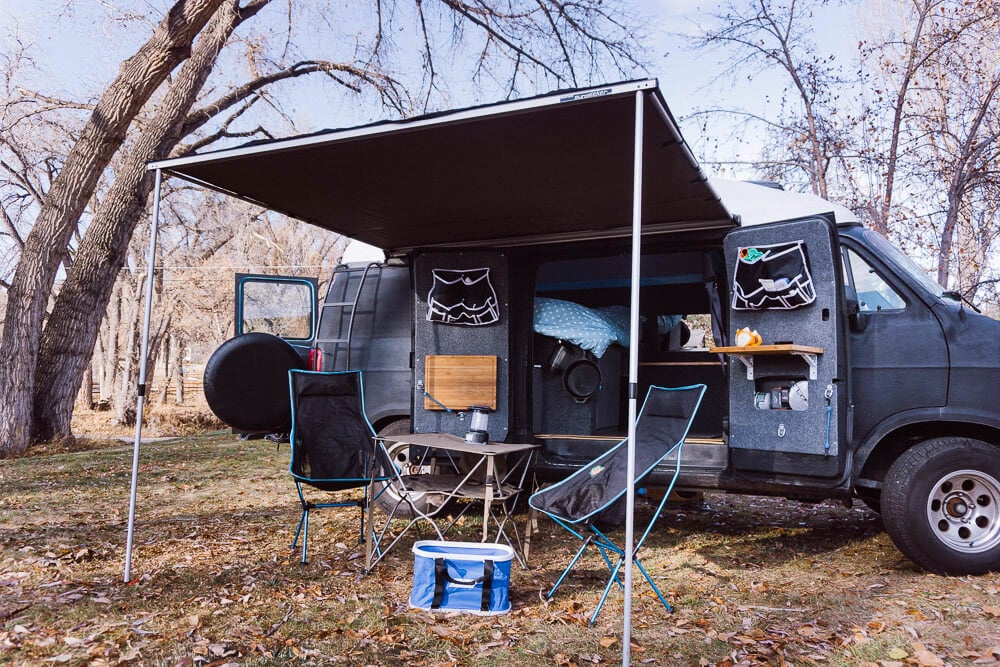 FAQ
What kind of van do you have and how much did it cost?
We live in a 1996 Dodge Ram B1500
We purchased the van on craigslist for $3,200 and put roughly $5,000 into repairs and building it out
Fun facts:

Our van crossed the 300,000 mile mark in February 2018
In the first year we had 3 breakdowns. With those and standard maintenance we spent ~$2,000 in upkeep.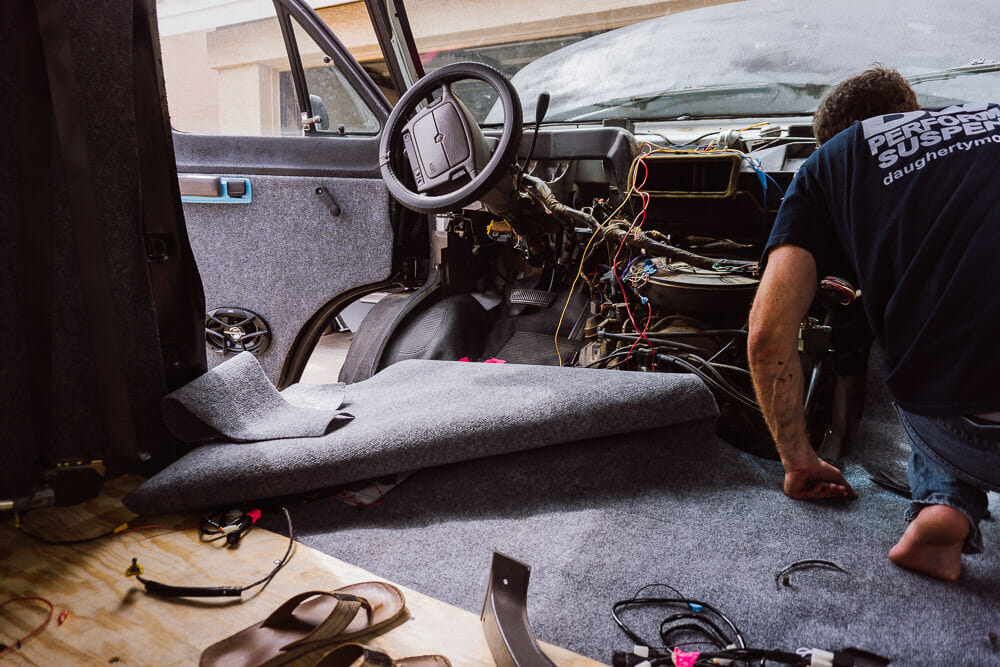 How long do you plan on traveling?
When we first set off on this adventure we planned for 8-10 months. Roughly 2 months into the trip we decided we wanted to do it much longer.
We've now passed the 1-year mark and at this point, we don't plan on stopping in the foreseeable future.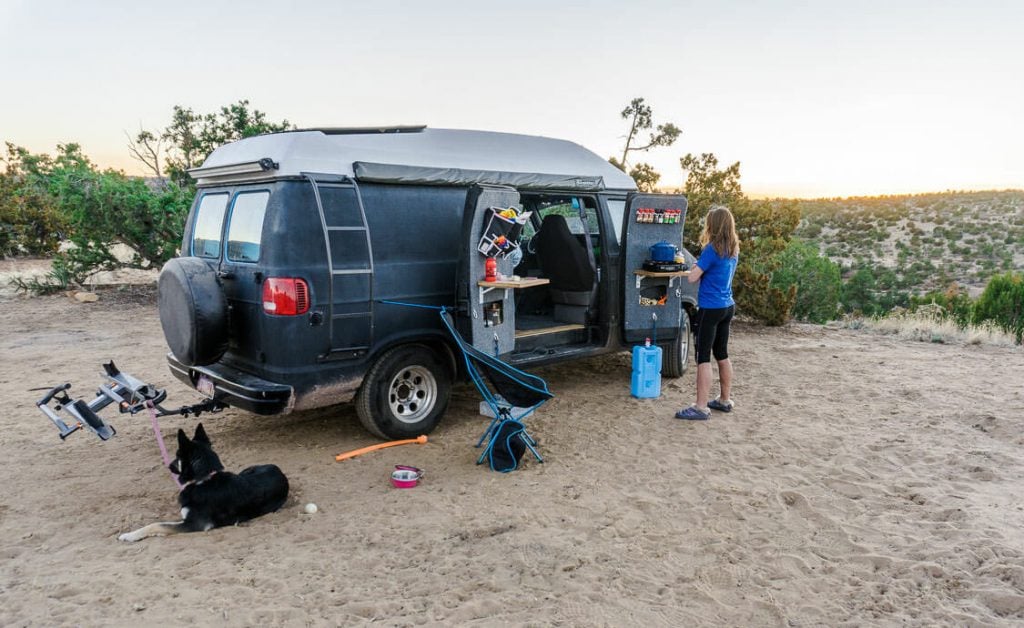 How do you make money on the road?
Kate is a freelance Graphic Designer & Front-end Developer.
She started her business about a year before the road trip and grew a stable client base to maintain during travels.
Ian is an Industrial Designer. He was able to transition his full-time job to a remote contract position once we hit the road.
Our website ParkedInParadise.com also brings in some money from affiliate marketing and ad placement.
In the early days, it was also used as a guinea pig site so Kate could test web things she didn't feel confident trying on client sites yet.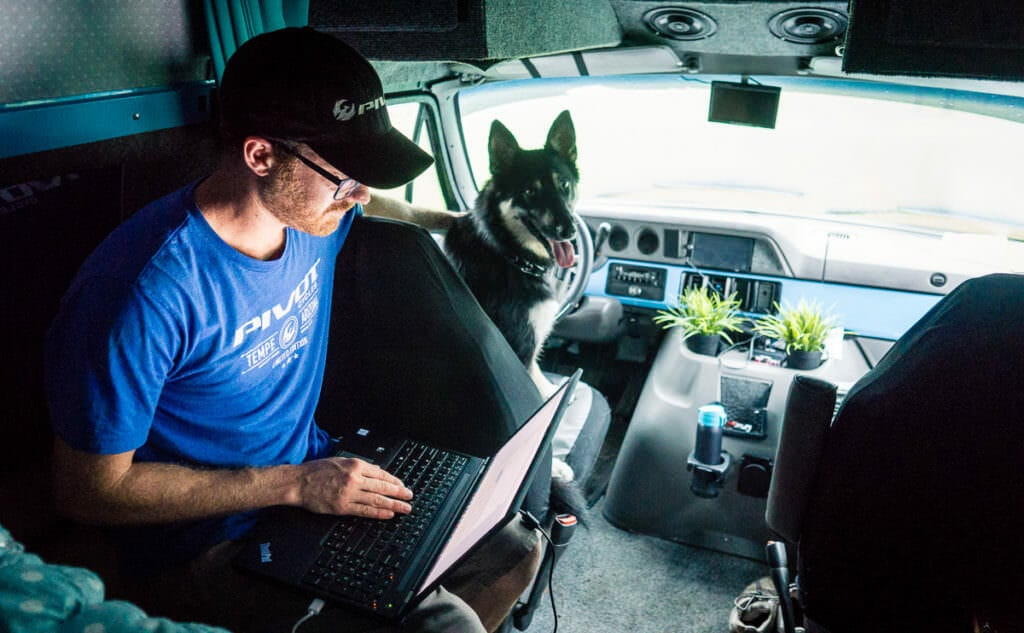 Where do you go to the bathroom, take showers ect.?
We consider ourselves adventure travelers and spend the majority of our time in campsites, National Parks, or on BLM land.
Bathrooms and showers turned out to be one of our biggest unfounded concerns and we address most of those questions in our blog.
That said, our way of life would certainly be different if we were spending more time in cities.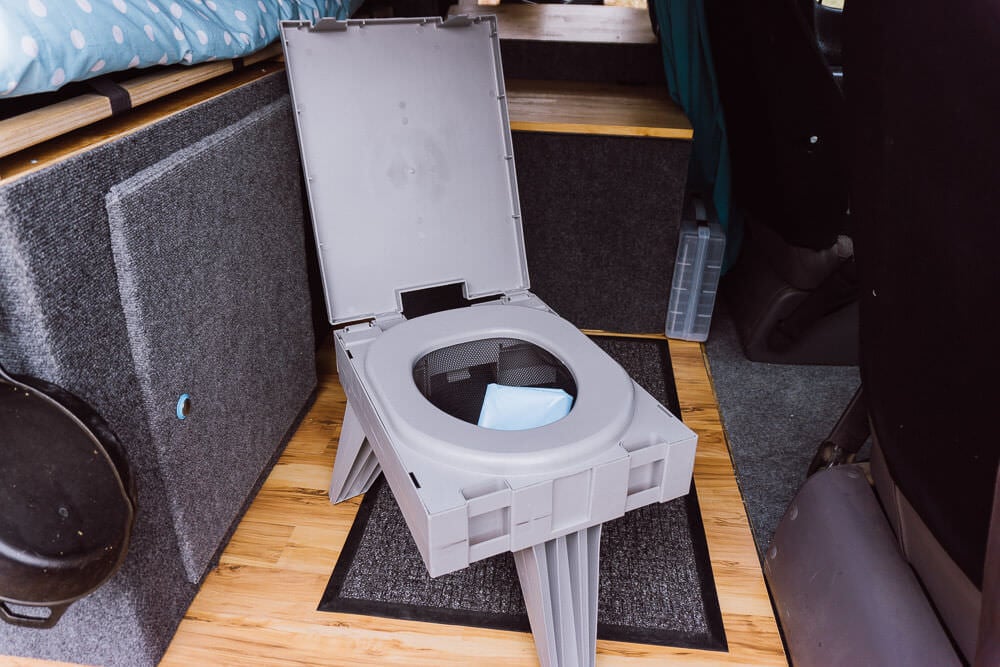 How does your dog like the road?
She loves it! We had taken her traveling quite a bit before this road trip so we knew she'd be fine.
She knows the van is her home and comes running and hops inside whenever the engine is on.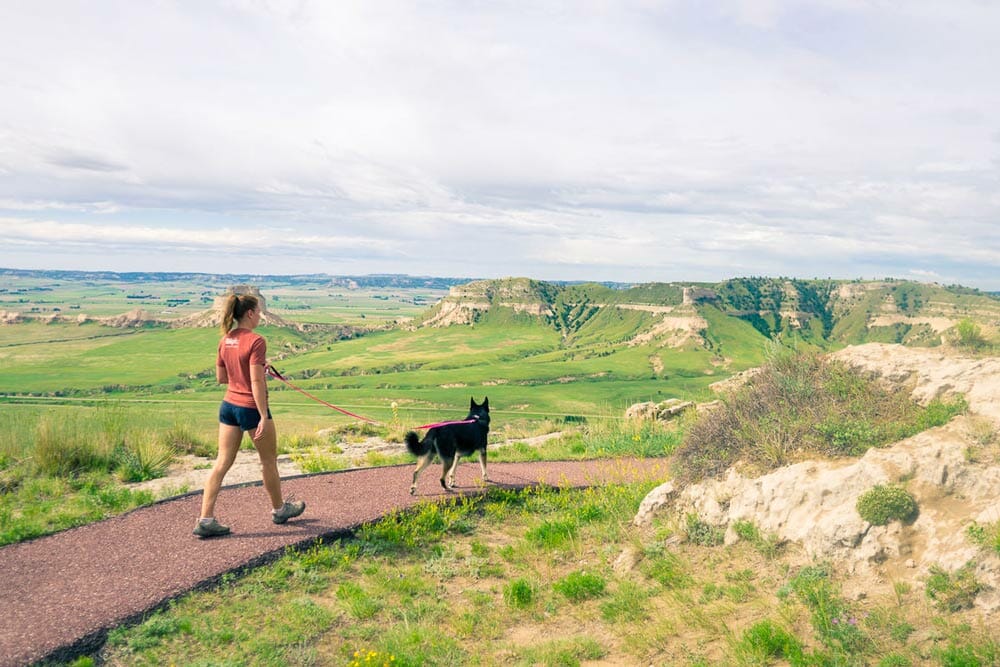 How has your diet changed since starting vanlife?
There's a stereotype that people who live in vans are all vegetarians or vegans. That's not true for us, but we have naturally cut most meat out of our diet because vegetables are much easier to clean and store on the road.
We tend to only eat steak or burgers at restaurants.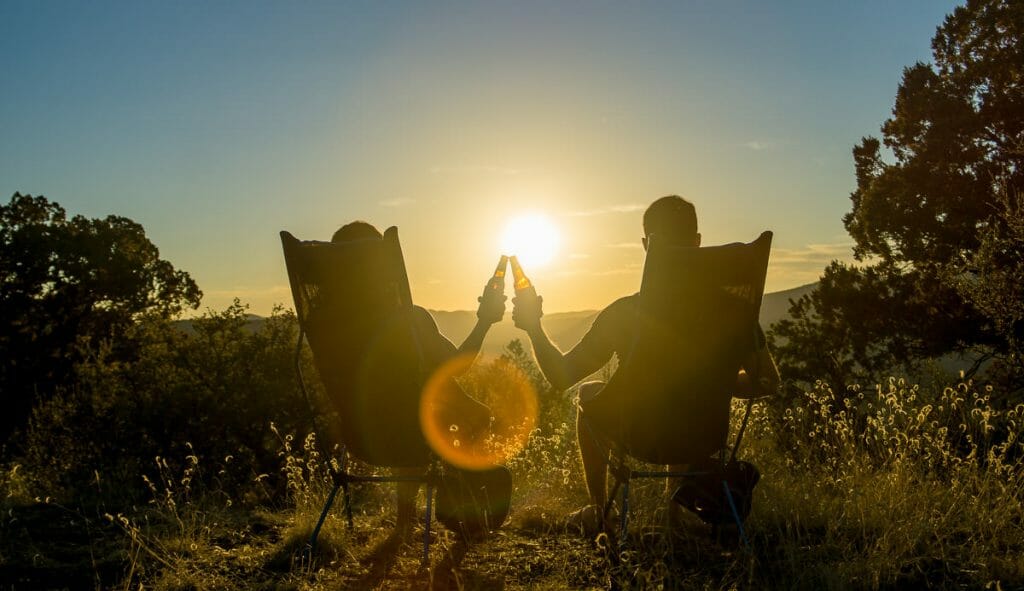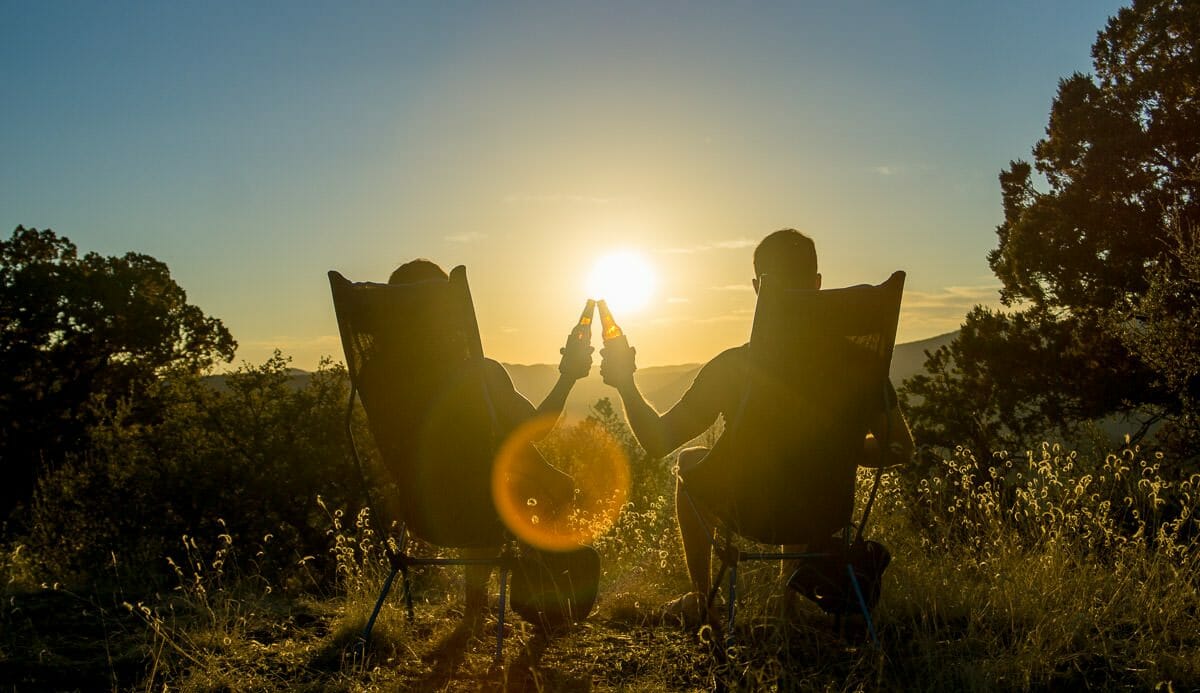 If you could change one thing about your van what would it be?
We weren't sure how much we were going to work on the road and didn't really take the workspace into consideration.
If we were to do it again we would put some kind of desk or proper seating in it.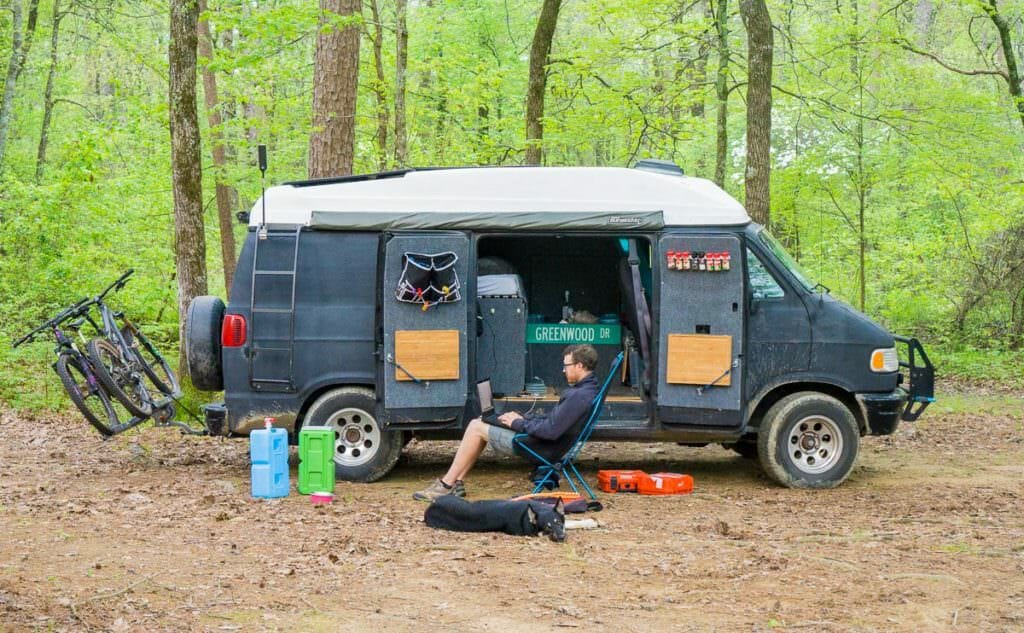 What was your biggest surprise?
How little free time there is. When we first started we thought we'd get to spend everyday driving, hiking, working, reading, doing yoga, and taking on new hobbies.
The days go by much faster than you would expect and there never seems to be enough time. There are also quite a few other surprises we've found along the way. You can read about our first year's experience here.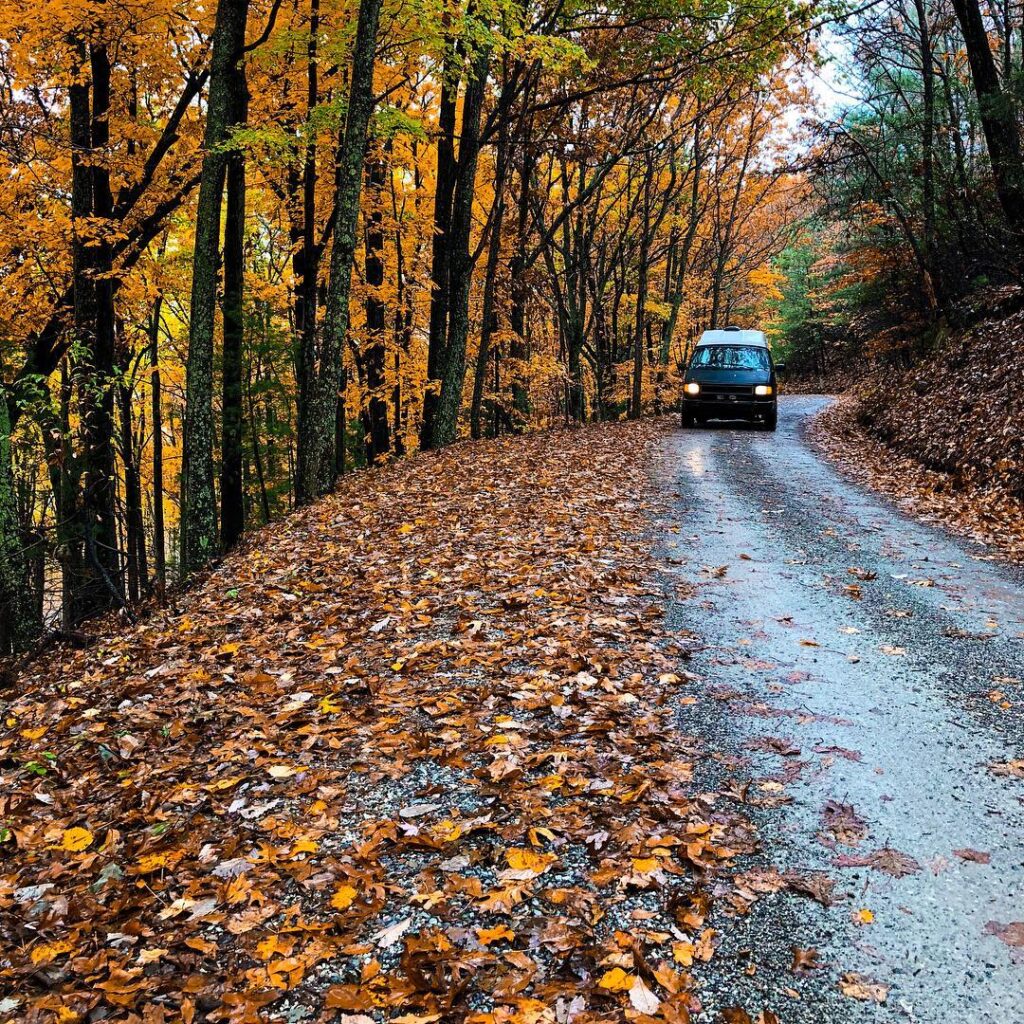 What advice do you have for people wanting to start the van life?
Think about what type of traveler you are and don't try to be all things. Building a stealth van is not very important if you aren't urban camping in the city every day.
You don't need to hide the fact that you are living in a van unless you're staying in one spot all the time or getting in the way.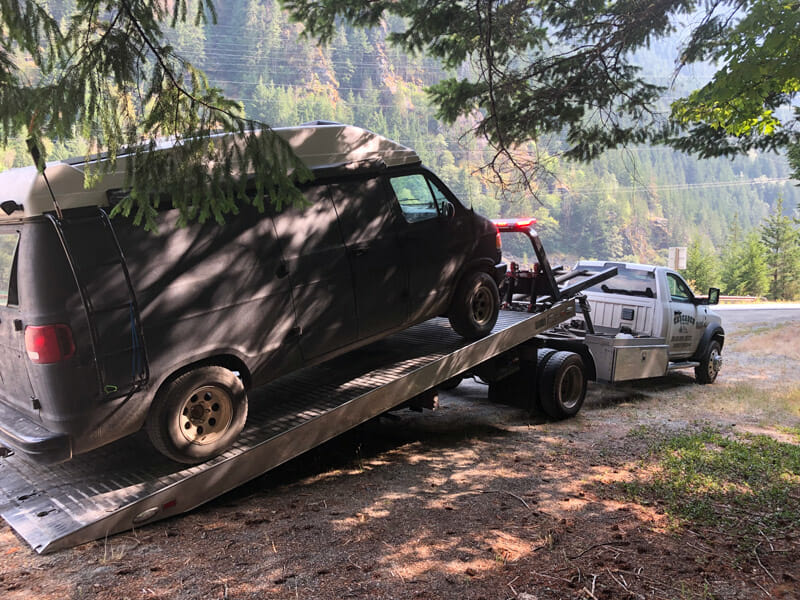 *2 year update*
We are no longer in the van! What happened?
Our six-month summer vacation turned into a two-year excursion. All of this solidified a change in our outlook on life!
At 326,000 miles on the odometer, the van's water pump got hungry and started eating into the engine block. With no phone service, stuck deep in the Washington Cascades, Ian spent his afternoon holding his thumb out on the side of the road and hitching a ride to the nearest town (over an hour away).
Meanwhile, Kate and Harper diligently guarded the van with pre-downloaded episodes of the Simpsons.
In short, we needed a new engine and we were too far from a landing spot where Ian could source one and make the swap himself. With all of this happening at peak tourist season (and during a holiday weekend), hotel prices didn't bode well for waiting around.
Because the van was still in great shape and just needed a new motor, we listed it locally looking for someone that was interested but wasn't pressed for time. In less than a day, we connected with a Craigslist buyer that had a deal we couldn't pass up. He was a mechanic with a running 1991 Dodge van and was willing to trade for our dead camper.
Two days later we swapped titles and gear, handed over the keys, and drove away in our even CREEPIER new ride.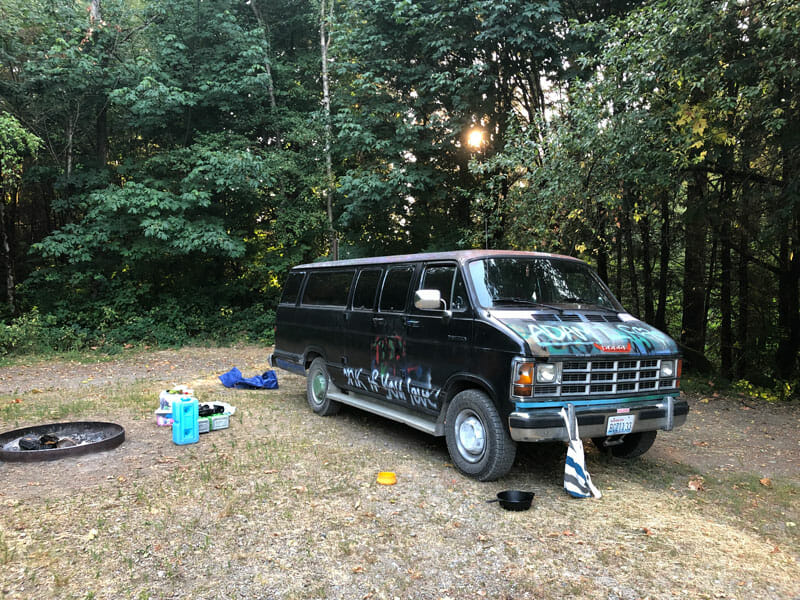 Because of the rushed situation, we didn't have much time to lament the loss of our home. It was probably for the best as we wouldn't have been able to part with it otherwise.
We spent about a week living in the new van to check the remaining two states off of our continental 48 list. Side note: living in a non-built van is significantly less comfortable than one we had designed.
Later, we said hello to our first sticks-and-bricks home in a long time.
What's next?
We didn't realize that we would be so hooked to life on the road. We like to make intentional plans and have re-evaluated many priorities based on our travels. It's hard to say what that will end up being.
We still keep in contact with friends we met on the road. Kate found her vocation in research and content creation so she continues to work on this website.