8 Amazing Minivan Camper Conversions
By
on
This post may contain affiliate links. As an Amazon Associate, I earn from qualifying purchases. Please read my full disclosure.
Designing a minivan camper conversion is a great way to save money, maximize space, and travel in a vehicle nimble enough to fit into a standard parking garage.
In this article, we've combined a list of creative minivan camper ideas to get your wheels spinning.
These budget builds are perfect for the weekend warriors, solo travelers, or people who want to live in a van on a budget. Enjoy!
Minivan Camper Conversions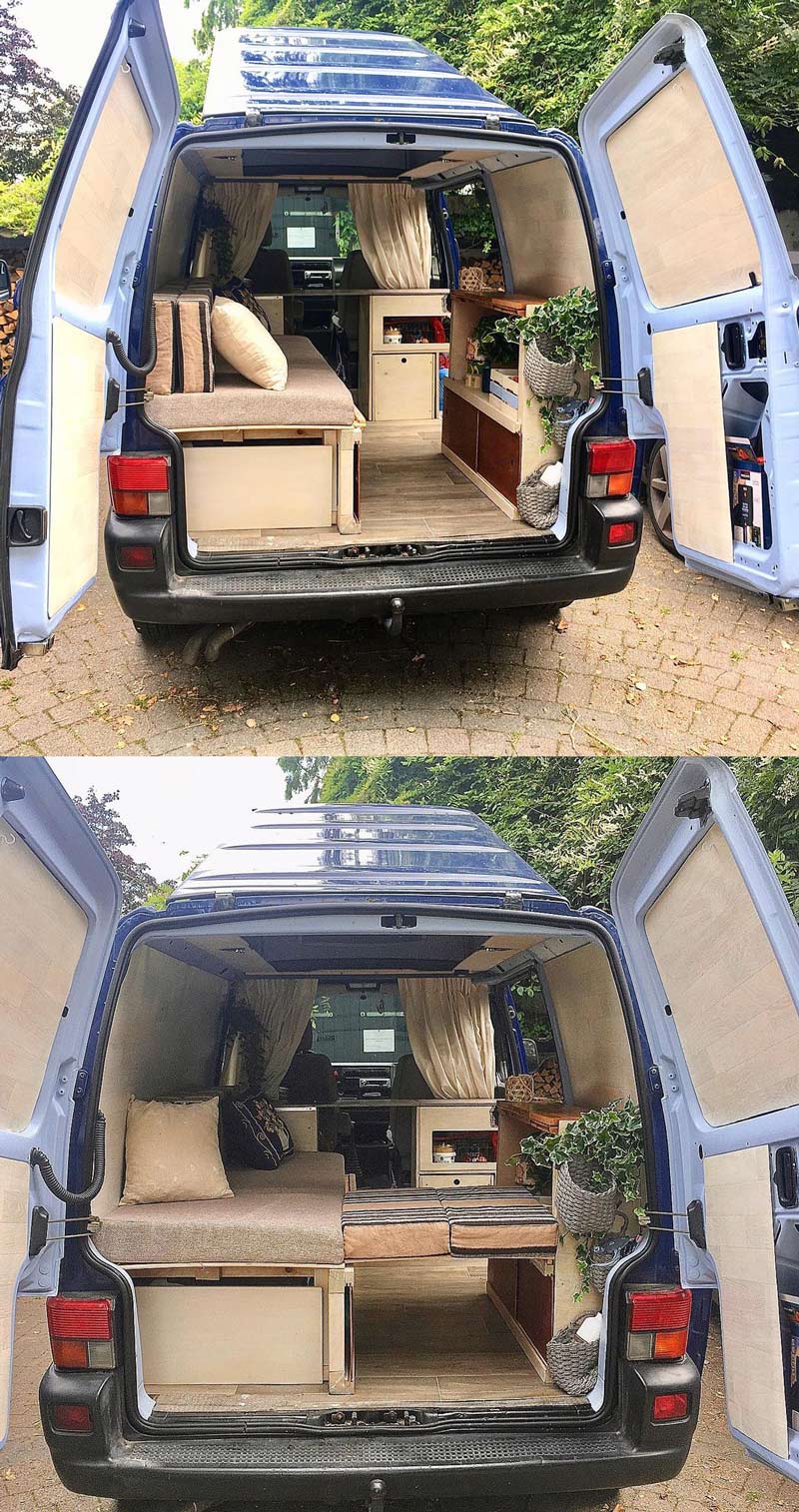 We love this Volkswagon T4 camper conversion. In addition to the pop-top for sleeping, the couch folds out leaving an extra area to relax.
The kitchenette uses a propane-powered stove and gravity-fed sink design. There's also plenty of drawer space beneath the shelving for plates and other kitchen accessories.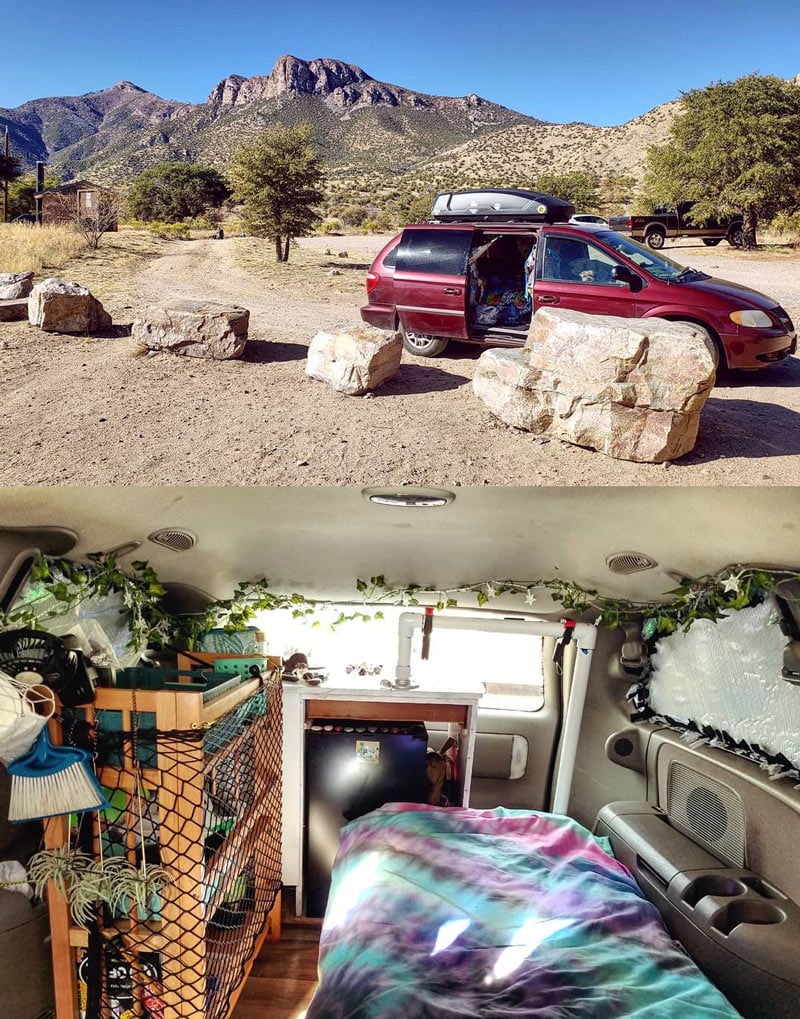 Chantelle from My Basic Journey lives in a 2001 Dodge Grand Caravan named Bubsy. She had two goals in mind when starting her build; make it cheap and easy.
The end product turned out looking great! This mini van has a lot of innovative ideas packed inside. Chantelle incorporated furniture she already owned and added bungee cords and netting to hold the items in place. She also created a custom closet area to hang clothes using of PVC pipe.
Her electric system uses a, Jackery 1000W solar powered generator which is more than enough to charge the electronics in her minivan.
BEST LARGE GENERATOR
Living In A Minivan Camper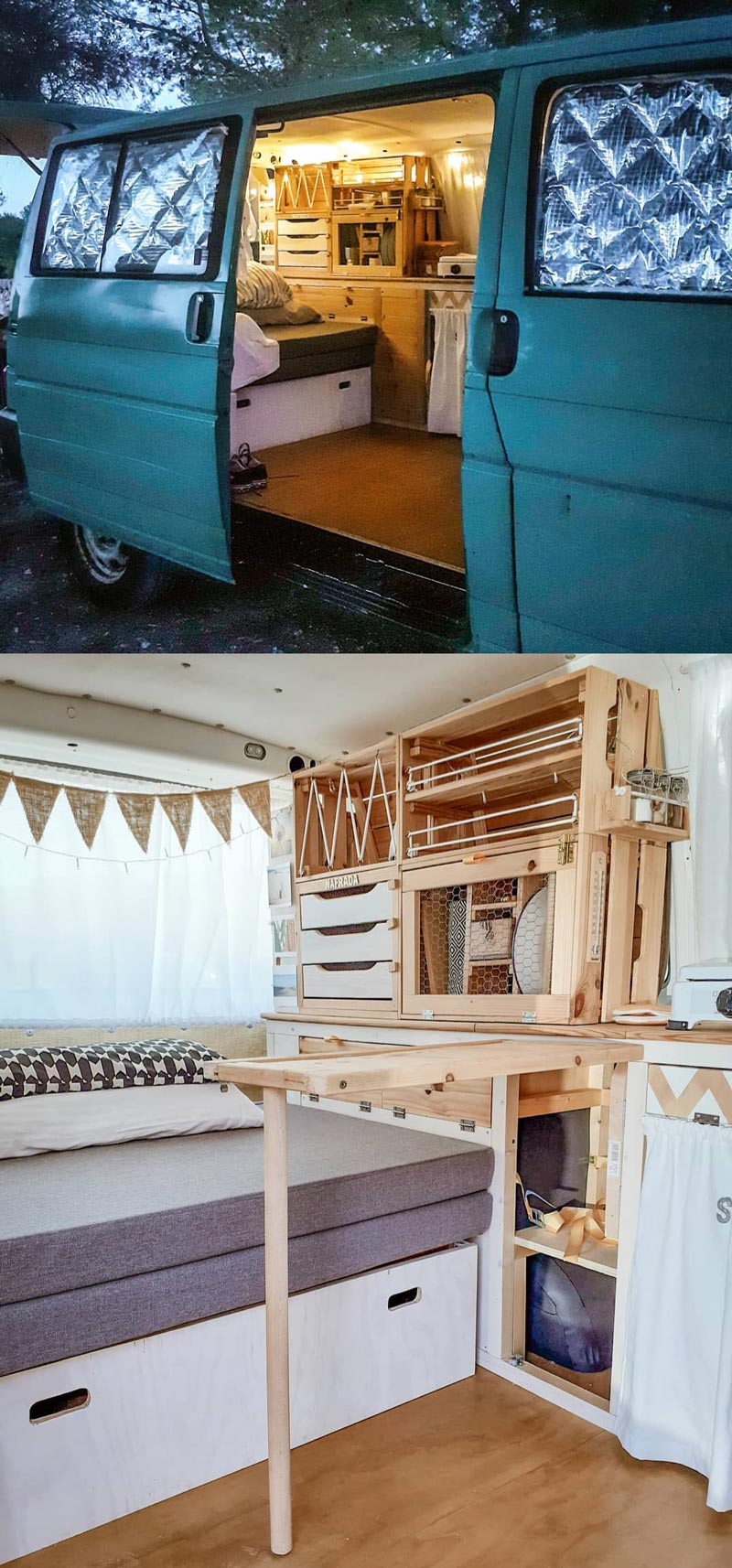 Another VW T4 Camper that we love is this minivan conversion by Ester and Muriel. It may look small from the outside, but there is tons of storage space packed into this tiny home.
In the design they used a lot of shelving combined with bungee cords to hold loose items back. A fold out desk makes for the perfect workspace. And there's a couch that folds into a bed fit for two.
This couple cooks on a propane powered stove and uses a camping cooler to keep food cold.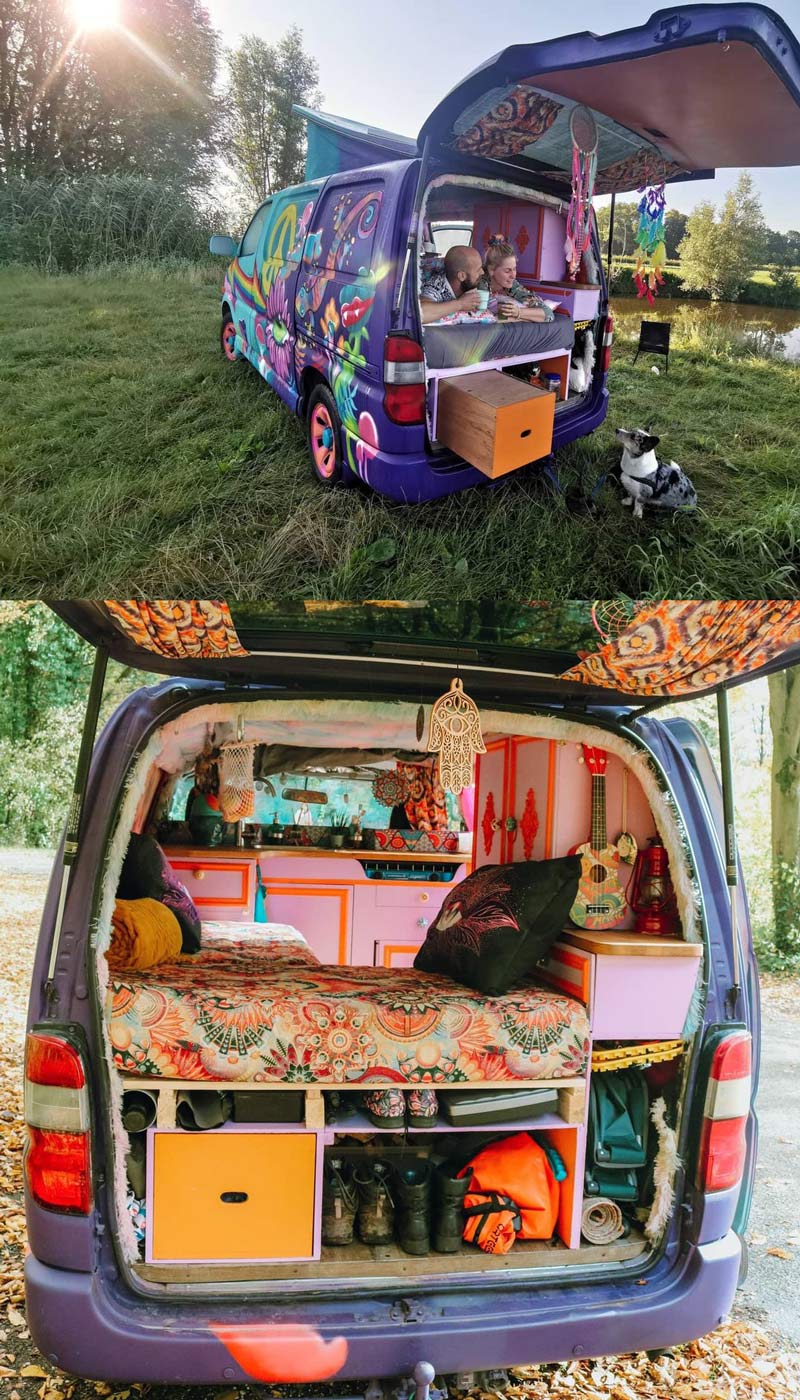 Joriën and Sandra are the proud owners of a 4×4 Toyota Hiace. These self-proclaimed hippies travel around Europe with their corgi Fudge.
The fun and colorful DIY camper design perfectly accommodates their lifestyle. It has a pop top for sleeping, a 30 liter water tank for long road trips, a deesel heater, and mini camping fridge.
Minivan Camper Conversion Kit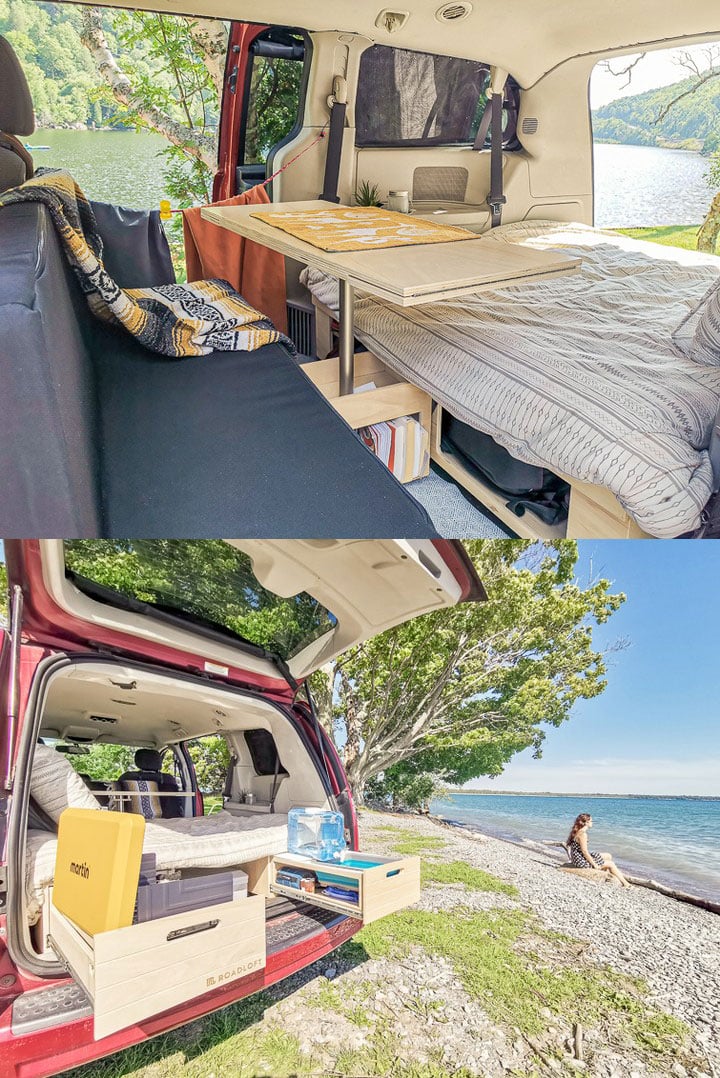 Roadloft is a company that designs camper van conversion kits specifically for mini van campers. Their modular kits are optimized to make the best use of space and includes features such as bench and table, slide out kitchen, and retractable sinks.
The company is based in Quebec, Canada and sells conversion kits for the following vehicles:
Dodge Grand Caravan
Honda Odyssey
Kia Sedona
Chrysler Pacifica
Chrysler Pacifica Hybrid
Nissan NV200
Mini Van Campers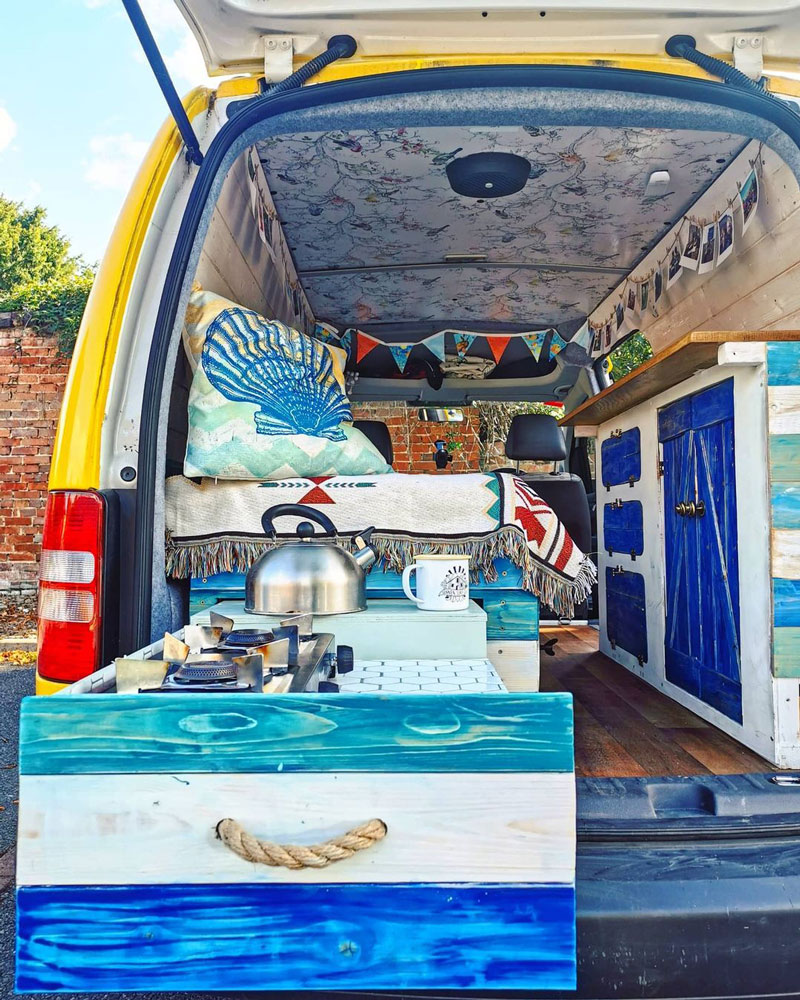 This VW Caddy was converted into a micro camper to take road trips around the UK. The colorful build uses inexpensive materials to create the perfect space for a couple and their dog.
Overall, it's a simple design with a sofa that slides out into a bed, back drawers that slide-out for cooking, and extra shelving on the side for additional storage space.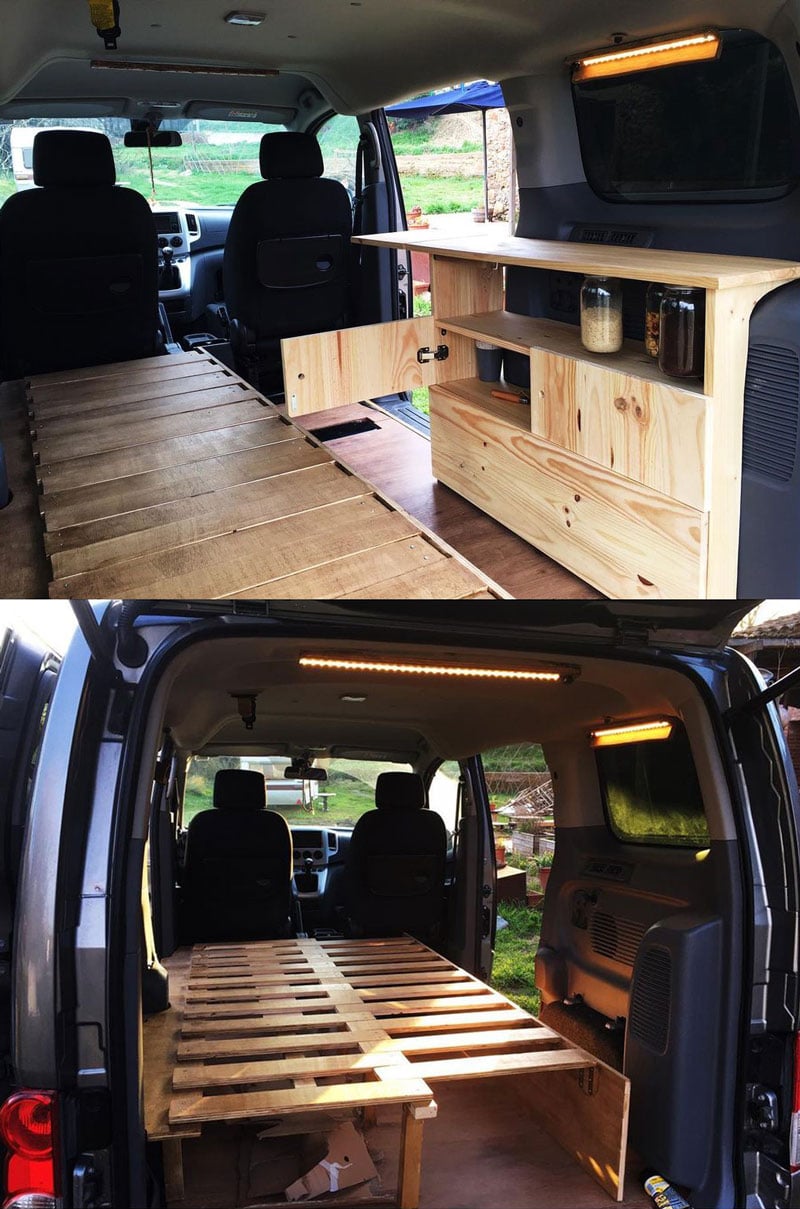 Another simple and inexpensive build that we love is this Nissan NV200 minivan camper design. The micro camper uses basic shelving for storage and a slide out bed design that can be used as extra seating or for sleeping.
We like this classic layout because it makes great use of space and is comfortable enough for a couple or solo traveler.
Professional Minivan Camper Conversion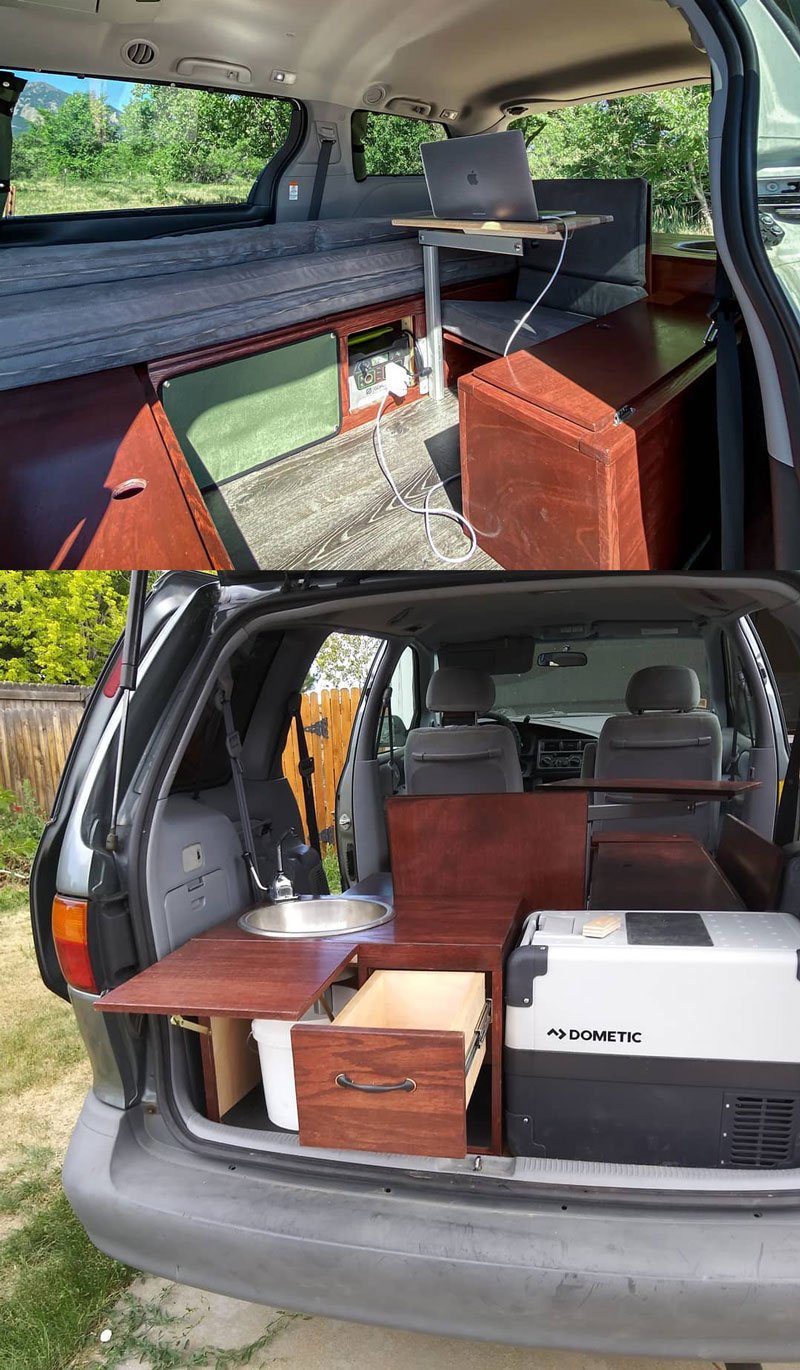 Oasis Campervans is located in Boulder, Colorado. This conversion company specializes in minivans including the Toyota Sienna, Honda Odyssey, Dodge Grand Caravan, and Chrysler Pacifica.
Custom builds take just 3-4 weeks and include components such as a full kitchen with running water, dining table, bed, and plenty of storage.
These builds are inexpensive compared to the larger cargo vans and leave you with plenty of budget left for an adventure.
That's A Wrap!
Minivan camper conversions are the perfect way to save money, save space, and travel on a budget. Just because the rig is small doesn't mean you can't make the most out of van life.
Whether you choose to convert a Toyota Sienna, Honda Odyssey, Dodge Grand Caravan, and Chrysler Pacifica or Kia Sedona, there are plenty of designs out there for your inspiration.
Living in a minivan can be just as rewarding as living in a larger rig.
Check Out These Other Tiny Van Conversions: