What is the Best Van To Live In? 21 Van Life Vehicle Options
By
on
This post may contain affiliate links. As an Amazon Associate, I earn from qualifying purchases. Please read my full disclosure.
So, you want to build a camper but don't know where to start. It shouldn't come as a shock that the options are almost limitless. Finding the perfect camper is van life 101. But that doesn't mean a Mercedes Sprinter or Ford Transit is the only way to go.
From minivans to buses, there are a lot of creative ways to make an amazing camper van that fits your particular needs and style.
In this article we're going to break down some of the most popular vans to live in and examples of the types of builds you can achieve on any budget.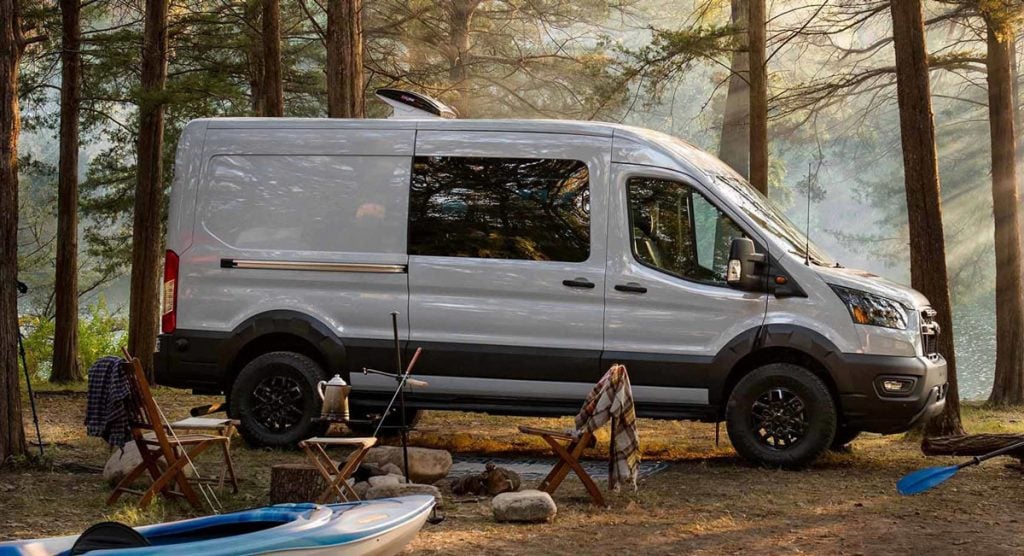 Without a doubt, the most instagram-worthy campers are the large, euro-style cargo vans with all the bells and whistles. These vehicles look great, have ample storage space, and get good gas mileage for their size.
The best part about these vans is they have a boxy cargo area which makes it easy to maximize the build space and customize everything from sleeping arrangements to kitchens and more.
What are the downsides? The high price tag can be hard to stomach for someone staring out. Not only do they cost more up-front, but repairs can be expensive and even the cost to build will be higher with a larger vehicle.
Big cargo vans are also not a nimble as something like a minivan. And the height alone may prevent you from getting into parking garages or weaseling into tight spaces.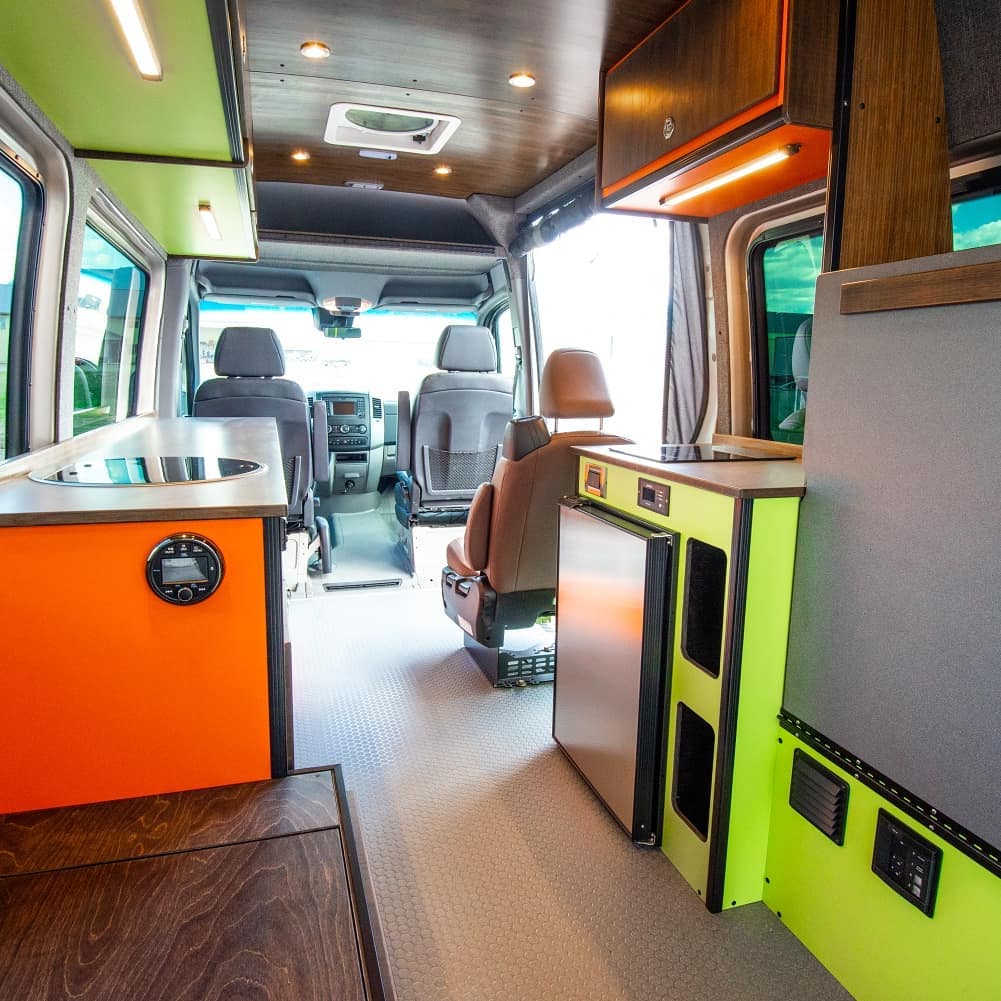 Ford Transit
The Ford Transit is quickly becoming a favorite among van lifers because of its size and flexibility. The transit has a smaller footprint and lower price tag than the Mercedes Sprinter. (See all of the Ford Transit dimensions here). Mechanics and parts are also easier to find which can save you a significant amount of money on repairs.
Ford Transits come in multiple wheelbase lengths and you can get either high-top or standard roof heights depending on your needs. For those who want to spend some time off the beaten path, the Transit can be bought as an all-wheel-drive version (AWD) and it's fairly common for travelers to add aftermarket lift-kits to provide even more freedom.
In 2023, Ford released the Transit Trail model with comes as an AWD version with an additional 3.5″ of clearance and a Maxxfan Deluxe pre-installed.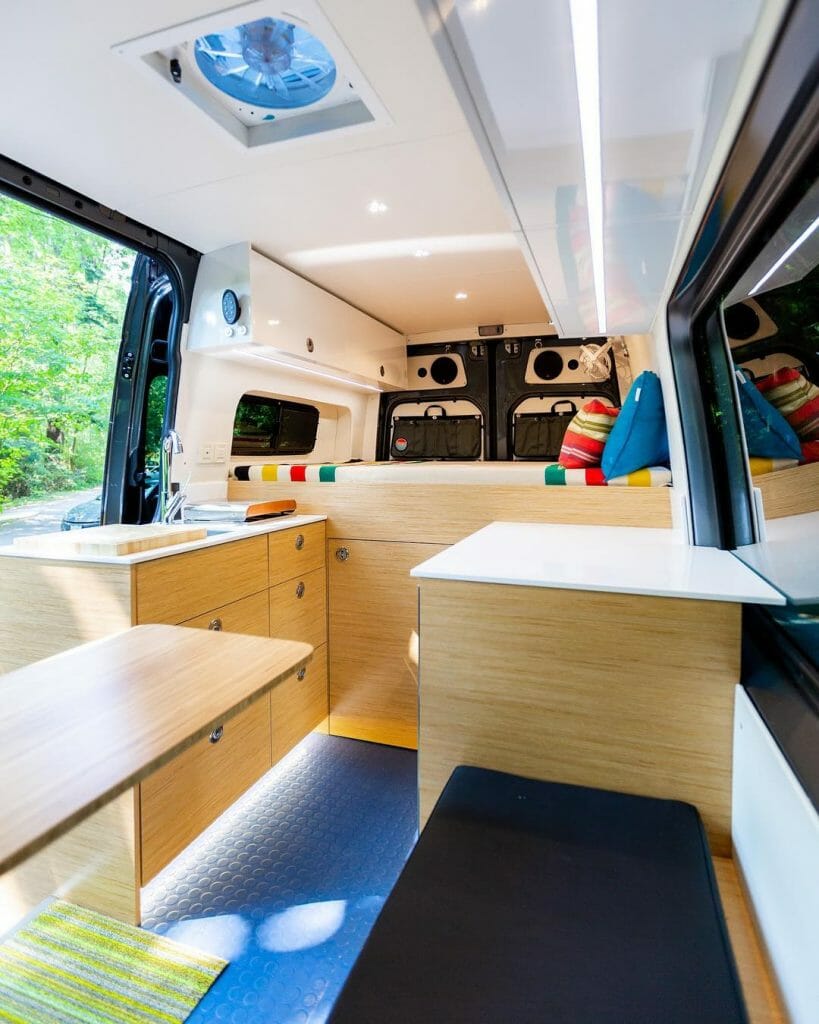 Mercedes Sprinter
The Mercedes Sprinter has been a staple in the camper van community for years. And it's no wonder since this van has a great mix of size, power, and luxury features that make life on the road much more enjoyable.
In terms of build space, you can't do better than a sprinter due to its large cargo area and tall roof heights (see all sprinter van dimensions here). Sprinters are available in multiple wheelbase lengths, roof heights, and power train options. You can purchase either gas or diesel versions and even a 4×4!
The downside to van life in a Sprinter is that it can be expensive up-front. Repairs can be costly, and parts may not always be easy to come by depending on where you are located. Fortunately, these vehicles tend to have a high re-sale value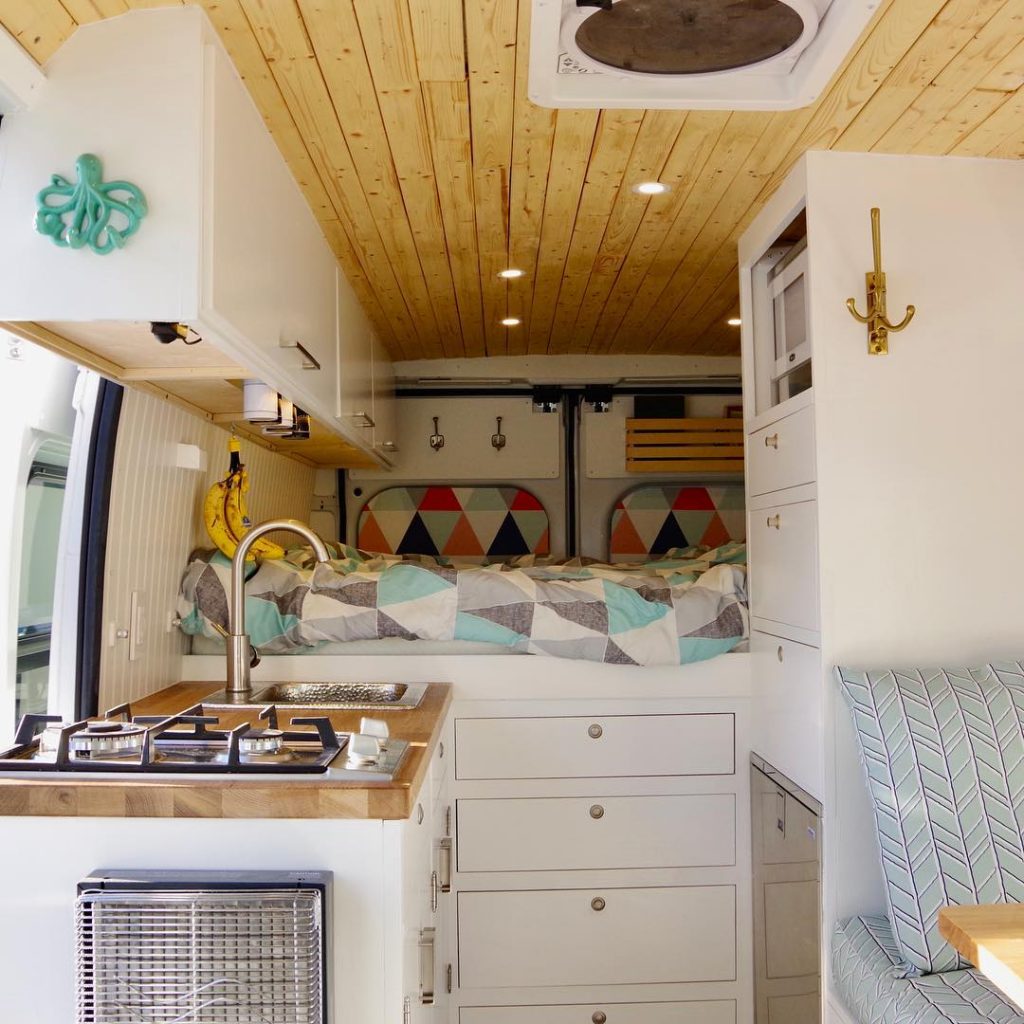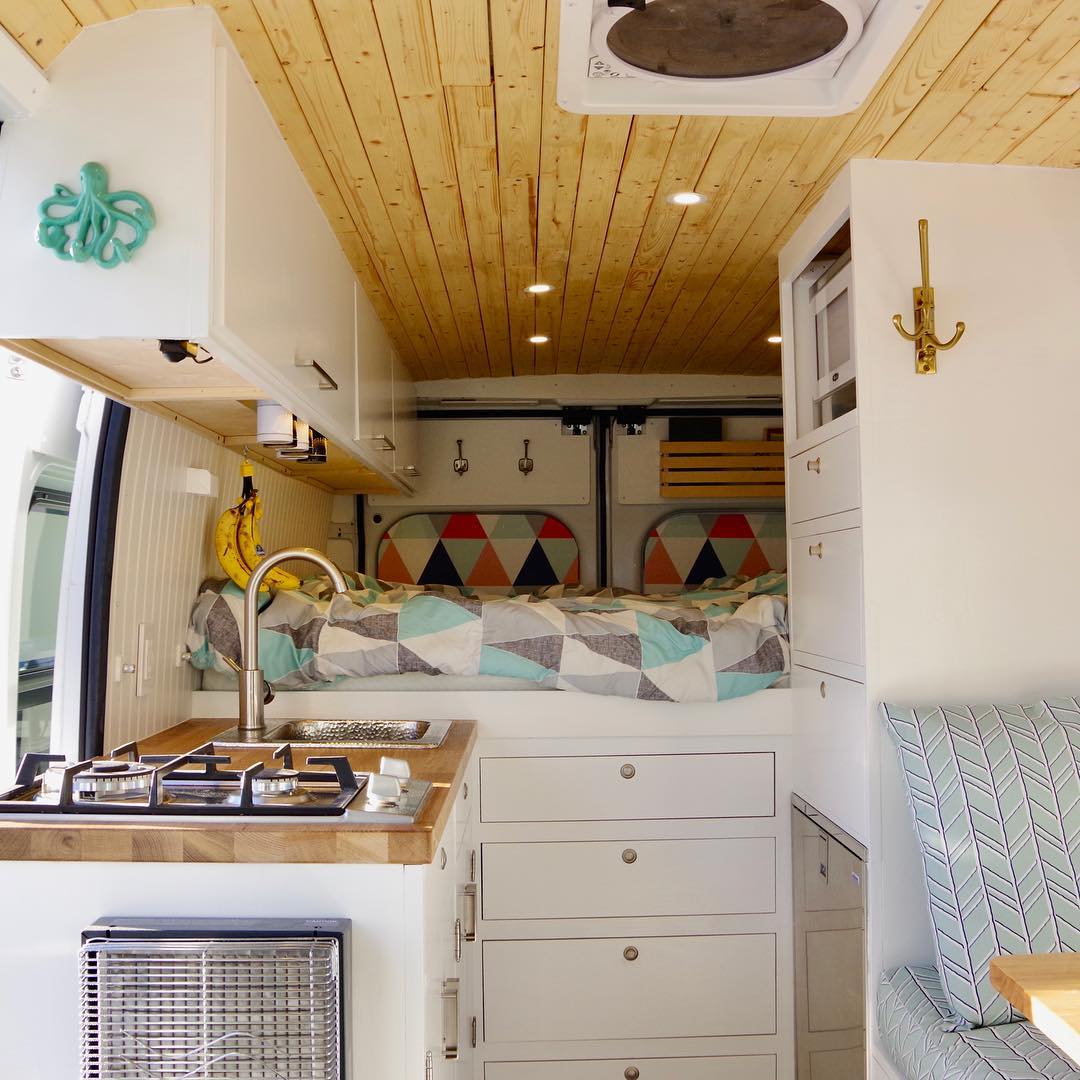 Dodge ProMaster
The Dodge ProMaster is a great alternative to the Transit and Sprinter in terms of price, size, and features. It's more affordable than the Sprinter but still offers plenty of storage space for getting creative with your conversion.
A big benefit to the Dodge ProMaster is the overall shape of the vehicle. This camper is surprisingly boxy and wider than the Transit or Sprinter which gives you many more options for a build. (See the ProMaster dimensions here).
Owners of the ProMaster often install their camper van bed sideways, taking advantage of the extra width to create an even more spacious living area. The ProMaster also has a tight turning radius which can make maneuvering the roads less-traveled quite a bit easier.
When it comes to downsides, the ProMaster has a few. This vehicle only comes in front-wheel drive and has a lower ceiling height than it's counterparts. It's fairly easy to find these vans used, but be aware that the parts for repairs may not be as easy to come by as those for the Transit.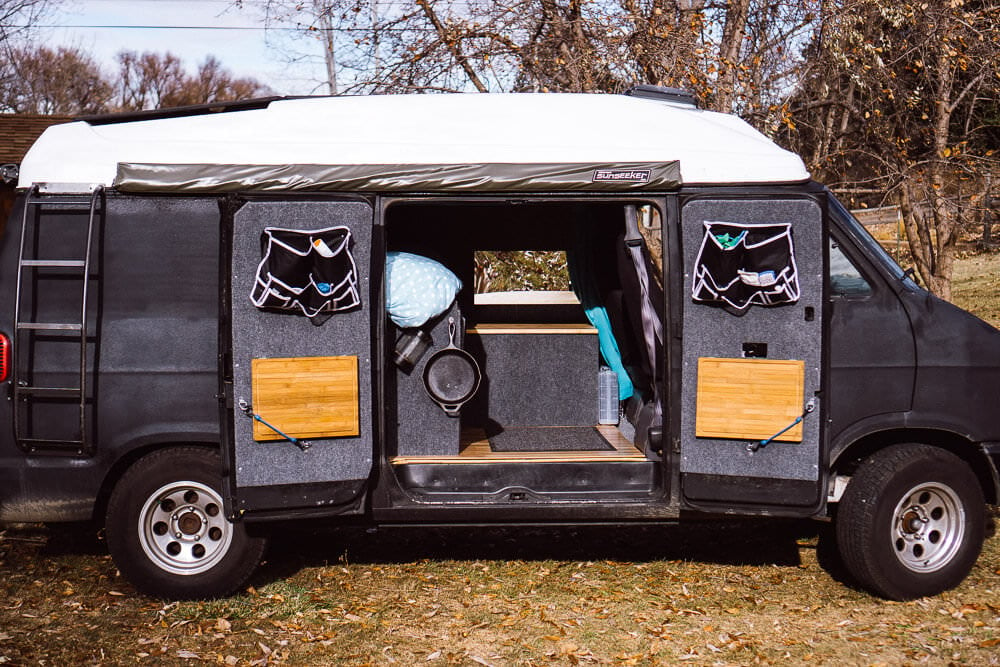 Dodge Ram Van
Moving on to some smaller options, the Dodge Ram Van, or B-Series is a great choice for those looking for a more budget-friendly camper van. These American cargo vans are based off the popular Ram pickup truck frames so they generally have big motors and heavy drivetrains. They can also tow a decent amount and have a lot of aftermarket support.
Cargo Vans generally come as a blank slate which is perfect for building. You can get a reliable used van for $5,000 or less in this category. Parts are cheap and easy to come by in the US because these vehicles share many systems with all of the pickups out there. This is a huge advantage if you get stuck or your camper breaks down.
Any mechanic shop nearby should have parts on hand or on order within a day or two. Mechanics know how to work on them and they have been doing this for years. Even in the worst-case scenario, breakdown expenses are still relatively palatable.
The Dodge RAM Van also comes in multiple wheelbase lengths and roof heights which gives you plenty of options when it comes to design.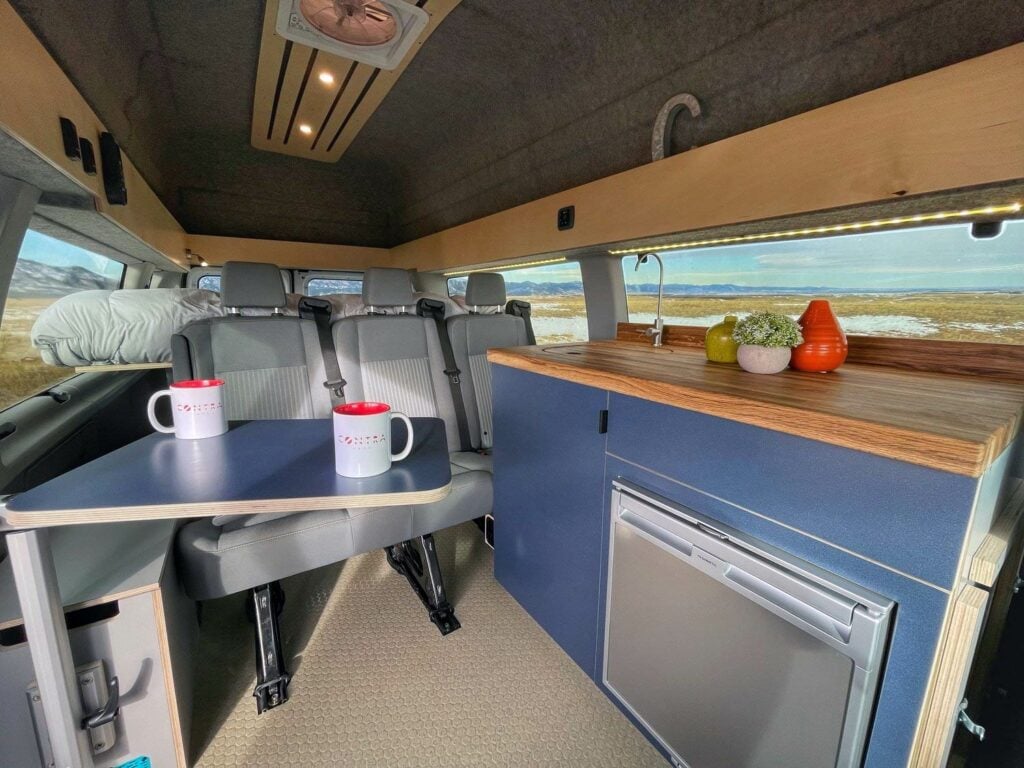 Ford Econoline
The Ford Econoline or Ford E-Series is another great choice for those seeking an economical van life camper. It's similar in size and style to the Dodge Promaster (see the E-Series dimensions), but it has a few key differences which makes it attractive to budget campers.
First of all, Ford Econoline vans have been around for more than half a century. This means that parts are easy to come by and usually quite cheap. The downside is that these vans have a reputation for being slow and clunky.
Often delivery services or plumbing companies (or any myriad of business) use them as fleet vehicles so they are good for discreet urban camping. If you find the right seller they often have scheduled service records – although some are driven quite hard.
The Econoline comes with several engine options, so you can choose the one that best suits your needs. It also has rear-wheel drive which is great for towing and off-roading. The cargo area is quite spacious and the roof height is about average for camper vans. Just be aware that these vans may have a few quirks here and there due to their age.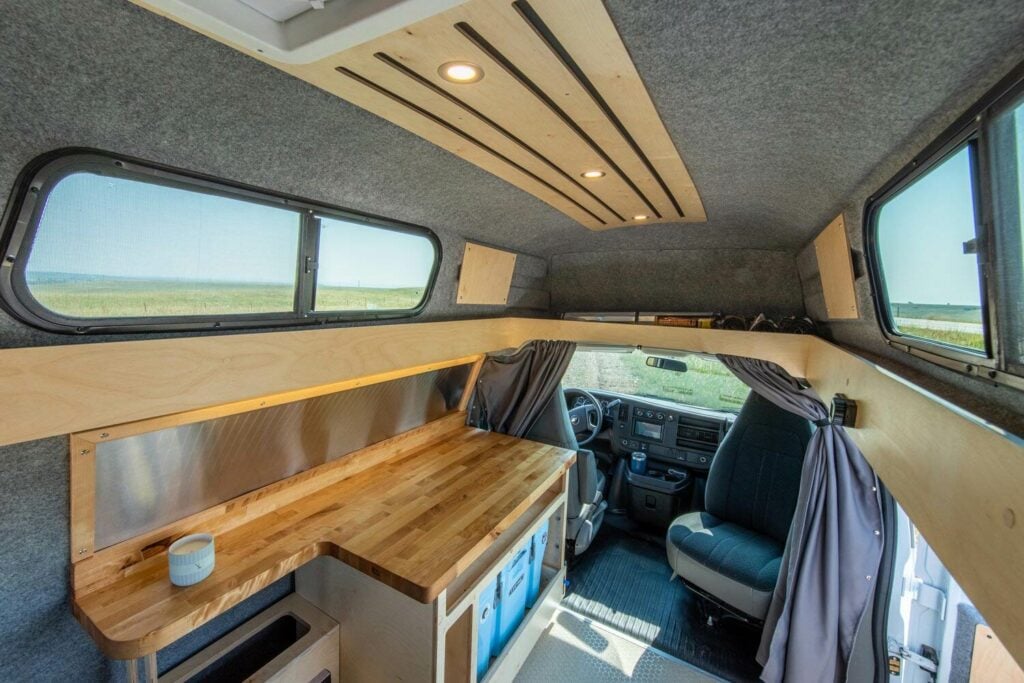 Chevrolet Express
The Chevy Express is another great option for those looking to build on a budget. This modest van can be had for just a few thousand dollars and has some great features that make it appealing: decent cargo space, good gas mileage, and relatively easy to find used.
The Express is a fleet vehicle which means it's reliable, cheap to repair, and unassuming for stealth camping. The major downside to these vehicles is that there's limited headroom so you won't have the ability to stand up straight unless you spend a good chunk of money on an aftermarket top.
Nevertheless, the Chevy Express is known for its longevity and dependability. Parts are easy to come by and relatively cheap, so you don't have to worry about getting stuck with a huge repair bill.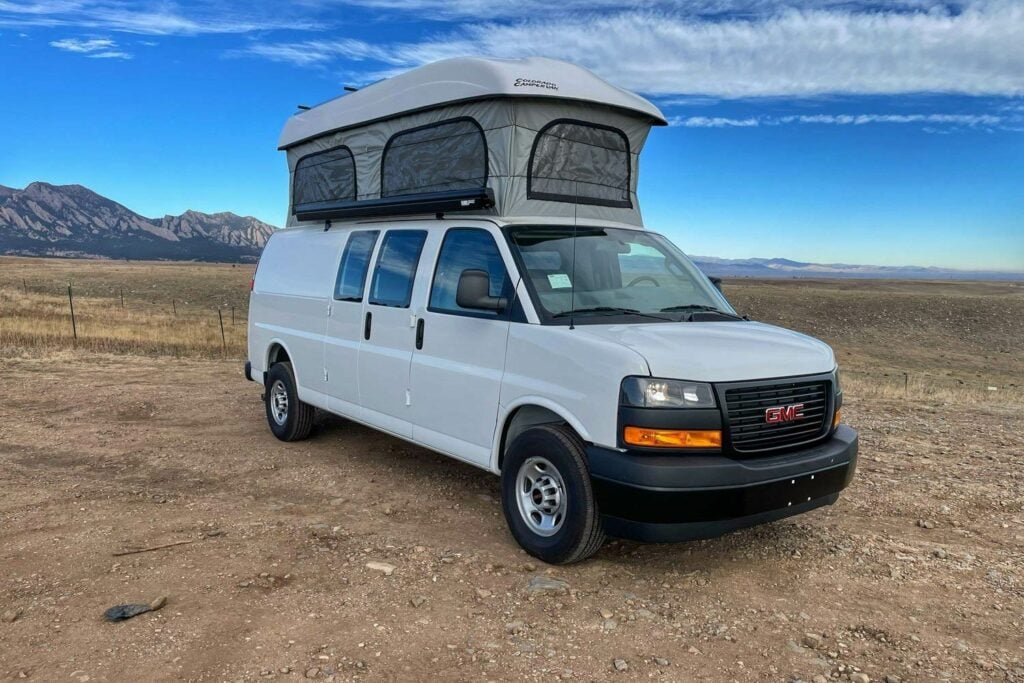 GMC Savana
If you love the Chevy Express you'll be equally excited about the GMC Savana. That's because the only difference between these two vehicles are the badges. With the GMC Savana you get the same discreet build base, gas mileage, and reliability as the Chevy Express.
The parts are widely obtainable, and it's easy to find mechanics that can work on these fleet vehicles as soon as you roll into the shop.
Like the Chevrolet Express, the GMC Savana has a low roof height so you'll have to get creative with your camper van layout. Fortunately, you'll be saving some money with a minimalistic build.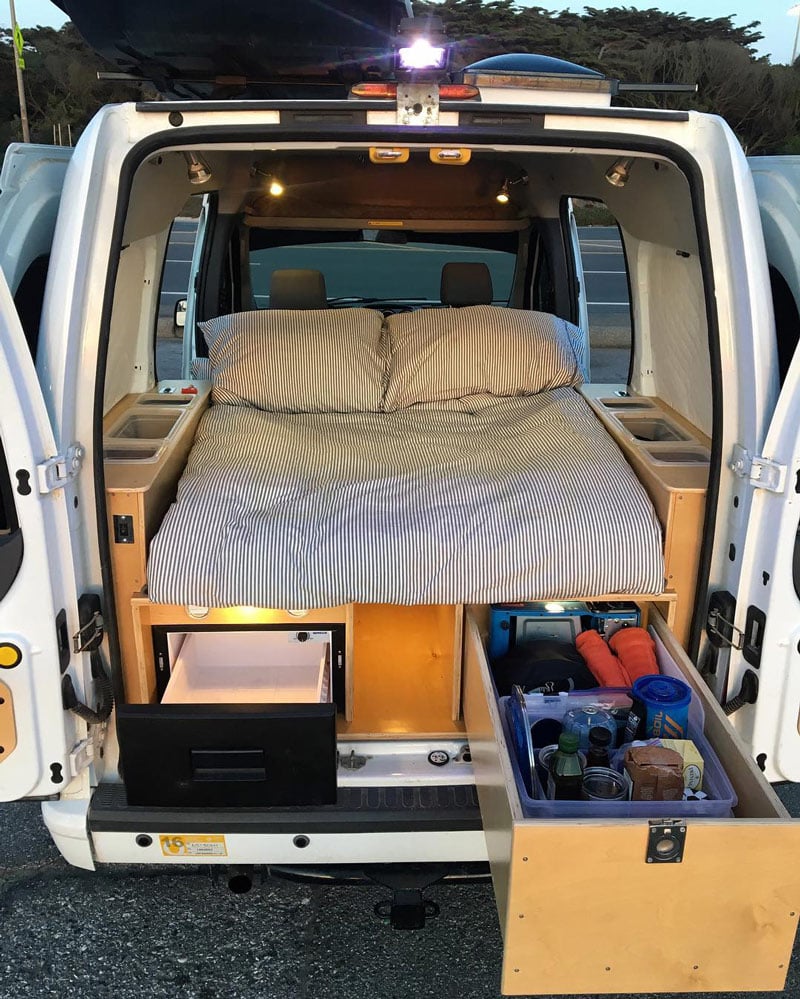 Ford Transit Connect
For those looking for a mini camper that's both nimble and reliable look no further than the Ford Transit Connect. This tiny van has been making a big splash on the camper van scene with its modern look and maneuverability.
The vehicle is built on a Ford Focus platform which means it's small, boxy, and perfect for a tiny conversion. This compact car is a fleet vehicle so it gets great gas mileage and spare parts are easy to find. It's also known for being very drivable, easy to maneuver, and repairs are inexpensive.
A Ford Transit Connect comes in two wheelbase sizes so you have multiple options when it comes to design.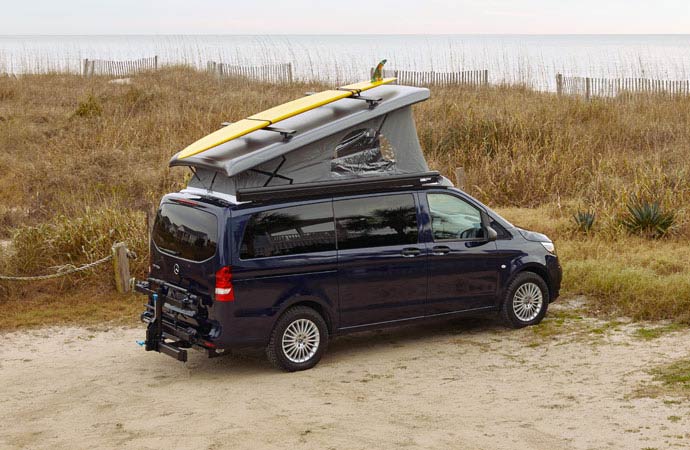 Mercedes Metris
New to North America as of 2015, the Mercedes Metris is another top contenter when it comes to small campers. This vehicle has gained popularity for its modern design, safety features, and surprisingly good gas mileage.
This mid-sized van is perfect for a camper conversion as it's easy to maneuver, has just enough cargo space for a single or couple of travelers, and runs on a reliable engine.
One cool thing about the Mercedes Metris is that you can purchase the "Getaway Van" straight from the dealer which comes with options for a pop top, integrated solar panels, awning, mosquito netting, and rear pull-out kitchen.
The Metris also comes with an AWD option and two different wheelbase sizes so you can feel confident that all of your stuff will fit.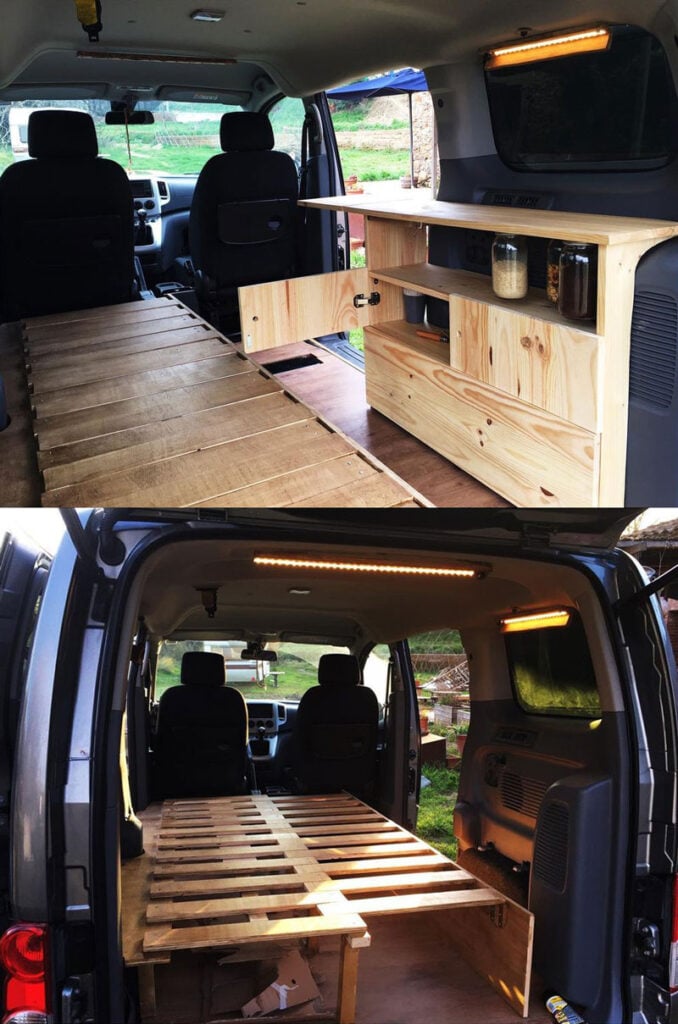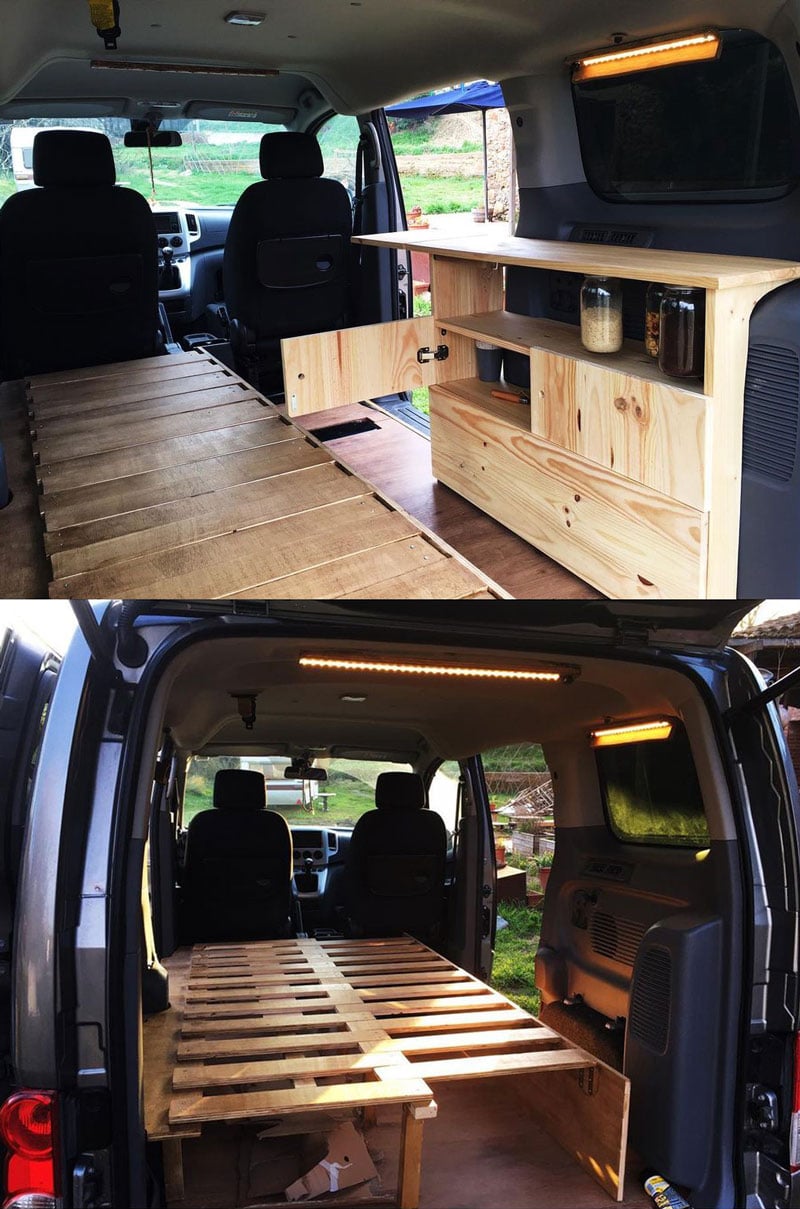 Nissan NV
When it comes to cheap, compact cargo vans, the Nissan NV200 takes the cake. This boxy van is unassuming, reliable and perfect for a camper conversion. The vehicle has seating for two plus enough cargo space for a bed and small kitchenette.
The Nissan NV200 runs on a 4 cylinder engine so it offers good enough performance for most applications. It also boasts good gas mileage and the parts are easy to come by. Plus, if you find a used one, you can usually get it pretty cheap.
Chevy Astro
The Chevy Astro is an affordable van which was sold alongside the GMC Safari. The Astro makes for a great camper conversion because it runs on a reliable V6 engine which offers good performance, as well as decent gas mileage.
The Chevy Astro has some unique features such as the "astro-slide" cargo area door and additional roof height which makes it particularly comfortable for van life.
The Astro is rarely seen on the road these days, but it's easy to find used ones for a good price. Parts and repairs are relatively cheap so you won't have to break the bank to keep your van running. The vehicle also has good ground clearance so you can take it off-road with ease.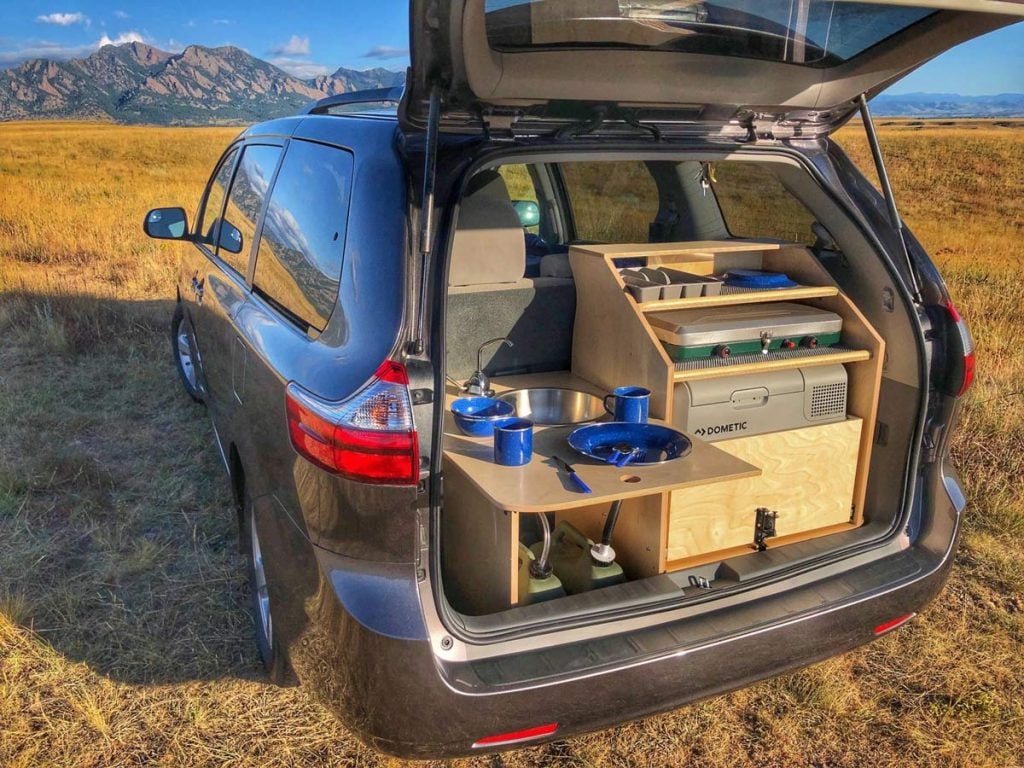 Toyota Sienna
As one of the most popular minivans on the market, the Toyota Sienna has quickly become a popular choice for those looking to go into van life. The Sienna offers a lot of features that make it perfect for a camper conversion such as its comfortable seating, great gas mileage, and the plethora of aftermarket parts and accessories.
The Toyota Sienna comes in all-wheel-drive (AWD) and you can even purchase aftermarket lift kits. This vehicle is so popular that no one will think twice about seeing it parked in the city.
And for weekend warriors, there are lots of examples of removable van builds that can be utilized for shorter trips.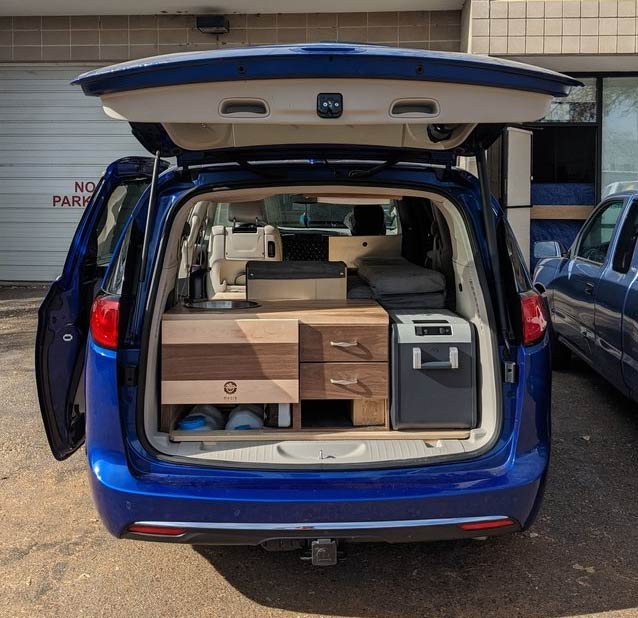 Chrysler Pacifica
Another minivan camper that you shouldn't sleep on is the Chrysler Pacifica. This car comes with an AWD and also a hybrid option so you can choose which one works best for your needs.
The Pacifica offers great fuel economy, a roomy cabin, and plenty of cargo space. It also has one of the smoothest rides in the segment so you can cruise in comfort even if you've gone off-road.
These vehicles are known for being reliable and durable so you can count on them to last a long time. And with all the available aftermarket parts, they can easily be customized.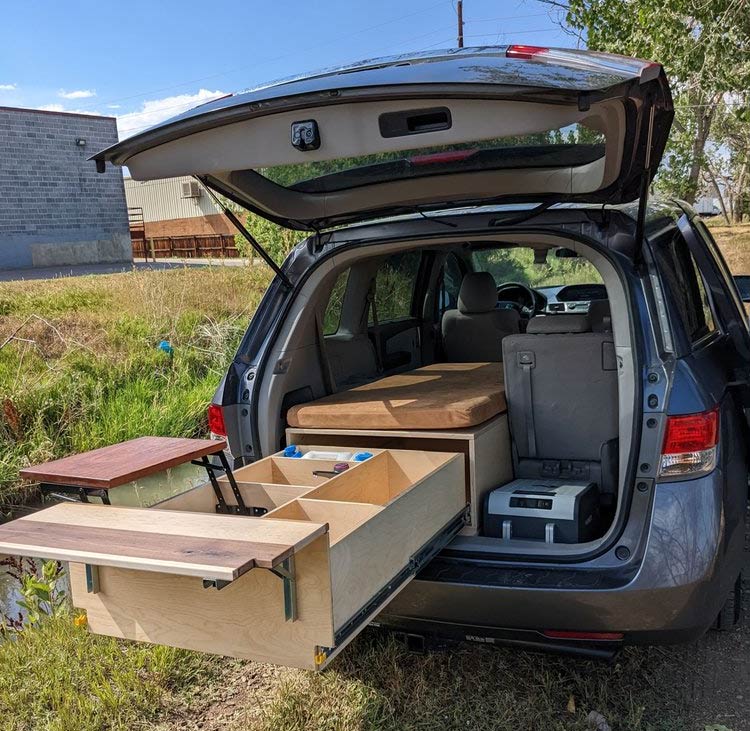 Honda Odyssey
Rounding out the minivan campers is the Honda Odyssey. This van offers plenty of features that make it suited for camper conversions such as its low cost, roomy interior, and good fuel economy.
The Honda Odyssey is known for its sleek design, comfortable seats, and spacious cargo area. It also has decent ground clearance and a reliable engine so you can take it on the gravel roads without any issues. Like other common vehicles, you can also purchase aftermarket parts to customize it to your liking.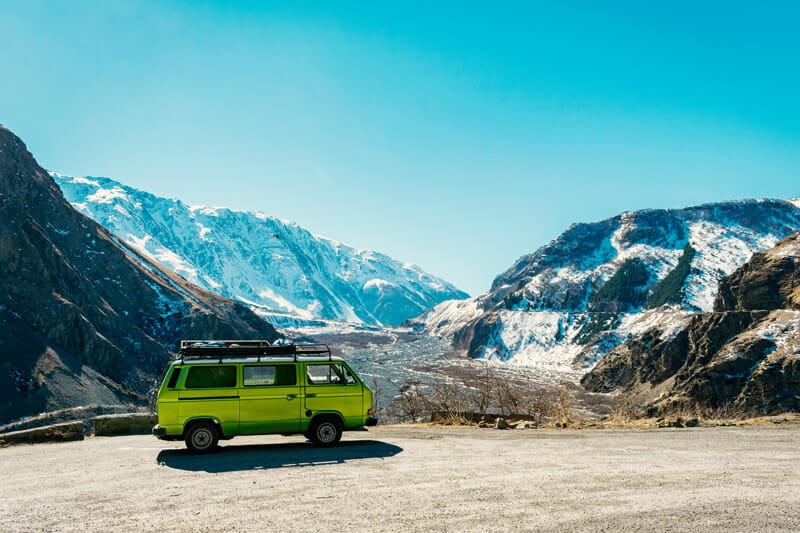 VW Vanagons
If you're looking for a weekend getaway, romantic vehicle or picturesque images, then the VW Vanagon is for you. Vanagons have a high up-front cost but they are easy to repair.
That's going to come in handy because these things are old and break down a lot. VW buses have relatively easy-to find parts and if you're mechanically inclined they're quite DIY oriented.
The community behind the old VW's is huge. There is a lot of online support and cool modifications to inspire your build. They are simple to learn how to repair yourself and will make you feel like you're living the dream of a lost era.
Older American vans are a bit harder to find parts for but still quite easy to work on. Some of the 1970's Dodges and Fords are downright beautiful, and there are many camper conversions that are well laid out like the VW Westfalias are known for.
So what are the downsides? VW buses are great to show off but you'll have little chance of being stealth in this vehicle. The motor is usually underwhelming so don't expect to be cruising up the steep mountain roads or getting good gas mileage. A 1990 vanagon fully loaded is going to get you 15mpg which isn't too bad until you consider that it's only pushing out 90hp.
All of these old cab-over-wheel vehicles are also quite unsafe. Most of them don't have any airbags to speak of and their crumple zone is your ribcage. Everything in life is a risk, so that won't be a deterrent to everyone, but it's good to be aware of.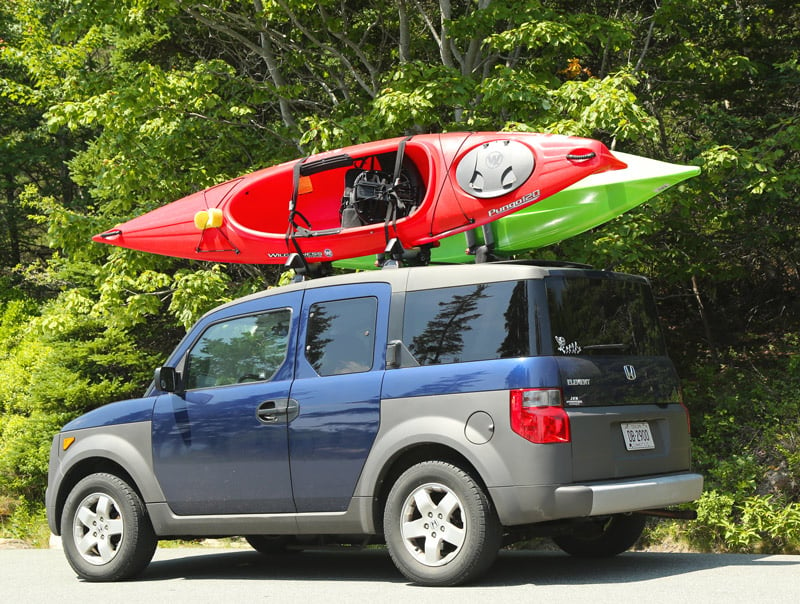 Honda Element
The Honda Element is another great candidate for van life. This vehicle has a boxy interior made with weatherproof materials and easy-to-access doorways. It's also pretty discreet which makes it a great option for those looking to get away from the public eye.
The Element comes with an AWD option so it will fly up the mountains without a hitch. It also gets pretty good gas mileage, and the seats are easily remove-able to start your build.
Although the Honda Element doesn't offer as much ground clearance as other vehicles, it still offers a comfortable ride and is overall reliable.
The biggest downside to the Element is that it's been discontinued since 2011. So you'll have to buy one used, and it's getting harder and harder to find one with low mileage.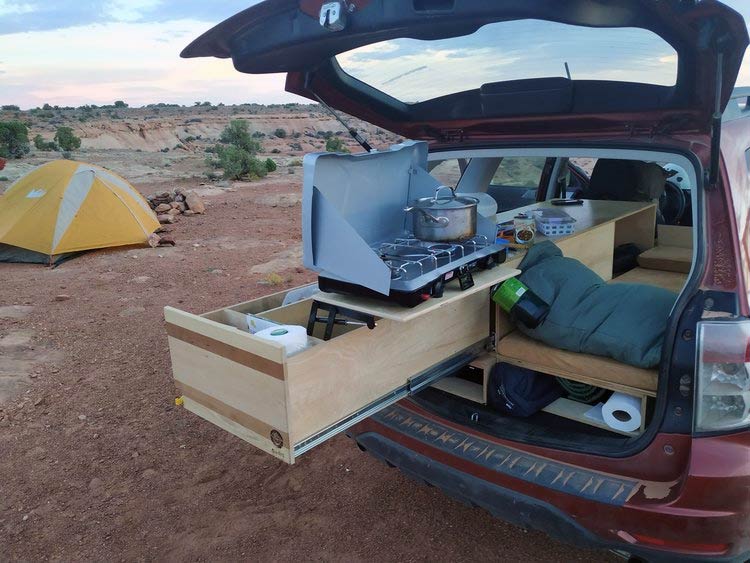 Car Campers: Subaru Forester, Toyota Prius, Honda Civic
Moving onto the vehicles with even less space, we wanted to point out that the most budget-friendly option for van life is using the vehicle that you already own. There are many people who (somewhat) comfortably live out of vehicles like the Subaru Forester, Toyota Prius, or Honda Civic.
There's always a risk with buying a used vehicle, so cut that risk out by using what you have. At least with your current vehicle you kind of have an idea of the mechanical issues and how well it drives.
We recommend the website cheaprvliving.com for specific tips and tricks on how to live a low-budget lifestyle in any vehicle. You can also check out the subreddit r/priusdwellers.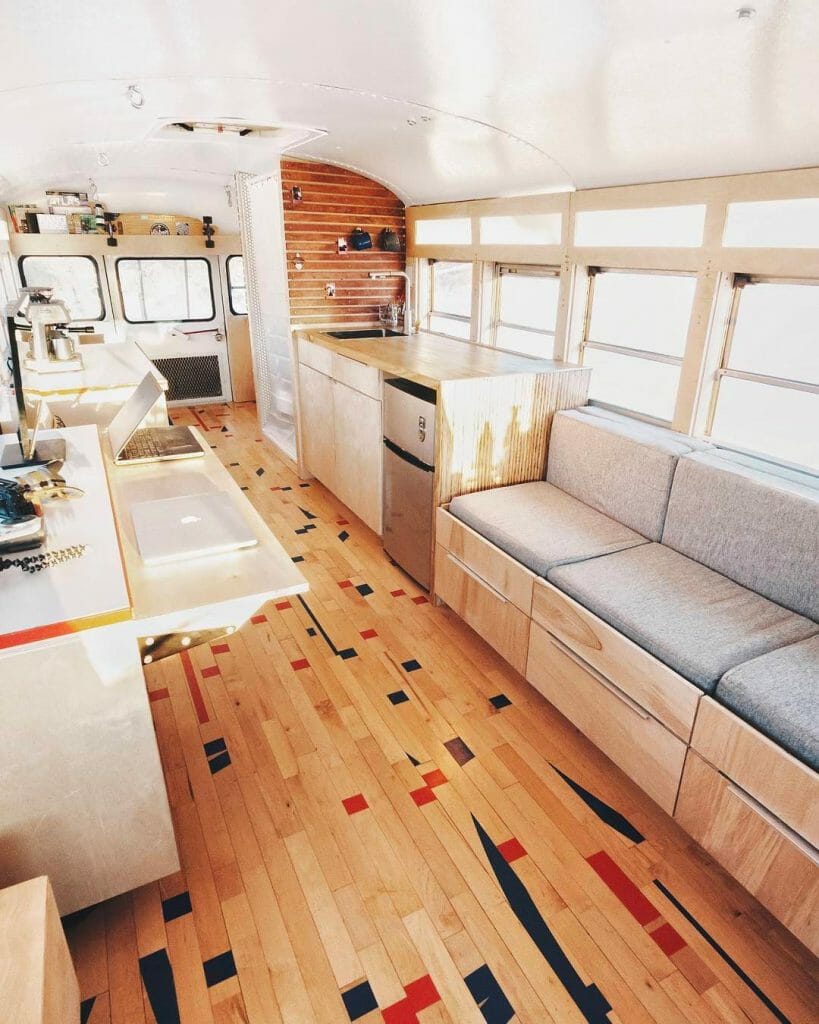 School Buses
A more unconventional vehicle that often falls into the "van life" category is the retired school bus. Families or couples who choose to travel in school buses often do so because of the immense amount of space that you can pack into one.
Some of the advantages of a school bus are its long size, height, and boxy interior. It's common to find full-sized bathrooms, bedrooms, and spacious kitchenette's inside. If you're looking to do more research on this type of vehicle, many people refer to them as "skoolies."
Converting a school bus sounds like a good idea, but there are several downsides. For one, the gas mileage is not great. They are also hard to maneuver because of the large size. And height restrictions could end up limiting your parking options.
Finally, the cost of building does tend to scale with the size of the vehicle. So you can expect to pay more for a full renovation. Oh, and school buses are not stealth.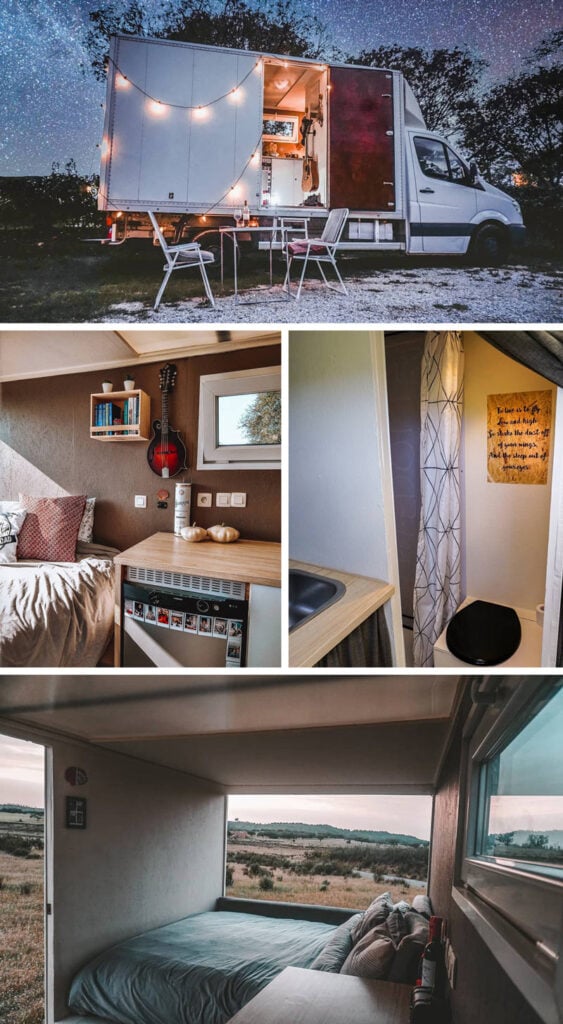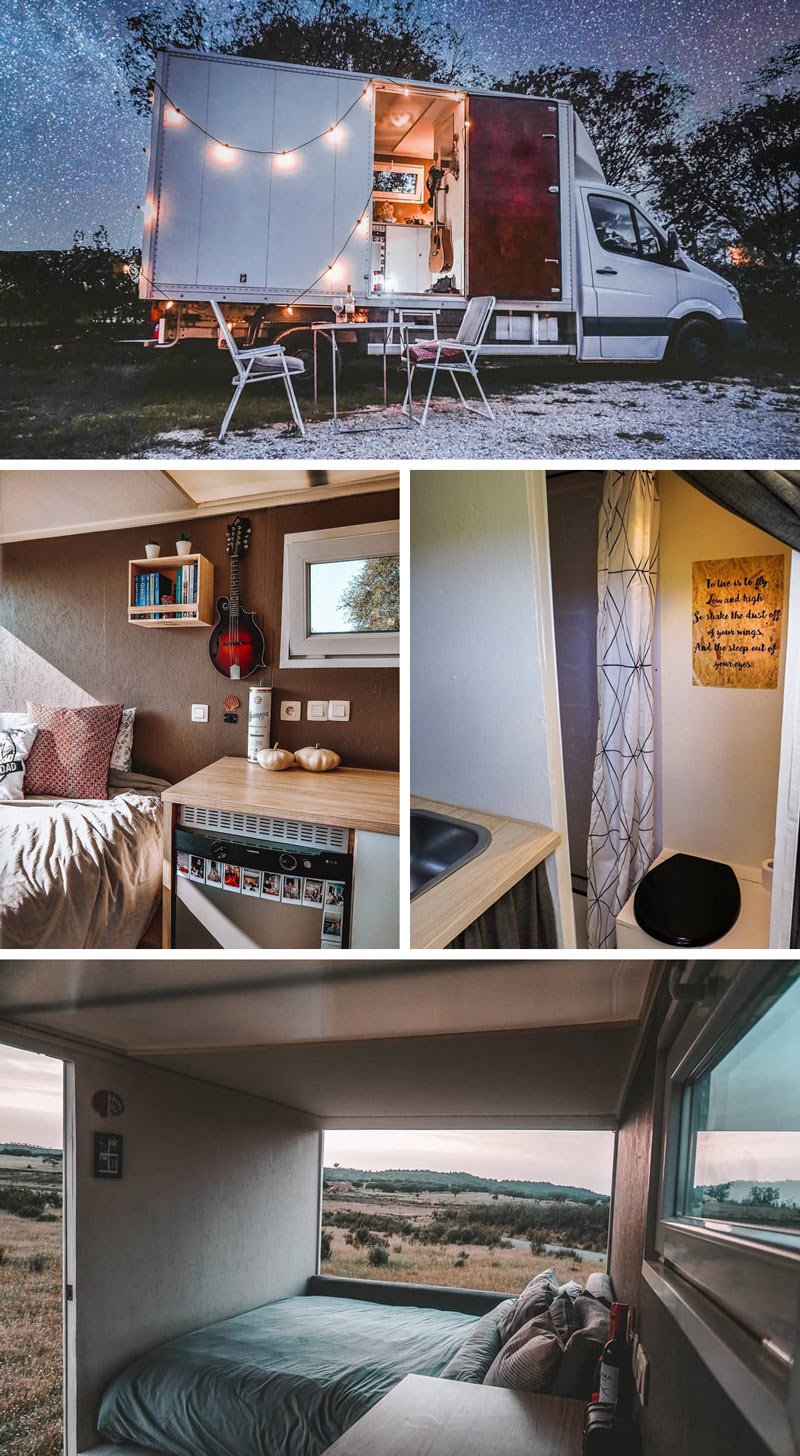 Box Trucks
A stealthy camper that most people would not think twice about seeing in the city is a commercial box truck. These cube trucks are often used for businesses, but they can be easily converted into a cozy home away from home.
Box trucks are usually built on a truck base like the Chevy Express, Ford E-Series, or Ford Transit. They have a cutaway cab and plenty of room in the boxy cargo area.
One of the great things about building out a box truck is that they have straight walls and ceilings so you can maximize every inch of space in your build. They are also generally easy to service and reliable.
A box truck might look a little bit weird at a campground, but it's definitely a viable option for those who want to get creative with their build. The downsides are that they don't really have any off-road capabilities and can be quite expensive to convert due to the size.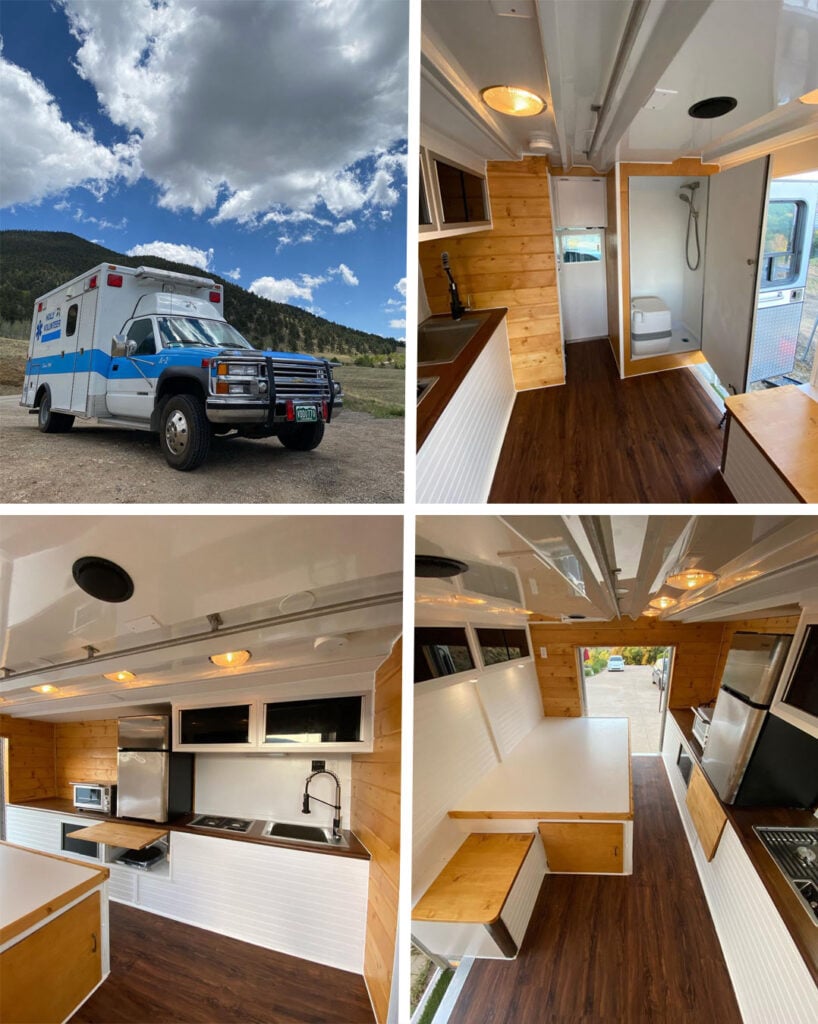 Ambulances
Many ambulances come with all-wheel drive, get decent gas mileage, and they usually benefit from regular maintenance so they're generally reliable. A retired ambulance can be purchased for less than the price of a Mercedes Sprinter or Ford Transit and can be easily converted with the same type of amenities found in other vans.
Ambulances often have large interior spaces and some even come with bathrooms and sleeping quarters pre-installed. If you're into the unconventional, an ambulance is worth consideration.
A few of the downsides are that these campers are not stealth at all. They also come with sirens and other features which can make gutting the electric system difficult.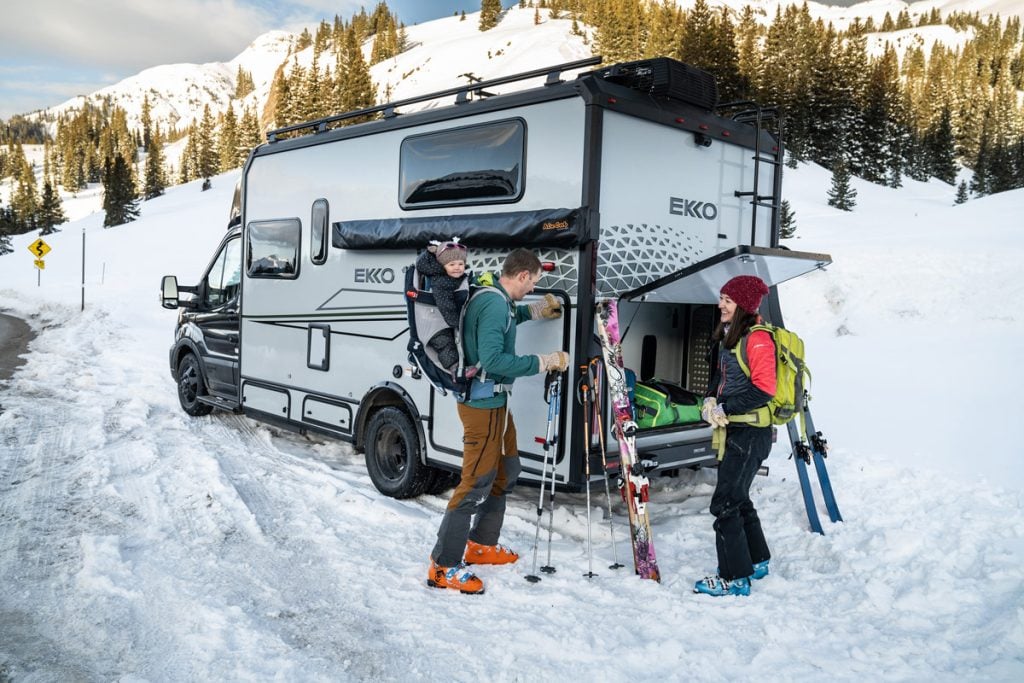 Class B RVs
While researching every possible van life camper, it's important not to forget about the Class B RV. These are basically just a drivable motorhome that is built onto the chassis of a van like the Mercedes Sprinter or Ford Transit.
Class B RVs offer plenty of amenities and comforts like extra storage, full-size bed, kitchenette, and bathrooms. They are also more nimble than the average motorhome and get better gas mileage than a full-sized RV.
One of the main advantages of a Class B RV is that it's designed for camping so you don't have to do any major building or renovations – it's already done for you! The downsides are that they're more expensive than building something yourself and won't have the personal touch that only you can add.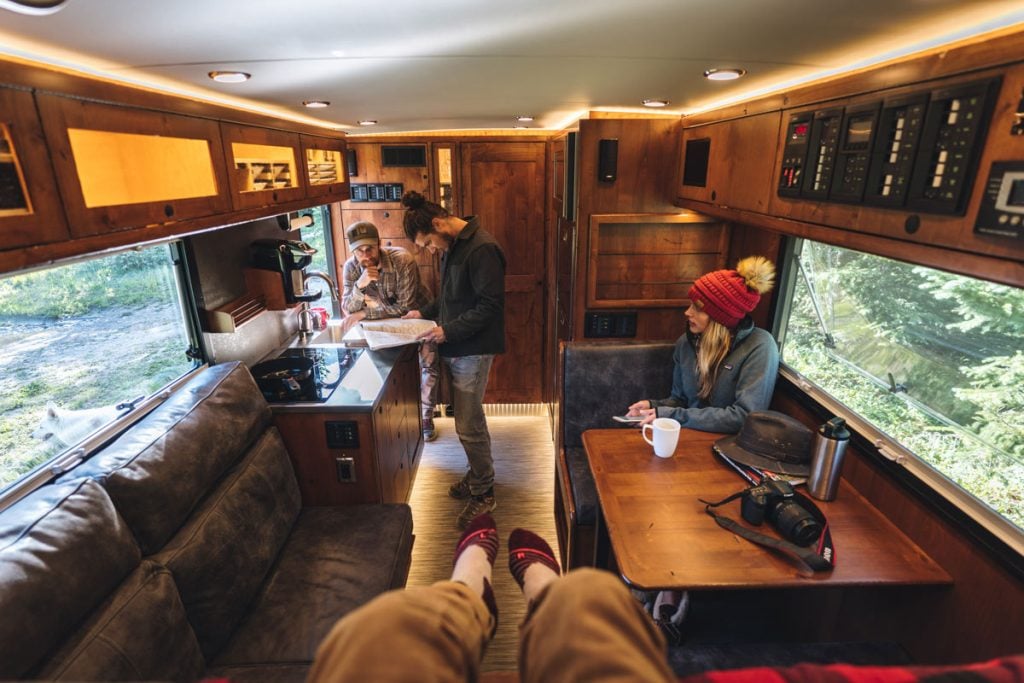 Overlanding Vehicles
Lifted Tacoma's, Safari-style Land Rovers, Sportsmobiles, EarthRoamers and the like are all more dedicated to long boondocking trips in foreign countries and forest roads. These have a much pricier drivetrain for the amount of living quarters that you get and keeping up on maintenance is more important because you can't have them break down somewhere in Alaska, 70 miles from cell phone service.
Overlanding vehicles are fun and have a great community of followers. If this lifestyle is appeal to you but you're new to it, it's important to join groups that you can travel with to learn the ropes. Remember, the further out your vehicle can go, the further you have to walk back if you get stuck.
Questions To Ask Before you buy
Purchasing the right vehicle might be the single biggest decision you make when starting van life. So it's important to do your research and make sure you're getting the best fit for your budget and lifestyle.
If you plan to go van camping for many months at a time, we highly recommend trying out a conversion van rental (or a few) for a weekend getaway first. There's no substitute for the experience and knowledge you'll gain just from living on the road for a while.
Additionally, there are a few questions you should ask yourself before hopping on Craigslist:
What is your budget?
Do you want something new or used?
Will you build it yourself?
Do you have good mechanical skills?
How many people will be traveling?
Do you need to be 'stealthy?'
Will you be traveling on rough roads or off-grid?
How much ground clearance do you need?
Are you bringing a pet?
How do you envision your sleeping area?
How will windows/doors affect your build?
Is there enough space for solar or vent fans on the roof?
Can you stand up in it?
How many items do you want to bring?
Will it fit in a normal parking spot?
We wrote an article on the pros and cons of being able to stand up in your van. Spoiler alert: it's not as bad as you think.
There is also an article about how to buy a used camper van. With tips for purchasing from a private seller to get the best deal.
Where To Buy A Van For Van Life
You can buy a van for van life from many different places including private sellers, dealerships, and even online retailers. Over the years several marketplaces have emerged geared specifically towards van lifers and builders.
Here are a few van life marketplaces:
FAQ
How to choose a van for van life?
When choosing a van for van life, consider your budget, lifestyle, and the type of vehicle that will best suit your needs. Large cargo vans are great for those who want plenty of interior space. Conversion vans and minivans are stealthy and still have a lot of room for building. Class B RVs come with most amenities already installed so you don't need to do any major renovations.
What is the most reliable van for van life?
Reliable vans include the Mercedes Sprinter, Ford Transit, and Chevy Express Cargo vans. These are all built on truck bases so they are often easy to service and reliable. You can also consider many minivans as an option since they are popular and widely produced.
What kind of van is best to live in?
It really depends on your budget and lifestyle. If you want to maximize interior space, a large cargo van would be the best option. Those who don't mind spending a bit more money can get a Class B RV which comes with all of the amenities already installed. Minivans are also great for those looking for something more stealthy.
Can you van life in a car?
Yes, you can live in a car! It just takes a bit more creativity and planning to make sure you can fit all of the necessary amenities. Consider adding a bed platform and extra storage solutions in order to make the most out of your car's space.
No matter which type of vehicle you choose, don't forget to factor in potential maintenance costs, fuel efficiency, and other issues that could arise from living on the road. With a little bit of planning and foresight, you can find the perfect vehicle to turn into your mobile home. Best of luck on your journey!