What Is It Like Living In A Van Full Time? Questions Answered
When we decided to move into a van for the first time, we weren't really sure what to expect.
Our plan was to set off on a year-long trip in a 1996 Dodge Ram Van. The purpose was to go on an adventure, see the places we haven't been and do a little bit of work along the way.
We are not stealth campers and spent the majority of our time boondocking or in campgrounds.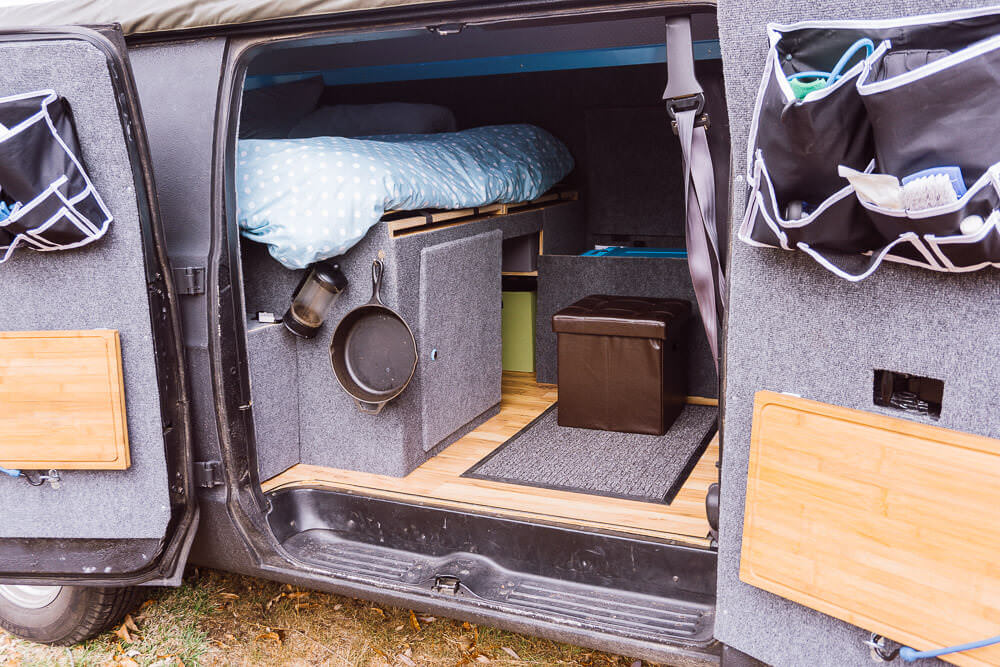 Not everyone's experience of vanlife is going to be the same. Someone living in a van for financial reasons is going to have quite a different trip than us. And so is a surfing vagabond who likes to spend their time at the beach.
After spending 10 months on the road, we're excited to keep traveling for a longer period of time.
We've faced a lot of unexpected circumstances while living in a van. Listed below are the most surprising things we've faced: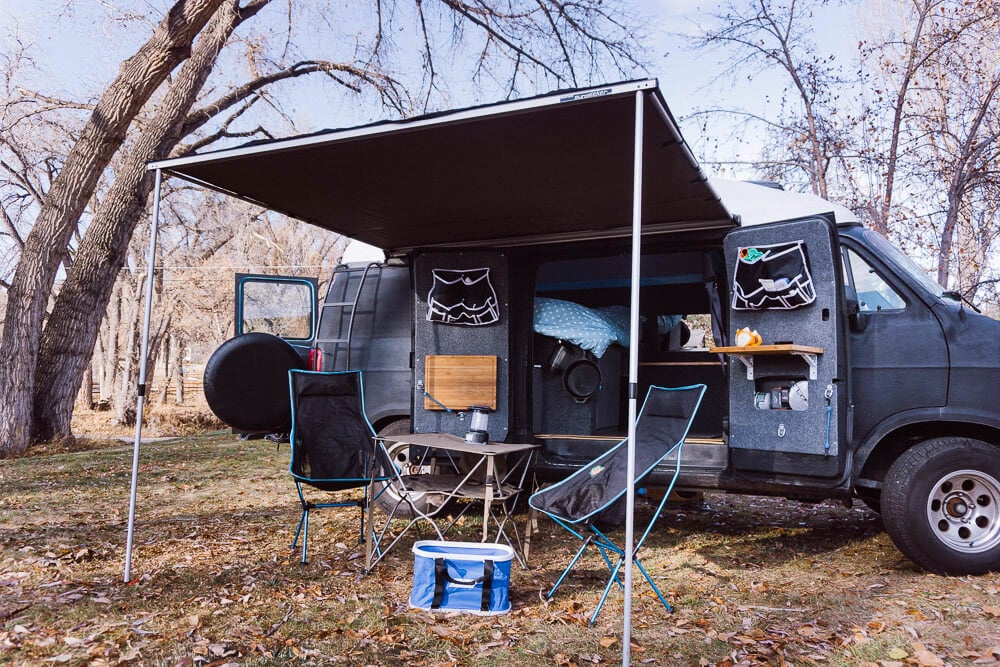 Comfort
I expected van life to be a lot like camping. One of the biggest surprises to me was how much cleaner it felt.
Sleeping in a bed makes a huge difference compared to sleeping on the ground in a tent.
In this respect, I think living in a van is more comparable to living in a micro-apartment than camping.
When you wake up you don't have dirt in your fingernails and nothing is wet. Waking up is comfortable.
I've rarely felt the need to jump out of bed and get out of my environment. The sun is not shining in your eyes and the wind is not making you cold.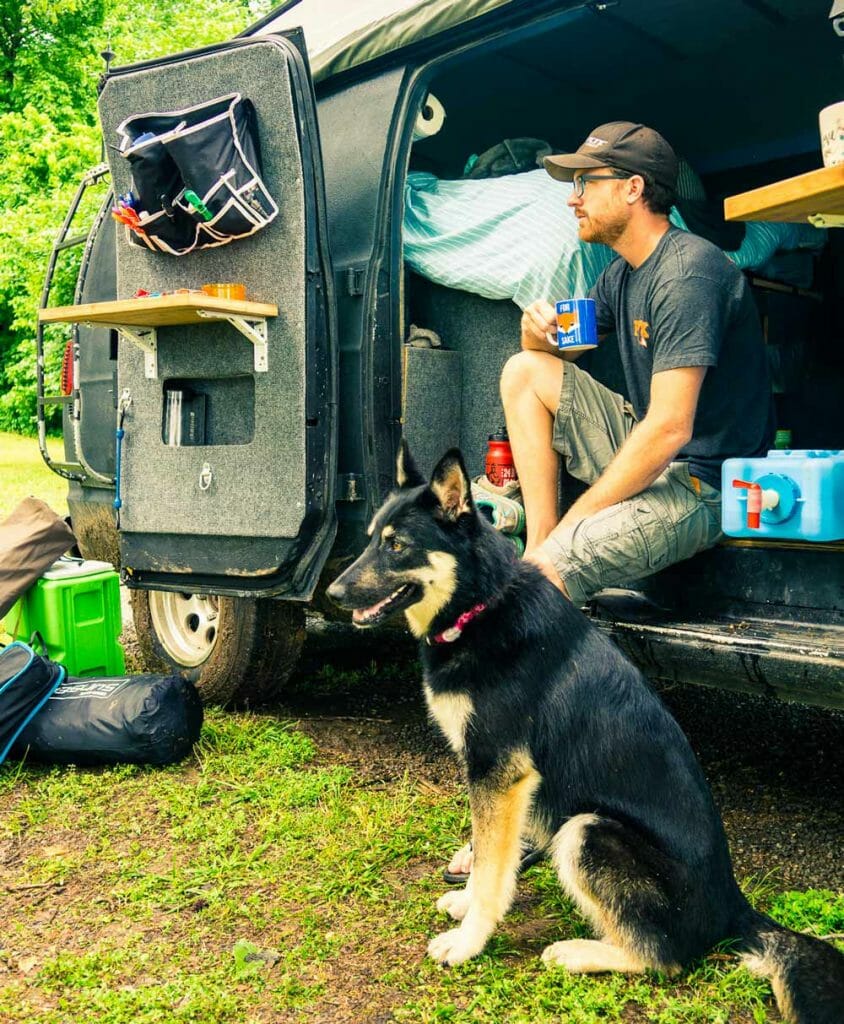 Campfires
We noticed on day one that building a campfire was not something we would be doing often.
Many of the vanlifers on Instagram post pictures of their vans parked on a beach with awesome views and a cute little fire.
We have met vanlifers who actually do this, but campfires are not for us. When you build a campfire, everything smells like smoke; the smell seeps into your hair and clothes.
If the fire is too close to your van or the wind is blowing, the smoke gets into everything inside as well.
With showers and laundry far and few between, we quickly noticed that if you want to feel clean, do not build a fire.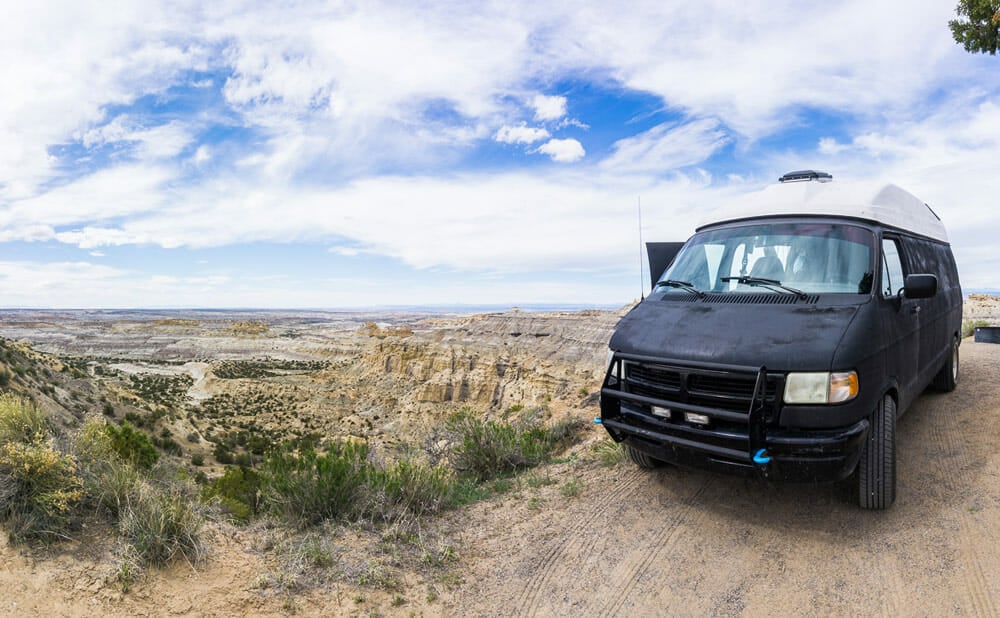 Finding Campgrounds
Locating campsites was a much more stressful experience than we had anticipated. Coming from Arizona, we were very familiar with finding public lands and free dispersed camping locations on the west coast.
But once we moved to unfamiliar territory we had to rely more on tools like BLM maps, visiting Ranger Stations, asking around, and trying to decipher Google Maps.
One of the things we found most difficult was being able to tell exactly when we crossed into public lands vs when we were still on private property.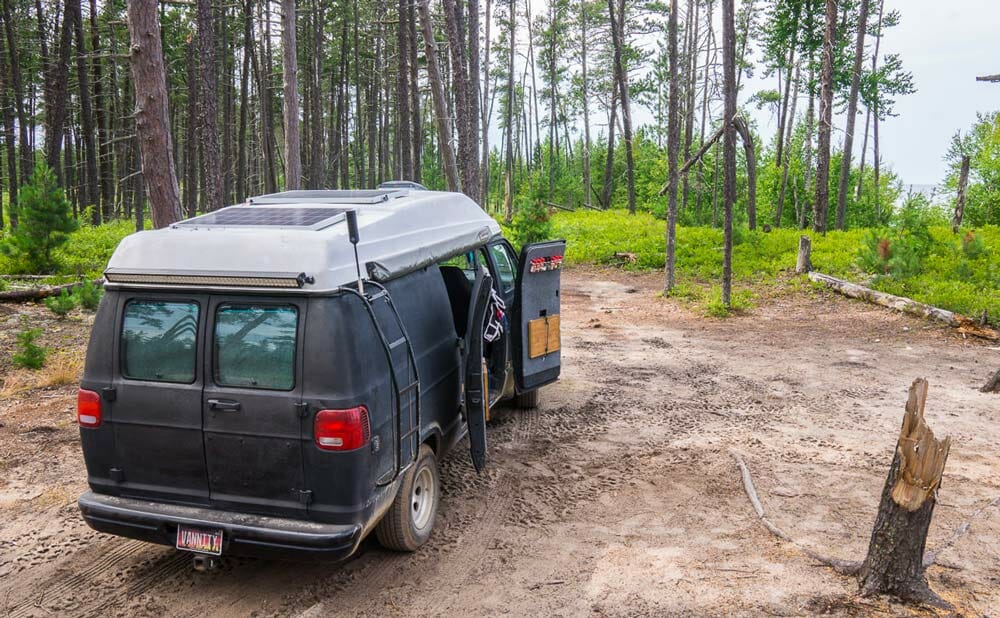 This is especially difficult if you have inconsistent (or no) cell phone service.
Since we started the trip, a few apps have come out that make this process significantly easier.
At this point, we rely on The Dyrt Pro Membership because you can turn on "map layers" to find boundaries for Forest Service, BLM and public lands.
You can download the maps offline and they have a built-in GPS that will show when you cross into free camping areas.
Rising and setting with the sun
When you aren't building campfires, your body quickly adapts to the natural rhythm of the planet.
Within just a few days we noticed we were waking up and going to bed a lot earlier.
Our bodies quickly decided sunrise was the right time to wake up and sunset was the correct time to get in the van for the night.
We've always been morning people to begin with, so it wasn't much of a change.
Without a fire, we don't tend to meander in the dark too long. Normally once the sun sets and it starts getting cold, we retreat to the van to watch movies or read.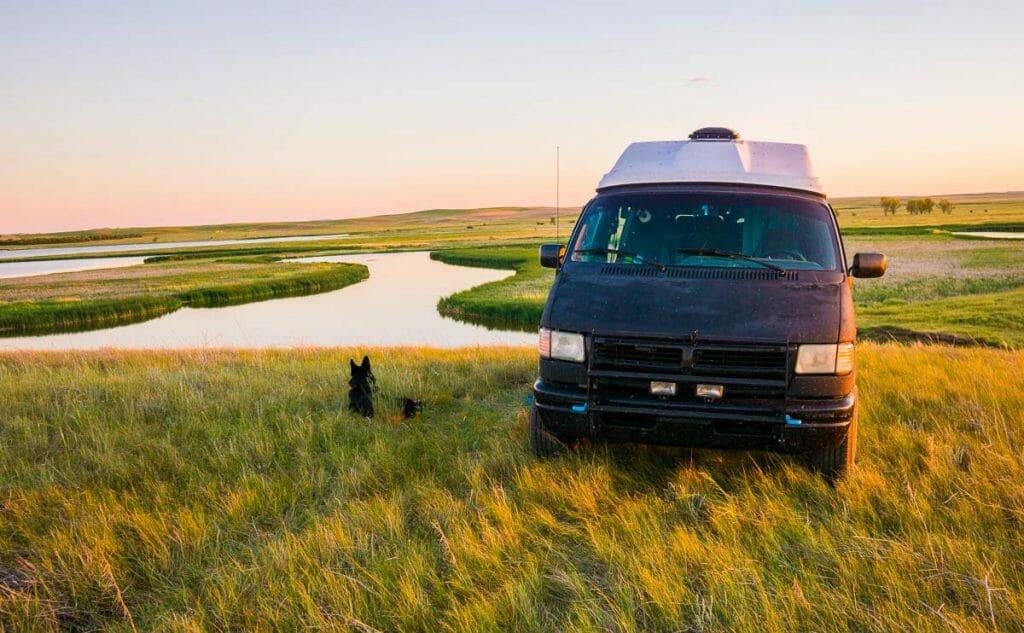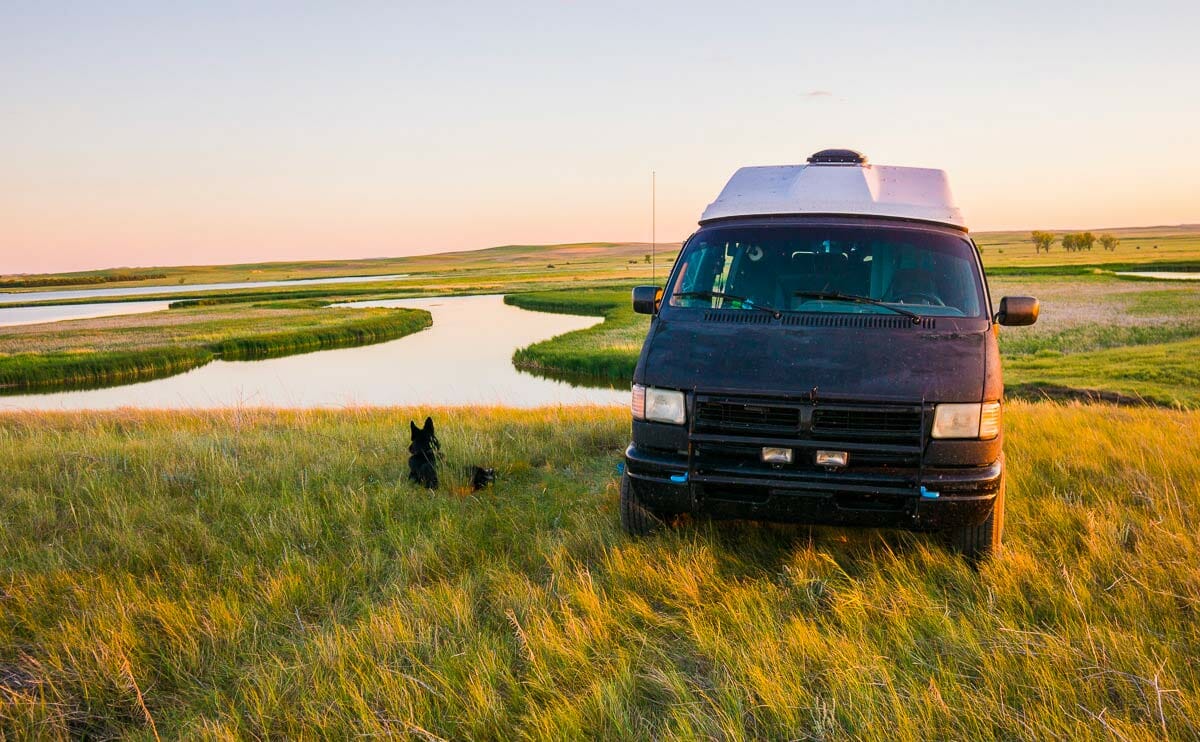 Mosquitos and flying bugs
Coming from Arizona, bugs weren't really something we had thought much about. If you've spent much time in the southwest, you know that insects are basically non-existent compared to the rest of the US.
We were in for quite a shock our first time heading up to northern Minnesota.
We were completely unprepared for insects. The first few nights were miserable. Not only were there mosquitos, but there were flies and no-see-ums as well.
We had not built any bug nets into the van. Our vehicle was poorly sealed, we had no bug spray and it was hot out.
At night, we thought we could open the windows. Wrong! The temperatures inside the van quickly rose to over 80.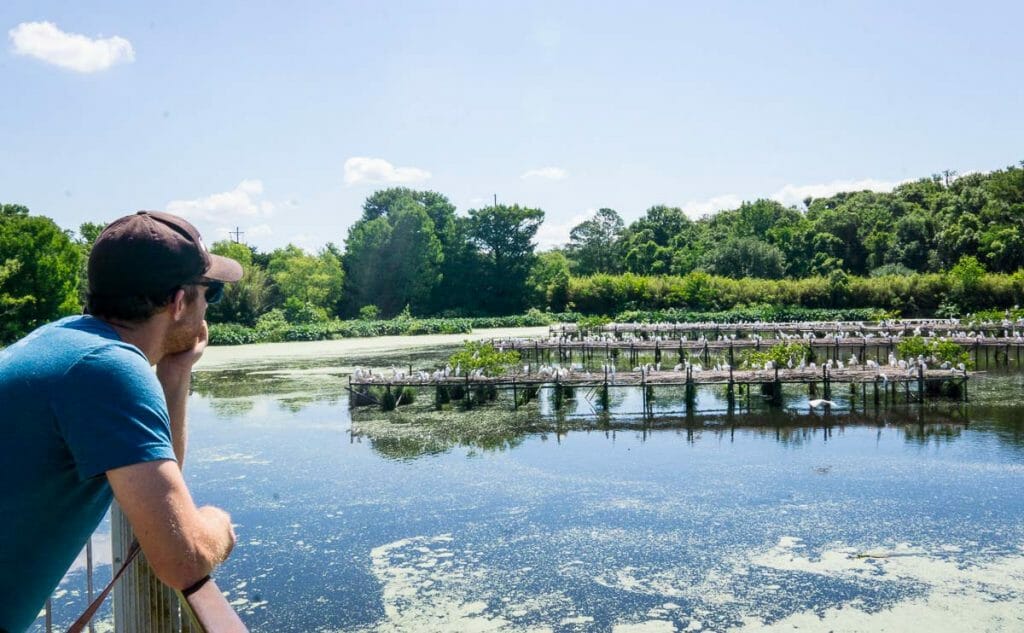 Our vehicle was insulated for cold weather, not for hot and bugs. We opened the windows and the bugs swarmed in. They were everywhere and it was extremely annoying to say the least.
The next day we went to the hardware store and bought window screens. We were able to make bug net seals with magnets and duct tape; and enacted a rule that the doors to the van would stay completely closed unless someone had to run in and run out.
We found that opening the newly covered windows a few inches and running the vent fan at night was the only way to keep the bugs at bay.
It was still hot, and a lot of bugs still managed to get into the van; but it was somewhat livable.
Bugs are probably the most annoying part of our road trip so far.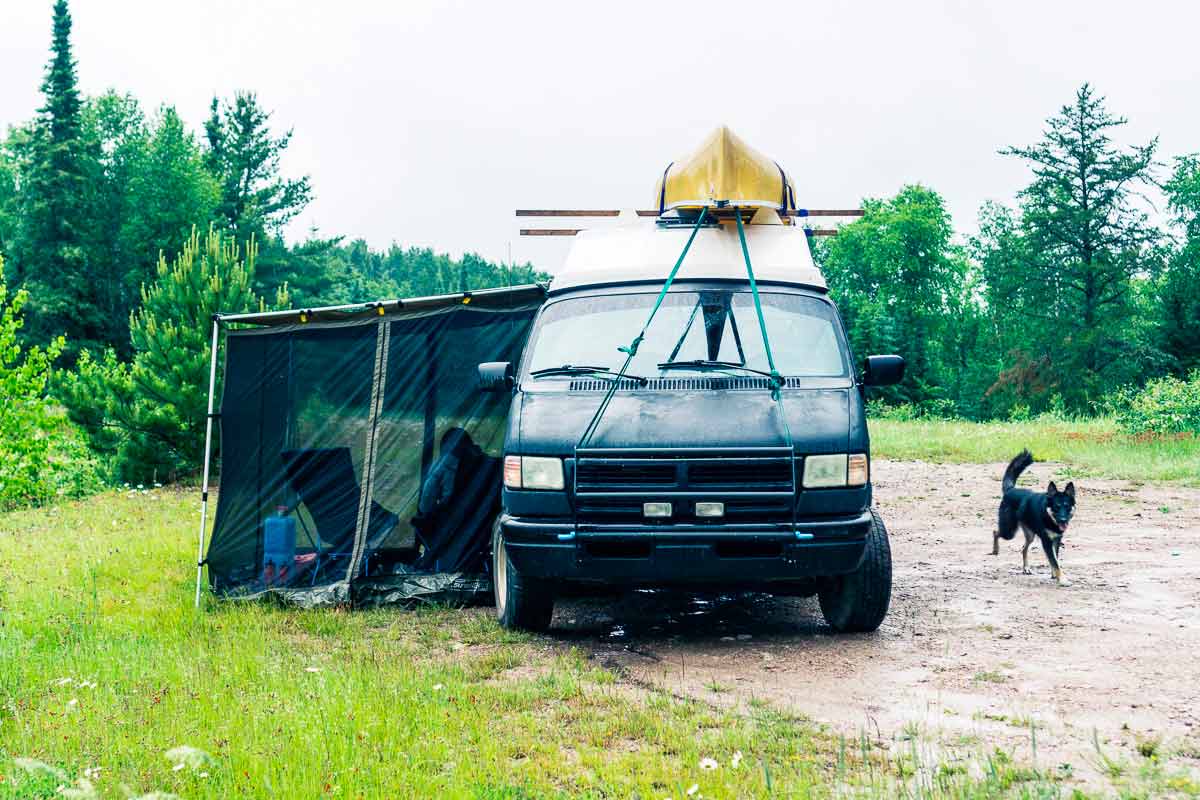 Ticks
Ticks were another unexpected surprise. I had never actually seen a tick before this road trip, so when I noticed our dog coming back with lumps on her back I was concerned.
A trip to the vet's office and we came back loaded with tick collars, spray and determination.
Pulling ticks out of our dog became a multiple-times-per-day activity. She was completely covered in them even with a collar.
Not only were the ticks on her, but they were on us as well. Nightly tick checks became routine. I even woke up to ticks crawling in my bed.
Did I say bugs were the most annoying part of our trip?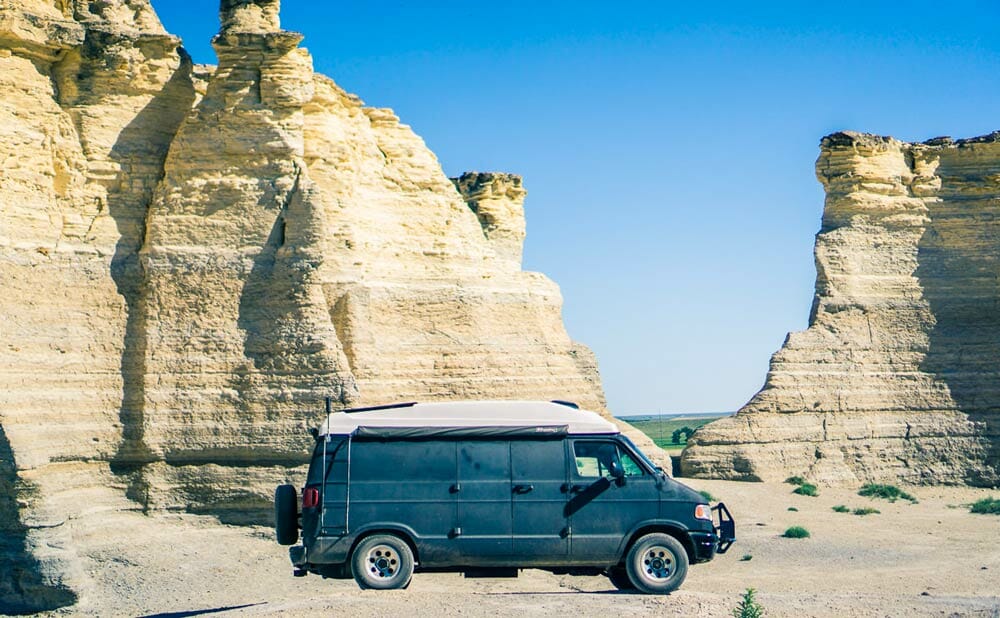 Temperature
We were prepared for the cold. In fact, for the first year we had nearly perfect weather. If anything it was too hot.
So far for us, it has been easy to bundle up and stay warm in the cold. Not so much when it's hot.
Running our vent fan helped a lot, but in the Texas heat with the sun beating down on the insulated car all day there's not a whole lot you can do.
The refrigerator had to work overtime to stay cool inside. This meant more heat coming out of the fridge as it worked and less power for a fan at night.
We ended up pulling out a tent and sleeping outside for a few nights. The heat is not fun and I would recommend heading North when it starts getting warm.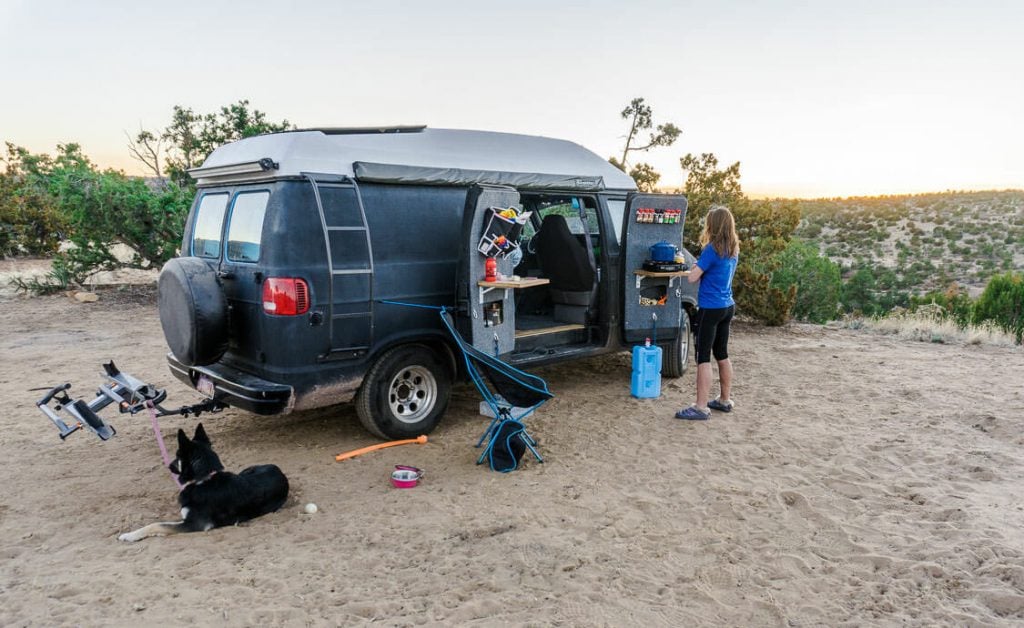 Cooking in the van
Although we don't have an elaborate setup, space constraints have turned out to be almost a non-issue when cooking in the van.
What we hadn't expected was unless you're going stealth, you don't need to cook in the van. 95% of our cooking is done outside.
In fact, 95% of our time is spent outside. We have plenty of room to spread out and cook in nature and it's very enjoyable.
The 5% of the time it is raining or extremely windy however, is not very fun. Our van is small. There is not enough room for two people to be effectively standing up at the same time.
If we have to cook inside, one person will do the majority of the cooking and the other person will either have to sit in the cab or on the bed.
That person might cut up veggies, but for the most part only one person can cook at a time.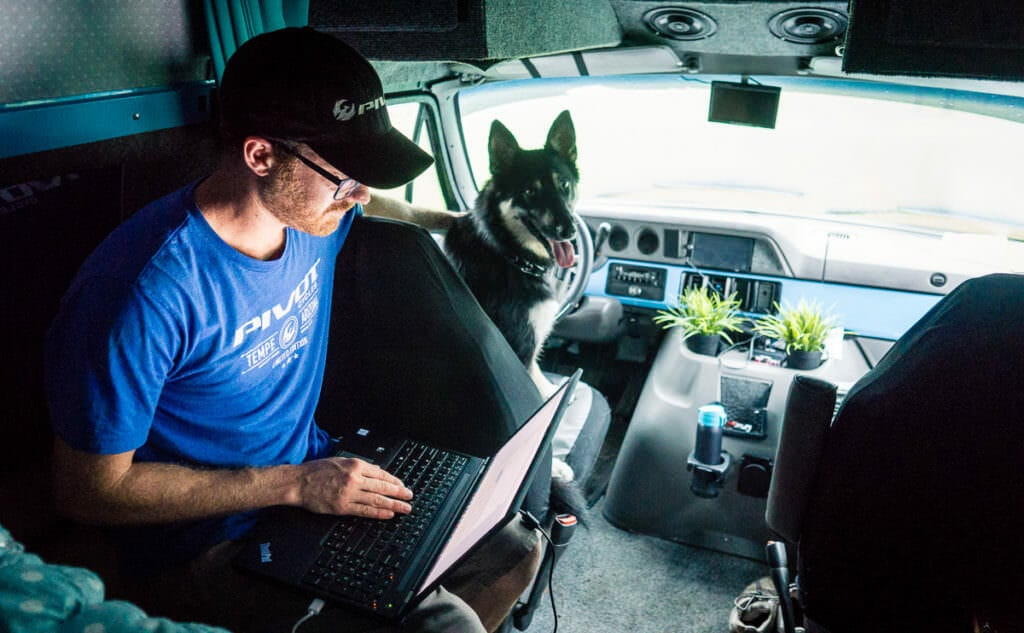 Space constraints
A van is small, there is no privacy. As stated earlier, it's nearly impossible to have two people standing up and moving around at the same time. This is just something you get used to.
It has never been much of an issue for us, but it is something to be aware of. If someone wants to get dressed in the morning, the other person either has to go outside or move out of the way.
When you are lying in bed trying to take a nap, you will feel the van rock every time someone steps into the van. If you are sleeping at night and the dog decides to roll over or move around, it is going to wake you up.
There is not really a solution for this, but you're in nature so just hang out outside!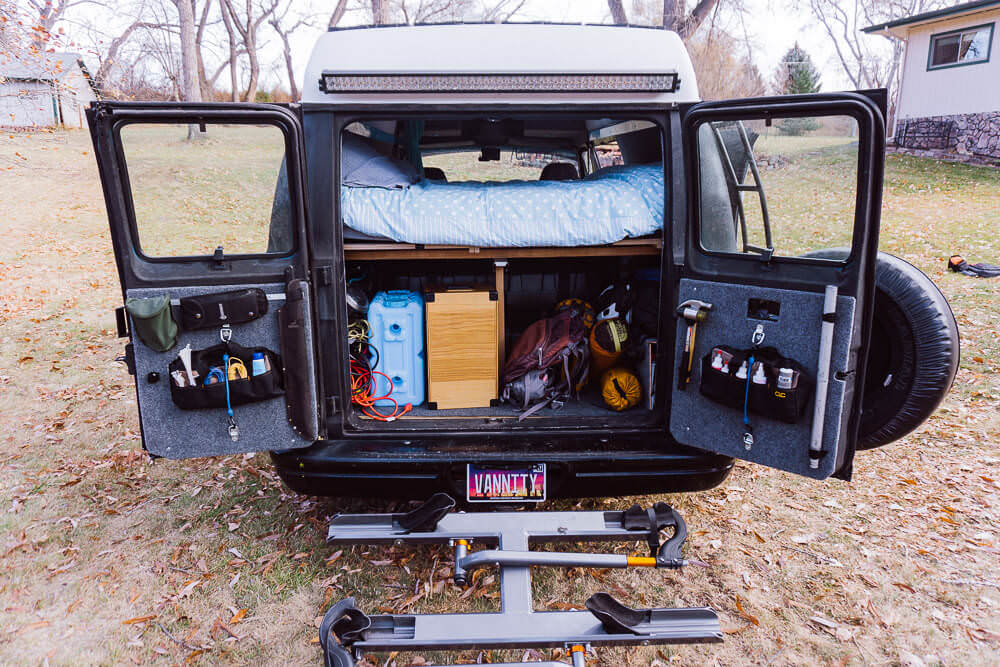 Packing
When we first left, I packed way too much stuff. In fact, I still have too much stuff! It's amazing how the van life will quickly change your opinions on what's really important.
Each time I go back to visit friends and family, I end up leaving more stuff behind. In a van, almost everything in life becomes replaceable.
Things get dirty, wet, shoved around and forgotten all the time.
Things like nail polish, makeup and bottles of deodorant fluctuate through extreme temperature changes and over time you just don't care anymore.
We're currently in the process of re-building parts of the inside of our van to give us less storage space, but better organization.
We quickly learned that almost anything you need can be bought along the way. It also makes no sense to purchase souvenirs or do too much shopping because there simply isn't space.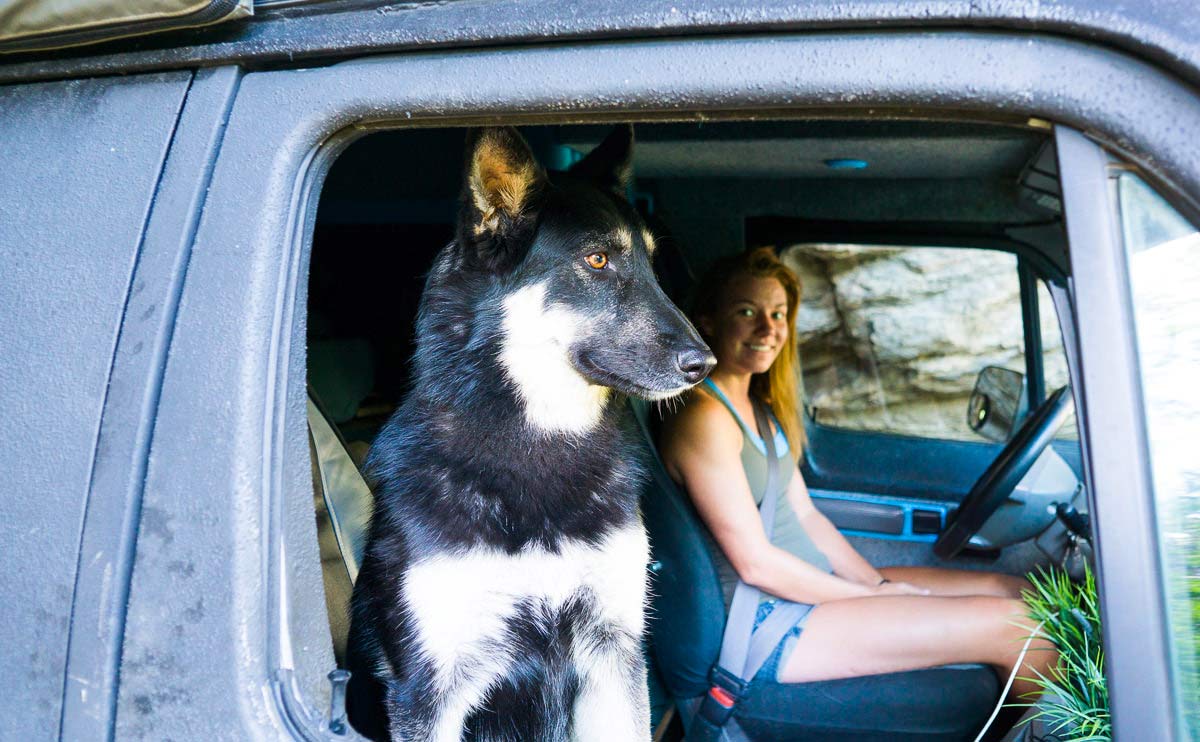 What is it like to van life with a dog?
We had a lot of concerns when we were deciding whether or not to bring our dog on the trip or leave her with friends. In the end, I can't imagine doing this trip without her. Van life with a dog sounded annoying and difficult at first.
I wasn't sure what we would do with her when we wanted to go to national parks or out for dinner.
Taking care of a dog on the road turned out to be one of the easiest transitions of the trip.
Our dog is having the time of her life chasing squirrels in every state and going on hikes every single day.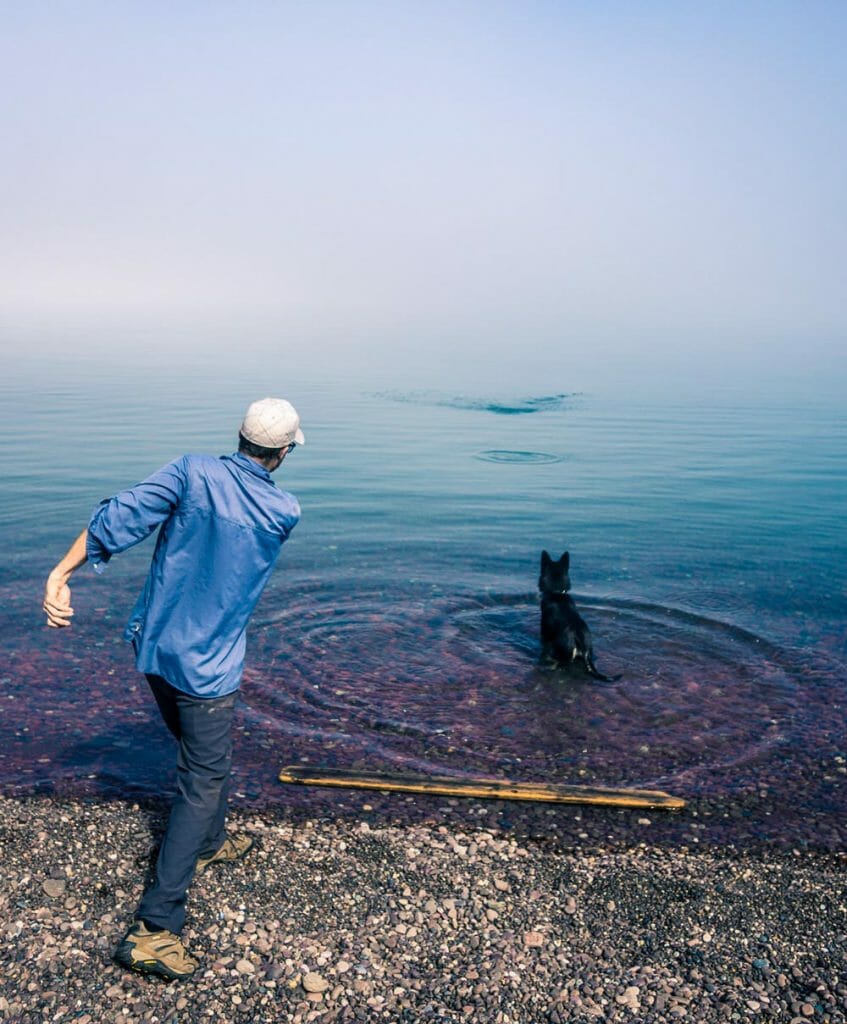 We think that bringing a dog along has made us a healthier and more active. Having a dog around reminds us to get up and move every day; we spend a lot more time doing cheap, physical activities.
Because of our dog, we also eat out much less than I was expecting which has saved us a lot of money.
There are more places that allow dogs than I was assuming. If there is somewhere we really wanted to go that was not dog-friendly, it is fairly easy and inexpensive to drop her off with a rover.com host and spend the day at Harry Potter World.
Leaving her in the car is of course a concern. However, this happens pretty infrequently, we are cognizant of the temperatures, and if it is warm one of us will just stay with her. I wouldn't hesitate to take a dog on a trip like this again.
Cleaning and organization
Keeping the van clean took a little bit of practice at first. When you're living in a van, everything has to be put away each night and every morning. Organization is key.
We hadn't realized the extent of this when we were building out our van, and at first we had not organized things in the best way.
The items you use most often need to be easy to reach. At first we had our coffee cups stored back behind our clothes.
As it turns out, having to pull everything out to get to the coffee mugs is not ideal.
One of the first modifications we made was swapping out the cloth seat covers with leather. We found that dog hair sticks to cloth like crazy and the leather ones were much easier to wipe off.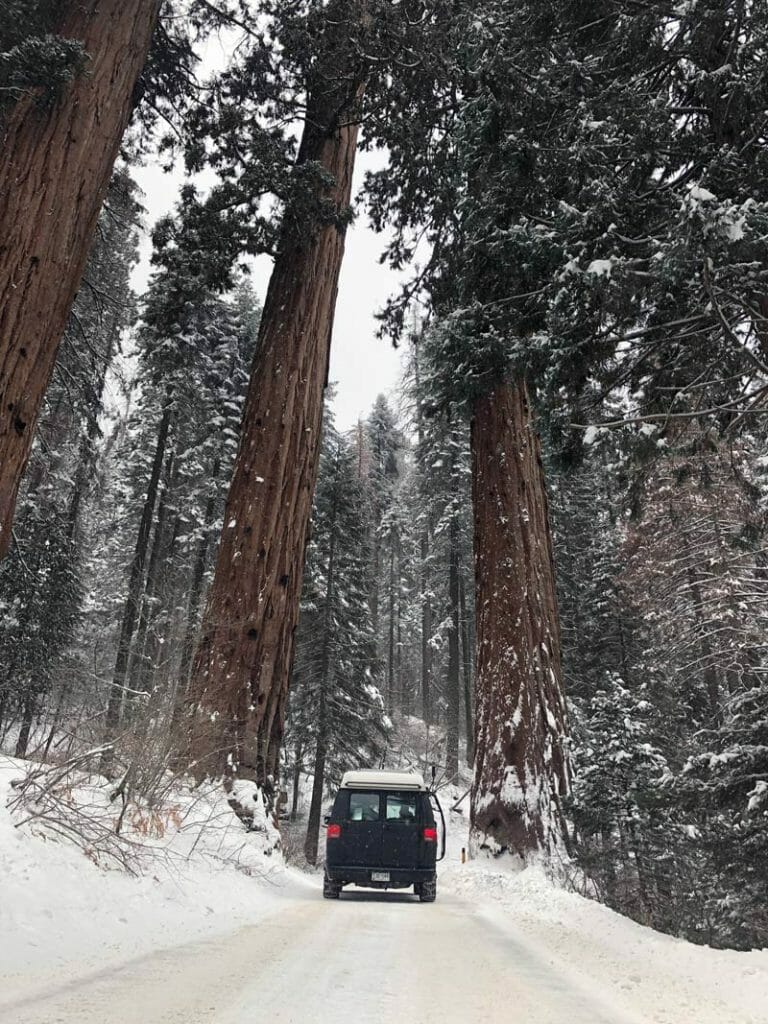 Environment matters a lot when it comes to the van life. In the southwest we rarely got rain and dirt is easy to wipe off. Once we traveled east, mud and even snow became a problem.
When it comes to mud, you learn to live with it a little. We came up with a routine of waiting for the mud to dry, then scratching it off with a bristle brush.
Beaches aren't as cool as they look. We've always been mountain people more than beach people, but after experiencing sand we are even more set in our ways.
Those glamour shots with a van parked on a beach next to the waves are not nearly as relaxing in person.
Unless you're big into surfing- which we are not- beaches can get really annoying.
Sand will get literally everywhere in your van on a beach even if you're careful. After just a few hours, you will be thinking 'f**k it, I don't even care if sand gets in my car'.
In the end, a trip to a car wash vacuum cleaner will make you feel better and life will be good.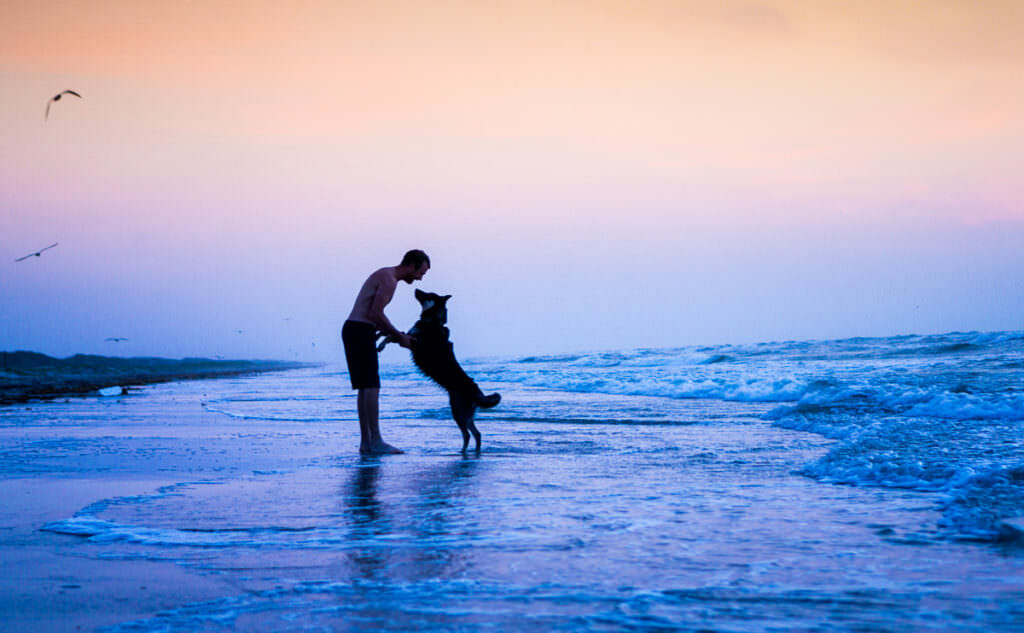 Where do you find showers or bathrooms?
Showers and bathrooms were one of my biggest concerns when leaving and it turned out to be a non-issue. We actually even packed a portable toilet to bring along in case of emergencies.
I am happy to report that bathrooms are literally everywhere: campsites, gas stations, public places ect.
They may not be the best bathrooms, many times campsites just have vault toilets, but they are around.
We got rid of our portable toilet three months into our trip because it was taking up space and it's never been used.
Showers don't happen every day and that wasn't a surprise. As I said earlier, overall, I felt much cleaner than I expected to.
There are a number of different ways to find showers. We haven't had much of a problem getting them every other day or every two days.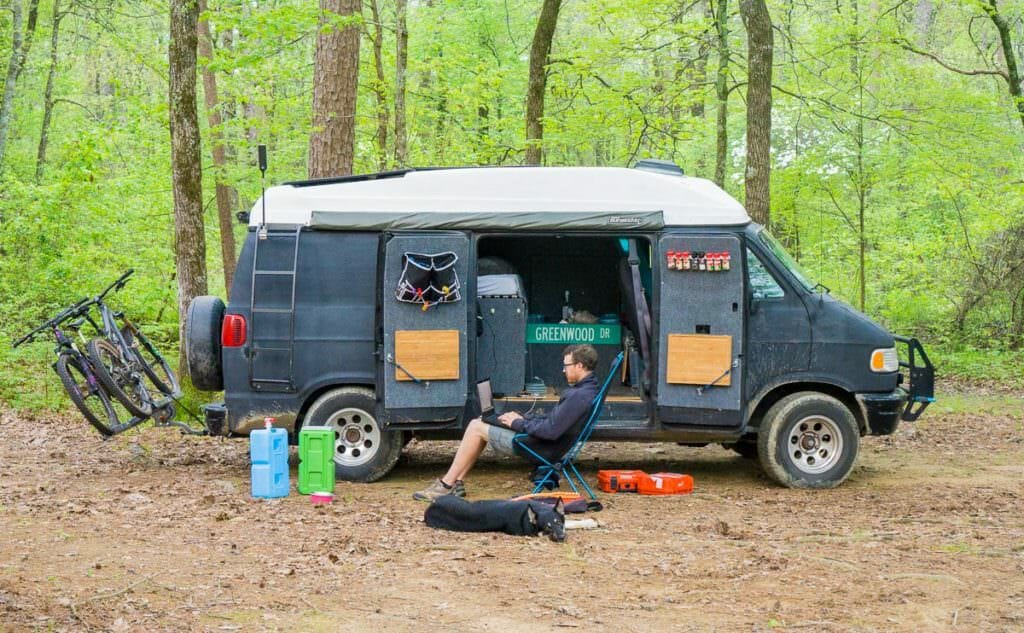 Finding internet
We both work online and internet wasn't something I had expected to be so frustrating when we left.
We are both currently using Verizon and hot-spot to our phones or work in a café when necessary.
This wasn't much of a problem at first, but when you start getting into forested southern New Mexico or northern Maine, internet becomes a huge problem.
It is one thing to plan for not having internet for a few days. It's another to think you will have internet and suddenly be in a blackout zone for 2 days unable to check your email.
When we don't have internet, I am in a constant state of stress. I'm always worried about missing emails or not being available for something important. A cell signal booster has seemed to help a lot, but it is not perfect.
There is no great solution, but over time you relax more and learn to roll with the punches. I no longer go into panic mode when we don't have internet.
Vanlife has made me much more carefree and relaxed overtime. The stress would probably also be much less if I weren't trying to keep up with clients.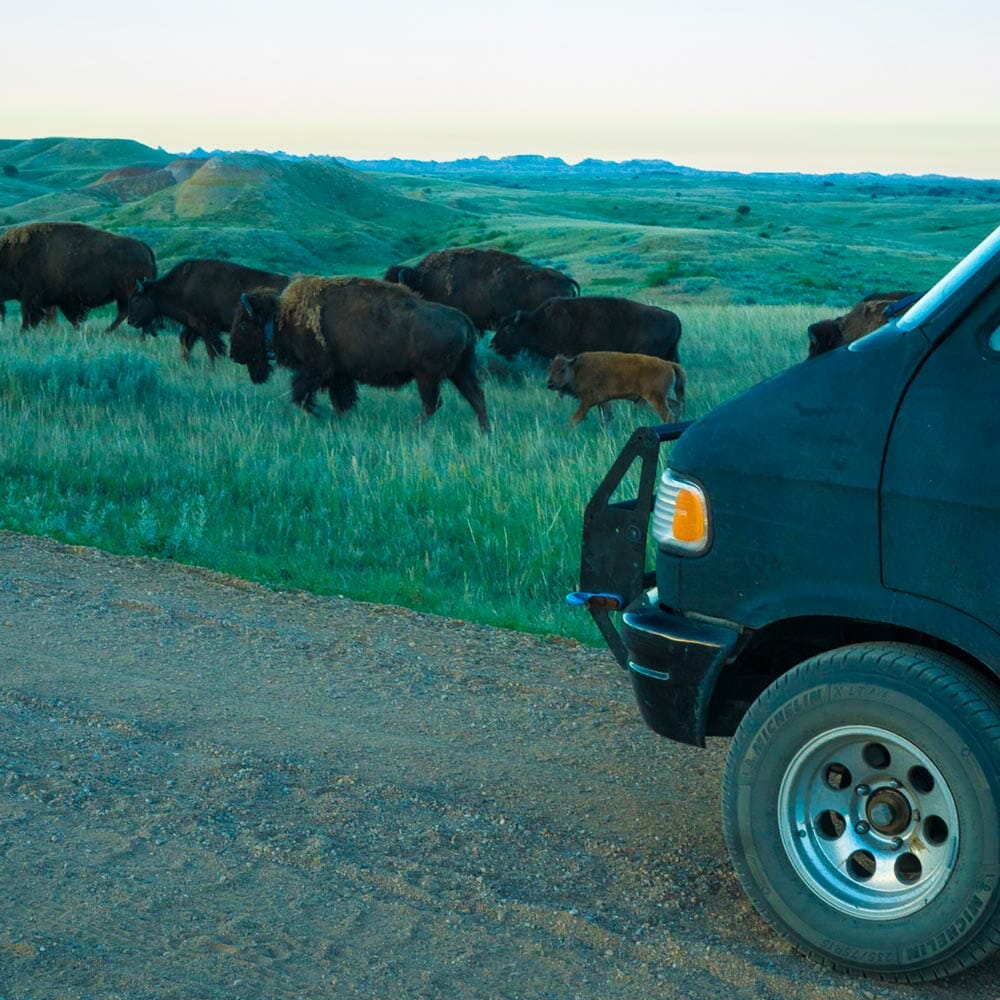 Mechanical issues
We've run into mechanical issues three times in our trip so far. All three times we were lucky enough to be relatively close to town.
Some issues you can fix on your own, but not having the proper tools is going to prevent a lot of self-help.
It feels pretty hopeless when you watch your home get towed away to a mechanic shop. We were once stranded in a motel in Dollywood, TN for three days.
Mechanical issues suck, but it's important to expect that it will happen and stay positive.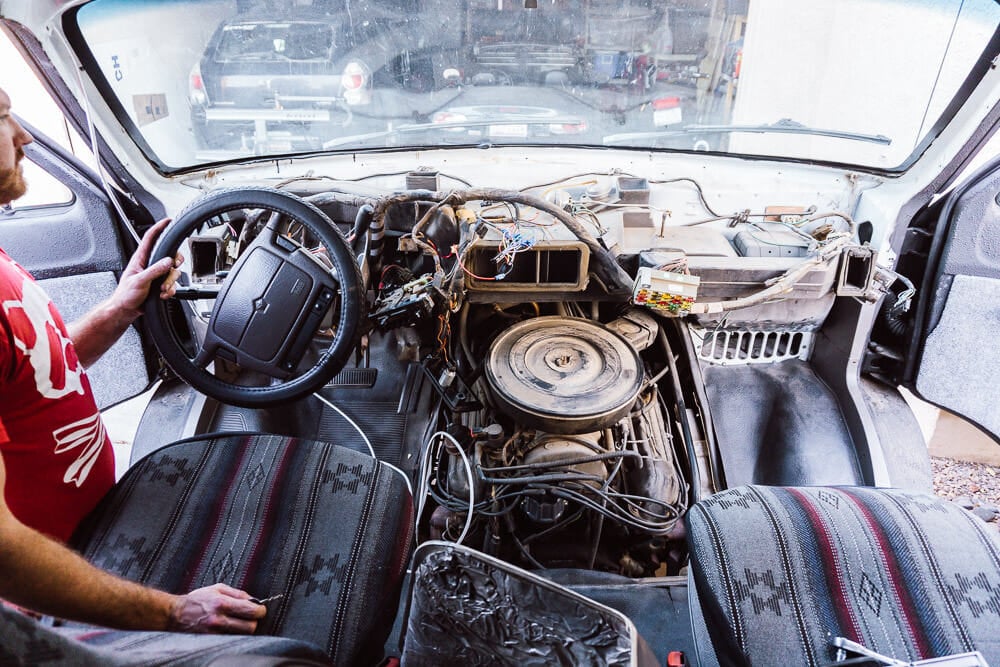 Insurance
As it turns out, finding insurance for a DIY conversion is not the easiest. Most "name brand" insurance companies don't know how to classify your vehicle.
We weren't quite an RV because we didn't have a permanent kitchen set up or plumbing.
We ended up getting regular automobile insurance, but that didn't cover our belongings. So we used a parent's address and renter's insurance to cover the odds and ends.
Fortunately, things have come a long way since 2017.
These days you can get camper van insurance through companies like Roamly which will cover "odd" vehicles like homemade camper vans that would normally fall through the cracks.
They have policies which can get you RV coverage just for having a portable toilet in your vehicle (no plumbing required).
And they can insure the stuff inside your vehicle like laptops and battery banks if you have an itemized list and documentation.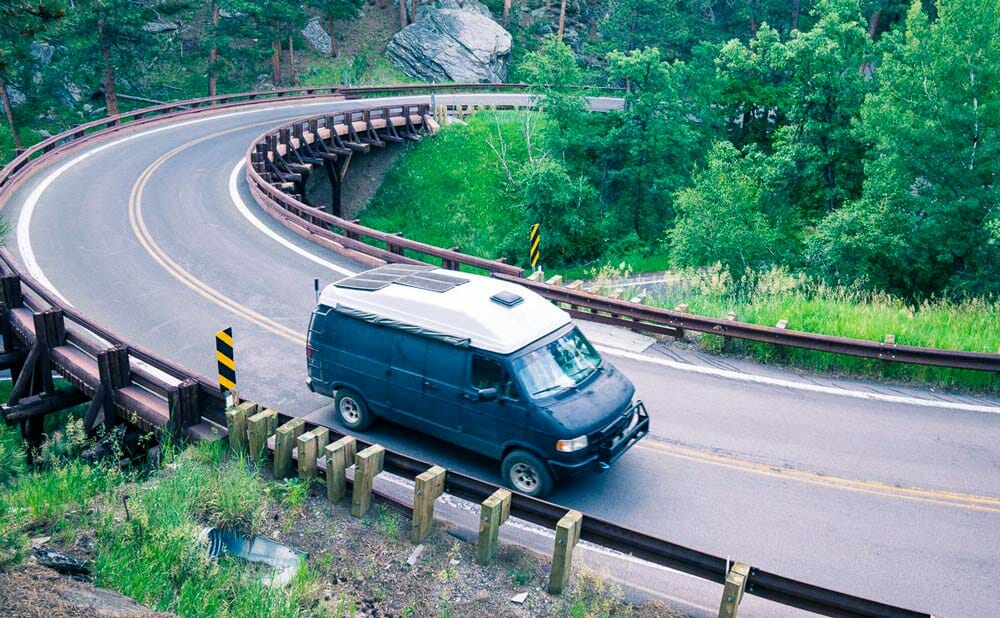 Planning our route
When we first took off we wanted to do everything. We had a hard time coming to agreements on where to go and what to do each day.
We felt as if every day we had to go somewhere new and if we had to sit in one place for a full day it was a planning failure.
Over time we've become much more relaxed about the whole travel thing. It's funny to think about how agitated we used to get with each other over where to go.
Our plans have become looser and looser the longer we've traveled and it's a lot less stressful and more enjoyable.
We currently use The Dyrt App for our trip planner when we need to map out a route far off in the future.
It can help you find free campgrounds and other destinations along your route. The app also tracks mileage and gas so there's less suprises.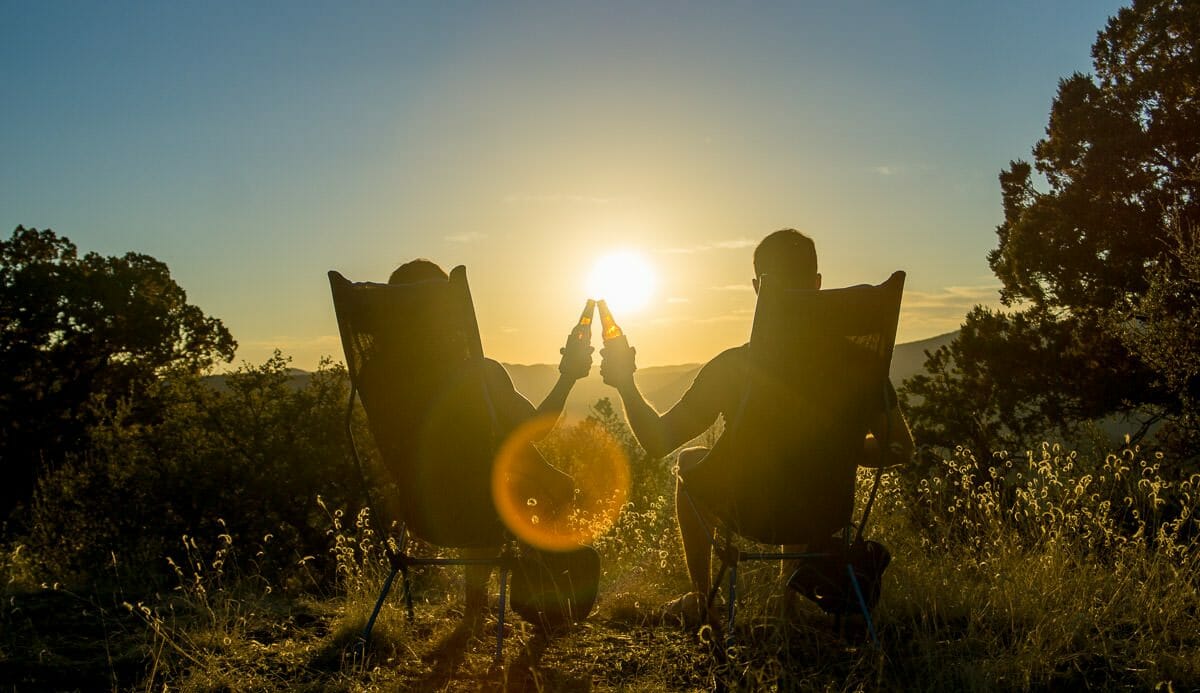 There's never enough time
By far, the biggest realization we've come to when living in a van is that you don't have time for everything.
When we imagined living the van life, we thought every day we would drive somewhere cool.
We would work on the road, go on hikes, go to museums, take up yoga, read, workout, watch movies, learn new skills, journal and draw.
We were so wrong when it came to how much time we would have.
Time flies and there's definitely not enough of it to do everything you want to do. We thought we could circle the whole US in a year.
Our first stop was New Mexico, and we ended up spending three weeks.
Even three weeks was not enough! The more places you visit, the list of things you still want to see is going to grow longer.
In the beginning, we would be in a constant state of stress that we were leaving a state without experiencing everything we wanted to see.
That's changed a lot and we've learned to prioritize the types of things we want to do (hike and exercise), and skip the things that aren't as exciting (go to beaches and museums).
Overall, living the van life has proven to be one of the most exciting times of our lives. There are a few downsides, but I'm grateful for the opportunity to be able to live this lifestyle.