What Type Of Mattress To Get For Your Camper Van + How To Cut It
By
on
This post may contain affiliate links. As an Amazon Associate, I earn from qualifying purchases. Please read my full disclosure.
Do you want to create a bed design with a unique shape? Beds that turn into benches or fold up small are a great way to save space in a van. Sizing a campervan mattress is easy and can be done at home with just a few tools.
If you're not sure what you want your bed to look like yet, read our post on 10 campervan bed designs to come up with some ideas.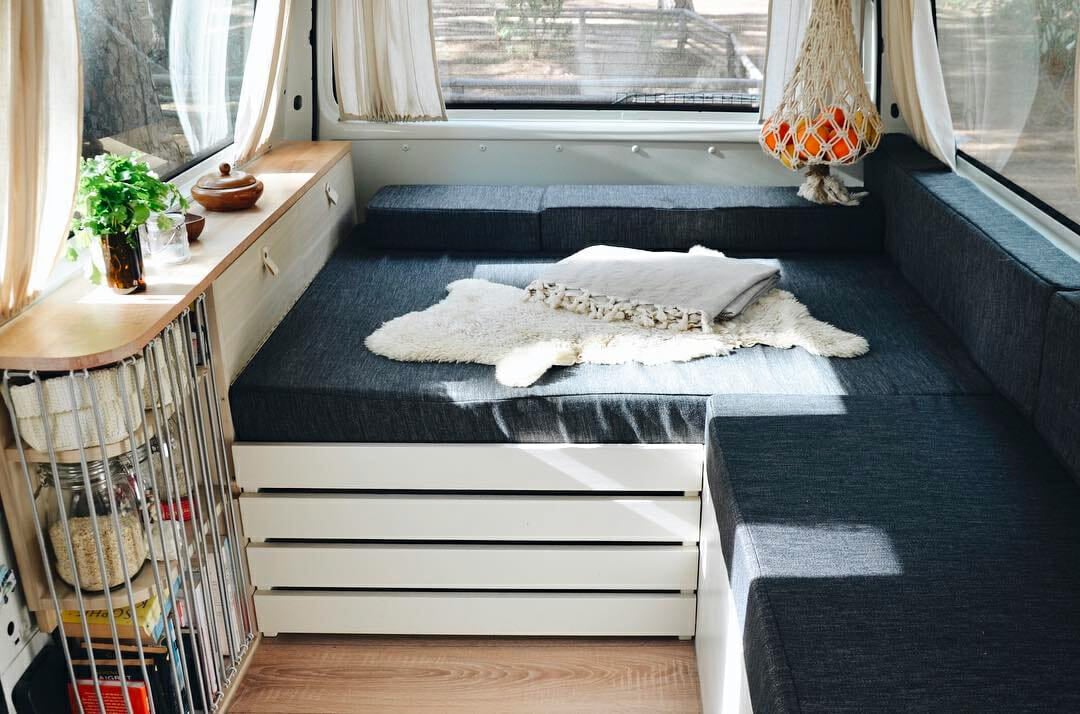 Start With Measuring Your Van
You'll be surprised to find that many campervans will be able to easily fit a queen-sized mattress or even larger! Mattress sizes are standard so you can use the chart below to see what is going to be the best fit:
| Mattress Type | Dimensions (inches) | Dimensions (centimeters) |
| --- | --- | --- |
| King | 76 x 80 | 194 x 204 |
| Cal King | 72 x 84 | 183 x 214 |
| Queen | 60 x 80 | 153 x 204 |
| Full XL | 53 x 80 | 135 x 204 |
| Full | 53 x 75 | 135 x 191 |
| Twin XL | 38 x 80 | 97 x 204 |
| Twin | 38 x 75 | 97 x 191 |
RV mattresses have unique sizes that include short-queen and bunk style.
Decide Which Type Of Mattress You Want To Buy
Memory foam mattresses are easy to cut at home and can be shaped to fit your van. They are relatively breathable and make a great choice for bench seats or cushions in addition to sleeping. There are two types of memory foam mattresses to chose from: gel-infused and standard.
A standard memory foam mattress is going to be less stiff and 'cradle' your body. A gel-infused mattress is stiffer and has a little more air-circulation. For our van, we chose to purchase a 5" gel memory foam mattress.
Gel-infused mattresses stay cooler than standard memory foam mattresses and can be cut in the same way
Height of your mattress is going to make a big difference in the comfort level. A 4-6" height is most popular among van dwellers. We went with a 5" mattress for a little extra comfort and have been happy with the results. Consider space constraints in the vehicle. Every extra inch is going to bring you closer to the ceiling with a mattress.
Mattress toppers are a great way to add comfort to your existing bed if you already have a mattress.
Tools To Cut A Mattress
Cutting a memory foam mattress in half is easy and can be done at home. Only a few tools are required and you probably already own them:
Measuring Tape
Rigid Ruler or Straight Edge
Sharpie Marker
How To Cut A Campervan Mattress
Step 1
Remove the fabric cover or any extra outer layers encasing the foam.
Step 2
Measure your mattress and mark off the cutting areas with a sharpie. Use a rigid ruler or guide to keep your lines straight.
Step 3
Carefully cut the mattress using a serrated bread knife or electric knife. There's no tricks! What's the difference between knives? An electric knife will leave you with a cleaner cut that looks less choppy. Either tool will work fine. Cut slowly and be sure to hold the knife at a 90-degree angle to keep the edges straight.
Pro-tip: the longer the knife blade the better when it comes to cutting a mattress
Chances are, your mattress is not going to be taller than the knife blade when it comes to a van. If your blade does not cut all the way through however, flip your mattress over after the first cut, re-measure on the back side and cut again.
The video below demonstrates cutting through a foam mattress. This is quite a bit thicker than you will probably have but the process is the same.
What about Fiberglass?
Some foam mattresses come with a layer of fiberglass insulation meant to act as a fire retardant. When you cut into the mattress you may see this come off as tiny, shiny fibers. To keep the fibers contained (and off your skin) we recommend covering your freshly cut mattress with a waterproof mattress protector.
What Are Some Good Mattress Choices For VanLife?
Choose a mattress based on your available space and comfort level. We like the gel-infused memory foam because they are slim, breathable and easy to cut. Listed below are a few popular size options.
Folding Mattresses for a Camper Van
Queen Size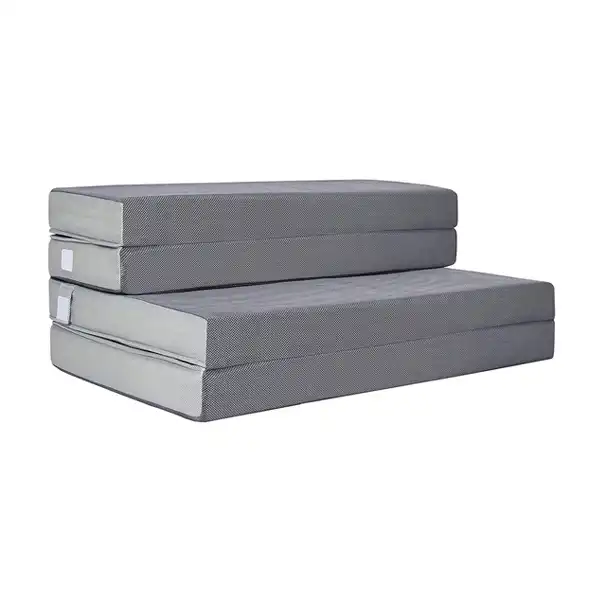 FULL SIZE