The Best RV Mattress Topper For Your Camper
By
on
This post may contain affiliate links. As an Amazon Associate, I earn from qualifying purchases. Please read my full disclosure.
Adding a mattress topper to your RV is going to make a world of difference when it comes to quality sleep. Toppers are cheaper than buying a completely new RV mattress, and they're easy to replace after a season or two of camping.
If you're new to RVs, it's important to know that many campers do not come with a standard size mattress. That means to get the perfect fit you'll want to invest in an RV-specific topper.
TOP CHOICE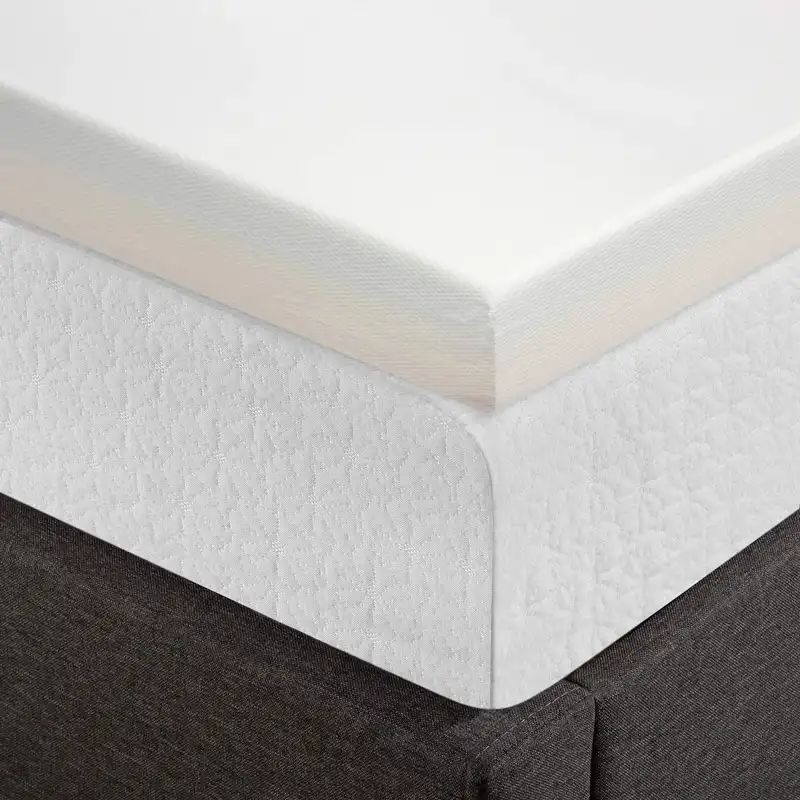 BEST VENTILATION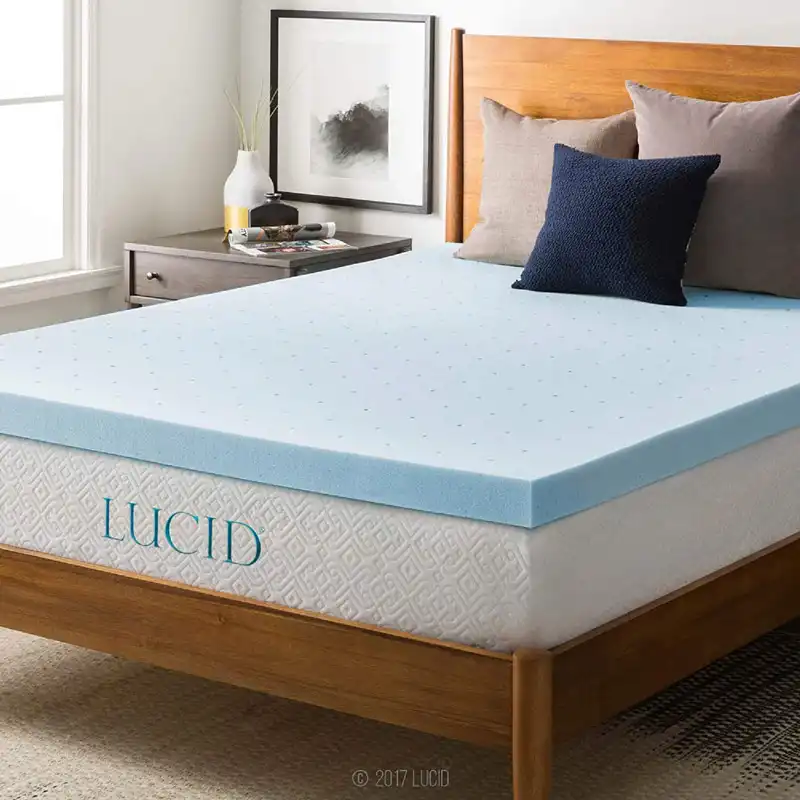 What is an RV Mattress Topper?
An RV mattress topper is an extra layer of padding that fits over the RV mattress. Primarily, it provides additional support and comfort to your resting body. Campers with achy backs and hips will particularly appreciate these benefits.
Compared to RV mattresses, toppers are easy to wash and maintain. Also, they help protect the bed from damage, bugs, and contamination.
Along with extending the life of your RV mattress, toppers can serve these functions:
Temperature control
Waterproof
Anti-allergen
Fitted-mattress pad
Essentially, an RV mattress topper is an inexpensive way to improve your RVing experience.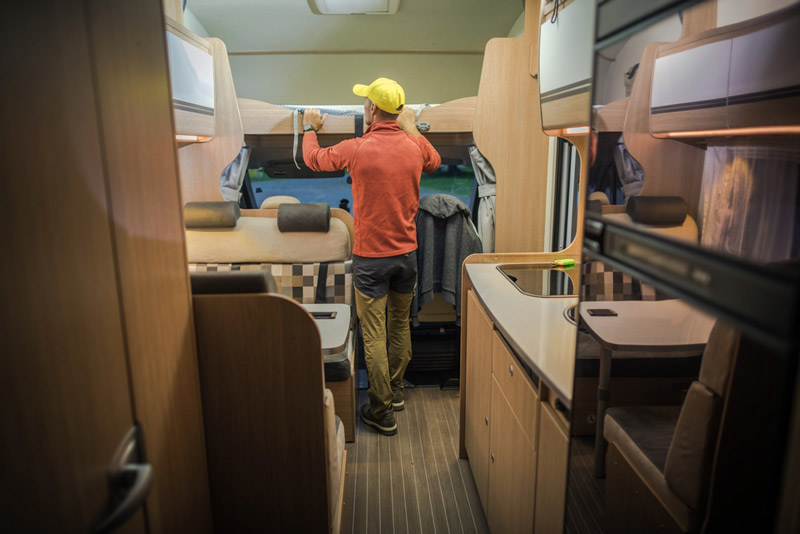 What Size RV Mattress Topper To Get
The first thing you should consider is the size of your mattress. If you don't want to slide around in your sleep all night, a perfect fit is essential. The standard RV mattress topper sizes are:
RV King topper: 72"x84"
RV Queen mattress topper: 60"x80"
RV Short queen mattress topper: 60"x80"
RV Full or double: 55"x75"
RV Three quarter: 40"x80"
RV Twin: 42"x80"
RV Bunk: 35"x79"
In addition to these standard sizes, RV mattresses come in many other dimensions. However, because toppers are trimmable, you don't have to worry about fitting them to odd-sized beds. You can easily resize them with several cutting tools.
RV Mattress Topper Materials
Material plays a vital part in selecting the right mattress topper for your bed. They determine how the topper will react to certain conditions. Here is a list of the most popular kinds of RV mattress toppers and their features:
Goose Feathers
You may be old enough to remember when most pillowcases had feather stuffing. Those old pillows were super soft and comfortable. If these two qualities are your top priorities, consider buying a Goose Feather RV mattress topper.
By the way, there are a few reasons that feather pillowcases lost popularity. Like their predecessors, feather mattress toppers can stimulate allergic reactions and respiratory tract irritation. In addition, they don't offer as much support for achy muscles and joints.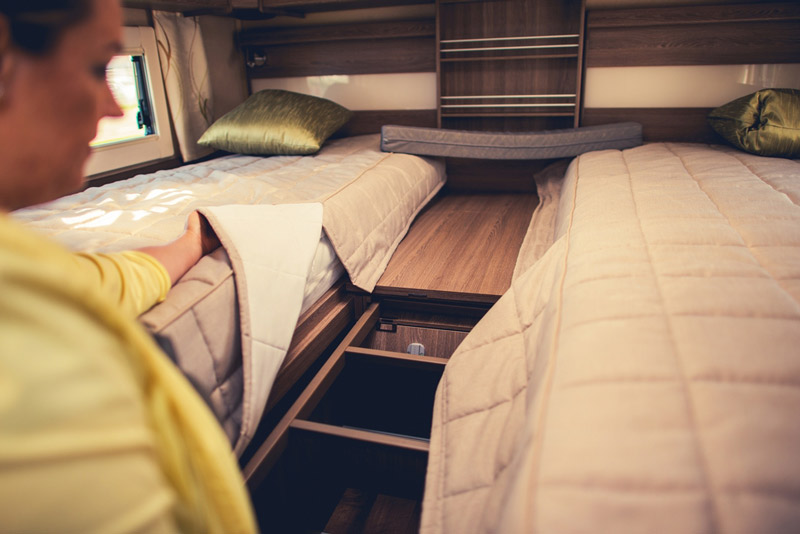 Memory Foam
Memory foam allows your topper to adapt to the contours of your body. Regardless of your position, this material helps align your back, head, and neck. Also, it adjusts according to your body weight.
When you sleep on a topper with memory foam, your sleep sessions should be more relaxing and pain-free. However, this material retains heat, which can leave you in a sweaty mess. You can offset this problem by buying a memory foam topper with a gel blend.
Gel-Infused
You guessed it. The combination of memory foam and gel beads cools the topper by allowing more airflow. Also, the gel adds to the overall responsiveness of the topper to your body's dimensions. If you tend to RV in warmer areas, this type of topper will cool down your sleep environment and contribute to your added comfort.
Even though the memory foam and gel mixture provides excellent benefits, it comes with a higher price tag. So, if you have a tight budget, you may have to put this type of topper on your wishlist.
Latex
You don't have to sacrifice comfort for an eco-friendly mattress topper. Natural ingredients make latex toppers safe for the environment and kind to people with allergies. They are very versatile and highly regarded in the RV world.
Before you order one, be aware that newly unpacked latex toppers have a strong odor that takes a while to go away.
Down Alternative
Down alternative RV mattress toppers are great for camping in cold weather. Combined with the gusset baffle box stitching, the ultra-soft material will hold in enough heat to keep you warm on the coldest nights. Some down toppers provide extra warmth by being constructed of wool.
With the down alternative, a microfiber filling makes it possible for you to get all of the comforts of feather toppers and the hypoallergenic protection of latex. For more durability, choose the cotton and microfiber combination for the cover material.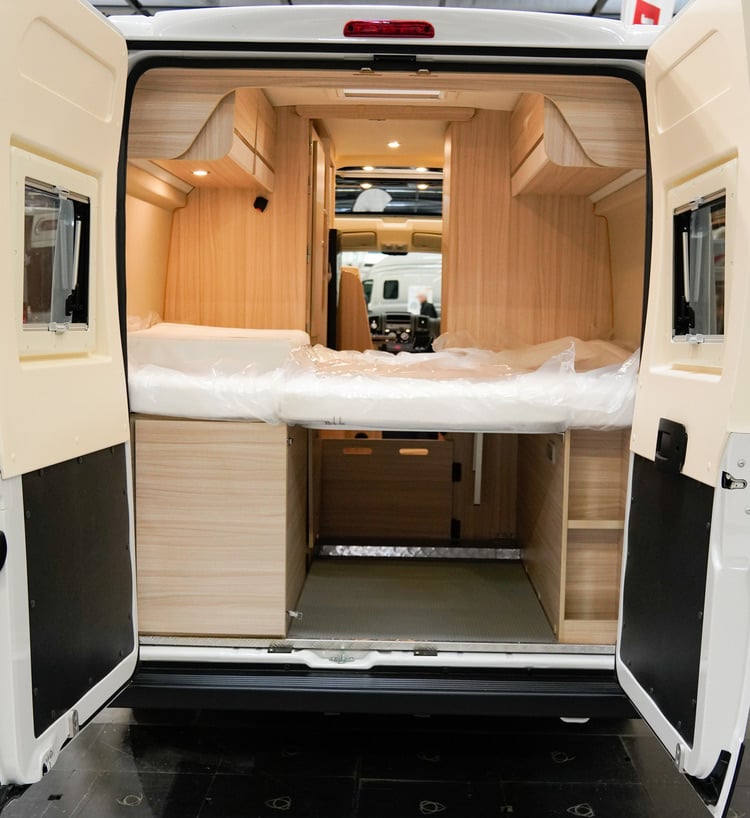 Thickness
Considering the thickness of an RV mattress topper is well worth your time. For example, thicker toppers retain more heat. If you do a lot of camping in areas with hotter climates, it would be wise to buy a two-inch topper. Another factor is the condition of the mattress. If it is very worn, you'll need a three or four-inch topper.
Under normal circumstances, you may consider choosing the right topper thickness by your bodyweight. Anyone who weighs 140 pounds or over should consider a three-inch topper or thicker. Any topper under two inches could lead to a rough night.
Durability
Camping conditions can be rough on your RV equipment, particularly on interior furniture. It is essential to have a topper that can stand up to natural and human-made elements. The more enduring toppers have latex, wool, or memory foam designs.
Only the test of time determines how durable a specific topper brand is.
Motion Isolation and Noise Control
When you are shopping for an RV mattress topper, it is easy to overlook motion isolation and noise. Many people don't realize that these are controllable factors. They just resign themselves to put up with tossing and turning sleeping partners.
Latex and memory foams are particularly good at canceling out the actions of a noisy and fidgeting sleeper. If these problems apply to you now or in the future, make sure that the topper model offers these features.
Price Ranges
RV mattress toppers have a price range from $100 to $150. By comparison, a replacement mattress can cost between $400 to $1,100. Depending on your needs, topper prices can vary greatly, but you win in the long run. The combination of a good topper and regular mattress flipping will provide you with many years of comfort.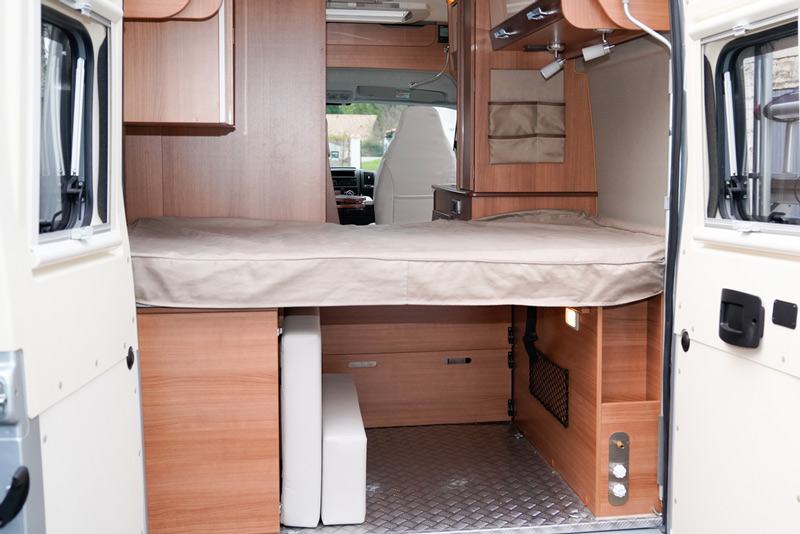 Where Can You Buy an RV Queen Mattress Topper?
RV mattress toppers are available for sale through various online and physical location retailers. The best shopping option depends on your shopping preference.
Big online retailers like Amazon, Wayfair, Overstock, and eBay offer a wide selection of RV mattress toppers and sheets. They provide in-depth visual detail, thorough product descriptions, and customer reviews. Also, they offer the added conveniences of fast delivery and easy returns.
Since online RV and camping retailers focus on these products, they typically have more brand selection and expert assistance. Some of the most popular camping specialty retailers are CampingWorld and Cabelas.
How Do You Store a Topper in the Winter?
The instructions for storing a topper are the same as conventional mattress storage. They are:
Store toppers away from direct sunlight or fireplaces. Any heating element should be far away from the storage area.
Cover them with plastic, waterproof bags. Make sure the bags don't have holes or rips in them.
Remove any moisture from the toppers and store them in a dry place away from windows or porches.
Avoid the possibility of insects and pathogens by making sure your toppers are completely clean and free of any food particles.
Don't store anything on top of your toppers. The constant pressure can destroy the integrity of the material.
Avoid odd crumpling or folding of your toppers. Prolonged creasing can distort their shape and their ability to lie flat.
The Best RV Mattress Toppers Reviewed
TOP CHOICE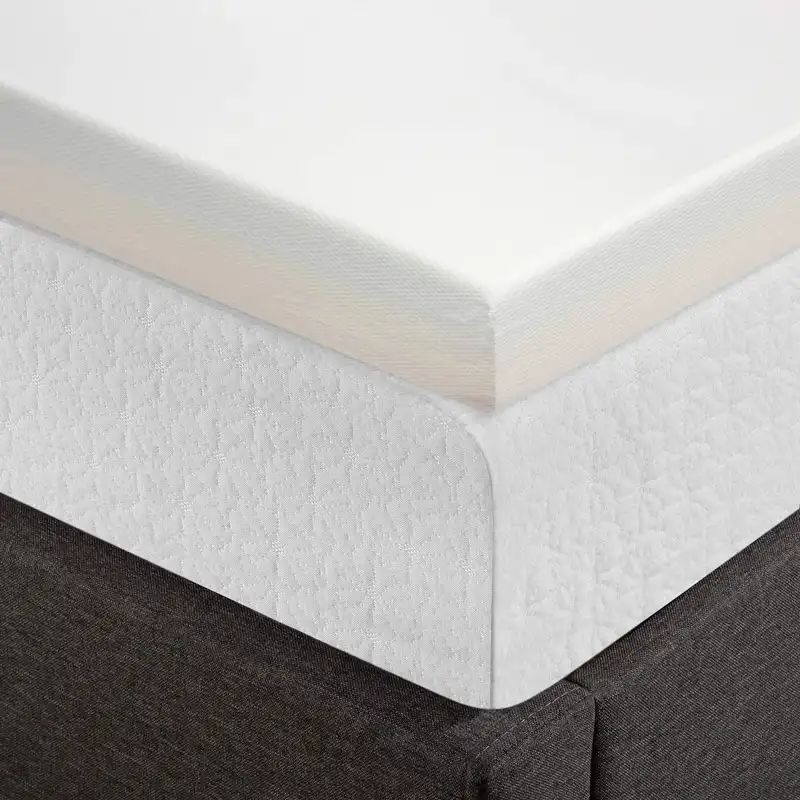 The Best Price Mattress Memory Foam Topper has very few close rivals. When you lie down on this topper, the memory foam immediately responds to your body temperature and shape of your body.
Plus, it distributes your body weight over its surface, causing you to feel relief in the tense areas of your body.
Due to its patented design, the Best Price Mattress Memory Foam offers the following benefits:
With motion transfer, it helps cancel the noise and disruptive effects of a restless sleep partner.
Memory and high-density foam relieve pressure on your neck, shoulders, and back.
Four inches of thickness provides added support.
The hand-washable zippered cover equals easy maintenance and odor control.
When you add these design benefits with a five-year warranty, it is easy to see why this topper is a winner.
The Zinus 4-inch Green Tea Memory Foam Mattress Topper is arguably an ideal alternative to replacing your RV mattress. True to its reputation, this topper will give you the feeling of floating on air with two-inches of support foam and one-inch of memory foam.
The Zinus topper's soothing and rejuvenating properties can enhance your RV experience for years to come.
Along with the right amount of thickness, this Zinus topper delivers relief to your pressure points and new life to your present mattress in the following ways:
Instead of petroleum, the memory form contains natural compounds, transforming it into bio-foam.
This topper keeps its evergreen freshness with green tea extract.
Charcoal extract removes smelly bacteria and keeps your topper dry.
The gel infusion keeps you cool in many environments.
These qualities and the five-year limited warranty make this Zinus topper a must-have for many year-round RV enthusiasts.
BEST VENTILATION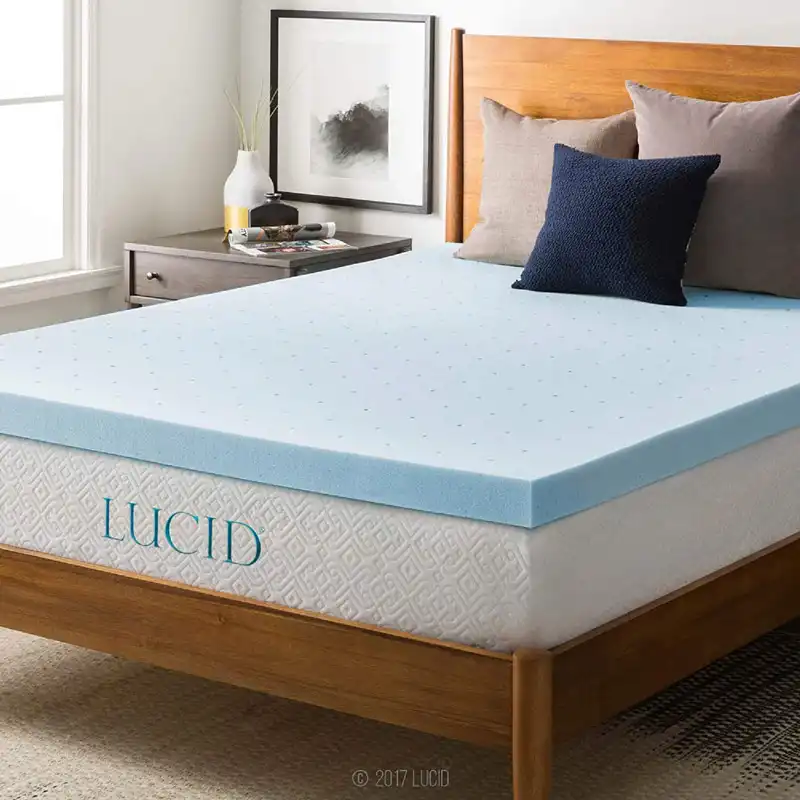 Thanks to technological advances, the LUCID Gel Memory Foam Mattress Topper makes RVing in hot climates fun and relaxing. The key features of this topper are:
Smart memory foam
Gel-infusion
Ventilating design
This pairing of memory and gel materials delivers the ultimate in temperature control and comfort. The gel components capture heat and circulate it throughout the RV, preventing it from settling in one area. Plus, the topper's ventilated design supplies extra coolness in the hottest weather.
That's A Wrap!
For any product, the feature selection is a game-changer. These three RV mattress topper makers got it right in that department. Here is a breakdown of the finalist.
The Best Price Memory Foam Mattress Topper grabs top honors with its innovative motion transfer design. Plus, it offers superior comfort and support with the combination of high density and four-inch-thick foam.
The Zinus 4 Inch Green Tea Memory Foam Mattress Topper makes this list because of its appeal to health and environmentally conscious RV enthusiasts. Memory foam made with natural materials has a calming and rejuvenating effect on its users.
RVers looking to stay cool have a great choice in the Lucid Gel Memory Foam Mattress Topper. Along with the ventilated design, the gel and memory foam combination offers unrivaled relief from the heat.
You Might Also Like: