The Best RV Mattress For Camping Comfort
By
on
This post may contain affiliate links. As an Amazon Associate, I earn from qualifying purchases. Please read my full disclosure.
Stock RV mattresses are notoriously uncomfortable. And good sleep can make or break your road trip–especially if you intend to do a lot of hiking or outdoor activities during the day. That's why many campers choose to replace their RV mattress before the first night at the campground.
Mattresses are a relatively inexpensive accessory that is going to make a world of difference in your comfort level. As the old saying goes: "invest in anything that goes between you and the ground." That includes shoes, chairs, and mattresses!
In this article, we're going to give you our recommendations for the best motorhome mattresses that won't break the bank.
CAMPER SHORT SIZE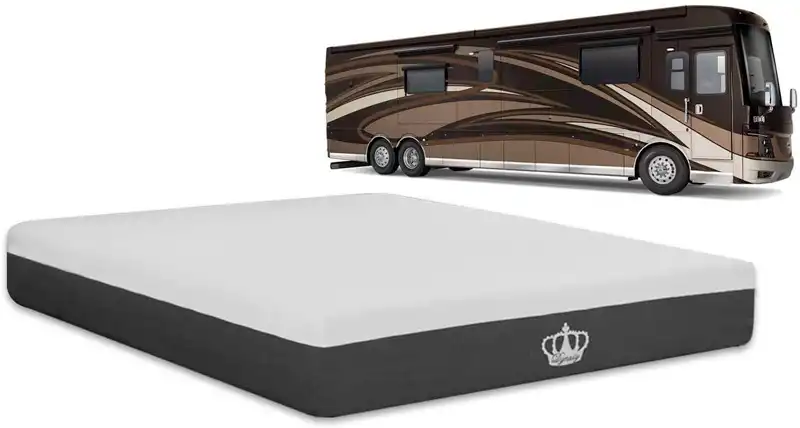 Are RV Mattresses Different from a Regular Mattress?
At first glance, you may not notice any difference between the RV mattress and your regular mattress at home. However, due to the size and weight concerns that come with using a mobile home, RV mattresses are designed to be much lighter.
This is done as a way to optimize space and make the most out of smaller living situations. A motorhome mattress is also designed to be more flexible than a regular mattress and is less of a weight burden to the vehicle.
Because they are made with lighter and much less durable material, RV mattresses typically cost much less than regular mattresses. In addition to these differentiating factors, RV mattress sizes come in a much larger variety than you would typically see when shopping for a standard bed.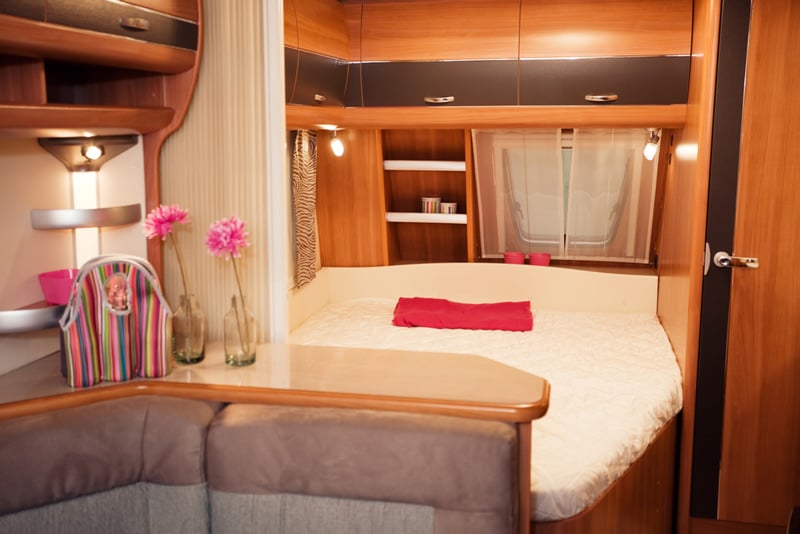 What Size is an RV Queen Mattress?
If you are looking for an RV mattress replacement, it is essential to understand the sizes and dimensions you are working with. One of the more common and widely popular RV mattresses you'll find is the RV Queen Mattress.
This is not your typical Queen size mattress and actually measures a bit shorter to fit into the smaller space. The measurements of the standard Queen-sized bed that would fit inside a home measures 60×80 inches.
An RV queen mattress is a few inches shorter, measuring at 60×75 inches (or even shorter).
RV Bunk Mattress
An RV bunk mattress is also a popular option when looking at mattresses to fill the space within your RV. This is a much smaller mattress that comes in a variety of sizes to fit in a camper bunk bed.
Bunk mattresses are meant for families or large groups camping together. They work especially well for small children.
RV bunk mattresses measure between 28-32×75 inches.
Just like all other motorhome mattresses, bunk mattresses are made with lightweight and less expensive materials to save weight.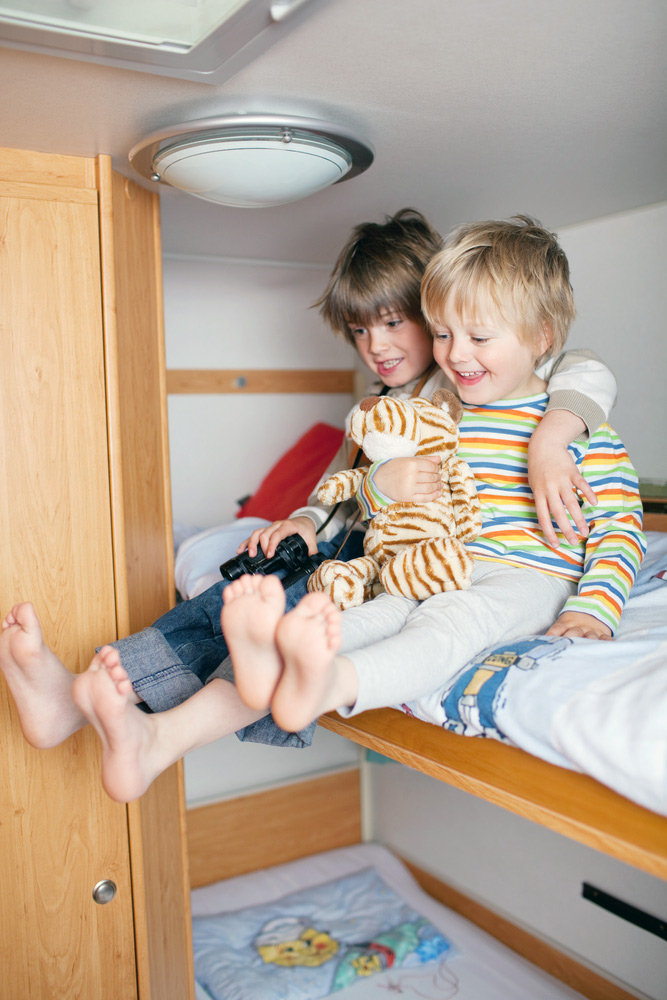 How to Protect Your RV Mattress
Frequent RV campers find that getting a mattress topper is the best way to protect the mattress. Those who use their RV and travel frequently find that in addition to increasing the comfort, RV mattress toppers help keep the shape and form of the mattress and extend their product's lifetime.
Mattress covers also help keep out bugs, mold, moisture, and other types of things you don't want in your bed.
Breathable and waterproof mattress covers are often found to be most popular, as they help protect the integrity and shape of the mattress and keep out mold, mildew, and other types of messes.
Replacing your mattress before wear and tear break it down is crucial. Camper mattresses are not designed to last as long as your standard mattress. because they aren't meant to be used every night for years. Using a breathable mattress cover can help get the most protection and longevity out of your product.
Not only is protection while you're sleeping a concern, but you need to continue to protect the mattress, even during storage.
When putting your mattress away for the season, make sure that it is clean and covered beforehand and stored in a dry and bug-free place. This will protect it through its time in storage, and when you bring it back out again, it should look just as good as new.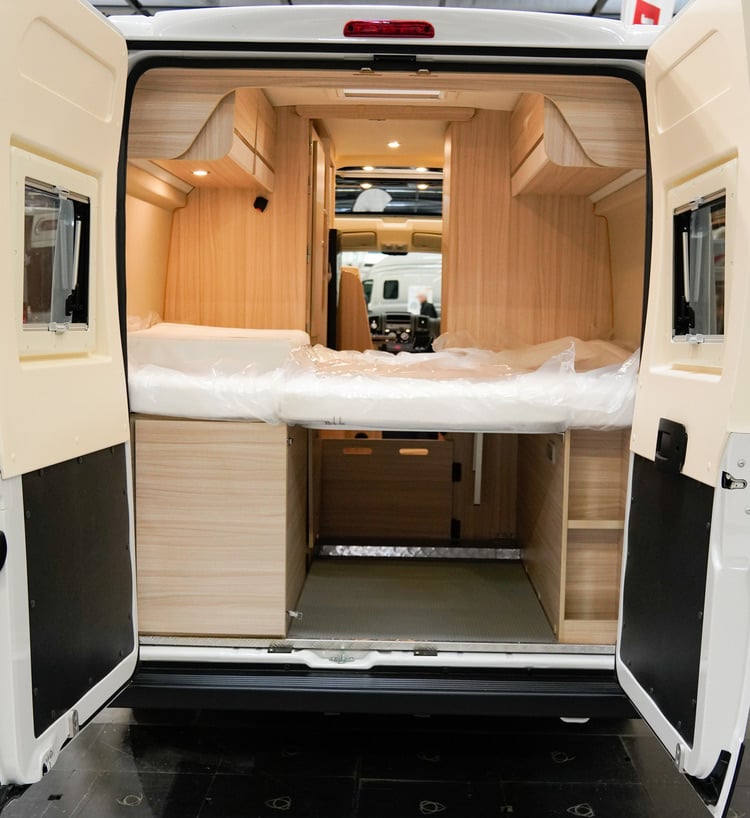 How To Make Your RV Mattress More Comfortable
Aside from purchasing the right mattress in the first place, finding a thicker or more durable bedding set is the best trick for making your RV bed more comfortable. Most campers will agree that using a mattress topper is the best way to increase comfort and the amount of sleep they get while traveling.
Memory foam, gel, or latex mattress toppers have been known to come in sizes appropriate for RV mattresses. For those that live full-time in an RV, it might be worth looking to invest in a durable mattress topper that can withstand the test of time and help extend the life of your mattress.
Custom Size RV Mattresses
Some RVs come with irregular mattress sizes that can be difficult to find in your standard Camping World. In these instances, it might make sense to cut a larger mattress down to size.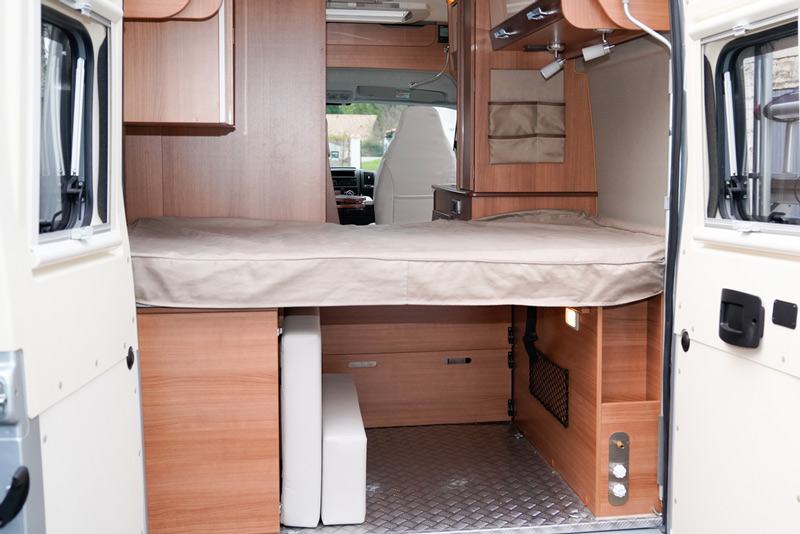 Best Value: Linenspa Firm Support 5″ Gel Mattress
The Linenspa mattress is a solid choice for campers because it's affordable and breathable.
Gel-infused memory foam is one of the best materials to stay cool in a camper and also offers a lot of pressure relief which is welcome after a long day of adventure.
This mattress has four inches of high-density base foam plus a one-inch comfort layer made of gel-infused memory foam. There is a 10-year warranty to back it up against manufacturer defects as well. One thing we love about this mattress is the impressive range of sizes that it can come in, ranging from twin size to a California King.
It's also one of the cheapest RV mattresses you can buy so it's well worth the price.
Comes in a variety of sizes
10-year warranty against manufacturer defects
Five-inch thick foam support
One inch comfort layer of gel-infused memory foam
Best For Back Support: Modway Aveline 6″ Gel Infused Memory Foam Queen Mattress
The Avaline foam mattress comes with an open cell memory foam mattress that is designed to help align your spine. This mattress has also been modeled to help reduce pressure on your hips, lower back, and shoulders.
Similar to the Linespa, the Aveline comes with a gel-infused memory foam top layer that is open cell and ventilated. This allows users to sleep comfortably while reducing sweat and perspiration during hot or humid weather.
With over five different sizes ranging from a narrow twin to a king size, you can find the right fir for most campers. It also comes in three other style options, ranging from six to ten inches thick. This mattress comes with the added guarantee of being independently tested.
The foam inside is CertiPUR-US certified, so consumers can be sure it's made without formaldehyde or heavy metals. It also boasts a flame retardant cover.
Built to help align your spine
Memory foam and a gel-infused top layer
Open and ventilated top to help keep you cool
Comes in a variety of size and style options
CAMPER SHORT SIZE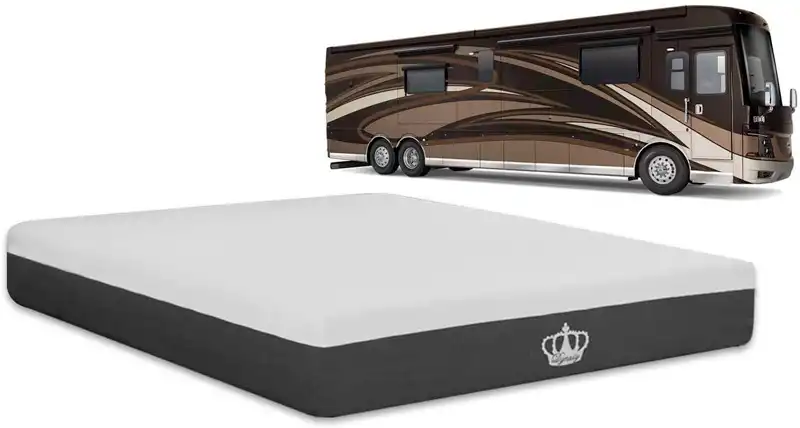 Best Short Queen: DynastyMattress 10-Inch CoolBreeze Gel Memory Foam Mattress For RV, Camper-Short Queen Size
Unlike the others on this list, the Dynasty mattress was specifically designed to fit inside a camper. With this impressive adjustable bed comes a thirty-year limited warranty. This mattress also comes with 2.5 inches and three pounds of gel-infused memory foam Sleep Cool Technology. This is designed to contour the edges of the body for better comfort.
This mattress is also made to help with pressure release and all-over body support. This mattress also includes 7.5 inches of durable construction foam to enhance the structural integrity of the mattress. With a comfort level labeled Medium Firm, this mattress is designed to be the perfect comfort level for all general sleepers, as well as back and side sleepers.
It also has the added benefit of a machine washable and easy zip cover. In addition to being machine washable, this cover is also made of a lightweight and breathable material. This Dynasty mattress comes with ten different size options to best fit your RV size.
30 year limited warranty
Made specifically for RV's
Made with durable construction foam
Gel Infused memory foam
That's A Wrap!
When looking for the right mattress to fit your RV, it is essential to consider certain factors like size, support, and overall care and maintenance of a camper mattress.
If you are looking for the mattress that is best for your budget, the Linenspa firm support mattress is an excellent choice. Even though it's the budget-friendly option on our list, it's not lacking adequate support or comfort.
Traveling away from home and life on the road can be hard on your back. Whether you have minor back or sleep issues, or you just want to avoid them, the Modway Avaline offers the best back support and a variety of thickness options.
Although this may be the more expensive option, the Dynasty memory foam mattress is designed specifically for a camper. So those looking for an easy and hassle-free setup will not have to worry about it not being designed to fit the desired space. It's also best suited for all types of sleepers from back to stomach sleeping positions.
You Might Also Like: