Best Cargo Roof Boxes For Camping And Storage (Review)
By
on
This post may contain affiliate links. As an Amazon Associate, I earn from qualifying purchases. Please read my full disclosure.
We've all had it happen before – you're excited to go out adventuring and are packing your things up, when you realize you're out of room. Or perhaps your snowboard isn't fitting in your SUV the way you thought it would. To avoid that from happening, what you need is a rooftop cargo carrier.
Cargo roof boxes vary quite a bit. You have different sizes, different materials, locks, and so on. We've researched for the past few weeks and feel confident we've come up with the best car top carriers on the market today. Keep on scrolling to get started!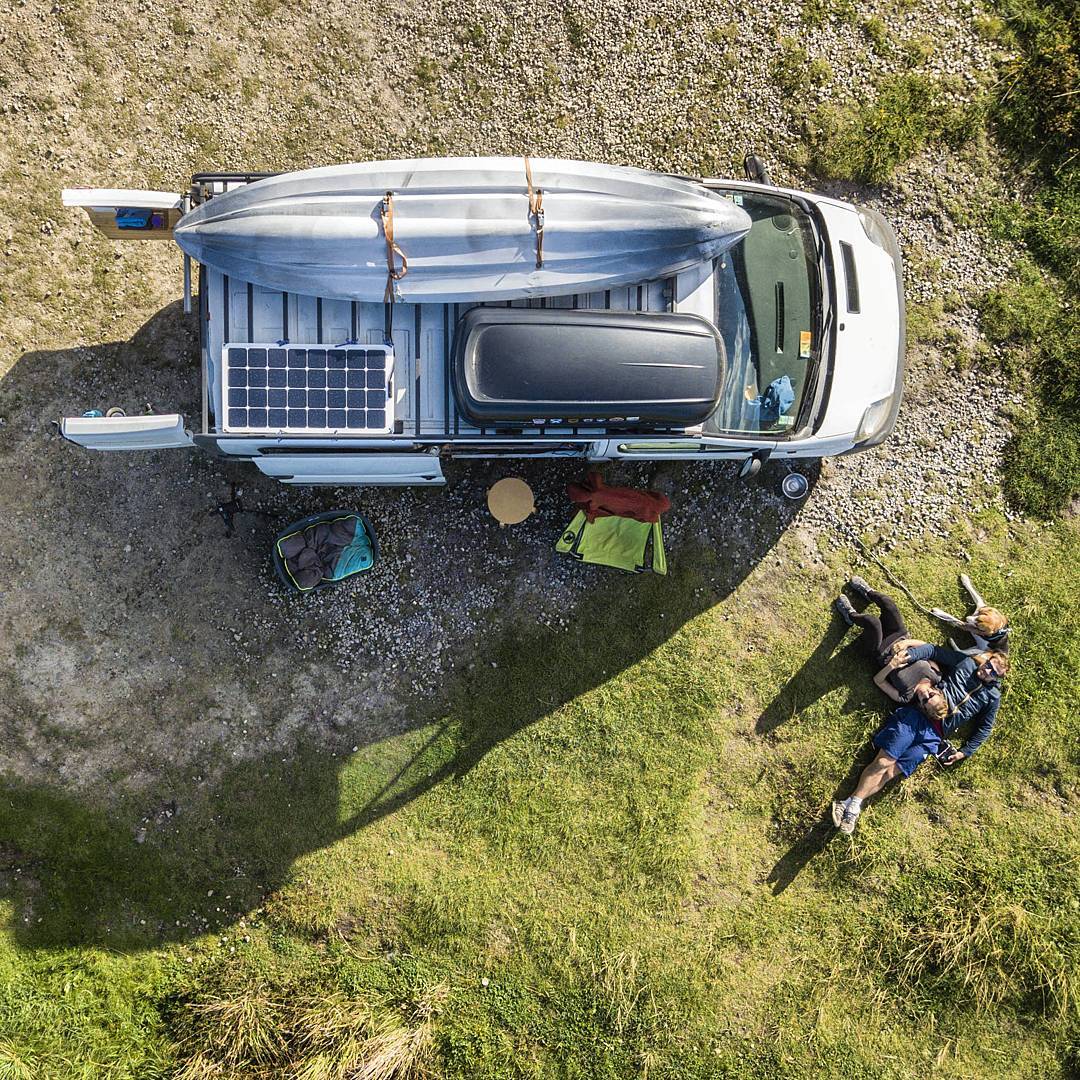 What To Look For In A Roof Cargo Box
Selecting the best rooftop cargo box for you and your needs may not be the easiest thing to do. Not every product is going to work well for every vehicle or every user. That's why we've decided to create a buying guide for you, ensuring you're happy with your selection.
Size
One of the most crucial features to look at in your roof box, are the dimensions. If you're looking to haul snowboards or skis around, you're obviously going to need it to be longer and perhaps with a lower profile. Cargo boxes usually range anywhere from 10 to 25 cubic feet, so you have quite a bit of variability to match you preferences.
First, think about the size of your vehicle. You're going to want a size that is going to fit the roof of your car well. If you have a truck or an SUV, you'll have more options to choose from, as they're larger.
Shape
When considering the car roof storage box for you, also think about the shape of it. Not the length nor the capacity, but rather in terms of how high/tall it is. This is because it's going to affect the aerodynamics of your vehicle depending on the height.
There is much more to think about than just how visually appealing it is, although you'll probably base your opinion on that, too.
It's never a bad idea to go for the more aerodynamic model. This will reduce wind noise, and also make sure you get the most mileage on your outings. Taller cargo boxes will create drag, and during longer trips, selecting the more sleek product could seriously save you some money.
Durability
Since the box is going to be hanging out on the roof of your vehicle, it's not going to have much protection from the elements. You aren't going to want to spend your money and hold your belongings in a model that isn't going to last long, right? You'll need it to be durable, and able to take a beating.
If you're going to use the car top carrier very infrequently, this may not be as important to you. However, if you're a weekend warrior, durability should be one of the top factors for selecting your car roof box.
ABS plastic is the most commonly used material, and is generally very sturdy, providing adequate protection for your gear from snow, rain, and essentially anything else.
You'll also want to think about how well it can protect your equipment from water. Some boxes are made from ABS plastic, but have holes in them for mounting purposes that let water in. We've listed all of these details in our individual reviews below.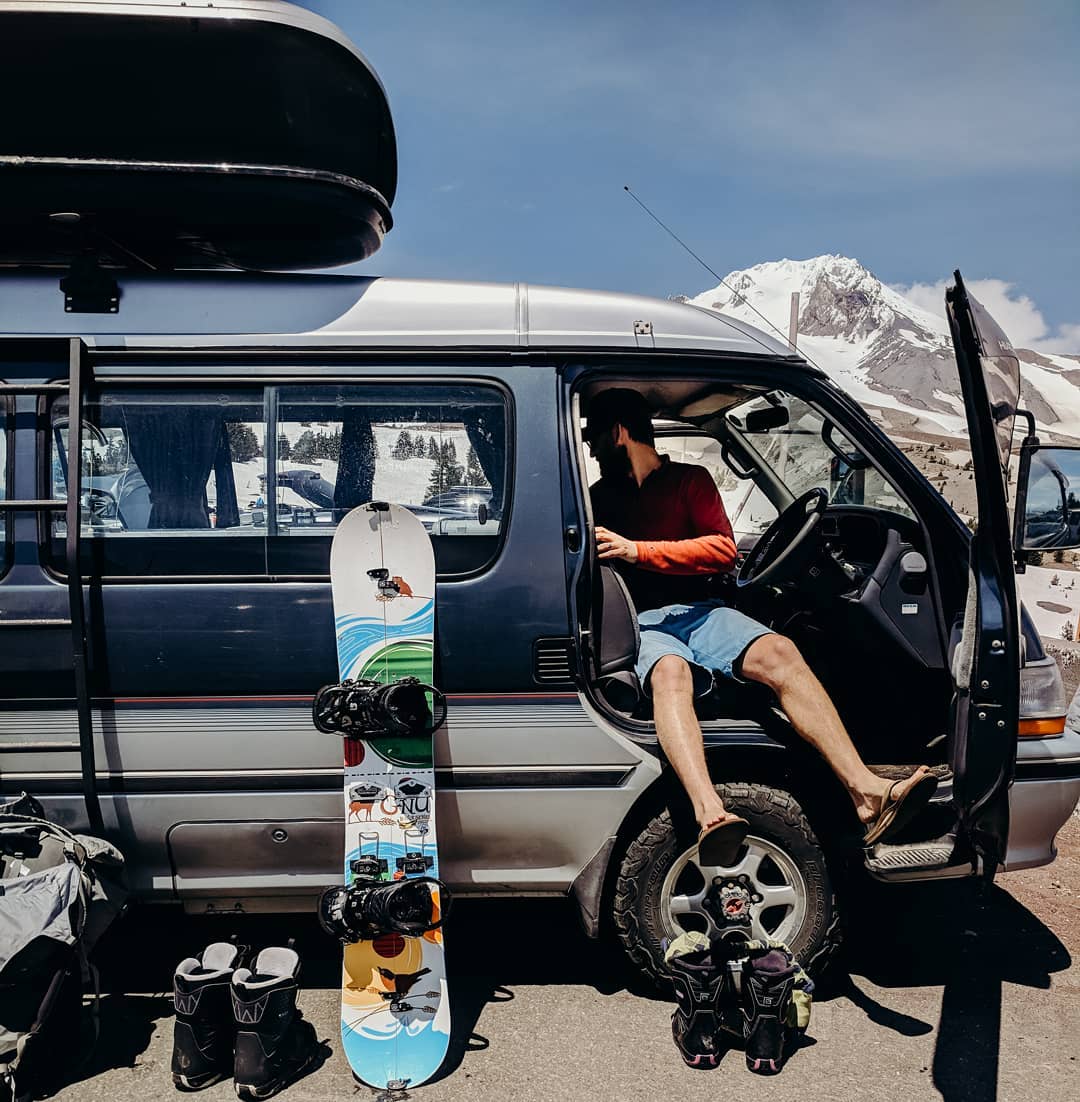 Security
It's going to be difficult to find a hard cargo box without a lock. However, the quality of these locks will vary widely. As the boxes are hard in the first place, most would-be thieves will be deterred from messing with your stuff. However, it's never a bad idea to add on a lock, too.
The locks that ranked the highest for us, were those which provided some kind of indicator showing it was actually locked or those that had a notable "click" when locked up. That way, you're not left wondering if it's really secured.
Some locks will have a red strip to let you know it's completely closed, or a button that snaps into place. Some carriers also have two locks, rather than one, which provides additional security.
Ease of Assembly/Mounting
Assembly will vary depending on the models and the manufacturers. If you're lucky, yours won't require any assembly at all, and you can start mounting it onto your vehicle right away. Others will take at least an hour to put together. Some people may find this as a deterrent, while others may not find it a hassle at all. The good thing is, once you assemble it, you shouldn't have to deal with it again.
Mounting is the same situation. Some simply snap on, which is easy to do, and lets you know that it's secure. Others can take quite a while, and require multiple people to put it on the vehicle and lift it up. Some cargo boxes may even require you to use special tools just to mount it.
Once again, if you're not going to be removing the box frequently, this will just be a one-time thing and you won't have to deal with it often. In addition, take a look at the instruction manual that comes with the product. If that doesn't clarify things for you, there are many YouTube videos online that can make the process a bit easier.
Accessibility
Some cargo carriers can only be opened from one side, others from the rear, others from the front, and others from both sides. The side you prefer, will depend on your and your vehicle. Often the most convenient is opening from the passenger side. The reason why, is because when you're pulled to the side of a road, the passenger side is the safer side, and often the side facing the campground. Those that open from both sides are ideal for most users, as you get versatility and safety.
Probably the least favorite are those that open at the front, and then those that open at the rear. This is because you can get items stuck at the opposite end that you have to strain to reach for.
Keep in mind that if you're shorter or have a very tall vehicle, you'll want a carrier that lets you easily access the gear inside. If they have tall walls or open oddly, then this may end up just being more of a hindrance than a benefit.
Price
How much are you willing to spend on one of the best roof boxes? It's a good idea to have a solid idea in mind before you start looking for it. If you're on a budget, set that budget now, and tell yourself not to go over it. Even if you're 100% satisfied with the product, if you spend more than you had planned on, you may end up with buyer's remorse. That's not a good feeling, and not good for your wallet, either.
If you're not on a budget, we'd recommend selecting a cargo box that is at least $500. That's not to say that anything that costs less is bad; not at all. However, at this price point, you'll see a big boost in durability and convenience. If you are only thinking of using it a few times a year, then you can opt for a more affordable product as durability and convenience isn't going to mean as much.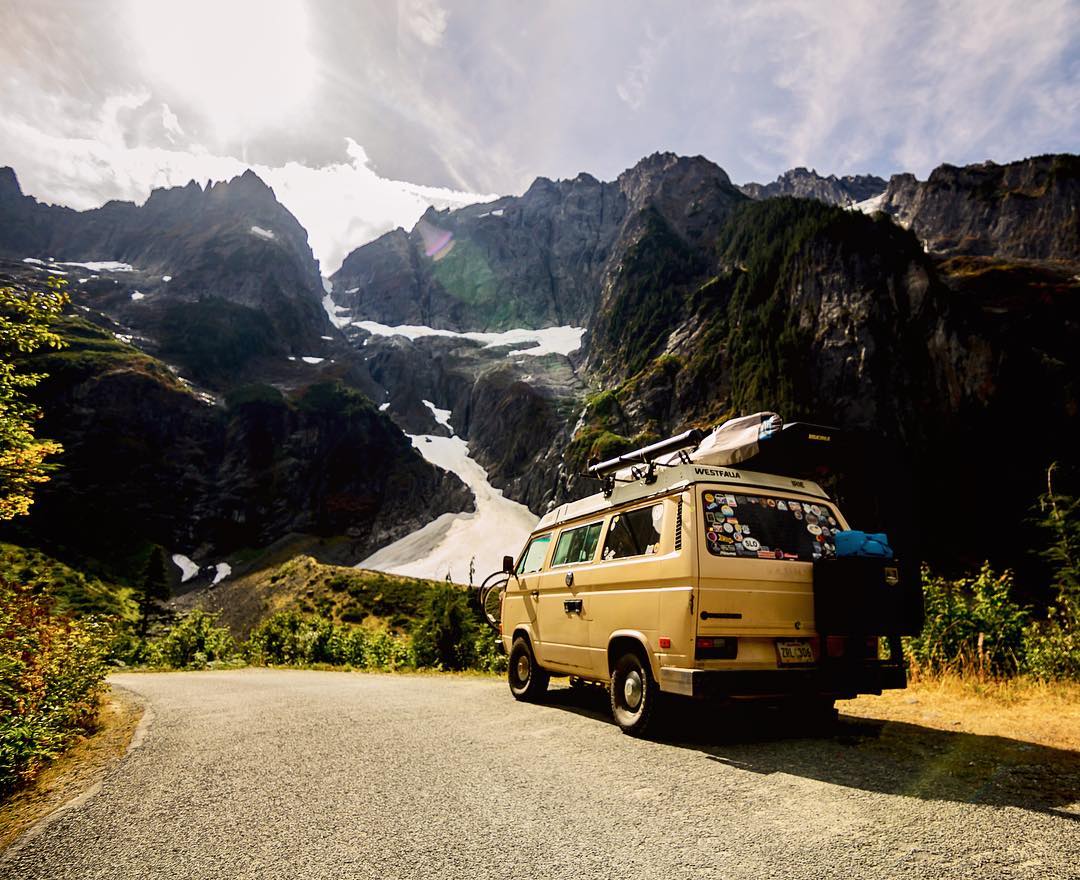 The Best Cargo Roof Boxes Compared
TOP PICK

Top Pick ↠ Yakima Skybox Carbonite Cargo Box
Yakima is one of the most well-known car roof box brands out there, and has been for many years. Their Yakima Skybox is exemplary of the sky-high standard that they hold themselves to.
Most cargo boxes are made with plastic, which is another reason why the Skybox stood out to us. It's made of 80% recycled Carbonite material, meaning it's environmentally-friendly and also very lightweight.
This box is fully waterproof making it great for a ski vacation or camping on a rainy day.
The sleek, aerodynamic style will give you minimal drag, ensuring your gas doesn't burn up quickly. And the user-friendly design is simple and quick to operate – perfect for those times you're in a hurry. Opening and closing the box is swift, thanks to the large handle that's easy to grab onto.
In addition, you'll find that it opens on both sides, which is a feature surprisingly rare in these kinds of models. Thanks to the SuperLatch closure system and SKS Lock System, your belongings will be nice and safe, too.
The only complaint we could find about the Skybox was the slight difficulty in mounting. This is not a product that you'll want to take on and off multiple times in a trip. But if a permanent fixture is what you're looking for, the Yakima Skybox looks to be the top choice.
| Pros | Cons |
| --- | --- |
| Lightweight | Difficult to mount |
| Opens from both sides | |
| Aerodynamic | |
BEST EASE OF USE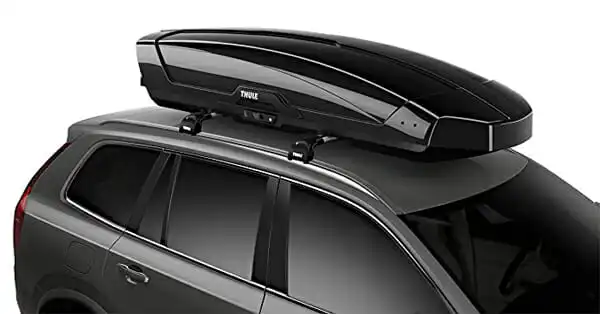 Best Ease of Use ↠ Thule Motion XT Rooftop Cargo Carrier
The Thule Motion XT is hands-down one of the best out there. We know we just covered another Thule product, but couldn't leave out the Motion. It's one of the most simple, straightforward designs, making it easy to use.
The PowerClick mounting system will only take you a few minutes, so if you plan on removing and attaching the car roof box regularly, seriously consider this model.
While it's nowhere near as light as the Sidekick, this 42-pound cargo box is still lighter than the vast majority of competitor products out there.
The design is gorgeous, coming in three colors: White, Black, and a steely grey called "Titan". It looks sleek enough in photos, but it's actually a bit taller and boxier when you look at the numbers. The 17″ height may be an issue if you already have a taller vehicle, in addition to potentially causing more wind resistance.
The Motion XT comes with a cool locking indicator, which provides you a red strip once it's properly secured. That means you can double-check it at a glance before taking off. The large handle also lets you easily open and close either side with one hand.
If you're looking for sturdiness, this roof storage box is made to stand up to all kinds of weather and is as waterproof as you can get with these.
| Pros | Cons |
| --- | --- |
| Easy to mount | Rear opening |
| Affordable | Poor lock quality |
| Waterproof | |
MOST COMPACT
Most Compact ↠ Thule Sidekick Cargo Box
Thule is another brand that we're in love with – particularly, the Sidekick. This Thule roof box may very well be our favorite, due to the compact size and ease of use. The shape makes it great for carrying camping gear or extra luggage, without taking up all of the roof space.
If you have a smaller vehicle, you may like this one. In addition, if you're concerned about not being able to go under overpasses or parking in a garage due to the added height, don't. It's very sleek and has a low profile that shouldn't interfere with any plans you have.
As the Sidekick only weighs a mere 16 pounds, excess weight won't be an issue at all. In addition, you'll find that mounting it is incredibly easy, as one person can easily lift it up onto the roof.
It does well in the wind, however, with rain or snow we wouldn't say it's 100% waterproof. If you're just placing non-electronics inside of it, it won't be a problem. The price is surprisingly low – especially for such a popular brand.
All that said, there is some serious assembly required (at least an hour). That plus the just-okay lock system were the only complaints that we had. However, if you're not planning on taking it on-and-off regularly, the assembly and mounting issues should just be a one-time thing.
The Thule box requires the use of two locks rather than one, which can be a bit of an annoyance for some although it could actually add to the security of your equipment.
| Pros | Cons |
| --- | --- |
| Compact Shape | Not completely waterproof |
| Lightweight | Assembly required |
| Low Profile | |
GREAT VALUE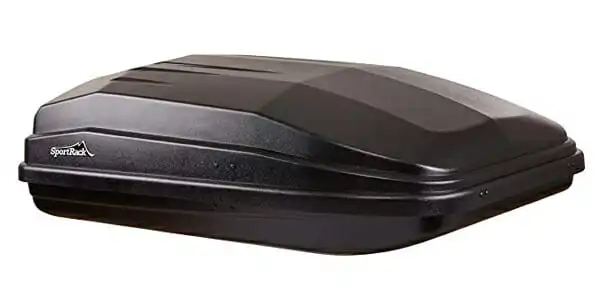 Good Value ↠ SportRack Vista XL Rear Opening Cargo Box
The SportRack Vista is another rooftop cargo carrier that we couldn't go without mentioning. If you're on the hunt for a roof box for infrequent trips or adventures, this could be the one for you. The size and affordable price provides enough room for a bunch of equipment, without being bulky.
The design is waterproof and simple to mount on top of your roof rack with the included U-Bolt hardware.
ABS construction is both durable and UV-resistant which means it can take a beating while you're out on an adventure. The ergonomic handle is easy to open and close, and it latches smoothly.
This model has a rear opening that may not be ideal for everyone as it can be difficult to reach items at the other end. The locking mechanism looks to be average. You can feel secure with your items in there, but the manufacturer does note that it's not really meant to prevent theft so take that as you may.
You can't use multiple times the same shortcode.
That's A Wrap!
So, which one of the best cargo boxes fit your needs? We enjoyed each and every one on our list, but it's all about what works for you. You can never really go wrong with Thule, however. They're known to last, and are one of the best high-quality brands out there. We hope that our guide has helped you out, and we will see you again, soon!
Continue Reading: