Best Kayak Roof Rack For Travel
By
on
This post may contain affiliate links. As an Amazon Associate, I earn from qualifying purchases. Please read my full disclosure.
Kayaking is one challenge, but getting your gear from home to the water is another. Kayaks are bulky and difficult to maneuver. They don't fit easily on top of any car without the right equipment.
In this article we're going to cover the four types of kayak racks and the differences between them. By the end, you'll have a good understanding of the best kayak rack for your small car, SUV, 4×4, Jeep, or truck.
Type Of Car
Before running out and purchasing a rack, you should consider the type of vehicle that you own. What does it currently have on the roof? Your vehicle probably has one of the following:
No rack
Side rails
Factory crossbars
Aftermarket crossbars
Truck bed
Different racks work better for different types of vehicles. If your roof is bare for example, temporary pads are your only option. For vehicles that have side rails or crossbars installed, make sure to look at your owners manual and check the maximum carry weight.
The most popular kayak carriers are designed to be installed on crossbars.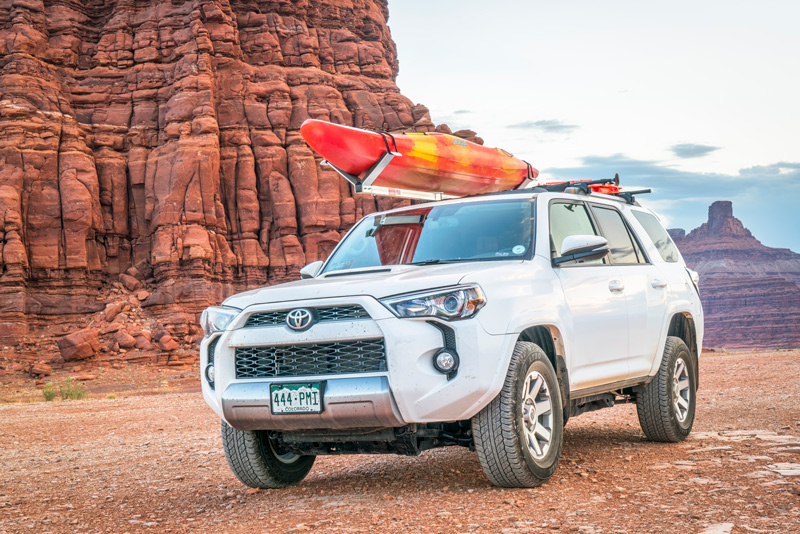 Types of Kayak Racks
Once you've determined that your vehicle can house a kayak rack, you'll need to decide on a specific type. Let's talk about the four most common types of kayak racks.
Temporary Pads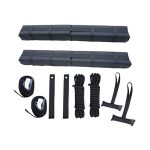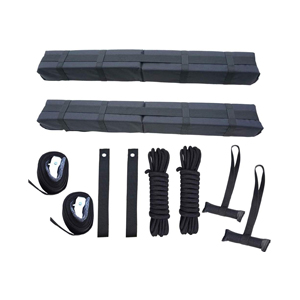 Many SUVs have racks installed on the roof, while smaller cars likely don't have this feature. Temporary pads mainly serve as a roof rack when you don't have one. These consist of straps that run over the roof of your car and down the side, tucking into the windows. These are inflatable or foam pads that hold the kayak flat, and in place without scratching the roof of your vehicle.
Temporary or inflatable pads are the cheapest way to transport your kayak from point A to point B. The biggest downside to this carrier is that you can only fit one kayak on the roof. They are also a little more difficult to install because you'll need to ratchet down the straps tightly in order to keep the kayak secure.
Inflatable pads aren't the most protected against high winds or bad whether. You'll have to rely on your own muscle strength to ensure the straps are fully tightened so the boat doesn't wiggle around.
We recommend temporary pads if you have no roof rack, are on a budget, and traveling short distances.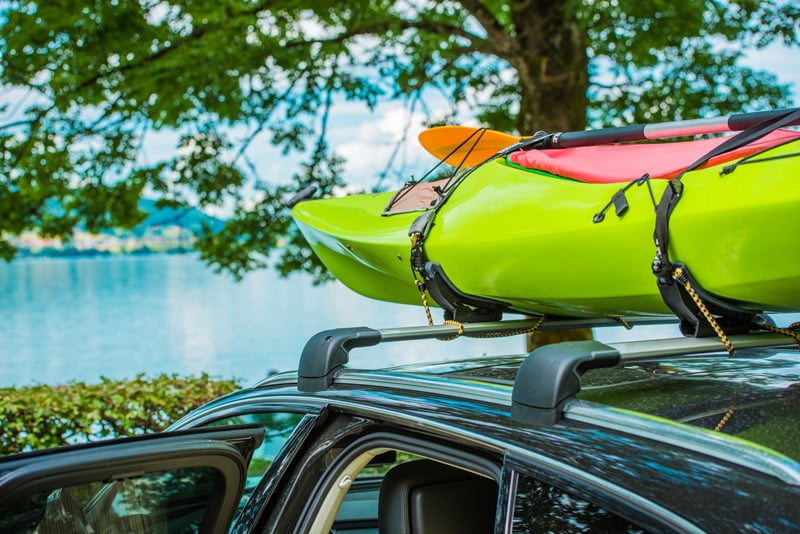 Saddles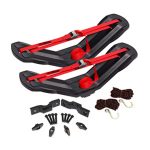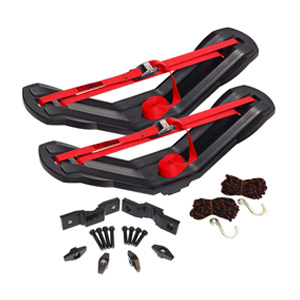 Saddles are similar to temporary pads, but they require roof rails or crossbars to be installed. These carriers cradle your kayak to maximize stability and control, so you don't have to worry about anything sliding out of place. They are also easy to strap down, so securing the kayak should be a breeze.
A lightweight and affordable carrier that fits a kayak securely on small vehicles.
J-Cradles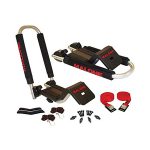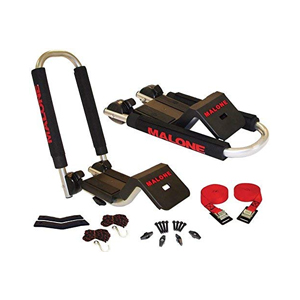 You commonly see these roof racks because J-cradles are most popular in the kayaking community. The angled design allows for extra room on your roof so you can store additional gear and equipment alongside your kayak.
J-Cradles get installed on top of crossbars near the side of your vehicle. You can install one set on each side and carry two kayaks at once. The advantage of J-cradle designs is the kayak can be loaded from the side of the vehicle instead of the back. They are also very stable and you can leave them on top of your jeep permanently if you go to the river on a frequent basis.
The biggest downside to J-cradles is they require you to lift the kayak high and in one motion to get it on the roof. This could be a problem if you are short or if your arms are weak from a long day of paddling. Premium racks come with a lift system that eliminates this problem all together, but they can get pricey.
The most popular option for travelers who kayak frequently, carry two kayaks at a time, or have additional gear to store on the roof alongside the kayak.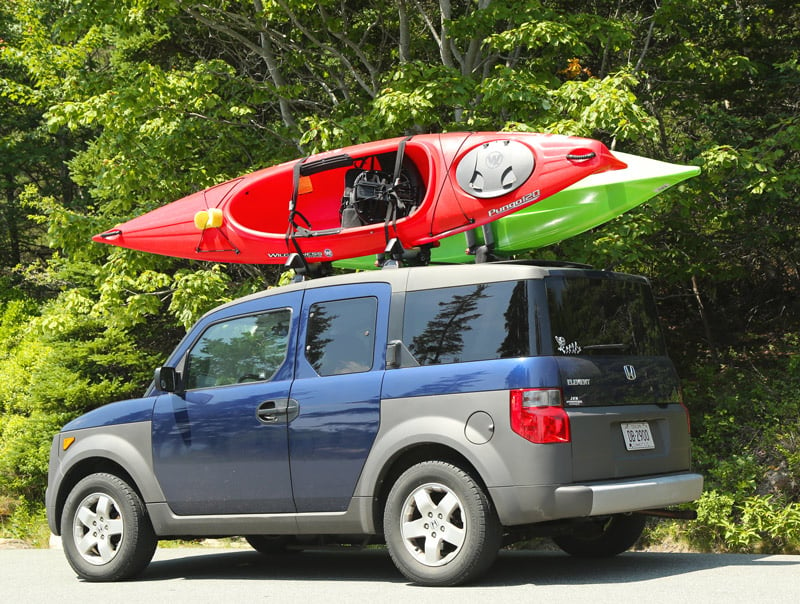 Stackers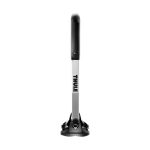 This type of rack is designed to hold the maximum number of kayaks your roof space will allow. Stackers are affordable and easy to install. They position your kayak at a 90 degree angle so you can fit up to four boats side-by-side. The amount of kayaks your SUV can hold is limited by the width of the vehicle.
The best option if you plan on transporting multiple kayaks, or want to take up the least amount of roof space.
Truck Bed Extenders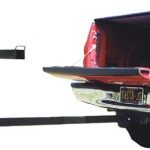 Another category of carriers that should be mentioned is a truck bed extender. These are installed on the receiver hitch of your pickup truck and provide a sturdy surface for your kayak rest on.
This is the easiest type of rack to install and are very secure. The height is adjustable so they can be used for other purposes like hauling ladders, wood or other large materials when you're not kayaking.
If you own a truck, we recommend a truck bed extender to haul your kayak because it is the easiest and most versatile type of rack.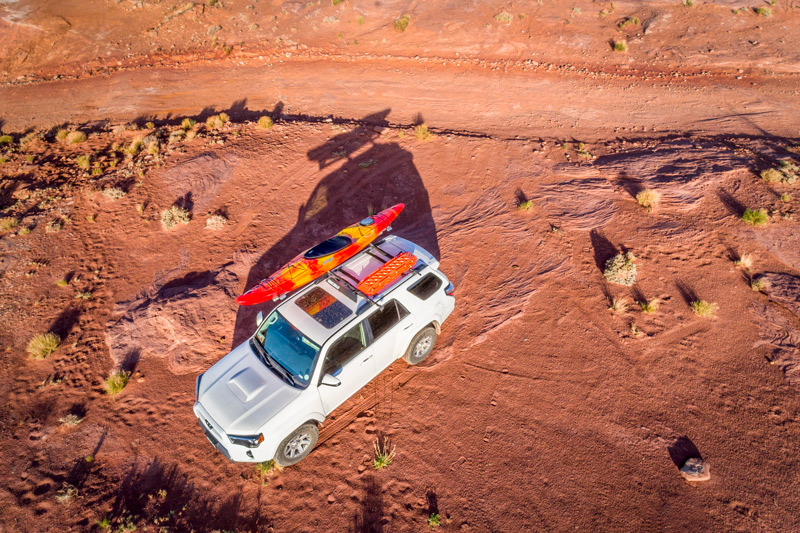 Features To Look For In A Kayak Rack
Now that you know the types of kayak racks, there are a few extra features to pay special attention to before picking your favorite. Listed below are the biggest differences to take into consideration.
Carrying Capacity
As mentioned earlier, one of the biggest factors in choosing a carrier is how many kayaks you plan to haul. Each rack is built for a different purpose so you'll want to choose one that's compatible with your equipment.
Kayak Carrier Capacity:
Temporary pads: 1 kayak
Saddle carriers: 1-2 kayaks
J-cradles: 1-2 kayaks
Stackers: 1-4 kayaks
Truck bed extenders: 1-2 kayaks
Weight
Rack weight makes a difference, especially if you're driving a smaller car. Temporary pads are the lightest, while J-cradles and stackers are the heaviest pieces of gear. You'll want to choose a rack that won't max out the weight rating of your roof or crossbars. Don't forget to consider the weight of the kayaks themselves, they can easily add 20-80 pounds to your set up.
On another note, the weight of the rack may determine how difficult installation will be. Withy a big clunky rack, you might need a second person to help you install it. That may not be an issue if you're doing a permanent installation, but you wouldn't want a huge rack if it's an accessory you plan to add and remove before each trip.
Ease of Use
Kayaks are a bulky item making them especially difficult to hoist on top of your vehicle. Temporary pads and saddle carriers can only store one kayak. With this design, you can lift one end of the kayak onto the back of your Jeep, then slide the boat towards the front. That motion is easier for a smaller or shorter person to handle.
J-cradles require you to lift the kayak in one smooth motion up the side of the vehicle to secure it. That can be difficult for shorter people, or campers who are tired from a long day of paddling.
Premium J-cradle racks like the Thule Hullavator Pro have a lift system with gas-assisted struts that help you raise and lower the kayak from waist level to the top of your vehicle. This is by far the easiest type of rack to use but also one of the more expensive options.
Height
How high the carrier sits also plays a big role in how easily it can be loaded and unload. If you travel alone, you'll want to make sure you can reach the rack with little trouble.
On a related note, pay attention to how tall the kayak sits above your roof. With an especially tall SUV or camper van you run the risk of brushing against of low parking structures or tunnels if you're not paying attention.
Kayak Rack Material
Not only do you want to keep your kayak padded, but the roof of your 4×4 is equally important. With a ratchet system, make sure that everything is tied down as tightly as possible so the boat won't slide around on the surface of your car.
As far as the rack itself, look for aluminum or steel components because they will last longer and prevent corrosion. Cheaper materials may not stand the test of time which is especially important with watercraft.
Necessary Equipment
Before buying your carrier, don't forget to look at the manufacturer's instructions and make sure you don't need any extra equipment to install the kayak rack. Some will require a crossbar system or current roof rack, while others will require you to have a specific vehicle body.
Storing Your Kayak After The Adventure
Transporting your kayak is one challenge, but storing it at home is another beast. Kayaks and canoes are bulky and difficult to move around. One popular way to store kayaks in your garage is on the ceiling up above your vehicles. We wrote an article on the best kayak hoists for your garage.
This is our favorite way to store kayaks at home because they stay up out of the way during winter and the lift systems make it easy to place on the car for summer adventure.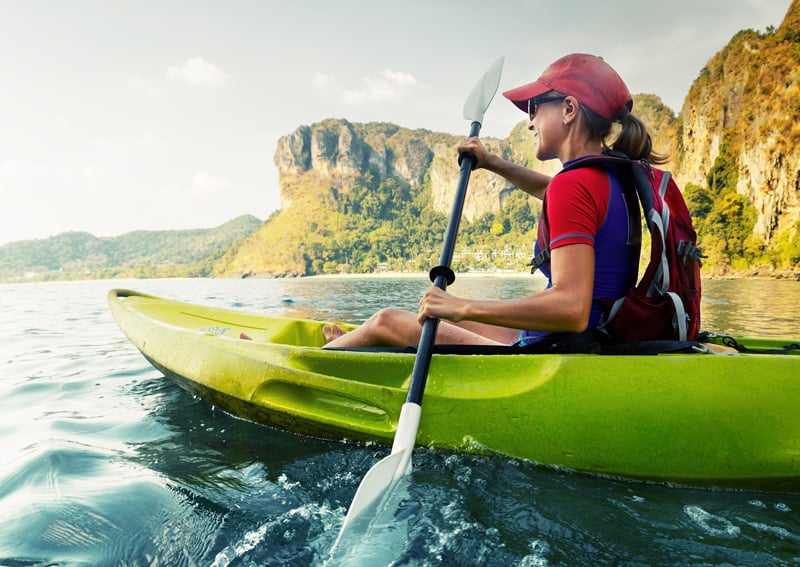 Frequently Asked Questions
Can you store a paddleboard or canoe on a kayak rack?
It's hard to provide a direct answer because it depends on a few factors. First, it depends on the kayak rack you're using. Temporary pads and truck extenders can carry both paddle boards and canoes. Saddle style racks can carry canoes.
J-cradles are all designed differently and manufacturer will be able to tell you on the instructions if you can mount other things to the kayak rack. Much of the time, you should have no problem.
How do I load a kayak onto a roof rack?
To mount the kayak to your car, you'll want to place it right side up on top of the roof rack. Center the kayak and throw two straps over the top. Run the straps under the bars to the other side and loop them underneath. Secure them using buckles or cranks depending on the straps the manufacturer uses.
Some roof racks may require addition tie-downs to the front and back of the vehicle. If you're traveling long distances, you might want to look into other points of security.
Best Kayak Racks Reviewed
At this point you should have a pretty good understanding of what type of kayak rack to get. We've listed our favorite rack in each style below. These kayak carriers all have great reviews, solid builds, and will make it easy to transport your gear from point A to point B.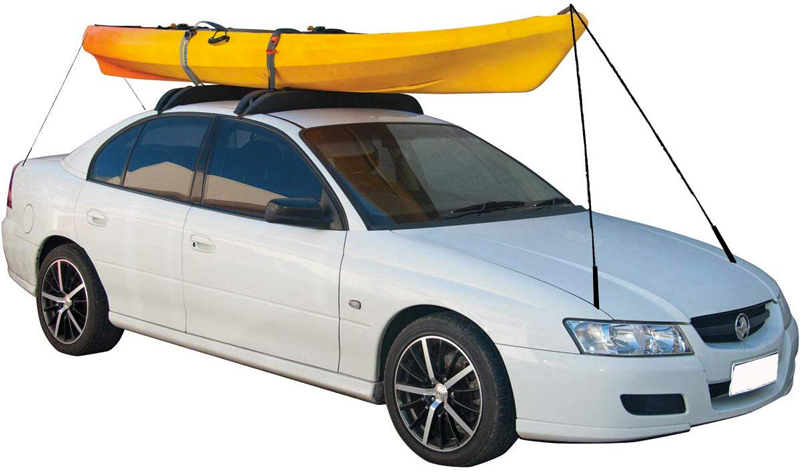 TEMPORARY PADS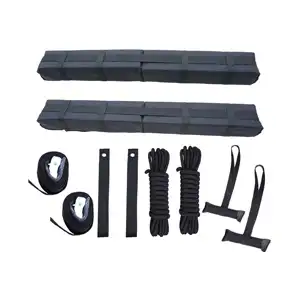 Best Temporary Pads: RORAIMA Universal Folding Lightweight Roof Rack
Universal roof rack pads like the RORAIMA are lightweight and affordable. We like this pad because it comes with everything you need to secure a kayak, canoe, surfboard, paddle board, snow board, or other accessories. It's one of the most versatile rack systems on the market.
This pad comes with a layer of anti-vibration foam and a 200-pound capacity. It can easily be installed by one person in a matter of minutes.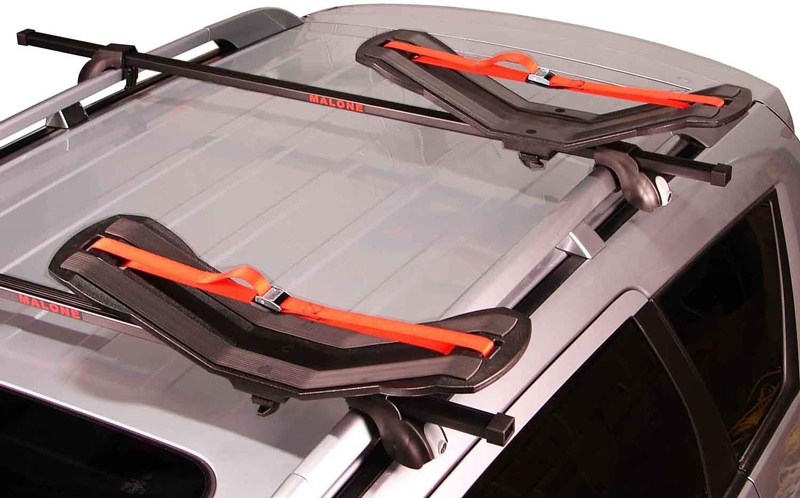 SADDLES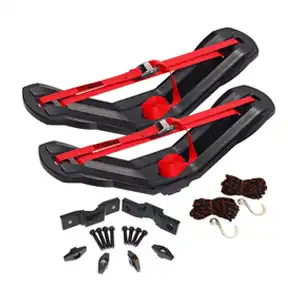 The Malone SeaWing is our favorite choice when it comes to saddle style carriers. We like this piece of gear because it's low profile and the construction has a slight flex to it so it can cradle and support the boat perfectly.
This carrier is low profile and fits most roof rails. It's also just 27″ wide leaving plenty of room alongside the kayak for adding a storage box.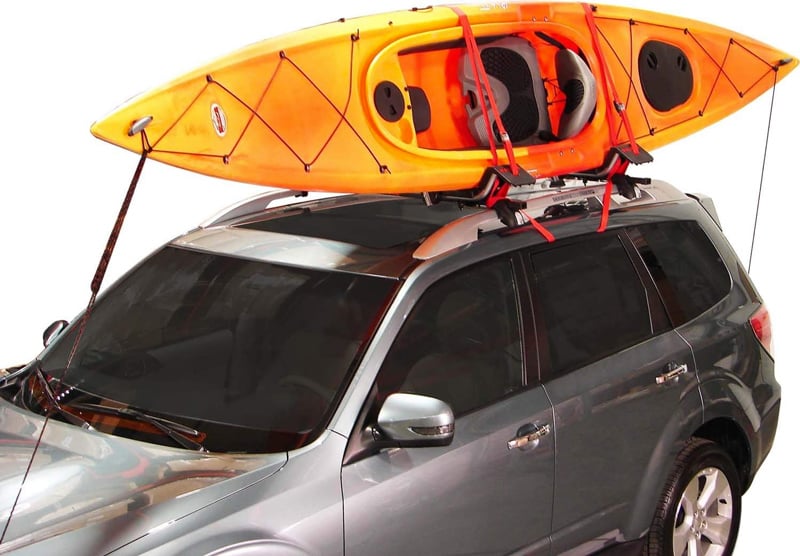 J-CRADLES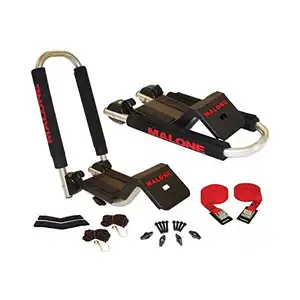 Best J-Cradles: Malone Downloader J-Style
Malone specializes in auto racks, and the Downloader J-Style is our top choice when it comes kayak carriers. This rack houses one kayak in a diagonally across the vehicle. One of the best features is a boarding ramp that makes it easy to slide your kayak into the rack without having to run it along your vehicle and possibly scratch it.
When not in use, these rails fold down flat out of sight so they don't need to be removed after each adventure.

BEST PREMIUM RACK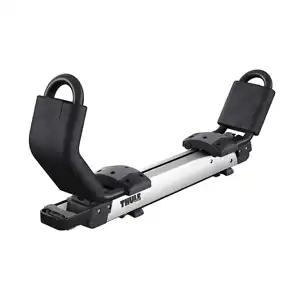 Best Premium Rack: Thule Pro Kayak Lift System
If you're interested in something that makes loading and unloading a breeze, this is the rack you want. The Thule lift system allows you to lower the rack from the room down to waist level for easy loading. Then, gas-assisted struts relieve up to 40 pounds of when lifting your gear to the roof.
Since you're loading the kayaks lower, you can also guarantee easier strapping and securing as well. The biggest downside to this rack is you must already have a Thule rack system to install the lift kit to.
TRUCK EXTENDERS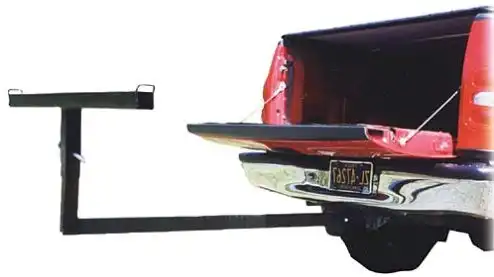 Best Truck Extender: Darby Industries Extend-A-Truck
For adventure travelers with trucks, a truck bed extender is the best bang for your buck. The Extend-A-Truck is an excellent option because it's durable and has the versatility to carry all sorts of gear, from canoes and kayaks to paddle boards, ladders, and oversized equipment.
The extender is simple to install directly to your trailer hitch, and it comes with plenty of customization to cater to your unique vehicle. It features a four-inch-wide support, adjustable height, and it comes with a red flag for visibility.
Final Thoughts
At this point, you should have all the information necessary to pick the best rack for your vehicle. If you don't have roof rails, we recommend the RORAIMA temporary pads. For ease of use, the Malone Downloader J-Style is our favorite. And if you drive a pickup truck, nothing beats the Darby Industries Extend-a-truck.
Continue Reading: