Best Hitch Cargo Carriers (Review)
By
on
This post may contain affiliate links. As an Amazon Associate, I earn from qualifying purchases. Please read my full disclosure.
If you're serious about your adventures, you'll probably be traveling with more than just a backpack. Hitch cargo carriers are easy to hook up, a great way to save space, and some models are capable of carrying over 600 pounds of gear.
In this article, we'll cover some of the top things to look for in a hitch cargo carrier and our favorite models for outdoor adventure.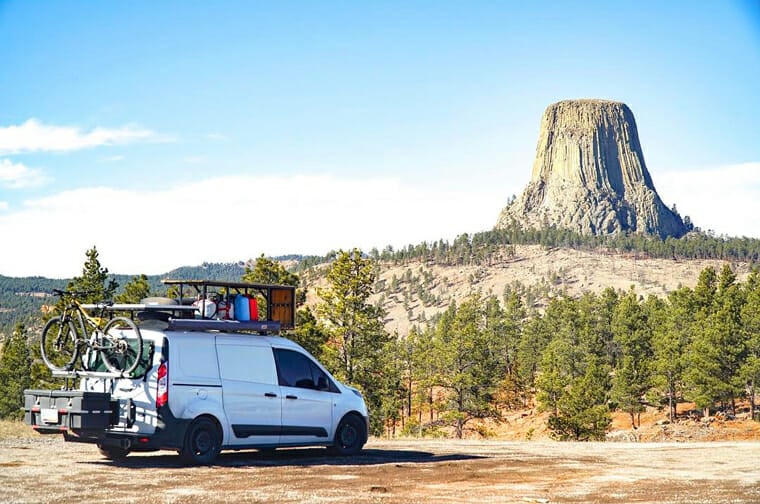 What To Look For In A Hitch Cargo Carrier
If you're an avid camper or happen to frequently find yourself on an adventure, it's always a good idea to have some extra space for gear on your vehicle. Hitch carriers are inexpensive and there aren't many downsides to expanding your footprint. Listed below are a few things we pay extra attention to before buying.
Materials
The favorite choice of most, is steel construction. Why? Because it's incredibly durable and can take just about anything you put it through. Steel is not going to bend or break, even under hundreds of pounds. If it is welded or made of one-piece construction, that's even better. You can rest assured there won't be any weak spots.
If you do select a carrier made out of steel, it's a good idea to get one that's also powder-coated. This is going to prevent it from scratching, rusting, or breaking down under the sun's UV rays. This is particularly important if you're going to be subjecting it to rain and snow.
A good alternative to steel, is aluminum. Aluminum is much lighter than steel, and still quite durable. We love the fact that aluminum doesn't rust, however, it is quite susceptible to scratches.
No matter what, having excellent build quality means you're going to feel secure and confident. The last thing you want is to be worrying while you're traveling or out camping. You should be focusing on the good time you're going to have, and your carrier should help facilitate that.
Weight Capacity
Chances are, you're going to have around 200-300 pounds of gear with you during your average trip. However, our favorite carriers have 500, and in some cases, 600-pound weight capacities. That's quite a bit.
We prefer to opt for one of the heavier duty choices. The carrier should be able to easily support several hundred pounds without any bending or shaking. If you're unsure if your carrier can hold a particular item, it's always wise to size up. There's no sense in cutting it close with gear.
Noise/Attachment
Noise is often something that we don't think about. However, if you're on a long trip or on particularly rough or uneven terrain, you risk the cargo carrier rattling around. That's a noise that can't easily be drowned out by sing-alongs. In addition, if you hear your precious belongings rattling around, it's understandably going to make you a bit nervous or worried.
A high-quality hitch carrier is going to have a snug, proper fit. That means the receiver and main shaft are going to fit together like puzzle pieces, with no extra wiggle room.
To add to this, make sure to look at the attachment mechanism on your vehicle before making your selection. Most carriers will connect to a standard 2-inch vehicle receiver perfectly. You'll usually find these on bigger vehicles, like Jeep, SUVs, or vans.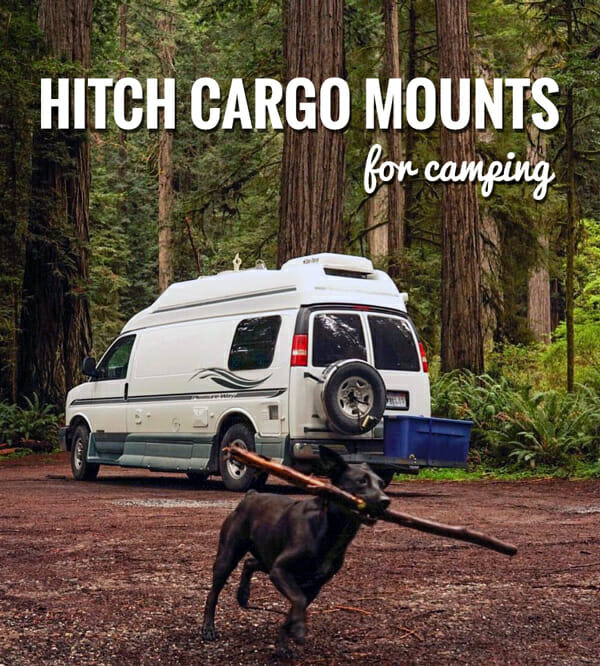 Base Dimensions
Another one of the first features you should revise, are the dimensions of your prospective hitch cargo carrier. As you probably know, the larger the dimensions, the more you'll be able to easily transport.
How much room do you need?
First, consider what you're going to be bringing along. If you're taking bikes, the width isn't going to matter as much as the length. With camping equipment or large pieces of luggage, you'll want to measure the gear, and decide accordingly. If you're coming close to the limit, it's always better to opt for the larger carrier.
Sidewalls/Railing
Railings are what surround the perimeter of the tray, which will help keep your equipment safe. It will ensure your belongings don't accidentally slide off of the rack. This is more important if you plan on traveling on rough/uneven terrain, or if you will be traveling up steep inclines.
Of course, you'll most likely have to anchor your things down. Even with the most secure anchoring, if you don't have high sidewalls, you risk your equipment escaping. The 6-inch sides that the majority of the products on this guide have is more than sufficient for most.
Base
The design of the base is crucial in keeping your things secure, as well. You'll typically find a kind of tightly-woven steel mesh, which is our design of choice. The reason why, is that there is a small chance of items falling through, and supports heavy loads well.
Occasionally, you'll find a wire mesh platform, which does well in preventing items from falling through. The downside, is that they're rather brittle and prone to rusting. The bar design that you'll find in the MaxxHaul is great in terms of durability, but can more easily let smaller pieces of equipment fall through.
Weight of Carrier
The weight of your hitch-mounted cargo carrier affects various things. One, is the ease of installation. Obviously a 40-pound item is going to be much easier to lift and maneuver than a 200-pound one. Anything around 70 pounds is going to be easy for two people to install, and shouldn't take very long so you can get on your way.
As previously mentioned, aluminum carriers are much more lightweight and typically easier to install than steel carriers. However, you can still find plenty of steel carriers that are relatively simple to install with two people.
Front-of-Vehicle Option
As you may have read above, there are some cargo carriers that let you choose whether you'd like to attach it to the rear or front of the vehicle. For some, it's more convenient to use the front attachment and may make them feel more secure. It's all up to personal preference, but it's nice to have the option.
Locking Mechanism
It's practically impossible to stay with your items at all time, especially when you're on the road. You may need to go into a convenience store quickly, or step away for any other reason. There's unfortunately always the chance of someone making off with your things if you don't have a locking mechanism.
Most carriers will come with a kind of locking hitch pin, so it's difficult to take it off of your vehicle. This will not only save you time, but also give you the peace of mind that your belongings are safe and sound.
Installing A Hitch Mounted Cargo Carrier
The Best Hitch Cargo Carriers: Compared
TOP PICK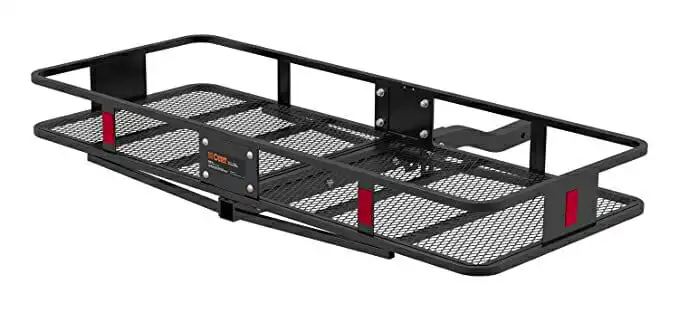 The CURT Basket-Style cargo carrier is consistently rated as one of the top products out there, and we have to agree with that sentiment. CURT has been known to put out quality products, and this carrier is no exception.
Made with heavy gauge tubular steel construction, it's designed to take a beating. Despite this, it's surprisingly convenient with a fold-up design for easy storage. With 6" tall railing, you get substantial support for your things, so they don't slide off the sides.
The weight capacity is at a sturdy 500 pounds. It's not the highest capacity out there, but it's definitely good enough for most.
An angled shank ensures your belongings are kept off of the ground, and the mesh base is strong and easy to clean. The blank mount can be attached to either the front or rear of your vehicle for added versatility. If you're looking to transport a couple bikes and bags, then the CURT 18153 will do the job perfectly.
Simple and efficient is what you'll get with this hitch cargo carrier!
High side rails
500-pound capacity
Heavy-duty steel construction
LARGEST BASE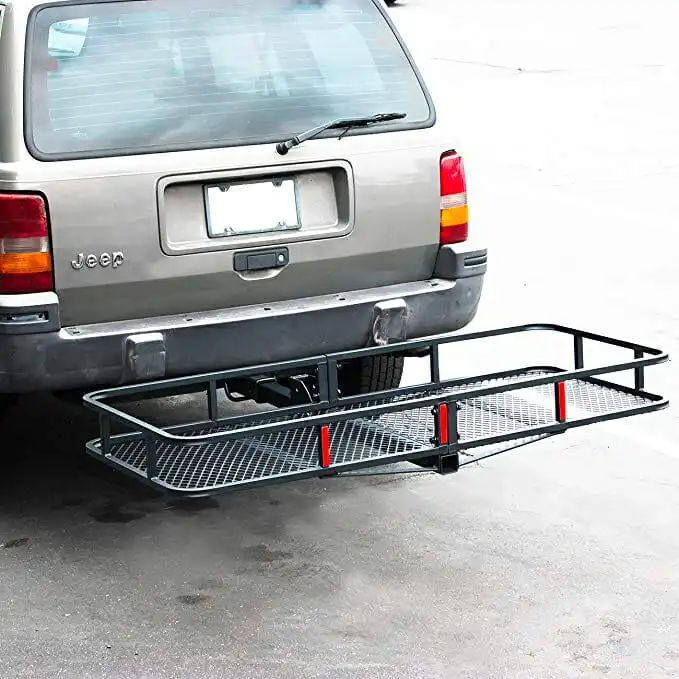 The ARKSEN luggage basket is another sturdy, high-quality carrier. The welded design is made to hold up to serious weight – up to 500 pounds. The square tube steel construction is coated with epoxy powder to make sure UV rays don't damage it.
As it's a single piece, you don't have to worry about it breaking anytime soon. The basket style is foldable, with 6-inch side rails like the previous product. It's perfect for hauling around large cargo bags, camping equipment, and luggage with ease.
Installation is quite simple and fits 2" trailer openings for quick attachment.
The only real complaint we had, was that the hitch carrier sits lower to the ground which may be a problem for some vehicles. All in all, if you are looking for a large hitch carrier, this is the biggest on the guide!
High side rails
Convenient folding-design
High-quality construction with a 500-pound capacity
BEST HEAVY DUTY CARRIER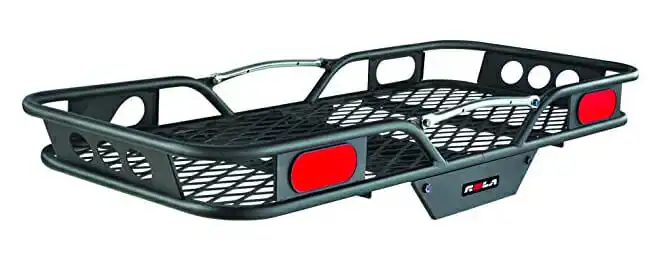 ROLA is easily one of the most well-reputed brands in hitch cargo carriers, and it's easy to see why with the Vortex Steel Cargo Carrier. The durable design is made with heavy-duty steel construction, finished off with a black powder coating to protect against the elements, scratches, and rust. The 600-pound capacity is more than most out there, and will easily hold anything you need to bring along for the ride.
The carrier basket comes with a convenient rise shank, to ensure it doesn't obstruct the exhaust pipes or hang too low to the ground. The large capacity is perfect for holding coolers, camping gear, and other bulky equipment. On top of that, it's one of the sleekest-looking carriers we've seen.
Installation is incredibly easy, with 2" sq. receivers perfect for cars, trucks, SUVs, and other bigger vehicles. The 2-piece assembly features attachment points for license plates, too! We also liked the fact that you can choose to add on a fully-functional lighting system and chrome plates, as well.
The only real "con" for us, was that if you want a solid fit, you may not like how much this one can move around. The included hardware also seems a bit cheap in comparison to the high-quality construction of the carrier.
High-quality steel construction
Eay assembly
600-pound capacity
BUDGET PICK

If you're looking for one of the best cargo carriers on a budget, then the MaxxHaul Aluminum Carrier is our top choice. You'll notice right away that the biggest difference between this one and the others on our guide, is that it doesn't have the sturdy steel construction the others do. However, given how affordable it is, it's still quite durable.
As you can probably guess, it's quite lightweight given the aluminum construction. Despite this, it has a 500-pound weight capacity which is just as much as most steel-made carriers! It's also resistant to corrosion, which is obviously important in exposure to the elements.
The 6-inch side railings help keep your belongings secure, even without any tie-downs. Each corner is rounded out with red plastic end caps, and you'll also find two red reflectors to make sure it's visible in low lighting. As the basket floor features aluminum bars rather than the wire mesh the others have, there's quite a bit of space where smaller items could fall through.
Our only other complaints were that it doesn't fold like some others, and the plastic caps could melt if the exhaust hits them just right. However, for this low price, it does the job of transporting equipment quite well.
Lowest price
Extremely lightweight
Easy to install
Summary
No matter which cargo carrier you select, excellent construction, sufficient weight capacity, and efficient designs will make your trips much more convenient. We hope our guide has helped you pick the best hitch cargo carrier for your vehicle.
Continue Reading: