How To Find Dispersed Camping In Washington
By
on
This post may contain affiliate links. As an Amazon Associate, I earn from qualifying purchases. Please read my full disclosure.
Dispersed camping is free, private, and does not require any permits. Washington is a great place to go dispersed camping because the National Forests cover millions of acres.
There are also plenty of dispersed campsites to be found in Washington Bureau of Land Management (BLM) areas and in the Washington Recreation Areas. In this article, we'll let you know exactly how to find dispersed camping in Washington and the rules to follow.
There Are 6 National Forests In Washington:
You can find free, dispersed camping in each of these National Forests. They are also the perfect place for outdoor recreation such as mountain biking, climbing, backpacking, fishing, and paddling.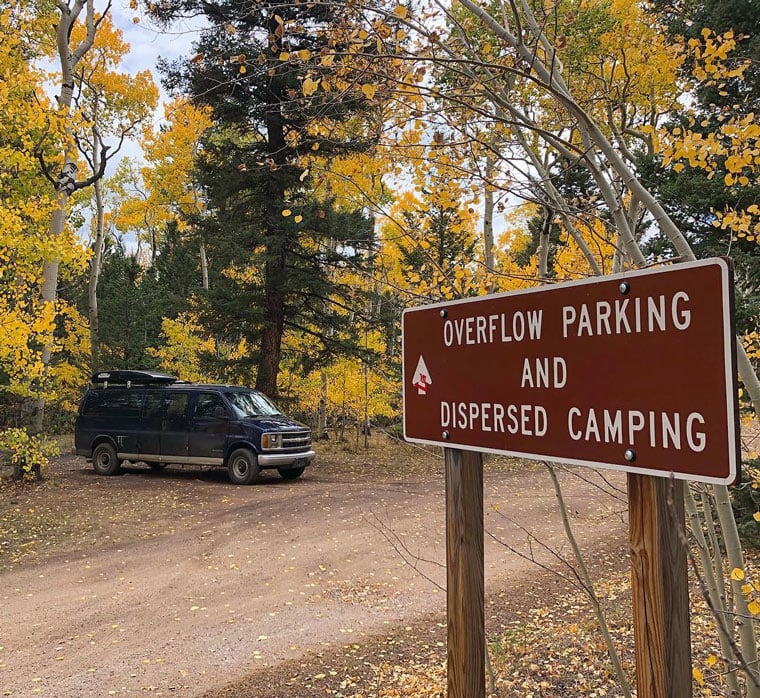 Rules For Dispersed Camping In Washington
The rules for dispersed camping are pretty similar for all National Forests in the US. This park system is managed by the United States Department of Agriculture (USDA).
The most important rules for dispersed camping are:
Camp within 150 feet of roadways, if possible
Always use existing fire rings when available
No camping within 100 feet of a water source
No camping at developed trailheads or picnic areas
You must move your campsite every 14 days
Do not leave personal property unattended for more than 10 days
Minimize your environmental impact
Leave no trace
14 Day Stay Limits
All National Forests and Bureau of Land Management Areas have a 14-day stay limit. This is to prevent excess damage to the environment. In Washington, this means that you can't camp in the same spot for more than 14 days within a 28 day timeframe.
That includes both consecutive and non-consecutive visits.
After you've reached the 14 day maximum, you must move your campsite outside of a 25 mile radius.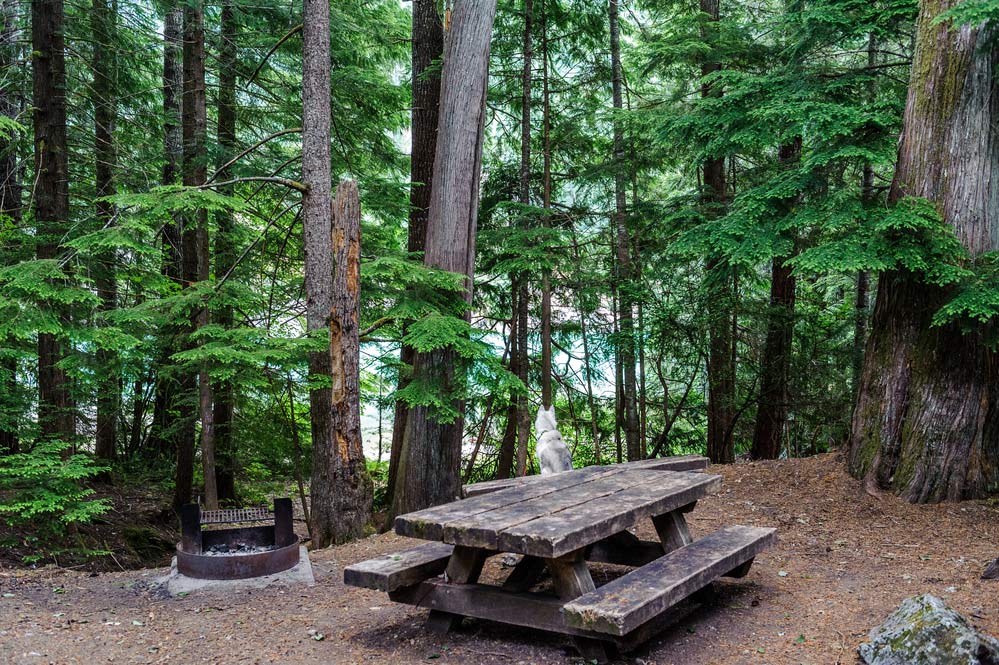 Dispersed Camping Areas
Following these rules, you can go camping for free in most areas of the Washington National Forests. Many places have site-specific rules to follow as well.
How To Find Exact Dispersed Camping Boundaries
The trickiest part about dispersed camping is finding out exactly where it's legal to camp. National Forest boundaries are not clearly marked from the road.
Our #1 tip is to talk to a local park ranger. They can give you the best lay of the land, road conditions, and any special considerations that need to be taken into account.
Aside from that, the USDA offers this interactive map which accurately labels the National Forest boundaries in Washington.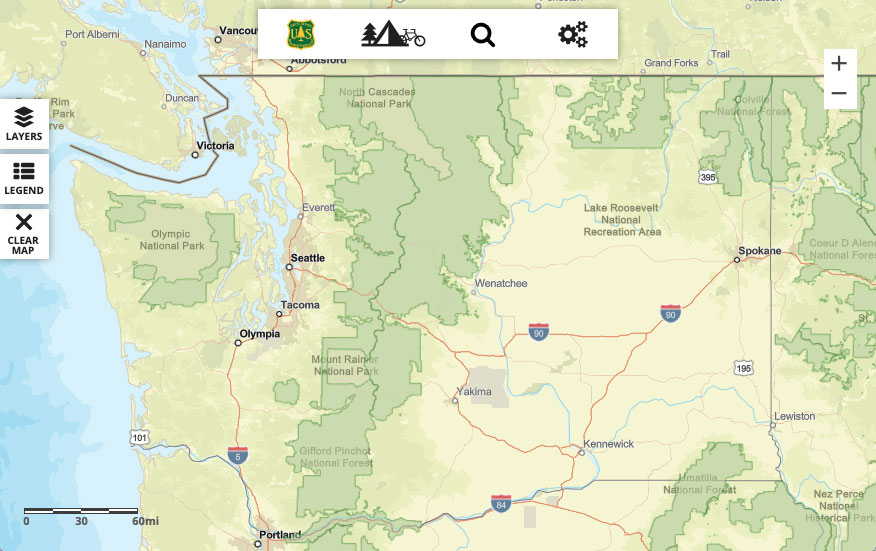 Google Maps
All National Forests are highlighted in green when searching in Google Maps. When we first started van life, Google Maps was our main way of researching dispersed camping areas. But, there are quite a few drawbacks.
It's hard to tell exactly where the boundary is relative to yourself
You can only download offline maps (not campground information)
You still have to look up forest-specific rules and regulations
Finding Free Campsites With The Dyrt
More recently, we've switch to using The Dyrt Pro to find National Forest boundaries. Using the map layers you can easily find exact boundaries for:
Bureau of Land Management Areas
National Parks
National Forests
You can download the maps for offline use and see exactly when you cross into forest areas.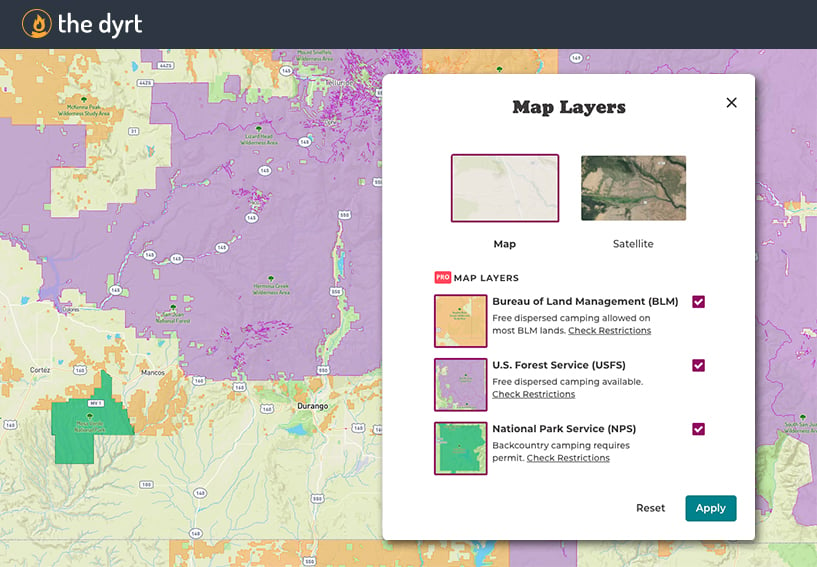 Our favorite part about the app is that there are thousands of user-submitted reviews that include photos, amenities, and reports about campsite conditions.
And the reviews are not limited to paid campgrounds only.
Anyone can submit a review of any area so there are plenty of free and dispersed camping sites in there as well.
Camping On Bureau Of Land Management Areas In Washington
The Bureau of Land Management (BLM) is run by the US Department of the Interior. Dispersed camping on Washington BLM land follows the same rules as that of the National Forest.
There are at least 23 dispersed camping locations on BLM land in Washington.
Here are just a few of the places to check out:
BLM campsites range wildly. Some come equipped with vault toilets or trash services; others will have fire rings only. You should never expect a BLM campground to be fully serviced. That's why reading reviews can be so important!
Before committing to a dispersed camping site, we recommend stopping by one of the forest service offices nearby. The rangers there can give you the most up-to date information about the area.
Dispersed Camping At The Washington Army Corps of Engineers Sites
The Army Corps of Engineers are responsible for building dams and controlling rivers among other things. As part of this public service, they also offer free camping at many of their locations. You can check out the regions and areas for free camping here.
These campsites range from primitive to established with picnic tables, restrooms and even showers. They are generally well maintained and a great place to stay on your road trip.
You can find free campsites within some areas of the Walla Walla District:
Free Camping With The Washington Discover Pass
If you plan to spend any length of time in Washington, it's worth purchasing a Discover Pass.
The pass costs just $30 annually and gets you into over 80 campsites throughout the state for free. That's about as cheap as it gets when it comes to outdoor recreation.
Not only can you use the pass to go camping, but it also gets you into more than 100 state parks, 350 recreation areas, and 30 wildlife areas.
You can find a list of campsites available with the Washington Discover Pass here.
Boondocking In Washington
Whether you're looking to camp near Seattle or Spokane, there are plenty of free camping locations throughout the state of Washington.
In our opinion, the best dispersed camping locations can be found in the Olympic National Forest. We love the peace and solitude that you can find off Forest Road 29, and the Quinault Ridge Road.
If you're looking to stay near the Olympic Peninsula, check out the Hoh Oxbow Campground.