We Review The #1 Camping App: The Dyrt PRO Membership
By
on
This post may contain affiliate links. As an Amazon Associate, I earn from qualifying purchases. Please read my full disclosure.
As full-time van lifers we're constantly on the lookout for ways to save time and money.
The two biggest time-wasters for us have been trip planning, and finding different places to sleep every night.
Since beginning our travels in 2017, we have used a combination of Google Maps, ranger stations, social media, websites, and road trip planners to cobble together a strategy for visiting every state in the US.
Recently, we became aware of a camping app called The Dyrt PRO Membership. Not only is this app designed to help travelers plan their road trips, but it also features some cool tools to help you find free campsites, get gear discounts, and join a community of campers.
In this article we're going to review The Dyrt PRO Membership, and show you the best way to save time (and money!) with this app.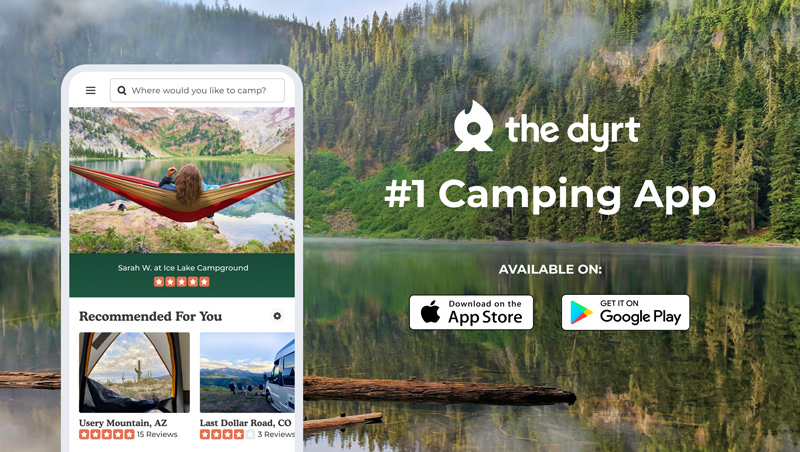 What Do You Get With The Dyrt PRO Membership?
PRO Trip Planner — Plan camping road trips in minutes.
PRO Free Camping Maps — Use Map Layers to see all free camping areas.
PRO Offline Access — Easily find camping from your vehicle; no phone service required.
PRO Discounts — Up to 40% off 1000s of campgrounds and brands.
Free access to all campsite listings in the US.
Largest camping community on the web.
The Dyrt Camping App
The Dyrt is a website and camping app available on iOS and Android. There is a free version and PRO Membership available which currently costs $29.99 per year.
With the free version, you get access to all campsites listings in the US including: National Parks, State Parks, County Parks, Bureau of Land Management, KOA, Good Sam, Thousand Trails, and Private Parks.
You can also read user-submitted reviews and get contact information for each of the campgrounds.
The PRO Membership gives you all of that plus a road trip planner, free camping maps, offline access, and pro discounts.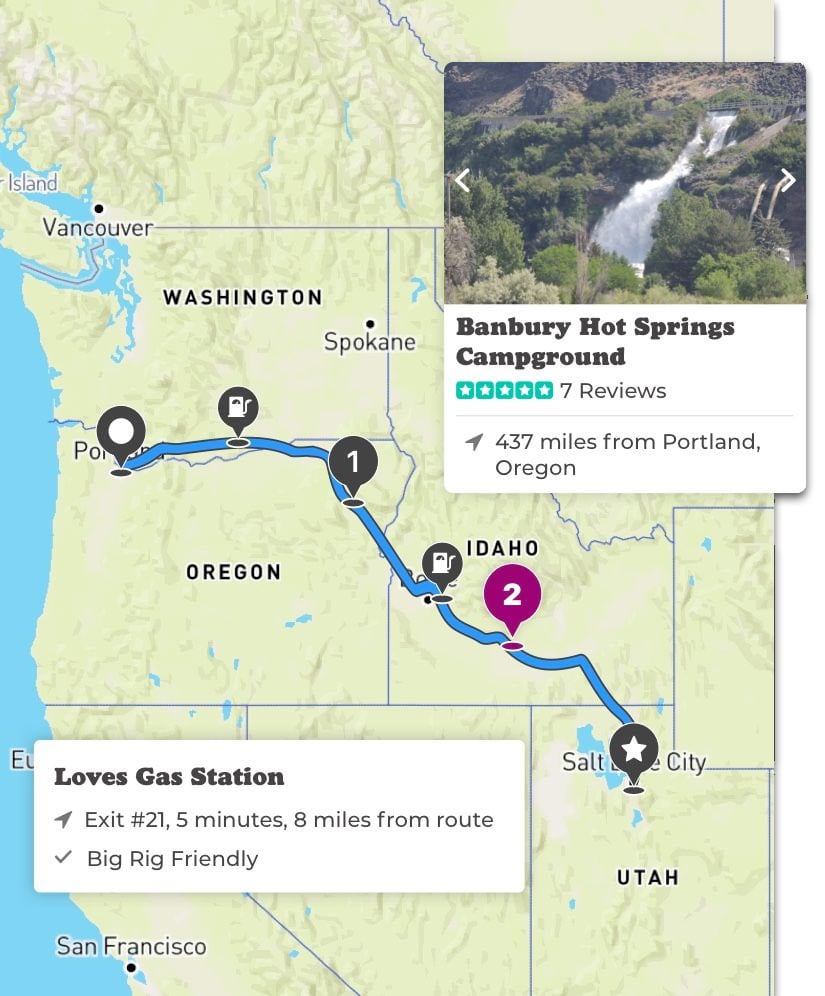 The Dyrt PRO Trip Planner
The first thing we had to test out was the PRO Membership Trip Planner. Since our travels are so open-ended it can be extremely difficult for us to decide where to go or what to do along the way.
We decided to test the planner out on one of our favorite states: New Mexico.
Our travels started at a friend's house in Santa Fe, and we were planning to head south to Carlsbad Caverns while making some fun stops along the way.
To start, the app asks for a little bit of information:
Location and waypoints (starting location, destination, planned stops)
Vehicle information (type, miles per gallon, fuel, towing)
Options (avoid ferries, avoid tolls, avoid highways, campsite budget)
Trip building (recommended trip, blank trip, how far to drive between campgrounds)
To test the trip planner, we added two waypoints that I wanted to see including Roswell and Albuquerque, New Mexico. We indicated that we wanted to camp for free and did not want to drive more than 4-hours between campgrounds.
Here's the result: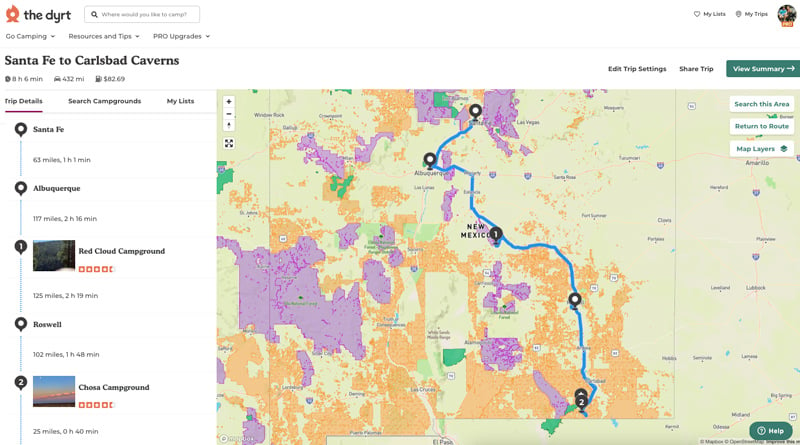 The Dyrt PRO Trip Planner re-ordered our waypoints to create the most efficient route.
It also found 2 free campgrounds that we could spend the night at.
As you can see on the map, US Forest Service areas are shaded in purple, and Bureau of Land Management areas are shaded in orange.
The first campground suggested was the Red Cloud Campground. It's located in a US Forest Service Area which allows for free, dispersed camping.
The campground had four reviews and 18 photos with a huge list of pros and cons about the campsite.
We learned that there are vault toilets on-site, fire pits and picnic tables, and beautiful views just up the road. The reviews also indicated that there may be some ATV noise during the weekends.
Overall, this is a lot more information than we would have been able to gather when googling "campgrounds near Albuquerque."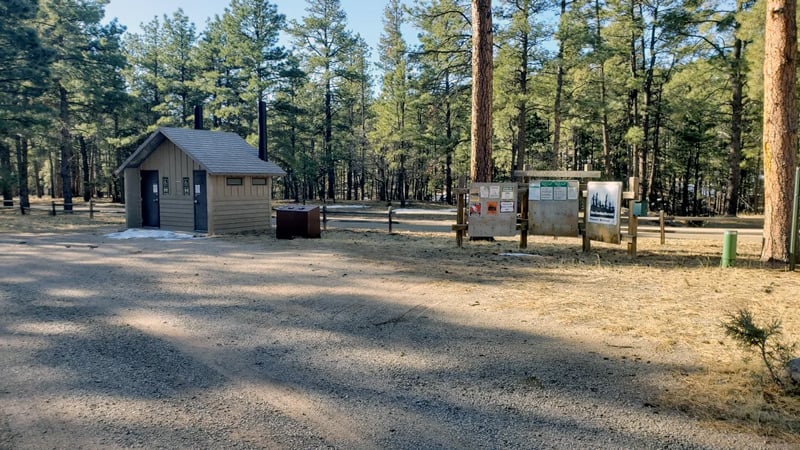 What's Missing From The Dyrt PRO Trip Planner?
If we had to come up with a negative for this app, it would be the limitation on waypoints.
Because this app is designed for campers, it only allows you to enter cities or campgrounds into the trip planning tool.
That's great for what it is, but we knew that we wanted to visit the Petroglyph National Monument along the way. That option was not available as a waypoint so we had to enter the nearest city instead.
Another negative is that the Trip Planning tool does take away from your sense of adventure.
One of our favorite things to do before the app was discovering new places that weren't necessarily "on the map." In a sense, this is both a positive and negative quality.
The app saves a tremendous amount of time when it comes to planning, but if you follow it to a T, you may miss out on some sights along the way. We recommend using this app as a general guide and doing some exploring on your own.
Takes away from your sense of adventure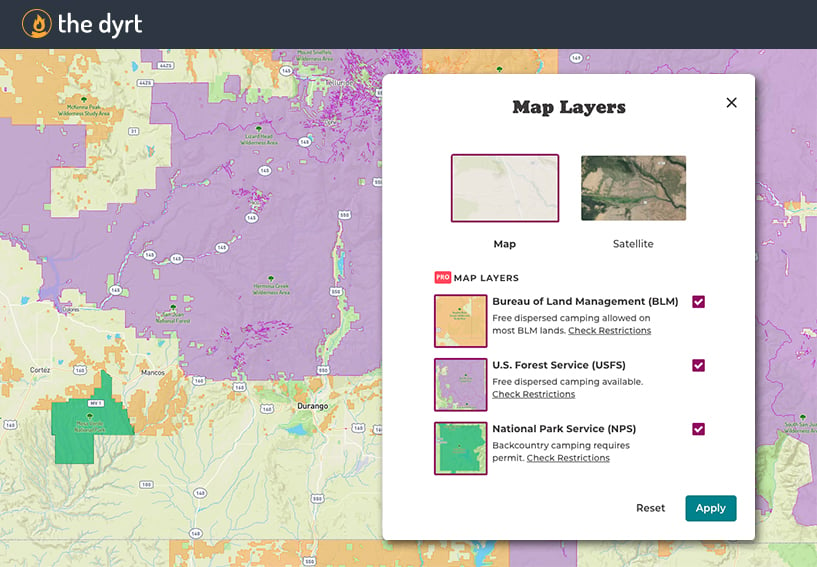 The Dyrt PRO Membership Free Camping Maps
In our humble opinion, the most valuable part of The Dyrt PRO Membership is the free camping maps.
Before coming across this app, we were using a mishmash of websites, social media, and old-fashioned stops at the local forest service office.
How do the maps work?
Open the app
Click the "Explore" button on the lower left corner
Zoom into your current location
Turn on "Map Layers" located on the top right corner
As you apply the layers and scroll around the map, you'll see that the shading varies from place to place.
Orange: Bureau of Land Management
Purple: US Forest Service
Green: National Park Service
In many cases, camping is permitted in these areas. Campgrounds that have been reviewed are indicated with little tent icons.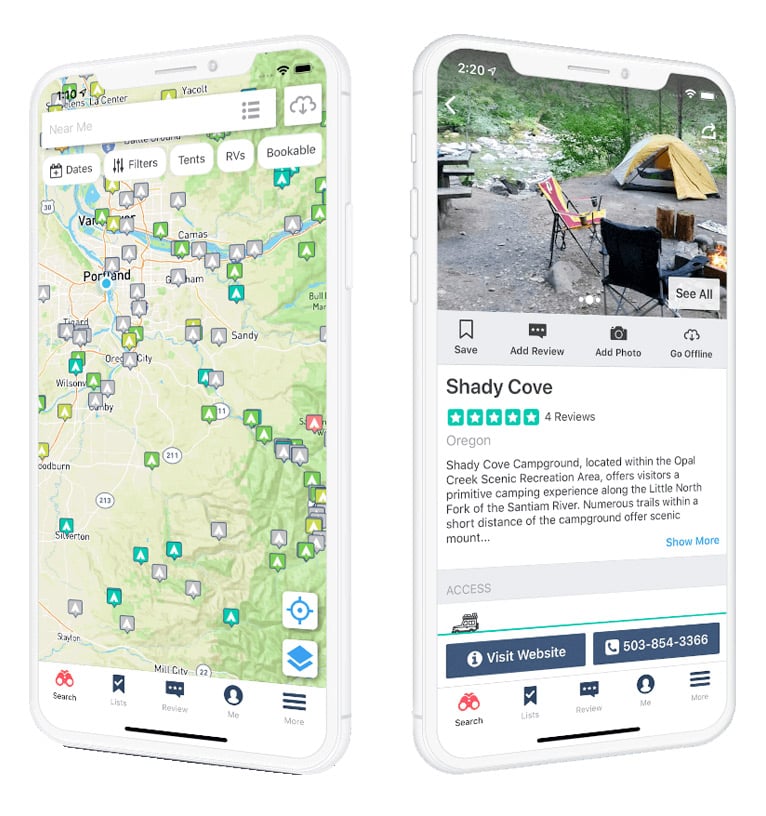 You can click on each one to see photos, videos, campground amenities, and features. The campsites can also be filtered by price range, site type, access, and even air quality.
Over 1-million campground reviews have been submitted making it the largest user-generated database in the app store.
The biggest thing that sets The Dyrt PRO Membership apart from similar apps is the ability to save campgrounds your maps offline.
Offline Maps Access
On more than one occasion we have found the perfect National Forest to camp in.
The problem?
We would begin driving towards the forest using Google Maps, and about 10-minutes before reaching the destination we would run out of phone service. Then it was a guessing game of whether we had actually crossed into the National Forest or not.
The Dyrt PRO Membership uses GPS coordinates to tell you exactly where you're at. You can look up campgrounds, view saved lists, and zoom around downloaded maps without cell phone service.
The amount of time and anxiety this can save you while planning trips in the mountains is insurmountable.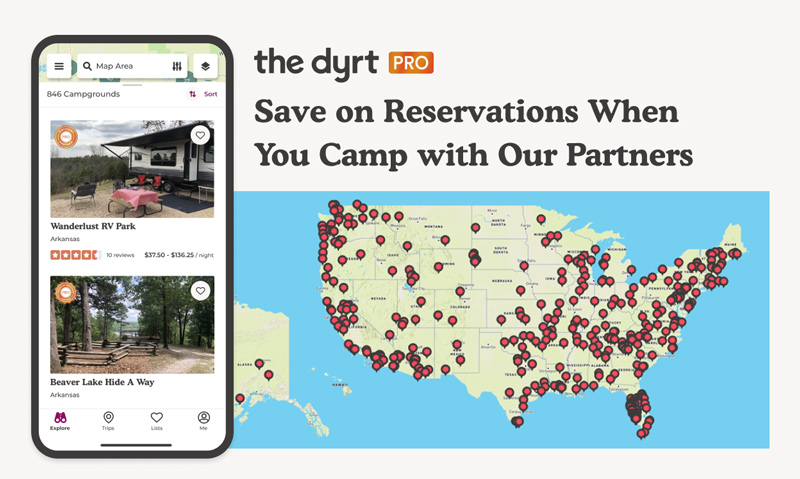 The Dyrt PRO Membership Discounts
Campground discounts was not something that we were originally that interested in when downloading the app, but we've been pleasantly surprised by the number of times it's come up.
When you download the app you get a membership card that can be applied to campgrounds and outdoor adventure stores.
Some notable discounts include up to 40% off campgrounds like the KOA, Yogi Bear Resort and Thousand Oaks.
They also have a rotating list of partner discounts for individual stores.
What Else Do You Get Out Of The Dyrt PRO?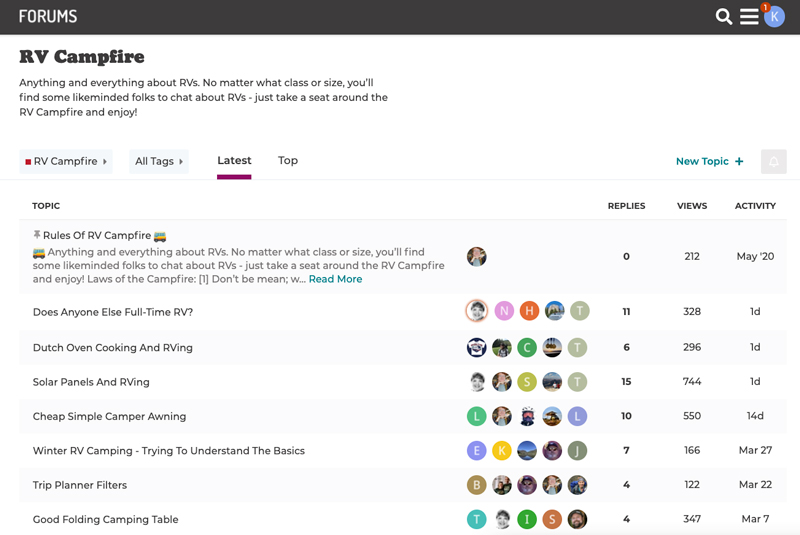 Forums
There were a few things that weren't immediately obvious when signing up for The Dyrt.
One was the amount of community interaction you can get. Your membership comes with access to a forum called "The Campfire."
There are several categories within it where you can get answers to state-specific questions, advice on RV camping, van life, and general discussions.

Gamification
The Dyrt App is gamified so you can earn points when submitting reviews, photos, and videos.
As you move up in the levels you can gain even more exclusive gear discounts and even opportunities for free outdoor gear as a product tester.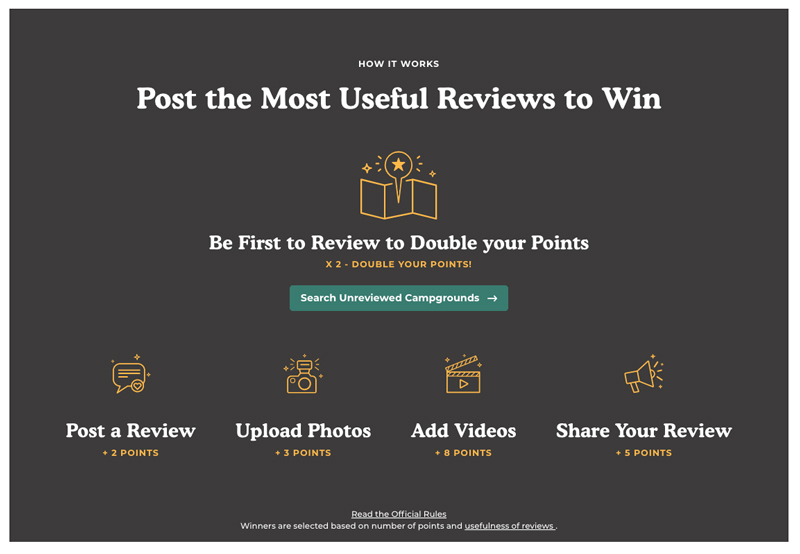 Contests
Each month The Dyrt partners with new companies to offer product giveaways for useful reviews. This is a fun way to earn points and further engage with the community.
The Dyrt PRO Membership Review: Is It Worth It?
We're not normally people that pay for apps, but in this case I think The Dyrt PRO Membership is worth it.
The amount of time and hassle it saves for trip planning and finding campsites cannot be understated.
When using the app to find free campsites rather than private ones, it will pay for itself in 1-2 nights.
The Dyrt PRO also has a fun community that is highly engaged and interested in making the app better because of the gamification aspect.
The PRO discounts are an added bonus. I would not purchase the app for discounts alone because there are better discount camping clubs on the market. But when combined with everything else you get it's a fantastic bonus.