How To Find Free Camping In The USA
By
on
This post may contain affiliate links. As an Amazon Associate, I earn from qualifying purchases. Please read my full disclosure.
Camping for free is the best way to see the world on a budget. Believe it or not, you can find free camping in every state throughout the USA. Your options will vary depending on your comfort level and camping style. The term free camping can mean different things depending on which websites you visit and who you talk to.
What are the types of free camping?
At the end of this article, we'll also give you some tips to get big discounts on paid campsites which offer a few additional amenities.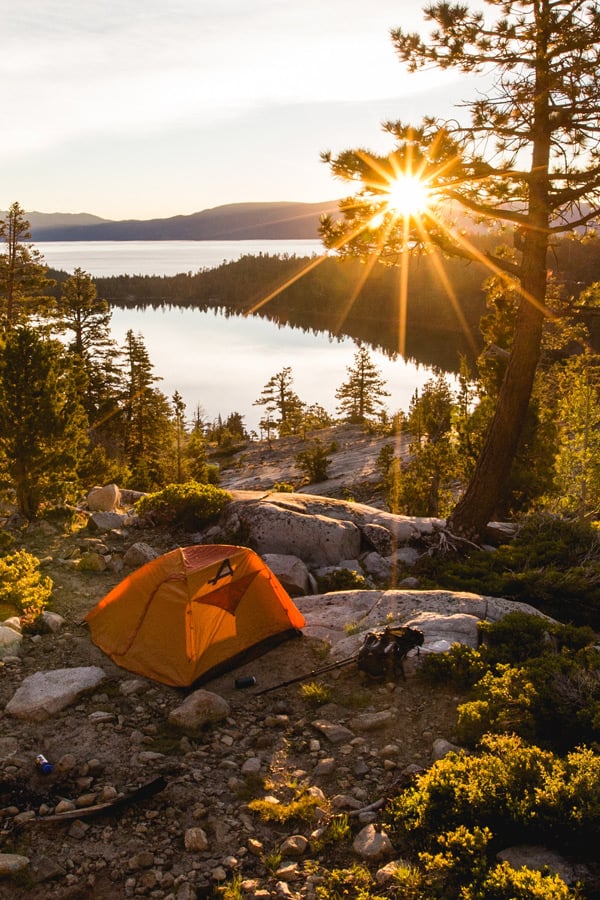 Types of Free Camping
Boondocking or Dispersed Camping
Boondocking and dispersed camping can be used interchangeably. This is camping on undeveloped public lands without hookups or bathroom amenities.
Dispersed camping is popular among the RV community because their motorhomes are self-contained. Van lifers and rugged campers also take advantage of these spaces because they're completely free. Any time you stay on public lands you must follow the pack-it-in, pack-it-out mentality. Occasionally you can find dispersed campsites with vault toilets or fire pits but it is not the norm.
Often these are not officially labeled campsites. It's up to you to decide where to pull over and spend the night.
This type of camping is legal. You just need to know where to look. We'll give you some ideas of where to find dispersed camping sites below.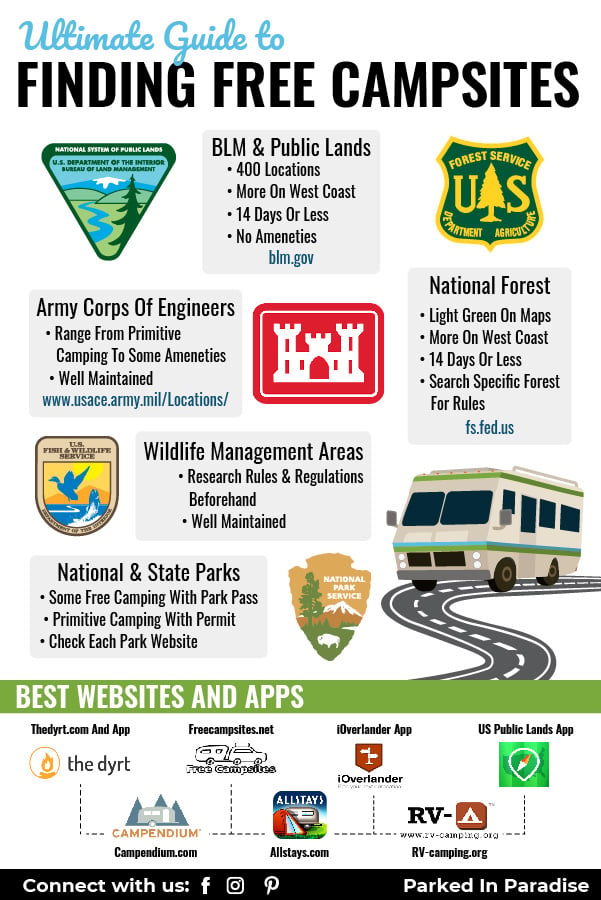 Dry Camping
Dry camping is a term commonly used to indicate that there are no amenities such as water or electricity at a campsite.
Many National Forest areas of high traffic will have specific dry camping sites. These are 'developed' with a noticeable place to park your car and possibly fire ring but you won't find other amenities.
Additionally, paid campgrounds will commonly have varying tiers of campsites. The most expensive will have hookups and the best amenities, while the least expensive are called dry camping sites. With a dry camping site, you shouldn't expect electricity or potable water nearby.
Places like Wal-Mart or Cabellas sometimes allow dry camping in their parking lot for self-contained RVs and camper van conversions.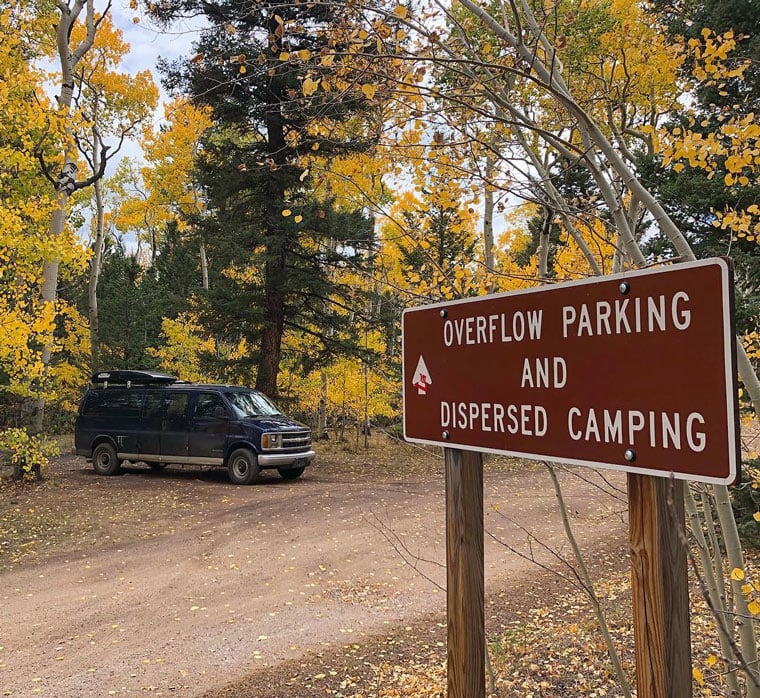 Primitive or Backcountry Camping
Primitive camping blurs the line with dry camping a bit, but we find that it typically means tent-camping only. Usually this means walking gear far away from your car to get to a fire pit and picnic table. It is frequently synonymous with backpacking and is an adventure of its own rather than just a place to crash.
If you come across a website that says, 'primitive camping along trail X' what this means is you are allowed to hike a tent in, stay for the night, and hike a tent out.
Sometimes primitive camping is close enough to a parking spot that it's a good option if you have a tent with you; but typically it indicates more than a short walk.
If you are researching campgrounds, primitive camping can either mean no hookups available, or pack-in-pack-out your tent. You will have to call ahead of time to see if drive-in options are accessible.
Stealth Camping
Stealth camping means camping in populated areas that are not intended for overnight sleeping. It can be a legal gray area.
Camping stealth is popular way for van dwellers who have built their own DIY conversions to visit cities and park in neighborhoods overnight. The idea is that if no one is aware you're there, then sleeping is fair game!
There are a lot of tricks to successfully stealth camping, and it's not a subject we're going to cover in this article. Read our post on urban stealth camping for advice on finding legal and safe locations to sleep in the city.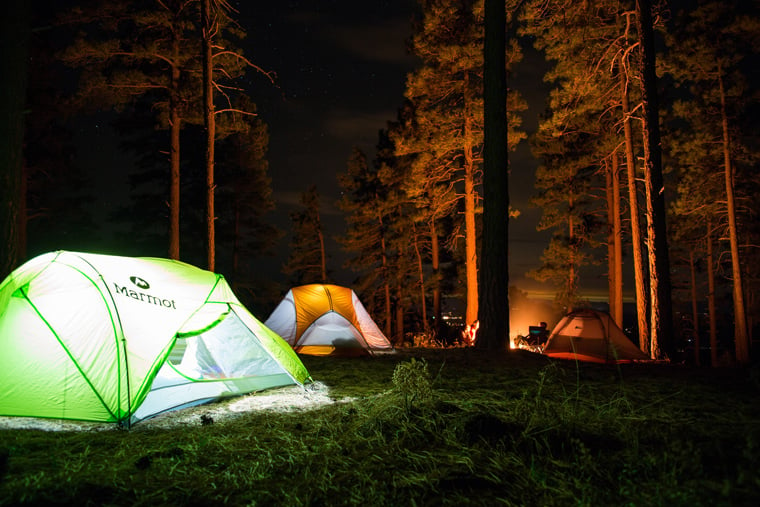 How To Find Free Camping Near Me
Bureau of Land Management (BLM) and Public Lands
BLM land is one of the best places to go camping if you want to get away from the crowds. The bureau of land management operates over 400 locations that cover nearly 250 million acres of land across the US. This land is open to the public for camping, hiking and other forms of recreation. They are most prevalent on the west coast.
In most areas of BLM land you are allowed to camp freely anywhere you decide to park your car. You can find BLM land near you by visiting the blm.gov website or talking to a ranger at a national forest office.
Although BLM lands have very few regulations, many have length of stay limits. Typically you are not allowed to camp in the same area for more than 14 days in a row. Do not expect to find any amenities, fire rings, bathrooms, waste receptacles or water. Camping on BLM land has the potential to really put you in the middle of nowhere, so know your limits and be sure to bring extra supplies. Rough roads are common.
Just because BLM land is free does not mean that you can't visit some spectacular locations. Some of our favorite free camping spots are: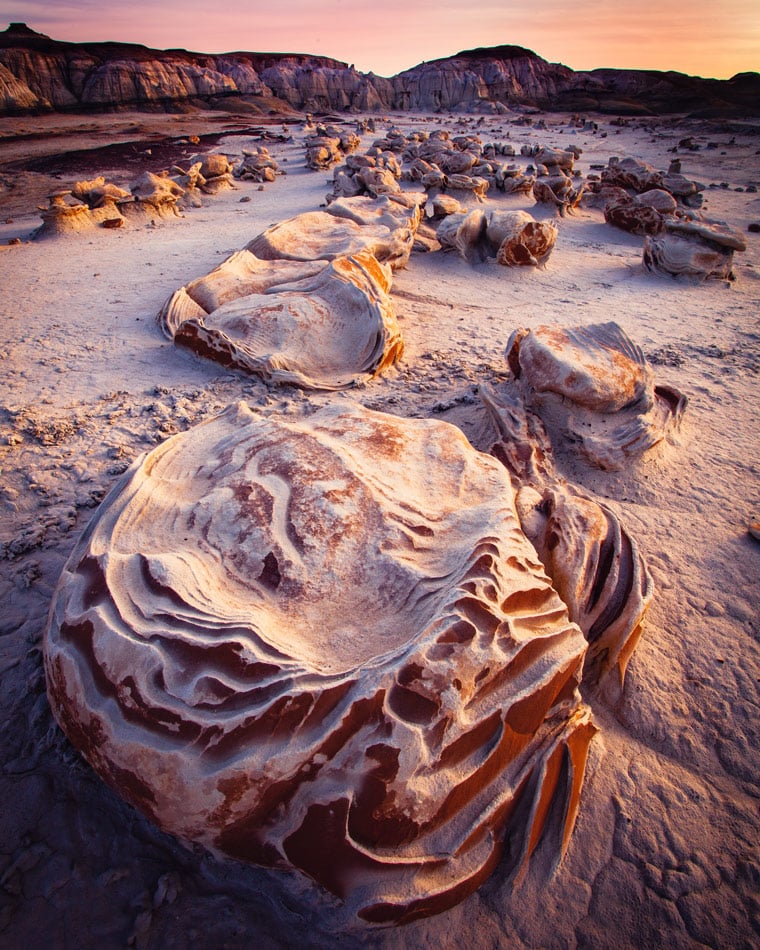 National Forests
Many National Forests allow free dispersed camping. You can easily find a National Forest on maps because parks and forests are colored with a light green background.
Each National Forest has its own rules and regulations. Most allow you to camp there for free (especially in the west) but some will require a permit. Like BLM land, National Forests often have a 14 day stay limit per site and have variations on rules like not camping too close to lakes or roads.
When we are traveling in the west this is our favorite way to camp.
Database of National Forests
The website fs.fed.us has a database of all National Forests that you can lookup by state. This is the best resource for finding dispersed campgrounds or getting a number to call for more information.
How to camp for free near you in a National Forest:
Open google maps and find a 'green' colored area of the map near you

Green backgrounds indicate parks and National Forests

Zoom out and find the name of the National Forest
Research rules and regulations of the forest on fs.usda.gov

The website will list exact locations and rules for each dispersed campground
Visit a National Forest or BLM office
These offices are very common near National Forests. Simply look up 'ranger station' on your digital map. Park rangers can give you insider information on the best camping for you, your pets, quiet campsites, places with good cell phone service, or panoramic views.
The best part about visiting a ranger station is they can also let you know about road conditions, hiking trails, and cool spots to visit nearby.
State Forests
The availability to camp in state forests varies wildly. Some states, such as Pennsylvania, have similar regulations as National Forests, meaning there is quite a bit of available camping. Permits may be required in certain areas; however, they can often be obtained either for free or at a very low cost. It all depends on the state.
Some of the nicest campsites we have been to were free permit sites in state forests.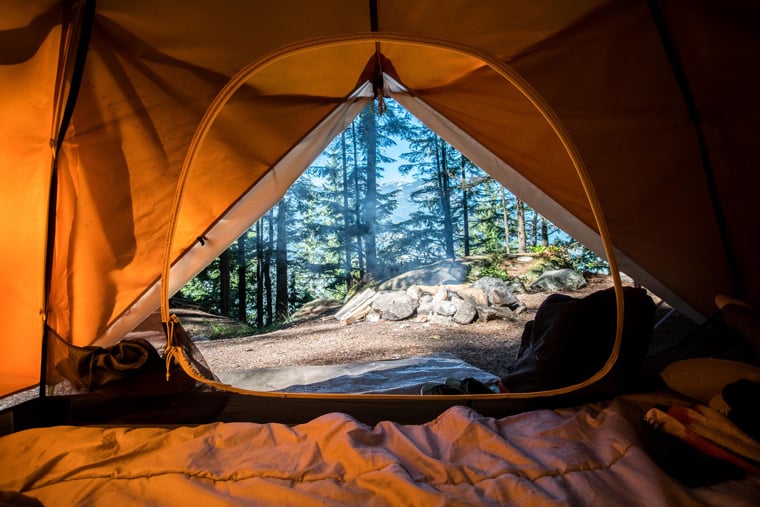 Army Corps of Engineers
The Army Corps of Engineers are responsible for building dams and controlling rivers among other things. As part of this public service, they also offer free camping at many of their locations. You can check out the regions and areas for free camping here. These campsites range from primitive to established with picnic tables, restrooms and even showers. They are generally well maintained and a great place to stay on your road trip.
Wildlife Management Areas
A number of wildlife management areas also offer free camping. As with any area, rules and regulations are going to differ dramatically depending on the location. It will be necessary to research each place before planning to spend the night. We have had success staying at many wildlife management areas and this can be a great way to travel.
National Parks
If you have a National Park Pass, some US National Parks have free camping with vault toilets on-site. Two that we've come across so far are: Badlands National Park in South Dakota, and New River Gorge in West Virginia.
Many National Parks also have free primitive camping if you're willing to backpack in and obtain a permit.
The best way to get a permit is to check each National Park website before visiting. Some require you to check-in with the park office first.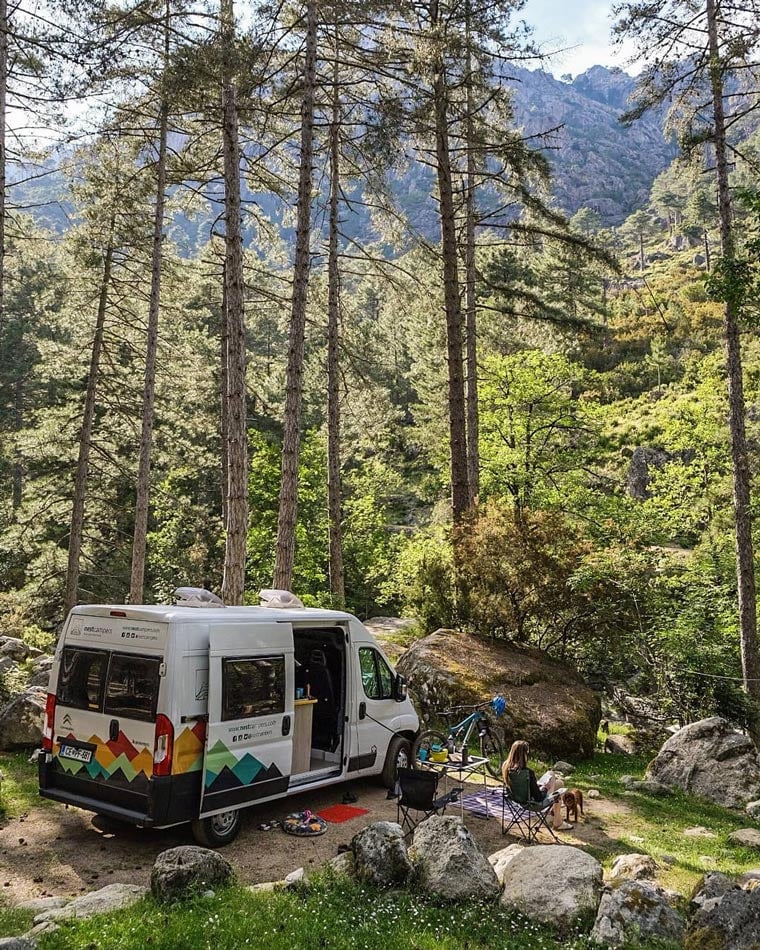 Best Websites And Apps For Finding Free Camping
Free campsites are abundant if you know where to look. Some states are going to be more difficult than others (I'm looking at you Ohio!). But it is possible to find some form of free camping in every state. In fact, we've done it.
Here are our top resources for finding free camping: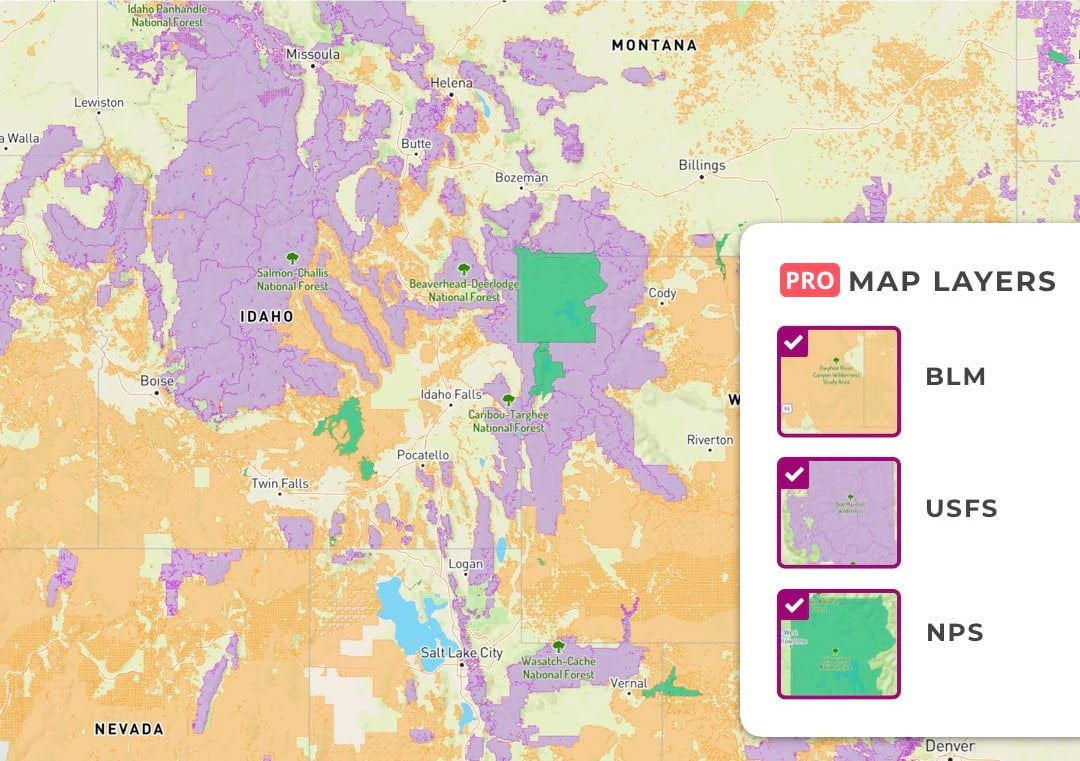 The Dyrt
The Dyrt is a user-submitted website and app that lists both paid and free campgrounds. There are thousands of campsites for both tents and RVs listed on the free version.
The paid version of the app costs just $35 per year and allows you to overlay layers on the map including Bureau of Land Management areas, US Forest Service, and National Parks Service.
You can also download offline maps and campsites so they're ready for you when you head out of cell phone service.
Built into the app, there is also a trip planning feature where you can add multiple destinations to your route and it will guide you along the way. There are filters for big rig gas stations and estimated fuel costs which can be helpful if you're traveling on a budget.
For less than $40 I would say this app is worth the price because it will save you hours of time scouring through online maps to find free camping locations.
As a bonus, Dyrt Pro members receive a digital membership card that you can use to get discounts on hundreds of paid campgrounds and camping gear.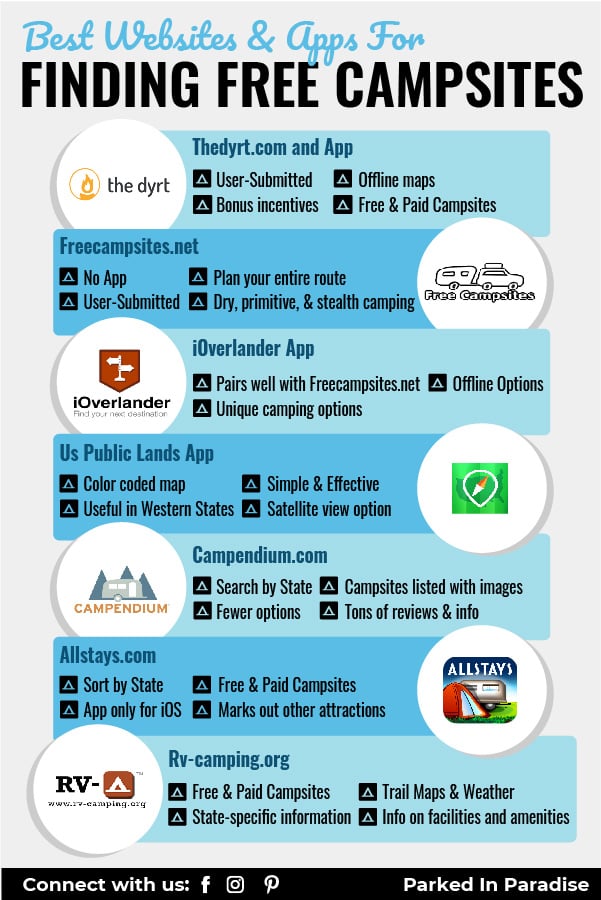 Freecampsites.net
Freecampsites.net used to be our go-to website for free camping before The Dyrt came along. All types kinds of camping are listed here including dry, primitive, and stealth camping. The site looks dated, does not have an app, and it's not mobile-friendly. However, this is the most comprehensive list of free campsites that we have found. Free-campsites.net content is completely user-submitted.
Because anyone can submit content, it includes many gems and many duds. Fortunately, there is a comment section for each location so you can determine if it is going to be a suitable place to stay. If it's late and you just need a parking spot for the night you might be less picky than if you're looking for a home base for a week. If you want to be completely sure that a campsite is valid, pick a place that has multiple recent reviews.
iOverlander
This resource is similar to Freecampsites.net. In most cases, it's not quite as populated with options, but it does have unique spots and has a big benefit of partially working offline with the app. You won't get photos, but it saves the locations in an offline mode which is something that freecampsites.net doesn't do. These first two options pair really well together to have a large number of locations to choose from.
US Public Lands App (Android and iPhone)
This app is great for finding your own campsites. It is a simple but effective color-coded map of all of the different types of public lands. It's especially useful in the western states because there is so much BLM, National Forest, and WMA areas.
The US Public Lands app has a built-in satellite terrain view along with a standard one. Our process for using this app is to locate a general area where we would like to stay for the night. Then we look for BLM or National Forest colored areas because these usually have the fewest camping restrictions. Then, using the satellite view, we will zoom in and trace dirt roads along until we see a clearing that looks like a van will fit.
This takes some experimenting. BLM land is commonly used for grazing livestock and small areas can be privately owned (usually they will be marked or fenced off). Sometimes a train will be parked on the entrance road you were planning on using. Surprisingly often we find campfire rings in areas that aren't marked on any of the campsite resources.
Campendium.com
Campendium.com allows you to search for free camping by state. This has slightly fewer locations than freecampsites.net however they are a little more vetted. The campsites listed here come with images, reviews and plenty of information to help you decide where to stay.
Allstays.com
Allstays.com has both free and paid campsites sorted by state and also comes as an app for iOS. Not only does it list campgrounds with reviews, but it also marks out parks, public lands, KOAs, and casinos. It does not have the most user-friendly interface in our opinion, but it does do a good job of listing sites.
RV-camping.org
RV-camping.org is an excellent resource for finding state-specific information on BLM land, state, and national forests as well as general free campsites. Not all of the camping listed on this website are free, but there is a ton of information allowing you to sort through the main information. It also goes into a lot of detail about each area including facilities and amenities, trail maps, and weather.
The Best Discount Camping Sites
While not necessarily free, if you camp frequently we highly recommend joining a discount camping club. These clubs charge a small yearly fee and let you camp either for free, or with a big discount at all of their locations. Joining a discount camping club will pay for itself in just a few visits. We wrote an entire post on the best discount camping memberships to join.
These are our favorite discount camping clubs:
BEST COMMUNITY MEMBERSHIP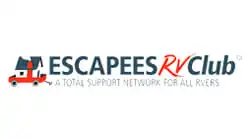 Escapees RV Club
Community-based RV membership club with discounts on campgrounds, support networks, mail forwarding, healthcare solutions, roadside assistance and RV education.
Escapees.com
BIGGEST DISCOUNT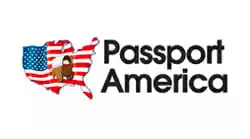 BEST EXPERIENCE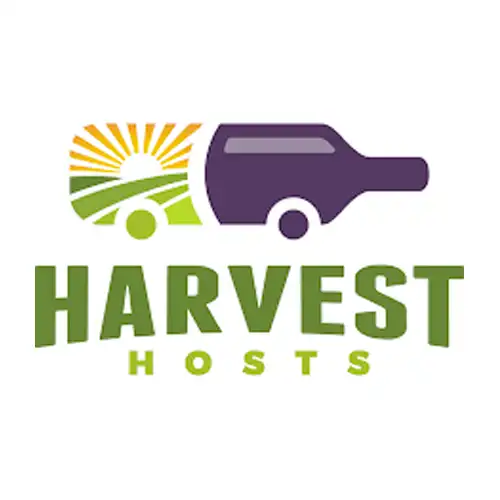 Harvest Hosts
Memberships costs less than $100 per year to join.
Then camp for FREE at unique locations including farms, vineyards, breweries and museums.
HarvestHosts.com
Harvest Hosts is a camping club that charges a yearly membership fee and gives you access to camping on private land like farms, vineyards, golf courses, and museums. The membership allows you to go camping in as many locations as you want throughout the year with no additional charge as long as your vehicle is self-contained.
We like Harvest Hosts because it's a cool way to visit a winery for the day and stay on-site overnight. Any small business can sign up so you can participate in some really unique experiences on the property like farm-to-table restaurants or apple picking orchards.
Passport America has over 18,000 locations that you can camp at for a highly discounted rate. It mainly attracts RV travelers and campers who want to spend the night at a campground with full amenities.
Escapees is one of the oldest and largest RV club memberships in America. This group is not just about finding a place to park, it's an entire community serving travelers. The club is big on education, giving discounts to campsites, helping establish friendships with other travelers, and assisting with RV living.
Boondockers Welcome is a similar club to Harvest Hosts that's made up of RV owners who allow RV travelers to stay on their private property. Oftentimes that means staying in someone's driveway or parking in their backyard.
Concerns About Free Camping?
Give it a shot! The first time is the hardest. Camping in ways you're not used to is usually more intimidating than it needs to be. Usually, people expect to be nervous, but it only takes a few times before it becomes second nature. If you've come across more free camping resources we'd love to hear it and add to the list!
Where can you camp for free in the US?

Bureau of Land Management (BLM) and Public Lands, National Forests, State Forests, Army Corps of Engineers, Wildlife Management Areas, National Parks.

What apps are there for finding free camping?

Freecampsites.net (website), iOverlander (website and app), US Public Lands (app), Campendium.com, Allstays.com (website and iOS), RV-camping.org (website)

Can you stay in National Parks for free?

Some US National Parks have free camping within the park. Many National Parks also have free primitive camping if you're willing to backpack in and obtain a permit. The best way to get a permit is to check each National Park website before visiting.

Can you camp anywhere for free?

There is free camping in every state in the US, you just need to know where to look. In this article, we explain the easiest ways to find free camping.