The Best Camping In Everglades National Park (Review)
By
on
This post may contain affiliate links. As an Amazon Associate, I earn from qualifying purchases. Please read my full disclosure.
Located on the southern tip of Florida, Everglades National Park is home to a diverse range of endangered species including the manatee, Florida panther, and American crocodile.
Hiking and slough slogging are common activities in the Everglades but the real fun starts when you hit the water! Most of the park is only accessible via boat so the top activities include boating, kayaking, canoeing, and fishing.
In Florida, camping is a year-round activity, and there are plenty of places to stay within the park. Everglades National Park has two front-country campgrounds: Flamingo, and Long Pine Key.
There are also opportunities for backcountry camping and dispersed camping in the surrounding area.

At A Glance: Camping In Everglades National Park
Reservations: Reservations are available for RVs at both campgrounds. Tent camping is available on a first-come, first-served basis at Long Pine Key.
Seasonal Closures: Both campgrounds are open year-round, but some campsites at Long Pine Key may be inaccessible during the wet season June-November.
Water and bathrooms: Flush toilets, showers, and potable water are in both campgrounds.
Electricity: Flamingo Campground has 30A electric hookups.
RV camping: The max RV length for Long Pine Key is 42 feet. Flamingo Campground has a max vehicle length of 45 feet.
Pets: Leashed dogs are welcome in both of the campgrounds.
Insects: Florida is a prime location for insects, so make sure you pack your bug spray!
Everglades National Park Camping

Flamingo Campground
Flamingo is the most popular and most expansive campground in the Everglades with 234 drive-in campsites and 64 walk-in sites. It's located 38 miles from the park entrance on the far southwest tip of the peninsula.
The location makes Flamingo Campground ideal for boating along the 99-mile wilderness waterway, exploring Ten Thousand Islands, and viewing wildlife–whether that be birds, manatees, or dolphins!
Flamingo Campground is welcoming to all types of campers. It has walk-in tent camping sites, RV pads for rigs up to 45-feet long, eco-tents, houseboat rentals, and cabins.
If you're looking for somewhere to stay that's close to nature but still has a significant amount of amenities, then Flamingo Campground is the place to go.
Not only do they have electric hookups, a dump station, and hot showers, but there's also a fully stocked Marina store with a food court and plenty of activity rentals. You can book your own pontoon boat, kayak, or bikes. There are also daily narrated boat tours every weekend.

Long Pine Key Campground
Long Pine Key offers a quiet and secluded experience nestled among the long pines trees. While there are 108 sites located here, it won't feel as busy as Flamingo Campground.
This campground is very accessible–located right off the highway with flat, paved roads that are easy to maneuver. The Long Pine Key Nature trail is within walking distance, and multiple fishing ponds dot the surrounding area. It's also just a few miles away from the popular Anhinga Trail.
This is the best place to stay if you want to be out in nature. You can make reservations for RVs ahead of schedule, but tent camping is first-come, first-served only so you'll need to arrive early if you want the best spots!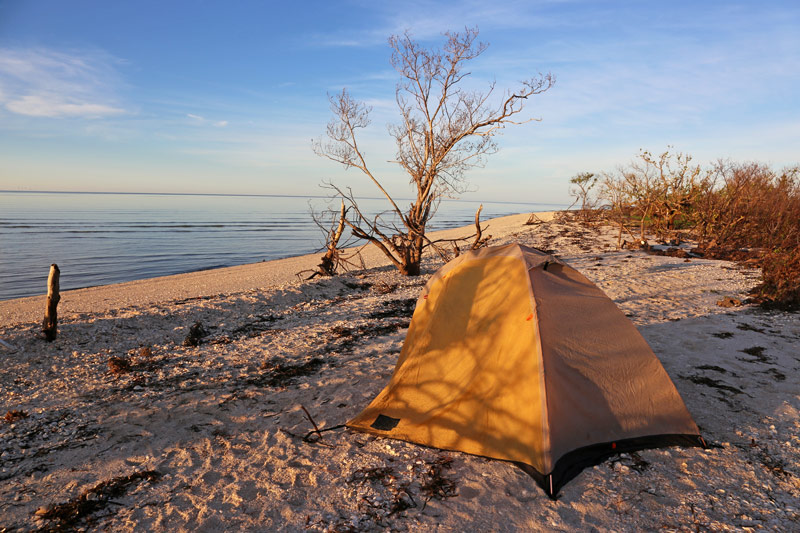 Backcountry Campsites Near Everglades National Park
Wilderness camping and beach camping are a fun way to set up camp near the ocean and wake with the sound of waves. There are three types of backcountry campsites in the Everglades:
Wilderness camping permits are free in the summer months and only $15 for processing + $2 per person on the other nights. Permits are required for all backcountry campsites, but you can pick them up same-day at the Flamingo and Gulf Coast Visitor Centers.
Free, Dispersed Camping Near Everglades National Park
North of Everglades National Park, there is free, dispersed camping available in the Big Cyprus National Preserve. We recommend stopping by a ranger station when you get to the area for information on the best places to camp.
Backcountry camping requires that you follow leave no trace principles including packing out all of your trash and preserving the environment.
Permits are required for camping, but they are free. You can find more information about permits here.

Private Campgrounds Near Everglades National Park
It's rare that campground in the Everglades get full, but if you are looking for a place to stay outside of the park, here are some private campgrounds in the surrounding area:
If you like to go camping frequently, we recommend getting a discounted camping membership. These clubs cost a small yearly fee to join and allows you to save up to 50% on participating campgrounds.
Glamping And Tiny Homes Near The Everglades
Camping is not for everyone! Flamingo campground rents out cabins, house boats, and eco-tents. There are also a number of unique Florida glamping vacations to enjoy while you visit the peninsula!