Is the 2023 Ford Transit Trail Worth It For Van Life? Pros and Cons
By
on
This post may contain affiliate links. As an Amazon Associate, I earn from qualifying purchases. Please read my full disclosure.
Ford recently announced its newest version of the transit van – the 2023 Transit Trail. This vehicle is a factory upgraded version designed for outdoor travel.
It is clearly marketed toward the van life crowd, with spiffy fenders and lifted off-road tires. It even comes with a factory-installed vent fan upgrade! But is it worth the hype?
We have mixed thoughts on this van. In summary, it is a good value and worthy upgrade if you were already planning on adding all or most of the features that Ford has included in your own DIY camper van build.
If not, there are better ways to spend your money. In this article, we will break down some of the pros and cons that led us to this conclusion.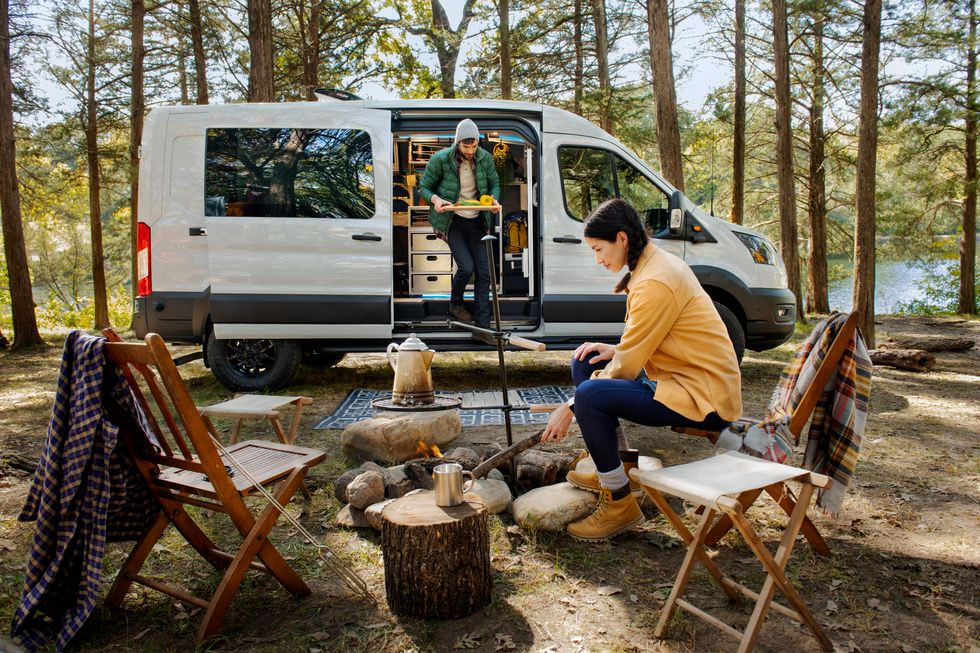 Factory Warranty
Ford has always been on our list as one of the best vans for van life.
Many people have built out Ford Transit conversions and Ford Transit Connect campers to create the perfect home away from home. In the US they have an extensive dealer network and relatively high reliability.
Because the Transit Trail is a build option from Ford, everything on it comes with Ford's warranty which can give you a lot of peace of mind.
Counterpoint: the majority of upgrades that van lifers make don't have much real world effect on their warranty. So you would still get most of the benefits of a Ford Warranty even with a standard Transit van.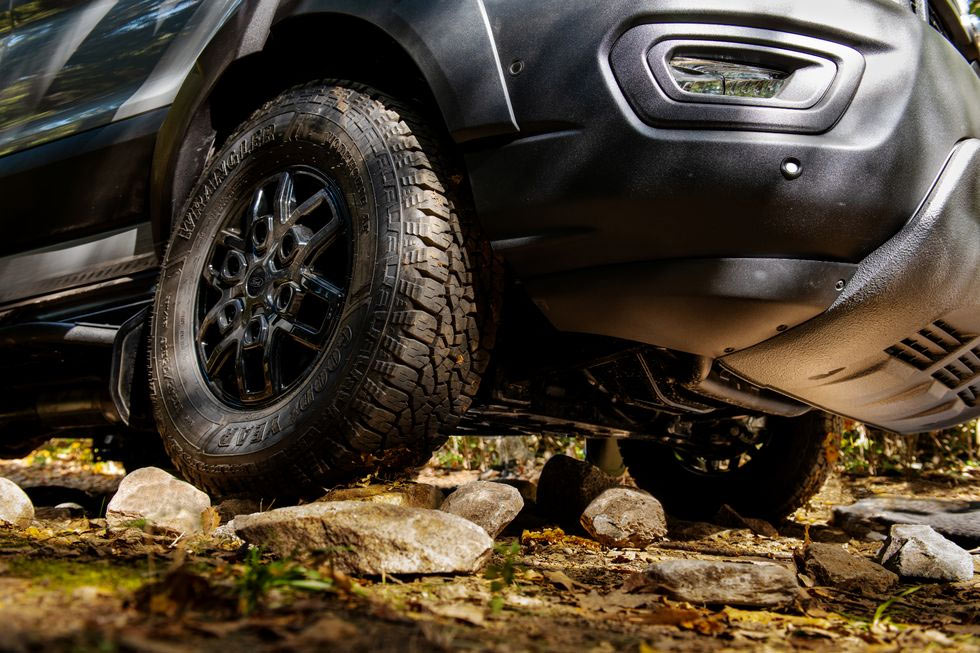 Extra Clearance
Perhaps the most distinctive offering on the Transit Trail is the 3.5" extra ground clearance. This is done with a 2.25-inch suspension lift and larger, 30.5″ tires.
This is the only option from Ford currently available where you can get a lifted Transit.
Ford also increases the track width of this vehicle by reducing the wheel offset. If you bolted the standard rims back on, this would revert it back to standard Transit track width.
Counterpoint: If a lift is the only reason you are looking at the Transit Trail, you can get a less spendy equivalent setup with a QLift kit, and since the kit was designed in conjunction with Ford, it still has the factory warranty.
Simply add a tire and wheel package from your preferred tire company and you now have the off-road capability of the Transit Trail!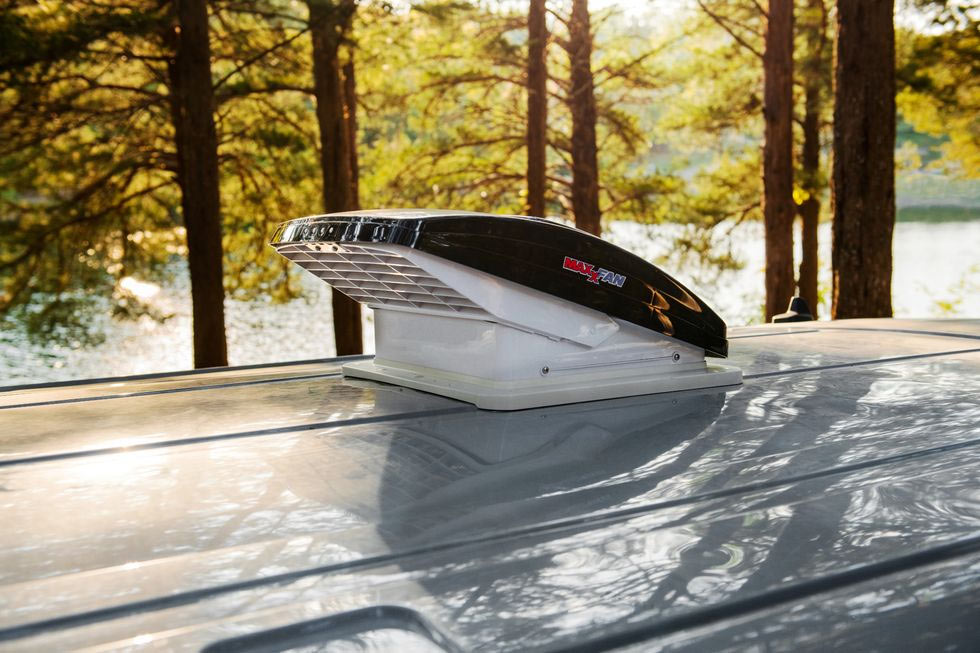 Unique Features
The Transit Trail comes with a few other factory-installed features that aren't available in the rest of their lineup.
Optional factory-installed Maxxfan Deluxe vent fan so you don't need to worry about cutting holes in a brand new roof.
More designated cargo mounting points for a buildout.
Slider style steps that appear to be more rugged than other running board options.
Off-road oriented aesthetics, such as wider stylized plastic fender flares, stylized bumper, blacked out grille, and aluminum rims.
And don't forget the Transit Trail badge so you can be sure you have a proper off dirt road vehicle!
Counterpoint: Hopefully you like the placement of the roof fan, because as far as we can tell the location is fixed. Many would want this fan further back. Most of the rest of the unique features are aesthetic in nature.
We don't have images of the additional mounting options described in the press release, so we can't comment too much further other than to say that plenty of people have success with the current layout. We are curious how noteworthy this option will be.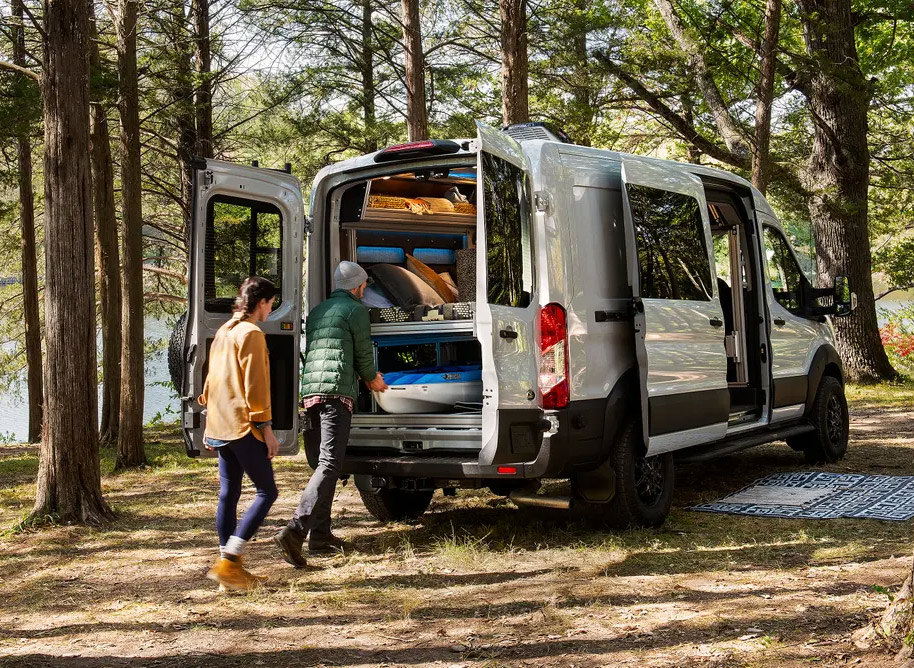 Other Items Included
The rest of the package includes features that were already offered as options for the Ford Transit, curated to fit the van life customer. Below are some highlights from the rather extensive list:
110V power outlet
Keyless entry pad
Auxilary Fuse Panel
Swivel Seats
Wi-FI HotSpot
3.5L Ecobost paired to AWD with a limited slip rear
Fixed sliding door glass and passenger side glass
Counterpoint: The big kicker in the list above is the fixed glass panels. If this is what you want, then it's fine, but if it's not, then you are paying more and you will have a harder time fitting windows that do open than with a standard cargo van.
Cost
The 2023 Ford Transit Trail has a starting price of $65,975.
And the Transit Trail package is priced at $12,600.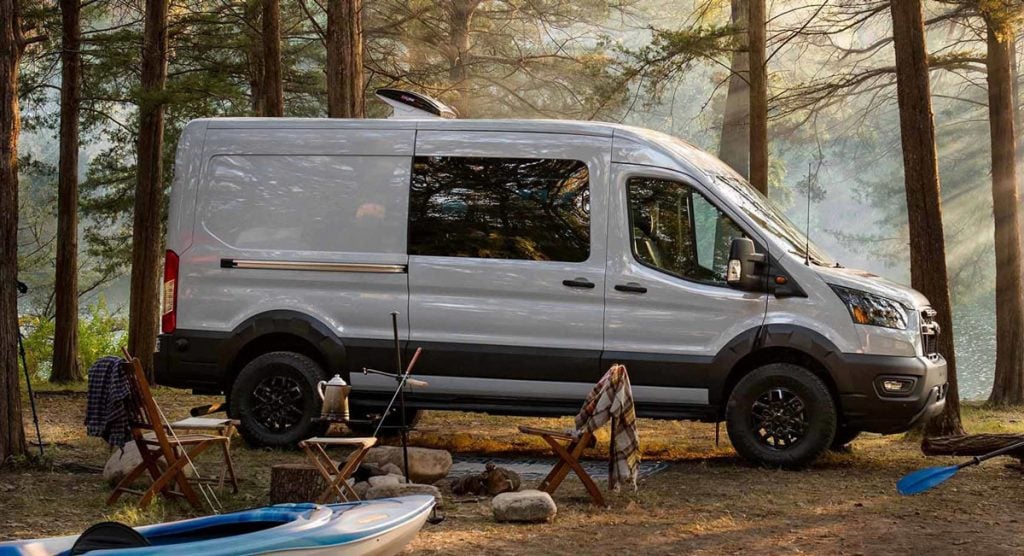 Is it worth it?
$65,000 is a high price tag for someone starting van life. All of these features can be installed yourself using various aftermarket solutions.
That being said, the Ford Transit Trail is about the best base build we could expect from the limitations of a dealer ready vehicle.
If you were to purchase all of the upgrades on the Transit Trail as dealer options or Ford approved aftermarket upgrades, you'd come out to about the same cost as the $12K premium.
So if the vent fan placement is OK for you and you want the fixed glass, then go for the Trail and get some cool fender flairs and trail badges on top of a fully factory warrantied vehicle.
If you have some different customizations in mind, then you are probably better off with a base Transit AWD and upgrade everything exactly how you want it.