Best Hammock Straps To Protect Trees
By
on
This post may contain affiliate links. As an Amazon Associate, I earn from qualifying purchases. Please read my full disclosure.
An important part of the hammock experience is the suspension system, which is more or less how you hang a hammock. Suspension systems come ready-made, or you can tie your own using ropes.
The easiest way to hang your hammock is with some hammock straps, and in this article, we're going to share the most convenient options, plus the best ones to avoid damaging trees.
What Are Hammock Straps For?
You can certainly hang your hammock with a rope, but there are some big advantages to using tree straps.
Simple to hang
Easily adjustable
Quick set up
Prevent tree damage
Safe
Anyone can hang a tree strap – no knot tying skills required! The best straps have loops that are easily adjustable so you can get the perfect hang in just a few seconds.
Not only are tree straps quick to set up, but they're very safe. It's hard to mess up the assembly so you won't have to worry about your knot un-tying itself in the middle of the night.
Finally, using dedicated hammock straps is the best way to protect the environment. Leave-no-trace straps are thick enough to avoid tree damage and have padding to prevent stripping the bark.

Simplest Types of Hammock Straps
There are many different types of hammock straps and suspension systems available. Daisy chain webbing straps are the best for beginners. That's because they're thick and you can easily attach your hammock to the strap using just a carabiner. There are two main types of daisy chain straps:
Open-loop: Straps with large eye loops that are easy to clip into. They have a little bit of extra material which distributes weight better.
Closed-loop: The thinnest straps which are lightweight and easy to pack down small. These are perfect for backpacking.
Ridgelines
The ridgeline is a catch-all term for a suspension line that stretches from tree to tree. These can be used to suspend a rain fly, bug net, or adjust the sag of your hammock to make it more comfortable.
Typically, ridgelines are more suited towards advanced hangers, but it's a good accessory to add to your hammock gear list if you plan to hang on a frequent basis.
Extra-long hammock tree straps can serve as a ridgeline as well!

Features to Look for in a Hammock Strap
There's a bit more engineering involved in a hammock strap than a simple rope. Proper materials, weight capacity, thickness, and ease of use all go into designing the perfect strap. Listed below are a few of the features that we like to look for.
Materials and Durability
The durability of the straps is highly correlated with the strength of the material they're made of. Most straps are made of polyester or polypropylene, which are better than tubular nylon because they don't stretch as much.
You should pay attention to the stitching as it contributes to how static the material is. Naturally, the material may stretch with the first couple of uses, and even if it doesn't, it'll eventually settle to suit your weight. However, it shouldn't be elastic or exceed half an inch of stretching.
The size of the loops and the stitching between them both play a role in how durable your straps are. Opt for triple stitching, especially if the straps use a daisy chain system, which shifts the weight to the stitching between the loops.
That's unless you get an ENO strap, which uses a system of intertwining loops, which in turn, doesn't put pressure on the stitching directly.
Finally, if you're going to leave your hammock to hang for extended periods, you should look into mold and mildew resistance and protection from UV light.

Maximum Supported Weight
When it comes to maximum weight capacity, two numbers come into play:
Maximum Breaking Tension: The maximum weight that the straps can handle without any loops breaking. This number is often the one that comes after "tested to."
Maximum Load: The number that determines how many people the hammock can support simultaneously. The rule of thumb is that the hammock should have a maximum load that supports twice your bodyweight.
Tree Strap Length and Thickness
If you want your straps to span wider and you're going to hang the hammock from thick trees, then you should get a longer strap. 6 feet is a good length to shoot for because it will accommodate most sizes of trees and give you enough leeway to hang.
Straps should be at least 1-2 inches wide to avoid tree damage. This helps distribute the weight and protect the bark, especially on thin trees.
Fit for Use With Trees
It's very important that you follow leave no trace principles to avoid damage and impact on trees. Here are some tips to get started:
Try going for the thickest bark you can find as trees with thinner skin tend to suffer more damage.
If you find sap flowing near the tie-in you make, spare the tree, and look for another.
Use a pad between the strap and the tree if you have no choice other than to pitch your hammock with a rope or very thin tree.

Frequently Asked Questions
How to Hang a Hammock With Tree Straps?
Once you get the hang of things, it'll be super easy to set up a tree strap. And to get there faster, here are a couple of tips:
Find two points to act as anchors with an optimal distance apart, which is around 15 – 20 feet apart.
Wrap the strap around the anchor point, which is a tree in this case, and make sure that it's at a suitable height that creates a 30-degree angle. To further explain, if you pick two trees that are 15 feet apart, then your setup should be at the height of 6 feet.
Pull the straps tightly to prevent them from slipping and proceed to clip the hammock to the strap. You can do so with a rope, whoopie-sling, a knot, or a carabiner for the best results.
Adjust the pull to get enough sag but still remain at a sufficient height from the ground. The lowest part of the hammock should be at least 18 inches above the ground.
However, it's worth mentioning that these are the steps needed to hang the hammock without using ridgelines. If you want to perfect the sag in the hammock but can't seem to get the correct angle, a static ridgeline can really go a long way.
Rather than using a carabiner, you can make use of the whoopie-sling or knot system, but admittedly, carabiners are less complex.

What Else Do You Need With Your Tree Straps?
You should double-check that your straps come with carabiners. And even if they do, you should opt for spare ones. It's a bonus if they come with a drawstring bag to maintain the straps rolled up.
Also, make sure that the carabiners you go for are compatible with your hammock's ends, and you can use a whoopie-sling to extend the hammock's length.
Can I Use Ropes to Hang a Hammock?
While you can use ropes to hang a hammock, you should steer away from that. Thin ropes dig into the tree's bark and can damage it, to the extent that some states and national parks put regulations regarding the techniques you can use to hang your hammock. To illustrate, in many national parks, you'll be required to use a strap of at least 1-inch thickness.
The Best Hammock Straps Reviewed
TOP CHOICE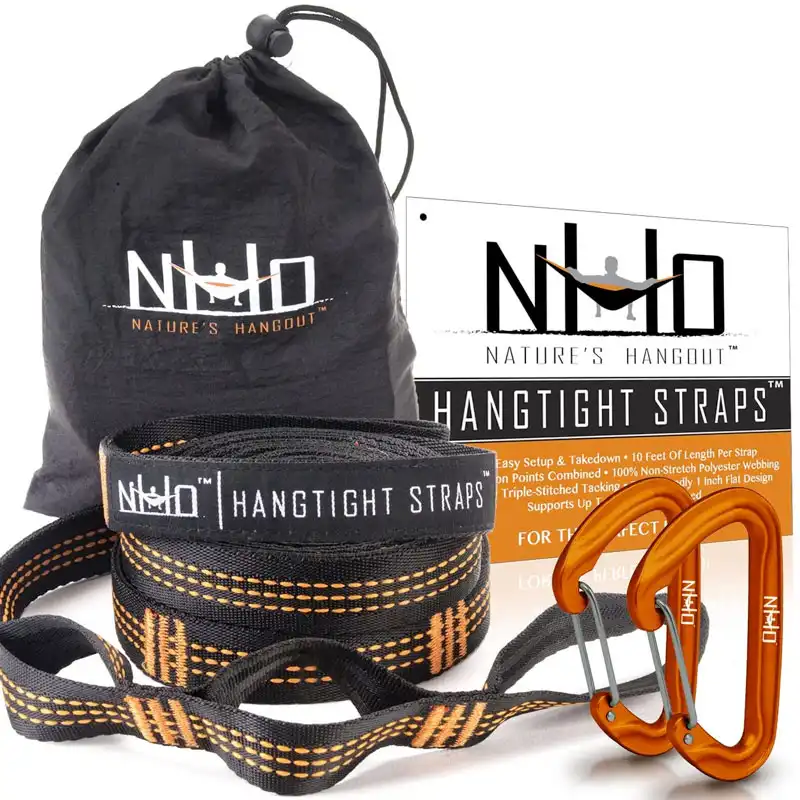 Top Choice: HangTight Hammock Straps With Carabiners
If you want the maximum number of specs in terms of length, weight capacity, durability, and lightness of weight, you'll find none better than the HangTight hammock straps.
You can easily tell that it's a superb choice from all the positive reviews it gets and how high its rating is; everyone loves how these straps are sturdy, easy to use, and super secure.
For starters, HangTight has paid incredible attention to the quality of its straps by adding reinforced stitching patterns that provide further support thanks to their bar track design. Moreover, the short supporting loop is more compact and lighter than that found on any other straps, yet, doesn't compromise any sturdiness or strength.
Each strap is 10 feet long and has 16 loops for a combined length of 20 feet and 32 loops that make the breaking point skyrocket all the way to 2200 pounds -the highest number on the list! And with all that strength, the straps are still kind to trees as they cause zero damage to their barks.
Moreover, its setup is super fast and seamless as it takes 90 seconds or even less. It doesn't require learning any complicated knots, just suspending the hammock by anchor points that are twenty feet apart, and you're good to go. The daisy-chained loop system also works on providing quick height adjustments while the included carabiners are smooth and lightweight.
If you're looking for the best hammock straps out there and don't mind a little investment, these straps are ideal for you.
Incredibly high maximum weight capacity
Carabiners included
Robust construction and performance
Tree-friendly
BUDGET PICK
Budget Pick: Foxelli XL Hammock Straps
The Foxelli XL hammock straps are the ideal choice for anyone looking for the perfect hanging angle. If you've had enough of short straps that don't provide reliable performance, you'll love what the Foxelli straps have to offer.
Each strap is 10 feet long, so you get 20 feet combined as well as 40 hammock attachment loops and 2 for tree attachment. This configuration enables you to find the ideal hanging angle for your comfort while not compromising any of the length or the robust performance.
As for the construction, the Foxelli straps are made from high-density polyester webbing that comes with triple stitching, making it quite durable and suitable for heavy-duty suspension, especially with its zero-stretch feature. This enables it to withstand a combined weight of 2000 pounds and handle any harsh weather!
Moreover, its setup is pretty seamless and takes around 90 seconds or less. It comes with 2 straps, 2 carabiners, and a portable carrying back that can fit them. The whole package is super travel-friendly as it weighs 1.2 pounds only. This is why it's an ideal choice for hiking, camping, or any backpacking activity.
Carries up to 2000 pounds
Equipped with 40 hammock attachment loops and 2 tree attachment ones
Polyester webbing comes with triple stitching for extra durability
Travel-friendly and lightweight
BEST TENSION DISTRIBUTION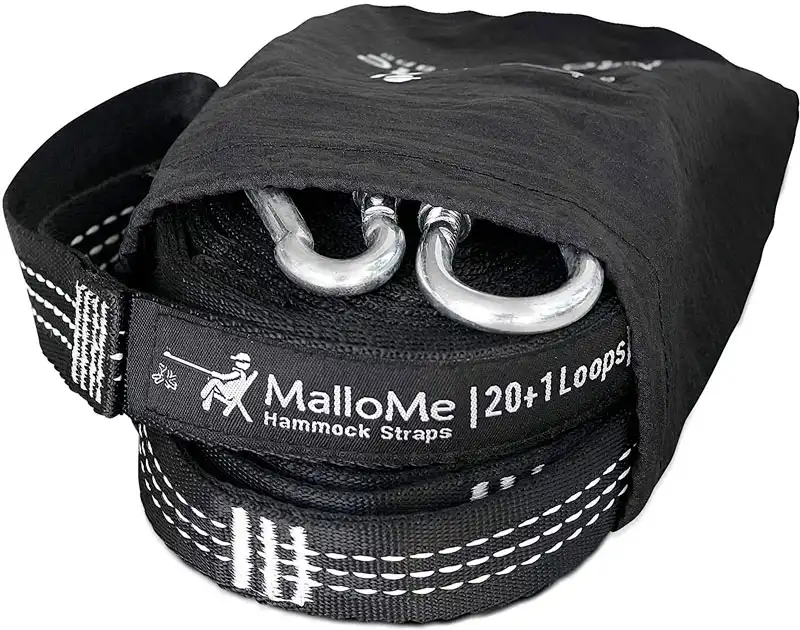 Best Tension Distribution: MalloMe XL Hammock Straps
The MalloMe XL hammock straps post as a pretty versatile choice. Being 12 feet long and an inch wide makes them tree-friendly and very efficient. After all, the 1-inch width was made with tree barks in mind, where the company wanted to provide functionality without causing damage or abrasion to the tree.
What's more, the MalloMe XL no-stretch straps are of high quality and come with triple stitches to suit heavy-duty use. This, in turn, allows them to withstand an impressive 2000-pound weight while the 40 attachment loops enable you to hang both single hammocks and double ones seamlessly.
Those loops work on minimizing sagging as well as providing a solid and consistent distribution of tension throughout the hammock's dimensions.
The package comes with two straps, two locking carabiners, and a bag. The straps are a breeze to set up where the process takes less than a minute as it doesn't require any knots.
Moreover, if you want to make any height adjustments, you can do so easily thanks to the daisy-chained loop system, and you can rest assured it'll all stay in place thanks to the high-quality polyester webbing material. It's so robust that it won't budge, even if the straps get wet.
Finally, despite their high quality and reliability, the MalloMe XL hammock straps come at a very budget-friendly price.
Affordable
Doesn't stretch thanks to the polyester webbing
Fights sagging with 40 connecting loops
Easy to set up and use
SOFTEST STRAPS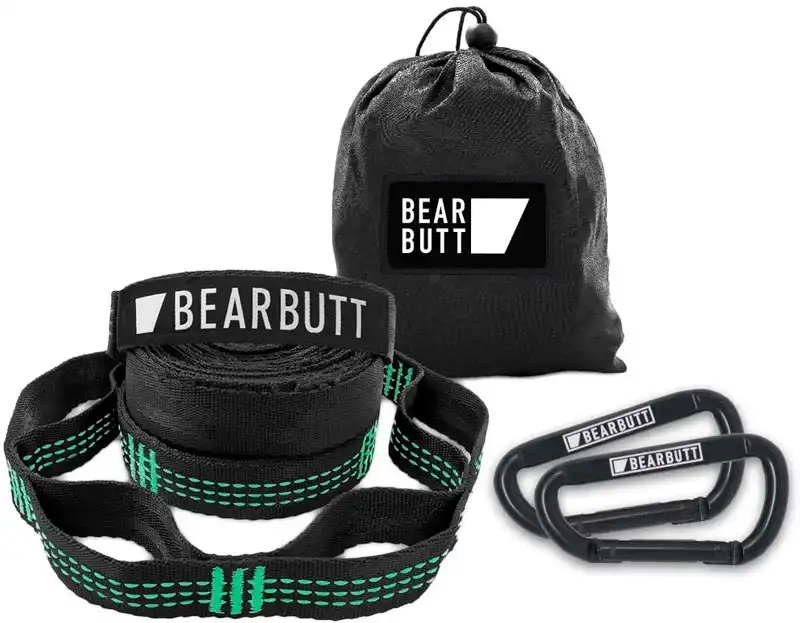 Softest Straps: Bear Butt Kodiak Hammock Straps
If you want to facilitate your camping experience and enjoy it to the fullest without exerting too much effort, the Bear Butt Kodiak straps are ideal for you.
These straps are extremely soft yet incredibly strong as they incorporate unique technology and a robust build, so you'll definitely love their performance.
Each strap is 10 feet long, so you get a combined length of 20 feet and a width of 1 inch. Moreover, they come with 40 loops, which makes them highly adjustable and flexible. They're also made from quality reinforced nylon, enabling them to withstand a little more than 1000 pounds. However, it's worth mentioning that this is inferior to any other option on the list.
Still, the Bear Butt Kodiak straps are super easy to set up and are tree-friendly thanks to their 1-inch breadth. What makes them even more so is that they are very soft and don't cause any damage to the trees you use as anchor points.
All you have to do to set them up is loop them around the tree and pull at the other end. After that, you can use the included carabiner to hang your hammock.
What's more, the Bear Butt Kodiak straps are pretty versatile as they are compatible with all hammocks seamlessly. They also have a universal tension, which spares you the need for any specific stand.
Finally, these straps come with a lightweight carrying bag and 2 robust metal carabiners, making them an integrated package.
Strong build
Soft material
Comes with carabiners and bag
Lightweight and compact
That's A Wrap!
While there are many options on the market, these are some of our favorites in terms of price and features.
The HangTight straps have incredible suspension strength, robust construction, durability, and good extension.
The Foxelli straps could make a better choice if you're looking for something more affordable, and its specs are pretty close to the excellent ones of the HangTight straps.
Continue Reading: