The Warmest Hammock Sleeping Pads For Cold Weather Camping (Review)
By
on
This post may contain affiliate links. As an Amazon Associate, I earn from qualifying purchases. Please read my full disclosure.
If you want to escape the wet, cold, and hard ground during your trips, there's no better way to do so than camping with a hammock.
Hammocks can be notoriously breezy which is perfect for summer weather. But when the temperature starts to dip, you're going to need a little more insulation. That's where under quilts and sleeping pads come in!
MOST COMFORTABLE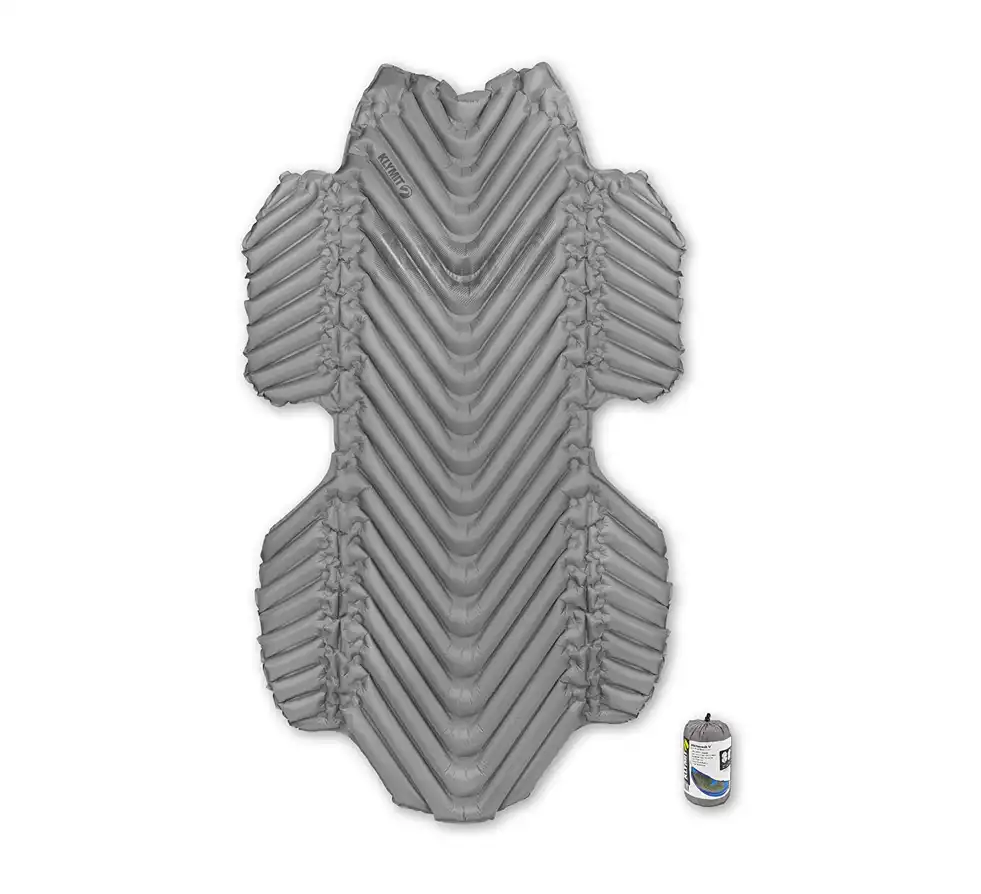 BEST VALUE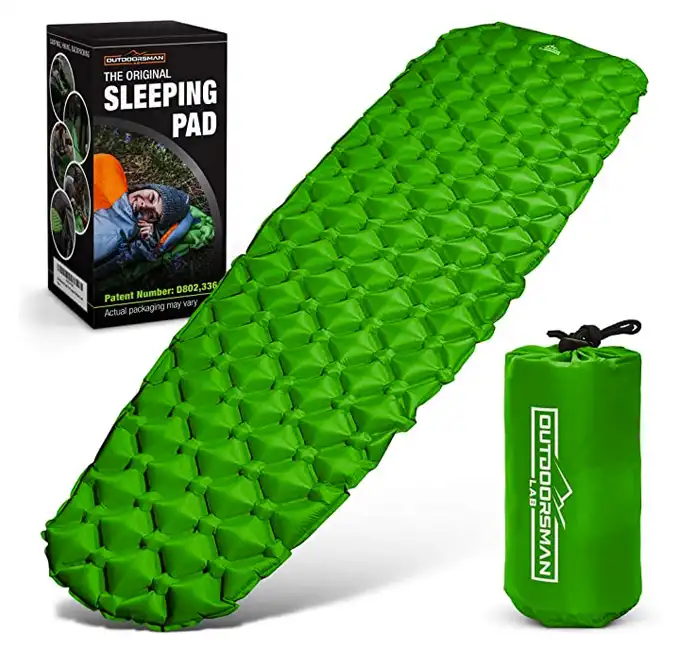 Why Use a Hammock Sleeping Pad?
Hammocks are designed to keep you off the ground and they're already pretty comfortable as is. The elevated height means at any given time there are 360 degrees of air circulating around your body. In a tent, you have the ground to insulate. But one of the complaints about hammocks is that your butt and back can get cold!
The best way to solve this problem is with a hammock sleeping pad.
Sleeping pads and under quilts create an extra barrier between you and the outside air. That's going to help you retain heat and ultimately provide extra warmth throughout the night.
Because hammocks have so little insulation, sleeping pads are ideal for almost all seasons including the spring and fall.

Difference Between a Hammock Underquilt and Sleeping Pad
Hammock under quilts and sleeping pads are both effective at keeping you warm.
Under quilts are the most effective because they cover the full length of your hammock and wrap easily around your shoulders. The thicker material means that under quilts are generally warmer.
Sleeping pads are more versatile and can be used both in a hammock or a camping tent. So, if you like to mix between both backpacking and camping, you should opt for a sleeping pad. These tend to be the most budget-friendly option, but they're prone to shifting during sleep and most models don't do a great job of insulating your shoulders because of their skinny width.
Synthetic materials are often used to construct sleeping pads which makes them more lightweight than under quilts and better for withstanding wet or humid conditions.
If you're not sure whether the campsite you're going to has plenty of trees or not, you should steer away from under quilts and save yourself the surprise emergency by opting for a sleeping pad.

Types of Hammock Sleeping Pads
When you're shopping for a pad to add to your hammock, there are a couple of things that you should bear in mind. Sleeping pads generally come in three types: air pads, closed-cell foam pads, and self-inflating pads.
Air Pads
These resemble inflatable floats that many of us used -and still do- in swimming pools. They can be blown up manually or using a pump, and they're like a small inflatable mattress that lifts you off the ground by a few inches.
Their best part about air pads is that they are comfortable, lightweight, and packable. Moreover, they provide ample insulation that's usually around 3 R-value, making them ideal for hikes during warm months.
Closed-Cell Foam Pads
Closed-cell foam pads are quite basic and affordable. Typically, they're made from a dense foam material with its air cells close together.
Lightweight, inexpensive, robust, and providing superb insulation, they offer a vast range of characteristics. The best part about closed-cell foam pads is that they aren't prone to damage beyond usability since they don't have inflatable sections.
If you're looking for a sleep system that offers the most rigidity and structure, you'll enjoy these the most.
Unfortunately, it can be challenging to find one that comes with a shape that suits a hammock well.
Self-Inflating Pads
Self-inflating pads are more or less a hybrid between air pads and foam pads. They utilize an open-cell foam insulation matrix, which automatically self-inflates the moment you open up the valve.
This means that self-inflating pads provide plenty of warmth, yet, they don't compromise lightness in weight or packability. Thanks to the fact that they depend on air to fill the insulation, you can adjust the firmness of the pads however you want. Moreover, the materials these pads use are more durable than air pads.
Perhaps, the only drawback to self-inflating pads is their design. Though they're the same price as air pads, they aren't as packable, not even close. Also, they are a lot heavier than closed-cell pads and not half as rigid.

Sleeping Pad Size
The size of a sleeping pad requires two aspects to consider: its inflated size and its packed size.
If you're traveling with a smaller backpack, you should focus on compactly-packed pads, around 8 x 5 inches would be suitable.
Inflatable pads usually have the smallest packed-size, but if you can get larger sleeping pads and strap them to the outside of your pack, that would be a lot more convenient. Of course, unless you have an air pad, which would get punctured while you're trekking.
When you spread the sleeping pad on the hammock, it should be long and wide enough to accommodate you, which takes us to the next section.
Shape
One of the downsides to using a regular sleeping pad in a hammock is that the shape doesn't accommodate the width of the hammock–meaning they don't effectively cover your shoulders.
Fortunately, there are a few ways to get around this limitation:
Don't fully inflate your sleeping pad. This will give it more curvature and less stiffness.
Opt for a hammock specific sleeping pad. These are extra-wide and have flaps that fully encase the body.
Use a hammock with double-layer fabric. This will allow you to slip the sleeping pad in-between the base layers and avoid excess movement.
Place the sleeping pad directly in your sleeping bag. This is another way to prevent pad slippage.
Weight
Sleeping pads should be as light as possible, though they'll probably be the bulkiest item in your backpack.
A light sleeping pad gives you the advantage of packing lighter, which consequently gives you more mobility and flexibility to trek longer as you wouldn't get tired as quickly.
Insulation (R-value) and Warmth
The R-value of a sleeping pad refers to the amount of warmth it provides, which depends on the material and the thickness. Some materials even reflect your body temperature and provide insulation to retain every bit of heat.
Higher R-values indicate better insulation, which is super important if you're traveling in fall or winter, especially in places where the temperature drops during the evening.
It's worth mentioning that some sleeping pads are meant for use during summer months, while others suit the chilly weather of fall and winter ones.
Thickness
While thickness plays a huge role in how comfortable and warm your pad is, too much of it would give you a feeling that you're on a pool float, depriving you of the proper support you need.
Plus, more thickness reflects on the weight of the pad and how light it is to carry around in your backpack, so you need to find the right balance between thickness and portability.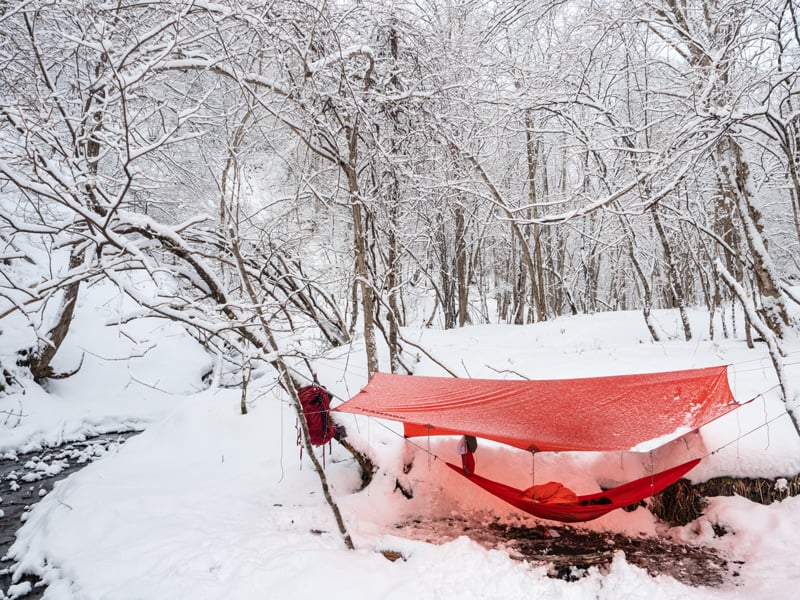 Intended Use
Weight and dimensions may not be the priority of a camper, but for a backpacker, a lightweight pad would be crucial to their trip.
This is why it's crucial to think about what you'll be using your sleeping pad for, and according to that, pick a suitable one. It's worth noting that you might need to invest in multiple options to suit various situations if you're a person that loves different kinds of activities.
Hammock Pad Accessories
Sleeping pads themselves are not going to require any additional accessories, but it is wise to travel with a leak repair kit if you're headed out on a long trip.
Tips To Stay Warm While Winter Hammock Camping
Hammock camping is typically a summer activity, but there are a lot of adjustments you can make to comfortably sleep year-round.
Add a hammock sleeping pad or under quilt
Insulate yourself with thick clothing
Go to bed warm and well hydrated
Eat plenty of calories and high-protein foods
Camp away from bodies of water
Nestle your hammock low to the ground
Surround yourself with bushes or other small trees
Avoid open fields
Pitch your tarp low to the ground to reduce wind
In the most extreme circumstances, create a heat shelter or snow bunker
The Best Hammock Sleeping Pads For Cold Weather Camping
Top Choice: Sleepingo Camping Sleeping Pad
Sleeping outside on rough terrain is an uncomfortable experience, especially if it's rocky or chilly. This is terribly inconvenient if you're in need of restorative rest, which is why the Sleepingo Camping sleeping pad is an excellent addition to your backpacking arsenal.
This 2.2-inch thick pad provides you with plenty of comfort and enables you to sleep on the roughest terrains without any issues. This is especially true thanks to its water and rip-resistant TPU material that doesn't allow any rocks or twigs to puncture the mat.
Moreover, the Sleepingo sleeping pad is quite lightweight at only 14.5 ounces and also compact when packed at 8 x 3.5 inches. You won't have trouble backpacking with it, whether you're biking, fishing, hiking, kayaking, hunting, or, of course, camping.
When inflated, it measures 75 x 23 inches, which can accommodate you no matter how short or tall you are. Speaking of inflation, the Sleepingo pad can be fully inflated in only 10 or 15 breaths.
In terms of comfort, this pad comes with a 2.1 R-value, which means plenty of comfort, though not the most. The pads are also insulated and incorporate an interconnected air cells design that can adjust according to the way you're sleeping.
No matter the position you like to sleep in, this pad won't bottom out, so forget about waking up on the ground. Even though it comes with no weight limits, you might want to add an extra breath or two for additional support if it's going to accommodate more than 350 pounds.
Comfortable
Accommodates large weights
Easy to inflate
Compact packed size
MOST COMFORTABLE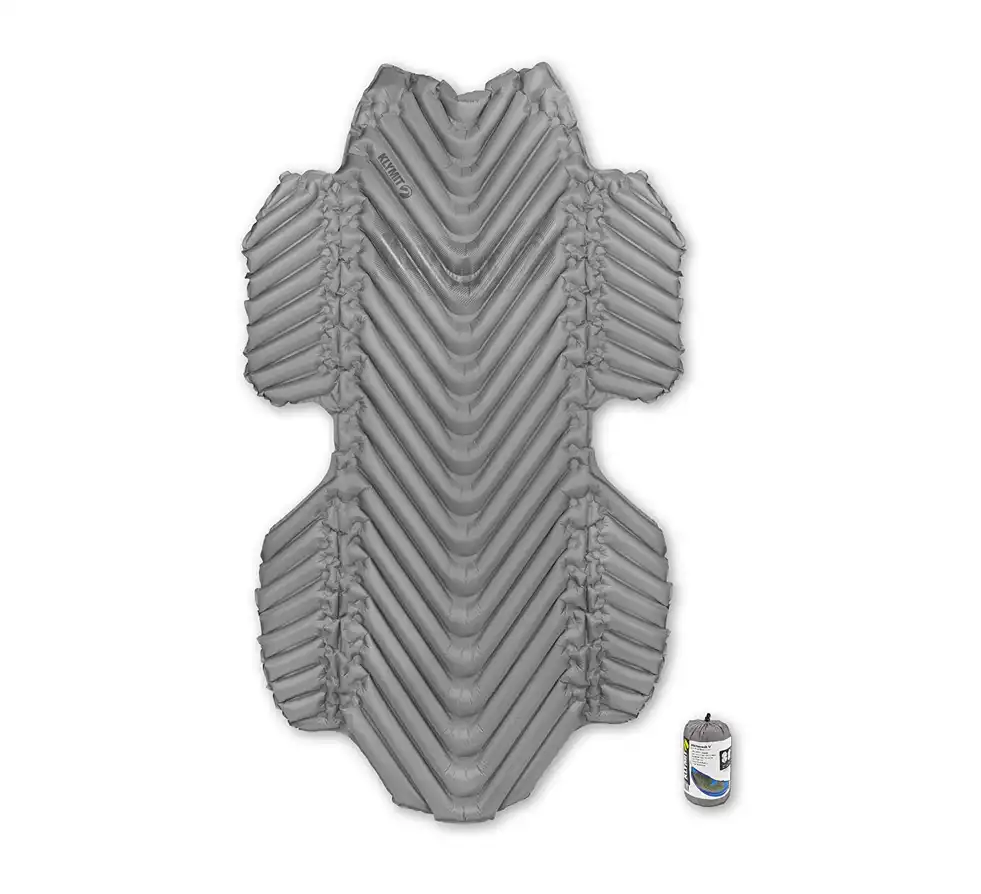 Most Comfortable: KLYMIT Hammock V Sleeping Pad
There's an older version of this pad, but this one's weld design has been improved a little. If you like to sleep warm, you'll definitely enjoy this insulated KLYMIT pad as it can keep you warm down to 25 degrees Fahrenheit.
Coming with a winged design, this pad provides you with so much space, which surprisingly really opens up the hammock and makes it roomier and comfier. It can extend up to four feet wide at some places.
Moreover, it comes with a 2.5-inch thick pad, which is coupled with insulation, giving the sleeping pad an overall 4.4 R-value. So, in terms of comfort, it comes second to none.
However, it's worth mentioning that it's not the most packable option out there. When you stuff it into its stack, it measures 5 x 10 inches and weighs 2 whole pounds. Most choices don't even hit the 1-pound limit, and that's why I didn't put it as the top choice. Backpacking gear is supposed to be lightweight and portable.
Still, this pad comes with a non-slip surface using a thin layer of silicone on both the top and the bottom of the pad, which leaves no space for the hammock to wiggle it out from underneath you.
While this may not seem like much, it can turn your experience sleeping on a hammock 180 degrees for the better!
Super comfortable
Non-slip surface
Insulated
Warm and comfortable
BEST VALUE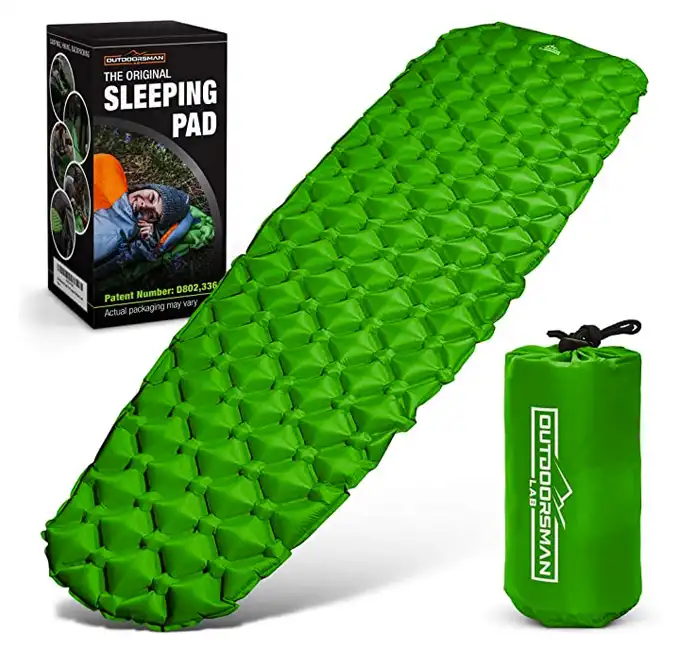 Best Value: Outdoorsman Lab Sleeping Pad
This patented sleeping bag's design conforms to your body shape in order to give you a good night's sleep, and so you'll wake up rejuvenated, refreshed, and ready to continue your adventure.
In terms of build, the Outdoorsman Lab is made of flexible, lightweight, and abrasion-resistant nylon, which is a combination of features you'd definitely need during outdoor camping or hiking trips. What's even more practical is that the material is water and rip-resistant, which means that this sleeping pad is built to last.
Moreover, the Outdorosman Lab is super easy to inflate with a handy air valve that's easy to use, all it takes is 10 to 15 breaths, and you're good to go. If you want more support and firmness, you could go for a couple of extra breaths.
This pad measures 73 x 21.6 x 2.2 inches and weighs 14.6 ounces, which means that it's pretty lightweight yet provides ample space for anyone to sleep on it comfortably. Also, its 8 x 3-inch packed size makes it pretty packable as it doesn't take up too much space in your backpack.
Affordable
Lightweight
Durable fabric
Compactly packable
Easy to inflate
That's A Wrap!
There are many options out there, but those three are the best hammock sleeping pads you'll find on the market.
If you're looking for the most comfort, you'll find none better than the KLYMIT Hammock V Sleeping Pad with its 4.4 R-value rating. However, being quite heavy, you might enjoy the Outdoorsman Lab's portability and compact packed size. Finally, if you want something that combines comfort, portability, and durability, you should opt for the Sleepingo pad.
Continue Reading: