Best Hammock Tarp For Camping In Rainy Weather (Review)
By
on
This post may contain affiliate links. As an Amazon Associate, I earn from qualifying purchases. Please read my full disclosure.
Believe it or not, sleeping in a hammock can be a comfortable experience in nearly any weather condition. Hammock tarps prevent the wind, snow, and rain from taking over your evening. They also provide privacy and protection against the sun.
The best part about hammock tarps is that they're versatile and inexpensive.
A standard camping tarp can be used for many things beyond protecting a hammock. That's why it's one of the most sought-after pieces of equipment for first-time campers.
Rainflys are something that every hammock camper should have in their toolkit. In this article, we're going to cover everything you need to know about hammock camping tarps, and some extra tricks to stay dry while you hang.
Why Use a Hammock Tarp?
Hammock tarps, or rain flys, serve three main purposes: privacy, protection, and shade.
Privacy: most people think of rain flys as just that–protection against the rain. The privacy aspect is often overlooked. A good hammock tarp will block out the light, give you a darker place to curl up for a nap, and allow some separation between you and the other campers. This is especially useful at popular campgrounds where there is a lot of excess light.
Protection: tarps can safeguard you against harsh weather conditions be it wind, rain, or snow. They can also prevent falling leaves from landing on you during autumn, and pinecones from knocking you in the head during the night. Overall, they are your best defense against inclement weather year-round.
Shade: even on sunny days, rainflys will come in handy. They can significantly reduce the temperature during the day leading to a more comfortable resting place.
Overall, hammock tarps are exceedingly versatile accessories. They are lightweight, compact, and will make a significant difference in your sleeping experience.

Features To Look For When Buying A Hammock Tarp
While you would think that because a hammock tarp is just a piece of fabric, picking one would be a walk in the park, that isn't the case.
Hammock tarps and rainflys come in many shapes and sizes. They also have an enormous assortment of materials, weights, and construction techniques.
Size
Put simply, the larger your tarp, the more coverage you're going to get.
Size is also directly correlated with weight. So backpackers may require a smaller tarp, whereas car campers will often opt for something larger.
But wait, there's more!
Campers who are savvy with knots, experts at tying guylines, and a little bit creative can manage to get a lot of coverage out of a tiny rainfly. That means that one size does not fit all.
Weather also plays a role. If you're camping in summer with little chance of rain then a tarp large enough for some sun protection may be all you need. On the other hand, if you're camping in the arctic or in a rainstorm, then you're setup is going to require maximum coverage.
The largest tarps are often referred to as "winter tarps," and they are highly effective in shielding you against the coldest weather.
As a rule of thumb: your tarp should be a minimum of 10 feet in length, and 8-10 feet in width. This is to ensure coverage of all parts of your hammock.

Shape
Most people picture a standard, square blue camping tarp with grommets when they think of a rain fly. These are the simplest and cheapest designs. They also give you the most options in terms of versatility for other activities.
But you might be surprised to find that there's a large variety of shapes to choose from. Some of the most common include:
Rectangular: These tarps generally come with 4 anchor points and are exceedingly easy to find at any outdoor store. To set one up, simply center the rectangle above your hammock, and tie the four points down to create a triangle shape. These offer a lot of privacy, but the four anchor points mean this type will take longer to set up than some of the others.
Asymmetric: Parrelogram hammock tarps are faster to set up than rectangle tarps because they only have two anchor points to tie to the ground. These don't have as much coverage as rectangle tarps, but they are lighter.
Diamond or Square: These are the lightest hammock tarps, and can be set up in any direction. But they don't give you the best coverage. The mirrored shape makes them easy to set up and versatile for other activities.
Hexagonal: Offering the most coverage, hexagonal tarps are ideal for camping in harsh weather conditions. This shape is specific to hammocks and makes a great choice for windy or rainy weather conditions.
4-Season/Winter Tarps: Winter tarps come in unique shapes specific to the manufacturer. These are generally the heaviest and most expensive. Some 4-season tarps get quite fancy. You can find winter rain flys that come with door panels and even guy poles to create a larger interior.
Material
While there are a lot of choices when it comes to picking a hammock tarp material, we're going to stick with the most common. Generally, you'll find that most rain flys are made of either nylon or polyethylene.
Hammock tarps made of nylon are considered "ultralight," which is why backpackers favor them. They barely occupy any space and are much easier to carry around. Not to mention, they don't tear up.
As for polyethylene tarps, they're more expensive as well as heavier, but for the right reasons. They're noticeably thicker and waterproof, which allows them to provide better coverage and protection.
While these are the common 2 types of material, you may also come across polyester and plastic polymer, but not as frequently. Polyester is also very lightweight with a thick body, enabling it to block excessive light (great for sleeping!).
As for plastic polymer, it's also another lightweight option but is recognized mainly for its easy assembly and folding. While this can be a pro, it also puts you at the risk of leaks.
Weight
Weight is a crucial aspect to consider, and it heavily depends on the material that the hammock tarp is made of.
If you're going on a long trip and know for a fact that there's a whole list of gear you'll be carrying with you like sleeping pads or under quilts, you'll despise your tarp if it's too heavy. In such a case, it's best to opt for an ultralight one made of nylon. A tarp around 1-2 pounds would be ideal.
On the other hand, if you won't be walking at all, or just walking a short distance and know that the weather will be unstable, definitely go for a heavier tarp, like those made of polyethylene.

Ridgelines
The ridgeline is that part that holds the rain fly in place above the hammock. For ideal coverage, you do not want your rainfly attached directly to the hammock ridgeline.
Why? Because as soon as you sit in your hammock, the rainfly is going to sag down with it.
Keeping the two separated is going to give you better coverage. We'll explain the best way to set up your hammock rainfly shortly.
Ridgelines can be divided into two categories: full-length or end-only.
Full-length ridgelines extend to the entire tarp length and can be used either under or over it. The advantage here is that you can initially set the line and then proceed to adjust the tarp along it, facilitating the process of centering it. Another benefit is that if it's raining out, you can set up your tarp first–before the hammock gear. This allows you to keep all of your equipment dry.
End-only ridgelines eliminate the rope between tarp's tie-outs. This reduces weight, but it also leaves you with a less structurally sound tarp.
For most campers, we recommend using a full-length ridgeline. This will provide a secure structure that is preferable during extreme weather conditions. Also, since they can run underneath the tarp, they provide assistance when clipping gear to air dry, or if you're attempting to attach a bug net.
Guylines and Points
Guylines are the lines that you attach to the ends of your hammock tarp. These are essential because they will be secured to trees or other to develop a setup area that the tarp will function on. Generally, guylines around 6 feet long are ideal.
Guy points are those parts of the hammock tarp that you'll tie up the guylines on. More of these mean you can set up your tarp in a variety of different ways.
Tip: The more guy points the better! This will give you an opportunity to cater your set up to the weather.
How to Pitch a Hammock Rainfly
There's no one right way to pitch a hammock rain fly, but some ways are better than others.
If it's raining outside, pitch your rainfly first! Then do the hammock. This will keep your gear dry.
Start by tying the ridgeline, you want the hammock to be centered underneath it. The ridgeline should be tight to allow condensation and moisture to slide easily off it.
Set the ridgeline below the hammock anchor points. This will give you maximum coverage against the elements. In especially stormy weather, you want to set the tarp even lower. If you're mainly using the tarp for shade, a high pitch is fine.
Experiment with various types of pitches. For example, you can create a "porch" by tying one side of the hammock to the ground, and the other side straight out towards the trees. This will give you some shade and wind resistance, but won't do much for rain.

Frequently Asked Questions
Are There Certain Temperature Extremes That A Hammock Tarp Will Not Work Under?
No! If chosen correctly according to the factors we've discussed in this article, your hammock tarp should be able to withstand the harshest of temperatures.
How High Up Does Your Hammock Tarp Have To Be Over Your Hammock?
High enough to leave you enough space without restrictions, and low enough to not leave gaps unprotected. 2-3 feet above the hammock would be a reasonable distance for a normal hang.
Tie your tarp lower for stormy weather, and attach it higher for shade protection.
Do They Make A Hammock Tarp With Hammock Installed?
Yes! You can certainly come across some hammock tarps that have the hammock already installed. These are some of our favorites.
Is it Best To Get A Hammock Tarp With A Bug Net Or Without?
It wouldn't hurt, right? You never know where your trips might take you someday. And bugs do have a mysterious way of creeping in, so it's best to avoid the situation, to begin with.
How Long Will My Tarp Last?
It depends on the quality and the manufacturer, just like anything else. Those that are well-built can actually last for years or even an entire lifetime if maintained properly. Also, most tarps come with a decent warranty, so you shouldn't need to replace your tarp often.
How Can I Take Care Of My Tarp?
For starters, make sure you don't leave it in direct sunlight more than you need to. When possible, remove it from under the sun, since it's dangerous for all fabric types, regardless of how strong they are. This will lead to your tarp fading, washing out, becoming brittle, and possibly tearing.
In addition, when you pack your tarp, use the stuffing method. In other words, don't fold and roll it because it can weaken the guy points and influence the waterproofing along the fold lines. Stuffing, on the other hand, creates an irregular pattern that doesn't damage one area faster than another.
The Best Hammock Tarps Reviewed
Now that we've covered all the essentials of hammock tarps and how to pick the one that fulfills your needs, it's time to make the purchase! Since the market is quite oversaturated, we thought of sharing our top picks with you and why we chose them. Let's get into it!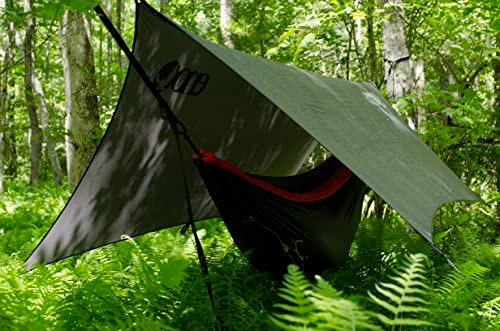 TOP CHOICE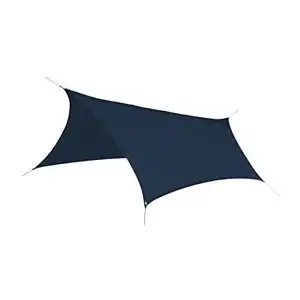 Top Choice: Eagles Nest Outfitters ProFly Rain Tarp
We all want maximum protection from any sudden weather turmoils, but none of us are ready to carry around a heavy hammock tarp, especially when long walking distances are involved. Well, that's been made possible with Eagles Nest Outfitters ProFly Rain Tarp!
For starters, this rain tarp is super lightweight, weighing only 22 ounces. So, no matter how far away your camping site is, you won't have to worry. Not to mention, when it's folded, its size is very close to that of a small water bottle. Talk about convenience!
Now, moving on to functionality, the tarp comes with six guy points that come together to form a streamlined design with full coverage. The end result? The ability to deal with almost any weather condition, from rain to snowstorms.
Streamlined design
Easily portable
100% nylon construction
Excellent weather protection
MOST VERSATILE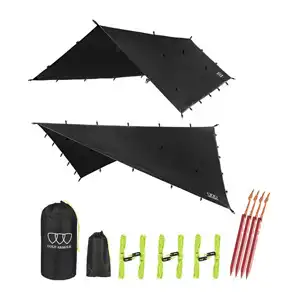 Most Versatile: Gold Armour Rainfly Tarp Hammock
Versatility is the name of the game when it comes to Gold Armour's Rainfly Tarp Hammock. Available in a range of colors and coming with 33 tie-down guy points on the tarp along with 2 centerlines, this one is a can't miss!
Made of high-grade ripstop polyester and reinforced with double-stitching, this hammock tarp guarantees you unmatchable waterproofing and durability, and of course, maximum protection from the elements.
And let's not forget the extras! The tarp comes with stakes, ropes, and tensioners. These, combined with the support of the guy points, grant you the full freedom to pitch the tarp in whichever way you'd like, hassle-free!
Not just that, the tarp is also super large, which not only assists in providing sufficient coverage but also makes it double hammocks' protection perfectly feasible.
Last but not least, your purchase is completely risk-free, as the tarp comes with a 5-year warranty.
33 tie-down guy points
Fully covers double hammocks
5-year warranty
High-quality construction
Budget Pick: REDCAMP Waterproof Camping Tarp
If you're on a tight budget and can't afford to go on your next trip without a hammock tarp, REDCAMP's Waterproof Camping Tarp is your best bet. And you don't have to compromise on quality!
This waterproof tarp is composed of 210D ripstop fabric, which makes it exceptionally durable and waterproof by adding an extra layer between your hammock and the floor. If you're wondering if that makes it heavy, it doesn't!
In fact, it folds down to a compact size and is very lightweight at just 18 ounces. And when folded, you can fit it inside its included drawstring pouch.
What's also really amazing about this one is that it also works with double and even triple hammocks! Not just that, but it's also multi-purpose and could work just well as a beach mat, shade tarp, picnic mat, and more!
Affordable
Compact and lightweight
Waterproof
Multi-purpose
GREAT VALUE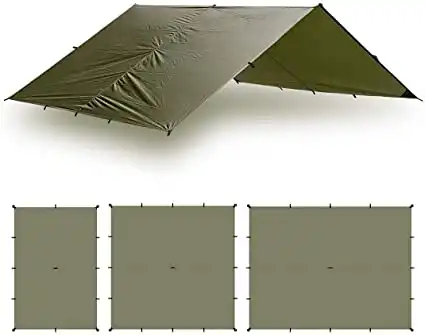 Great Value: Aqua Quest Guide Camping Tarp
If you're a perfectionist who wants it all, with a special focus on lightweight, Aqua Quest's Guide Camping Tarp is the way to go! From the solid construction and waterproofing, to the versatility and compactness.
The tarp comes with reinforced loops around its exterior and along the top, which makes pitching the tarp a breeze, regardless of how you do so.
That's not the only area where it's versatile; it can further be used as a tent rain cover or a sun shield, depending on your trip's needs.
If you think that's it, listen to this! The tarp comes in different sizes to choose from, with the smallest being 10' x 7', while the largest is 20' x 13'. So, whatever coverage you need, you'll find a size that perfectly matches it, all with a lifetime warranty.
Reinforced loops
Versatile
Super lightweight
Diverse size options
That's A Wrap!
The proper rain fly can make a huge difference in your comfort level.
If you're looking for the best overall coverage with the lowest weight possible, don't hesitate to go for Eagles Nest Outfitters ProFly Rain Tarp.
REDCAMP's Waterproof Camping Tarp is our favorite choice if you're on a budget. It's not only affordable but also offers you a well-rounded set of features that give you value for money.
Suppose you're looking for the most versatile option to allow you to tailor your hammock experience. Our top choice is Gold Armour's Rainfly Tarp Hammock because it has so many guy points to customize your hang.
And finally, if you can't make up your mind on what feature you prioritize, you can't go wrong with Aqua Quest's Guide Camping Tarp.
Continue Reading: