Best Hammock Bug Nets For Summer Camping (Review)
By
on
This post may contain affiliate links. As an Amazon Associate, I earn from qualifying purchases. Please read my full disclosure.
Hammock camping is the perfect way to sleep during summer. Elevated off the ground, you get 360 degrees of cool breeze keeping you comfortable. You also easily avoid ground critters like snakes and spiders.
But there is one major downside to hammock camping–flying insects!
Mosquitos, no-see-ums, gnats, and sandflies can make for a torturous night if you're not prepared. Fortunately, hammock bug nets are inexpensive and effective for keeping the bugs at bay.
BEST PROTECTION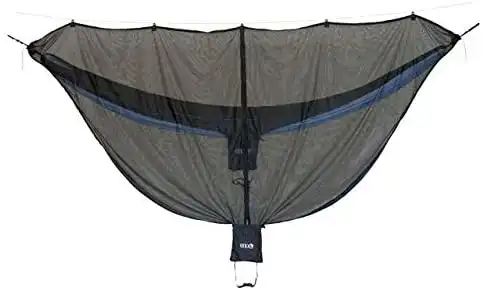 BEST VISIBILITY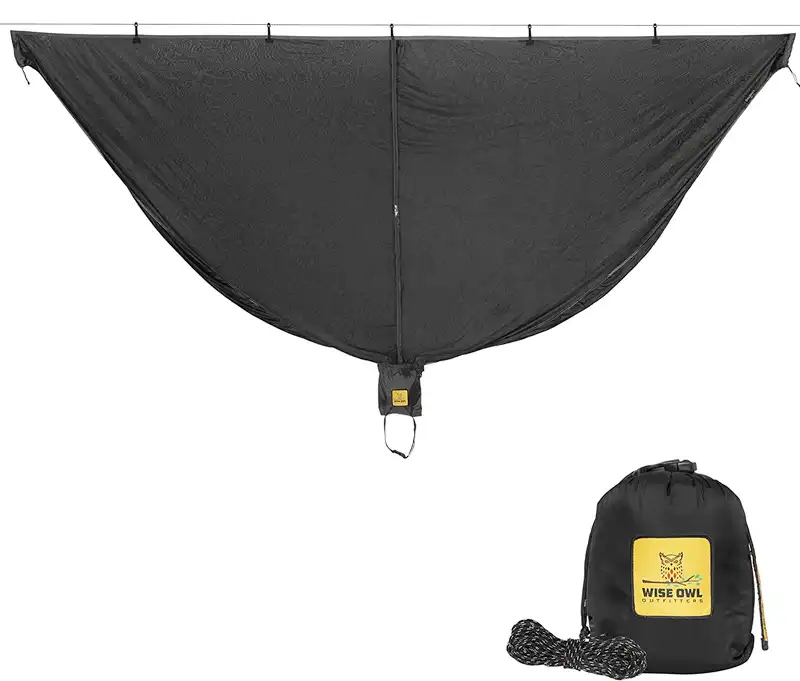 BEST FOR DOUBLE HAMMOCKS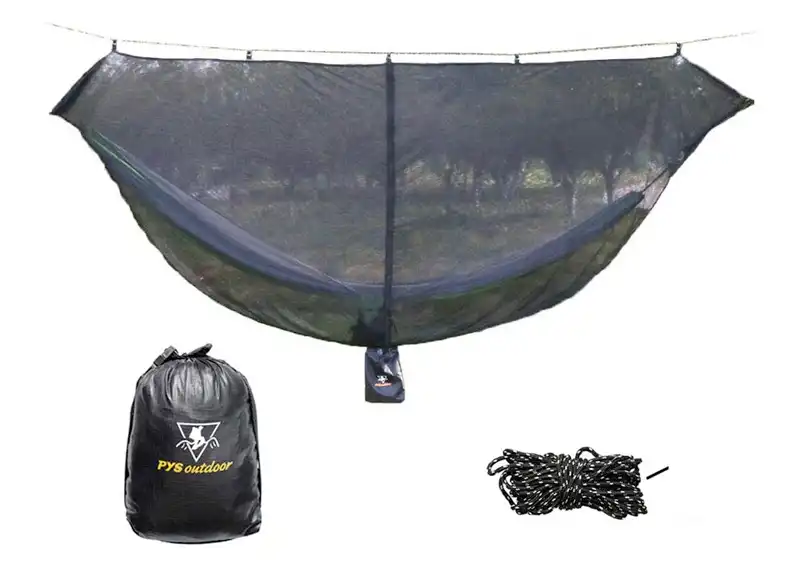 PYS
Great for double hammocks
Lightweight
Impenetrable polyester netting
Heavy-duty stitching
Compression bag & long ridgeline included
CHECK LATEST PRICE
Why Use a Hammock Bug Net
While stand-alone hammocks give you a good night's sleep in the summertime, they don't provide the best protection against insects. Let's face it, you're sleeping in their territory now!
Bug nets that are designed specifically for hammocks are shaped in a way to completely cover the hammock. They also have doors built-in so you can easily get in and out of the sleeping pod.
Your standard mesh netting might work fine for one night of sleep, but just draping any old bug net over your hammock is going to leave a lot of gaps. For the most part, DIY bug nets will not be as efficient as professionally designed and sewn bug nets.
Hammock bug nets are more than just a fancy add-on!
Not only do bug nets provide protection, but they're also a psychological blessing. The enclosure gives many campers a feeling of security which can help you sleep better at night as well.

Types of Hammock Bug Nets
When looking for a bug net, there are two major types: sewn-on, and addon.
All-in-one Bug Protection
Bug netting that is sewn-on can be found in all-in-one hammock camping kits. Oftentimes it comes included along with rain protection, and a suspension system.
For the beginner hammock camper, sewn-on bug protection is the simplest setup. It requires minimal assembly and you won't need to struggle with proper placement throughout the night.
Sewn-on bug nets have mesh doors conveniently located on the sides so you can get in and out of bed throughout the night quickly. They're also extremely lightweight because they won't have any unnecessary materials.
The downside to sewn-on bug netting is that it's hard to repair if you do run into rips or tears. But overall, it makes for the simplest solution.
Our favorite all-in-one hammocks with bug nets:
TOP CHOICE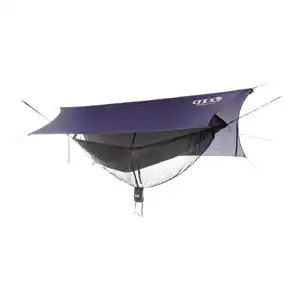 BEST FOR BACKPACKING

BUDGET FRIENDLY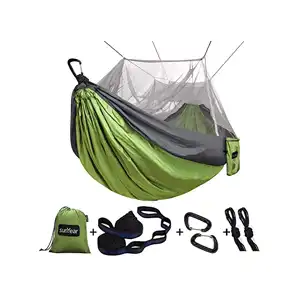 Addon Bug Protection
If you've already purchased a hammock without bug netting, then getting addon insect mesh is the best way to go. Addon nets can give you protection both above and below your hammock which is even more impermeable to creatures.
Large enough nets can wrap all the way around to the base of the hammock and cinch shut at the bottom. Not all addon bug nets come with suitable doors, so they can be harder to maneuver in the middle of the night.
They also require a bit more setup because you'll have to hang a separate ridgeline above your hammock.
That being said, any bug netting is better than no bug netting!

Size: If Less Is Good, More Is Better!
Larger bug nets are going to allow for more coverage. That sounds great at first, but especially large nets can also drape over your body providing no protection at all which defeats the purpose.
You want a net large enough to cover your hammock, and even wrap around it–but not too large!
Thankfully, modern hammock bug nets are designed to accommodate a standard-sized hammock. So unless you're going the DIY route, you should be good to go when choosing from a reputable brand.
Fabric Type
In the realm of hammock bug nets, your choices are somewhat limited regarding the fabrics. Most bug nets are woven with either polyester or nylon.
Each of these materials are breathable so you'll still get a nice breeze while camping. The tight mesh will keep even the smallest critters out.
Polyester and nylon are both lightweight and durable. Even with frequent camping, you should expect them to last between 3-7 years.

How to Avoid Bugs When Hammock Camping
Bug nets are one of the simplest accessories to add to your hammock camping kit. They are much less finicky than tarps, and don't require the most accurate ridegline placement.
Bug nets should be set above the hammock, and below the tarp.
It's best to try and set it up in the middle of the day–before it starts getting buggy!
Simply drape the netting around your hammock and cinch or sip the bottom shut. You want to make sure there's is not excess fabric that will loosely fall on your face or arms. That means you may require some guy lines to get the perfect shelter.
The Best Hammock Bug Nets Reviewed
BEST PROTECTION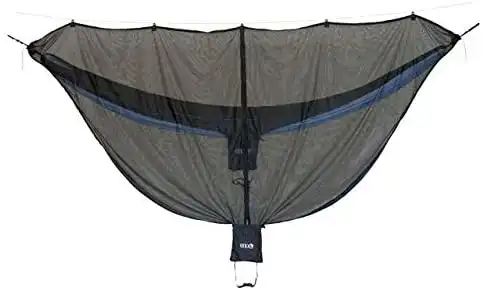 Best Protection: ENO Guardian Bug Net
ENO is a brand that rings a bell when heard by hammock campers. It manufactures a wide array of hammocks, and it decided to complement the hammock-ing experience of the campers out there by crafting the Guardian Bug Net. Aside from being compatible with all ENO hammocks, you can cover almost any hammock with this bug net.
It measures around 9'4" x 4'3" meaning that the bottom of the Guardian Bug Net won't hang loosely near the ground, preventing the skeeters around the underquilt from crawling up to your hammock. As for the packed dimensions, they account for a mere 4.5″ x 5.5″. So, this hammock bug net won't take up much space in your backpack if stored in the pouch.
The Guardian Bug Net comes with a compression bag, great news for hammock campers who pack a myriad of gear. Also, the standalone bug net weighs around 16 ounces—that's exactly a 1-pound burden in your backpack, quite insignificant if you ask me!
This bug net is crafted from ENO's proprietary SkyWeave mesh, a fancy trademark for its no-see-um netting. Besides a 360-degree hammock coverage, the 950 square-inch netting will render you immune against the most meticulous fleas. But, like the norm with most no-see-um mesh types, this one will slightly restrict the airflow in exchange for protection.
You may be wondering how you can get out when you zip the Guardian Bug Net up. Luckily, it's got sturdy, double-sided zippers for the job.
Compatible with all hammocks
Compact
Feather-light
Comes with a compression bag
High-quality no-see-um netting
Double-sided zippers
BEST VISIBILITY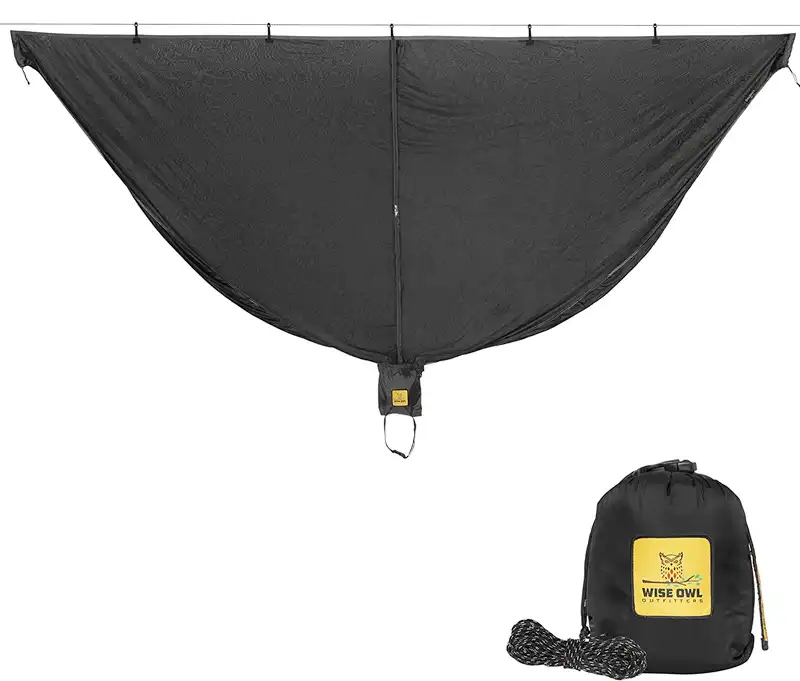 Best Visibility: Wise Owl Outfitters Hammock Bug Net
Visibility is one of the top features of the Wise Owl Outfitters bug net. The black mesh makes it easier to see in and out of so you really feel like you're sleeping among the trees.
Though constructed from a less dense mesh netting than the Guardian Bug Net, it still retains the same imperviousness to no-see-ums, insects, and mosquitoes. The lines along the top clips and the double-sided zippers are strengthened with triple reinforced stitching to ensure the seams never unravel, no matter how frequently you set it up.
Weighing around 20 ounces, it's a quarter of a pound heavier than the Guardian Bug Net. So, it shouldn't feel weighty in your backpack, especially when you add its capable compression bag to the equation. When you open the sack, you'll see a long, 30-foot ridgeline at your disposal.
This bug net also has some impressive compression. It measures around 11 x 4.5 feet, but magically shrinks to 6 x 6 x 6 inches when you stuff it into the bag! The compression bag is also waterproof in case of accidental splashes that may spoil the netting.
Owing to the spacious coverage, this bug net provides optimal room for you to lay diagonally, all while keeping your head away from the mesh since the netting is always home for persistent bugs that cling on it, and you wouldn't want your skin to come in contact with these.
Spacious coverage
Fits in the carrying pouch with downsized dimensions
Double-sided zippers
Waterproof sack
Visible netting
Heavy-duty triple stitching

30-foot ridgeline included
BEST FOR DOUBLE HAMMOCKS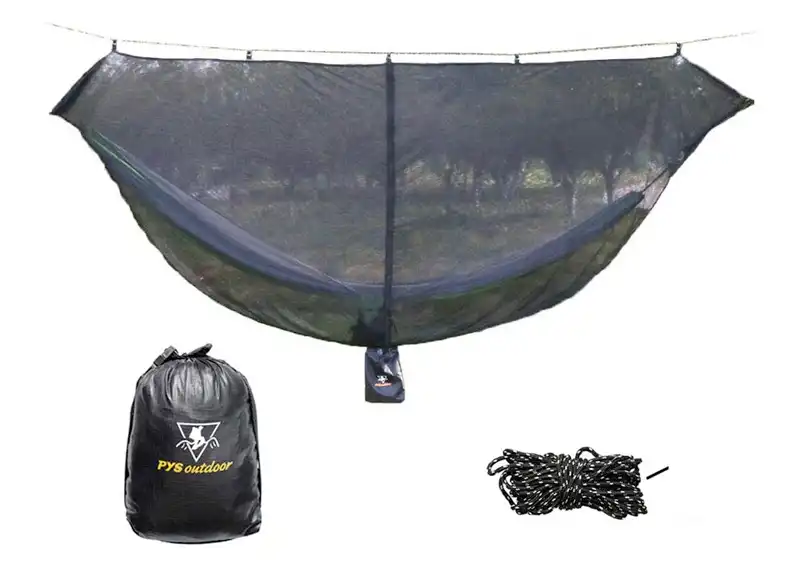 PYS
Great for double hammocks
Lightweight
Impenetrable polyester netting
Heavy-duty stitching
Compression bag & long ridgeline included
CHECK LATEST PRICE
Best for Double Hammocks: pys Hammock Bug Net
Measuring around 12 x 4.4 inches, we're getting an enormous 360-degree coverage with the pys Hammock Bug Net. This bug net is well-suited for double hammock setups rather than single hammocks. You can still cover single hammocks with this net, but make sure to tie the ridgeline at least two handspans above the hammock strap.
This bug net weighs 21 ounces, expected from its lengthy dimensions. However, it still maintains a compact form factor when you convert the weight to the more familiar 1.3-pound measurement. This bug net from pys is confined in a ripstop compression bag, which runs slightly bulky, forcing you to save some space in your backpack.
It's crafted from 100% polyester-based no-see-um netting. Like the bug net from Wise Owl, the stitching is well-woven along the vertical zipper and the clip line.
Included with the net is a generous 30-foot ridgeline for a straightforward setup.
Great for double hammocks
Lightweight
Impenetrable polyester netting
Heavy-duty stitching
Sturdy zippers
Comes with compression bag and long ridgeline
That's A Wrap!
If you've never hit the forest for a relaxing sleep on a hammock, the mindset of having no intruders annoying you may sneak into your mind.
Don't be too optimistic thinking that everything will go as planned in the wild. Well, it should, if it weren't for the blood-thirsty mosquitoes, the no-see-ums, and the spiders ready to give you some "stinging" criticism, and this is where picking the best hammock bug net comes in handy to save the vibes of the day!
Continue Reading: