Best Large Camping Coolers
By
on
This post may contain affiliate links. As an Amazon Associate, I earn from qualifying purchases. Please read my full disclosure.
Modern coolers have come a long way since Styrofoam ice chests. In fact, the best coolers can keep your food cold for over a week!
Camping with a quality cooler can be the difference between eating soggy hot dog buns and dining on Michelin-star campfire food. Not only that, but large coolers can also double as an extra camping chair or preparation surface. That's a big bonus for a large family camping trip.
We put together this guide to help you distinguish what to look for in a large cooler and find the best ice box for your summer road trip.
TOP CHOICE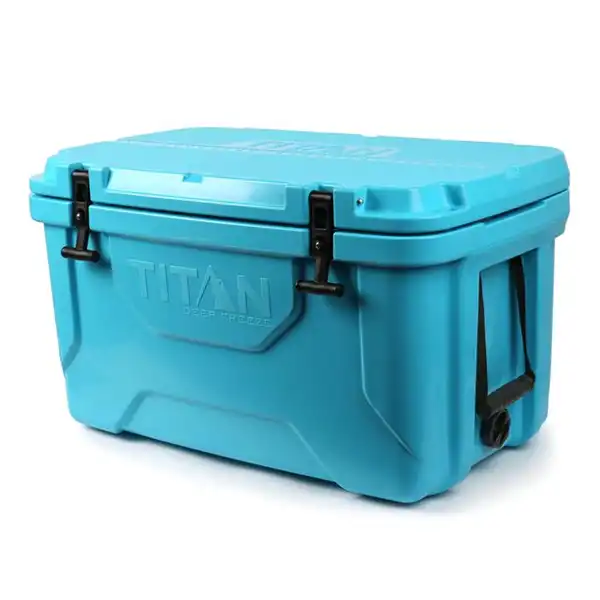 BIGGEST VARIETY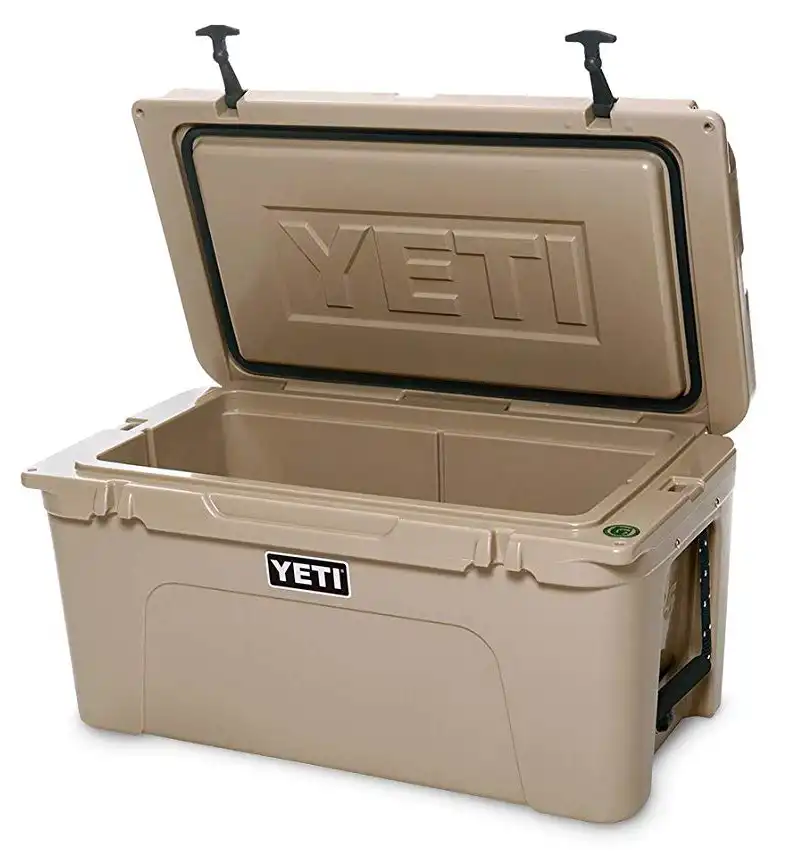 GOOD VALUE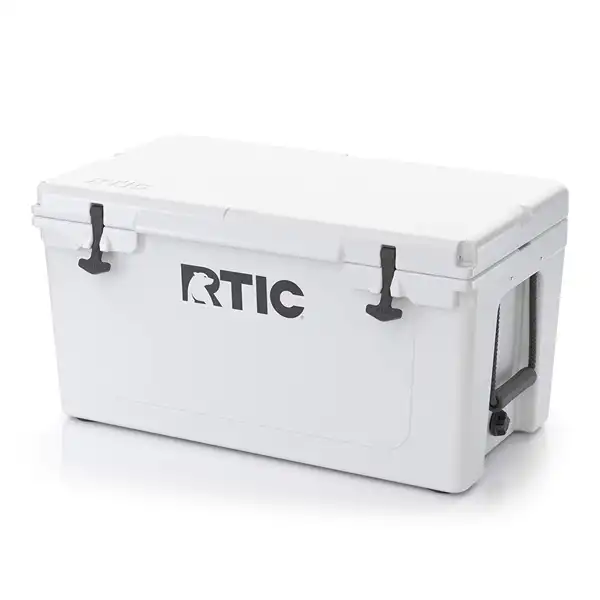 RTIC 65
Built with rotomolded construction, this cooler contains two drain plugs for easy cleaning and holds up to 64 cans.
CHECK LATEST PRICE
What to look for in a cooler
The most important part about finding a quality camping cooler is keeping your food cold. The USDA recommends that food be stored at a temperature below 40° Fahrenheit. With that in mind, you have to look at the factors that go into the construction of a cooler.
Construction and Insulation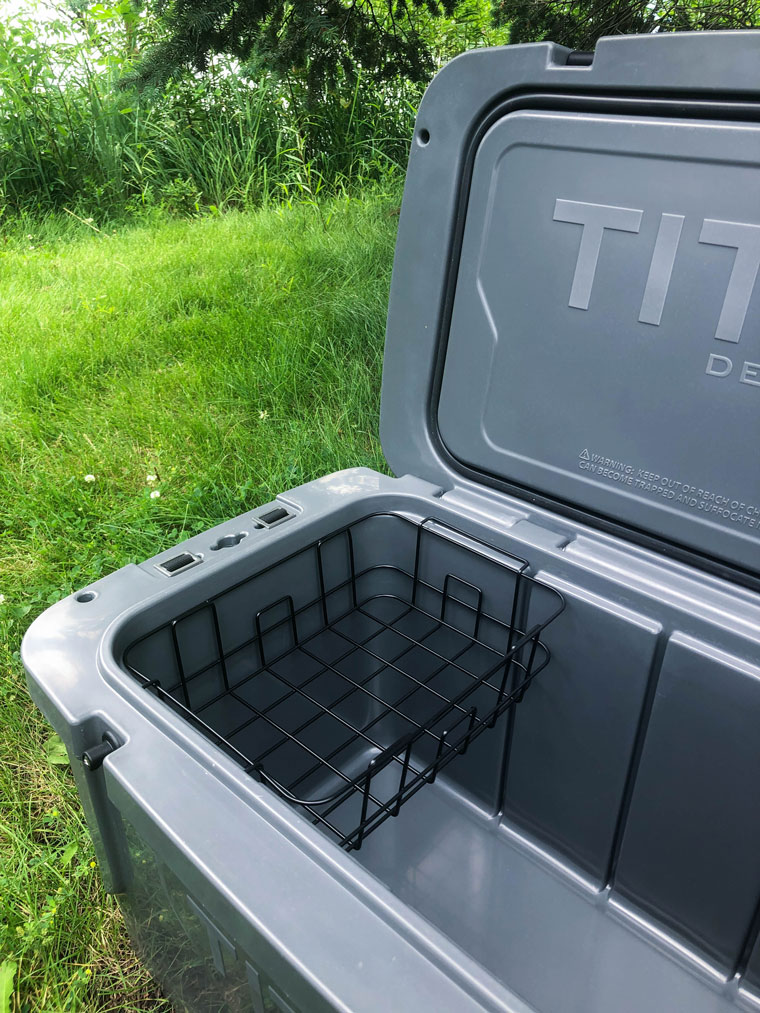 There are two main ways that coolers are constructed: foam insulation, and rotomolding. Foam insulated coolers have been the most common for years. The process includes sandwiching insulated foam between two hard plastic shells like polypropylene.
Higher-end coolers use rotomolded construction. That process molds plastic directly over an insulated core, leaving no seams or gaps for leaks. Rotomolded coolers are more insulated and durable than clam shell plastic coolers.
The other place that air can escape is the space between a cooler body and lid. The best camping coolers have a rubber gasket seal between those two parts.
Size
Large camping coolers stay cold longer than smaller camping coolers simply because they can hold more ice. One of the best things you can do for longevity is to pack your cooler completely full. Empty space reduces performance of all coolers.
A good ratio to aim for is 2:1 ice vs food.
You should buy a cooler based on how much food you plan to store in it – not just the biggest model you can afford. A large cooler without many contents packed inside isn't as efficient as a small one that is full. It's also going to take up more space in the car; so bigger isn't always better.
Mobility
Size and shape play a big role in portability. Large coolers are going to be difficult for one person to carry especially when it's filled with food. A desired feature is coolers that are designed with two sets of handles.
The first set of handles will be molded right under the lid making it easier for one person to carry. The second set of side handles extend outward making it easy for a second person to assist. If lifting heavy weights is difficult for you, look coolers that come with wheels built-in.
Coolers that aren't very square or have hard handles that extend out are more difficult to store in a vehicle alongside other camping gear.
Drains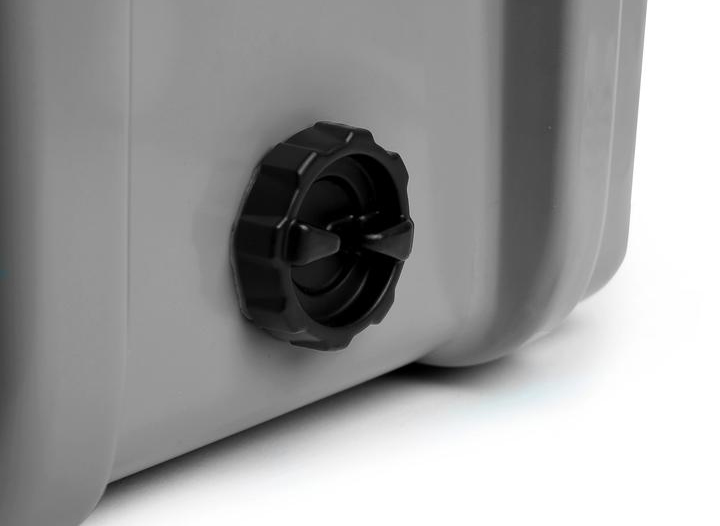 Any cooler worth its weight should have a drain plug. Some even have one on each side! A drain makes it easier to empty and clean out when the trip is over.
The best coolers have a drain plug recessed below the floor of the box. These coolers can be drained completely without needing to tip the cooler up.
There are a few bonus features to look for in drain plug design. Dual drain plugs have a smaller opening in the center that lets you let out just the water and not the ice. Cap leashes protect you from misplacing the drain once opened. And a proper plug seal is just another place that water can escape if it doesn't seal properly.
Bear Resistant Design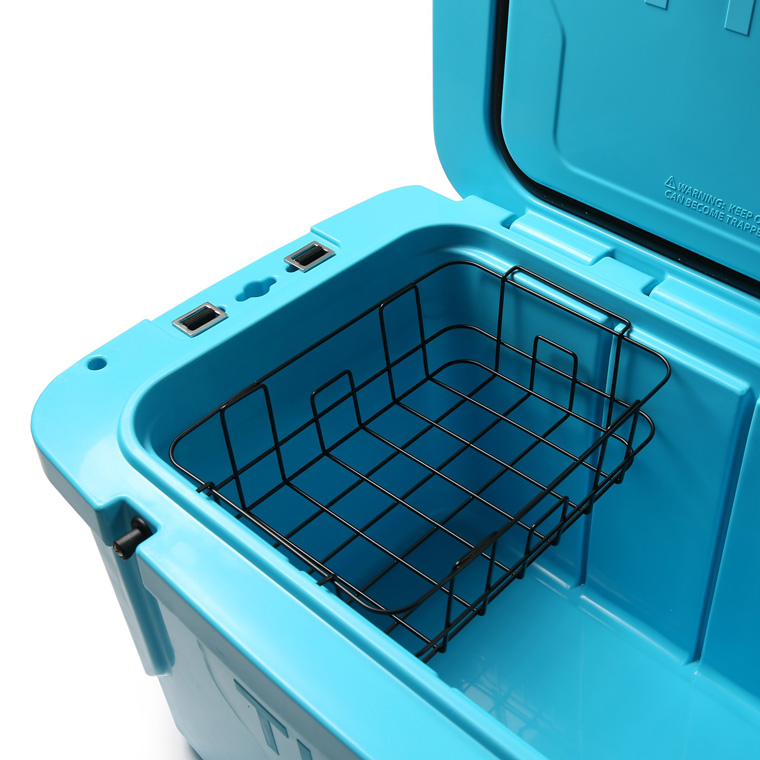 Food doesn't always mix well with back country camping. That's why a cooler that is certified bear resistant is such an important feature. But what makes a cooler bear resistant? That certification is granted by the IGBC (interagency grizzly bear committee).
The product has to pass a number of tests to get certified. They have to be durable, lessen smells that attract bears and minimize direct access to bears.
A common misconception is that latches are enough to stop a bear from getting inside. One of the features you'll notice in bear resistant coolers is padlock holes in the lid and body. Locking the cooler shut is essential to keep the bears out of your food.
Extra Features
Some camping coolers come packed with more features than others. And while they aren't all necessary, it's good to know what's out there when it's time to go shopping.
Best Large Camping Coolers Compared
| | Titan Roto Cooler 55 | Yeti Tundra 65 | RTIC 65 |
| --- | --- | --- | --- |
| Size | 55 Qt. | 65 Qt. | 65 Qt. |
| Construction | Rotomold | Rotomold | Rotomold |
| Exterior L x W x H | 29.93" x 17.33" x 16.74" | 30.625" x 17.25" x 16" | 32.24" x 18.5" x 17.125" |
| Interior L x W x H | 23" x 11.5" x 11.75" | 24.375" x 11.75" x 11.125" | 24.75" x 11.75" x 13" |
| Weight | 35.27 lbs. | 29 lbs. | 36.5 lbs. |
| $ | Check Price | Check Price | Check Price |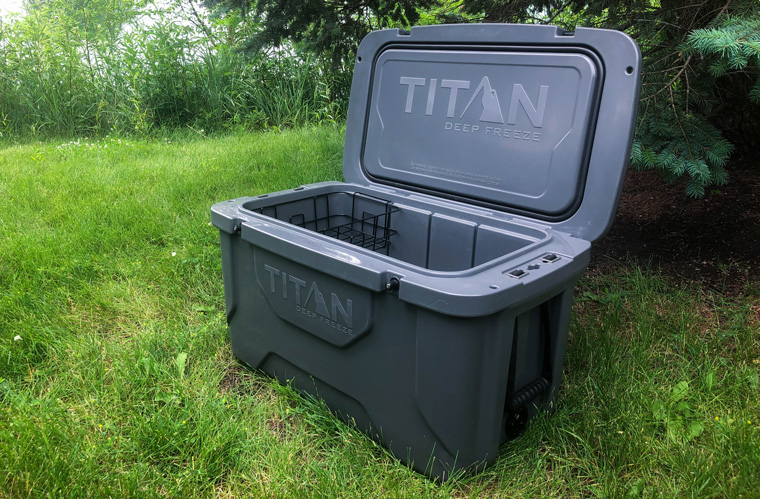 Top Pick – Titan Deep Freeze Roto Cooler
Arctic Zone recently released their first rotomolded design; the Titan Deep Freeze Roto Cooler. This is a 55 quart ice chest that is tested to keep ice up to 8 days.
Arctic Zone has a unique construction process where they incorporate Microban; an anti-microbial protection build straight into the plastic during the manufacturing process. It is currently the only Rotomolded cooler on the market with that feature.
The Titan also checks all of the boxes we look for in high-end cooler:
Rotomolded construction
Freezer grade rubber gasket
Heavy duty T-latches
Two sets of handles
Built-in locking mount
Integrated fish ruler
Removable wire basket
Well-placed over sized drain
Bear resistant
The best part about this cooler is the value. While it doesn't have the name recognition of Yeti or RTIC yet, it has many of the same construction features at a fraction of the price.
Available Sizes: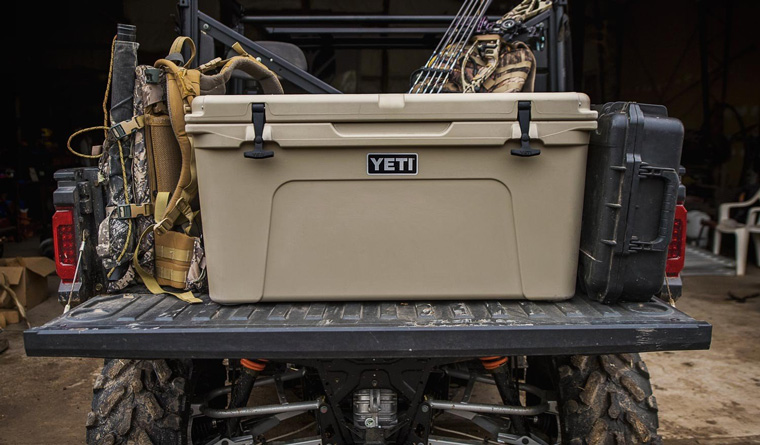 Biggest Variety – Yeti
Yeti is one of the most popular brands on the market when it comes to coolers and there's a reason for that. The company consistently produces the most durable and varied products out there.
Yeti Coolers have all of the best features you can buy when it comes to camping coolers:
Rotomolded construction
Freezer grade rubber gasket
Heavy duty T-REX lid latches
Two sets of handles
Built-in locking mount
Molded tie-down slots
Well-placed over sized drain
Removable wire basket
Bear resistant
Where Yeti beats out the competition is the wide array of sizes and colors. They make hard coolers that hold anywhere from 16 cans of beer all the way up to 259! Variety and popularity does come at a price; they are the most expensive coolers on the market. However, that also means that you can buy the perfect size for you.
Available Sizes: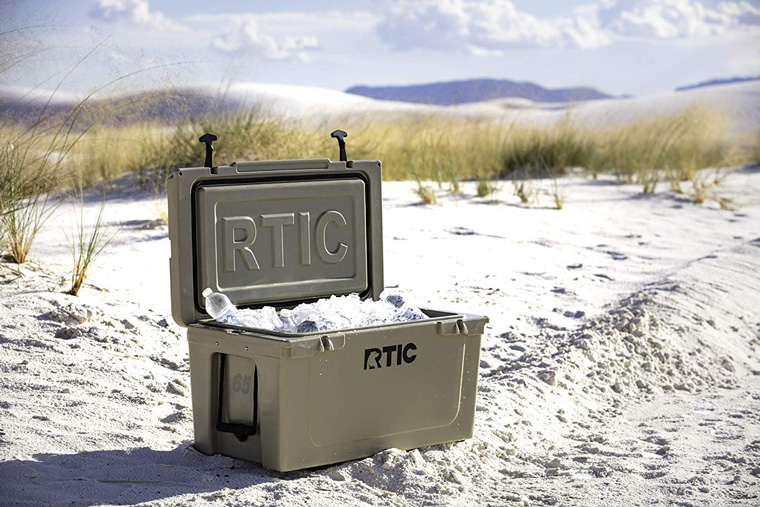 Great Value – RTIC
RTIC is often compared to Yeti for the similar design at a discount price. But what are the differences? There aren't many to note. In fact, the RTIC was actually sued by Yeti coolers because their designs are so similar. Both coolers are rotomolded with the a freezer grade rubber gasket to seal it shut. They also have similar handle designs.
The main difference that we could find from the outside looking in, is RTIC has two drain plugs—one on each side. The RTIC also does not come with a removable wire basket like the Yeti but you can purchase one separately. Bottom line – if the name brand doesn't draw you in, take a look at the RTIC.
RTIC Coolers come with these top features:
Rotomolded construction
Freezer grade rubber gasket
Heavy duty T-latches
Two sets of handles
Built-in locking mount
Molded tie-down slots
Two drain plugs
Bear resistant
RTIC makes five hard cooler sizes and they each come in at least three colors. That should be more than enough variety for hard-core campers.
Available Sizes:
The Bottom Line
If you want a cooler that's going to keep your ice cold and last a lifetime, look for something with rotomolded construction. The best coolers have a rubber gasket, heavy duty carry handles, and are bear resistant.
You Might Also Like: