Review of the Napier Lite Pack – Car Camping Combo
By
on
This post may contain affiliate links. As an Amazon Associate, I earn from qualifying purchases. Please read my full disclosure.
When it comes to car camping, packing can be the most laborious parts of your trip.
A single, ready-to-go bag can remove a lot the stress and allow you to focus on the fun parts.
So when I had the opportunity to try out the Napier Lite Pack, I was intrigued. It promised a lightweight camping combo that includes a tent and two sleeping bags, packaged in a convenient duffle.
Join me as I explore this camping bundle and see if it lives up to its claims.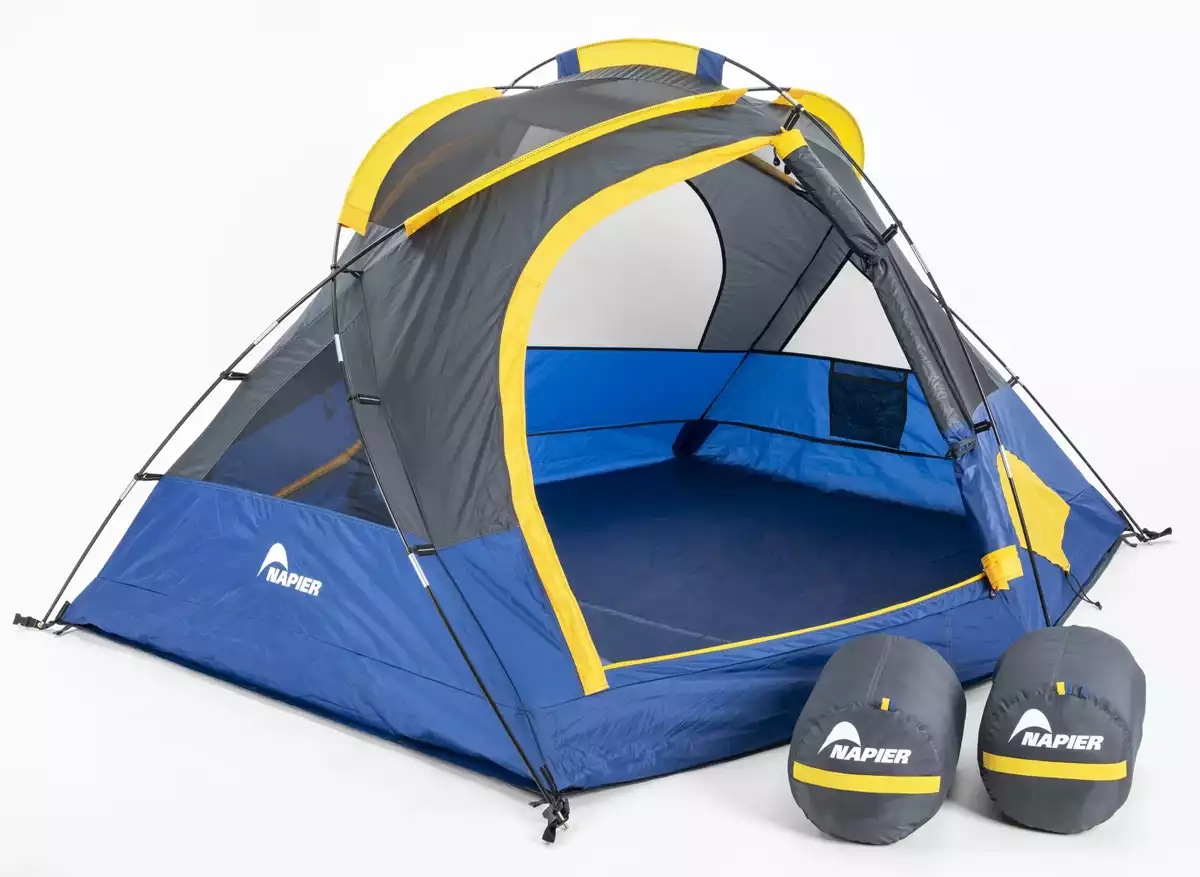 What is a camping combo?
The simplest description is a grab-bag of camping supplies that you can throw into your car and hit the road. This minimizes the amount of brain-power that you have to shell out before staring your trip.
The Napier Lite Pack includes a tent and two sleeping bags which is arguably three of the most important things for an overnighter.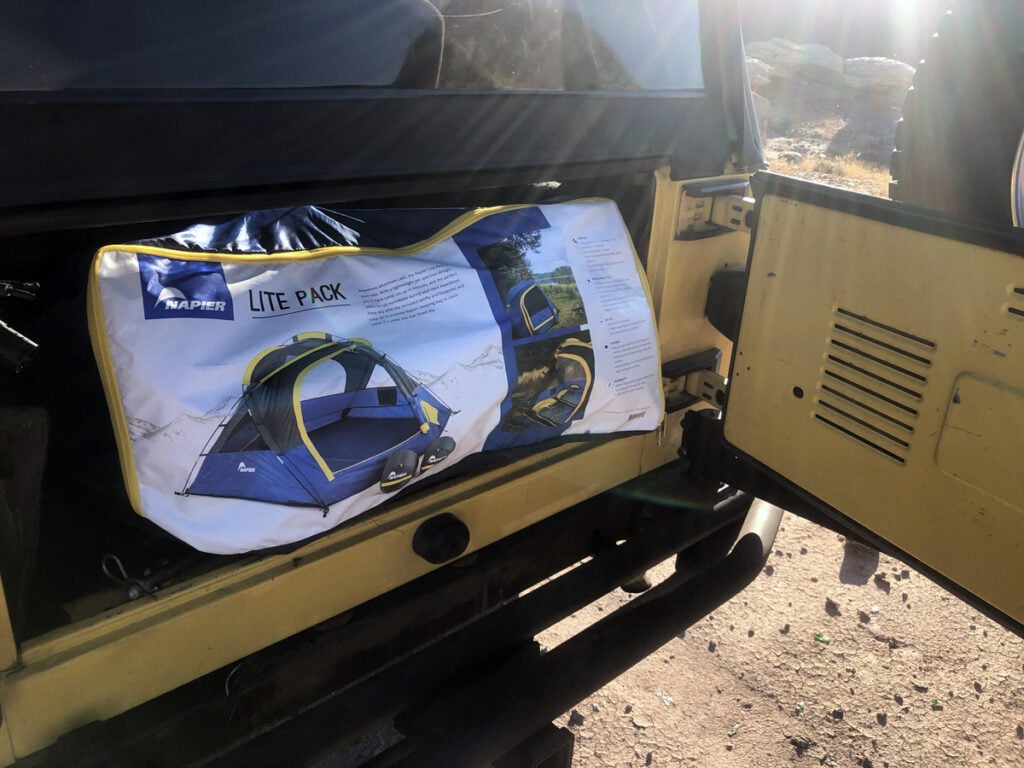 Napier Lite Pack Size
The full combination weighs just 18 pounds. And while this isn't something I would ever consider backpacking with, it is light enough for a hike-in camping site or a short walk to a secluded campsite.
The duffle bag stuffs down to 28" x 14" x 10" so it can easily fit into a compact car.
And the adjustable shoulder strap makes it easy to carry.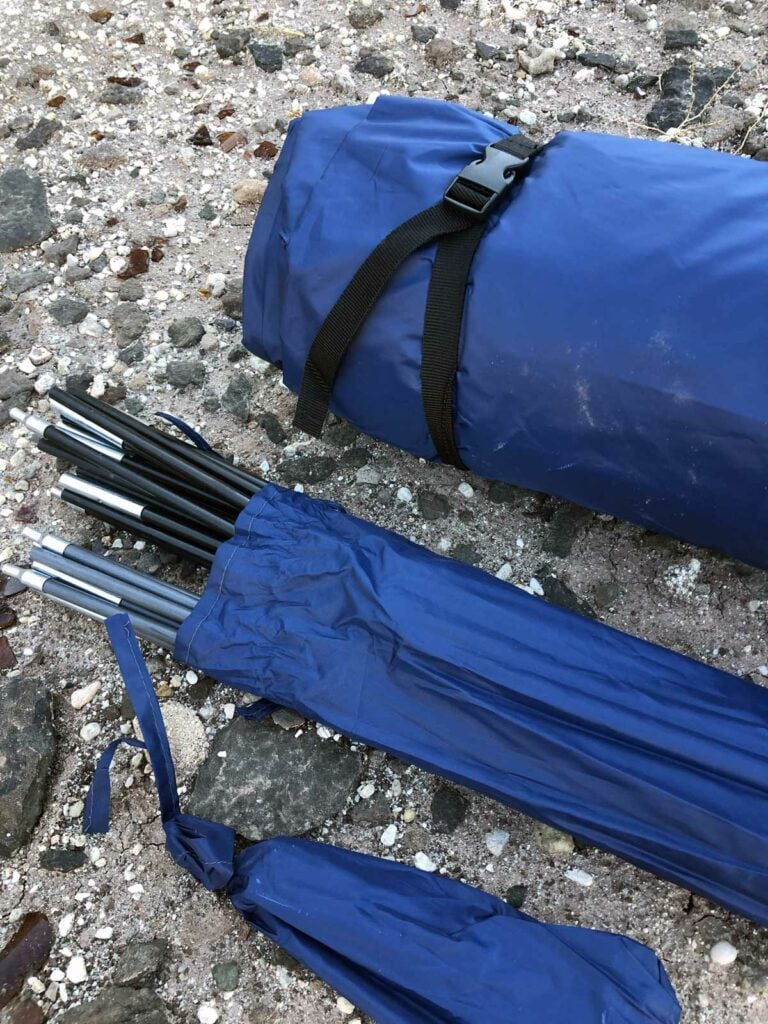 The Tent
In order to fully test the equipment, we took this bundle on an overnight camping trip of our own.
Right from the start we could see the tent footprint was rolled right in with the framework so there was no need to lay out the equipment twice.
And the tent structure itself comes with adjustable side-release buckles which makes it simple to stuff into the sack during the takedown process.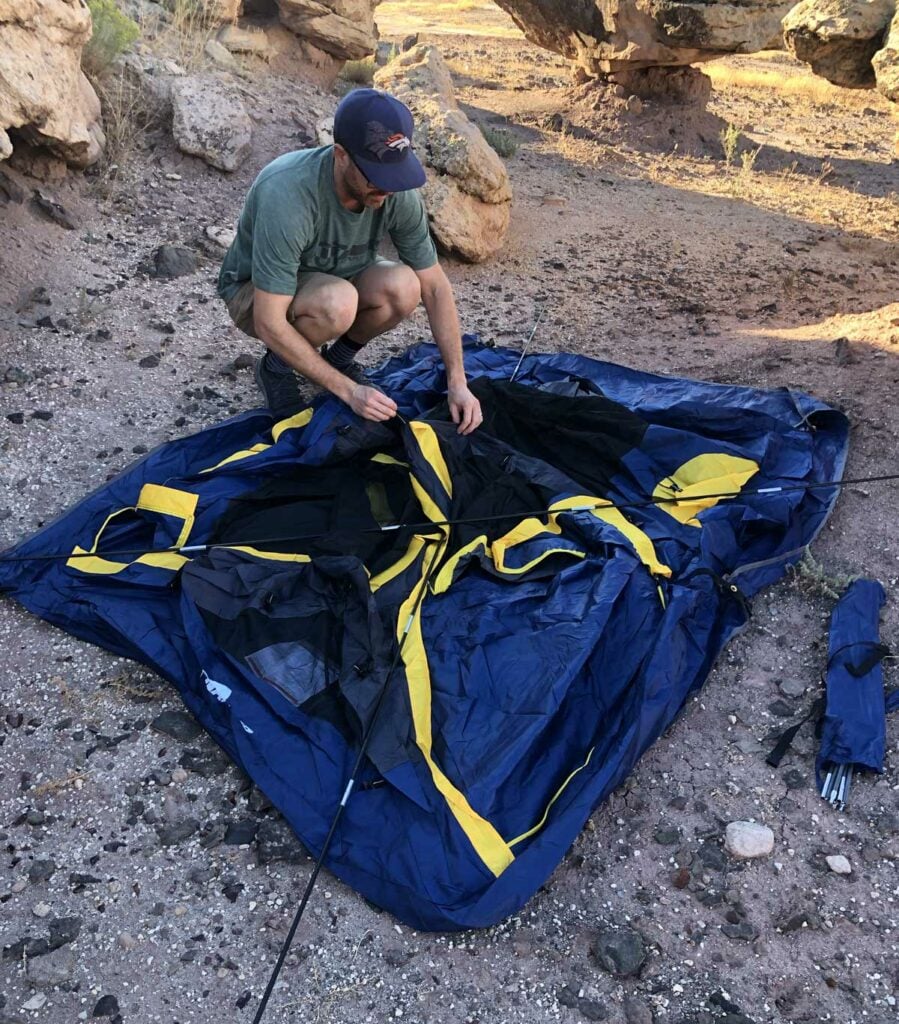 The tent comes with three poles made of shock-corded fiberglass. Generally, aluminum tent poles are superior because they're lighter and stronger. However, in a car camping situation where weight is less of a concern, fiberglass should work just fine.
To assemble the tent, you simply slip the poles into the tent sleeves, then attach the plastic hooks.
In our case, one person was able to assemble the entire structure in less than 5 minutes.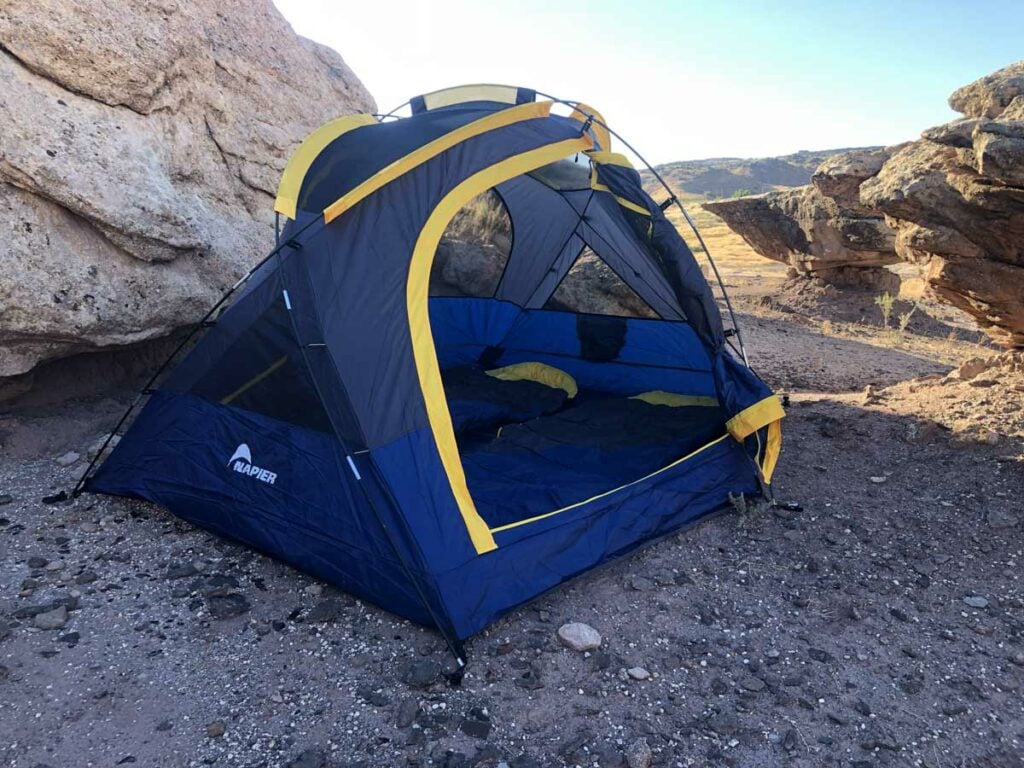 Overall, this is one of the more stylish tents we've had the pleasure of spending the night in. We prefer sleeping under the stars, and there were a lot of mesh windows to enjoy the night sky.
The Napier Lite Pack camping tent is rated to comfortably sleep two adults. And maybe it's because we're used to using backpacking tents – but it felt much more spacious than most tents that I'm used to.
We could easily fit two adults and several pieces of gear alongside ourselves with room to spare.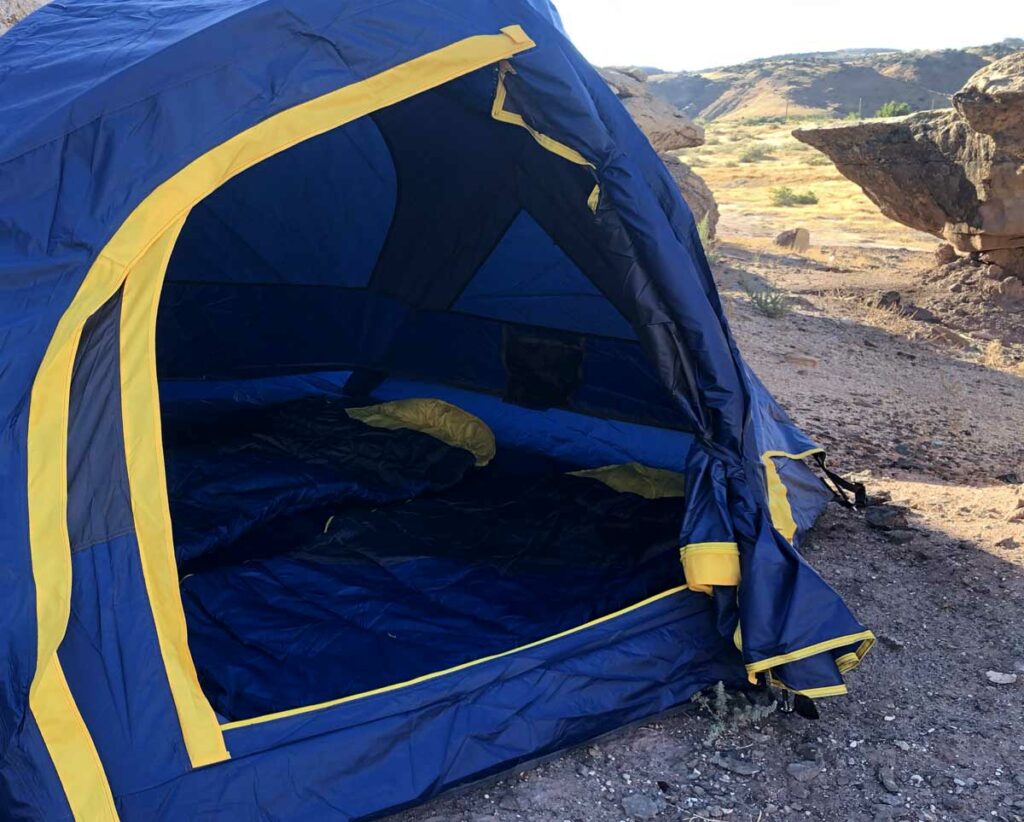 Sleeping Bags
The sleeping bags were also larger than expected. They're designed with a tapered-style end rather than a traditional mummy bag which gives you more room to move your legs around.
The sleeping bags extend 7.2 feet from end-to-end so even the tallest campers can fit inside without feeling cramped.
These bags are rated to keep you comfortable down to 25 degrees Fahrenheit which should be plenty for your casual camper.
Rainfly
While we didn't need to take advantage of the rainfly during this trip (yay desert camping!) we did pull it out for a quick setup.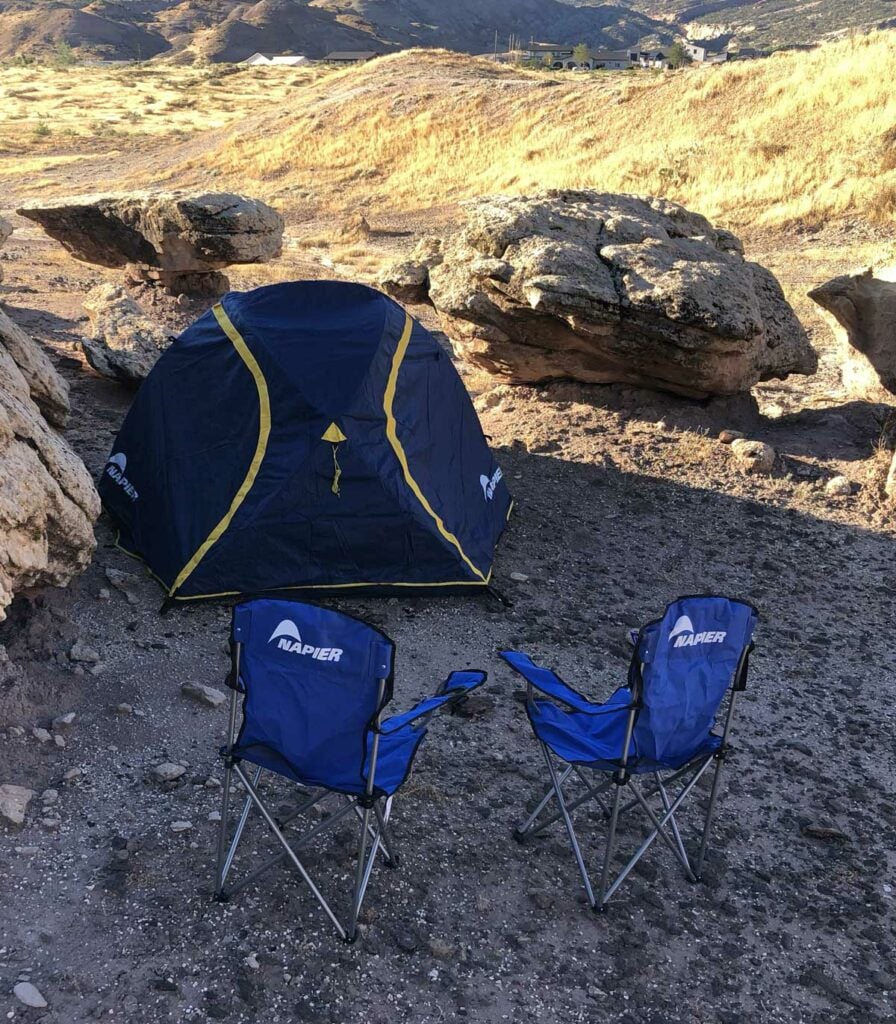 The rainfly did offer full coverage and was fast to install because it doesn't require any extra poles or accessories.
You simply drape it over the top and clip each of the four corners down.
One windy days, additional storm flaps can be staked into the ground to keep everything stable.
Is the Napier Camping Combo worth it?
Camping combos are designed for the casual camper who wants to get outdoors with minimal barriers to entry.
This isn't the lightest or most compact system that you can buy. But for someone who needs the basics for a good price this system certainly fits the bill.
The convenience of having your most important equipment (tent and sleeping bags) all in one location makes it easy to throw in the car and get started.
The tent is roomy and well built, the sleeping bags are comfortable, and the rainfly provides protection from the elements. Plus, it's a very stylish tent overall.
If you're looking for an all-in-one camping combo to get your started on your outdoor adventure journey, then the Napier Lite Pack is a great choice.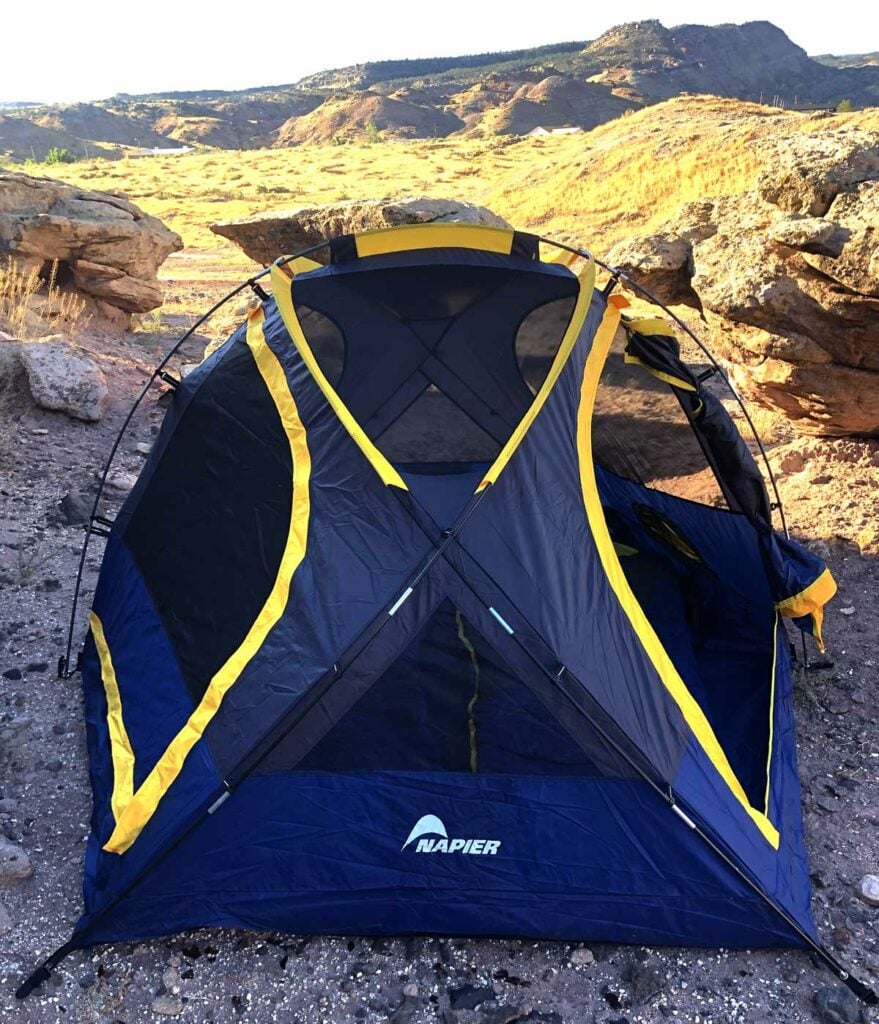 Key Takeaways
The Napier Lite Pack is an all-in-one camping combo that includes two sleeping bags and a tent with rainfly and footprint.
This setup weighs 18 pounds, packs down to 28" x 14" x 10", and can fit into most cars.
The tent offers plenty of room for two adults and several pieces of gear, plus mesh windows for stargazing.
The sleeping bags are tapered so you don't feel too confined and rated to keep you comfortable down to 25 degrees Fahrenheit.
The rainfly is fast to install and provides full coverage when the weather turns sour.
Other items to make your car camping experience even better: