Best Camping Truck Tents (Review)
By
on
This post may contain affiliate links. As an Amazon Associate, I earn from qualifying purchases. Please read my full disclosure.
Anyone who drives a truck knows how versatile and tough they can be. You can take your pickup just about anywhere – and they are especially great on camping trips.
If you want to make the most of your pickup during summer camping trip; consider getting a truck bed tent. With tons of advantages and convenient features, a truck tent can greatly enhance your camping experience.
What is a Truck Tent?
Truck tents are exactly what their name might suggest. They are tents that you set up in the bed of your pickup truck. They typically hold two or three people in the bed of your truck with the protection of a tent over the top.
Many people like to use truck tents as a more comfortable alternative to traditional tents that you would set up on the ground. Because they are elevated and off the ground, they lessen your risk of getting wet or invaded by curious wildlife. They can also help you avoid strong winds.
Truck tent campers let you take your campsite with you (similar to rooftop tents). They are super portable and increase your packing space. With different tent designs for various truck types, anyone with a pickup can enjoy this less extreme version of camping.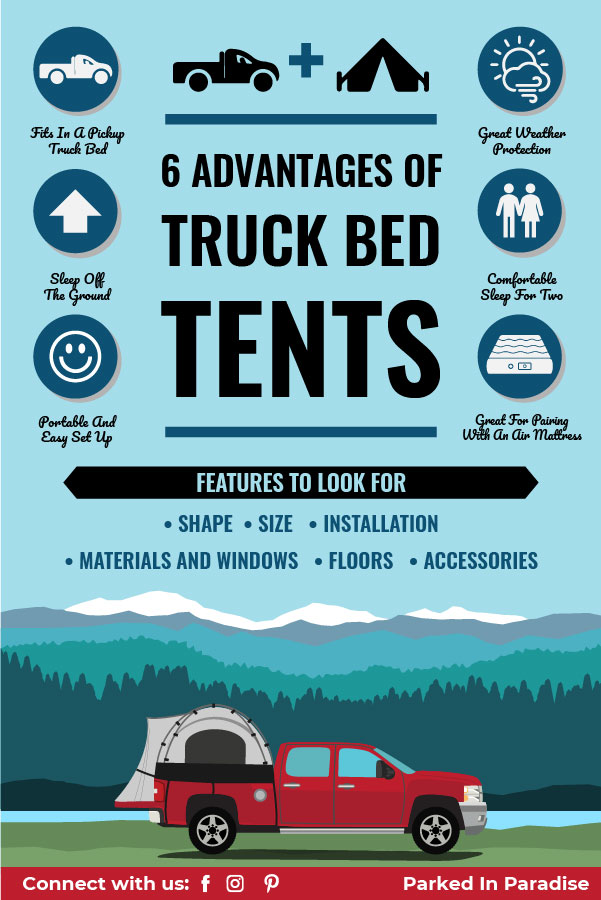 Features to Look for in a Truck Tent
Even the most seasoned of campers may be new to the idea of a pickup truck tent. If you're thinking about trying one out for the first time, you may find yourself stuck on which product to actually buy. We've put together a simple list of features to look for as you go about your pre-purchase research.
Shape
Because truck beds come in various shapes and sizes, the accompanying tents also need to be available in a wide variety. There are a few different truck tent shapes to choose from:
A-Frame Truck Tents
Umbrella-Shaped Truck Tents
Dome-Shaped Truck Tents
Hatchback Truck Tents
A-framed truck tents are common and considered the most basic shape. Built for two or three people, this form doesn't provide a lot of headroom. But it does pack down small, leaving you extra room to bring along gear.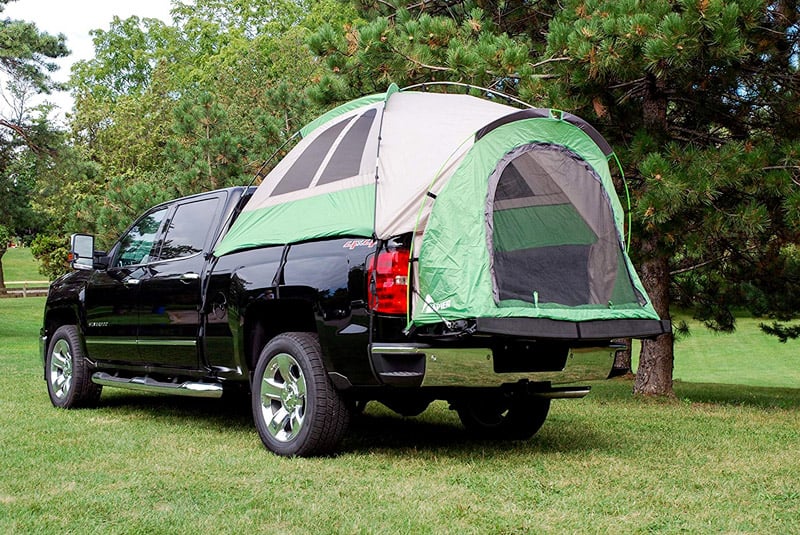 Umbrella-shaped truck bed tents are popular because they give campers quite a bit of headroom and still leaves space for equipment. These tents typically do not come with a floor and have a tall, spacious entryway.
With large windows and tough screens, an umbrella-shaped tent will give you get a great view along with some room to breathe. Since these tent attach directly to the bed of your truck with no floor, installation is easy, and the shape will assume itself.
Dome-shaped truck bed tents have become very popular in today's market due to their flexible, durable poles and versatile shaping. Along with easy setup, a dome tent will usually come with light walls, a rain fly, and interior support.
Hatchback truck tents are different from the others because this type compact truck tent is designed to use on small SUVs or other cars with hatchback trunks, as opposed to a truck bed.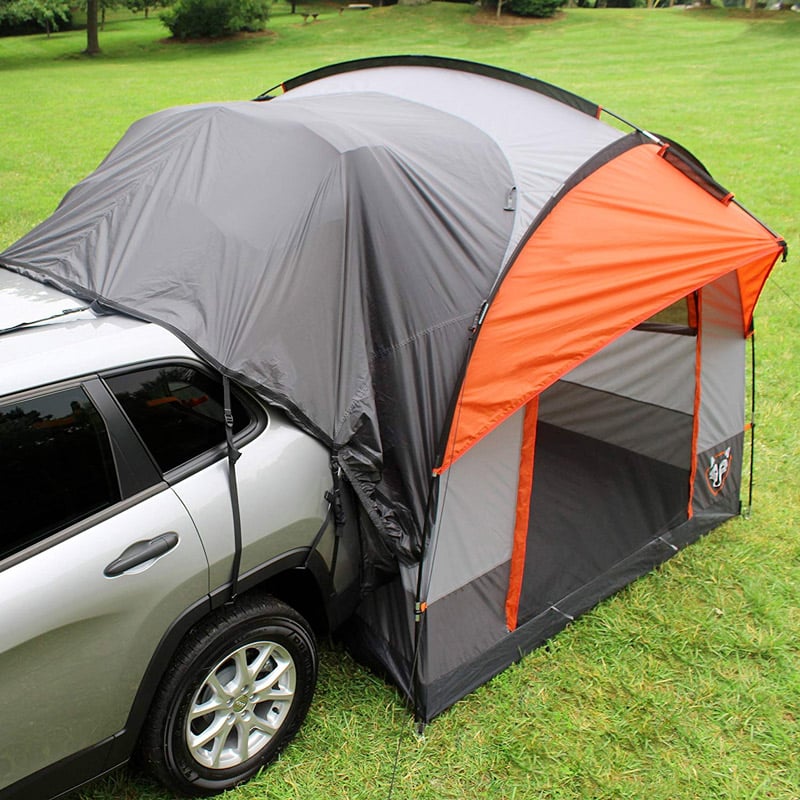 The Best Truck Bed Tent Size
As we mentioned, the size of your truck bed is crucial in this decision process. It's important to know which tents are best for which vehicle.
Many truck bed tents use universal sizing, meaning they will fit most beds. However, it's still important to take accurate measurements and check the details of the product before you buy it. Even then, you should set up your tent on your truck bed before your truck camping trip to be sure it fits.
From here, the best thing you can do is take the sleeping capacity alongside your budget requirements and look for a tent that can support both of these. A good balance is all you need.
Installation
The process of setting up a truck bed tent is pretty simple. The first thing you should do is find a level space for your vehicle.
One of the big advantages of a truck bed tent is that you won't have to battle rocks or twigs on the ground that could interrupt your sleep. But you also have to be careful about parking your pickup at an angle. Wheel chocks can help keep your truck level on uneven terrain.
To set up the tent, start by lowering the tailgate then laying the canvas out flat in the bed of the truck. The front door of your tent should always be at the tailgate for easy in and out.
Next, attach the straps. These typically attach to both the tailgate and the truck sides. Afterward, you can assemble the poles according to directions.
Truck bed tents that come without a sewn in floor tend to be quicker to setup than those that have one.
Materials and Windows
Although budgets matter, it's important to not rely entirely on the cost of your tent when deciding what to purchase.
This is because cheaper tents will often use low-quality materials; and you'll find yourself buying a new one sooner rather than later. Our recommendation is to go for a sturdy waterproof polyester or canvas material.
When considering windows in your truck bed tent, think about the fact that they will determine how much light and airflow you get. Most windows are made of mesh which lets you get a breeze without allowing bugs and critters inside.
They typically have one or two layers and the more windows you have, the more ventilation you'll receive. That can be especially helpful during the summer months when tents can heat up fast.
A sky view vent is also perfect for checking out the stars during a road trip.
Floors
Traditional tents have a floor – there's not really a question about that. However, not all products come with a full floor. A floor closes off your tent space entirely, better protecting you from the outside world. It makes the space more waterproof and bug resistant.
Some people prefer to purchase a tent without a floor because it will allow you to use a dedicated truck bed mattress which may not fit inside of all tents. They can also be easier to set up and fit into your truck.
Other Camp Accessories
The best truck bed tents come with additional features for comfort and convenience. Even if you want a perfect view of the night sky, you should always look for a tent that comes with a rain fly.
Some tents also have a built-in awning, which turns your front door into a porch area with an overhang. These usually extend past the tailgate and let you sit on the edge or in a chair covered.
Even in sunny conditions, having an awning can be a big advantage to keep yourself shaded.
A gear loft is another useful accessory to be on the lookout for. They are compartments that you can attach to the ceiling such as a lantern holder. Not only are these useful for clearing space and keeping camp gear off the ground, but they are easy to install, only using hooks and loops.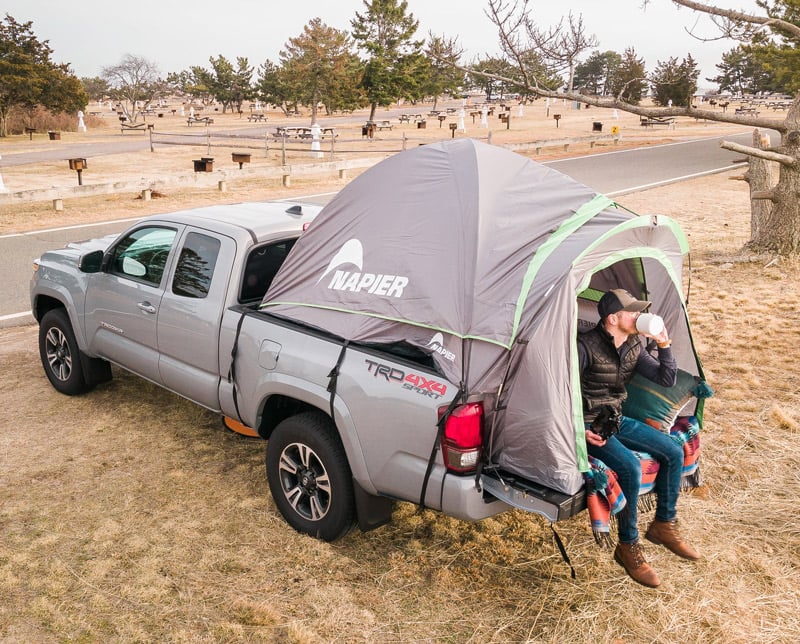 Frequently Asked Questions
What's the Difference between a Three-Season Tent and a Four-Season Tent?
Three-season tents are made to be used in the spring, summer, and fall. Their walls are thinner than four-season tents, which are made to be used in all four seasons – even the winter.
Four-season tents are usually thicker and heavier to accommodate cold weather and snow.
Why Use a Truck Bed Tent Instead of an RV or Camper?
Campers are certainly very useful and comfortable, but they are also a lot more expensive than a truck bed tents. Many people choose to use a truck tent rather than a camper that can also mount right on the truck bed because of the difference in cost.
Additionally, some people find that truck camping takes away from the idea of being in nature. Truck bed tents are a nice in-between for someone who enjoys the outdoors but doesn't necessarily want to sleep on the ground.
Are truck bed tents worth it?
Yes, if you already own a pickup truck. Truck tents are comfortable, easy to set up, and can help you avoid strong winds and inclement weather.
Are truck tents comfortable?
They are significantly more comfortable than a ground tent because they give you a flat surface and avoid strong winds, mud and rain.
What is the point of a truck tent?
These tents are perfect for camping in rocky, uneven terrain. Over water, or in muddy areas. They also keep you off the ground and further away from insects and animals.
Can you put a tent in the bed of a truck?
Truck tents are designed specifically to fit in a pickup or hatchback SUV.
Tips To Make Your Truck Tent More Comfortable
A tent that's elevated off the ground will certainly be more comfortable than pitching your temporary home on the rocks. That being said, a truck bed is not necessarily the most comfortable surface either.
It's popular to camp with a truck bed mattress that can be inflated with a foot pump or cigarette lighter when you arrive at your campsite. These blow-up mattresses are extremely gratifying after a long day of hiking or mountain biking.
Another popular addition is a truck bed liner. Heavyweight bed rugs will smooth out the uneven surfaces in your truck bed so even a thinner ground pad will feel comfortable to sleep on. We recommend these if you choose to purchase a tent without a floor.
The Best Truck Tents Reviewed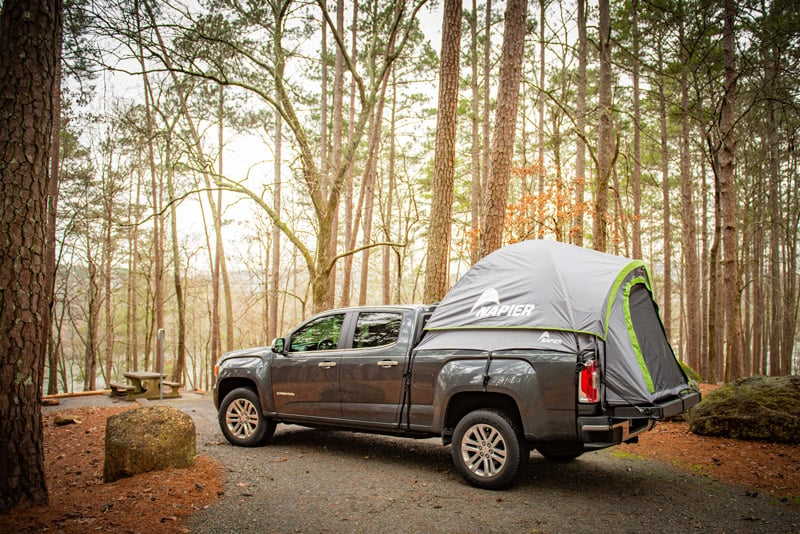 TOP CHOICE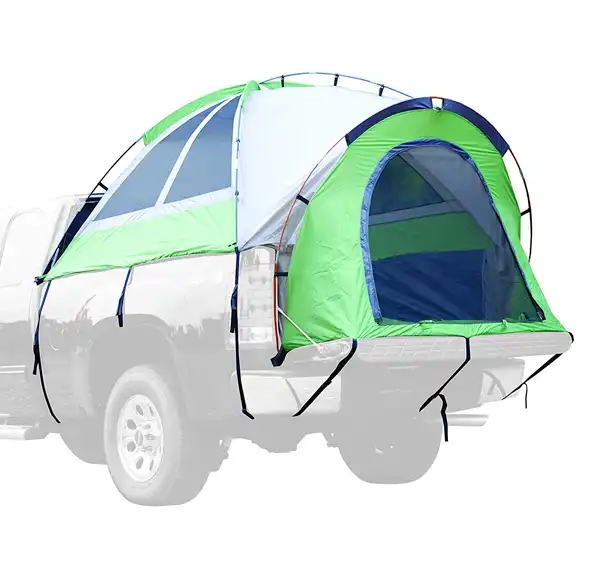 This nylon Napier model is a popular truck tent because it offers a full floor. With four different size options, it's made to accommodate most pickup truck beds while fully protecting you from the elements of the outdoors.
The color-coded instructions make setup simple and quick, leaving out the frustration of a difficult tent. The spacious interior offers 5.6 feet of headroom, a great option for taller folks.
Included with this tent is a superior rainfly that keeps your entire tent dry during storms and showers. Solid construction and materials will make this tent last for trips to come, while the large mesh windows give you a great view of your scenery.
BEST FLOORLESS TENT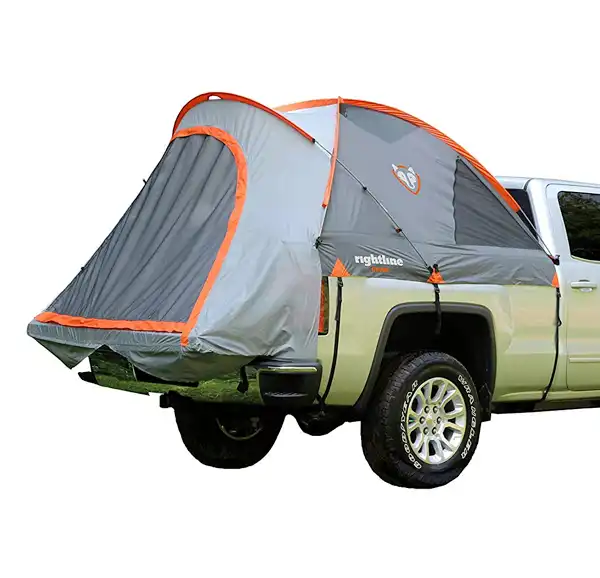 Best Floorless Tent: Rightline Truck Tent
Floorless tents allow for quick assembly and let you use a dedicated truck bed mattress that may not fit inside a floored tent. The Rightline truck tent comes in three sizes to fit your mid-sized, full size or compact truck. Color coded poles and sturdy straps aid in set up.
This tent comes with a lot of cool features like two gear pockets and a lantern hook inside. It also has glow in the dark zippers to help you find your way out in the dark.
BEST BUDGET TENT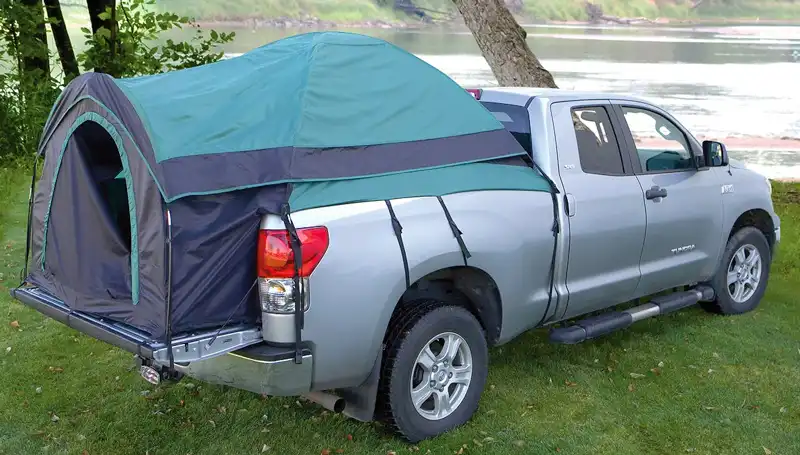 Best Budget Tent: Guide Gear Full Size Truck Tent
Guide Gear understands that not everyone can afford to spend hundreds of dollars on a fancy truck bed tent. Their full-size truck tent is affordable and functional, offering a comfortable shelter elevated from the cold, hard ground.
With just four poles, this Guide Gear tent is super easy to set up. The lightweight polyester material features a water-resistant coating, keeping you and your loved ones safe from the weather. The roomy interior gives you 5.25 feet of headroom and features a D-shaped, large door for in and out.
Large enough for two, the Guide Gear tent will fit most full-size trucks, including popular brands like Chevy, Ford, and GMC. Two storage pockets are great for making the most of your space, while the mesh windows provide great ventilation. Cover it all with the rainfly on stormy days, and you'll be set for all your future camping trips.
BEST CANVAS TENT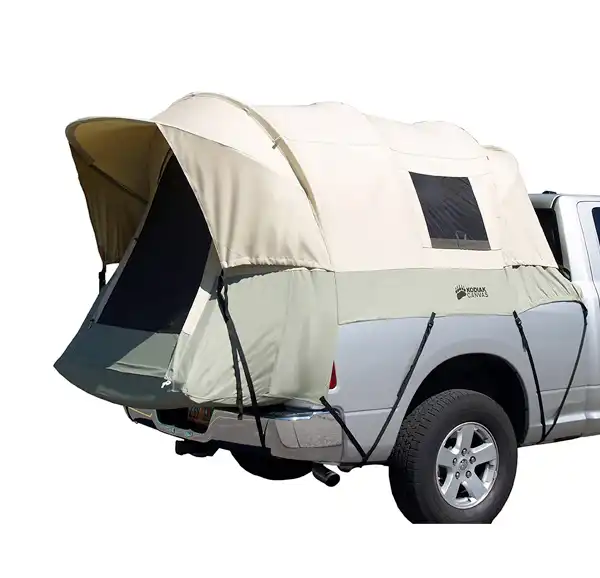 Kodiak Canvas Truck Bed Tent
Canvas material is durable, waterproof, and breathable
Several mesh windows give airflow, cab access, and great views
Awning included for added coverage
Made from high-quality materials
CHECK LATEST PRICE
Best Canvas Tent: Kodiak Canvas Truck Bed Tent
Of course, if you are willing to spend a little more money on your truck bed tent, the Kodiak Canvas Truck Bed Tent is an excellent choice using quality canvas material that is made to be durable, breathable, and waterproof.
This beautifully designed tent maximizes your truck bed space with two gear pockets, and large door, and 5-foot ceiling.
With a whopping five windows, your ventilation will far surpass that of other tents. One of these windows gives you cab access for easy reach of anything within your truck.
Made for all four seasons, you'll have a great time setting this tent up in your truck bed for a make-shift camper. The sturdy construction lasts long, and the attached awning gives you extra protection and comfort.
Wrapping It Up
A truck tent is an excellent alternative to both a traditional tent on the ground and a truck bed camper.
With affordable options, the ability to sleep elevated from the ground, plus all the perks of traditional camping, you can't go wrong setting up your tent in the bed of your truck.
Affordability, quality, and comfort are all things to look for before your purchase. You don't have to break the bank to get a good truck bed tent, and you certainly don't have to sacrifice high-quality materials.
Use this guide to help you during your buying process to make sure you get the best for you and your family.
Read these related articles: