The Best Car Camping Awning For Sun Protection (Review)
By
on
This post may contain affiliate links. As an Amazon Associate, I earn from qualifying purchases. Please read my full disclosure.
Having a shaded area to rest or escape the rain is essential to a comfortable camping or overlanding trip. Awnings provide the perfect source of cover.
Our favorite designs are easy to attach, retractable, and can be assembled within minutes by a single person.
Some of the more advanced shelters have bug netting and floors which create the perfect retreat in wet and muggy weather as well.
In this article we're going to cover the top rated car camping awnings and how to find the best model for your vehicle.
Car Camping Awnings At A Glance
An awning is a form of shelter that you attach to your vehicle to provide shade and block the damaging UVA and UVB rays of the sun. Awnings come in many shapes and sizes. They also have different methods of assembly.
The best awnings will have UV protection and water resistance. They should be lightweight so you can port them around easily. And they should be easy to set up and disassemble.
Your vehicle will play a large role in what type of awning you pick. Some shelters are made for specific brands or require accessories to make it work.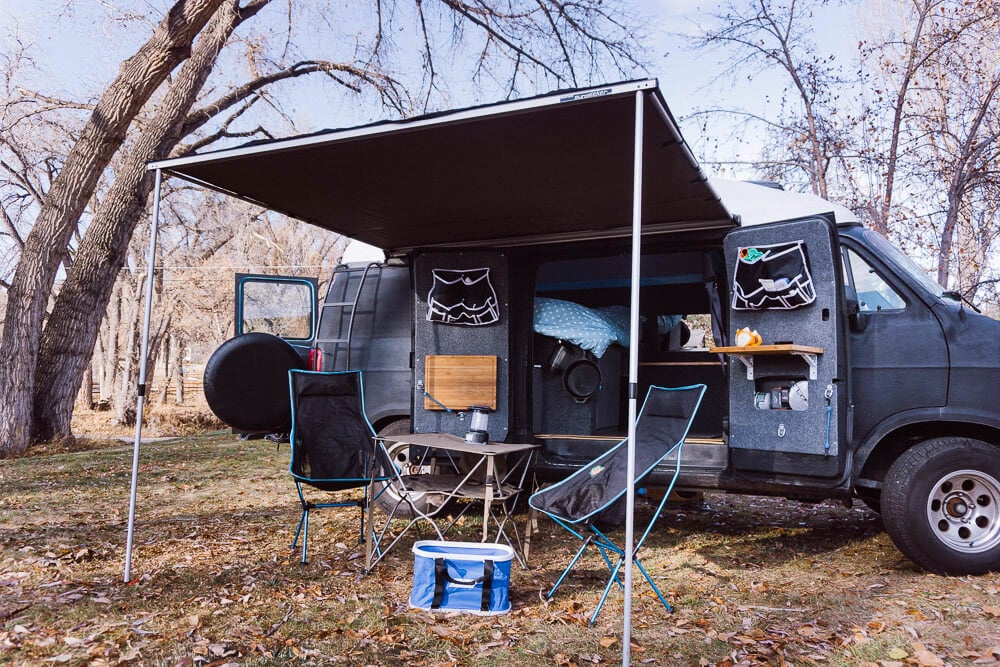 Factors to Consider
Before purchasing your awning, there are a number of key features to consider. The most obvious is compatibility with your vehicle. But there are other differentiators to take into account as well.
Vehicle Compatibility
One of the most crucial aspects to consider before purchasing an awning is if it will work with your type of car. If your vehicle doesn't have a roof rack, it won't do any good to buy a retractable awning that attaches to a roof rack.
Some types of awnings have size limitations, so they're only compatible with specific sized vehicles such as small or midsize cars, SUVs, or mini-vans. There are also Jeep awnings, which only work with the Jeep brand.
Most portable car awnings need a place you can mount them, such as a roof rack. If your car doesn't have a frame, you'll want to consider an awning that can free stand or attach to your liftgate or door.
Awning Size
It also helps to know the dimensions of your vehicle before you start shopping for a camping car awning. You don't want to buy a shelter that is too large or too small to fit your vehicle.
Use a tape measure to get the accurate height, width, and length of the area of your car where you will be securing the awning. Keep these measurements handy as you're browsing through the different tops for sale.
For an SUV, you want to find an awning that offers at least two feet of shade. Trucks need a more massive canopy, with at least 2.5 feet of clearance to provide shade.
If you are buying an awning that mounts to your vehicle, you'll need to make sure you have the appropriate length, which is usually 6–8.5 feet.
Awnings that attach to your liftgate need to have the proper clearance behind your vehicle. There also needs to be space on the gate itself and the sizes of your car. You may also have to worry about roof clearance, so get all of these measurements ahead of time.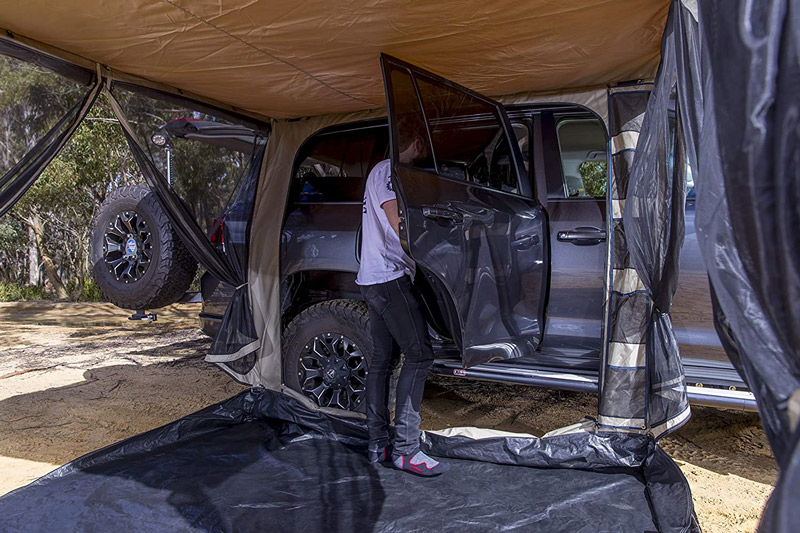 Weight
Your car awning tent shouldn't weigh a lot, as you'll likely be taking this piece of gear with you on many outdoor adventures.
The heavier it is, the more challenging it may be to put up and take down after each use. You may also have to do some extra fabricating to have enough support to hold the awning up sturdy.
The awnings we've reviewed can be easily assembled by a single individual.
Material
The type of material for your awning will determine its performance as a source of shade and protection from UV rays and the rain. It can also play a factor in how long your top lasts.
Most camping car awnings are made from fabrics like nylon, polyester, cotton, canvas, and fabric coatings.
Nylon and polyester are the two most common choices for awning fabric because they dry quickly, and they're durable and lightweight. These fabrics do an excellent job of repelling water and providing shade, but they don't block the heat.
Cotton and canvas are standard tent fabrics because they have good insulation, but they're heavier, which can be more challenging to assemble. And they can be harder to transport.
UV Protection
Awnings help protect you from the sun and elements. But a cover needs to do more than keep the rain and sun off of you.
A good car awning will have UV protection, which means it blocks UV rays from coming through the fabric. Some canopies have partial protection while others have a total blockage.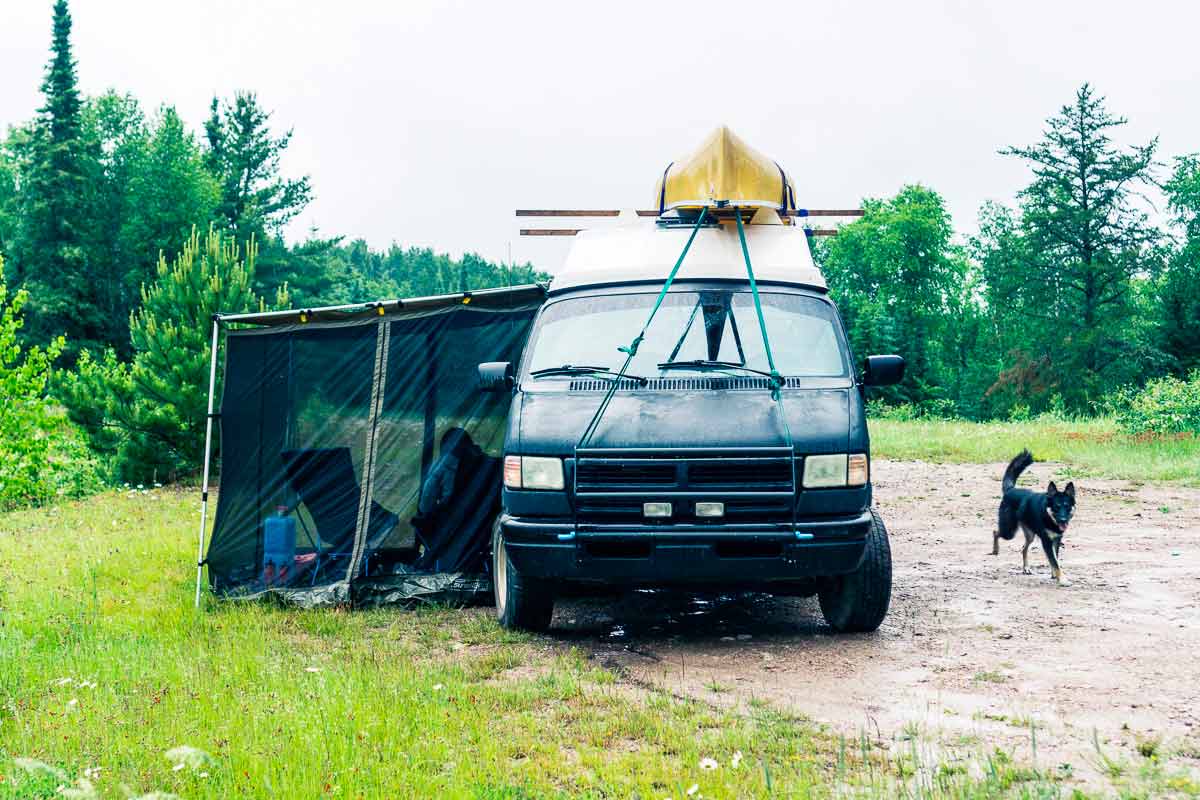 Protection from the Elements
The best thing about awnings is that they provide protection from the sun and any inclement weather that decides to intrude on your outdoor time.
But not all awnings are equal in the type of protection they offer from the weather. Overland awnings that have open sides can still let water get in if the wind blows the right way.
These only keep you protected from the water over your head. Consider awnings with rear or side panels, which offer more protection.
Improperly setting up your awning can result in damage to your tent and maybe your vehicle. And it can increase the chances of failure, which means your trip may get ruined.
Look for awnings that come with stakes, bungee cords, or tie downs that will keep your shelter secure in case of bad weather. And remember to use them! We've been surprised with a sudden gust of wind on more than one occasion.
You'll also want to consider the style of the roof. Flat roofs can collect water, causing it to weight down and possibly leak or tear. Consider awnings that have a dome or slanted ceilings over a flat.
As a trick, lower your support poles slightly below the roof of the vehicle so rain can slide right off.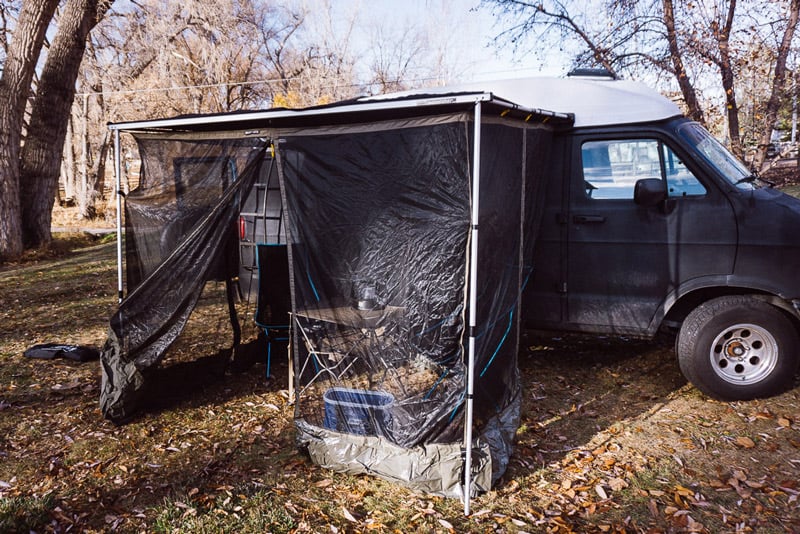 Bug Protection And Accessories
Many awnings come with compatible accessories such as elongated tarps, or enclosed screen rooms. Accessories are important to keep in mind if you intend to use the awning for years to come.
We did a lot of camping in the midwest and northeast for example, so mosquitos and no-see-ums were a major issue. For us, having a fully enclosed screen room was essential. It also gave us a place to relax and cook food without fighting off flies.
If you do a lot of camping in the desert, shade protection might be higher on your list of priorities as opposed to beating the bugs.
How to Install a Car Awning On Your Vehicle
Every awning is going to install on your car differently. That's why compatibility is so essential. We've broken up our product recommendations based on a few different types of vehicles:
Free-standing car camping awning (compatible with any vehicle type)
Hatchback awnings (compatible with any small to mid-size CUV, SUV, and minivan
Overland awning (universal mount which requires a surface of 6–8.2 feet long; designed to fit a Jeep Wrangler)
Roof rack awning (compatible with most roof racks, designed specifically for Thule and Rhino-Rack)
Free standing awnings work with any car because technically they do not need a vehicle for support.
Hatchback awnings come straight off the back of your SUV. These are nice because you can use the trunk as a surface for cooking or sitting while staying shaded. These are generally compact and use a system of guylines to support the structure.
When it comes to overlanding awnings, our favorite products (like the Smittybuilt) use a universal mounting system. This system requires a flat surface at least 6-feet long. It comes with L-Brackets and U-Bolt type brackets allowing you to find the best configuration. There are also specialty aftermarket brackets available depending on the type of roof rack you own.
Roof rack awnings simply attach to the most common roof racks. You can often buy fitting kits if your current rack is incompatible.
Assembling A Roof Rack Awning
Roof rack awnings are retractable. That means they roll-up into an enclosed case that stays permanently fixed on the side of your rack during travel. These are especially convenient because you can leave them on your vehicle during storage.
During our road trip, we traveled with the Rhino-Rack Sunseeker awning. We loved the easy assembly of this product, it worked like this:
Unzip the awning protection bag
Fold out the telescoping poles
Unroll the awning
Secure the telescoping poles
Velcro the awning to the poles to create a tight fit
Attach guy lines from the top corners of the awning to the ground
Assembly Tips:
Make sure your telescoping poles are tightly secured so they don't start sagging down during rain. Always (always!) use guy lines! You never know when a big gust of wind is going to roll through.
Angle your awning slightly downward away from the vehicle. That will allow rain and leaves to roll off away from you.
Don't forget to zipper the bag completely shut when you disassemble the awning!
The Best Roof Top Car Awnings Reviewed
BEST FOR CAR CAMPING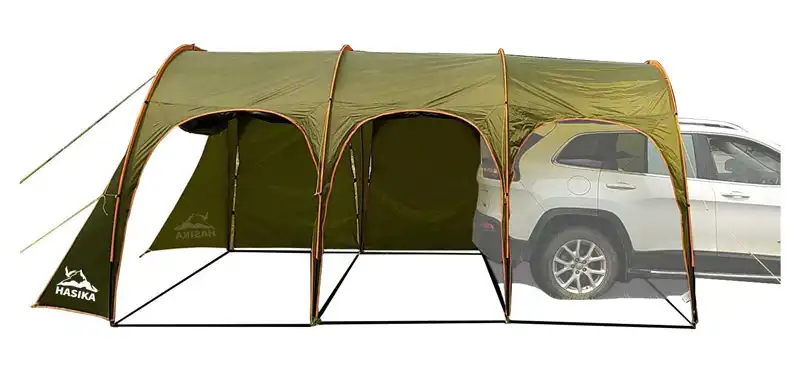 Our favorite universal awning for car camping is the Hasika Tunnel Tent Top. This freestanding canopy does not need to mount to your vehicle so it can be used with any type of car.
It's also extremely large, providing a lot of shade protection for picnics. This awning is designed with fiberglass poles that create a large dome which can easily fit a table or six to eight chairs.
When assembled, this awning measures 6.5" tall, 10 feet wide, and 15 feet long. It folds down to fit into a 6" tall, 25" long storage bag with carrying handles.
There are three 5.2 feet arches along the tunnel walls that you can leave open to catch a breeze, or cover with the included flaps to create a sealed dome. Both ends also close up for all-around protection.
The lightweight (18 pounds) polyester fabric offers UV protection and is water-repellent, so you don't have to worry about surprise showers.
Offers protection from rain and UV
Easy setup without installation to the vehicle
Large size perfect for group outings
Open or covered design
---
BEST FOR HATCHBACKS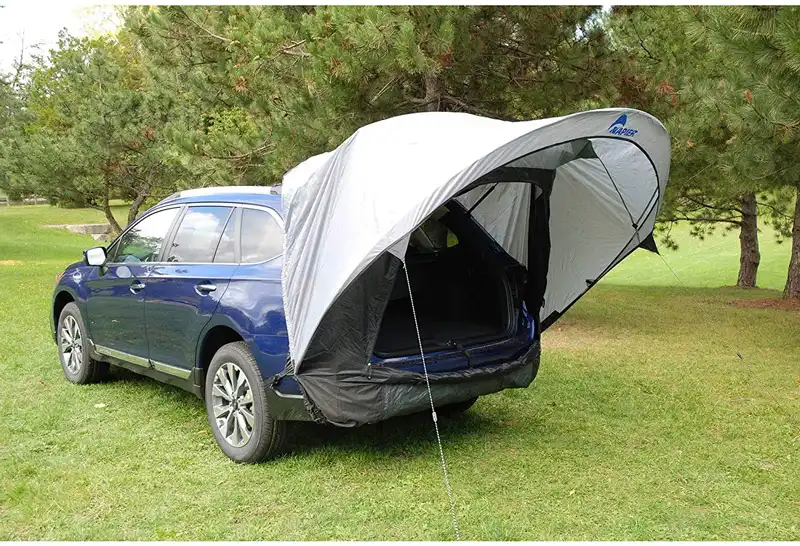 If you're looking for a small awning to fit over the back of your small, midsize, mini-van, or SUV tailgate, consider the Napier Sportz Cove.
This polyester taffeta awning secures to the liftgate of your vehicle to provide up to two feet of shade overhead. Two guy ropes keep your shelter secure in case of wind.
A storm flap provides privacy and rain protection, and a polyester mesh net keeps the bugs out without blocking the breeze.
When not in use, this canopy folds down to store in a small storage bag that you can keep in your car without taking up a ton of space.
This tent cannot free stand, so you'll only be able to use it with your vehicle. And it isn't compatible with barn door SUVs. The Napier can be attached over your liftgate, without any brackets or tools. As a bonus, the tailgate awning can double as an SUV tent. Just pair it with a truck bed mattress, and you'll have a full campsite setup.
Compatible with most small and midsize vehicles with a liftgate
Doubles as an SUV tent
Simple to transport and store
Mesh bug screen and storm flap
---
BEST FOR OVERLANDING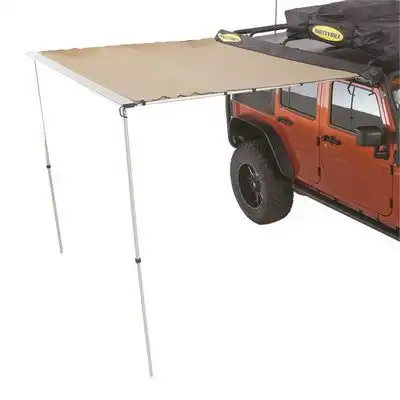 The Smittybilt Retractable Awning is a universal fit Jeep awning that attaches to the roof rack of your vehicle. Depending on the frame you have, you may need to do some modifications.
You will need to have either a Jeep Wrangler, or a flat surface that's between 6–8.2 feet long for mounting. You can set this awning up in a matter of minutes. All you have to do is secure the awning on the rack and then roll it out.
Two adjustable seven-foot-tall, self-contained aluminum twist-lock poles keep the awning upright and secure. Once you're ready to put it away, take down the legs and roll the top up then secure it closed.
Mounts to a rack for permanent placement
Easy to set up in a matter of minutes
Strong, durable fabric to protect from the overhead head, rain, and UV rays
Plenty of surface area protection
---
BEST BUG PROTECTION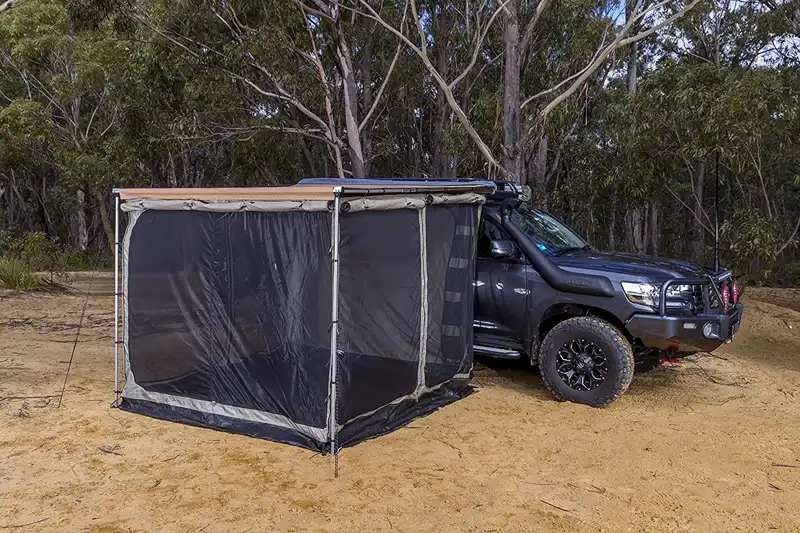 The ARB Awning Room is an attachment for ARB awning models 814101 or ARB4401A. This awning offers plenty of diversity, from becoming an enclosed room with privacy walls and a waterproof floor, to an open-air shelter with roof protection, or a breathable space protected by a mosquito net.
This kit does not come with the required awning, which you will need to assemble your awning room. The room easily attaches to the shelter, and you control how to use it.
If you want a vast open space with just a roof for shade, you can roll up the wall panels and mesh and strap it to the ceiling.
When the bugs come out, roll down the mesh netting and zip it together. And you can bring down the exterior walls to gain some privacy on all sides in an enclosed room.
You can unzip the rear wall to get into your vehicle. And there's storage everywhere with a mesh pocket and a removable ladder organizer that you can move around the tent.
Plus, two zippered ports in the corners and power cord guides make it easy to run wires into your tent without clutter.
Diverse uses
Waterproof roof, enclosed sides, and floor
Power guides and storage opportunities
All four sides unzip for easy access
---
BEST VALUE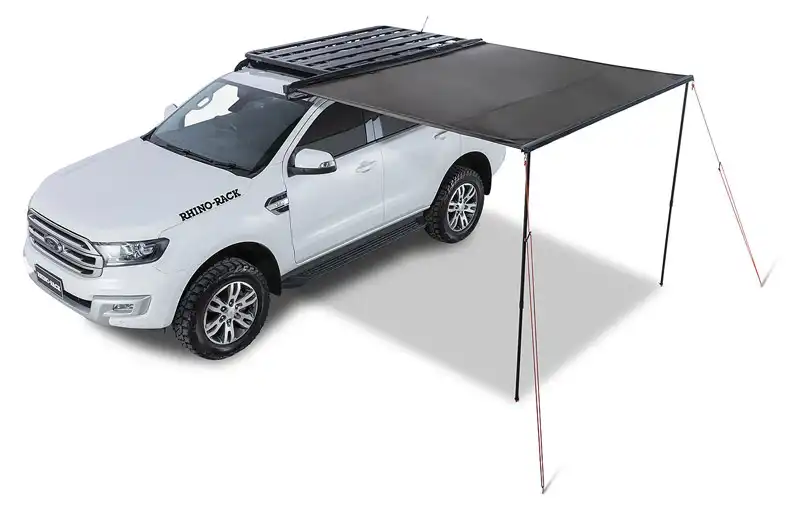 The Rhino-Rack Sunseeker is an overhead awning that secures to the rack of your vehicle to provide shade, and protection from UV and rain.
It's compatible with all Thule and Rhino-Rack roof racks. It also comes with a bracket that lets you use the awning on a Pioneer. Other models may need different adapters or mounts.
To use your awning, simply unroll it and attach the two poles and guidelines. You need at least 8.2 feet of clearance.
This awning has a 210D R/S canvas roof that's water-resistant up to PU 2000mm, rated UV50+ protection, and covers 55.38 square feet of space. The material is also mold-resistant, so you don't have to worry about yucky growths if your awning spends a lot of time wet.
The rustproof, telescopic poles are black anodized aluminum with spikes at the base for a more secure grip in the ground.
Velcroed tensioning tabs help water run off the roof instead of collecting on top, risking collapsing or tearing of the material.
This awning also comes with a Sunseeker Extension Adaptor, but the extension is not included. If you want to expand the size of your shade, you may want to pick up the extension too. As this product comes, there is no protection on the sides. It only covers you from overhead.
Waterproof, UV rated, and mold and rustproof
Spiked poles give better stability
Easy roll-out design for quick setup
Large shade surface area
---
That's A Wrap!
Awning shelters are a great way to keep cool and safe while camping in your vehicle. There are different styles of awnings. So you have to pay close attention to the product reviews to be sure the one you choose is compatible with your vehicle.
You also need to consider your needs and make sure the awning you pick has all the right criteria. These are our top choices:
Happy camping!