Best Bang for the Buck: Norcold Portable Refrigerator Review
By
on
This post may contain affiliate links. As an Amazon Associate, I earn from qualifying purchases. Please read my full disclosure.
Norcold makes two different lines of refrigerators: small RV refrigerators and portable refrigerators. The portable refrigerator series looks much like a cooler with the top-open lid but still functions as a compressor refrigerator that runs on 12-24V DC power.
Norcold portable refrigerators can be used as either a refrigerator or a freezer but not both. We've chosen this line as the best bang for your buck because it has all of the basic functionality a portable fridge should have without unnecessary technology. Because of this the prices are lower than other models without sacrificing quality.
Norcold Portable Refrigerators
Norcold portable refrigerators come in three different sizes: NRF30, NRF45 and NRF60. Each of these units are built more or less the same with the main difference being the sizing and energy required to power it. Here is a breakdown of the current line of Norcold refrigerators:
| Model | NRF30 | NRF45 | NRF60 |
| --- | --- | --- | --- |
| Height, Width, Depth (in.) | 15.6 x 22 x 15.7 | 16 x 25.5 x 15.75 | 20.5 x 25.5 x 15.75 |
| Weight (lbs.) | 46 | 52 | 57 |
| Volume (12oz. cans) | 42 | 64 | 86 |
| Amp (12V) | 4.3 | 4.8 | 5.3 |
| Availability | Amazon | Amazon | Amazon |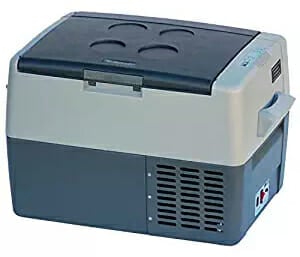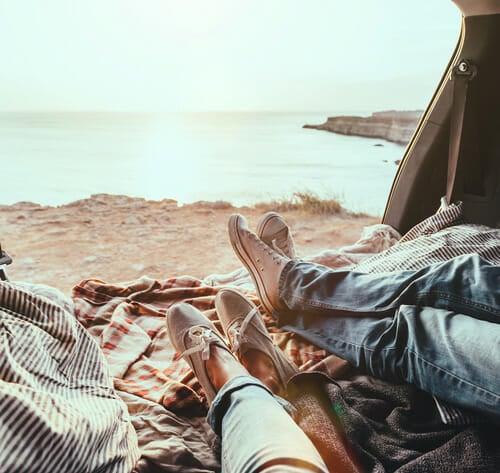 Norcold Portable Refrigerator Features
All three portable refrigerators are built with durability and efficiency in mind. Each fridge runs off a compressor and has three battery protection settings that will automatically shut-off the fridge before completely draining your battery.
The refrigerator has indicator lights and comes with a DC power cord. Because these are portable compressor refrigerators, they do not need much ventilation. However, placing the refrigerator in a tight confined space will heat up that space faster and force the refrigerator to run longer to fight the heat. This will in-turn take more power to run, so ventilation for energy purposes is beneficial.
These newer models of portable refrigerators come with a dairy compartment for which sits on top of the fridge to prevent food from freezing.
All models come with a food basket that fits conveniently inside the refrigerator. As with any top-open fridge, condensation will form. The food basket will help keep food dry. Improper stacking of food can lead to leaks or spills on the bottom of the refrigerator. Luckily, a Norcold is built to be easily cleaned.
Purchase the smallest refrigerator necessary for your trip. Because refrigerators are such a large power draw, conservation counts. Although the Amps required does not vary much between models, those numbers do add up. As vanlifers, we recommend purchasing only what you need.
View The Norcold Portable Refrigerator
Considerations when purchasing a Norcold Portable Refrigerator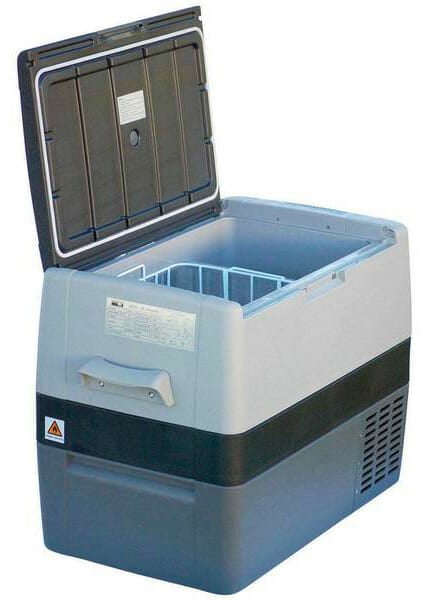 The power cord sticks straight out
Outside dimensions of the refrigerator do not include the handles or power cord. When building out your van, keep in mind the handles may need to be removed if you are building in too tight of a space.
The power cord also sticks straight out of the refrigerator (without a 90-degree turn). The power cord is located on the side and does takes up a few inches. This can be an annoyance if you are planning to place the refrigerator flush with the rest of your build.
This is a DC only refrigerator
The refrigerator cannot be plugged into a regular wall socket without an adaptor. Unlike an ARB refrigerator, the power cord for a Norcold cannot easily be found so if you lose it you will end up paying more money to purchase from the manufacturer.
Power draw from a Norcold
It is important to keep in mind with a compressor refrigerator, the unit is not running 100% of the time. The compressor will kick on and off depending on if the inside temperature drops below a set threshold. On hot humid days, a refrigerator may be running for hours. On cold days, it may hardly be running at all. How often a refrigerator runs is very dependent on your location. When calculating your energy needs, keep in mind the type of environment you plan to van dwell. You can read more on this in our post on calculating electricity needs.
Replacement parts can be difficult to come by
Currently, the website Norcold.com will not let you order replacement parts or even download the PDF manual unless you are a dealer. Although the refrigerators do come with a 2-year warranty, it may become difficult to deal with on your own.
Older versions of Norcold portable refrigerators
Norcold has been around for quite some time. Because of this, it is common to find Norcold refrigerators in second-hand shops or on craigslist. Keep an eye out when looking for a refrigerator because they can often be found for a largely discounted price.
Older versions of Norcold may not have a battery protection switch so it will be necessary to keep track of your energy usage. This should be done anyway so it's a minor consideration.
Many older versions also do not come with a dairy compartment, the compressor will be built off to the side rather than on the interior. This leaves a little less room on the interior for the amount of space it takes up.
There are some complaints that the temperature control logic does not work perfectly in some of the older models.
In addition, it has been said that power cords for older versions can be difficult to find. Make sure the model you purchase comes with a power cord, or have a plan for finding one before buying.
On a personal note, we purchased a used Norcold portable refrigerator off of Craigslist over a year ago and have had not issues with the refrigerator aside from a finicky lid hinge. This has been a great addition to our van and I wouldn't hesitate to make that purchase again.