The Perfect Glamping Getaway Rentals In Tennessee
By
on
This post may contain affiliate links. As an Amazon Associate, I earn from qualifying purchases. Please read my full disclosure.
Is there anything more romantic than spending time in a treehouse or tiny cabin? If you're searching for a unique getaway, consider booking a glamping vacation in one of Tennessee's many treehouses and cabin rentals.
Glamping is similar to camping, but you get better amenities and a more comfortable experience.
From cozy and secluded retreats to sprawling properties with amazing views, there's something for everyone. So pack your bags and get ready for an unforgettable trip!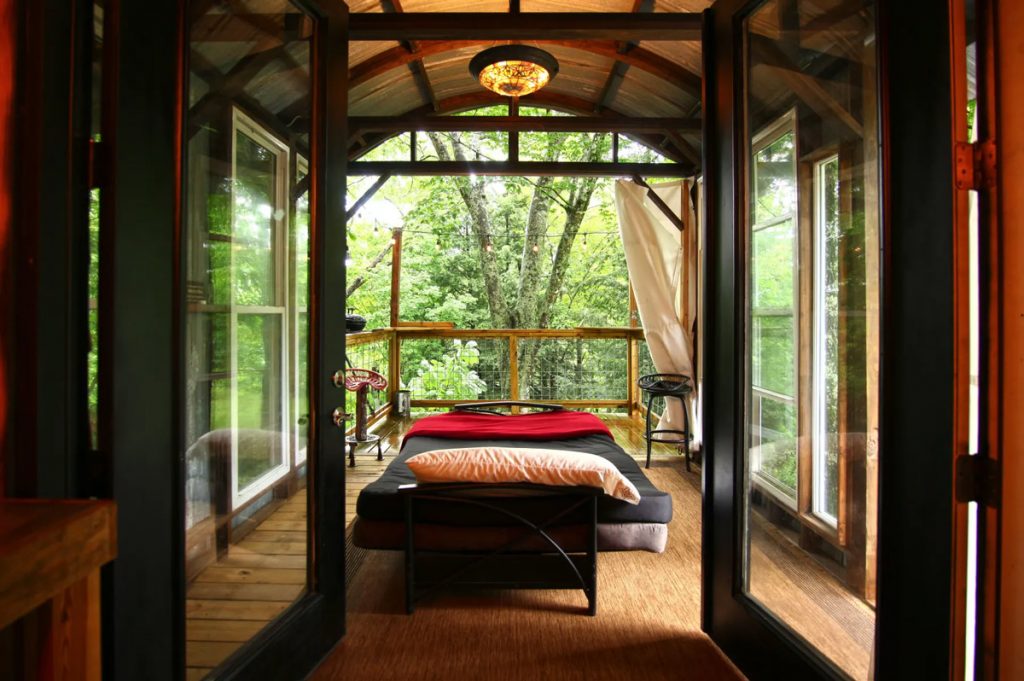 If you're looking for a truly unique relaxation experience, why not spend some time in the Beech Treetops? Perched atop a cliff, the private covered deck offers stunning views and plenty of fresh air.
You'll be glamping just 20 yards away from a romantic, 50-foot waterfall.
The area is a nature lover's paradise with 8 state parks within 30 minutes so you'll never run out of places to explore. With miles of trails to enjoy right on the property, you'll be able hike deep into the canyons or go caving in addition to your other adventures!
The treehouse on the beech comfortably sleeps up to 6 adults and comes complete with a fully-stocked kitchen, comfortable queen bed, and private fire pit. It's the perfect glamping paradise!
SPECIAL OFFER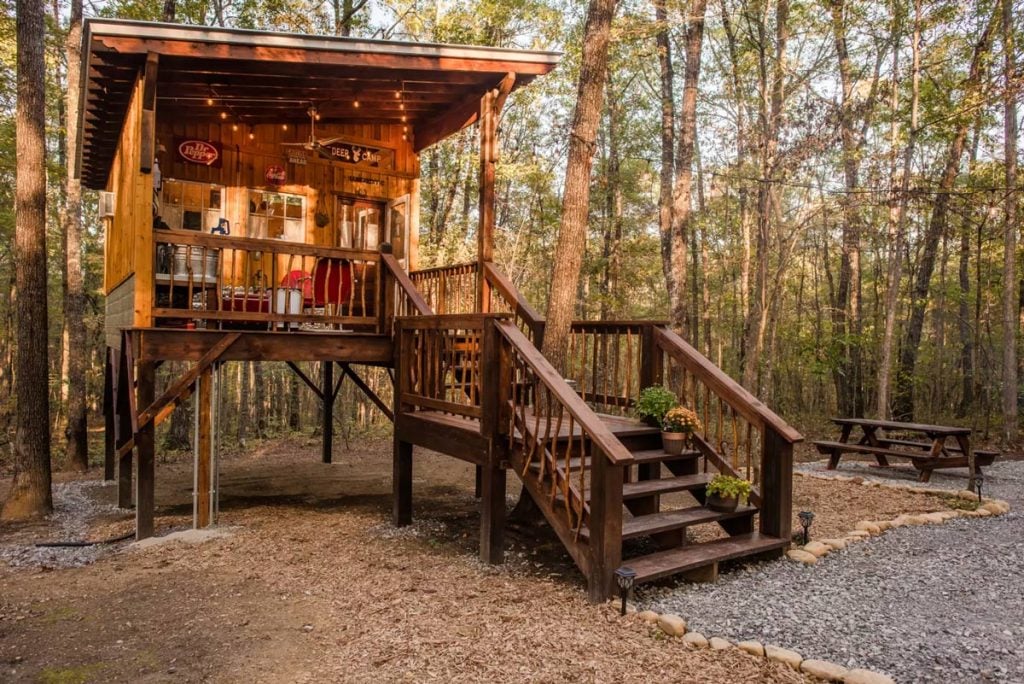 A night spend at the Deer Camp Treehouse is like glamping at its finest! All you need is clothes, food and toiletries to get started.
The unique and romantic experience has plenty of activities to enjoy in addition to the nature right outside your door. Board games, television shows, and even an outdoor movie theater complete with projector make this the perfect place to spend the night.
During the day, go hiking at Falls Creek State Park which is only 11 miles away. Then at night, snuggle up under the glass roof or take a long hot shower in the bathhouse.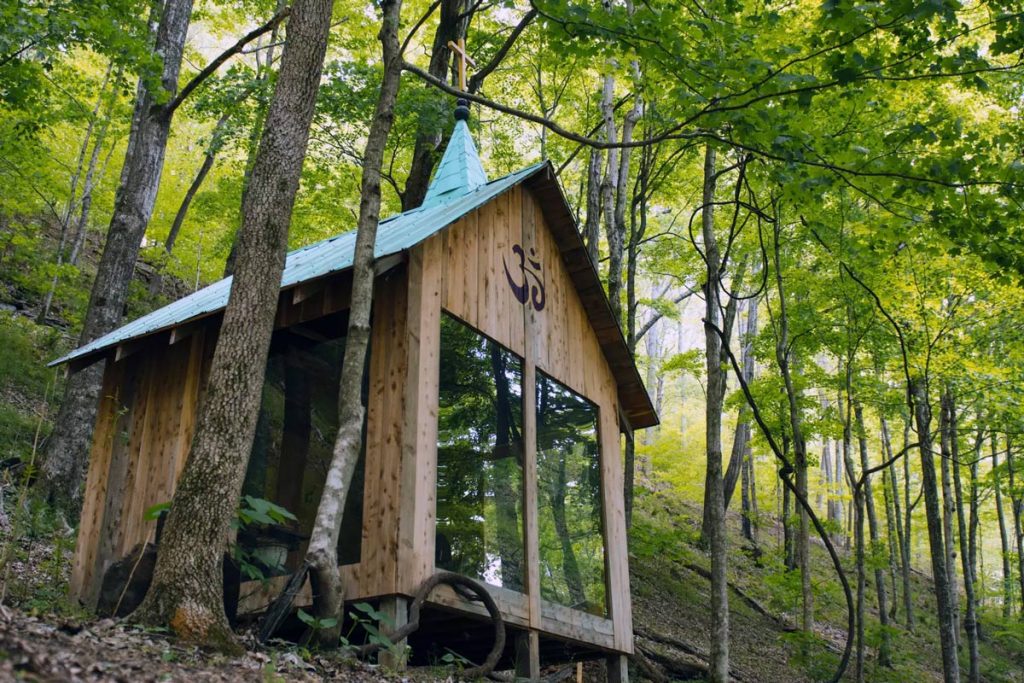 Come spend a wild, rustic weekend by glamping in the heart of Tennessee. This treehouse cabin will get back into that natural state of mind and rediscover your true self.
The Beech Hollow Hideout has everything you need for a minimalistic, romantic getaway.
Despite the secluded setting, spending the night in a rustic cabin provides just the right balance between comfort and everything you love about camping–long quiet nights, basic necessities, and the familiar sounds of nature. 
Potable water is available, and campfires are allowed. Spend your day hiking nearby in Edgar Evins State Park, then relax beneath a billion stars high up in the trees.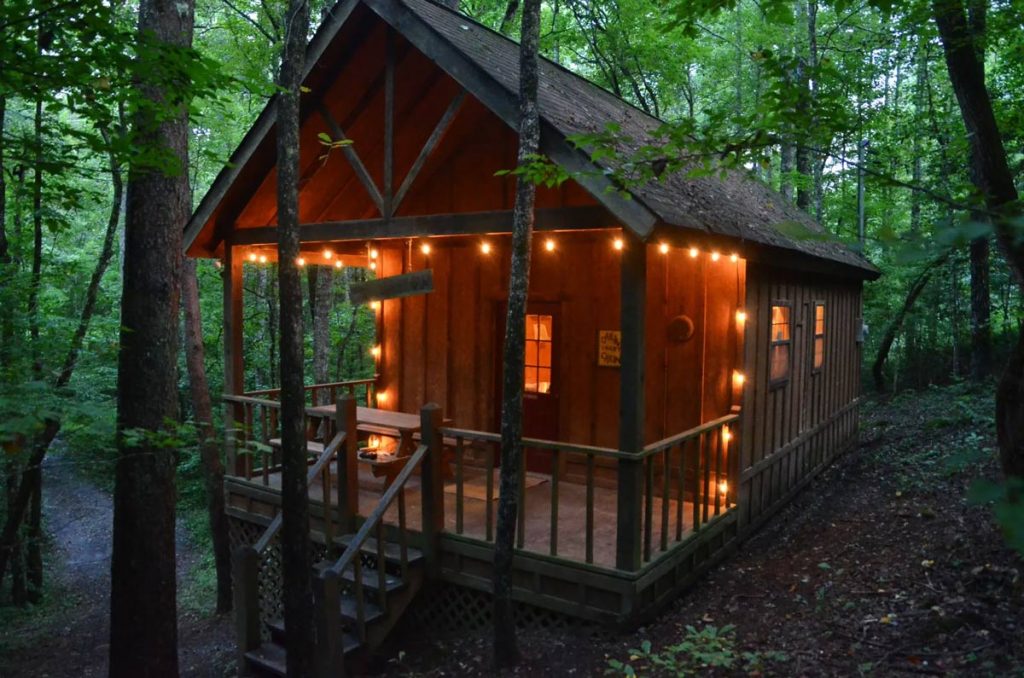 Located in the hear of the Cherokee National Forest, you won't find a more luxury glamping experience than this retreat at Starr Mountain.
This newly remodeled treehouse has everything you need for a romantic getaway.
You'll find a complete kitchen with plumbing, stovetop, oven, comfortable seating, and household toilet with shower!
The treehouse is fully stocked so you won't feel like you're camping except for the 22 acres of rustic nature surrounding you.
The glamping spot is just minutes from the Hiwassee river where you can enjoy rafting, fishing, and swimming!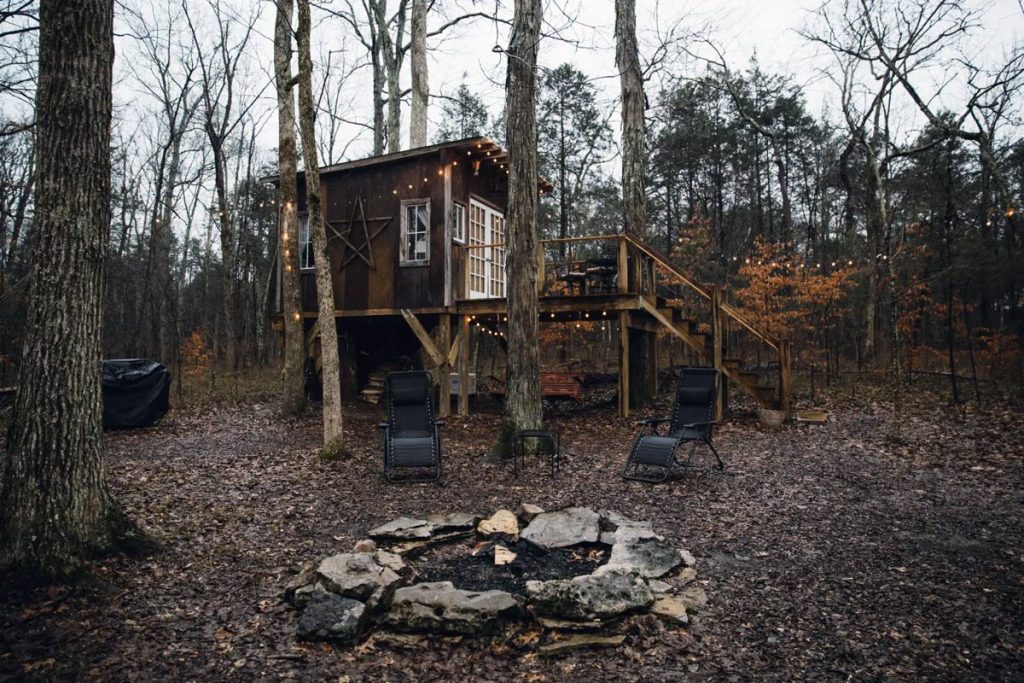 If you find yourself craving the childhood joys of sleeping in a treehouse cabin, then why not re-create those memories!? This adult treehouse cabin known as "The Nest" makes for the perfect glamping getaway.
You can sleep comfortably year-round because the treehouse comes with air-conditioning, and heater for the cold winter nights.
There is a rustic toilet and shower available on-site as well as picnic table and private campfire. The treehouse is only 8 miles from Lebenon of Cedars State Park so there is plenty to do during the day before retreating to your quiet cabin at night.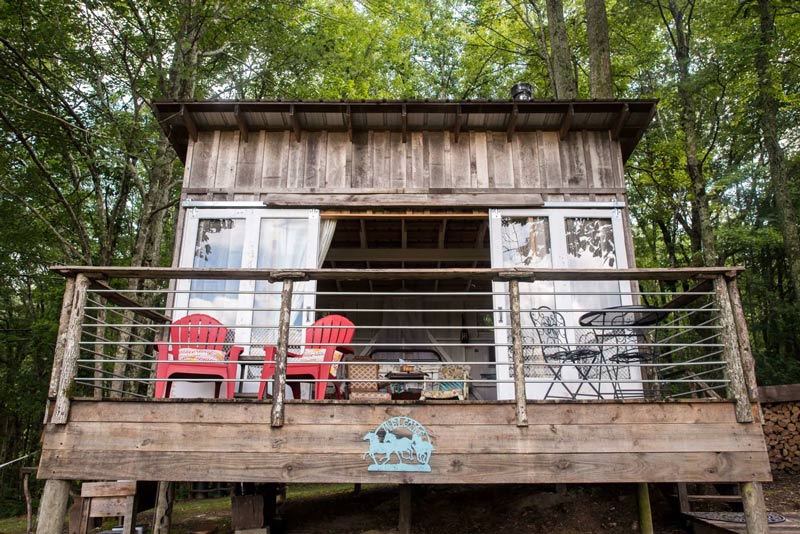 If you're looking for privacy, then there's no better place than the Cowgirl Glamping Cabin on the Cumberland Plateau. This private treehouse cabin is located on 116 acres with plenty of room to spread out, hike, and enjoy nature.
The glamping cabin comes with everything you need for a comfortable stay including toilets, showers, potable water, a kitchen with the necessary utensils, and a comfy bed.
SPECIAL OFFER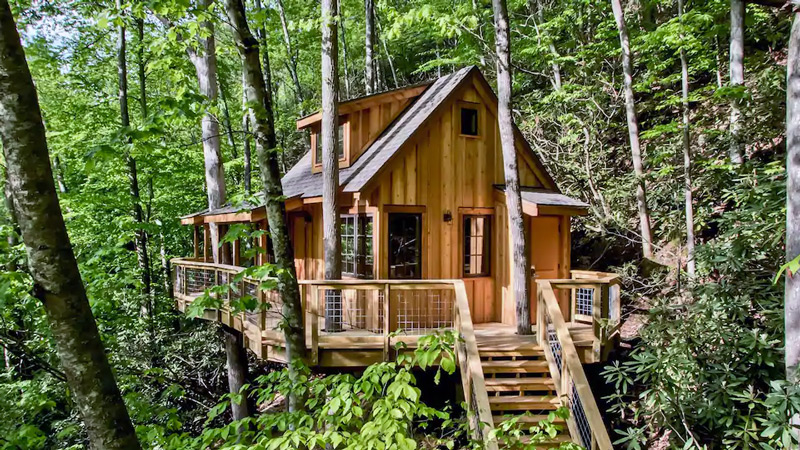 This Cedar Treehouse in Gatlinburg is a fantastic place to write about your story of life.
Surrounded by trees and nestled among the beautiful valleys and hills of the Great Smoky Mountains, there is plenty to explore in the area.
In this wonderful glamping treehouse you can enjoy the impressive forest and views from the wraparound deck.
Take a sip from your cup of coffee in the kitchenette and refresh with the fully equipped bathroom.
The place is just 15 minutes away from the magnificent mountain of Gatlinburg, a place you can enjoy a warm, delicious, and hearty breakfast.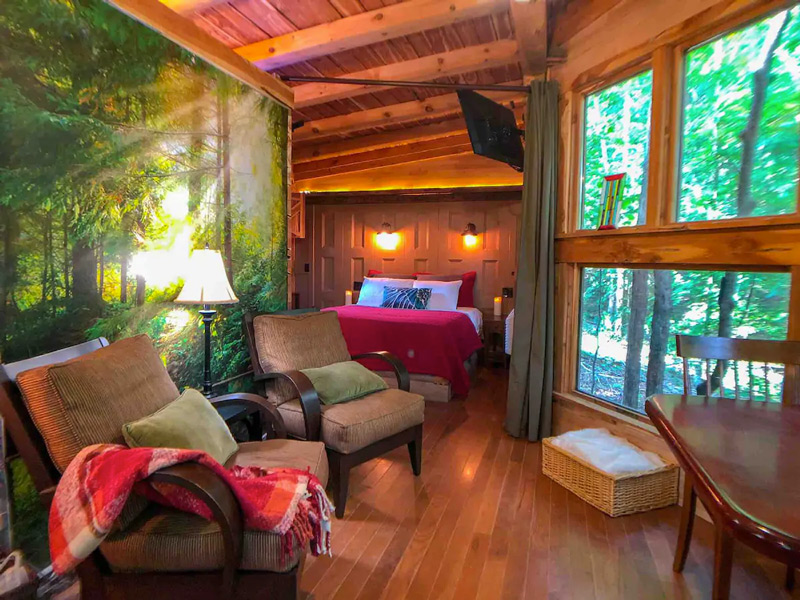 This treehouse offers a once in a lifetime chance to enjoy a mountain retreat and have a relaxing shelter.
The cabin has top-notch views even from the bedroom. You will tucked be away from the crowds to enjoy board games, work using the fast WiFi, or simply relax next to the fire.
The treehouse is surrounded by a beautiful canopy of trees through the cabin's large window.
It is a perfect glamping getaway for couples to enjoy a rural setting.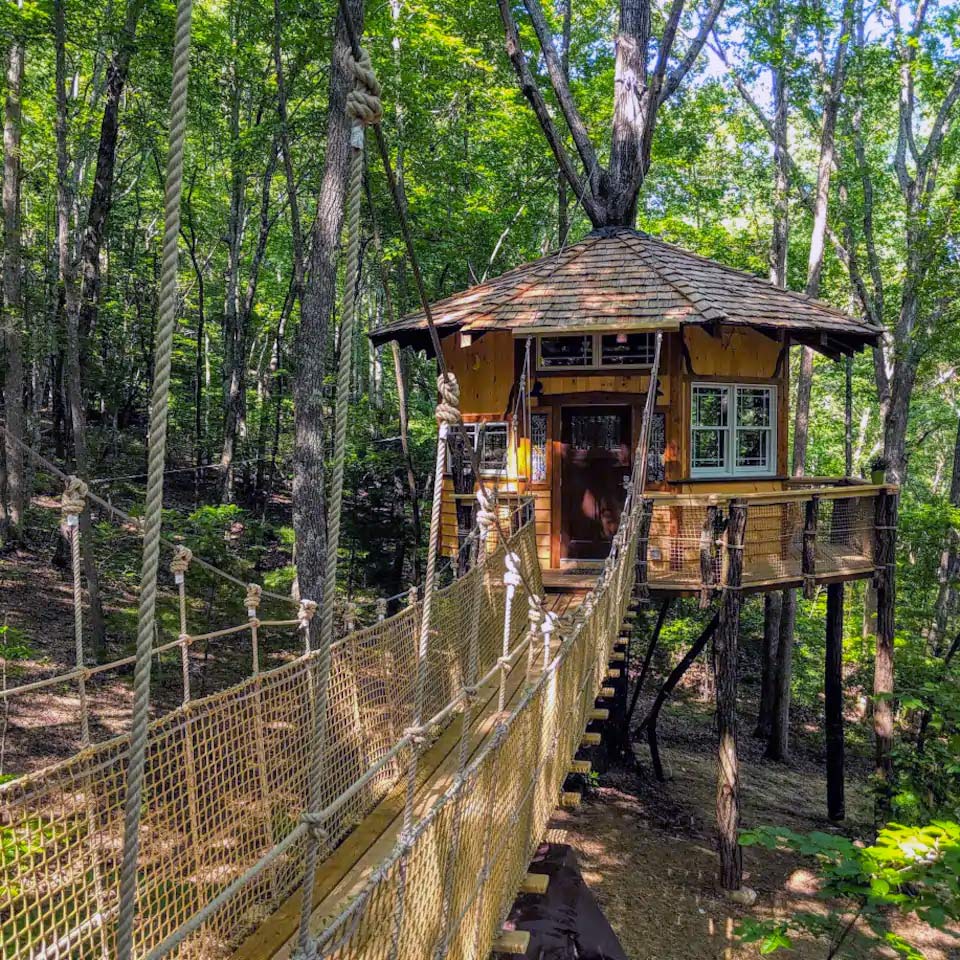 Want to experience the joys of camping without sleeping in the dirt?
The Stamish Castle Treehouse has luxury amenities including heating, air conditioning, Netflix and WiFi.
It may look small, but this glamping treehouse can comfortably accommodate about four people plus your pet inside.
There are also multiple treehouses on the property that you can book together for groups up to 10!
With beautiful views of the forest in all directions, there is plenty of opportunity for hiking, relaxing, and enjoying the great outdoors.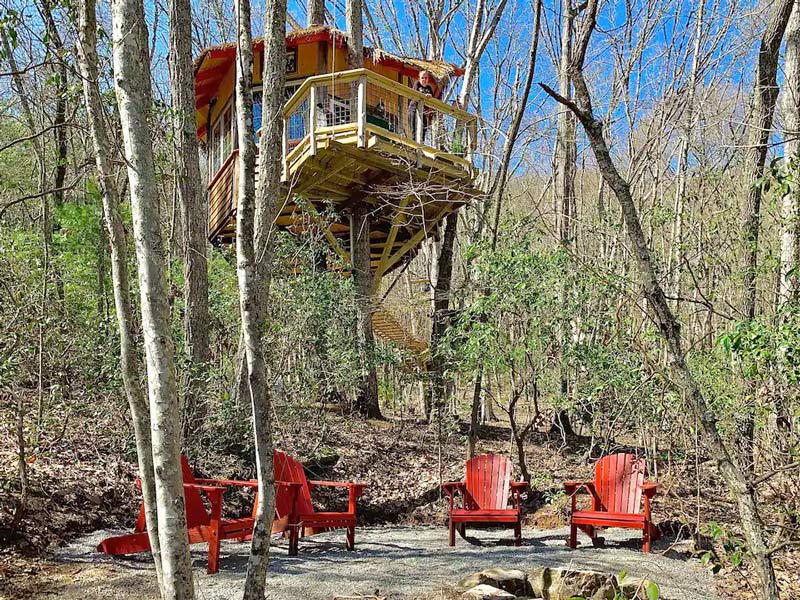 Teehouse la Paz located in Copperhill, Tennesse is the perfect place to spend the night with your friends, significant other, or even your dog!
Situated on a 30 acre property along with three other treehouses, you can book together for a glamping vacation with large groups of friends.
Within the treehouse you'll find a kitchenette, small refrigerator, microwave and half-bath.
There is WiFi, a television, and a bathhouse just a short walk away.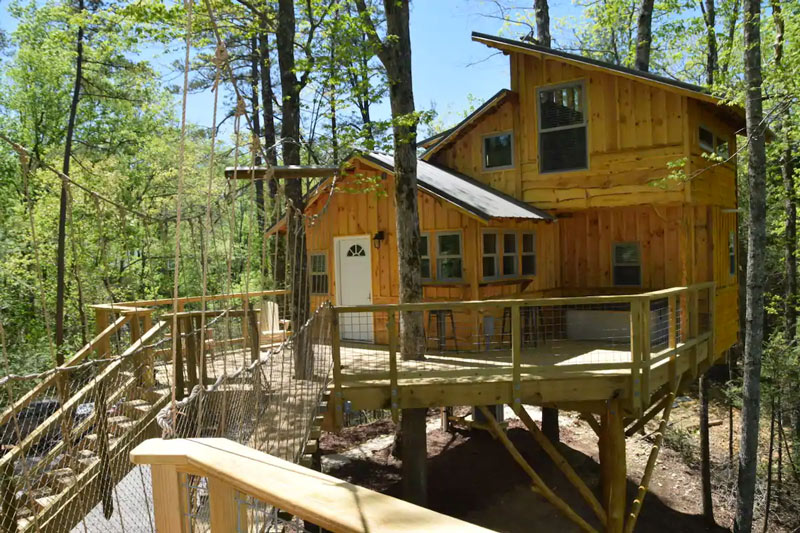 It is a unique treehouse built by the experts of a DIY network show. It may look like it's built around the trees, but you can find them growing inside as well!
This glamping treehouse comes complete with WiFi so you can work from home. There is also a gorgeous loft bedroom with a full bath head-tile shower, and a reclining leather couch to relax on at the end of the day.
Perhaps the best part about this treehouse is its location. Just minutes from Gatlinburg and Pigeon Forge, you'll have quick access to the Great Smoky Mountains National Park.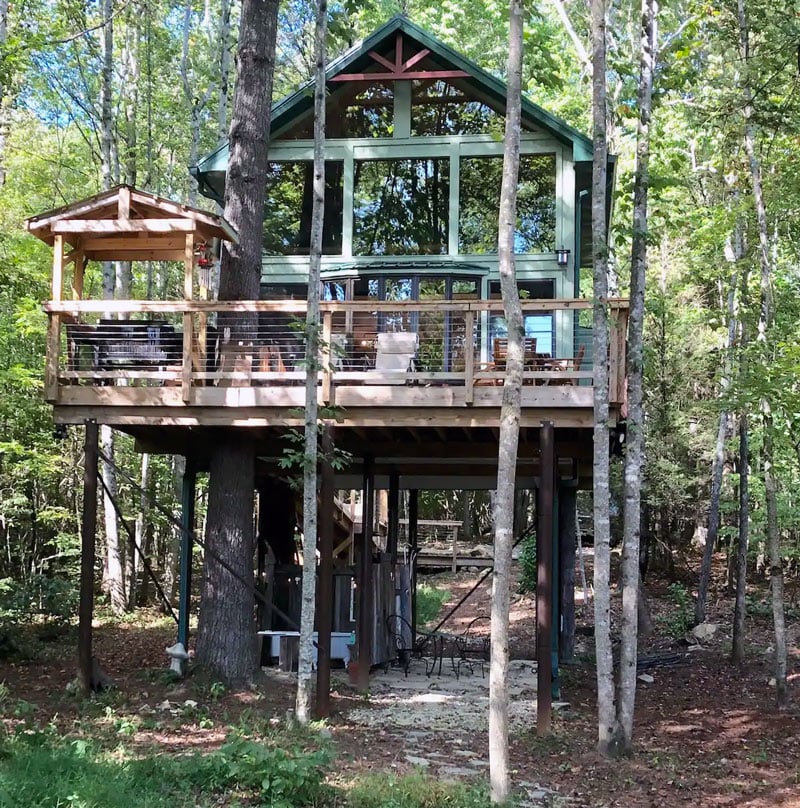 The treehouse at upper stone mountain is less of a clamping experience, and more of a unique glamping experience.
Conveniently located about 20 minutes from Johnson City, TN, and 45 minutes from Asheville, NC, there is plenty to do in the area.
Inside you'll find a sleeper sofa, full bath, kitchen, fireplace, and flat-screen television.
There is also an outdoor shower, two clawfoot tubs, and a waterfall nearby!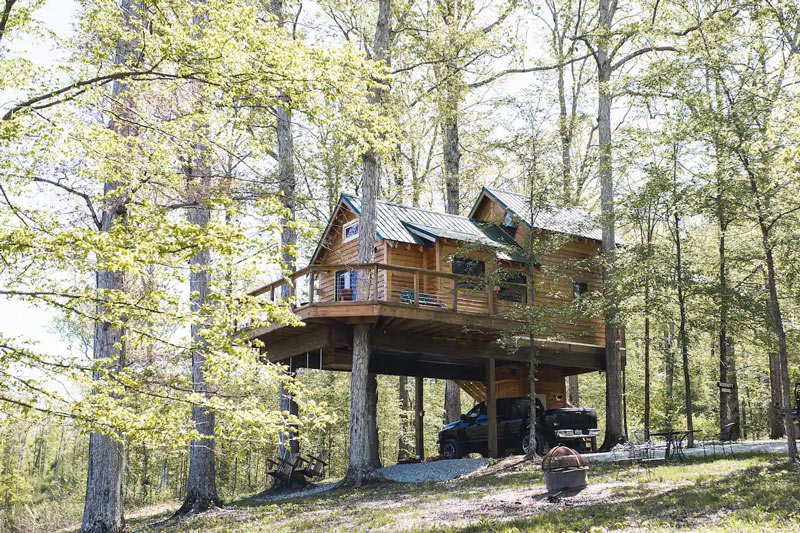 Located in the high treetops, you'll find a romantic ambiance in the Serenity Treehouse.
It offers a loft bedroom, a spacious porch, living room, and a bathroom. It's also pet-friendly and a fun place to bring your dog!
The best part about this glamping treehouse is the views. You can spend your day sitting on the porch sipping wine, and watching the stars.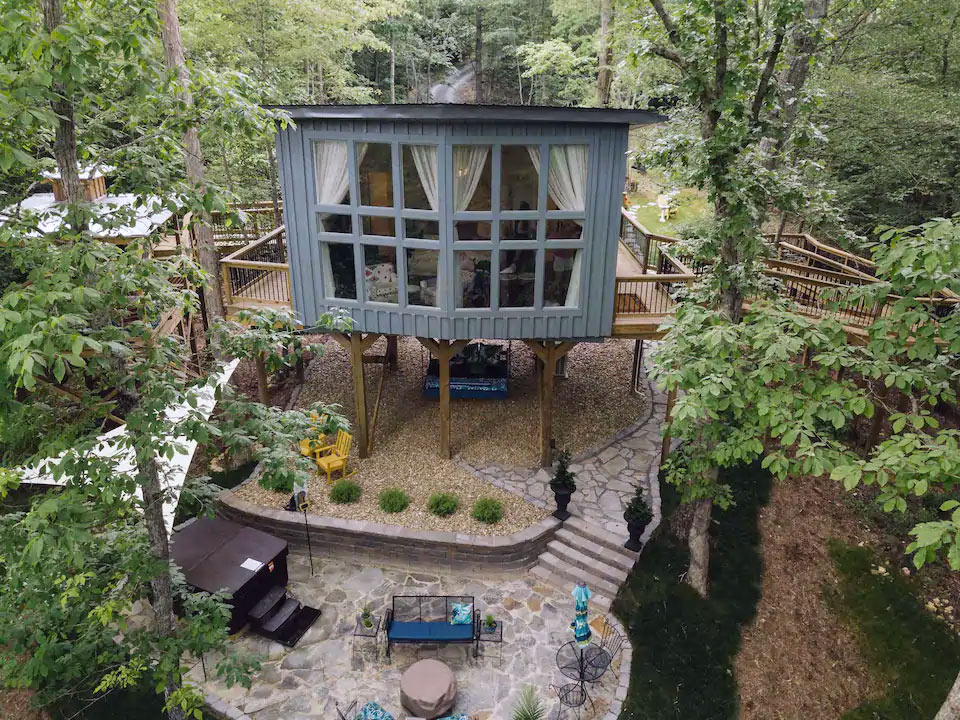 This treehouse cabin was designed to be a romantic glamping getaway in the deep woods of Tennessee.
Perched 15 feet above the floor, this luxury treehouse offers a private space for intimate and relaxing moments.
It is the perfect spot for outdoor lovers in the regions near Cummins Falls State Park, Center Hill Lake, and Burgess Falls State Park.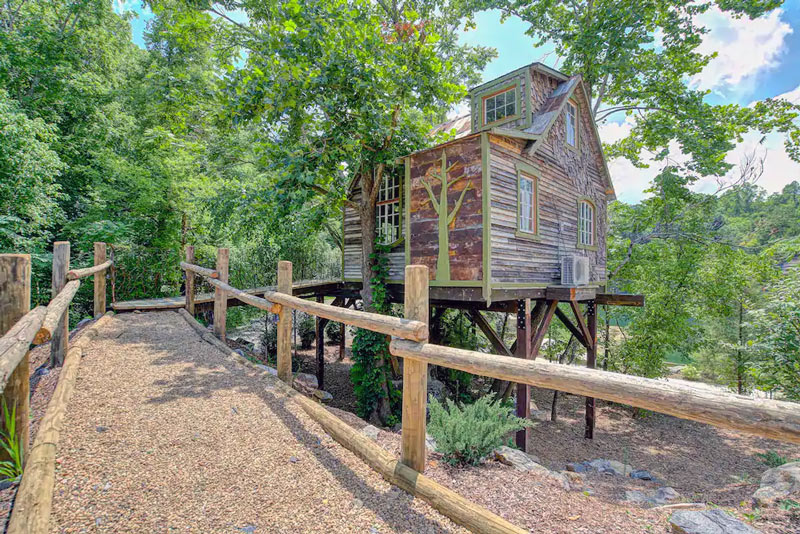 Situated beside an abandoned rock and quarry pond with 34 acres to explore, the Bostonian treehouse is the perfect place to get away.
This treehouse cabin comes equipped with heating, air conditioning, hot water, and a kitchenette.
You won't find WiFi or a TV in this house! That means it's perfect for escaping the grind and relaxing.
The Best Glamping In Tennessee
If you're looking for a unique and unforgettable getaway, consider glamping or staying in one of the many treehouse cabins in Tennessee.
From the Smoky Mountains to the Appalachian Trail, there are plenty of beautiful and secluded areas to choose from. So pack your bags and escape the bustle of the city for a relaxing weekend away in nature.
Want to explore the other states? Check out these other glamping guides as well: