Glamping, Campers And Yurt Rentals Near Joshua Tree National Park
By
on
This post may contain affiliate links. As an Amazon Associate, I earn from qualifying purchases. Please read my full disclosure.
Situated in the high California desert, Joshua Tree National Park is overflowing with hidden natural treasures and beauty. From hundreds of rock climbing routes to starlit skies, there's no better way to experience Joshua Tree than camping.
But not everyone wants to rough it with minimal equipment in the desert. That's where luxury camping comes in!
We've pulled together some of the most unique Joshua Tree glamping rentals for the perfect getaway. From tipis to yurts, campers and dome homes, glamping is a comfortable way to spend the night without getting dirt between your toes.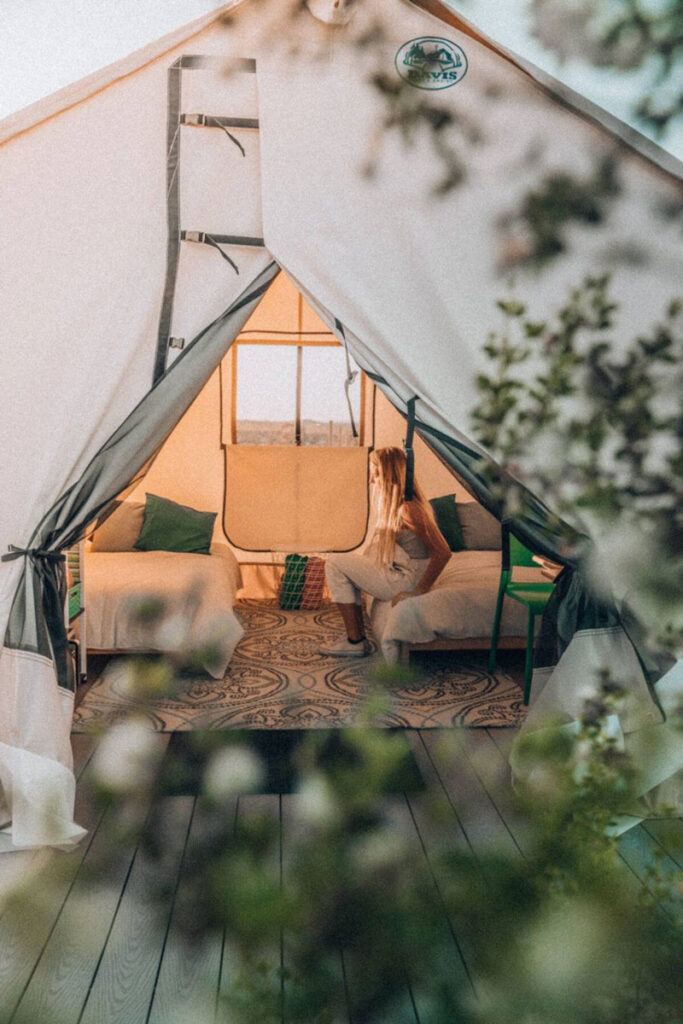 Featuring five tents, two bathrooms with showers, a pool, deck, BBQ, and patio, Joshua Tree Tents is a compound situated on five acres just two miles from the National Park entrance.
Each tent features bed frames, pillows, mattresses, a refrigerator, a coffee maker, microwave, kitchenette, water station, towels, a heater, and dining equipment.
You have the option of a queen bed or two twin bed tents.
SPECIAL OFFER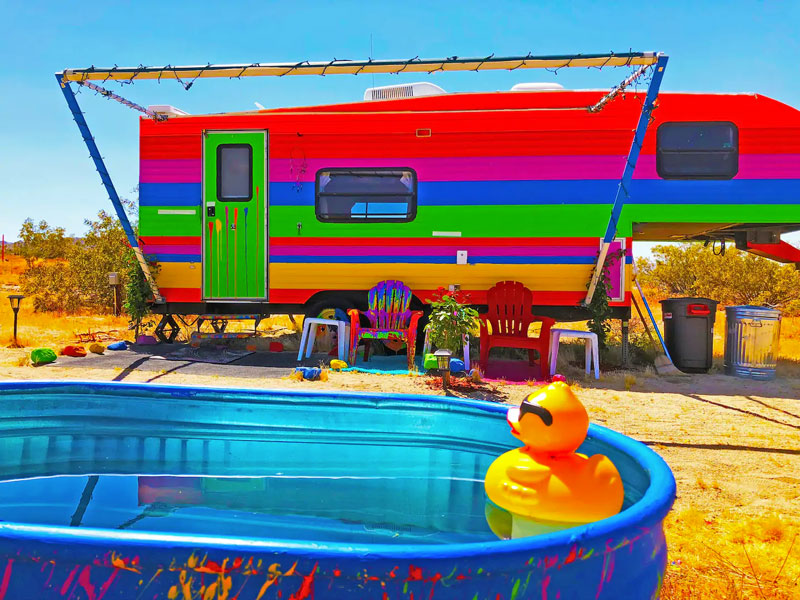 The colors on and in this decked-out RV will blow your mind. The Color Trip Trailer is a colorful, and fun vehicle to enjoy after a long day of climbing.
Parked directly across from Joshua Tree National Park and only four miles east of Downtown Joshua Tree, this camper is ideal for enjoying the great outdoors by day and unique accommodations by night.
This custom 5th wheel RV has been beautified by the art of Patrick Hasson and features a 360-degree view of Joshua Tree National Park, the Mojave Desert, and Copper Mountain.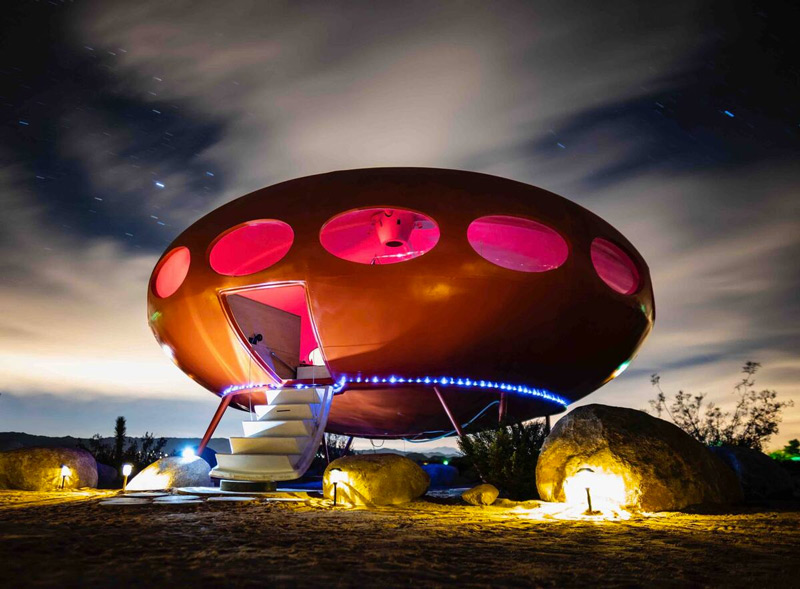 As the most uniquely-shaped accommodation on this list, the spaceship-shaped Area 55 Futuro is aptly named. Despite its futuristic shape, the Futuro is an off-the-grid glamping experience with the focus on disconnecting.
The entire unit is solar-powered for when you need it and the house features a Bluetooth coffee maker and sound system. The private restrooms and outdoor showers utilize freshwater and the outdoor kitchen boasts a grill island.
Enter your temporary spaceship using a wireless remote door opener, which adds futuristic flare.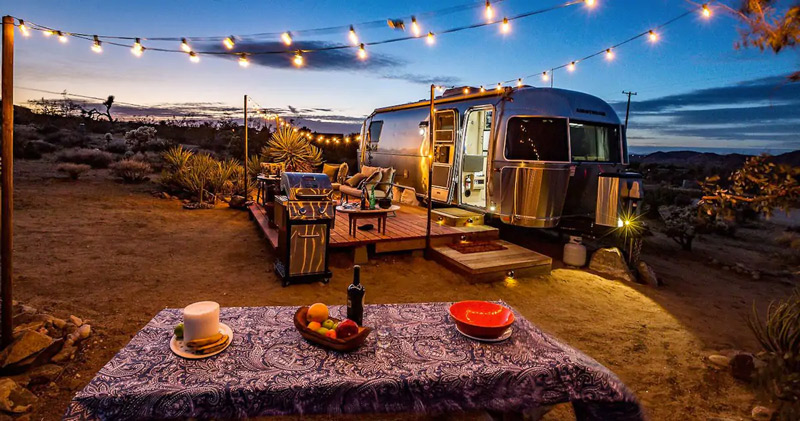 Featuring stunning views of the surrounding California desert, the 2018 25-foot Flying Cloud Airstream is the ideal option for those that need a solitary retreat or are searching for a romantic getaway!
The picturesque scenery is unmatched and there are countless trails for exploration. Amenities include a stock tank dipping pool, freezer, stove with burners, microwave, AC, water heater, shower, furnace, two sinks, and toilet.
The Airstream has AM/FM/Satellite radio, Bluetooth, a CD player, LED TVs, USB, Blu-Ray, and 110V outlets.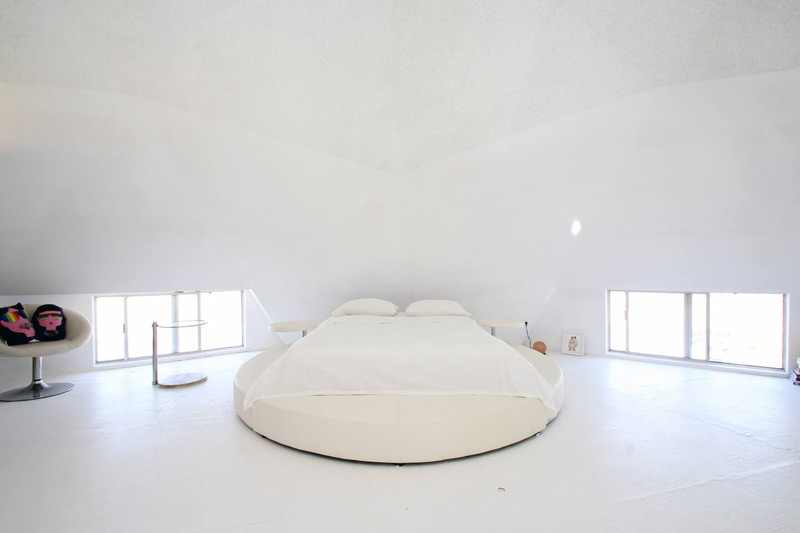 Not quite glamping, but cool nonetheless is the Zen Dome near Joshua Tree.
Dubbed as Luke Skywalker's parallel pad, the Zen Dome is your ultimate sanctuary to heal, nurture, rejuvenate, innovate, and create. Featuring 20-foot ceilings, this dome is energy efficient, aesthetically pleasing, and structurally sound.
Situated at the heart of the property, the dome features a soothing curved white interior with an upstairs loft, gourmet kitchen with new stainless steel appliances, thoughtfully-placed artwork, and ceramics throughout the space, and double door refrigerator.
The master loft bedroom boasts a round white leather queen-sized bed. The main living space has a fireplace, record player with receiver set, washer dryer, and an iron soaking tub in the bathroom.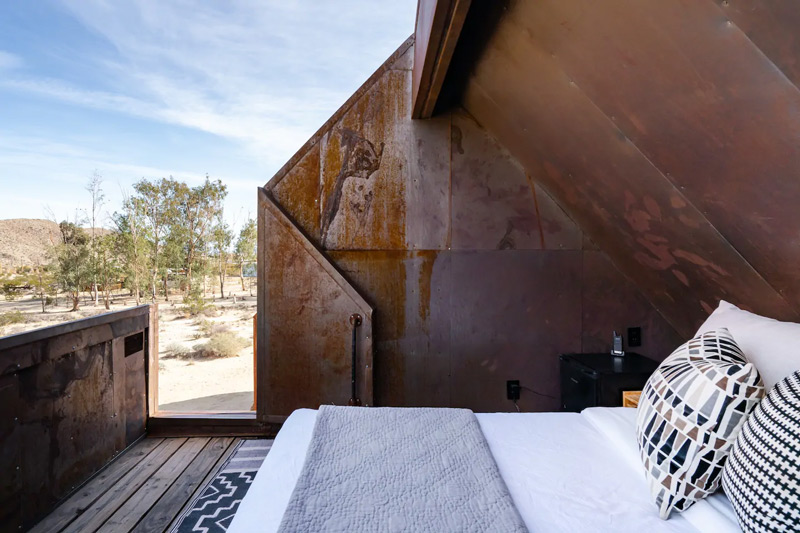 The Off-Grid Stargazing Cabin is a minimalistic, open-air room designed by Architect Malek Alqadi to provide inhabitants with a unique off-the-grid experience.
This tiny home is ideal for two guests and features an indoor bed, outdoor bed, and a pull-out couch. Amenities include self-check-in, a kitchenette, Wi-Fi, television, standard bathroom essentials, a coffee maker, regular bedroom comforts, air conditioning, and on-premise parking.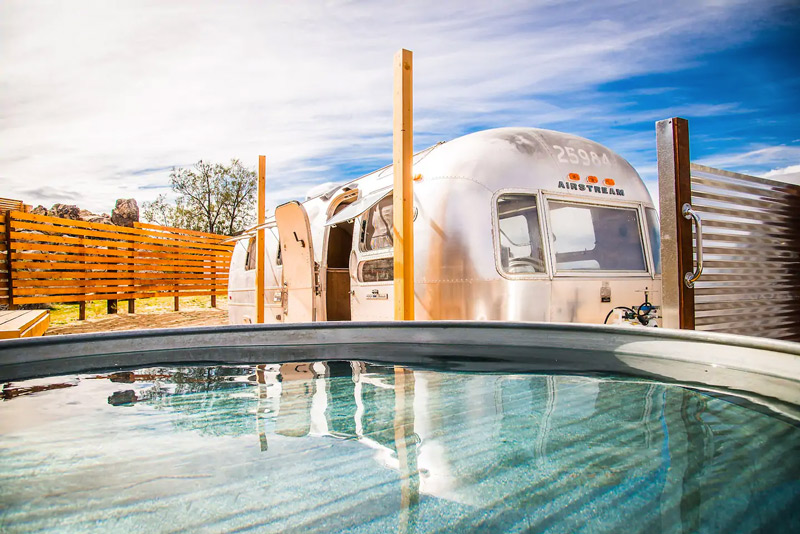 Old school and unique with a quaint charm are what you will get with the Rock Yacht. This restored 1972 Airstream trailer has been transformed into the ultimate glamping property.
To add to the convenience and ambiance, a 30-foot deck has been constructed around it, including a Stock Tank Pool, for a comfortable outdoor experience.
Situated at the base on a gigantic boulder mountain, this trailer will fulfill all your glamping needs after an enjoyable day of hiking, exploring, or simply kicking back in the funky local town of Joshua Tree.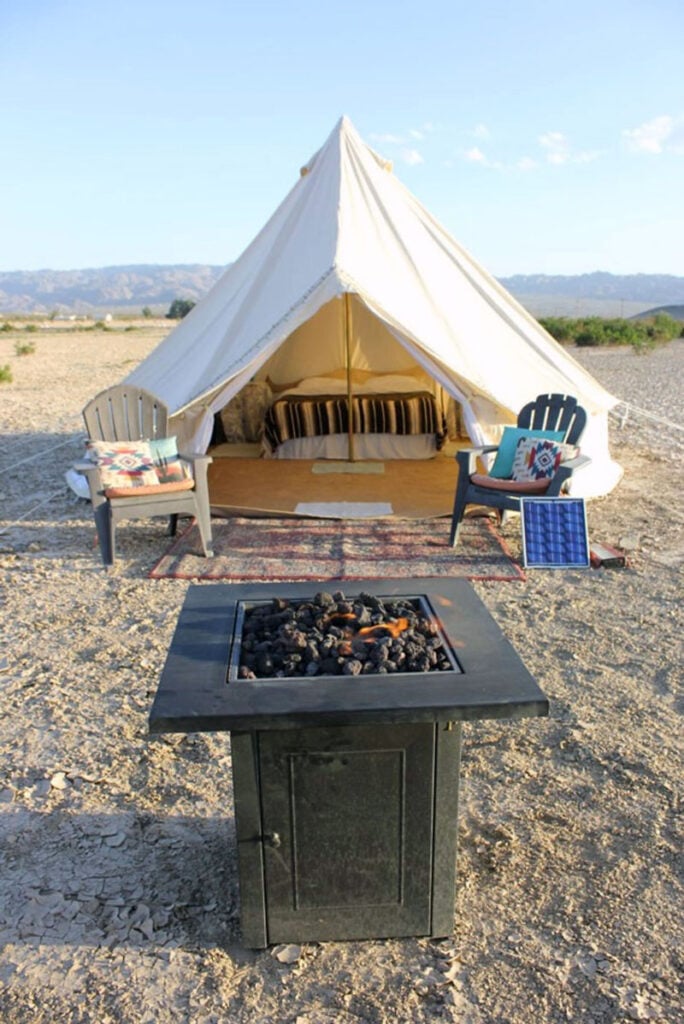 With a site setup including a yurt tent with queen bed, air conditioner, clean sheets, blanks, and pillows, twinkle lights, flame-less candles, tent light, personal grill, fire pit grill, dining gear, coolers, portable speaker, and washing basin, the Dirtbag Campground is your go-to spot for glamping.
On each X site, Dirtbag provides every amenity of home while exploring Joshua Tree National Park.
Best of all, you can bring your furry friend, for no extra charge, to enjoy the vacation with you!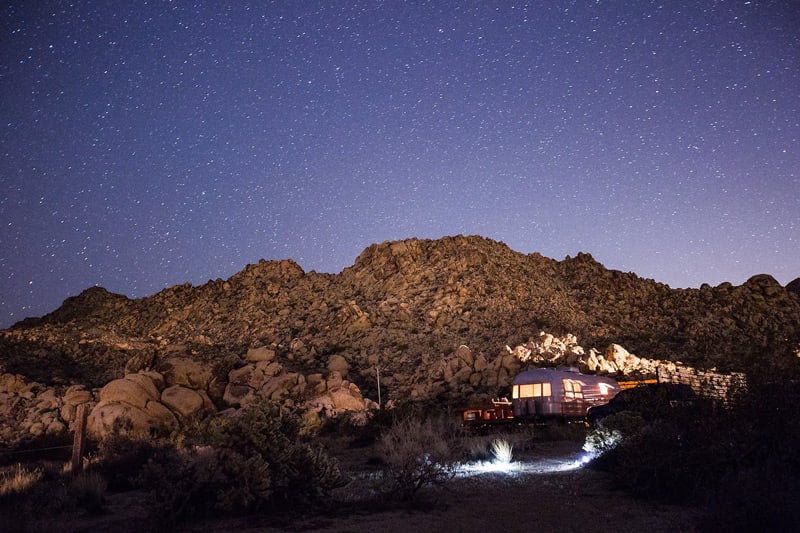 The Land Yacht is a traditional 31-foot Airstream trailer that has been redesigned as a glamping destination. With a private deck and refreshing stock tank pool, you can soak all day and enjoy the surrounding boulder formations.
At just a stone's throw away from Joshua Tree National Park, you can create new hiking and exploring adventures daily!
This Airstream features a queen bed, full kitchen with a refrigerator, and a dining area that converts into a bunk bed.
Glamping in Joshua Tree is a fun way to get away from the crowds and get close to nature without roughing it too much.
If glamping is not your style and you'd rather go "real" camping, check out this guide to camping in Joshua Tree National Park.
Need a hotel? Check out some of our favorite hotels near Joshua Tree.
Continue Reading: