National Parks In West Virginia – What to See
By
on
This post may contain affiliate links. As an Amazon Associate, I earn from qualifying purchases. Please read my full disclosure.
West Virginia has gorgeous mountains, dense forests, and a large number of rushing rivers making it the perfect place to visit for kayakers, hikers, and outdoor enthusiasts.
The Appalachian Mountains cut across the southeast side of the state where you can enjoy secluded camping trips and endless miles of backpacking routes.
There is one National Park in West Virginia. There are also 7 sites affiliated with the National Park Service including scenic rivers, watersheds, recreation areas, heritage areas, and historical parks. There are also two National Trails that pass through West Virginia.
National Parks In West Virginia
New River Gorge National Park And Preserve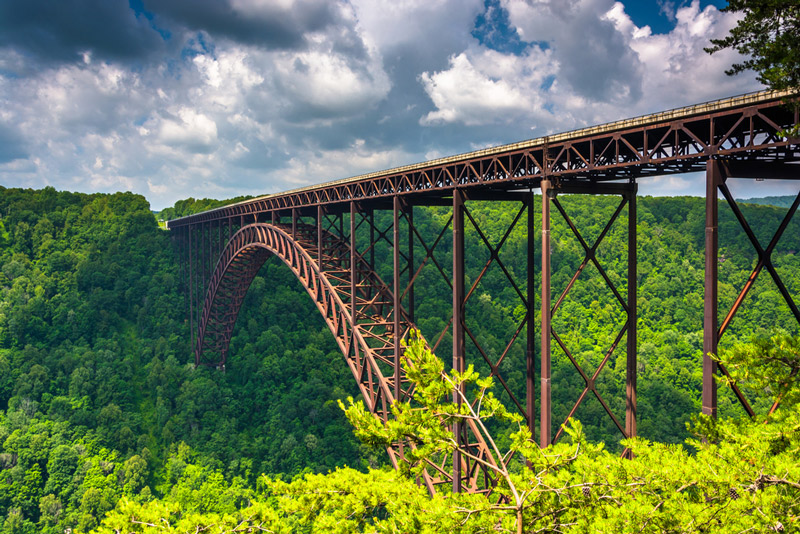 New River Gorge National Park And Preserve
The New River Gorge is the most recent addition to the National Parks list. The area has been a National River since 1978 and it got a status upgrade in 2021.
Flowing 53 miles between Hawk's Nest Lake and Bluestone Dam, the "New River" is actually one of the oldest in America. The park includes the river and more than 70,000 acres of rugged canyon surrounding it.
Whitewater rafters flock to the New River for its rapids. You can find Class IV and Class V rapids along a 13-mile stretch called the "Lower New."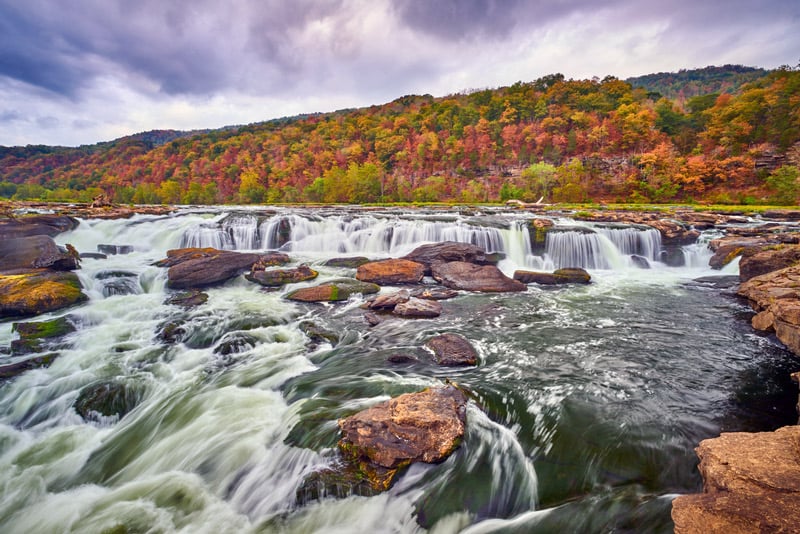 Steep sandstone cliffs also drop sharply into the river below making it the perfect climbing destination. Over 1,500 routes are available to rock climbers.
Mountain bikers can enjoy nearly than 13 miles of trails that weave throughout the area. And hikers can explore river flora and wildlife, which includes reptiles, crayfish, mussels, and a variety of fish.
Pets
The New River Gorge is a pet-friendly National Park! Leashed animals are permitted on all trails so it's a great place to take your furry friend.
Camping
Primitive camping along the river is the only type available to guests. A number of designated camping areas can be found along the river, but they are walk-in, walk-out only and do not offer any facilities such as potable water or toilets.
You can find several private campgrounds in the surrounding area which have more amenities.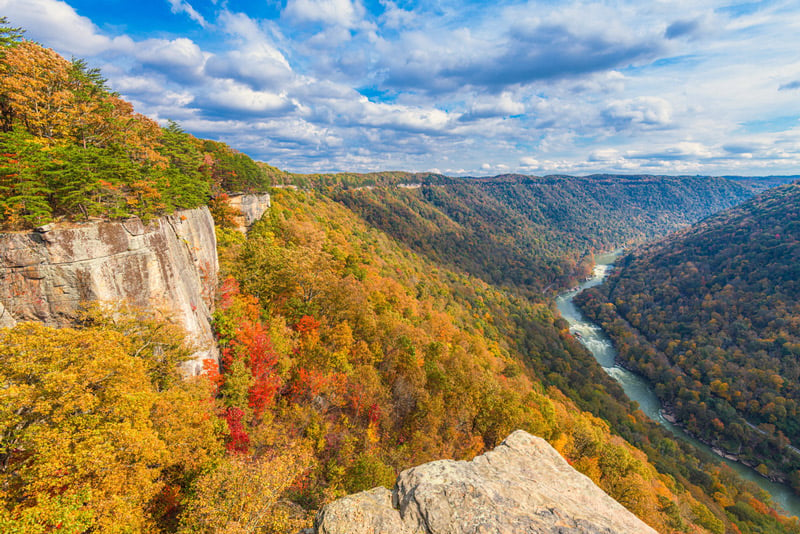 West Virginia National Park Affiliated Sites
Bluestone National Scenic River
Chesapeake Bay Watershed
Gauley River National Recreation Area
West Virginia National Heritage Areas And Historic Parks
Chesapeake & Ohio Canal National Historical Park
Coal National Heritage Area
Harper's Ferry National Historical Park
Wheeling National Heritage Area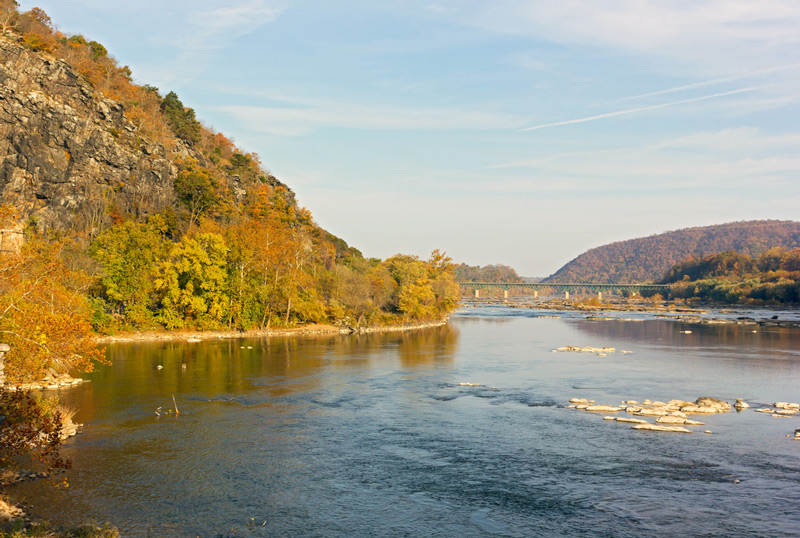 Bluestone National Scenic River
Tucked into the southern Appalachian Mountains, the Bluestone National Scenic River is a place for peaceful solitude. This protected river has carved a 1,000-foot gorge through the forest.
It represents a 10.5-mile section of the Bluestone River and is home to a diverse collection of colorful organisms plus game and non-game fishes. It's well known for the blue limestone that is visible from the shallow edges of the river.
This section of the river is part of the Wild and Scenic Rivers system due to its natural beauty. The surrounding forest is alive with birds, deer, turkey, beavers, and bobcat. The most popular activity for visitors is simply resting on the edge of the water and watching Mother Nature.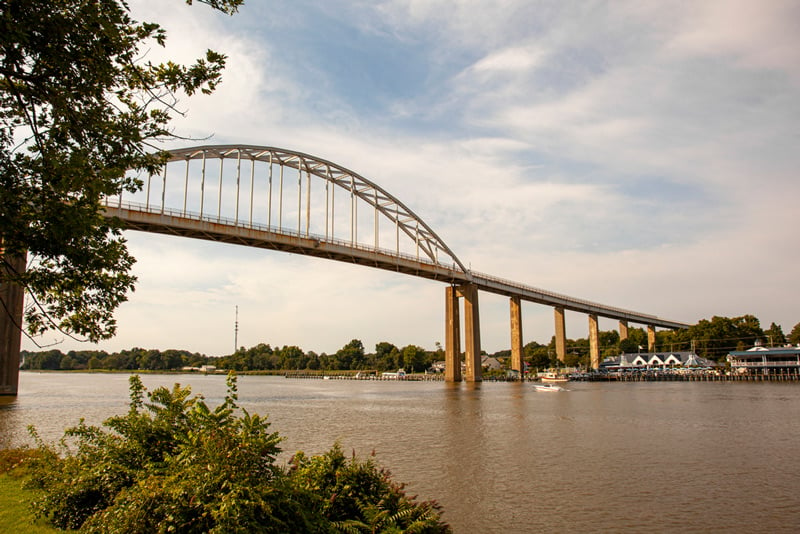 Chesapeake Bay Watershed
The Chesapeake Bay Watershed runs from Otsego Lake in New York to the Atlantic Ocean in Virginia. It collects water from 150 major rivers and streams plus more than 100,000 smaller rivers, creeks, and streams located in six states: West Virginia, Virginia, Pennsylvania, Maryland, Delaware, and New York.
Close to 20 million people live within a few miles of these included waterways which form the largest estuary in the US.
Residents and visitors can enjoy more than 11,000 miles of shoreline throughout all six of those states.
With the largest land-to-water ratio in the country, popular activities within the watershed area include fishing, kayaking, crabbing and enjoying the quiet nature of the of the Chesapeake.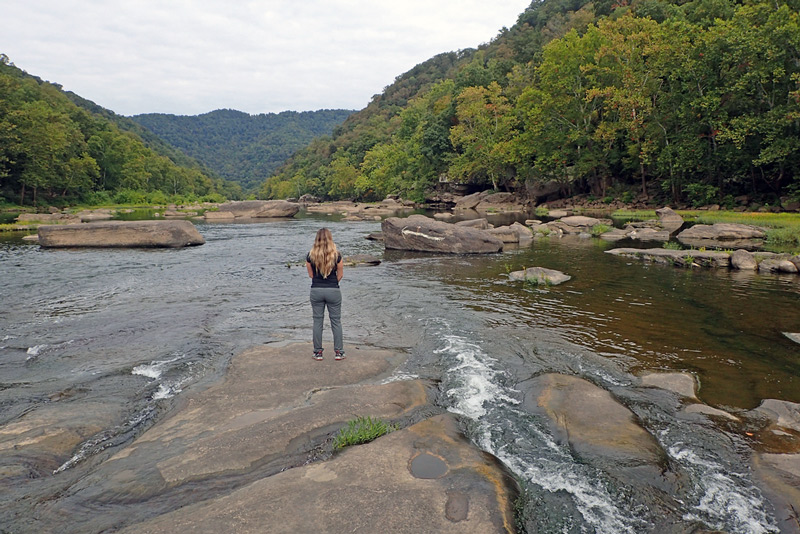 Gauley River National Recreation Area
The Gauley River National Recreation Area is one of the leading destinations for expert whitewater rafters.
Encompassing 25 miles of the Gauley River and six miles of the Meadow River, it flows freely through valleys and gorges overflowing with wildlife and enticing natural beauty.
The river includes multiple rapids designated class-V or above, making it one of the most challenging boating experiences on the east coast.
Many visitors head to this natural recreation area in search of adventure. They bring kayaks, boats, and rafts of their own or contract with an outfitter for guided whitewater boating adventures. Once destroyed by industrial pollution, the recreation area is now protected by the West Virginia State Wildlife League.
National Trails In West Virginia
Appalachian National Scenic Trail
Lewis & Clark National Historic Trail
National Parks In The Surrounding Area