Best RV Backup Cameras And Trailer Hitch Cameras (Review)
By
on
This post may contain affiliate links. As an Amazon Associate, I earn from qualifying purchases. Please read my full disclosure.
Backup cameras are a must-have accessory if you live in an RV. Motorhomes are larger, and more difficult to backup than your standard vehicle. They also require you to do some tight maneuvering around campgrounds which is a nerve-wrecking experience without a rearview camera.
Not only will a backup camera prevent you from hitting others, but it will also prevent damage to your rig. This will save you some major insurance money, and give you greater peace of mind.
In this article we're going to cover the main types of RV backup cameras, and how to choose the best one for your camper.
Why Use An RV Backup Camera?
Avoid accidents. It's all too easy to have an accident when backing up an RV, even for seasoned RV drivers, as it's impossible to know exactly what's behind you. A camera helps you stay accident-free, as it gives you a clear view of that blind zone.
Get around obstacles. Campsites are notorious for having lots of items strewn about, and without a camera, you may just run over your favorite lawn chair accidentally or back into a bush.
Make reversing more comfortable. RV rearview cameras have parking grid lines that tell you if you're in the right position, which helps you park more efficiently without the need to twist your body or have someone helping you.
Stay in compliance with the law. As of 2014, the US Department of Transportation mandated that every vehicle manufactured from this year forward must have a backup camera. If your RV was manufactured before 2014, you need a camera to comply with law.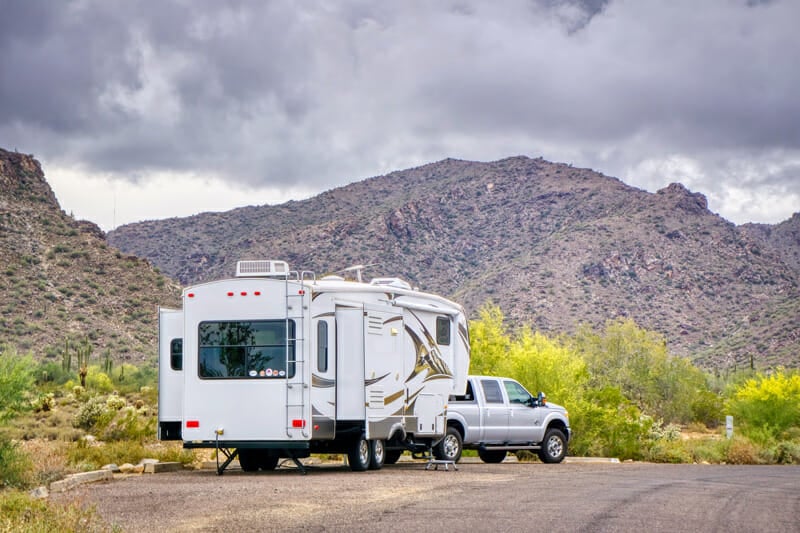 RV Backup Camera Types
There are two types of RV backup cameras: wireless, and wired. There are some major differences between the two, so it's the most important feature to pay attention to.
Wireless
Wireless backup cameras are the simplest to install. The camera uses a digital or analog signal to transmit images from the camera to the monitor. The monitor draws power from a 12-volt cigarette lighter in the cab.
This is the simplest plug-and-play option. With a wireless backup camera you can easily switch the system between vehicles because there is minimal set up required.
Wireless rearview camera systems may be the most convenient option, but they do come with some issues.
Less reliable monitor
Lower quality pictures
Not a good choice for metal reinforced rigs
Because these monitors rely on a digital signal, the picture quality is not as good as wired versions. Campers that are reinforced with metal like the Airstream trailer and some toy haulers will not do well with a wireless camera system.
Metals can interfere with the signal so you'll want to choose a wired camera if you have that type of camper.
Wired
Wired backup cameras are installed using your RV's existing power wires. These cameras provide a more stable and high-quality picture. They are the best choice for most RVs.
Unfortunately, wired backup cameras do require quite a bit of installation. But, you only need to install it once.
After that you'll have a reliable, stable picture for the life of the RV.
Wired cameras are the best choice for RVs and travel trailers
Installation
Rearview Camera Sensor Type
RV backup cameras come with two types of sensors.
CMOS (complementary metal oxide semiconductor): These are the least expensive sensors; but they require more light to deliver a high-quality picture.
CCD (charge-coupled device): These sensors work well in low-light settings. They have the highest quality picture with the least amount of noise. We recommend purchasing a backup camera with a CCD sensor if you have the budget.
Features To Look For In A Rear View Camera
Video Quality
Video quality is one of the most critical features, as the higher the video quality of the camera, the safer it is. Avoid black and white cameras, as well as any models with a fuzzy or grainy picture, which prevents you from seeing things behind you clearly and defeats the purpose of the camera.
Field of View
Field of view refers to the width of the camera's viewing angle. For large vehicles like RVs that require a wide field of view, it's critical to pay attention to this feature. It's a good idea to look for camera options that are specifically designed for RV use. A 90-degree field of view is the minimum you would want, though 120 degrees is ideal.
Mounting Options
You'll also want to pay attention to the camera mounting options. There are several different ways to do so, which include box, bumper, and license mounting, and each method has pros and cons. In general, the higher off the ground you can mount the camera, the better.
Bumper. As you might guess from its name, you mount a bumper camera on your RV's bumper. This type has a compact design that allows for easy mounting, and newer RVs typically have a removable part where you can place the camera.
License plate. These cameras are mounted above your RV's rear license plate, and getting them to work is quite simple. They typically have LED night vision capabilities, which make parking at night a bit easier. You can also use them in other vehicles besides RVs.
Box. Box-mount cameras are the most popular rearview camera type because they're the most versatile. They have lots of applications, provide a 120-degree field of vision, and include other useful features like waterproof housing and LED night vision lights.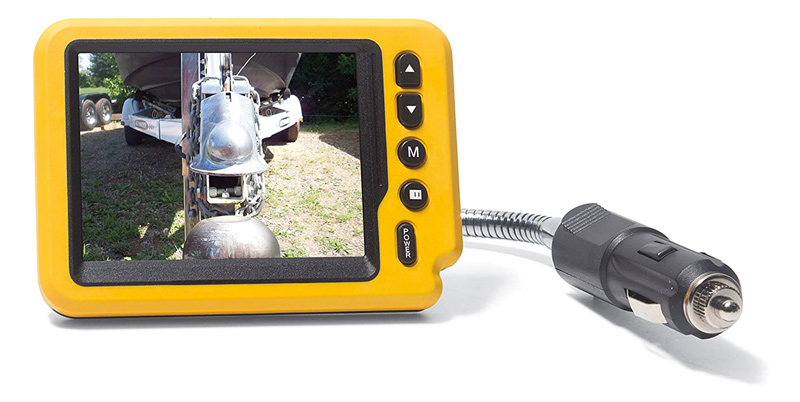 Travel Trailer Backup Cameras
While we're on the subject of RV backup cameras, it's important to mention trailer hitch cameras. These are designed to help you easily align the camper to the tow vehicle for hitching.
Some of the most elaborate weight distribution hitches have a Trailer Backup Assist feature to help you do this as well. Trailer hitch cameras should not be used as a permanent backup camera.
They are intended to make the hitching process easier. Afterwards, you remove the camera until the next camping trip.
Best RV Backup Cameras Reviewed
BEST WIRED CAMERA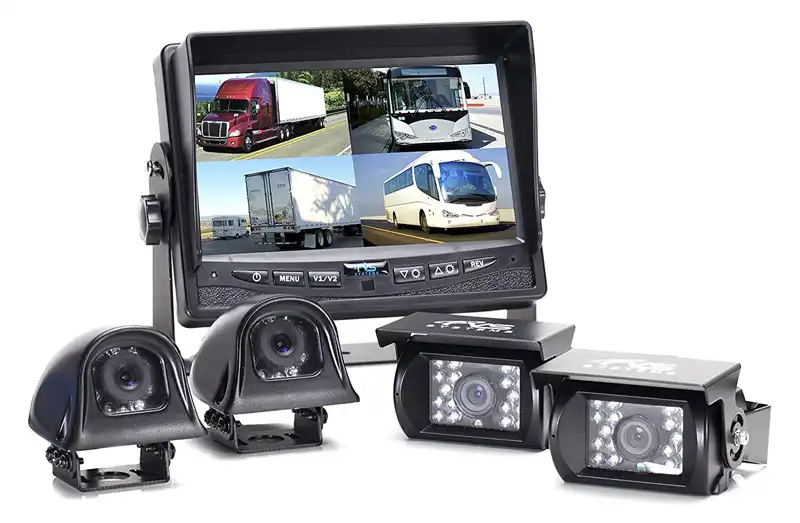 Rear View Safety's Backup Camera system is the brand of choice for many RV manufacturers. It has a large, seven-inch display, a one-year warranty, and an incredibly stable image. With the wired system, you won't have to worry about image loss.
We like this system because it has excellent night vision and has one of the highest waterproof, dust-proof, and vibration ratings out there.
The camera comes with everything you need for installation, and can accommodate up to three additional cameras if you want to add on to the system.
Fully waterproof
Features 18 infrared lights
Color CCD backup camera
130-degree field of view
BEST WIRELESS CAMERA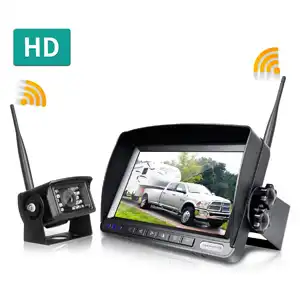 This wireless kit by ZEROXCLUB has tons of features that make it a fantastic purchase. Reviewers highlight how simple it is to get the camera up and running, and the camera works very well and without interference. You can even use it with vehicles that reach speeds of up to 75 miles, which is a handy feature to have.
The camera has LED lights and a CMOS sensor that you'll be grateful to have when parking at night, plus we like that the monitor turns on automatically when you reverse. It has a sizeable seven-inch LCD screen which provides a beautiful, clear picture. The ZEROXCLUB kit gets our pick for the overall best wireless option.
CMOS sensor
Includes 18 infrared LED lights
IP69 waterproof feature
Digital and high-definition screen display
BEST VALUE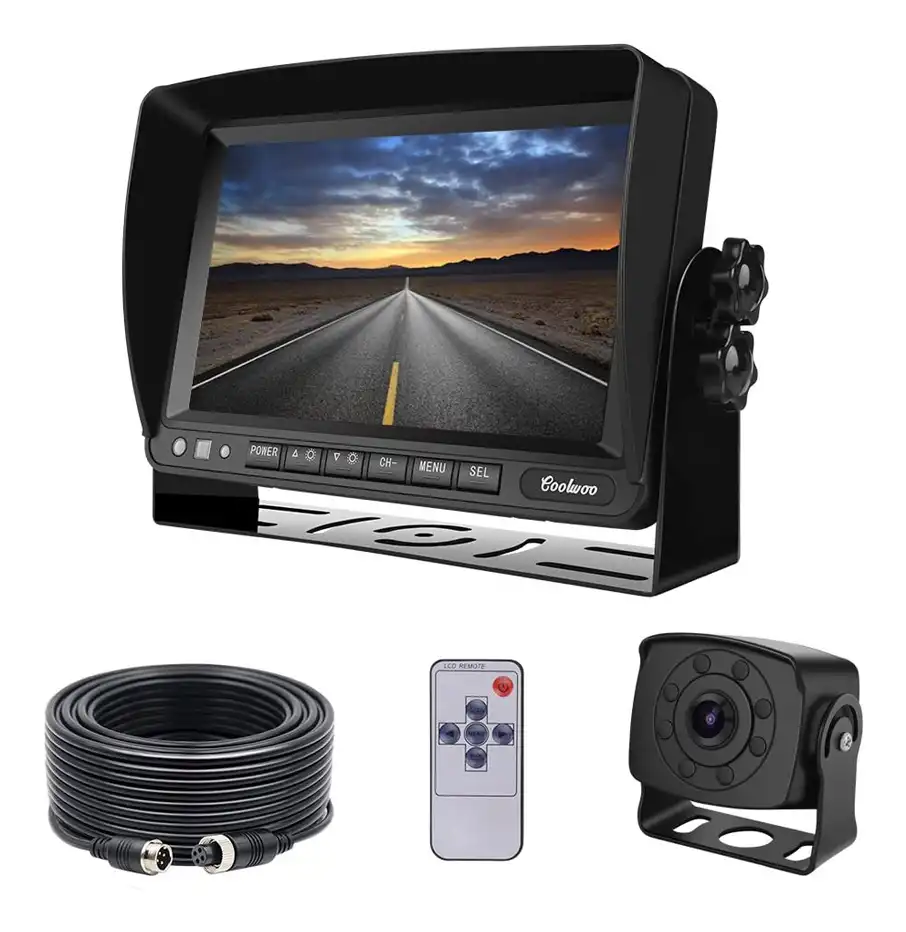 If you're looking for a reliable kit that won't break the bank, we recommend the Coolwoo Backup Camera Monitor Kit. This is another wired option with plenty of applications that increase its utility. The kit includes everything you need to get started, and comes with some special features like parking assistance and an automatic switch function.
IP68 waterproof
Automatic backup function
Clear infrared night vision
Up to 175-degree field of view
BEST TRAILER HITCH CAMERA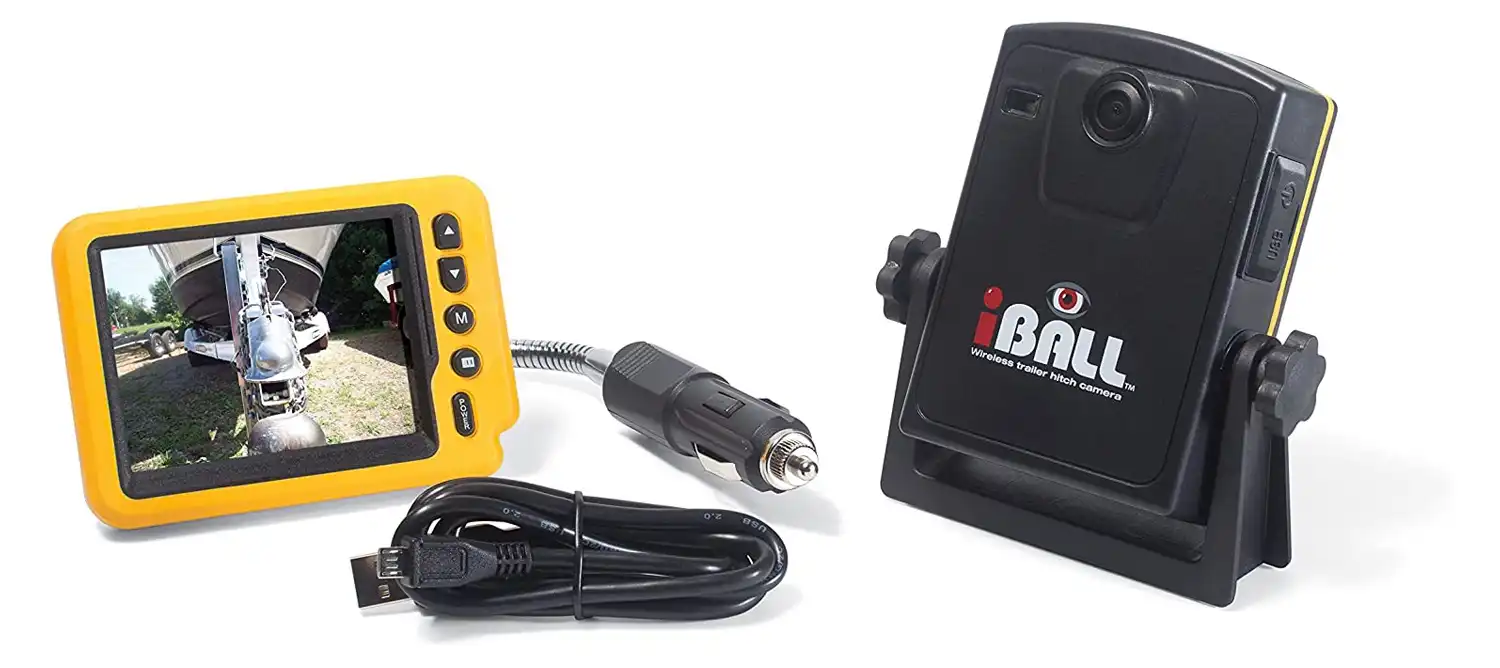 If you're looking for the easiest trailer hitch camera system, we recommend the iBall. The iBall kit includes a USB charging cable, monitor, and camera.
Set-up is simple. It involves placing the magnetic mount on the hitch ball and plugging the monitor into a 12-volt cigarette outlet on your tow vehicle. Then just pair the system using Bluetooth, and you're ready to go.
Keep in mind that this iBall camera is meant for temporary use only, so you must disconnect it before driving away.
120-degree viewing angle
Weather-resistant
25-foot unobstructed range (original), 100 feet (pro)
Color LCD monitor
That's A Wrap!
The Rear View Safety Backup Camera System got our top choice for the best wired camera, but if you prefer a wireless model, you can't go wrong with the ZEROXCLUB kit. Regardless of what you're looking for, any of the top-rated models on our list will fit the bill and make backing up your RV a whole lot safer.
Continue Reading: