The Best RV GPS Unit For Large Campers (Review)
By
on
This post may contain affiliate links. As an Amazon Associate, I earn from qualifying purchases. Please read my full disclosure.
Driving a large camper or travel trailer comes with challenges that a typical car doesn't have to deal with. Keeping track of height restrictions, narrow roads, and tight turns are just a few of the things RV owners need to consider.
An RV GPS unit takes away the guesswork. These navigation systems are designed for large motorhomes with special features that will keep you from getting stuck on a hairpin turn.
BEST RV GPS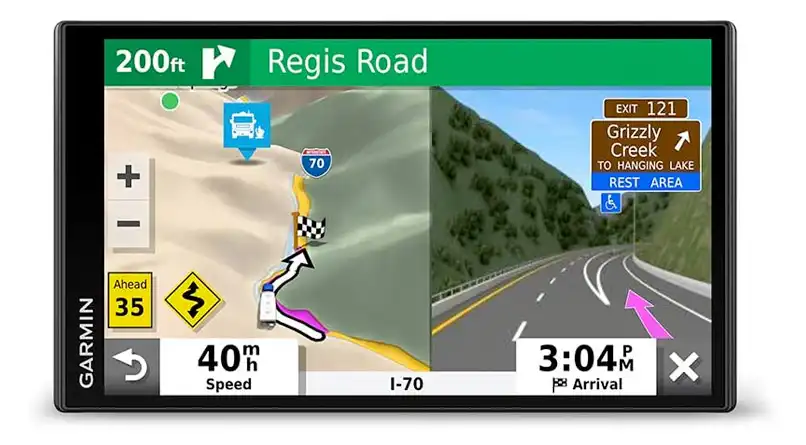 Garmin RV 780 GPS Navigator
RV GPS unit with custom navigation including steep grades, sharp curves, weight limits, and height restrictions. Comes with a built-in directory of RV parks and compatible phone app.
CHECK LATEST PRICE
BEST GPS + DASH CAM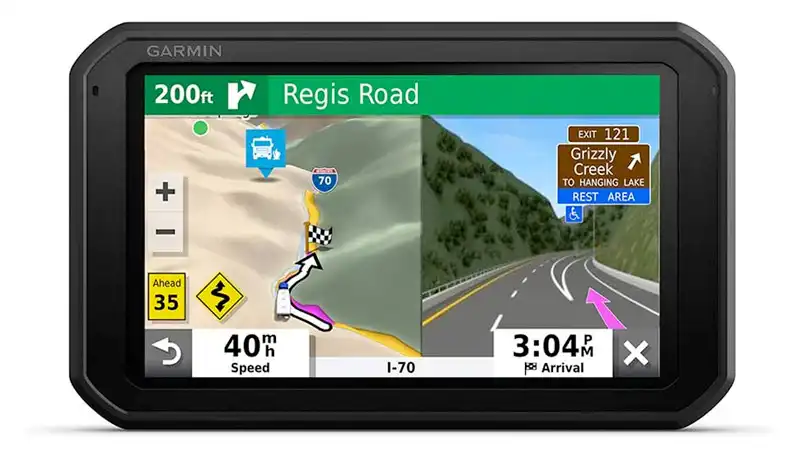 785 Garmin GPS With Dash Cam
Designed specifically for RV campers, the Garmin 785 allows for custom route navigation. Find height and weight restrictions, steep grades, and tight curves. RV park directory and dashboard camera with bluetooth connectivity included.
CHECK LATEST PRICE
RV GPS VS A Standard Garmin
You might be thinking you can get away without an RV GPS. After all, your phone works great in most circumstances. Do you really need to invest the extra cash in a separate system?
The answer is yes, you should.
Driving a motorhome or travel trailer is different from a regular car. You need to consider things the average driver may not.
An RV navigation system allows you to program your camper type, height, and weight which will all be taken into consideration when the GPS plans a custom route.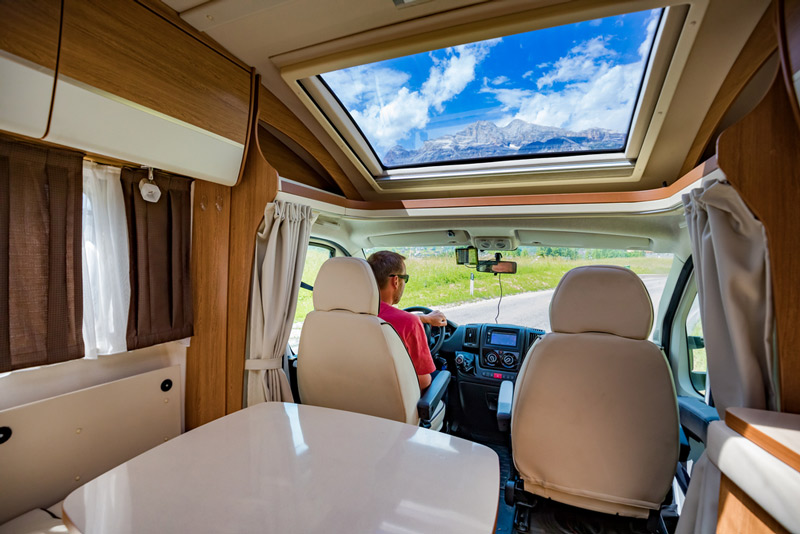 Custom Routing Features
When looking at a paper map you're not going to know that the tunnel to get into Yosemite Valley is taller than the tunnel to get out.
That's a great way to get stuck in the mountains and add a few extra hours to your journey. RV navigation systems will create a custom route taking into consideration the following features:
Steep grades
Sharp curves
Height restrictions
Weight requirements
The peace of mind alone should be enough to convince you, but there are some other perks to a camping GPS as well.
RV Campground Database
Motorhome GPS units are made specifically for campers. Models like Garmin have a built-in database of campgrounds, RV parks, and helpful resources like Plan TripAdvisor.
The most advanced navigation systems come with compatible smartphone apps so you can access live traffic and weather forecasts on the road.
What To Look For In An RV GPS Unit
If RV camping is something you do on a frequent basis, we can't recommend a camper-specific navigation system enough.
Design and Installation Requirements
GPS models often come with at least a couple of mounting options. That's ideal because every RV design is a little different.
Ideally, your GPS will have the option of a suction cup or windshield mount. They should also have a sturdy arm connecting to the screen. One that won't bounce around while you're heading down the highway.
Some drivers like gooseneck arms on their GPS, but most don't. That's because a GPS with a gooseneck arm tends to vibrate a lot! That can make it difficult to confirm the system's verbal signals at a glance which actually makes it a little dangerous.
Most GPS models these days will snap easily in place, which makes the installation itself a breeze. Still, you should check that that's all it takes before buying any particular system.
Keep in mind, many states have unique requirements on where you're allowed to use a windshield mount GPS.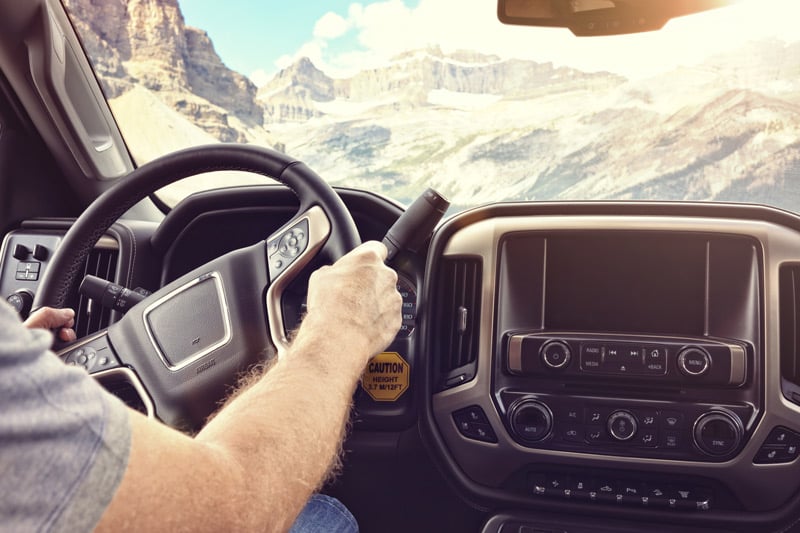 Screen Size
A mounted GPS does little good if you can't read the screen without squinting. Don't get us wrong. You shouldn't be reading the screen very much while driving. Every GPS provides audio cues. But, you may want to verify those cues at times, and it's nice to do so with a quick glance.
That means your GPS screen should be at least 5 inches. Our favorite models are closer to 7 inches, however.
Some worry that a larger GPS screen will distract them from the road. In our experience, that's not the case. We find that the larger screen allows us to capture information fast, so we actually look at it less.
Usability
The best GPS for RVs is one that works. And that means it has to be user-friendly. There are a few things to consider when it comes to this category.
First, you'll want to look at how you enter trip information. If it's only by hand, you'll have to pull over any time you need to update or change a destination address. That is unless you have a co-pilot who you trust to play navigator.
Luckily, many GPS models include voice activation. So you can verbally change or update destination information without making an extra stop. We highly recommend seeking that feature out. It makes road trips so much smoother!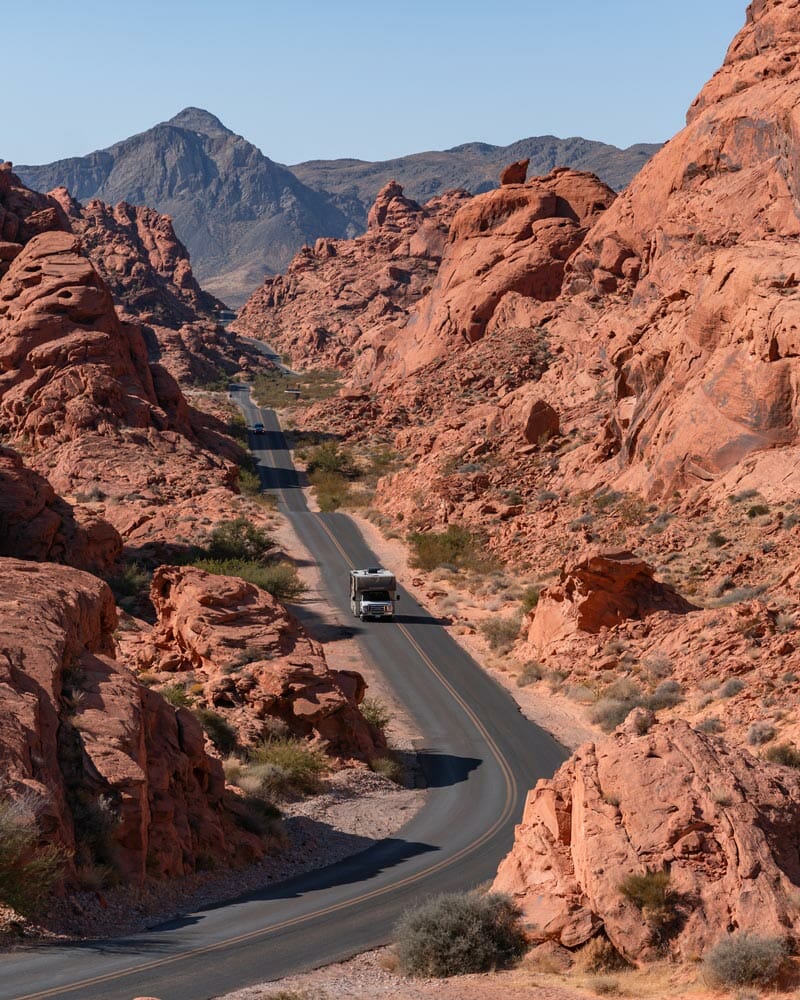 Second, you want to be aware of how your GPS will update. Road closures, street name changes, and other navigational challenges can be incredibly frustrating. The more easily your GPS updates, the more likely you are to avoid such issues.
Some GPS models need to be connected to your computer in order to update. Others update wirelessly via wifi. We think wireless updates are more convenient, but those models tend to cost more too.
Finally, when it comes to usability, you want to consider what features might be especially pertinent to you. Some GPS models come with built in directories for KOA campgrounds, which might be ideal if you want to hike or camp. Others come with dashboard cameras, which could be helpful in case of an accident.
What special features you look for depend on your specific situation and your budget. But having an idea of what's available will help you find your ideal RV GPS.
Connectivity
The best GPS for motorhomes connects seamlessly to your smartphone via Bluetooth. That way, incoming calls show up on your GPS interface and play through your RV's speakers. It will also allow you to access your phone's library of music and podcasts from your GPS screen.
Ideally, your GPS will also have wifi connectivity. An internet-connected GPS allows you to receive live traffic and weather updates. And every road tripper knows how vital that is! If the weather's bad or traffic's stuck, it's nice to be able to pick another route or pull off for the night.
Garmin RV GPS units come with a compatible smartphone app that makes it easy to pair and get information on both devices.
Dash Cams And Screen Recording
High-end RV GPS Units have dashboard cameras built-in that can record your drive and save footage if there's an incident. This eliminates the need for a separate dash cam and offers even more protection against pesky insurance agents.
BEST TRAVEL MAP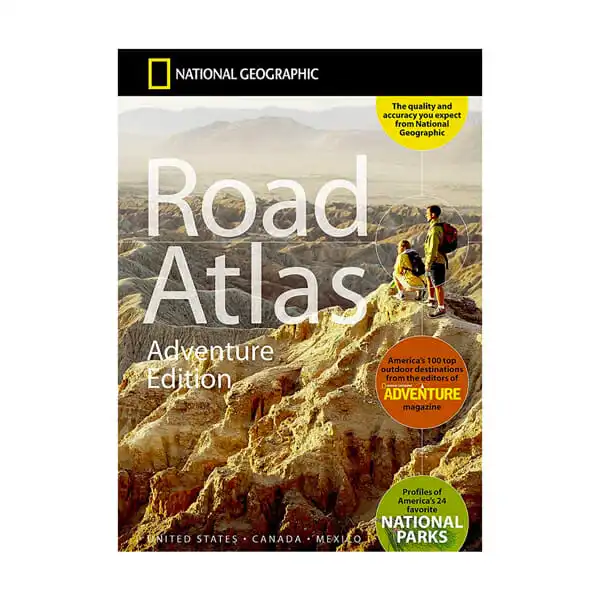 NatGeo Road Atlas
Adventure Edition Road Atlas by National Geographic includes road maps for all 50 states.
Marked National Parks, points of interest, and popular hiking, climbing, biking and skiing destinations.
CHECK LATEST PRICE
Navigation Safety
While we think an RV GPS is the best option when it comes to travel, it's important to make mention of the tried-and-true paper map.
You should ALWAYS travel with a paper map, even if you think you know the exact route. You never know when a rainstorm, fallen trees, or steep canyon is going to block the signal or path that you've chosen.
You can pick up travel maps at any local gas station, but our favorite is the National Geographic Road Atlas because it covers every state and points out some unique points of interest like popular hiking trails and mountain biking routes.
The Best RV GPS Units Reviewed
BEST RV GPS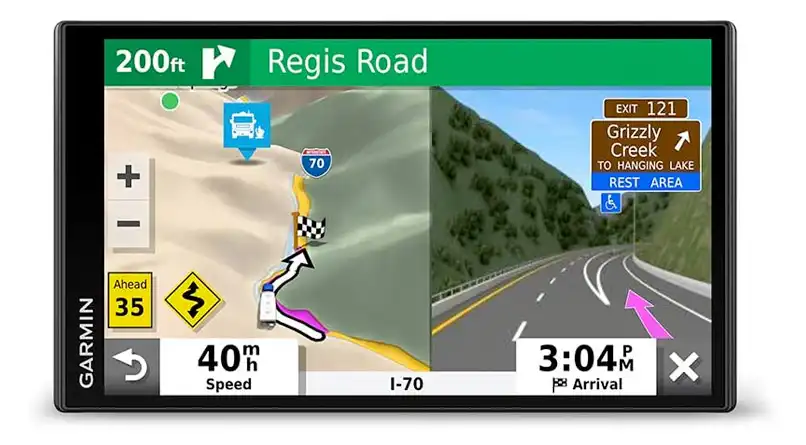 Garmin RV 780 GPS Navigator
RV GPS unit with custom navigation including steep grades, sharp curves, weight limits, and height restrictions. Comes with a built-in directory of RV parks and compatible phone app.
CHECK LATEST PRICE
For many of us, our RV is really a facilitator for camping. And for that, there's no better navigational system than a Garmin RV GPS. Garmin has several models to choose from, and the quality is impeccable.
The Garmin GPS 780 comes with all of the features you would need for a typical camping trip displayed in a 6.95-inch touch-screen.
You'll be able to access custom routing based on your RV's weight and height and get alerts about steep grades and sharp turns.
Sometimes we know our RV can handle them, but it's still nice to have a heads up!
It also comes with a built-in directory of RV parks and services, including KOA campgrounds and Ultimate Public Campgrounds. That's pretty convenient when you're heading for the great outdoors!
One of the features that we really like about the 780 Garmin is that it comes with a compatible smartphone app. So you can receive calls and texts through your GPS screen. You'll also get live traffic and weather updates.
Built-in wifi on the device makes updates simple so you don't have to do anything. Just make sure it has a wifi signal.
Built-in directory of RV parks and services
Free Garmin app will provide live traffic and weather updates
Built-in wifi for easy map updates
Sharp grade and steep turn alerts
---
Navigational systems can be expensive, but there are a few on the market that offer all of the features a large RV camper would need without breaking the bank. The OHREX GPS Navigational System is our favorite affordable option.
The OHREX GPS comes with a generous 7-inch screen and a sturdy arm. It also offers voice controls, lane guidance, and driver alerts. But what makes the OHREX really special is that you can use it in any vehicle.
Even though this model is less expensive than some of the others on this list, it offers incredible value because you can use it in your car as well as your RV. In fact, it has seven vehicle settings. So it's usable in everything from big-rig trucks to commercial buses, to sports cars. And it will advise the ideal route based on what you're driving.
The only downside to this budget-friendly option is that updates aren't automatic. You have to connect the GPS to a physical computer. That said, the map updates are, at least, free.
Works with any vehicle, including large RVs
Active Lane Guide Assistance tells you the best lane to be in for your route and vehicle
7-inch screen shows route clearly
Provides audio speed warnings for highway driving
---
BEST GPS + DASH CAM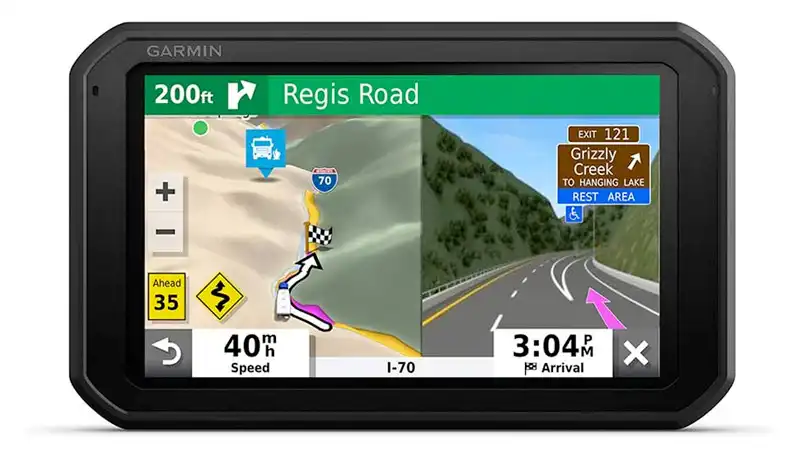 785 Garmin GPS With Dash Cam
Designed specifically for RV campers, the Garmin 785 allows for custom route navigation. Find height and weight restrictions, steep grades, and tight curves. RV park directory and dashboard camera with bluetooth connectivity included.
CHECK LATEST PRICE
If you want to go all out with your RV's navigational system, the 785 Garmin GPS is our top choice. This model has all the special features a camper needs, including a dashboard camera.
A dashcam is ideal in the event of an accident. It can also help prevent them. With Garmin's dashcam feature enabled, your device will alert you if you come close to a forward collision. It will also warn if you're swerving for any reason.
Beyond that, the 785 Garmin has all the features of the 780. It has a gorgeous 6.95-inch touch screen and will customize your route based on your vehicle's specifications. It also has a built-in directory of RV parks and services.
Its wifi and Bluetooth connectivity allow for voice commands and easy map updates. You can adjust your destination mid-route with a simple command. And the updates are automatic as long as the device has a signal.
Dashboard camera will record and may help prevent accidents
Includes directory of RV parks and services
Wifi connectivity allows for easy map updates
Bluetooth connectivity allows for hands-free use
---
That's A Wrap!
If you plan to hit the road in an RV or motorhome, it's crucial to have a sound navigational system. You need one that will take the specifics of driving a large vehicle into account. It should alert you of roads that are too narrow, bridges that are too low, and elevations that climb too quickly.
It should also be easy to use. Ideally, it will have a larger screen (over 5 inches) and allow for voice commands. There should also be a way to update the provided maps since roads close and conditions change.
Each of the RV navigation systems we've reviewed fit the description above. If you want something that works but have a tight budget, the OHREX GPS is a great option. If you have a little more to spend, especially if you love to camp, we recommend the 780 Garmin GPS.
Of course, if you want all the bells and whistles, including a dashboard cam, the 785 Garmin GPS with dash cam is where you'll find it.
With an exceptional GPS installed in your RV or motorhome, you'll feel safe and confident when you hit the road!
You Might Also Like: