The Best RV Bedding, Mattress Protectors, And Sheets (Review)
By
on
This post may contain affiliate links. As an Amazon Associate, I earn from qualifying purchases. Please read my full disclosure.
Life in the outdoors is rough on bed sheets. Let's face it–you're probably not taking a shower EVERY night that you go camping.
Surrounded by adventure equipment in such a tiny space, rips and tears are inevitable.
Unfortunately, many campers come with beds in unique sizes. So it's not always easy to find bedding that will fit an RV short-queen or bunk style mattress.
That's why we've pulled together a list of some of our favorite soft and durable RV bed sheet sets, comforters, and mattress protectors.
These items perfectly fit an RV mattress's unique short and narrow dimensions.
Why Use Specialized RV Bedding and Sheets?
RV bedding and sheets don't differ much from the standard bedding we use in our homes. As with ordinary bedding, most RV bedding comes from soft materials like microfiber, cotton, and polyester. These fabrics are lightweight, durable, and affordable.
Also similar to regular bedding, RV bedding consists of comforters, flat and fitted sheets, and pillowcases with the additional option of adding a mattress topper or protector.
The primary difference between home and RV sheets is the size.
Because RV mattresses tend to be shorter and narrower than those we have at home, the bedding must accommodate this change in dimensions. Sheets designed with RVs in mind will have adjusted specifications to fit the short twin and queen mattresses often found in RVs.
RV bed sheets come in a variety of patterns and colors, too, which means it's easy to find a set that matches your decorating style.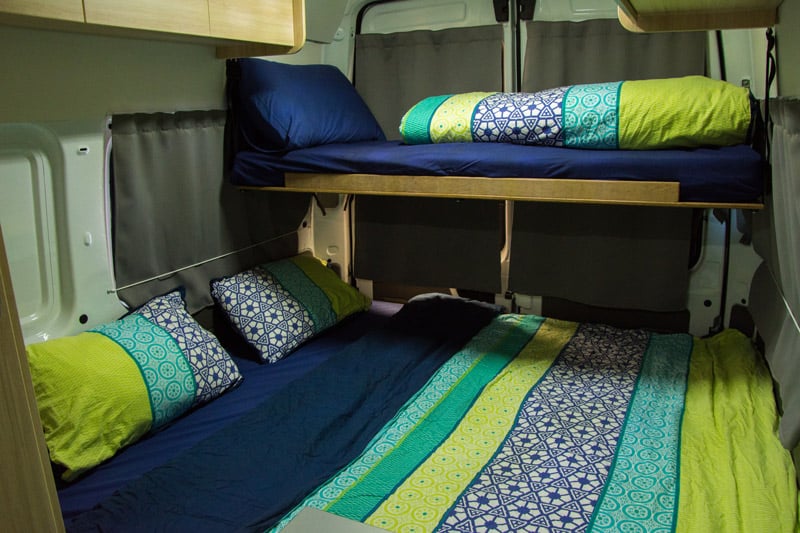 Features to Look For in RV Bedding and Sheets
Material: Even though today's RVs come equipped with temperature control systems, your RV is still more susceptible to the outside environment than your home.
A good set of sheets made from high-quality material can keep you cool and comfortable during the night, even when the temperature outside begins to rise. You want to look for sheets that offer exceptional breathability, so you don't sweat during hot weather or freeze during the cold months.
Material is essential to think about in terms of durability, as well. Synthetic fabric, like polyester and microfiber, tends to last a long time and holds up well to average wear and tear from camping.
Size: Perhaps the most crucial feature to remember is the size of the sheets. Many RV mattresses are at least a few inches shorter than standard beds. For example, an ordinary queen mattress is 60 inches by 80 inches, whereas a typical RV queen mattress is 60 inches by 75 inches or even 48 inches by 75 inches for a short queen.
The difference in mattress size means your RV sheets also need to have special dimensions to fit the bed. Make sure to check the size of your mattress before you start shopping and keep an eye on the measurements for the bedding you want to buy.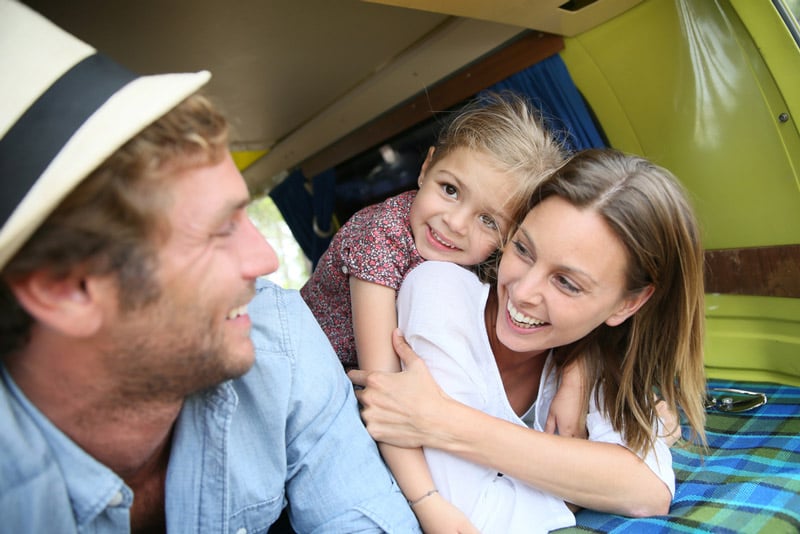 Maintenance: When you're traveling in your RV, you're always on the go, so you don't have time to stop and get your sheets dry-cleaned. You need hardy machine-washable sheets that can withstand frequent washings without becoming threadbare and ineffective.
Type of Bedding
Beyond a standard sheet set, there are a few bedding options you can invest in to make your RV bed even comfier.
Mattress Protector
An RV mattress protector guards your mattress against spills, leaks, and other accidents. It also keeps dust mites away and helps with reducing sweat and dander accumulation. Plus, mattress protectors help soothe allergies and asthma triggered by these problems.
Since RV camping and traveling cause so much wear to your equipment, mattress protectors also add much-needed durability to your mattress. They protect from moisture and mildew buildup to add longevity to your bed.
Mattress Toppers
This type of bedding helps extend the life of your mattress. Mattress toppers come in materials like memory foam, plush, and polyester. A soft and padded mattress topper can make your bed comfortable again once it starts showing signs of wear, like lumpiness or springs poking through.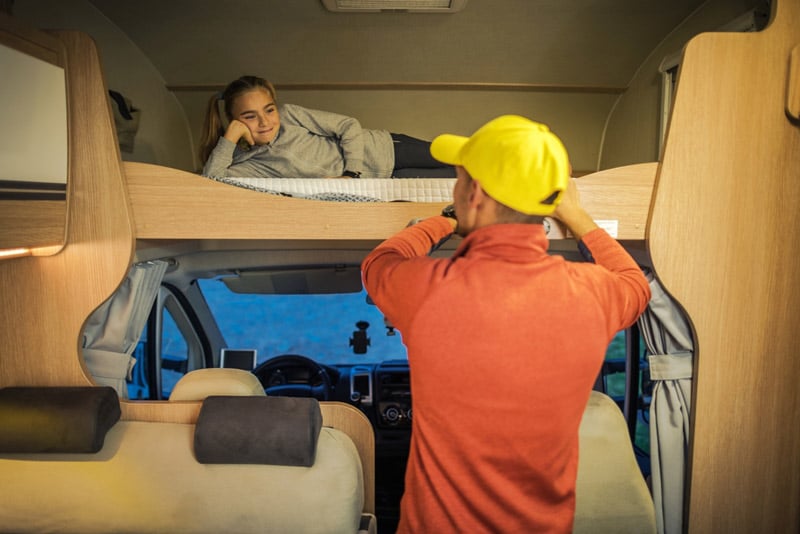 Frequently Asked Questions
What Type of Bedding Is Best For Fold-Out RV Beds?
An excellent bedding option for fixed and freestanding fold-out beds is a sheet set, complete with fitted and flat sheets, as well as a comforter. The only precaution would be to check the dimensions of your fold-out bed and match them to the sheets.
A couple of helpful RV bedding ideas for fold out beds are to use a mattress topper for additional comfort and to consider using two fitted sheets on top of each other so you can easily change bedding by removing the top sheet.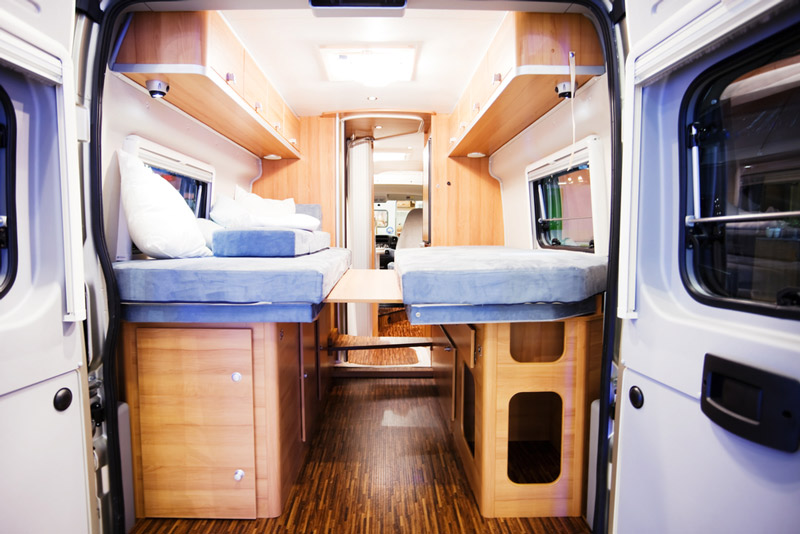 What Size Sheets to Get For an RV Table Bed?
Not all table beds have the same dimensions, so it's best to measure yours first before purchasing any bedding. Table beds often have similar specifications to twin beds, which usually come in two sizes: 28 inches by 75 inches and 28 inches by 80 inches. If your table bed matches these measurements, you can safely shop for short twin and twin sheets.
However, your table bed may require customized sheets, so remember to always measure first before making any purchases.
What Size Sheets Fit the Upper Bed in a Class C RV?
Most Class C RVs feature queen or short queen-sized upper beds that easily fit the corresponding sheets. However, it's always best to measure your overhead bunk just to make sure it fits with conventional dimensions and doesn't need customized ones.
A simple tip for RV bunk bed sheets like these upper beds is to use sleeping bags for a quick fix.
Best RV Bedding and Sheets Reviewed
BEST BEDDING & SHEETS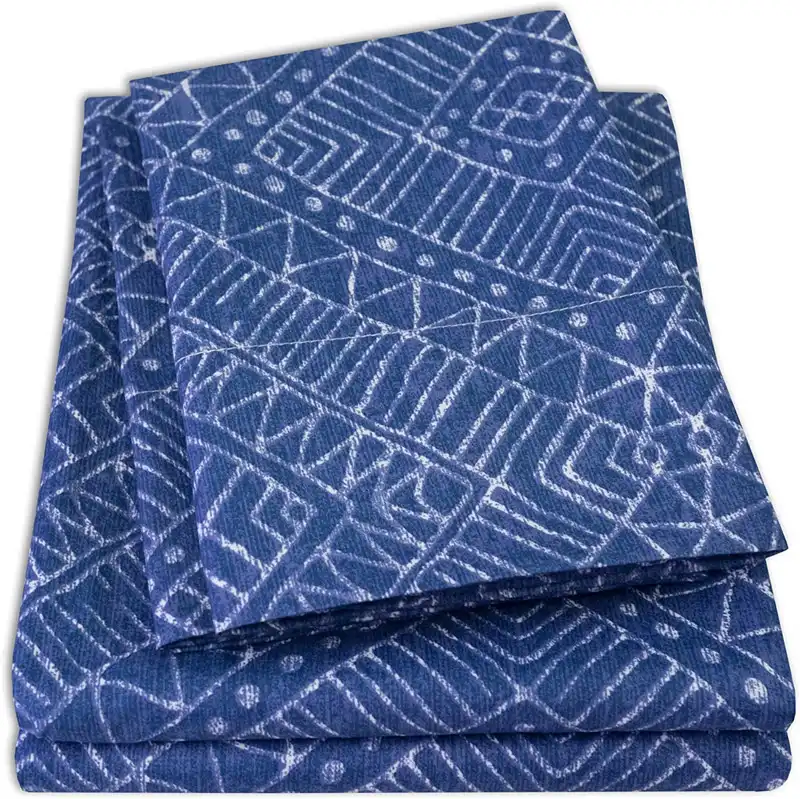 Best RV Bedsheets: Sweet Home Collection Extra Soft RV Queen Sheets Set
If you're in need of a standard sheet set, this Sweet Home Collection bedding includes all of the essential linens required to make up your RV mattress. You can choose from seven sizes and 45 colors to match the décor in your RV.
Double-brushed microfiber lends softness and strength to this bedding, which keeps you comfortable without the worry of wear from camping. The fitted sheet has extra thick elastic and an elastic strap to keep it in place even during rough road trips.
It's easy to take care of these machine washable sheets, making them the perfect choice for quick cleaning during RV travel. Plus, no matter how often you wash them, they stay wrinkle and fade resistant, adding years of use to these sheets for frequent camping expeditions.
Includes two pillowcases, one fitted sheet, and one flat sheet
Wide variety of sizes and colors
Brushed microfiber fabric with durability and softness
Deep pockets that suit mattresses up to 16 inches thick
BEST COMFORTER SET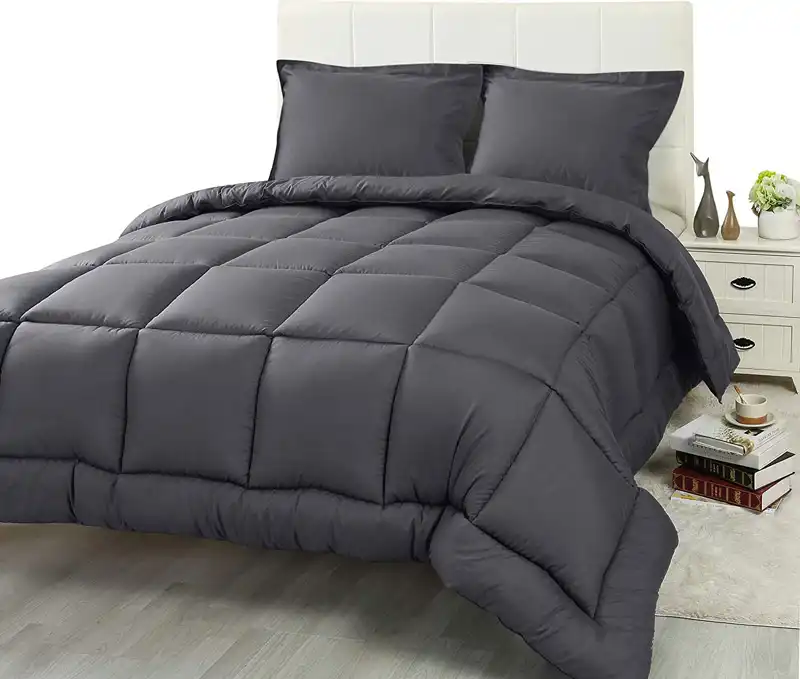 Best Value Bedding: Utopia Bedding 3-Piece Comforter Set
The Utopia bedding set includes a comforter and two pillow shams made with unique stitching techniques that result in a stronger and more durable construction. This weaving method works perfectly for road trips in an RV, which demand equipment that won't rip.
The comforter's polyester top is wrinkle-resistant, so it holds up well to travel in a compact space like an RV. It also repels stains, another valuable benefit that adds to its durability, especially during RV travel when accidents are bound to happen at some point.
The inside of this comforter contains soft silicon down alternative. This material has a comfortable feel but still allows for breathability, which helps you adjust to the variable weather conditions you may meet during RV trips.
Includes a comforter and two pillow shams
Machine washable for quick cleaning on the go
Brushed microfiber fabric lends comfort and softness
Made strong by a high tensile strength that reduces the chance for ripping
BEST MATTRESS PROTECTOR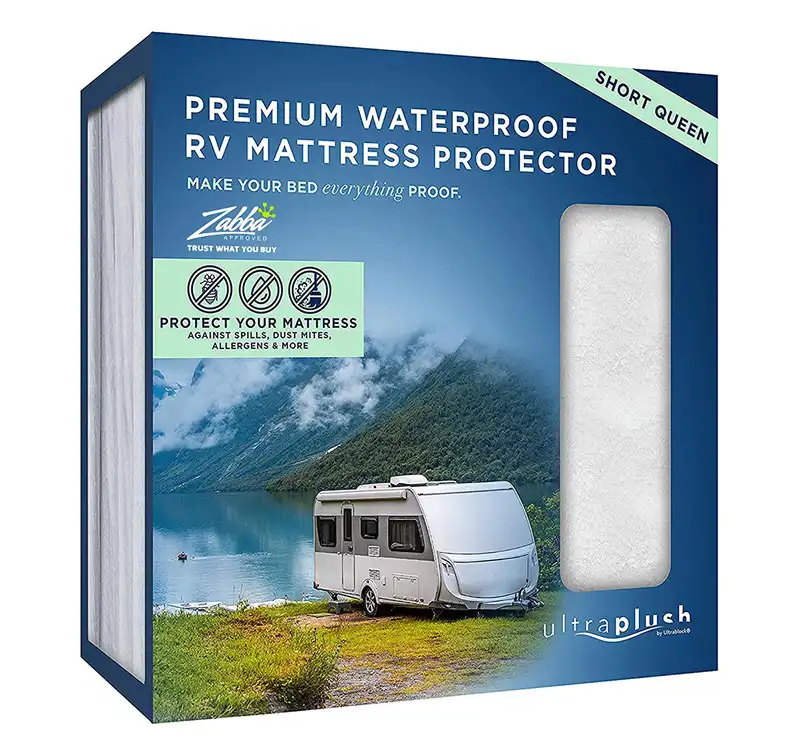 Best Mattress Protector: UltraPlush Premium Waterproof RV Mattress Protector
For campers who want both comfort and protection for their RV mattresses, this UltraPlush mattress protector offers both in spades. It has a 100% waterproof barrier that even passed a flood test. This feature makes it perfect for RV traveling when mattresses may suffer from exposure to rain and moisture. You'll always have a dry place to sleep with this protector.
The elastic fittings help keep this bedding in place during bumpy journeys and also fit nicely over a variety of mattress thicknesses. This adaptability allows you to be more efficient when packing for a trip in a small RV.
This mattress protector also lends more durability to your mattress since it guards against stains, dust mites, allergens, molds, and mildew. Camping can be hard on equipment, so this protector is perfect for extending the life of your gear and saving you money in the long run.
Waterproof fabric that wicks away moisture
No crinkling sound like you get with other mattress protectors
Hypoallergenic fabric
Tight-fitting elastic keeps the protector in place during trips
BEST PAD COVER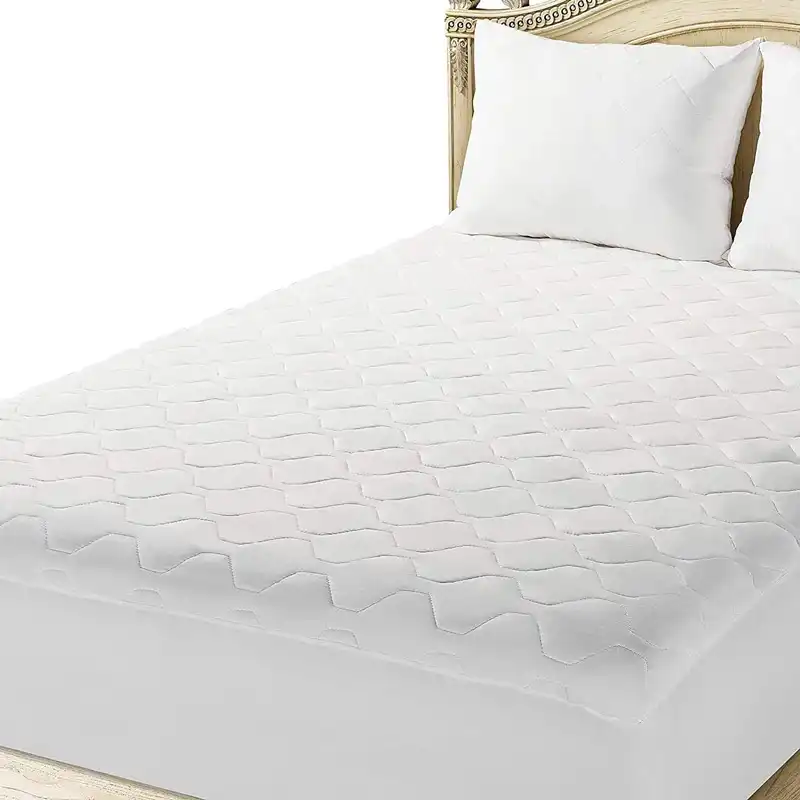 Best Pad Cover: The Grand RV Short Full Mattress Pad Cover
If you're looking for extra comfort, the Grand mattress pad cover adds a layer of softness with a fitted and quilted design that provides more restful sleep during your journey. The polyester and cotton on top repel stains, while the soft down cushion inside the cover makes lumpy RV mattresses much more comfortable, so your back won't hurt from when you wake up.
Apart from repelling stains, this cover offers defense against all kinds of potential contaminants, like dirt and pet damage. This protection extends the longevity of your mattress, which is crucial for RV traveling that results in wear and tear. Guarding against allergens also keeps you feeling healthy.
You can easily wash this cover in a washing machine, a convenience that streamlines your camping experience. It won't shrink, lose shape, or pill from repeated washings, which makes it ultra-durable even during the most challenging weather conditions.
Protects from dust, dirt, allergens, pet dander, and stains
Deep pockets to fit over gel and memory foam mattress toppers
A hypoallergenic and breathable blend of cotton and polyester
Available in a variety of sizes, including short dimensions
That's A Wrap!
No matter what size mattress you have, you can find RV bedding solutions that will make it more comfortable and longer-lasting. For campers who need versatile bedding that's soft yet strong, the Utopia Bedding Comforter Set is a smart choice. At the same time, the Sweet Home Collection Sheets Set offers excellent value for essential bedding.
If you're looking for powerful protection against moisture, stains, allergens, and other contaminants, the UltraPlush Waterproof Mattress Protector is the best option. The Grand Mattress Pad Cover is perfect for extra comfort on top of a lumpy RV mattress.
Happy camping!
You Might Also Like: