How To Prevent Moisture In Your RV – Best RV Dehumidifiers
By
on
This post may contain affiliate links. As an Amazon Associate, I earn from qualifying purchases. Please read my full disclosure.
There's nothing like driving your RV down to Florida or camping along the Oregon coast. But living off-grid poses some unique challenges; humidity can make life downright miserable.
Fortunately, there's a lot you can do to stave off moisture and mildew. In this article, we'll recommend the best RV dehumidifiers to get the job done faster.
TOP CHOICE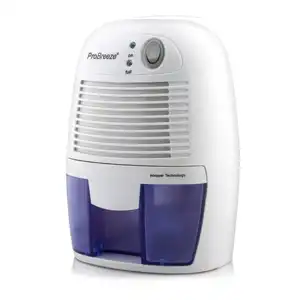 BEST FOR LARGE RVs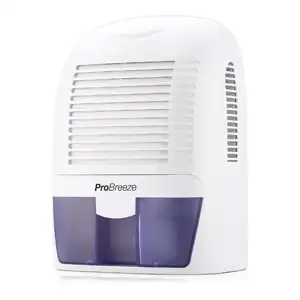 What is an RV Dehumidifier?
Your RV is a home away from home, but daily activities quickly fill the interior with condensation. Eventually, excess water vapor can damage walls, electronics, and other components. Not to mention, a humid environment increases your risk of respiratory illnesses and allergies.
While airflow is the first line of defense, opening a window isn't always a viable option. If you're vacationing in a naturally humid area like Washington State or Florida, windows alone won't do much to combat the moisture.
A dehumidifier condenses water vapor from the air and collects it in a tank that can be emptied later. This reduces dampness and helps to prevent mold.
RV dehumidifiers may not be able to dry out every inch of space, but they can make a substantial difference in humidity levels.
What Are The Downsides To Using Small RV Dehumidifiers?
Fortunately, RV dehumidifiers don't have many major downsides. However they are power-hungry devices, so you'll only want to use one if you have access to shore power. They don't make great candidates for solar-powered camper vans unless you have a large battery bank.
Dehumidifiers do require emptying from time to time so they're not completely maintenance-free, but the upsides heavily outweigh the downsides.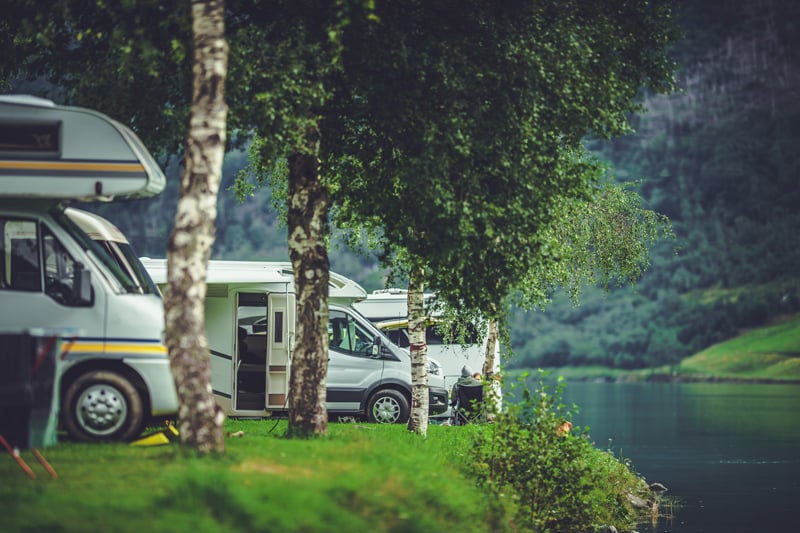 Features to Look for in an RV Dehumidifier
Not all RV dehumidifiers have the same functions, so you'll want to consider the differences to get the best results. We've listed some of the top things to look for below.
Types of RV Dehumidifiers
There are two types of dehumidifiers:
Desiccant dehumidifiers use a special material to absorb moisture from the air. They're designed to remove mold from small areas like a closet. These dehumidifiers are inexpensive and have low power consumption, but they are not very powerful and only work well in mildly humid areas.
Refrigerant models use coils to funnel condensation into a reservoir where it collects as water. These are more powerful units that have the capacity to lower humidity throughout the RV. Most campers will agree, refrigerant models are the best option for general purpose use.
Small Dehumidifiers for an RV
Consider the square footage of your RV before buying your dehumidifier. As mentioned earlier, these are power-hungry products. You don't want to buy the biggest product you can afford because it will drain your batteries and won't dry out the air much quicker than a smaller unit.
The largest Class A motorhomes rarely exceed more than 350 square feet. Of the portable units we've reviewed, most are equipped to handle up to 150 square feet of space effectively.
One dehumidifier should be plenty for the typical RV, but if you drive a larger luxury motorhome we recommend purchasing two. This will allow you to dehumidify individual rooms and target the most humid areas like bathrooms and kitchens.
If you're looking for a device to use in specific rooms, then you want a smaller unit. Many portable dehumidifiers are smaller than a two-liter bottle. You should have no problem keeping one on a shelf, bedside table, or other small location.
Extraction Rate
The extraction rate is the amount of time the dehumidifier takes to remove water vapor from the air. The true extraction rate can be difficult to measure because manufacturers list this number based on varying levels of temperature and humidity. Rarely are the test conditions the same.
You can look at the extraction rate to give you an idea of capabilities within the manufacturer's product line, but it should be taken with a grain of salt.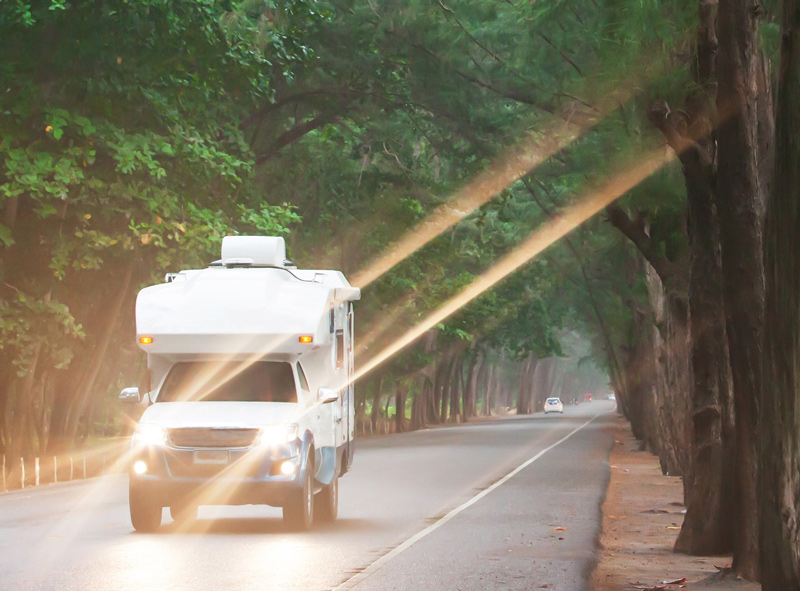 Tank Capacity
Along with the extraction rate, manufacturers will list a tank capacity. This is the amount of liquid the device can hold before it needs to be emptied. Larger tanks can be emptied less frequently, but they're also heavier when full.
The best dehumidifiers will have an auto-shutoff switch as well as an indicator light to notify you when the tank reaches max capacity and needs to be emptied.
Power Consumption
Most dehumidifiers you will find require 110v electricity to operate. That means they'll plug directly into a common household wall socket. The portable units we've reviewed draw between 20-30 watts which is why we recommend using them only when plugged into shore power.
Some manufacturers will sell 12-volt adapters separately to make it more efficient on your camper van or boat's electrical system.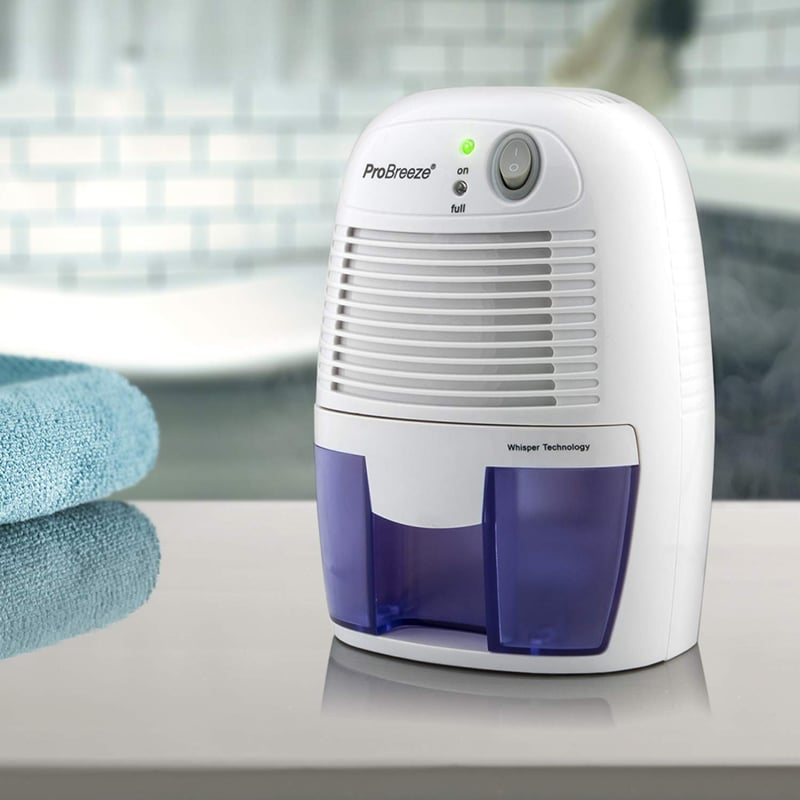 Noise Levels
Dehumidifiers are not particularly noisy. Generally, they emit a low hum similar to a space heater or fan. Most small devices emit between 30 and 50 decibels of noise. That's roughly the same noise level as a whisper or gentle rain so sleeping next to one should not be a cause for concern.
Special Features
You can purchase dehumidifiers with simple designs. A power button and indicator light for when the tank gets full is really all you need. However, if you're looking for something more advanced there are a few special features to consider:
Digital humidity readout
Timer
Fan speed adjustment
Multiple drainage options
Washable filter
Best RV Dehumidifiers Reviewed
TOP CHOICE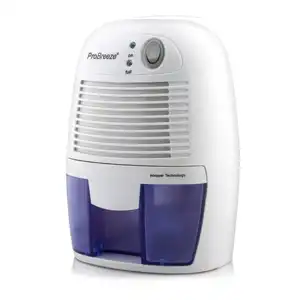 Our favorite option is this mini dehumidifier from Pro Breeze. We like this product because it's compact, powerful enough to dehumidify a 150 square foot space, and quiet. The thermoelectric cooling technology uses no compressor so it won't distract you from the sounds of nature.
The Pro Breeze removes about nine ounces of water each day, perfect for a small or mid-sized RV. And it's lightweight and portable. The dehumidifier weighs 2.5 pounds empty and stands only 11 inches tall, 7 inches wide, and 6 inches long.
We also like the simple design; there is only one button and the tank will automatically shut off when full so it doesn't require much attention.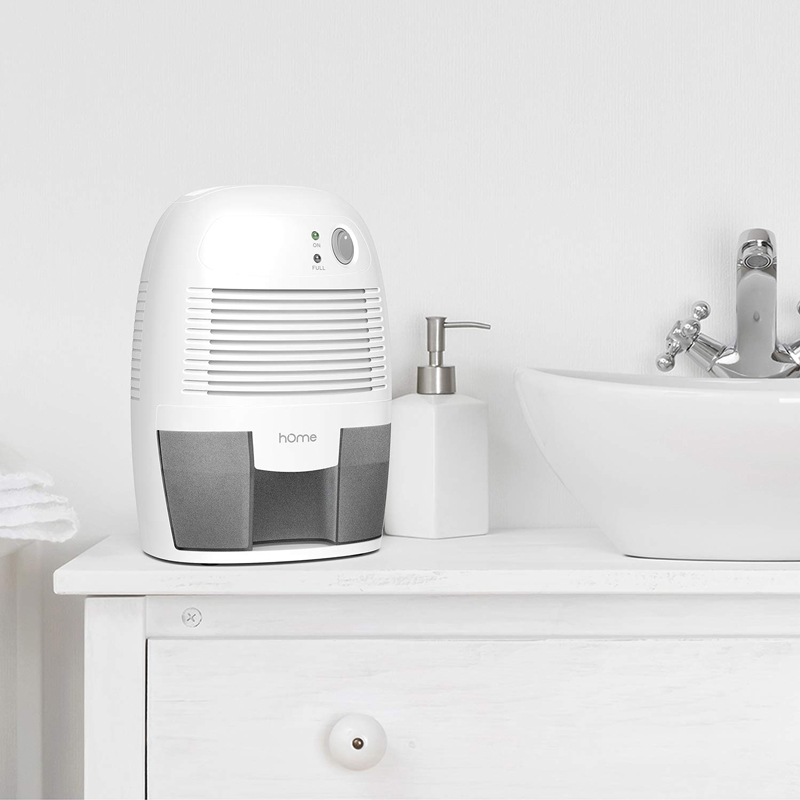 If you're looking for the best bang for your buck, this dehumidifier from hOmeLabs is our top choice. It's small but mighty, measuring just six by eight inches but capable of removing moisture from spaces up to 150 square feet in size.
A nice feature about this dehumidifier is the fact that you can remove the grill for cleaning. You'll notice a substantial improvement in air quality as the unit cleans the air from mold, mildew, and other allergens. However, that also means you'll have to do a bit of weekly maintenance to keep it working efficiently.
Just like the others on this list, it has an automatic shutoff. When the tank is full, an LED indicator lets you know.
BEST FOR LARGE RVs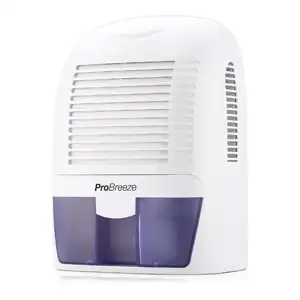 The 2200 cubic feet electric mini dehumidifier from ProBreeze shares the same advantages as the smaller model listed above. It has a quiet, efficient design perfect for RV campers. This model can extract water vapor in rooms up to 250 square feet.
The unit removes up to 18oz of liquid per day, enough to dehumidify the largest of motorhomes. It also has 52oz of tank capacity so you can wait almost three days between empties. With the ProBreeze there's no complicated setup, just plug it in and hit the power button. It shuts off automatically when the reservoir is full.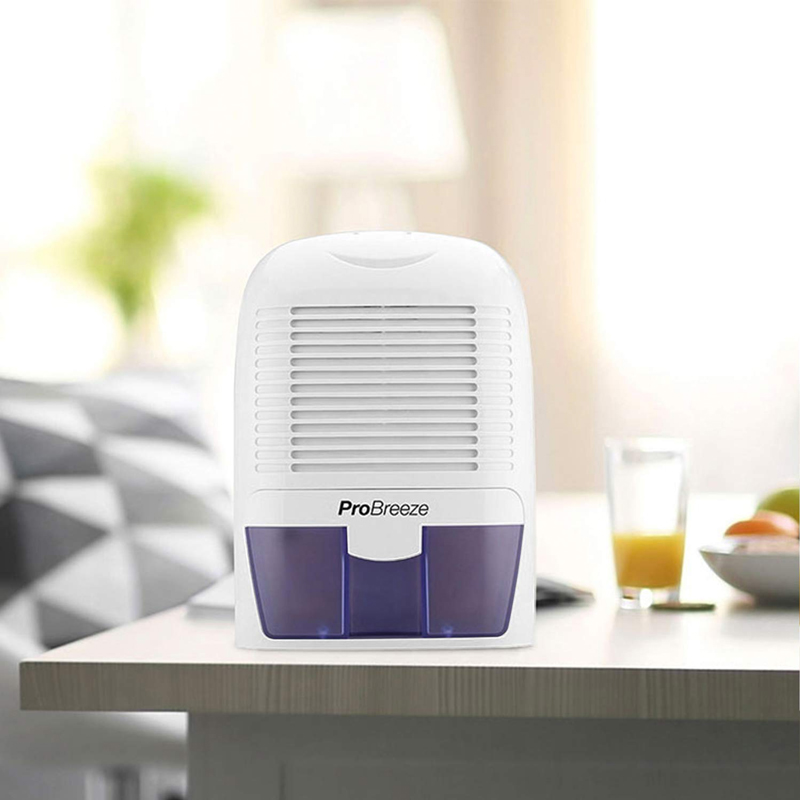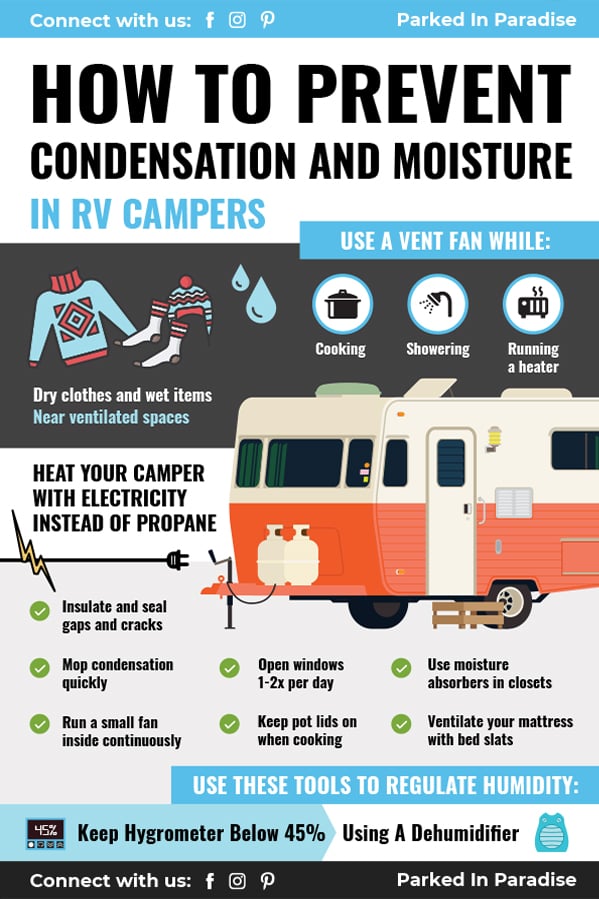 Alternatives to a small RV Dehumidifier
It's important understand how moisture buildup occurs so you can better stop it before the RV starts dripping with water. Cooking, running a heater, showering, and even breathing increases air humidity, and thus the ability for condensation to occur.
Condensation happens when a surface is cooler than the dew point. The dew point is the relationship between temperature and humidity. The more humidity you have, the higher your dew point.
If a surface temperature is below the dew point, it means that water vapor condenses faster than it evaporates, creating moisture on that surface.
How To Prevent Moisture Without An RV Dehumidifier:
Insulate your RV
Seal gaps and cracks
Add extra insulation to your windows like reflectix
Open all windows at least once per day to air it out
Install a vent fan for proper airflow
Create a cross-breeze
Heat with electricity instead of propane
Cook with exhaust fans running
Keep pot lids on when cooking
Turn on exhaust fans when showering
Use fans when running a dishwasher or washing machine
Dry clothes and wet items near a ventilated space
Ventilate your mattress with bed slats or a ventilation pad
Open closets and cupboards occasionally
Place moisture absorbers in closets and cabinets
Run a small fan continuously to keep air flowing
Mop condensation once spotted
Run a dehumidifier
Move the dehumidifier frequently around the RV
Use a hygrometer to determine dehumidifier placement
Improve the airflow: The best thing you can do to prevent condensation is to have lots of airflow. You should install a vent fan in your RV; ideally, two of them if you have a large motorhome. Proper airflow will bring in cooler, drier air and push the humid air out.
For best results, create a cross-breeze by opening a door or window at the opposite end of your vent fan. Even doing this for a few minutes will help. Aim to open all of your windows at least once per day for 20-30 minutes. A mini, 12-volt fan circulating air continuously throughout the day will make a big difference.
Always run the exhaust fans when cooking, showering, or running appliances that heat up the air like dishwashers and washing machines.
Seal and insulate your windows: When your windows are closed, make sure they are properly sealed. Gaps are a quick way to let in moisture because of the large temperature difference between the inside of your RV and the outside air. Use a lap sealant to cover any spots that may be leaking.
Heat your RV with electricity: Propane heaters release a substantial amount of water vapor as a byproduct. Electric heaters are best when it comes to minimizing moisture.
Ventilate fabrics: Clothes, seat cushions, mattresses, and anything with fabric holds moisture and makes it difficult to dry out. Try to place these items near ventilated spaces. Use moisture absorbers in closets or cupboards. Set your mattress on a slatted bed or airflow pad because body heat while sleeping releases water vapor.
Dehumidifiers: Aside from ventilation, using an RV dehumidifier will make the biggest difference in condensation buildup. Consider purchasing two of them: one for the bathroom and one to move around the rest of the RV. Use the dehumidifier in your kitchen when cooking, and the bedroom when sleeping.
A small humidity gauge will be helpful in letting you know which area needs the most attention. Aim to keep the humidity level under 45% throughout the camper.
That's A Wrap!
Humidity has no place in an RV! Using a dehumidifier along with the tips above is the best way to prevent condensation and moisture from building up in your tiny home.
If you're looking for the best all-around option, consider ProBreeze Electric Mini Dehumidifier. If you have a large Class A Motorhome, take a look at the larger ProBreeze model.
For the best budget choice, you can't go wrong with the hOmeLabs small space dehumidifier.
Continue Reading: