Best RV LED Lights For Campers And Travel Trailers (Review)
By
on
This post may contain affiliate links. As an Amazon Associate, I earn from qualifying purchases. Please read my full disclosure.
When it comes to choosing RV LED lights, there are lots of options to consider. Whether you use them inside or out, the right RV lighting can completely transform your camping experience, taking your camper's lighting from lackluster to lively. Today, we're going to take a look at the best RV LED lights and go over what you need to know before purchase.
Why Use LED Lights in an RV?
There are many reasons to make the switch to LEDs, or light-emitting diodes.
While it's true that LEDs cost more than traditional light bulbs, their long lifespan makes up for this initial investment, and throughout their life, they use less power and produce more light. Plus, incandescent bulbs and halogens, both of which are typical light choices for RVs, burn hot, while LEDs emit hardly any forward heat.
LED lights are easy to install, and installation requires no special equipment. Additionally, LEDs are available in various colors and types, such as RV tail lights, motion sensing, and awning and interior lights.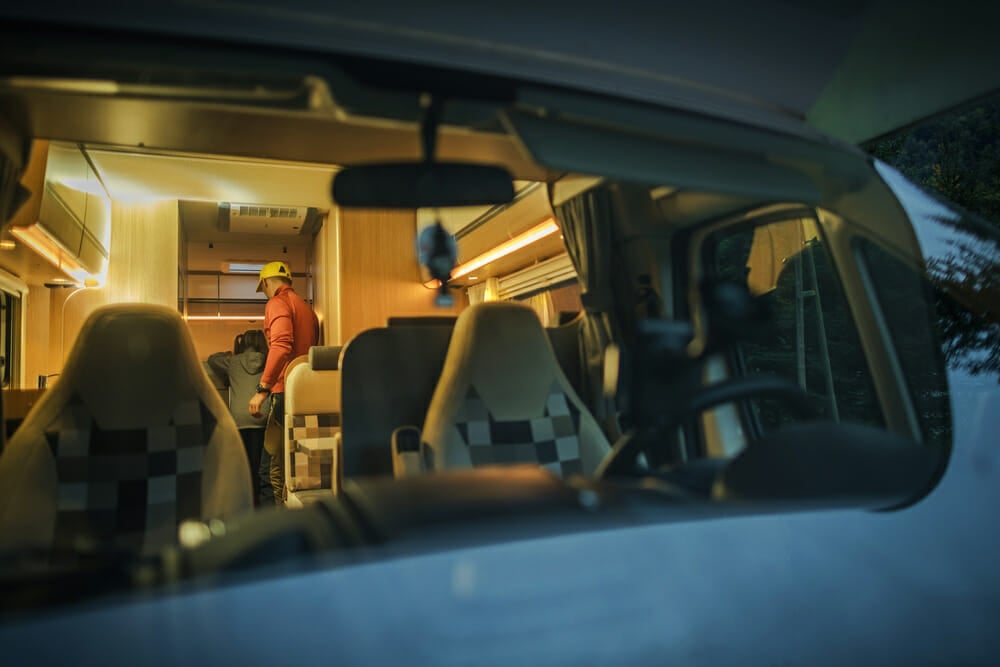 Interior LED Replacements
Given their cost, you may be wondering how often you'll need to replace the lights.
The typical LED lifespan is somewhere around 50,000 hours, so if you estimate an RV run time of six hours per day, your LEDs will last more than twenty years. If you buy a brand-new RV and install LEDs, they'll last as long as your RV holds up!
And the good news is that you can use LED replacement lights practically anywhere on your RV—the only place you need something different is the headlights. Otherwise, they work perfectly well as reverse lights, brake lights, trailer lights, etc.
Check out this video for some information about how to install your LED camper lights.
Exterior Lighting and RV Awning Lights
You can also use LEDs to create excellent exterior lighting, which has lots of benefits. RV awning lights illuminate your campground and make it easier to navigate your surroundings. They can also help you find your camper when you've been out hiking, and they add an element of fun to your outdoor gatherings. Plus, they're extremely easy to install.
You can hang lights anywhere your heart desires. One handy trick is to put LEDs at the end of the RV awning, which draws bugs away from the door. Other than that, where you put them—and what kind (lantern, strip, rope light, fairy lights)—is up to you.
Pack Rats
LEDs have another unexpected bonus. If you frequently go camping in packrat country, you can place a string of lights around your RV to keep them away. Experienced campers claim that pack rats don't like the light, so they'll be more likely to avoid your rig; hopefully averting damages to your wiring.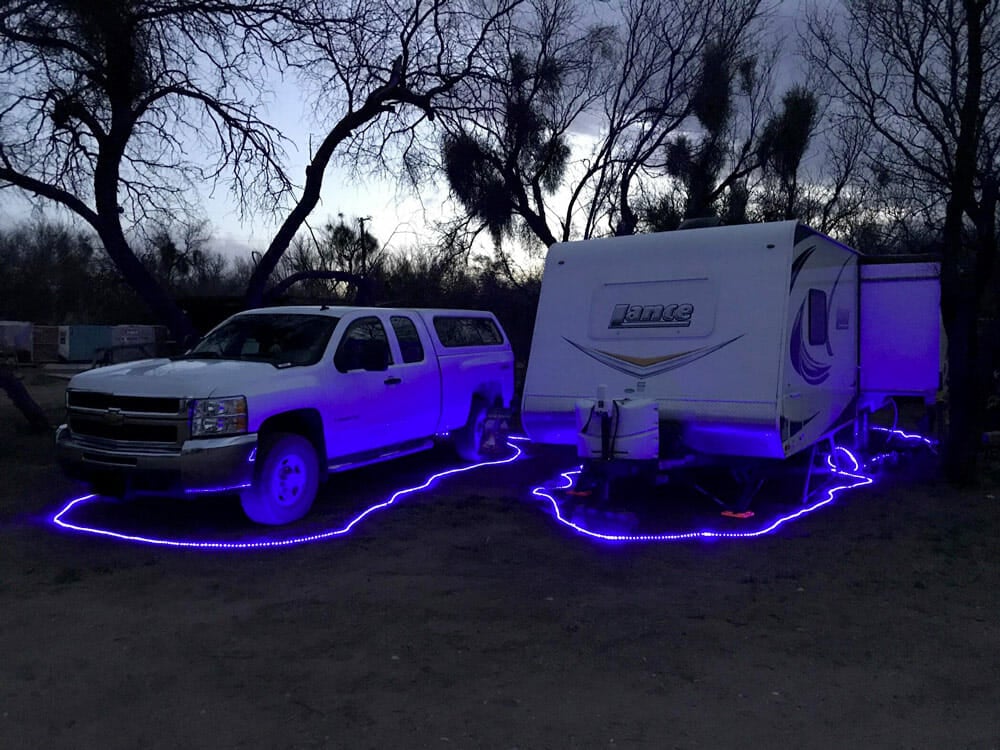 Types of LED Lights
Here are some common LED light types.
JC10 LEDs have 75 lumens of brightness and 10 watts and are commonly used as replacement lights in many light fixtures. They have two wires at the bottom, though the tops differ.
921/912 With 105 lumens and 60 lumens, respectively, these types are also quite common replacements.
Mini incandescent LEDs look quite similar to the type of lights you'd see on a Christmas tree, but cannot be used to replace these lights, as they require less power and have lower wattages. Their use is less widespread, but they come in various types.
Others String, strip, and rope LED lights are typically used for decoration, both inside and out.
Compatibility
LEDs are compatible in almost every replacement application and designed to work for both AC and DC systems. There are some cases with dimmers and cheap LEDs which cause a visible flicker on AC power, which is an issue, especially if you are prone to seizures. There are LEDs on the market labled "flicker free" with more advanced drivers in them that remove this issue, although you will be paying more for the. Most people find that regular bulbs fit their purposes, though.
Weatherproof
If you're planning to use your LED lights outside, you need to ensure that they are weatherproof. Otherwise, at best, you risk ruining your lights, and at worse, you may have an electrical accident. Check the IP rating of products you intend to use outside. A good IP rating is IP68.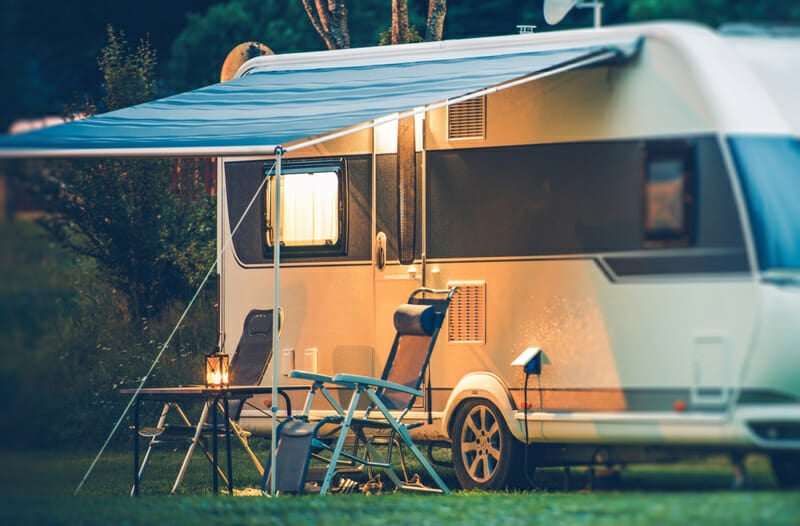 Cool vs. Warm Colors
LED lights come in a variety of light "temperatures," and it's useful to pay attention to them to achieve the look you want in your RV. Warm light is soft and reminiscent of the yellow tinted indoor lights, while cool light is white and quite bright. Natural light options simulate sunlight, which is on the "cool" end of the spectrum.
Color temperature is usually indicated in Kelvin, and lights in the 2700 to 3000 range are considered warm. Lights in the 3000 to 4000 range are mid-range, and anything above 4000 is considered cool.
Special Features
Some special features to consider are remote control-operated LED lights, as well as color-changing lights. Many light strips also allow you to change the pattern of the lights.
Best RV LED Lights Reviewed
If you're looking to give your RV a modern upgrade, our favorite product is the acegoo recessed lighting. This LED is stylish and adds lots of light in a small package. The low profile is probably their number one selling point; since they're recessed, they won't get in your way, which is a huge advantage in small spaces.
The ceiling lights are available in a pack of four, and we like that there are two different finish options to best match the aesthetic in your camper. With a 50,000-hour lifespan, they'll probably outlive your RV. Another great thing about the acegoo is that they're 12 volt lights so they'll draw an extremely small amount of power.
50,000-hour lifespan
12 volts
240 lumens
Cool and warm light
REPLACEMENT BULBS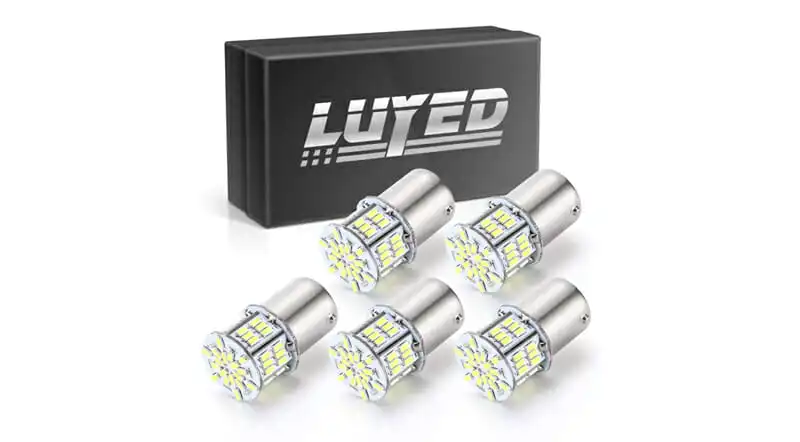 If you're looking for replacement bulbs, LUYED makes an easy option. Reviews of this product are overwhelmingly positive, and users are especially pleased with how bright the bulbs are. LUYED's replacement bulbs have an impressive lifespan of 40,000 hours, which says a lot about their durability.
The plug and play design makes replacing these bulbs simple, and since they reach up to 24 volts, they're suitable for multiple RV applications. You can use them as navigation lights, cabin lights, dome lights, taillights, turn signals, and more. LUYED's replacement bulbs can also be used on trucks and other vehicles, and they come with a one-year warranty.
40,000 hour run time
12 to 24 volts
Multiple applications
Includes five replacement bulbs
LED AWNING LIGHTS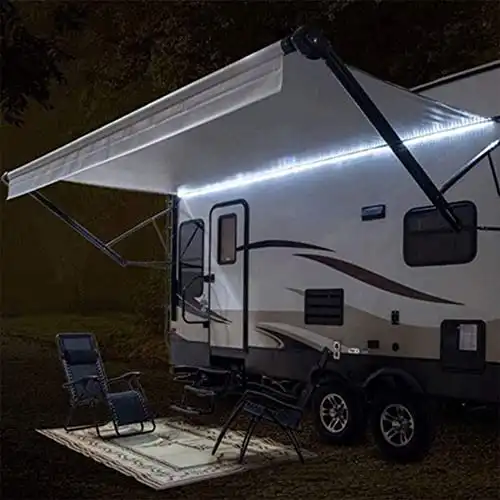 Awning lights are the easiest way to light up your RV at night. Our top choice is this easy-to-install light from RecPro. They're quite bright, so it's not a light you would want to use indoors, but they're perfect for the exterior.
These lights are designed for RV use, which means they're highly durable and UV-treated so as not to sacrifice performance. They've got an 1P68 rating, so they're weatherproof as well. Campers like that this product comes with a mounting channel that allows you to set the lights quickly, and the strong adhesive helps them stick well.
You can purchase these lights in various lengths: six feet, twelve feet, and sixteen feet. And we recommend connecting them to a remote control, which you can purchase separately, as that makes using them easier.
Special RV design
Waterproof 1P68
Comes with mounting channel
12 volts
OUTDOOR ROPE LIGHTS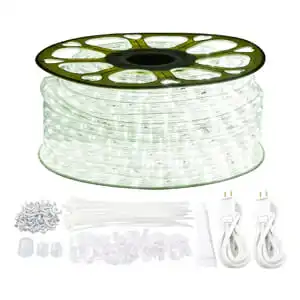 One of the best and easiest ways to enhance your camper is with LED rope lights. These lights are energy-efficient, heat resistant, and waterproof. They're also bendable, which means you can use them in practically any configuration, and durable, so they'll last a long time.
The kit includes a power plug that makes using the lights straightforward, and they're available in different colors and warmth. You can also purchase these in a longer version as well.
Waterproof IP65
50,000+ hour lifespan
50-foot length
One-year warranty
That's A Wrap!
The best RV LED lights for you will depend on your needs. If you want to stylize your interior, consider purchasing some 12-volt recessed lights. Just need replacements, bulbs are inexpensive and easy to install. Outdoor lighting is great for the campsite and avoiding packrats which could quickly ruin your trip.
Continue Reading: