What To Pack In Your RV Emergency Tool Box
By
on
This post may contain affiliate links. As an Amazon Associate, I earn from qualifying purchases. Please read my full disclosure.
Every RV camper should travel with a tool box. Gear boxes can be used for emergencies, or maintenance issues that comes up unexpectedly. They are especially handy when boondocking, or spending the night outside of established campgrounds.
Listed below are some of the most important items to keep in your tool kit.
RV Emergency Tool Box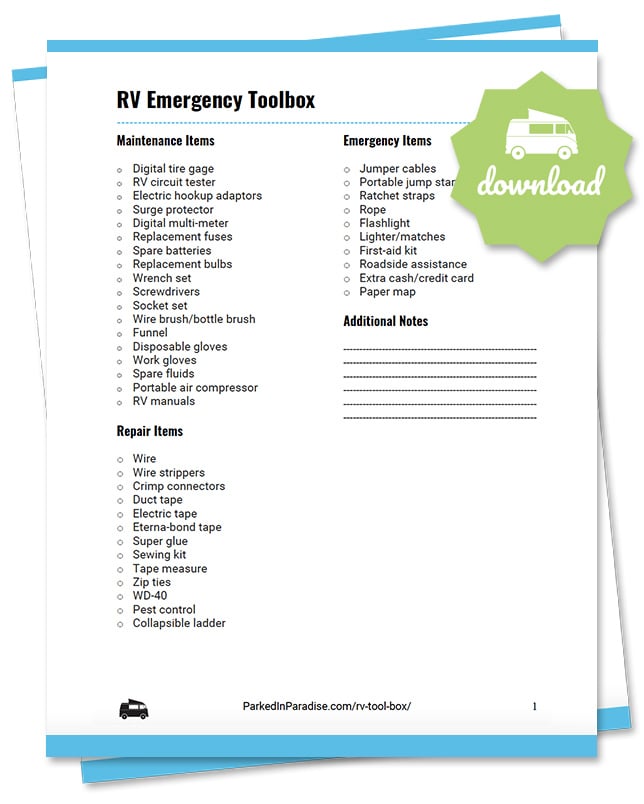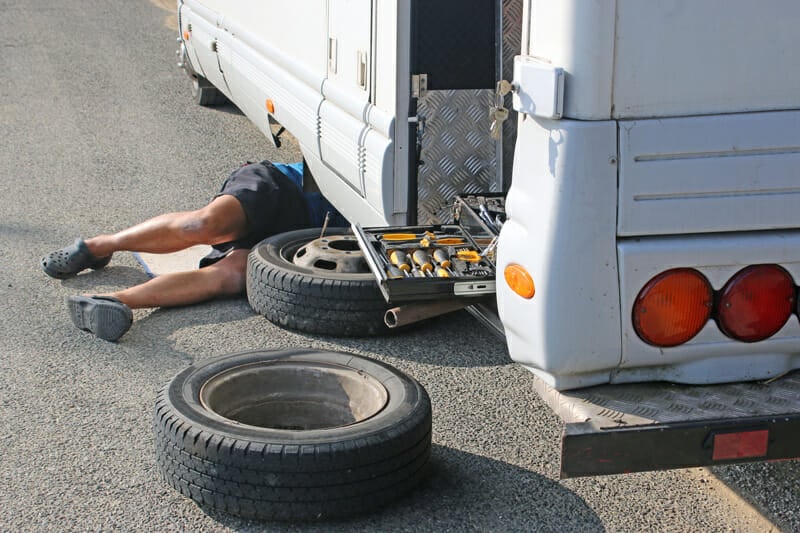 Maintenance Items
Digital tire gage: Whether or not your RV has a tire pressure monitoring system installed, you should also carry a small tire gage in your RV tool box as well. We recommend checking your tire pressure before any long road trip.
RV circuit tester: Before plugging your RV power cord into the campground electric system, it's highly recommended that you test the circuit. Ground-outs or surges can happen when there are a lot of motorhomes plugged into the same circuit. Low voltage can damage your appliances so it's important to keep an eye on your voltage monitor inside the camper. Don't be afraid to pull the plug!
Electric hookup adaptors: In our article about RV plugs, cords and adapters we cover the different types of power cords available. Not every RV park is going to have hookups for your specific type of camper so you should travel with adapters that will allow you to get power at any campground.
Surge protector: The importance of a good surge protector cannot be overstated! They prevent voltage spikes which can be useful in the event of a lightening strike or when encountering faulty wiring.
Digital multi-meter: A surge protector will prevent most electrical problems, but it won't tell you voltage. Multi-meters are useful for getting specific information about your power system.
Replacement fuses: A variety of replacement fuses is always handy to have around. In an RV, there are so many systems working simultaneously that it's not uncommon to replace them. We recommend getting a pack with a variety of sizes to keep in your tool kit.
Spare batteries: For the smoke alarm, CO detector, flashlight or any other small electronics you own is always going to be a good idea.
Replacement bulbs: Are small and easy to pack so it makes sense to add them to your toolkit. We recommend packing some for overhead lighting or headlights.
Wrench set, screwdrivers, and socket set: These can be useful for any number of repairs. Pack a variety to sizes so you can easily change a tire, fix your slide outs, get behind the water heater or open small compartments.
Wire brush/bottle brush: Wire brushes are especially useful when it comes to fixing rust or corrosion. Brush off the prongs of your power cords on a frequent basis. Corrosion can create extra heat which can be damaging. Similarly, keep the terminals of your batteries clean as well as the burner and electrodes around your water heater.
Funnel: These can be used to fill your freshwater tank if there are no hookups available. You should pack more than one to use for vehicle maintenance as well.
Disposable gloves: Perfect for the RV dump station! You can also use surgical gloves for changing oil or making plumbing repairs.
Work gloves: A solid pair of work gloves will save your hands when grilling, collecting firewood, or hitching up.
Spare fluids: Extra fluids to pack will be dependent on the amount of space you have and the type of trip you're planning. Oil, coolant, and windshield wiper fluid is always at the top of our list.
Portable air compressor: While this isn't a necessity, if you do a lot of boondocking, having an off-road air compressor is highly convenient. 12 volt air compressors can run off your camper electric system and re-inflate tires that are low. They can also be used to winterize your RV.
RV Manuals: Keep paper copies about every system you can get your hands on!
Repair Items
Emergency Items
Jumper cables: A dead battery is one of the most inconvenient occurrences on an RV trip. Jumper cables will make it easy for your neighbor to get you on the road; or vice versa.
Portable jump starter: Better than jumper cables is a portable jump starter! These are small enough to keep in your glove box and will get your truck started again after you left the lights on all night.
Ratchet straps: These straps can come in handy for a quick repair or tying down some large toys you pick up during travels.
Rope: This is an essential item that can be used for any number of purposes; bear proofing, hanging a hammock or tarp, stabilizing an awning, the sky is the limit!
Flashlight: Keep a working flashlight or headlamp in your tool box at all times. We like to keep several scattered throughout the camper.
Lighter/matches: More than just starting fires, a lighter can come in handy for manually lighting your water heater as well.
First-aid kit: Keep a basic first-aid kit with bandages, Neosporin, Aspirin, and other simple medications on-hand.
Roadside assistance: A membership to AAA or GoodSam can give you access to emergency towing, mobile mechanics, windshield, or tire repair.
Extra cash/credit card
Paper map: You should have a backup to your GPS unit to get you to your destination. Always pack a physical map in case you run out of service or just need a reference when making travel plans.
---
Test Your Set Up!
Just like going driveway camping before you test out the real thing, test your emergency set up as well! Make sure you have the right equipment to change tires, assemble your slide outs without the motor, and make minor repairs. Having the right RV toolbox will save you a lot of hassle once you hit the road.
Continue Reading: