The Best RV Sink For Your Camper
By
on
This post may contain affiliate links. As an Amazon Associate, I earn from qualifying purchases. Please read my full disclosure.
RVs are like second homes. And just like a house, you need to have regular fixtures and appliances like refrigerators, sinks, and toilets.
RV sinks and faucets are compact, and come in a variety of shapes and configurations to fit into your small camper.
What Type Of Sink To Get For Your RV?
RV sinks are designed to fit in with the plumbing system of the RV, which uses flexible pipelines or PVC instead of the rigid metal pipes seen in most houses.
RV sinks can also be customized to match your camper's unique space constraints or customized to meet the smaller living area of a travel trailer.
RV corner sinks are compact enough to fit well in the kitchen, allowing enough space to wash your hands without taking up the area you need to complete your business.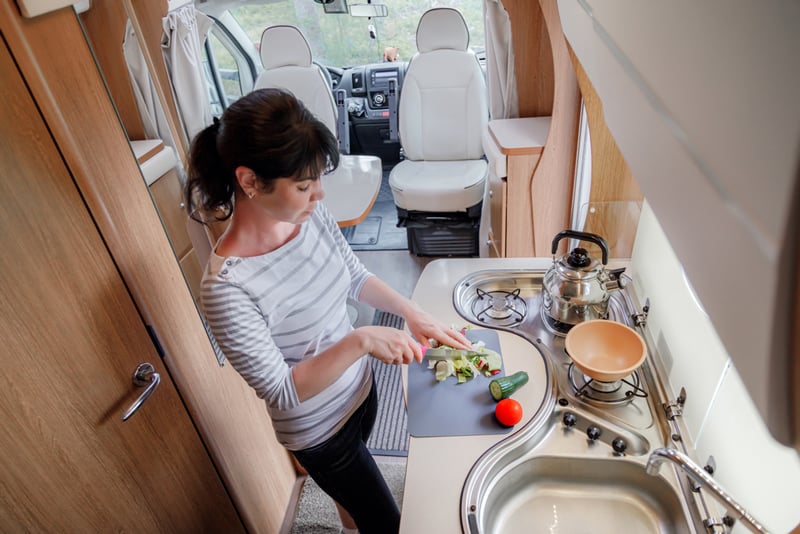 What To Look For In An RV Sink
Now that you know what an RV sink is, you'll be considering the features you want in your RV sink. To make this considerably more effortless, we've compiled a buying guide for every potential and current RV owner:
The Sink's Design
You should select an RV sink that suits your particular preferences and complements your RV. If you have an old-school RV, you should get an antique instead of a modern kitchen sink. Additionally, some sinks have a fold-up faucet and cover. When you cover such sinks, you get an extra counter to prepare and dine your meals on.
You should also avoid buying a sink with two bowls, which won't fit in smaller RVs because it is designed for huge class A RVs.
Size and Shape
The size and shape of the kitchen sink will dictate the amount of space required to install it. The type of RV you have also influences the shape and size you will pick. Travel trailers and camper RVs, for example, require a smaller sink, but Class A, B, and C RVs require a more oversized sink.
You should also think about the size of the cabinet beneath your sink. This is because some pots will fit into 18-inch cabinets, and others will fit into 30-inch cabinets. As a result, before purchasing a sink, you should measure the length and width of your kitchen cabinet. If you do go for a smaller pan, make sure it is deep enough to accommodate various cooking tools.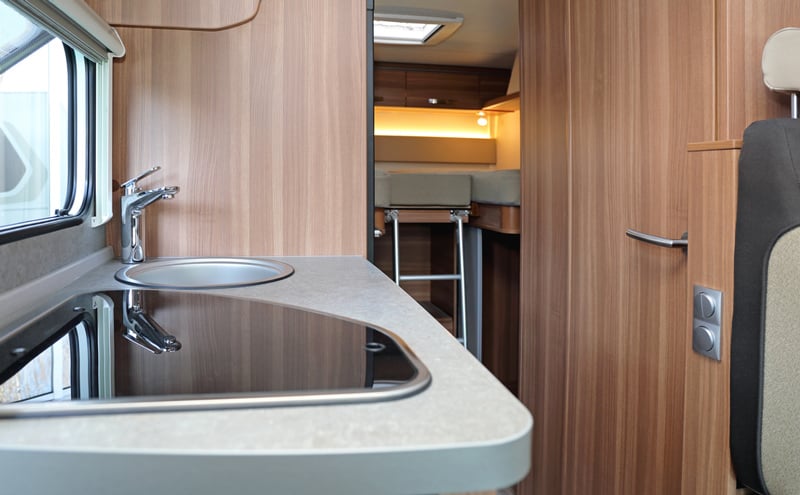 Material Used
Plastic, acrylic, and stainless steel are among the materials used to create RV kitchen sinks. Copper, composite granite, fiberglass, and porcelain kitchen sinks are also available.
Many times, stainless steel is the best choice because it can sustain repeated usage without rusting. If you choose a stainless-steel sink, make sure to check the gauge. Getting a lower number indicates that the steel is of higher quality and thickness.
Consider how easy it is to clean the sink and how long the material will last. Plastic sinks, for example, are inexpensive, but it is hard to clean and maintain them. Composite granite sinks, on the other hand, are more expensive but are of higher quality.
Types of RV Sinks
Single Basin Sink
There is only one bowl in a single basin sink. The basin is usually large enough to hold a large number of utensils. The single bowl sink is commonly offered in various mounting styles, including under-mount, drop-in, and apron-front.
This type of sink goes well with multiple countertop surfaces and may accent different RV kitchen styles. A single basin sink also works well as an RV bathroom sink.
Double Basin Sink
This sink is separated into two bowls. Sinks of this style have been popular in RV kitchens for many years. The bowls are usually the same size. Having two basins makes washing and rinsing utensils in the RV much more manageable.
You have to fill one basin with soapy water and the other with clean water to do the dishes. The double basin is offered in three different configurations: apron-front, drop-in, and under-mount.
Triple Basin Sink
Three different bowls make up a triple basin sink. You can sort this type of sink in several ways. The design comprises a smaller bowl between two average-sized bowls. The smaller bowl is usually linked to the garbage disposal, and you can also wash your hands or perform other minor tasks.
The larger basins on either side can accommodate a dish rack. If you enjoy multitasking in the kitchen while doing food preparation, fruit washing, and dishwashing, a triple bowl kitchen sink is for you. Sinks in this style are available in drop-in, under-mount, and apron-front styles.
How to Maintain Your RV Sink
If you travel a lot with your RV, you'll be using the sink quite often. Consistent use of the RV kitchen sink can cause clogging and malfunctioning, leading to unpleasant smells in your RV.
To prevent clogging, clean your RV kitchen sink by mixing a cup of white vinegar with three tablespoons of baking soda and leaving the solution overnight. You can clean the sink with hot water the next morning. You can also clean your RV kitchen sink with baking soda and dishwashing soap or lemon juice.
Here are some ways to prevent your drain from being blocked:
Avoid pouring butter, oil, or grease into your sink's drain
Remove decaying food particles from corners of the sink with enzyme drain cleaners
Don't use harsh cleaning agents in your sink
Use a sink strainer to prevent debris from going down your sink's drain
Frequently Asked Questions
Can I put a regular sink in my RV?
Yes, you can as long as it fits the dimensions of your RV. Many regular sinks work pretty well in RVs; you just have to make sure you get the right one.
Are RV faucets regular-sized?
Yes, they are. Most times, RV faucets have holes that match the plumbing tools, but you must be careful, so you don't buy a faucet that doesn't match your plumbing.
The Best RV Sinks Reviewed
TOP CHOICE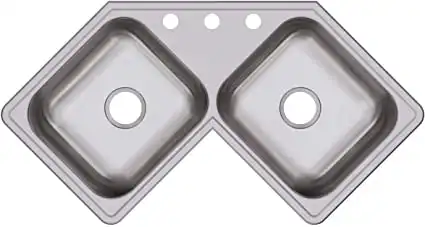 Elkay DE217323 Double-Basin Stainless Steel Sink
This sink's one-of-a-kind design allows you to make creative use of space, ensuring you have enough sink area even if your counter space is limited. It will fit perfectly in your kitchen counter corners.
Specifications
Dimensions: 25 inch Length x 19 inch Width x 6.5 inch Depth
Estimated Lifespan: Lifetime limited warranty
Material: Stainless steel surface
Works best in corners of small RVs
Features
Made in the United States according to US standards
Double basins for washing and rinsing dishes and utensils
Padded to reduce vibration and noise
20 gauge commercial-standard thickness
Straightforward set up because of U-Channel installation
BEST COVERED SINK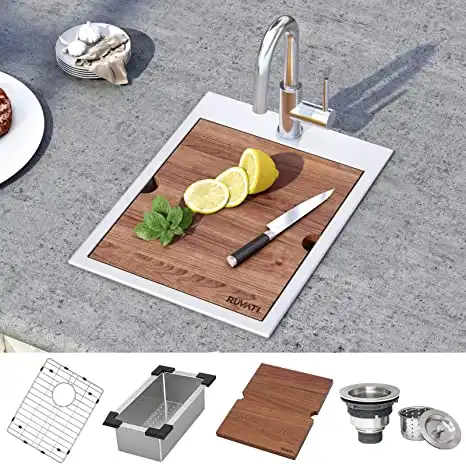 Ruvati RVH8210 RV Stainless Steel Kitchen Sink
This lovely RV sink with its brushed finish was created to maximize space. A stainless steel colander, chopping board, and all the tools you need to install are included in the accessories.
Specifications
Dimensions: 13 inch Length x 14½ inch Width x 10 inch Depth
Estimated Lifespan: Lifetime limited warranty
Material: Stainless steel, nickel, and chromium surface
Works best in medium-sized RVs
Features
Maximizes space with its inbuilt workstation, ledges in the front and back, and accessories
16-gauge thickness and 8-gauge rim increase durability
Rubber padding and sound guard undercoat minimize noise
It comes with an attached chopping board
BEST UNDERMOUNT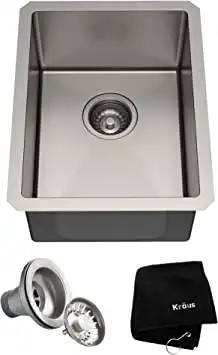 Kraus KHU101-14 Stainless Steel Kitchen Sink
This RV kitchen sink includes everything you'll need to put your sink together. A skin, a cutout template, a drain assembly, a Kraus kitchen towel, and mounting hardware are included. With the easy drain design, clogged drains are not a concern.
Specifications
Dimensions: 14 inch Length x 18 inch Width x 8 inch Depth
Estimated Lifespan: Lifetime limited warranty
Material: Stainless steel surface
Works best in Medium-sized to large RVs
Features
Holds dishes well and prevents clutter because of depth
It does not dent easily
Highly durable
Designed specifically for easy drainage
Built with TRU16 stainless steel
BEST WORKSTATION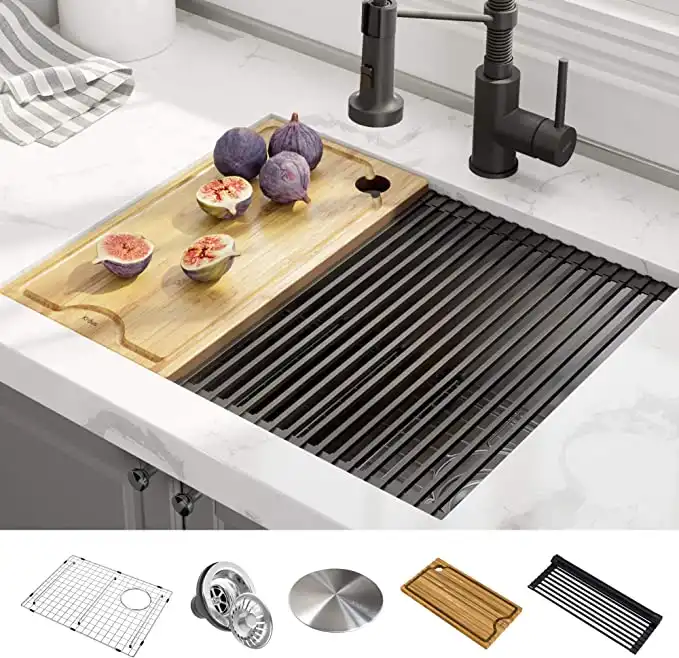 Kraus KWU111-23 Stainless Steel Kitchen Sink
Like its sibling above, this RV kitchen sink includes everything you'll need to put your sink together. It also comes with accessories, including a roll-up rack for drying dishes, strainer, chopping board, drain cover, and dish grid.
Specifications
Dimensions: 23 inch Length x 19 inch Width x 10 inch Depth
Estimated Lifespan: Lifetime limited warranty
Material: Stainless steel surface
Works best in: Large RVs
Features
Made with TRU16 stainless steel
Designed for easy drainage
Fully insulated to prevent noise
Spacious sink bowl to contain large dishes and pots
Rust-resistant finish
That's A Wrap!
The best way to know the kind of sink you should buy is to find out the size of your RV.
Choosing the best sink makes sure that you have the best experience in your RV, and luckily, there are many options to choose from.