Best Tire Covers For RV Campers And Travel Trailers (Review)
By
on
This post may contain affiliate links. As an Amazon Associate, I earn from qualifying purchases. Please read my full disclosure.
Tires represent a significant investment for your camper. So taking proper care of them during travel, and while they sit idol can save you a lot of money in the long run.
If you're taking care to maintain your tires during travel, you should store them properly while winterizing, or parking for long periods of time at the campsite as well.
In this article, we're going to discuss how to extend the life of your camper using RV tire covers, what to look for in a cover, and how to find the best ones for your motorhome.
BEST BUDGET BUY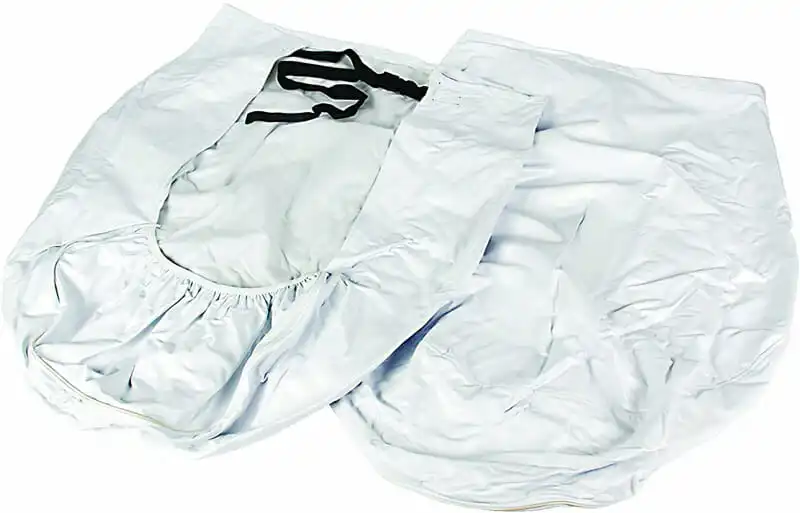 MOST DURABLE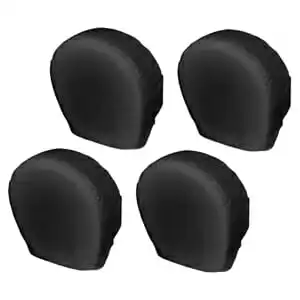 Why Use RV Tire Covers?
The idea of covering your tires when you're not using your RV may seem unimportant. If you're wondering, "Are RV tire covers really necessary?" the answer is a resounding yes.
The things that most frequently result in RV tire failure is:
Improper inflation
Misalignment
Uneven weight distribution
Parking on uneven surfaces
Sitting for long periods of time without rotation
Continuous exposure to hot sunlight
A tire pressure monitoring system and sturdy leveling blocks can take care of tire wear when you're traveling and camping for short periods of time. But for long road trips and storage, tire covers are a necessity.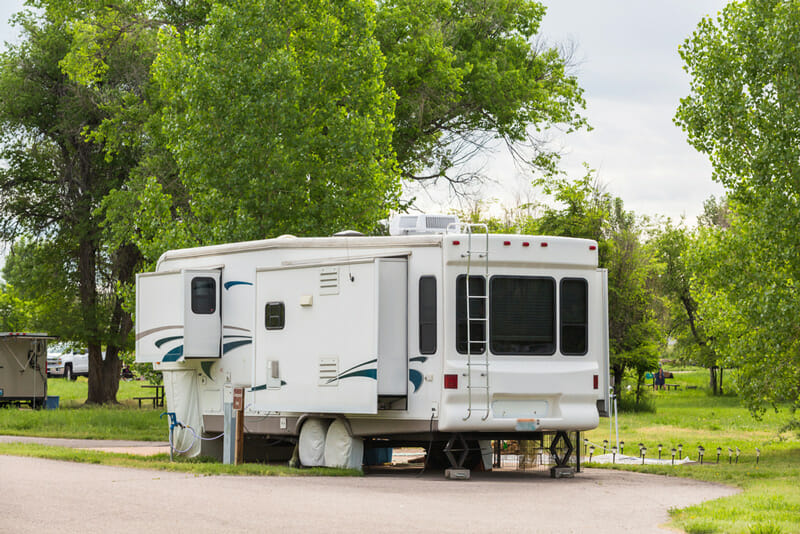 Saving Money
Tire covers are extremely inexpensive compared to purchasing a new set of tires. For that reason alone, using tire covers should be a no-brainer. This small upfront investment will help you avoid some of the most common tire issues and will save you from having to buy pre-mature replacements.
Benefits Of An RV Tire Cover
Weatherproofing
Weatherproofing is perhaps the main reason that RV owners choose to make this purchase. Trailer tire covers protect against weather conditions that cause your wheels to deteriorate quickly. This includes:
Heat and direct sunlight
UV radiation
Rain and moisture
Winter frost
The sun's rays significantly reduce the longevity of your tires, especially after prolonged exposure. If you're going to invest in an RV tire cover, you should always look for ones with UV radiation protection which can help mitigate these negative effects.
Rust and Corrosion Resistance
Rust and corrosion can quickly destroy an otherwise correctly functioning tire, and if you notice these issues, it's often too late. A cover is your first line of defense against these issues and having to spend money to replace your tires.
Prevents Against Cracking and Dry Rot
Outdoor elements can cause your tires to crack or have dry rot, two problems that are preventable merely by covering your tires.
The idea is to prevent moisture coming in, as well as moisture buildup, to avoid rust formation on your tires. Heavy-duty vinyl is a popular choice in waterproof tire covers, and you can't go wrong with it.
The covers should also be weatherproof, which means they'll protect against dirt, dust, and other pollutants.
Reduces Risk of Flats and Blowouts
Flats and blowouts are a big tire concern, and protecting your tires when you're not using your RV reduces wear and tear. This practice also ensures that your tires are fresh when you do go to use them.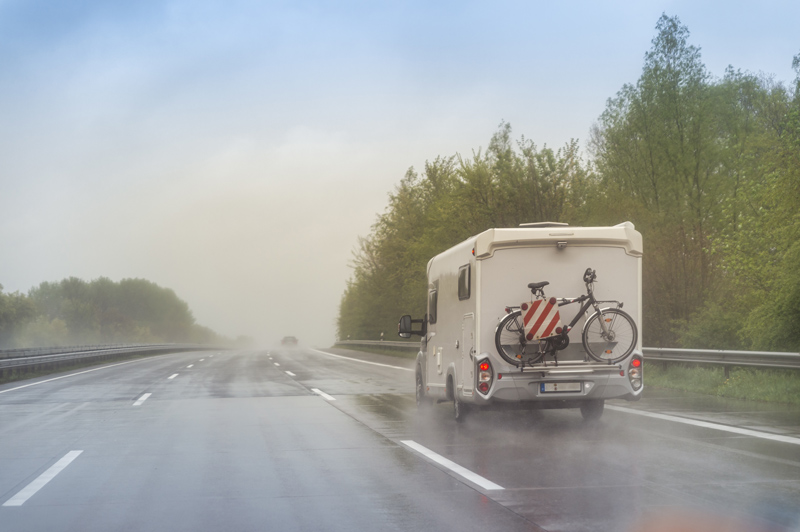 What To Look For In An RV Tire Cover
Size
Tire cover sizes vary among manufacturers, so you need to determine your RV's tire size before purchasing anything. One way to do this is by finding the tire code on the tire sidewall. Or, if you're having trouble locating that information, you can simply measure from one side of the tread to the other.
You don't want to purchase a tire cover that is too large, because if there is any sagging, water buildup can occur after a long night of rain. The worst thing that you want is a tire that's been sitting in water for months at a time.
Color
Most RV wheel covers come in black, white, or gray, as these colors protect against UV exposure the best. A lot of RV campers choose black because you're able to get away with cleaning a black cover a little bit less.
But if you live in a hot area with lots of sunlight, white is typically a better option because it will reflect sunlight more readily.
How Many Tire Covers To Get
It should go without saying, but you'll want to purchase a tire cover for every wheel of your RV, including dual wheels and the spare tire if you have one in the back.
Some tire covers are designed for dual sets which makes it easier to cover both at once. You should replace tire covers at the first sign of wear.
How to Clean a Tire Cover
Though it may seem like cleaning your tire covers is a low priority when it comes to RV upkeep, don't neglect it. You should clean your tire covers periodically, as things like dirt buildup can cause them to wear out more quickly.
You'll want to do so using warm water and a soft cloth or sponge. Avoid soap if you can, as well as harsh cleaners and chemicals, which can damage your tire covers. Once clean, let the cover dry and then apply a protective agent, which will help lengthen its lifespan.
Best RV Tire Covers Reviewed
BEST BUDGET BUY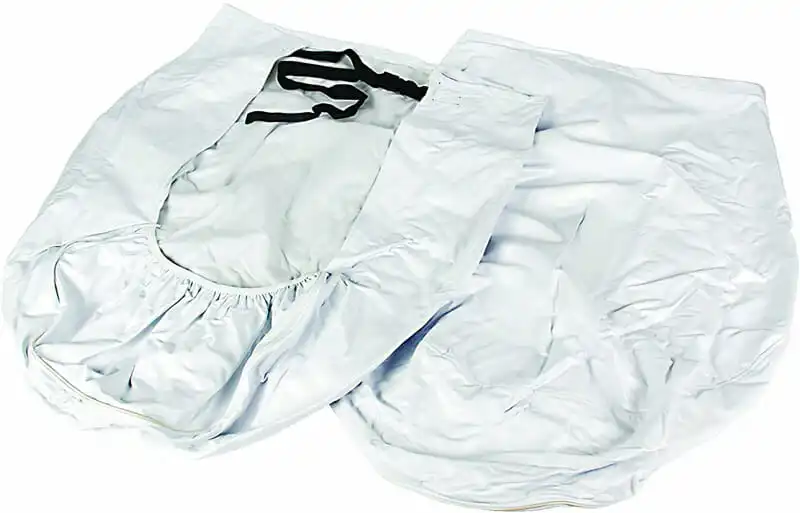 Camco offers an outstanding budget option that will protect your tires against the elements and all kinds of damage, like from dust, rain, and snow. These wheel covers come in a pack of two and fit tires from 24 inches up to 42 inches—the widest fit range of any of the products on our list.
Users like the buckle and strap feature, which makes putting the covers on and taking them off easy. Overall, reviewers are quite happy with these tire covers and find that they protect their wheels well. You can purchase the Camco wheel covers in three colors.
Buckle and strap design provides easy installation
Durable vinyl construction
Weatherproof for long-lasting use
Provides outstanding wheel protection
This model from Classic Accessories is our favorite pick for campers with dual-axle tires because of it's durability and ease of use. The wheel covers are waterproof and include UV protection that keeps the sun from wearing out your tires. And the inside of the cover is made from non-scratch material so as not to compromise your tires.
You can put them on in a flash, and they come with attractive rear eyelets that secure the bottom flaps. This OverDrive product covers two wheels and fits tires from 27 to 33 inches, so you should be able to find a size that fits your RV's tires. Each size is available in black, white, and two tones of grey.
Made from durable, heavy-duty vinyl
Waterproof
Prevents sun damage to tires
Flexible construction
Three-year limited warranty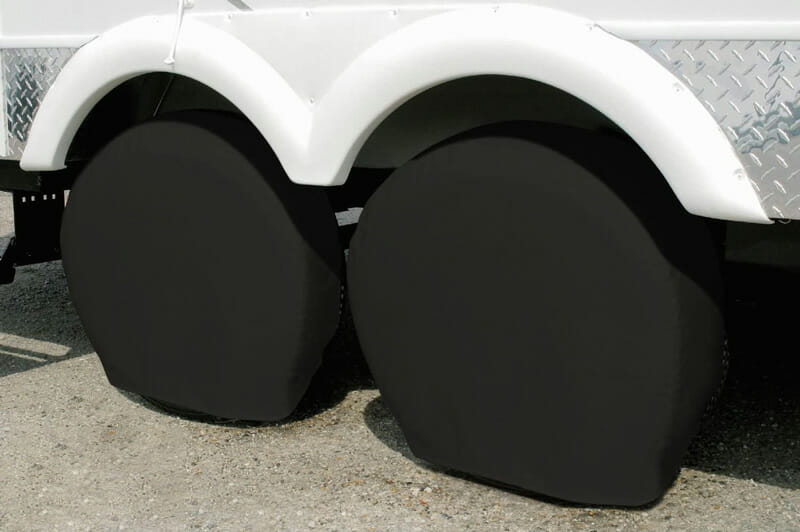 MOST DURABLE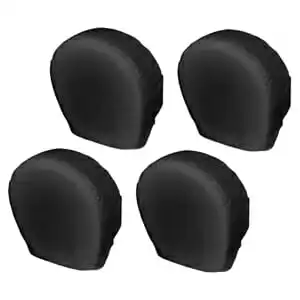 Lastly, we have the Explore Land Tire Covers, which come in a pack of four and have the distinction of being our most durable product. You can use these on your RV, as well as several other vehicle types, such as jeeps, SUVs, and trucks, which make them a versatile product.
Thanks to its vinyl design, these tire covers stand up well to the elements, and the UV-stabilized treatment allows for more prolonged use. It has an elastic cord that auto-locks to achieve a perfect fit, and the tire covers are easy to use. They're also easy to clean and help prevent the aging of your tires from things like sun damage, rust, and dirt.
The Explore Land Tire Covers are available in three colors.
All-season tire cover
Ideal for several different vehicle types
Water-resistant coating
UV stabilized treatment
That's A Wrap!
Protecting your tires from the elements is critical to prolonging their lifespan. If you're looking for a budget option, Camco will do the job, and if you're looking for a long-lasting, durable product, go for the Explore Land Tire Covers. The OverDrive tire covers are the best choice if you have a dual axle trailer.
Whichever one you choose, any of the top-rated products on this list will stand up to the all-important task of safeguarding your tires.
Continue Reading: