Top 10 Things To Do In Acadia National Park
By
on
This post may contain affiliate links. As an Amazon Associate, I earn from qualifying purchases. Please read my full disclosure.
Acadia National Park is best known for its rocky coastline where the mountains meet the ocean. It's located southwest of Bar Harbor, Maine and covers about half of Mount Desert Island, part of the Schoodic Penninsula, and a few smaller islands in-between.
This may be one of the smallest National Parks in the US, but the incredible views also make it one of the most popular.
In this article we're going to cover 10 must-see attractions in Acadia National Park and the best things to do in the area.
What To Do in Acadia National Park
Whether you're looking for a secluded sand beach, a memorial day hike, or you want to cruise around in wonder, Acadia has all the gorgeous views to make your visit worthwhile. Take a look at our top ten favorite spots.
Summit Cadillac Mountain
Hike the Precipice Trail
Drive Park Loop Road
Grab A Bite At The Jordan Pond House
Photograph The Bass Harbor Head Lighthouse
Climb Up Otter Cliff
Bike On The Carriage Roads
Listen To The Boom At Thunder Hole
Hike On The Schoodic Peninsula
Whale Watching On A Boat Tour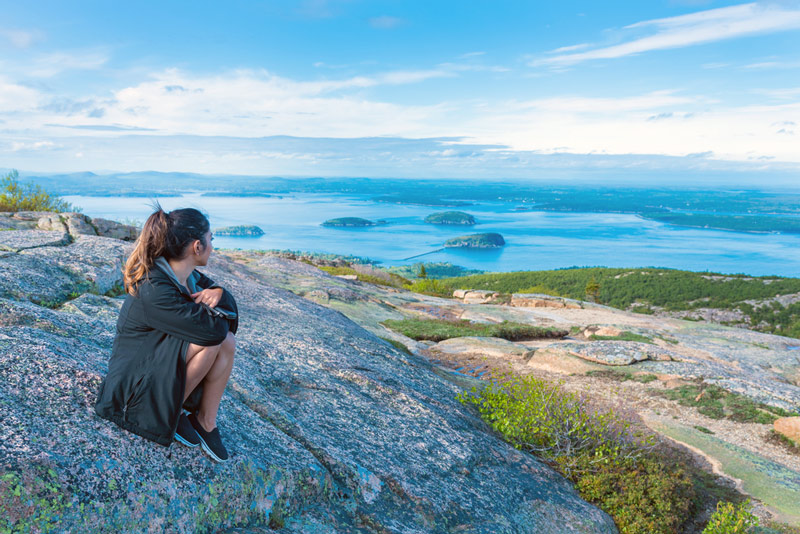 Summit Cadillac Mountain
An Acadia National Park must-see is Cadillac Mountain. The mountain rises 1,530 feet above sea-level making it the highest point inside the park.
Cadillac Mountain is one of the best places to get a panoramic view of Bar Harbor, Frenchman Bay, and the collection of islands below.
The summit is best known for its stunning sunrises and fabulous hiking trails.
The entire drive up and back down is a narrow access road about 7 miles long. Just remember this memorable park location is popular and tops the list for many park visitors. So it does get pretty crowded with tourists at the top.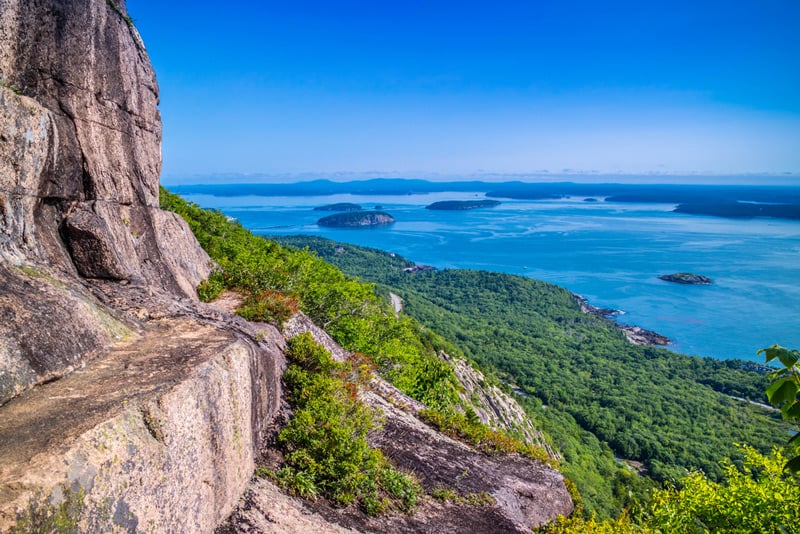 Hike The Precipice Trail
Adrenaline junkies will enjoy the Precipice Trail due to its impressive vertical heights and exposed climbing obstacles.
The two-mile round-trip hike may not sound like much until you find yourself traversing across the side of Champlain Mountain on iron-rungs (i.e., fixed-ladders).
The challenge, though, isn't in the rock-scrambling or even the distance. It all comes down to over 1,000 vertical feet of gain in less than a mile.
No climbing equipment is necessary, but this hike is still rated as one of the scariest in America.
Visitors who are inexperienced hikers may try tackling Beehive Trail first. It is a shorter, cardio-packed hike at just under a mile and a half with a less vertical gain of only 450 feet.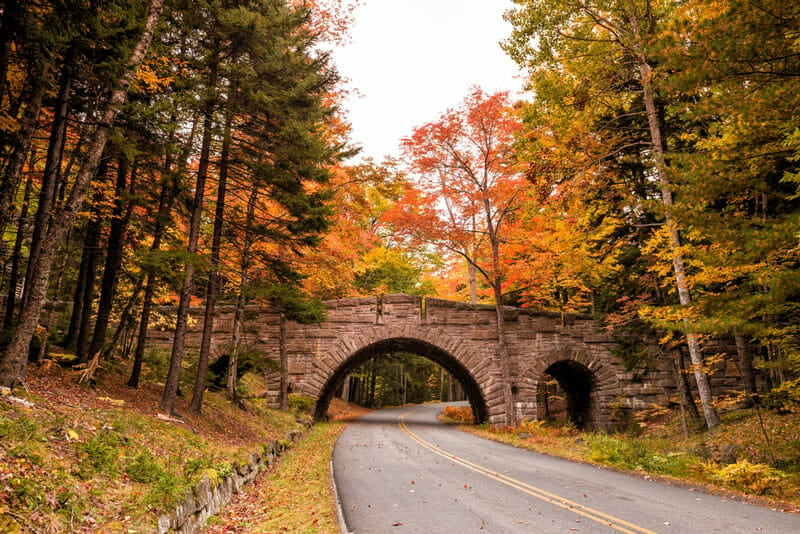 Drive Park Loop Road
Sightseeing and wildlife viewing often make the top of a visitor's list when it comes to Acadia National Park's must-see adventures. There are 33 miles of scenic roadways to explore.
Acadia's Park Loop Road encircles much of Mount Dessert Island. It's one of three major road systems in the park.
The drive itself stretches 27-miles long and gives you a front-seat view of the mountains meeting the shore. The loop starts at the Hull's Cove Visitor Center and drives past some of the most popular destinations in the park including Sieur de Monts, Sand Beach, Otter Point, Jordan Pond, and Cadillac Mountain.
There are multiple rest stops throughout the drive where you can stretch your legs and enjoy the wildlife.
Park Loop Road does get crowded between June and October so you may consider taking a ride on the free Island Explorer Shuttle rather than driving yourself.
It's also important to note that road closures are common during winter months.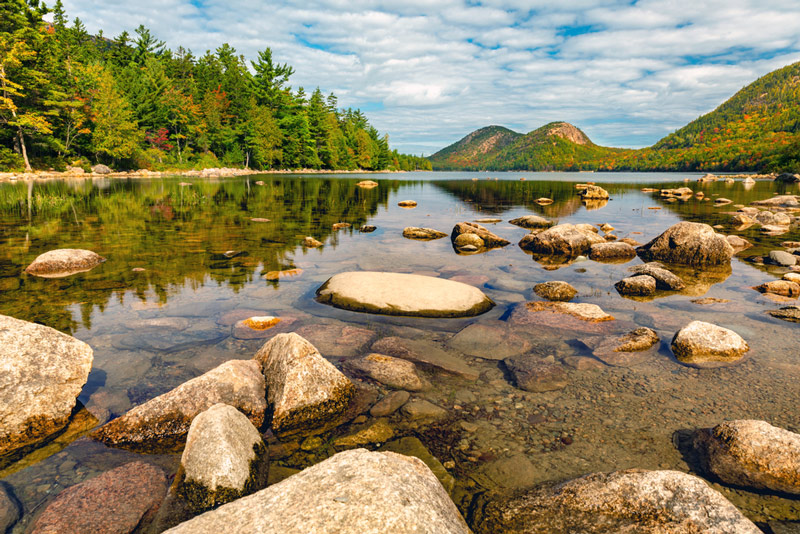 Grab A Bite At The Jordan Pond House
Located only 2-miles off Park Loop Road is one of the most pristine lakes in Acadia–Jordan Pond.
Water enthusiasts will enjoy paddling in the calm water which is surrounded by mountains and stunning geologic features.
Casual hikers can take a leisurely stroll among the evergreens on the Jordan Pond Nature Trail. For a more vigorous trek along the rock island coast visitors can tackle the the Jordan Pond Shore Trail.
All activities offer something different—picturesque views intensified by the salty air or the delicate aroma of evergreen trees.
Whether opting for a short stroll or a hefty hike, nothing beats a stop at the Jordan Pond House located on the south end of the lake. This historic restaurant has been in operation since the 1890s and offers extraordinary vistas no matter where you are seated.
The house is famous for its popovers and tea.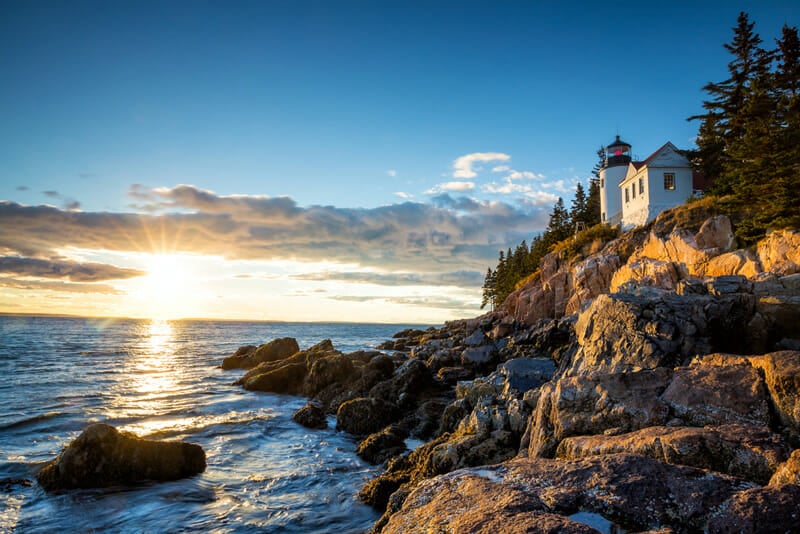 Photograph The Bass Harbor Head Lighthouse
Of the nearly 80 lighthouses in Maine, the Bass Harbor Head Lighthouse is the most iconic.
Every evening at sunset, photographers jockey for spots along the shoreline to capture the famous light station. The lighthouse was built in 1858 and was added to the National Register of Historic Places 30 years later.
Tourists who aren't looking to get that picture-perfect shot should steer clear of the area in the hours leading up to sunset.
The Bass Harbor Head Lighhouse it is the most visited destination on the west side of Mount Desert Island and parking can be nearly impossible to find during this time.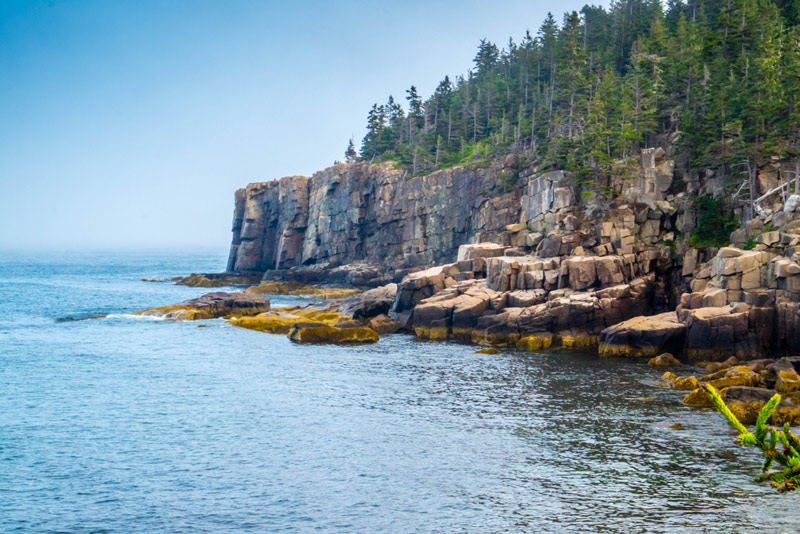 Climb Up Otter Cliff
Those searching for a more secluded experience in Acadia National Park should check out Otter Cliff–not to be confused with Otter Point!
The cliff rises 110 feet high and has much less foot traffic than the other hotspots in Acadia. Not only is the cliff a prime location for rock climbing, but you can capture some incredible views of the granite rocks rising above the water. It's common to see climbers repel down from the top and then climb back up again.
Otter Cliff is located along the Ocean Path between Sand Beach and Otter Point.
For the perfect stress-free hike, travel on foot from Otter Cliff to Sand Beach where you can avoid the traffic jams and relax completely.
Bike On The Carriage Roads
The Carriage Roads make up a 57-mile network of paths funded by John D. Rockefeller Jr. from 1913 to 1940. The labyrinth of trails was masterfully engineered by Rockefeller himself to feature Acadia's breathtaking views that are unreachable by car.
Today, you can journey by foot, bike, or horse-drawn carriage around the loopy trails. Beautiful stone arched bridges are a highlight of the trip and you can easily reach some of the most popular park destinations including Jordan Pond, Eagle Lake, and Bubble Lake.
Bicycle rentals are available on Bar Harbor, Northeast Harbor, or Southwest Harbor.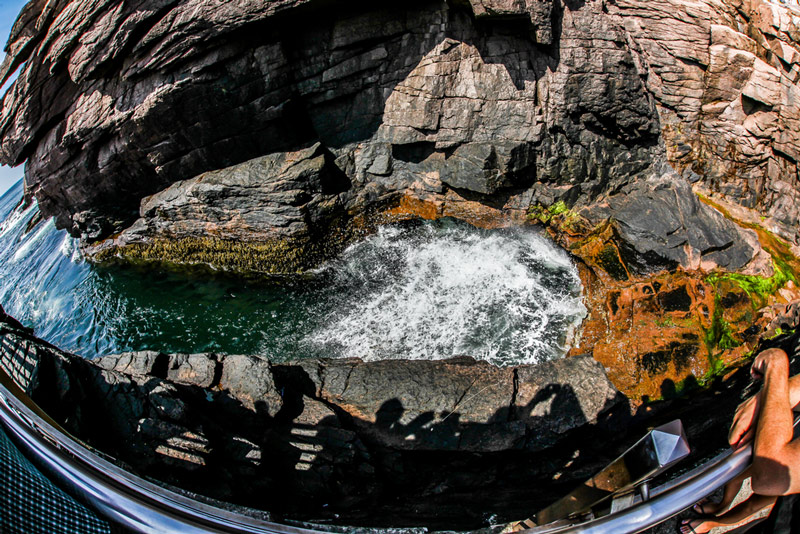 Listen To The Boom At Thunder Hole
The boom at Thunder Hole is a naturally occurring phenomenon which consists of a thunderous clap of waves combined with an impressive vertical spray of ocean water.
This occurs because Thunder Hole is naturally formed inlet that has developed just under the surface of the water. As waves roll over some of the trapped air inside, an earsplitting boom occurs.
Good timing and a little bit of luck is required if you wish to catch the famous boom. The best time to visit Thunder Hole is two hours before high tide.
Keep in mind that when this event occurs, visitors can become drenched in an ocean splash that reaches heights of 40 feet, so stand back from the pathway if you don't want to get wet.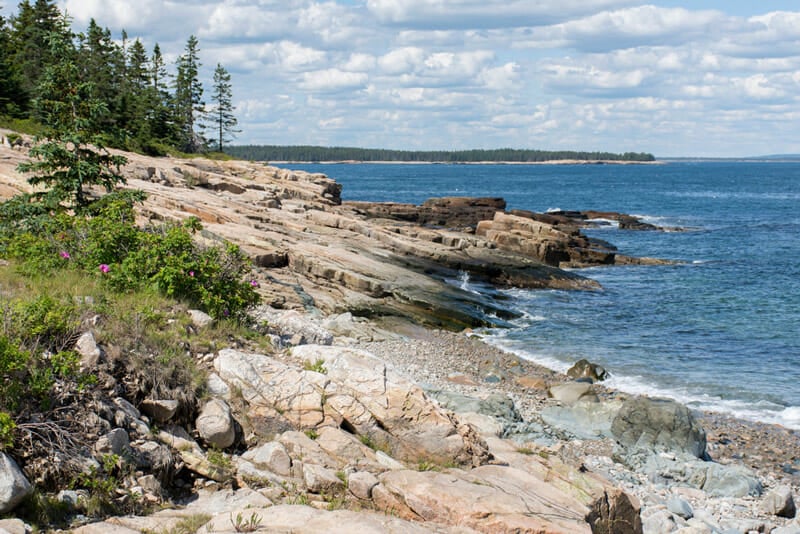 Hike On The Schoodic Peninsula
The Schoodic Peninsula is the only part of Acadia anchored to the mainland. It also offers a number of refreshingly secluded hiking trails for travelers who wish to get away from the crowds.
Several short hiking opportunities are available that traverse the rocky coastline. It's especially picturesque during high tide when the waves are pounding over the rocks.
The Frazer Point Picnic Area is the perfect place for families to grab a bite to eat and enjoy the seacoast views of islands.
Tent and RV campers who wish to spend the night will enjoy the Schoodic Woods Campground which is spacious and offers ocean views. It's also the only campground in the park with electric hookups available.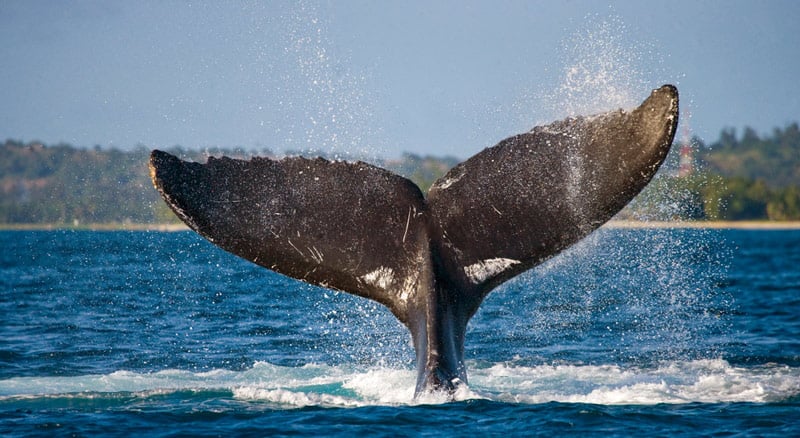 Embark On A Whale Watching Tour
Though they are not offered by the National Park Service itself, no visit to Acadia would be complete without embarking on a Whale Watching Tour.
Several private companies operate in an around Acadia offering whale watching and nature cruises in the Frenchman Bay.
The tours have a high success rate of seeing wildlife including Humpback whales, Finback, Minke, and Right Whales. You can also see dolphins, seals, and many seabirds!
Numerous nature tours are also available where visitors have the opportunity to hop off the boat and hike around Baker Island.
Adventure Time!
When you get ready to start planning your trip to Acadia, remember there's more to that picturesque location than a cruise around a looping road. Acadia National Park's must-see adventures offer a little something for everyone.
As a premier destination to visit in the Atlantic Northeast, Acadia promises to deliver epic memories to you and your family.
Whether you're a bicyclist, hiker, climber, or low-key day-packer, Acadia has 27-miles of paved trails to explore, four campgrounds, 150-miles of hiking trails to scout fixed-route climbing, boating, fishing, and more.
So, whatever kind of outdoor enthusiast you are, there's always going to be more to this picture than meets the eye.