National Parks In Maine – What to See
By
on
This post may contain affiliate links. As an Amazon Associate, I earn from qualifying purchases. Please read my full disclosure.
For those who enjoy rugged wilderness and quiet solitude, Maine is the perfect place to get away from it all. The state is known for its gorgeous rocky coastline, towering pine forests, multiple lighthouses, and the start (or end) of the Appalachian Trail.
There is one National Park in Maine; Acadia. There are also four sites affiliated with the National Park Service, and one National Trail that begins in Maine.
National Parks In Maine
Maine National Park Affiliated Sites
Katahdin Woods And Waters National Monument
Maine Acadian Culture Center
Roosevelt Campobello International Park
Saint Croix Island International Historic Site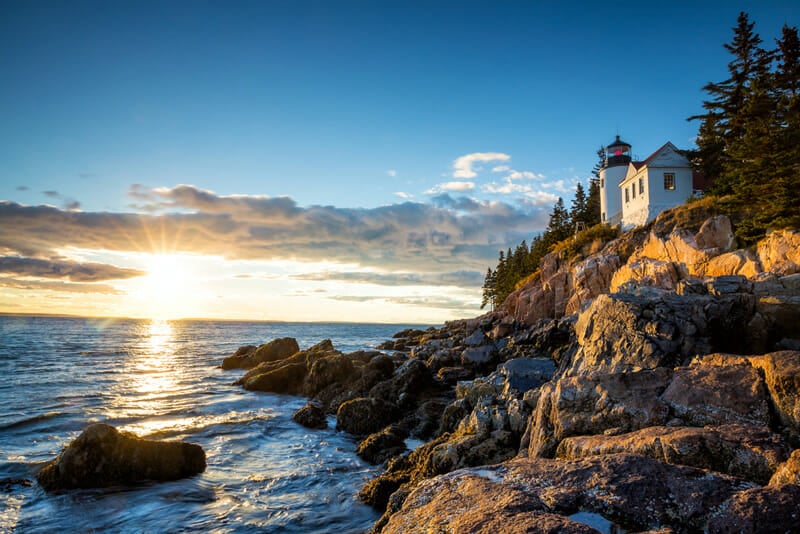 Acadia National Park
The mountains meet the ocean in Acadia National Park. This unique destination is located just southwest of Bar Harbor, Maine. The park encompasses 47,000 acres including roughly half of Mount Desert Island, a section of Schoodic Penninsula, and numerous smaller islands in-between.
Despite being one of the smaller National Parks, Acadia is one of the top-10 most visited National Parks in America.
Things To Do
Hiking is by far one of the most popular activities in Acadia. There are 158 miles of marked hiking trails and many of them are pet-friendly as well which makes for a great place to take the whole family. While hiking, visitors can enjoy views of the ocean, and a diverse array of wildlife and flora.
Many species both on the ground and in the water call Acadia National Park home. Be on the lookout for otters, seals, eagles, deer, painted turtles, peregrine falcons, porcupines, black bears, and moose to name a few. There are also 338 species of birds to look out for during various times of the year.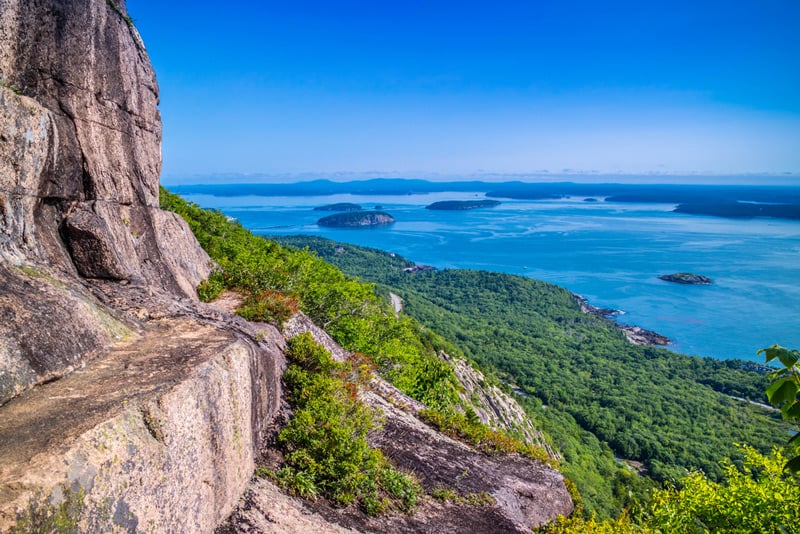 For the water enthusiasts, kayaking, canoeing, swimming, boating and exploring the tide pools are the perfect way to spend the afternoon. You can paddle around to all the little islands and even camp at some of the primitive sites off the mainland.
Self-guided auto tours, and bus tours are available in many areas throughout the park after a long week of hiking when you just want to relax and enjoy the view. At night, Acadia has stunning dark skies in which you can enjoy millions of stars.
Some roads may be closed due to snow in the winter, but that doesn't mean the fun stops. You can go ice fishing, snowmobiling, snowshoeing, cross country skiing, and dog sledding in the winter.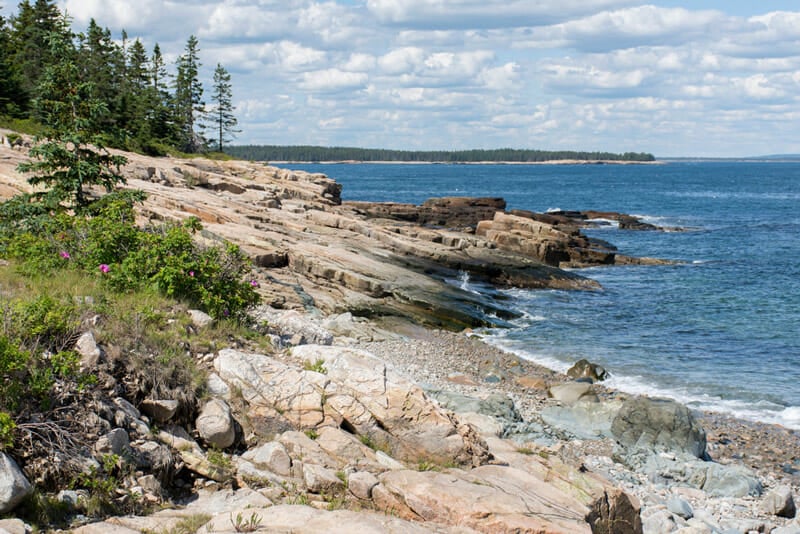 Getting There
Acadia is easily accessible by car either from Mount Desert Island, or the Schoodic Penninsula. RV campers should be aware that historic bridges in the area have hight restrictions and a few of the roads are closed to buses and long vehicles.
However, there are RV campsites available and a convenient bus system to drive visitors around to many areas of the park. So you don't necessarily need a vehicle to get around to some of the most popular locations.
Be aware that heavy snows limit park access in the winter between December-April.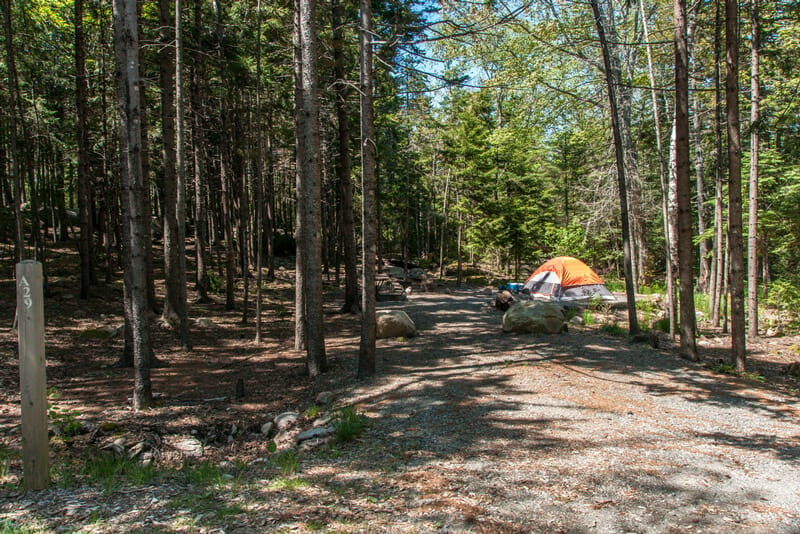 Camping
There are four campgrounds in Acadia National Park with a mix of tent, RV, and even canoe camping available. Visitors can choose between primitive campsites and those with more amenities including dump stations, flush toilets, and electric hookups.
If you want to spend the night near Acadia without sleeping on the ground, there are lots of glamping locations near Acadia where you can enjoy a soft bed, WiFi, and other luxury accommodations before heading out to the park in the morning.
Pets
Acadia is one of the few National Parks that is very pet-friendly for visitors. There are over 100 miles of hiking trails that allow leashed pets which is perfect for those who don't want to leave their furry friends at home.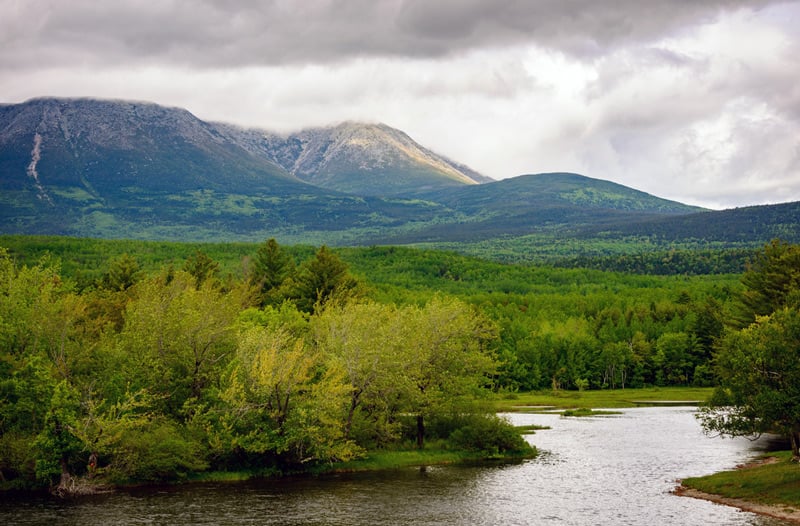 Katahdin Woods And Waters National Monument
Encompassing over 87,000 acres of Maine wilderness, Katahdin Woods and Waters offers a plethora of opportunities for outdoor enthusiasts. In addition to being a hub for bird-watching and hiking, Katahdin is designated as an international dark-sky sanctuary.
This pristine National Monument is an ideal location for star-gazers and campers looking to experience an immaculate night sky.
For those looking for adventure during the winter months, snowmobiling is permitted in many areas of the park and there are maintained trails for cross-country skiing and snowshoeing. Both hunting and fishing are allowed in sections of the park with valid permits.
Maine Acadian Culture Center
Nestled on the U.S. side of the Saint John Valley, the Maine Acadian Culture Center gives an in-depth view into the history of the Acadian settlers.
Tourists can explore the fascinating architecture of the early 1900's church, now home to the Musée culturel du Mont-Carmel, or wander among the seventeen buildings of the original Acadian settlement.
For those who prefer spending time in the outdoors, there is the Allagash Wilderness Waterway, where there are opportunities for angling, hunting, and canoeing. There's something for all ages, from festivals to French education, all enveloped in this rich, historical locale.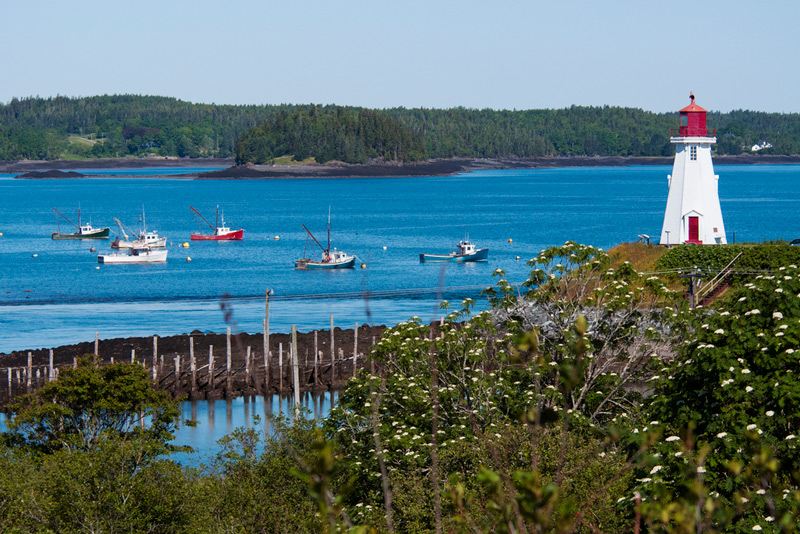 Roosevelt Campobello International Park
Preserved as a memorial to Franklin D. Roosevelt, this International Park was a beloved getaway for the Roosevelt family.
The 2,800 acre island is home to forests, bogs, and beaches, offering an idyllic area for leisurely walks and picnics. There are several cottages around the park, including the Roosevelt Cottage, which is open to visitors and has knowledgeable guides to answer any questions guests may have.
For those looking to take a scenic drive, the island also offers over eight miles of road, encompassing historical buildings, exquisite flora, and lovely seascapes.
Saint Croix Island International Historic Site
Saint Croix Island was an early French colonization attempt and today serves as a historical reminder of events dating back to 1604.
Open year round, visitors can walk along a leisurely trail, taking part in the self-guided tour and admiring the bronze statues set in homage to the French settlers and the Passamoquoddy Natives who helped them.
Additionally, there is a diverse bird population. Avid bird watchers can take part in helping the park catalogue its bird population by reporting any species they come across. Informal bird talks are hosted throughout the summer season.
National Trails In Maine
Appalachian National Scenic Trail
Appalachian National Scenic Trail
The Appalachian Trail contains nearly 2200 miles of established foottrack, 281 of which are located in the state of Maine. It winds its way through the abundance of picturesque ecosystems present in the Appalachian Mountains.
Maine's tallest mountain, Katahdin, marks the beginning (or end) of the Trail, and contains the most difficult mile on the route; Mahoosuc Notch.
Established in a unique climate, the Appalachian Trail is a hub for scientific study and education. Workshops are available for educators who wish to incorporate more of the natural world into their curricula.
Many exploration options are present for all skill levels, from family friendly day treks to the more arduous thru-hikes. All long distance hikers are required to obtain a free permit before starting their journey.
National Parks In The Surrounding Area