Camping In Acadia National Park
By
on
This post may contain affiliate links. As an Amazon Associate, I earn from qualifying purchases. Please read my full disclosure.
Acadia National Park is located southwest of Bar Harbor, Maine. It covers about half of Mount Desert Island, part of the Schoodic Penninsula, and a few smaller islands in-between. Acadia is special because it's where the mountains meet the ocean. You can find a variety of landscapes within the park including woodlands, lakes, ponds, and wetlands.
This is a spectacular place to go hiking, camping, kayaking, and canoeing around the rocky shoreline. Acadia is one of the smallest National Parks in the US. But it's also one of the most popular destinations because of the stunning views.
At A Glance: The Best Acadia Campgrounds
Campground with the most central location: Blackwoods
Best for RV camping: Schoodic Woods and Blackwoods
Quietest for campers: Seawall
Most primitive: Duck Harbor
| Campground | # Sites | Dates | Flush Toilets | Dump Station | Electric | Price |
| --- | --- | --- | --- | --- | --- | --- |
| Blackwoods | 306 | MAY - OCT | | | | $30 |
| Seawall | 202 | MAY - SEP | | | | $22-$30 |
| Schoodic Woods | 90 | MAY - OCT | | | | $22-$40 |
| Duck Harbor | 5 | MAY - OCT | | | | $20 |
Campgrounds In Acadia National Park
There are four campgrounds in Acadia National Park with nearly 600 available campsites for tents and RV campers. Three of the campsites come equipped with flush toilets, dump stations, fire rings, picnic tables, and trash collection. There are also overflow campgrounds and discounted primitive campgrounds in the surrounding area which we'll cover in this article.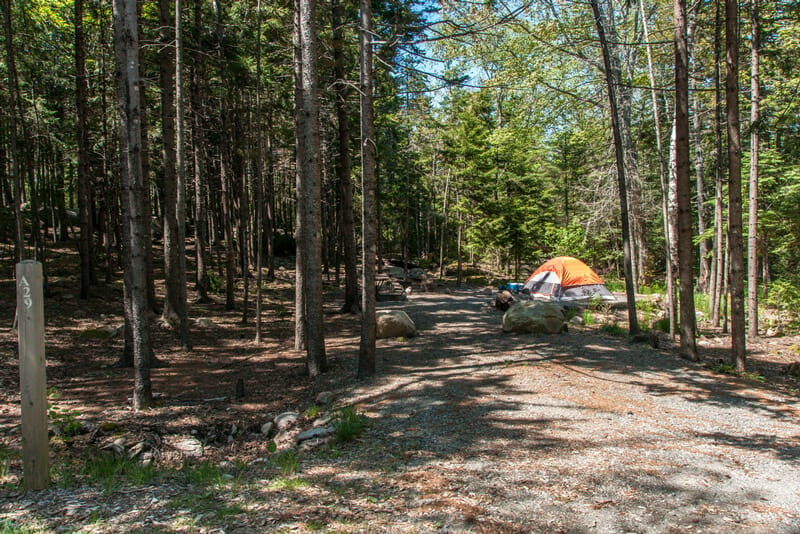 Blackwoods Campground
Blackwoods is the most popular campground in Acadia National Park. It has 306 campsites for tents, and RV campers up to 35 feet. The site features flush toilets, picnic tables, and fire rings. There's also potable water available and a dump station for motorhomes. While there are no showers there, you can find paid options in the village of Otter Creek, which is just a half-mile away.
Blackwoods is a beautiful wooded campground just a 10-minute walk from the ocean. It's in a central location next to some of the most scenic hiking trails that you can get to without a car. During the summer, you can ride on the free Island Explorer Shuttle. The shuttle makes regular stops at Otter Cliff, Bar Harbor Village Green, and Sieur de Monts.
Location is one of the best parts about Blackwoods campground. It's only a 15-minute drive from Bar Harbor, Maine where you can find restaurants, shops, and go on whale-watching tours.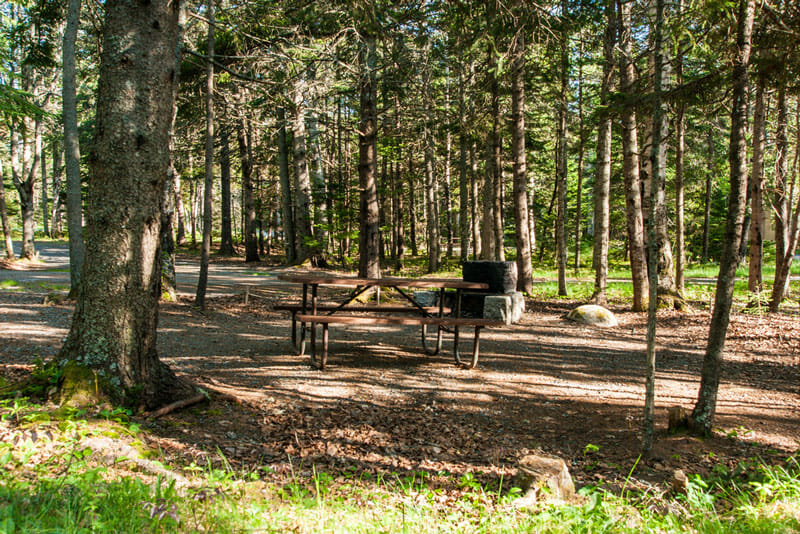 Seawall Campground
Seawall Campground is the place to go if you're looking for an experience that's a bit quieter than Blackwoods. It's located on the southwest side of the harbor which is in a more remote location of the park. You can find peaceful hiking trails nearby and it's only a 10-minute walk from the ocean. Seawall is also close to Echo Lake, a popular place to spend the day fishing, kayaking, and swimming.
There are 202 campsites at Seawall with a wide mix of walk-in tent camping and larger RV pads. However, the majority of the campsites are small so tent camping is ideal. It can be difficult to maneuver a large RV or trailer throughout the area.
Seawall is a little less crowded than blackwoods, but it's still wise to make a reservation during the summer months. You'll find basic amenities like flush toilets, potable water, picnic tables, fire rings, and a dump station there. While there aren't any showers, you can find some in the nearest town.
Like Blackwoods, the Island Explorer Shuttle makes regular stops at the campground during summer months.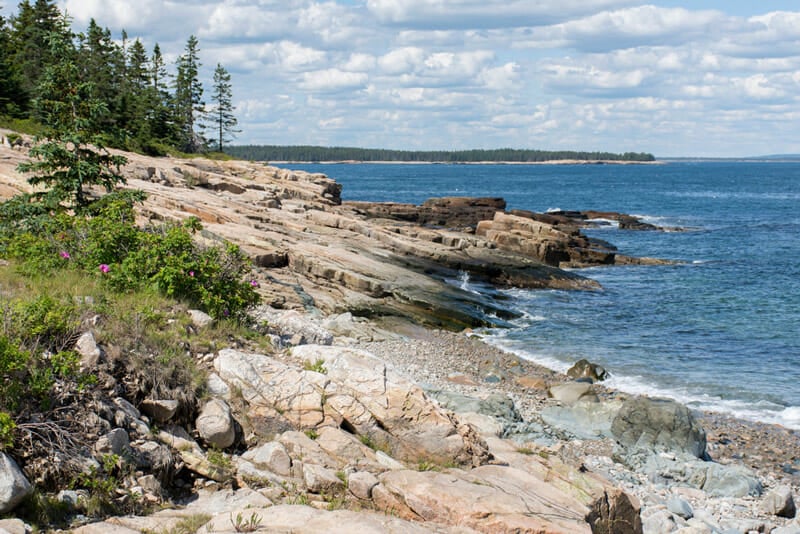 Schoodic Woods Campground
Schoodic Woods is the newest campground in Acadia. In contrast to Blackwoods and Seawall, this campground is more spacious because there are fewer campsites in an area just as large. This is the best place to stay if you want the room to spread out or enjoy RV camping with a larger group of people.
If you're feeling a little more adventurous, Schoodic Woods offers a handful of walk-in tent camping sites with ocean views. Of course, with any of the campsites, you'll want to make reservations ahead of schedule.
Again, you'll find basic amenities like flush toilets, potable water, picnic tables, fire rings, and a dump station there. Schoodic Woods is the only campground with electric hookups available.
Reservations available May-October
94 tent and RV campsites
Flush toilets
Potable water
Electric hookups
Dump station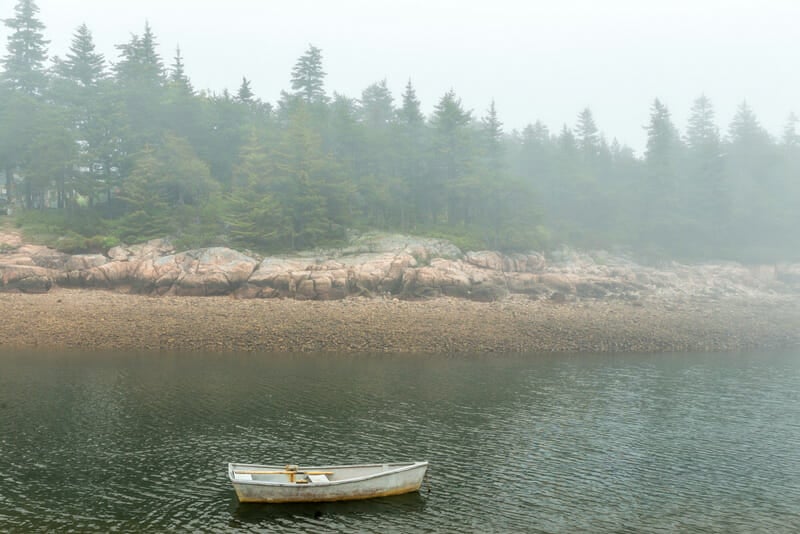 Duck Harbor Campground
The most rugged campground at Acadia National Park is Duck Harbor, which is located on Isle au Haut. This campground is inaccessible to cars and can only be reached by mailboat. There are 5 primitive campsites for up to 6 people each and no pets are allowed.
Duck Harbor has access to some of the best hiking trails in the park. They are quiet and secluded with views of rocky shorelines, marshes, and wooded uplands.
When you stay at Duck Harbor you'll find a 3-sided lean-to shelter to place your gear, a fire ring, and a picnic table. You can hike to a ranger station 4 miles away next to the town of Isle au Haut landing.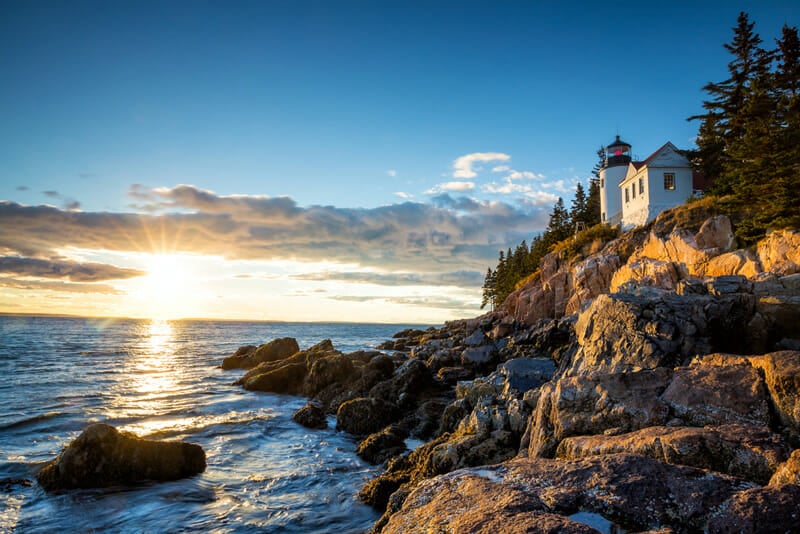 Rules for camping in Acadia National Park
Reservations: Acadia National Park is very popular with campers so your chances of getting a campsite without a reservation during the peak season (June-October) are slim. We highly recommend making a reservation ahead of time on recreation.gov
Seasonal Closures: All of the campgrounds are closed during the winter season. Blackwoods has the longest camping season from May-October.
Water and bathrooms: Blackwoods, Seawall, and Schoodic Woods have flush toilets and potable water at the campground. None of the campgrounds have showers or laundry facilities on-site.
Electricity: Schoodic Woods is the only campground with electric hookups.
RV camping: Blackwoods, Seawall, and Schoodic Woods all have campsites available for RV campers up to 35 feet. All three also have dump stations for motorhomes. Schoodic Woods is the only campground with electric and water hookups.
Cell phone service: Mobile coverage is spotty but available at all of the campgrounds. Schoodic Woods has the best cell phone service overall.
Pets: Leashed dogs are welcome in all of the campgrounds except for Duck Harbor. There are also over 100 miles of trails at Acadia where leashed dogs are allowed.
Camping Near Acadia
With Acadia National Park being so popular, the campgrounds fill up quickly. Luckily, there's plenty of private campgrounds in the surrounding area. Below you'll find a list of some of the more well-known private campgrounds within a short distance of Acadia.
Mt Desert Island Camping
Southwest Harbor Camping:
Trenton Camping:
Camping near Schoodic Penninsula:
Isle au Haut: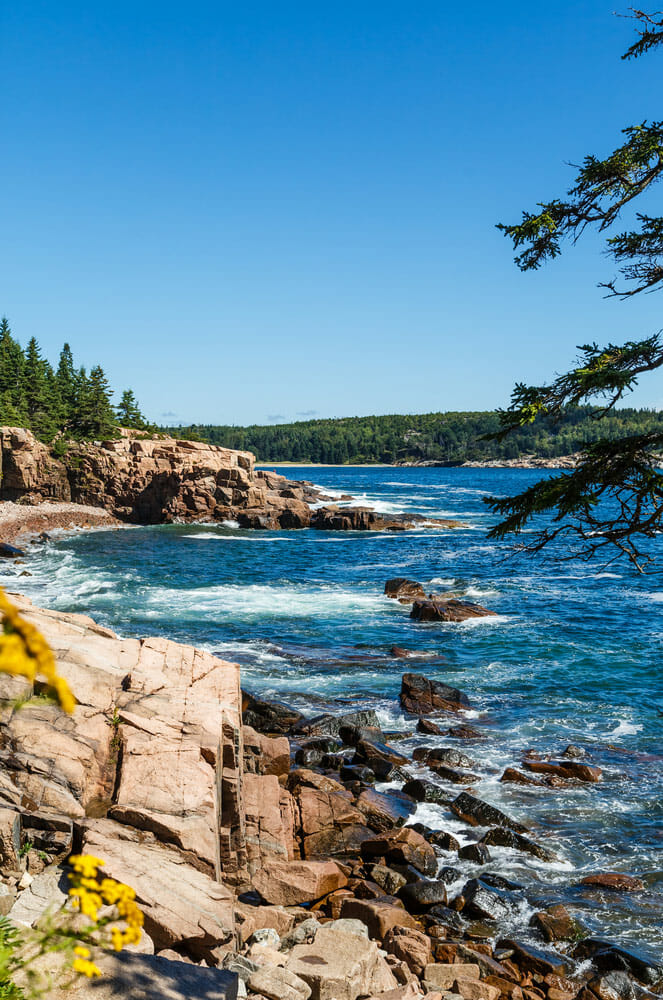 Discounted Camping Near Acadia National Park
Unfortunately, there is no free camping near Acadia National Park. However, if you enjoy primitive camping, there are a number of hike-in or paddle-in campgrounds that you can enjoy for under $20 per night.
The Maine Bureau of Parks and Lands has maps of backcountry camping sites where you can spend the night within 2 hours of Acadia. We recommend checking out Lamonine State Park and Donnell Lake.
If you're an RV camper that wants all of the hookups: electricity, internet service, dump stations and more; consider camping at one of the private campgrounds in the area. We recommend getting a discounted camping membership if you plan to go camping for more than one week out of the year in any location.
When Is The Best Time To Go Camping At Acadia?
When camping at Acadia you need to be prepared for anything. Winters are harsh so the campgrounds are no longer open this time of year. Spring is foggy and cool. Summer temperatures can vary quickly, from warm and sunny one minute to chilled and rainy the next. Fall sees the crowds subside and autumn colors begin to flourish.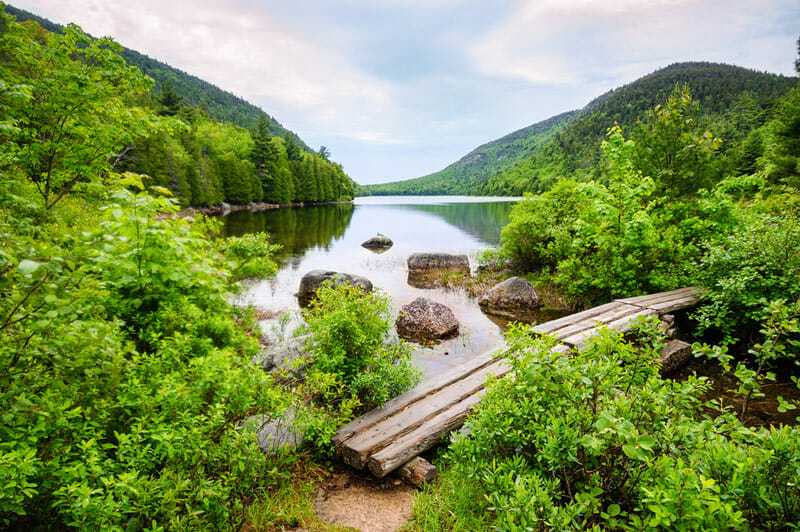 Camping in the Spring: Springtime is typically the wettest time of year at Acadia. You can expect it to be foggy and soggy, but you'll also get to see foliage start to bloom. One thing to be extra aware of when camping is that spring is also bug season. The campgrounds at Acadia are surrounded by water and that can attract mosquitos so make sure to pack some bug spray!
Camping in the Summer: Much like spring, the island can get covered in a thick fog during summer. You can expect warmer temperatures reaching the 70s which is perfect for long hikes and hanging around a campfire. Temperatures by the ocean can change in short amounts of time so you'll want to pack clothes for every occasion.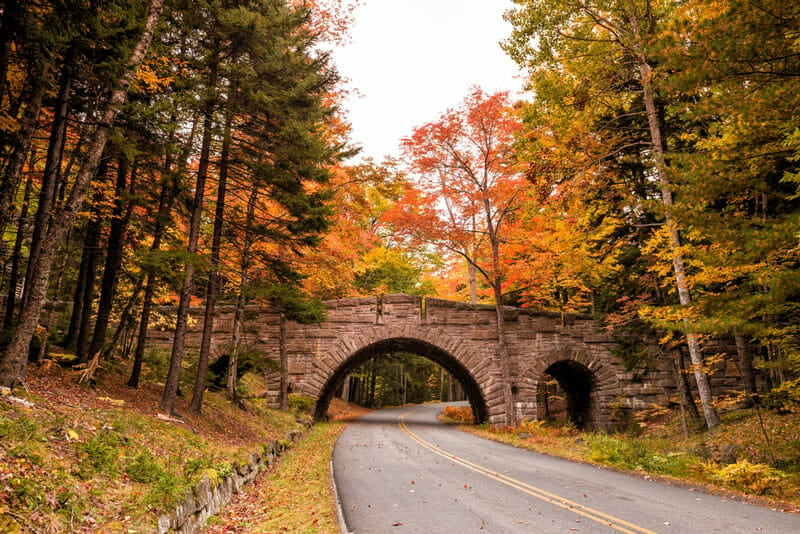 Camping in the Fall: September and October are the least crowded months of the year to go camping. You can expect cool weather and beautiful fall colors. Cruise ships dock at Bar Harbor in the beginning of September so you can expect the town to fill with people. Fortunately, they're only there for a few hours. The campgrounds will be significantly less crowded.
Glamping And Lodging At Acadia National Park
Yurts, treehouses, and tiny homes are cool places to go glamping in Acadia National Park if you want a few more amenities than a regular campground. Because Acadia is so remote sometimes this can be a better option than staying at a local hotel.