Top 10 Things To Do In Grand Teton National Park
By
on
This post may contain affiliate links. As an Amazon Associate, I earn from qualifying purchases. Please read my full disclosure.
Located just north of Jackson, Wyoming and 31 miles from Yellowstone is the majestic Grand Teton National Park.
Grand Teton is often overshadowed and underestimated. But the 310,000 acre park offers unparalleled views of the Teton Range and some of the most scenic drives in Wyoming.
Visitors are often impressed by Teton's incredibly blue lakes, lush valleys, gorgeous meadows, and sweeping terrain.
In this article we're going to cover the top 10 Things To Do in Grand Teton National Park and some can't miss activities while you're there.
Drive The 42-Mile Scenic Loop
Float On The Snake River
Hike To Inspiration Point
Horseback Riding From Colter Bay
Take Pictures Of The Wildlife
Go On A Jackson Lake Cruise
Take A Drive Up Signal Mountain
Visit The Grand Teton Historic Sites
Paddle On Jenny Lake
Hike In The Rockefeller Preserve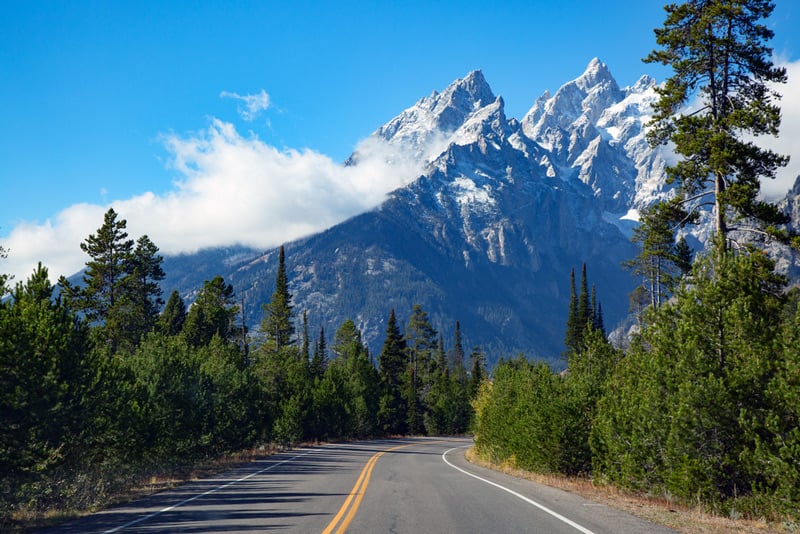 Drive The 42-Mile Scenic Loop
There are many scenic drives in Grand Teton National Park, but nothing compares to the 42-mile Scenic Loop.
This drive takes you through the heart of the park and along the length of the Teton Mountain Range. Not only will you get great overview of the National Park size, but you'll pass by all of the can't miss destinations along the way.
The complete loop is comprised of two main roads. The "Inner Road" (Teton Park Road) which runs along Jenny Lake and Jackson Lake. And the "Outer Road" (Highway 191/89/26) which follows the Snake River.
Due to snow and road closures, the full scenic loop can only be completed between May 1st and October 31st. During the winter, the Inner Loop Road is closed.
Three entry points will get you started on the loop:
Moose Junction: From Jackson
Moran Junction: From Dubois
Jackson Lake Junction: From Yellowstone National Park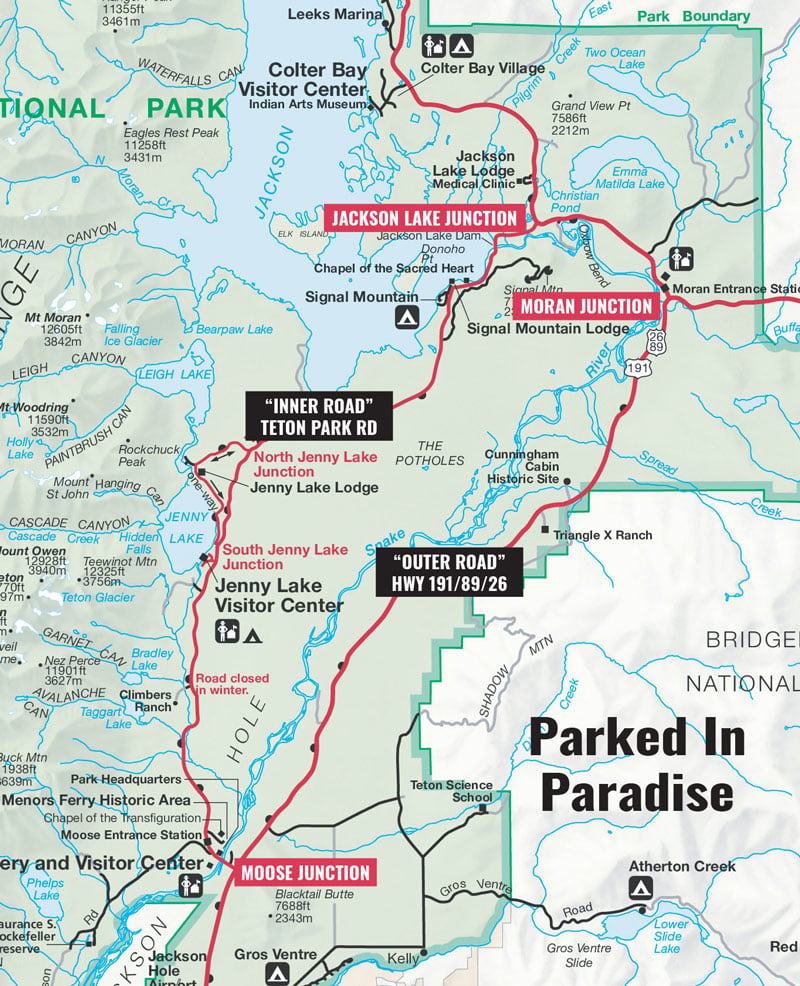 Travelers can complete the 42-mile Scenic Loop in about 1-2 hours if they're driving non-stop. But you can easily fill and entire day by pausing at the dramatic overlooks and meandering on the hiking trails along the way.
Dawn and dusk are the best times of day to drive the loop. Wildlife is most likely to be active during this time and the mountains will be their most colorful.
Some of the most popular overlooks along the route include:
Blacktail Ponds Overlook
Glacier View Overlook
Schwabacher's Landing
Teton Point Overlook
Snake River Overlook
Elk Ranch Flats Overlook
Oxbow Bend Overlook
Signal Mountain Summit
Jenny Lake Scenic Overlook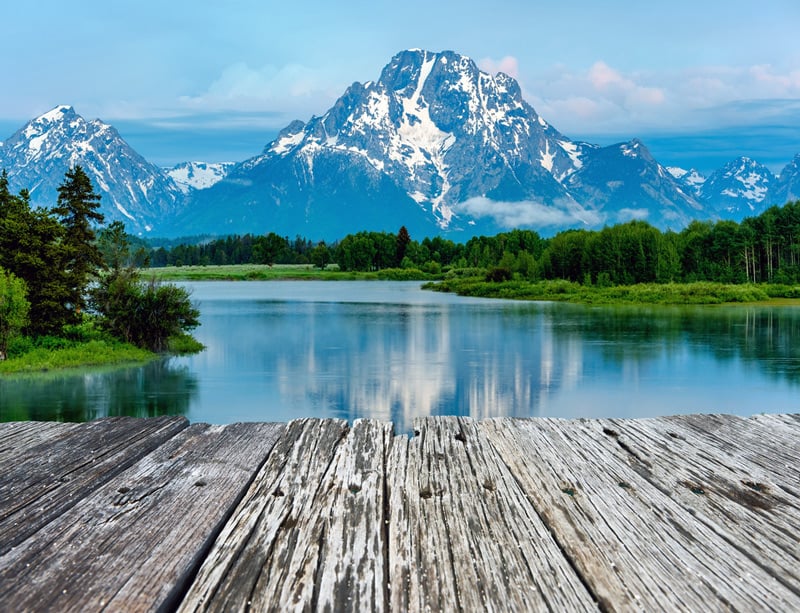 Float On The Snake River
One of the gems of Grand Teton National Park is the Snake River. The river flows from the Greater Yellowstone Area, into Jackson Lake, and beyond.
You can boat, paddle, or float your way down the river which covers nearly the entire length of the park. The river encompasses a wide spectrum of activities, from lazy floats to high adventure rapids.
For the most part, the river is calm and peaceful. Inflatable kayaks, drift boats, and stand up paddle boards are a great way to relax and enjoy the mountains. Permits are required for floating the river, and many local outfitters offer tours if you want to combine your trip with an experienced guide.
The Snake River is extremely attractive to local wildlife so chances are good you'll get to see some nature along the way. Elk, mule deer, and bison like to refresh themselves along the riverside and white eagles soar effortlessly from the treetops.
If all you want to do is relax for the day, it's best to disembark before entering the Snake River Canyon.
The Snake River Canyon quickly changes the pace of the river. This is the start of what will be 8-miles of steep walls and fun whitewater rapids. You can expect Class II and Class III rapids beyond this point which is perfect for sport kayakers and river runners.
Aside from water activities, simply driving along the Snake River is a special treat. Make sure to stop by the Snake River Overlook and Oxbow Bend Overlook for a perfect view of the sun-tipped mountains, calm shorelines, and lush meadows below.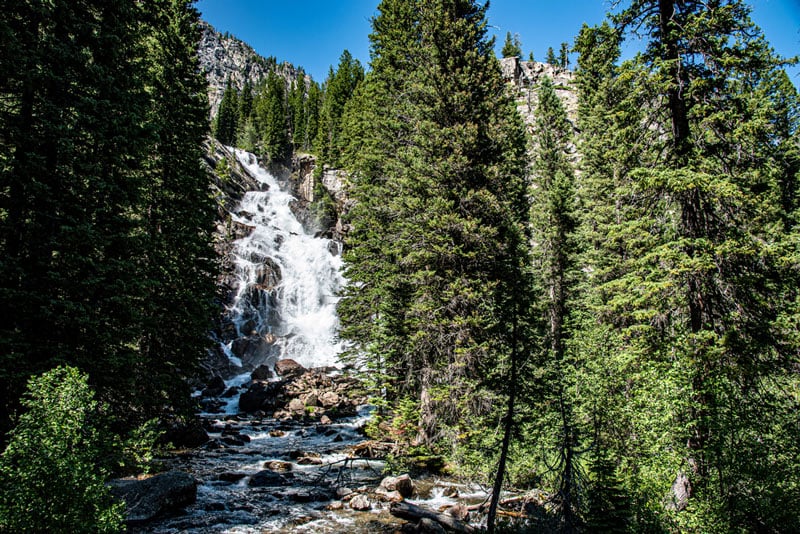 Hike To Inspiration Point And Hidden Falls
Hiking in Grand Teton National Park runs the full spectrum from short walks to multi-day backpacking adventures.
That said, most trails in the park are generally rugged. And they quickly become challenging because of the high elevation, steep terrain, and ever-changing weather in the area.
One of the best short hikes to do is the trail to Inspiration Point.
This hike is only 2-miles long and perfect for people visiting the park for the first time. The path begins on the west side of Jenny Lake so it will require either a quick boat shuttle to get started, or a longer walk around the lake to reach the trailhead.
Inspiration Point is one of the most famous viewpoints in Grand Teton. It takes about 2-4 hours to complete and offers picturesque views of Jackson Hole, Cascade Canyon, and the Teton Range.
On the way up to Inspiration Point, it's imperative that you make a quick detour to Hidden Falls. This is the only accessible waterfall in Grand Teton National Park, and it's just 0.5 miles out of the way.
Longer Day Hikes
Travelers looking for some full day hikes should consider Death Canyon, Paintbrush Canyon, or Cascade Canyon. These hikes range from 18-17 miles and will guide you alongside granite peaks and up to remote lakes.
With any of these longer treks you're likely to see encounter larger mammals like elk, moose, and bear!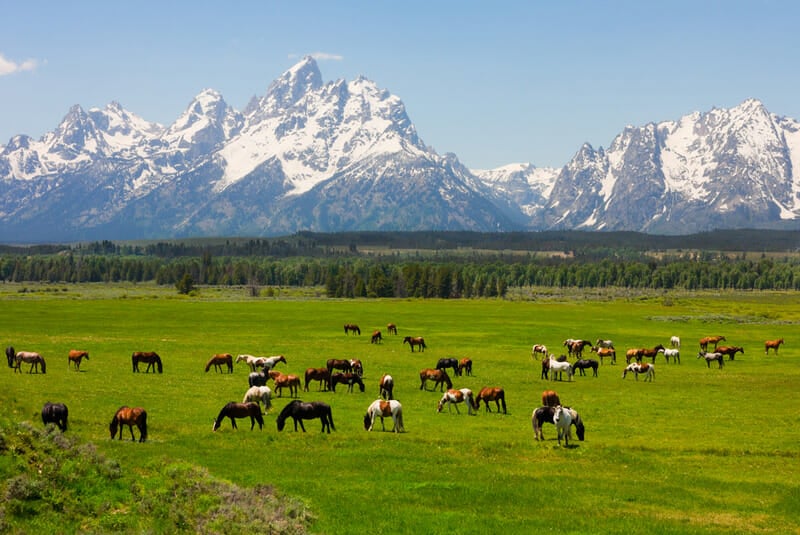 Horseback Riding
Horseback riding has always been a favorite among tourists in Grand Teton National Park.
Riders can choose to bring their own stock, or embark on a guided horseback tour.
Ranger-led horseback tours depart from the Jackson Lake Lodge and Colter Bay Village.
Tours from the Jackson Lake Lodge last 1-2 hours long and will give you up-close views of the Snake River, Oxbow Bend, and the Teton Range.
Colter Bay Village rides will guide you through wildflower meadows and alongside Swan and Heron Ponds.
These tours are perfect for both novices and experienced riders. There are a variety of options that range in price range and length.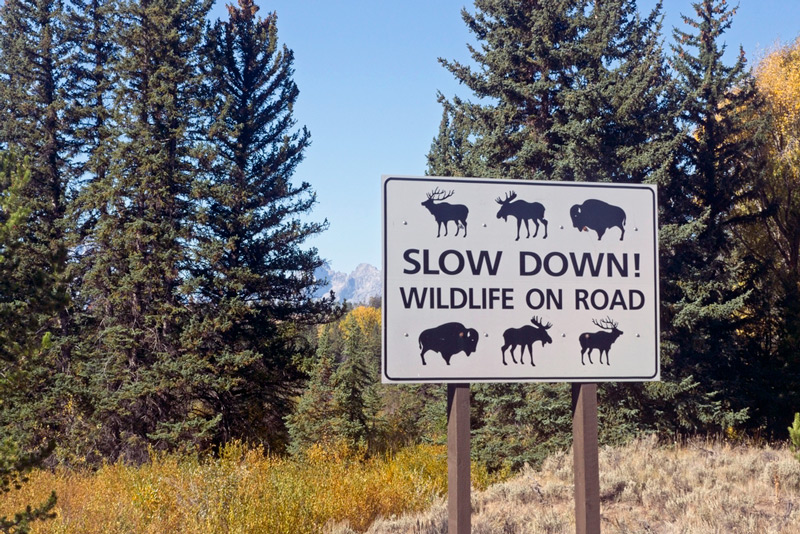 Take Pictures Of The Wildlife
If there's one thing that captivates visitors above all else, it's the overabundance of wildlife that can be found in the park.
Some of North America's most mesmerizing mammals can be found in Grand Teton including soaring eagles, foraging bear, bison, elk, moose, pronghorn, and plenty of others.
There is no way to keep track of all the wildlife that roam the park, but some of the best viewing has been at the Willow Flats near Jackson Lake Lodge, Elk Ranch Flats, Moose, and Oxbow Bend.
The best way to see some animals during your trip is to head off on a secluded hiking trails. Park Rangers can also give you great insights about the best places to spot wildlife on any given day.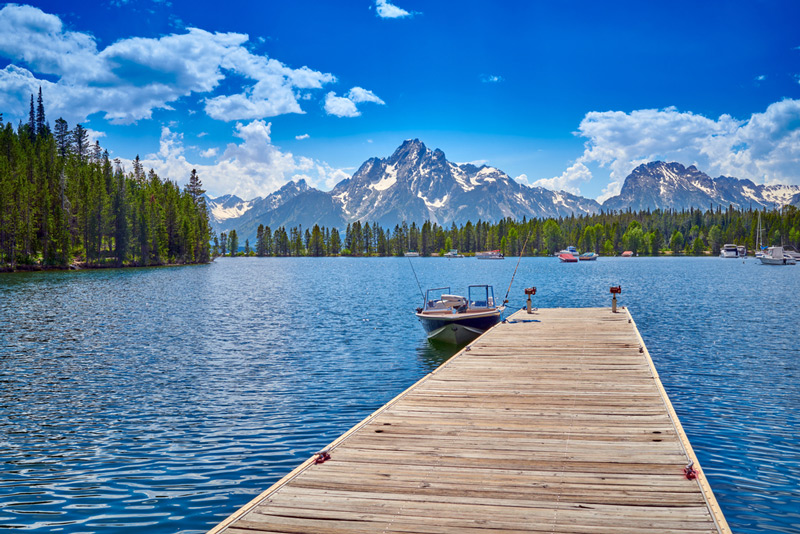 Go On A Jackson Lake Cruise
Travelers who want to rest their feet for a day should highly consider taking a cruise on Jackson Lake.
The Grand Teton Lodge Company operates breakfast and dinner cruises that are famous for their delicious steak and trout meals as well as the views you get to see along the way.
Cruises depart from the Colter Bay Marina and gently guide you across the lake to Elk Island where you'll find a hot buffet waiting.
Passengers can dine beneath the shadow of Mount Moran and indulge in some hot food and short hikes.
During the boat ride, the guides will give you a bit of history, geography, and folklore about the area.
These cruises are highly popular and one of the best ways to start or end your day.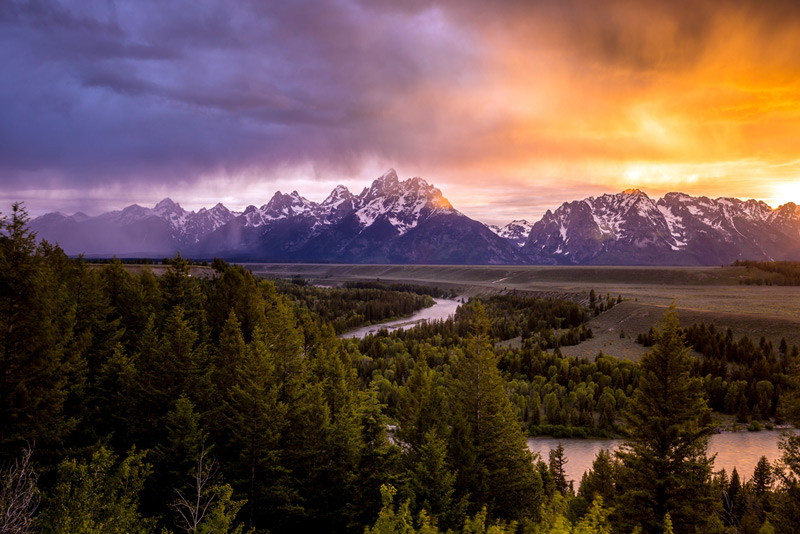 Take A Drive Up Signal Mountain
Perhaps on of the most scenic viewpoints in all of Grand Teton can be found 7,700-feet high on the Summit of Signal Mountain.
Located on the north end of the park, you can reach the summit both by car and on foot.
To drive there, take the Signal Mountain Summit Road which branches off Teton Park Road.
The roadway climbs 800 feet to the summit where you'll be rewarded with a perfect panoramic view of Jackson Hole and the Teton Range.
Two overlooks at the top help to disperse the crowds and there are several opportunities for hiking nearby.
We highly recommend visiting this location during sunset where you can witness the mountains transform colors into the night.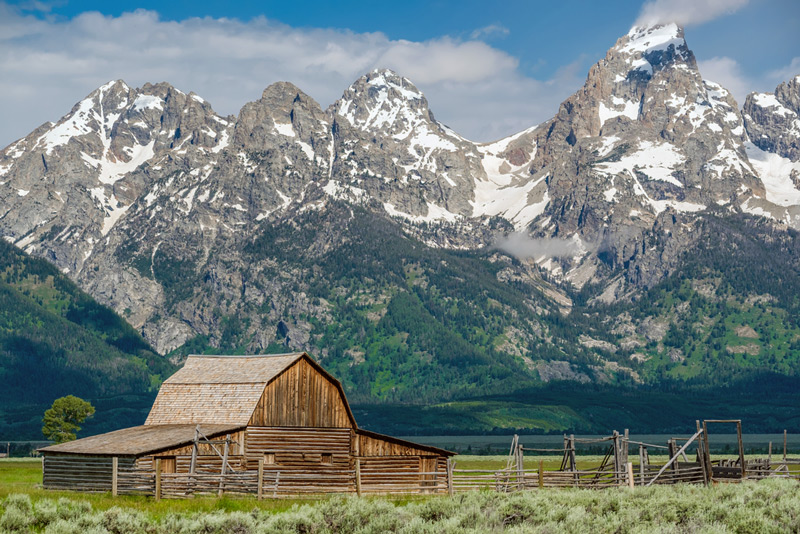 Visit the Grand Teton Historic Sites
27 homesteads were established by the Mormons from Salt Lake City in Grand Teton National Park. A few of these historic buildings can still be enjoyed by photographers and history buffs.
Grand Teton Historic Barns
The Historic Barn on Mormon Row and the T.A. Moulton Barn on Gros Ventre Road have lured photographers from around the world.
Chapel of Transfiguration
Another famous site is the Chapel of Transfiguration which was built in 1925. The rustic log chapel houses St. John's Episcopal Church which offers Sunday services during summer months.
Adventurous couples can book a wedding at the Chapel of Transfiguration which looks especially beautiful in the fall because of the backdrop of Aspen trees.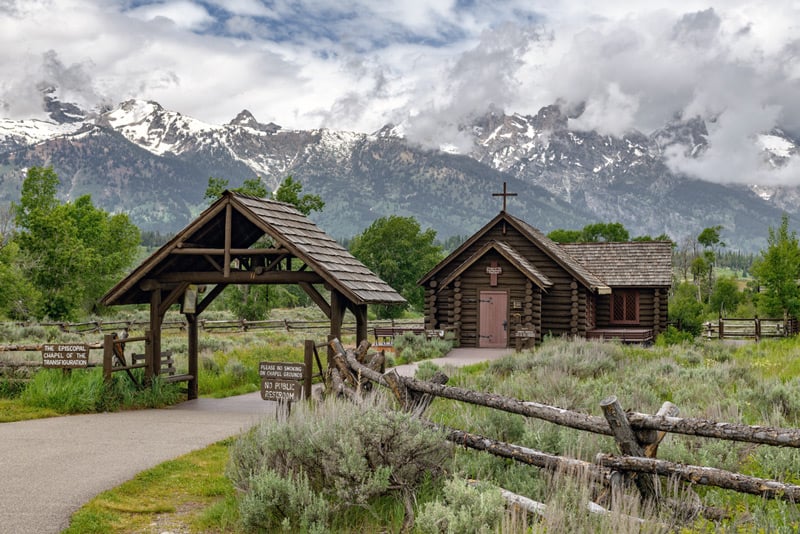 Don't miss these famous historic sites:
Historic Barn and T.A. Moulton Barn on Mormon Row
Chapel of Transfiguration
Menor Ferry Historical District
The Cunningham Cabin
Lunch Tree Hill
Menors Ferry Historic District
For a wonderful lesson in history, visit the historic district of Menors Ferry. William D. Menor first settled in Jackson Hole in 1894 and thought it to be the perfect place to build a ferry on the Snake River.
When you visit this quaint location, you will still see some of the original buildings, such as Bill Menor's General Store where you can take in a plethora of historical artifacts. What might be the most endearing part is that the general store still sells items such as jam, huckleberry taffy and Jackson Hole root beer.
The original ferry is dry docked but in the summer, when the water level is just right, you can take a replica ferry across the Snake River. Menor cabin and the Maud Noble cabin accompany the general store as two other historic buildings that are still on the land.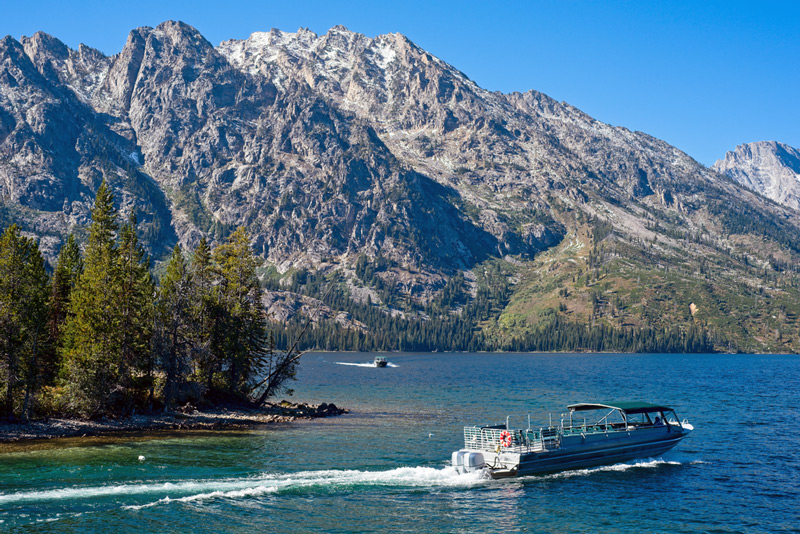 Paddle On Jenny Lake
No trip would be complete without experiencing a day on Jenny Lake, which is the most popular destination in the park.
Whether you choose to take a scenic drive on the eastern edge, paddle in the water, or relax on a powered boat, this is a can't-miss location.
Jenny Lake is located at the base of the Teton Range with unmatched view of Teewinot Mountain, Mount St. John, and the Cascade Canyon.
Several local companies offer canoe and kayak rentals in the area which is a great way to get some solitude on this bustling lake.
Jenny Lake is one of only two lakes in the park accessible to motorized watercraft. Shuttle boats take off every 15 minutes from the base of Mount Teewinot where passengers can ride to the Inspiration Point trailhead and the start of the Cascade Canyon hike.
Longer, scenic cruises are also available for a relaxing trip through the water where you can learn more about the park's history and bask in the spectacular views.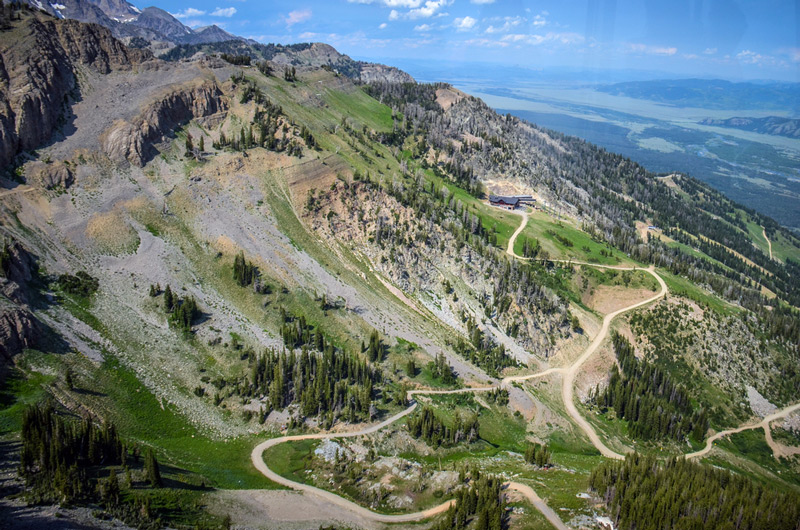 Hike In The Rockefeller Preserve
Located on Moose-Wilson Road, the Laurence S. Rockefeller Preserve offers a quieter retreat from the rest of the park. This 1,100 acre nature preserve was donated in 2001 by the Rockefeller family.
Getting there involves driving down a 1.5-mile unpaved road which is not accessible to RVs or large trailers.
The remote location contributes to a more peaceful and secluded environment.
Moose-Wilson Road and the Rockefeller Preserve are the gateway to many scenic hiking trails including the trek to Phelps Lake, Granite Canyon, and Death Canyon.
Other Things To Do In Grand Teton National Park
Fishing
Grand Teton has many great fishing spots for anyone who enjoys spending their time relaxing by the water. Some of the most coveted fishing spots are located along Jackson Lake, Jenny Lake, or the Snake river.
Feel free to go fly fishing or lake fishing on your own, but be aware that you can also hire a guide to go along with you. When you book a fishing excursion with a guide, all of the fishing equipment is included. All you need to do is get the fishing license.
Your Wyoming state fishing license can be bought at the Signal Mountain Marina, the Colter Bay Marina, or in Jackson.
Ranger Programs
An exciting activity for people of all ages is going on a park ranger guided hike, a Tipi Demo, or a campfire program. The guided tours are perfect for learning a great deal about the park itself, including the animals and geology.
The Nature Explorer's backpack program is designed for children ages 6 through 12. The rangers lead the kids along trails, equipped with a nature journal and a backpack with activities.
Historians at Jackson Lake Lodge and Colter Bay Village and naturalists offer complimentary programs throughout the week as well. These programs include grizzly presentations, historical tours, and even junior ranger programs, that just so happen to be fun for everyone.
Renting A Boat
Enjoy relaxing hours on the lake in a variety of water vehicles. Visit Jackson Lake boat rentals to visit any number of the surrounding islands and bays, including Half Moon Bay, or Colter Bay.
The marina allows you to rent double or single kayaks, canoes, and even motorboats for those who like a little more speed.
Included in your boat rental, are lifejackets, radios and maps.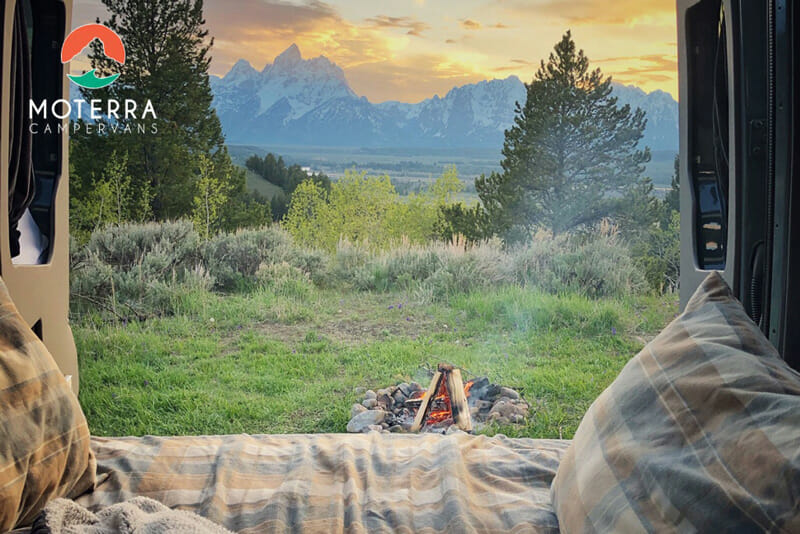 Camping
There are several campgrounds at Grand Teton National Park, each with a breathtaking view of mountains or lakes.
Most of these campsites come with standard amenities including fire rings, picnic tables, and comfort stations.
The most adventurous travelers can enjoy backcountry camping at over 1,000 sites throughout. thepark.
That's A Wrap!
There are many Grand Teton National Park attractions; the most difficult part is trying to fit them all into your itinerary. Finding things to do in Grand Teton National Park is an easy feat, but you'll want to plan a repeat trip to cover every acre.
Whether you are content to wander or hike through nature, kayak through the smooth lakes, or spend an evening under the stars, Grand Teton National Park is the perfect adventure destination.
You Might Also Like: