Best Inflatable Kayaks For Small Cars (Review)
By
on
This post may contain affiliate links. As an Amazon Associate, I earn from qualifying purchases. Please read my full disclosure.
Inflatable kayaks are easy to store, lightweight, and make transportation simple. You might think these features make blow up kayaks less sturdy or weaker, but things have changed; manufacturers are now more aware of the challenges and design for them accordingly.
The best inflatable kayaks combine impenetrable materials with robust performance features.
In this article, we're going to review the best inflatable kayaks and discuss the details to look for before you paddle.
TOP CHOICE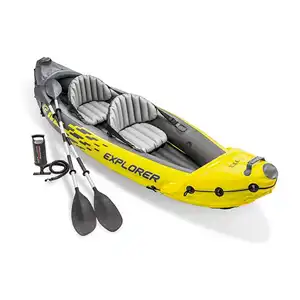 BEST FOR FISHING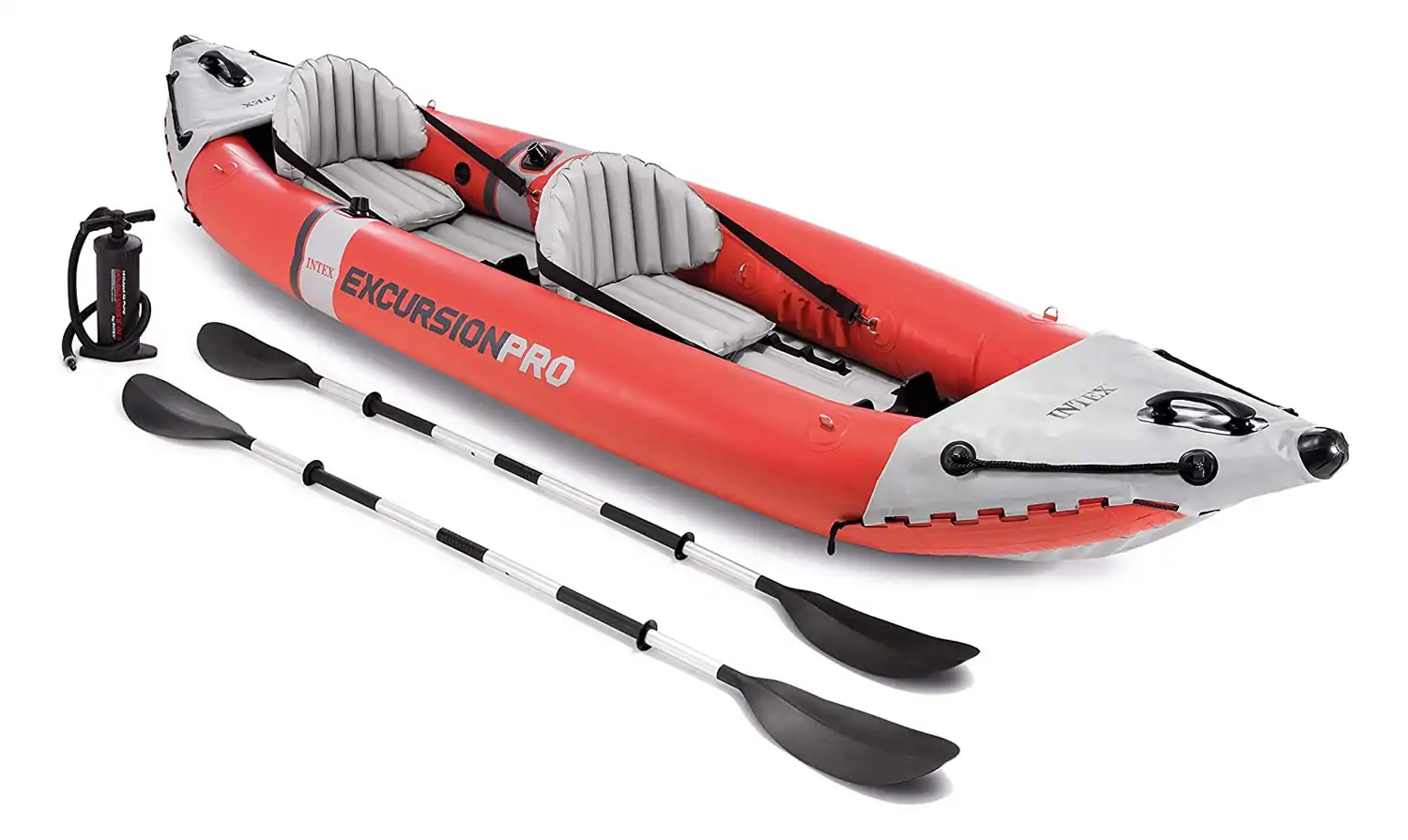 Why Use An Inflatable Kayak?
Inflatable kayaks are designed to mimic the standard versions. They are particularly lightweight and storable which makes them ideal for someone living in an apartment or tiny home. For someone that doesn't have a lot of garage space, inflatable kayaks are the perfect solution.
These accessories can be transported deflated so they easily fit in a small car or camper. Then you can blow them up on the spot before your adventure.
Inflatables are made from synthetic materials such as PVC, Hypalon, Nitrilon, or Neoprene as opposed to wood, fiberglass, polyethylene, or Thermoform.
Easy to store in a small apartment or garage
Can be transported in a small car
Perfect for seasonal or infrequent use
Stock multiple kayaks in a small space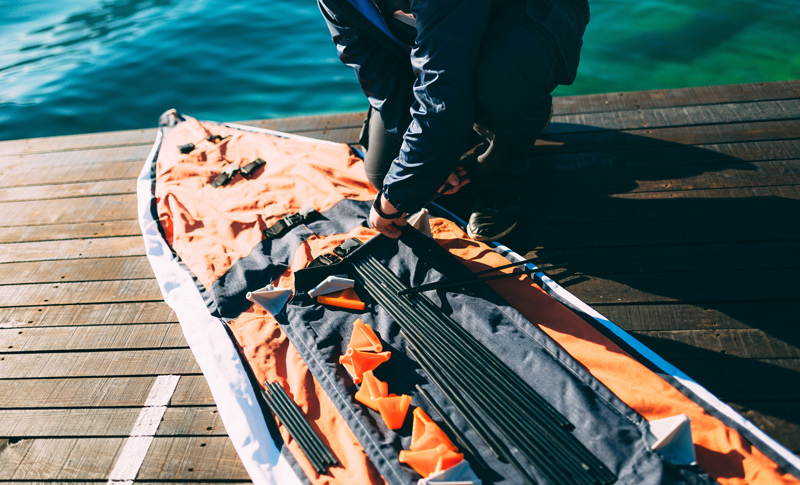 Features to Look for in an Inflatable Kayak
Length
When deciding which kayak to choose, size is an important consideration. You want to think about storage size and how big the watercraft is once inflated.
Size affects performance and will make a big difference in how comfortable it feels.
Longer kayaks travel straighter and faster. So, they're perfect when you want to get someplace quickly. Also, longer kayaks are more comfortable for tall people because you sit with your legs straight in kayaks. Plus, they have more room for gear when you have a lot to bring on the kayak.
The downside to longer kayaks is that they're harder to turn around. They also have less stability than their shorter counterparts.
Short kayaks are easier to maneuver. So, they're a good choice if you're a beginner. That being said, shorter kayaks are a disappointment when it comes to tracking or gliding. Also, they're pretty uncomfortable for tall people because there isn't enough leg space. In addition, if you need a lot of storage capacity inside the boat, you won't get much out of a short kayak.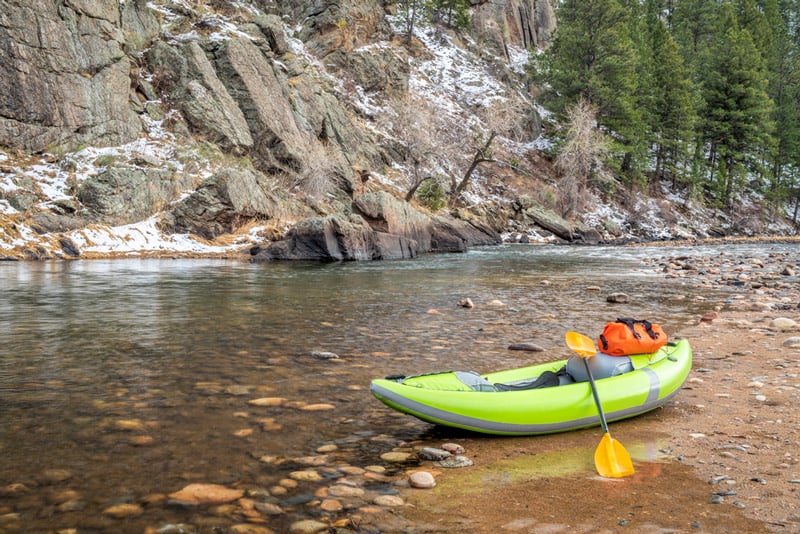 Width
The width of a kayak affects performance and comfort in a very similar way to the length.
Narrow hulls are great for cutting through the water quickly. Maneuvering them isn't as easy, so only pick a narrow kayak if there isn't a lot of turning around in your trip. Also, the narrower the kayak, the less stable it is.
Wider hulls offer stability, comfort, and ease of use to amateur kayakers. However, you lose a lot of speed, the wider a kayak gets. Plus, paddling gets tricky with wider hulls because paddles may rub against the deck. Paddles tend to feel short when the kayak is too wide.
Weight
By default, an inflatable kayak is a lightweight watercraft. The point of inflatables is that they're easy to carry from your home to the water and back. Also, they carry way beyond their weight.
However, they all don't weigh the same. So, you still need to know their weights before you get one. A deflated kayak can be difficult for more than one person to carry which makes it a little less convenient if you have a small stature. Most inflatable kayaks can range from 22 to 60 pounds.
Weight Capacity
Whenever you check out a kayak, whether it's inflatable or not, you have to consider its weight capacity. Pushing a kayak beyond its capacity is very dangerous when you're in the middle of the water. Inflatable kayaks can usually handle between 200 to 700 pounds. Usually, the higher the weight, the higher the capacity.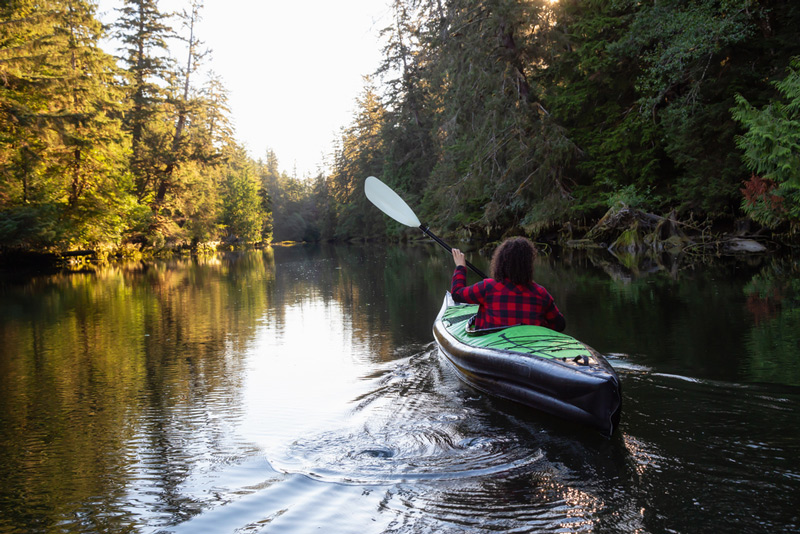 Kayak Type
Sit-on-top kayaks are kayaks that have no enclosed cockpits. So, you sit on the deck above the water surface.
They are easy to get in and out of, and they tend to be wider and more stable which is great for beginners. Also, they are self-bailing, meaning that they have scupper holes that drain water out of the kayak. These types of kayaks are ideal for warm weather because you'll definitely get wet on them. They also don't do well on rough water and there tends to be minimal storage space.
Since sit-on-top kayaks are relatively wide, they are also a little slow.
Sit-in kayaks have enclosed cockpits, so your lower body is covered, sitting below the water surface.
These kayaks have a great deal of stability in rough water. Also, their relative narrowness makes them fast and suitable for tracking. That means you'll have to make less of an effort to propel them forward. Thanks to the enclosed design, you'll get better protection from the elements as well.
Aside from all of the benefits, sit-in kayaks are difficult to get back into if they capsize so they're not recommended for beginners. There is also a sense of confinement with enclosed cockpits. So, they're not the first choice for fishing.
This video about their differences is pretty helpful.
Inflatable Kayak Construction
There are a number of different materials that are used for the perfect inflatable kayak. Some of the most commonly used are PVC, Nitrilon, and Hypalon.
Polyvinyl chloride (PVC) is the most commonly used material in inflatable kayaks. It's a synthetic polymer that has great inflation and deflation abilities. PVC is both lightweight and durable. Manufacturers add more durability and resistance to it by layering it. Also, it is combined or coated with other materials to increase its resistance to the elements.
Nitrilon is PVC's more eco-friendly little brother. Like PVC, it is widely used. Its popularity stems from its resistance to punctures and abrasion. Its strength and durability are simply unmatched. That being said, it is definitely heavy, which is why PVC is more popular.
Hypalon, like all materials above, has its strengths and weaknesses. This chlorosulfonated polyethylene rubber has excellent resistance to chemicals, extreme temperature, and UV light. Its weakness is that it's not that puncture-resistant, which can be problematic in an inflatable kayak.
Single vs. Tandem Inflatable Kayaks
It is important to know whether the kayak is for one person or more before you buy it. If you're not sure yet, but there is a possibility that you won't paddle alone, get a kayak for two. It is a two-birds-with-one-stone kind of deal because they can be used solo as well.
Tandems are great for families or friends that paddle together regularly. They're cheaper to get than multiple singles. They're also less exhausting to propel forward. You can rest while your partner paddles and vice versa. There are also tandems for three paddlers.
However, if you know for sure that you will paddle solo, get a single one.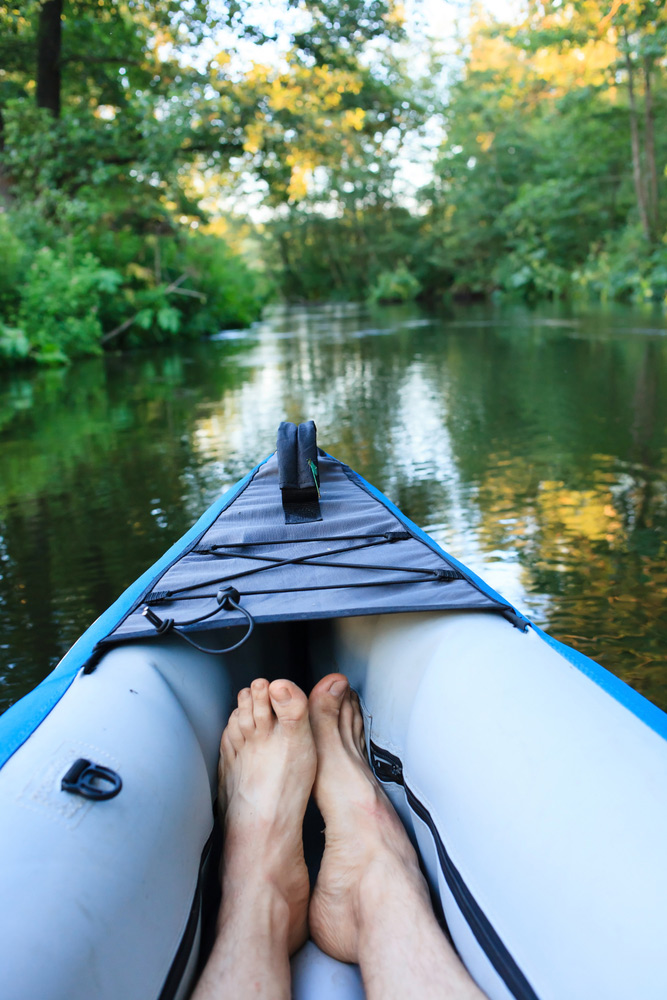 Benefits Of Inflatable Kayaks
While all kinds of kayaks can be enjoyed, inflatable ones have advantages that set them apart from others.
1. Storage
While hardshell kayaks can be a hassle to store, there is nothing easier to store than an inflatable. After you use it, you just deflate it and put it in a backpack. You can take it home and store it in the smallest places. That's it.
Leave crowding garages and worrying about suitable storage places for hardshell owners.
2. Lightweight
Inflatable kayaks can be light as a feather. We're talking about watercraft that can weigh as little as 26 pounds. Still, their weight capacity is far beyond their weight. So, you won't break your back carrying them, and they can safely carry you on the water.
3. On-the-Spot Launch
Since they're so easy to carry, you can take them anywhere you want. You won't have to worry about the means of transport or do a lot of planning beforehand. You can just decide where you want to kayak, go there, inflate them, and you're good to go.
4. Security
Once you have an inflatable kayak, you will find out that you're worrying far less than with a hardshell one because hardshell kayaks are so conspicuous wherever you place them, they attract attention and get stolen. They may also lead the vehicle that they're on to be stolen too.
However, inflatable kayaks can be stored anywhere without being noticed, which makes them safer.
Where to Use Inflatable Kayaks
If you're a beginner kayaker, take your new inflatable kayak to calmer, smaller bodies of water. Practice your paddling techniques and how to work with wind in easy conditions before you make things harder for yourself. Also, try to bring a more experienced paddler with you.
While inflatable kayaks are getting tougher and more durable each day, don't take them any place with sharp objects. Waters with sticks, debris, and fallen trees are a no-no. Take a repair kit with you just in case.
Also, try to stay close to shores, whether you're kayaking in a river or ocean. This is an essential safety tip, especially for inflatable kayaks. Why? The buoyancy of inflatables makes it easy to be swayed by the wind.
So, remember to check the weather and water conditions before your trip.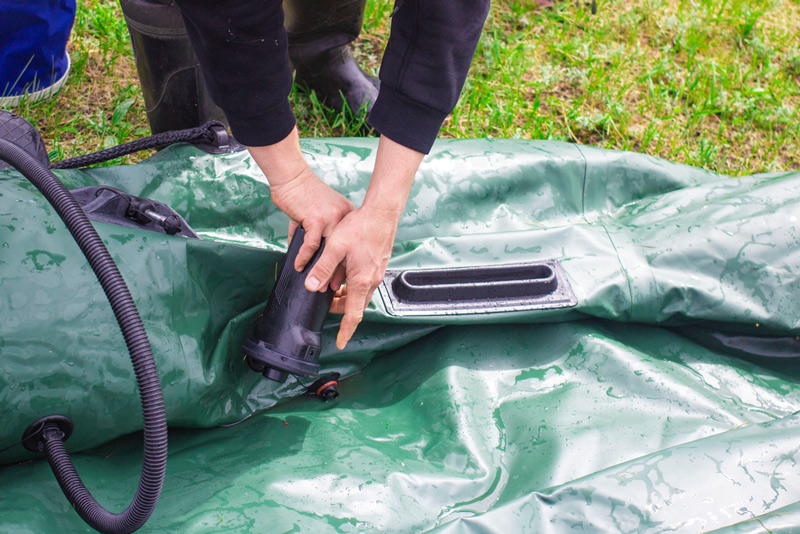 Inflatable Kayak Accessories
While the word "accessories" may refer to inessential objects, experienced kayakers swear by their extra gear and how much difference they make. Sometimes kayaks come with your own helpful accessories, and other times you need to get your own.
Safety
Since we're talking about inflatables, having an inflatable repair kit onboard is essential because you never know. Of course, you need quality air pumps, whether they're hand or foot. A PFD or life vest is a must-have for safety, even if you're on calm waters. Spray skirts are essential for sit-in kayaks in the rain.
Comfort is essential while kayaking, especially on long trips, so make sure you look for kayaks that come with quality paddles and comfortable seats. Also, adjustable footrests can make all the difference. If you can't find comfortable accessories included with the kayaks, get your own.
Fishermen will need accessories such as tackle boxes, fishing rod holders, GPS fishfinders, and kayak anchors.
In addition, photographers need to look for kayaks with camera mounts. Swimmers will love any watertight storage bags, which also come in fun designs for families.
The Best Inflatable Kayaks Reviewed
TOP CHOICE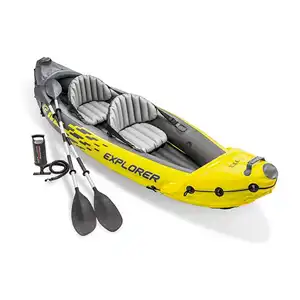 Best 2-Person Inflatable Kayak: Intex Explorer K2 Kayak
Cheap inflatable kayaks can be dangerous and inconvenient at best. However, the Intex Explorer K2 Kayak stands out among its affordable counterparts by offering durability and safety at an affordable price. It's also pretty durable using puncture-resistant vinyl construction. There is an inflatable I-beam floor which keeps the watercraft rigid yet comfortable.
The Intex Explorer has a sporty look with a removable skeg so you control over steering which makes navigation easier and safer. There are also inflatable seats with backrests included making it extra comfortable. The kayak also comes with a carry bag, 2 86" aluminum oars, and a high-output pump.
While it's nice that this kayak is suitable for 2-people with 400-pound weight capacity, we wouldn't recommend it for tall paddlers on long trips because the foot space is somewhat short.
Affordable
Visible colors
Removable skeg
Puncture-resistant vinyl
BEST FOR FISHING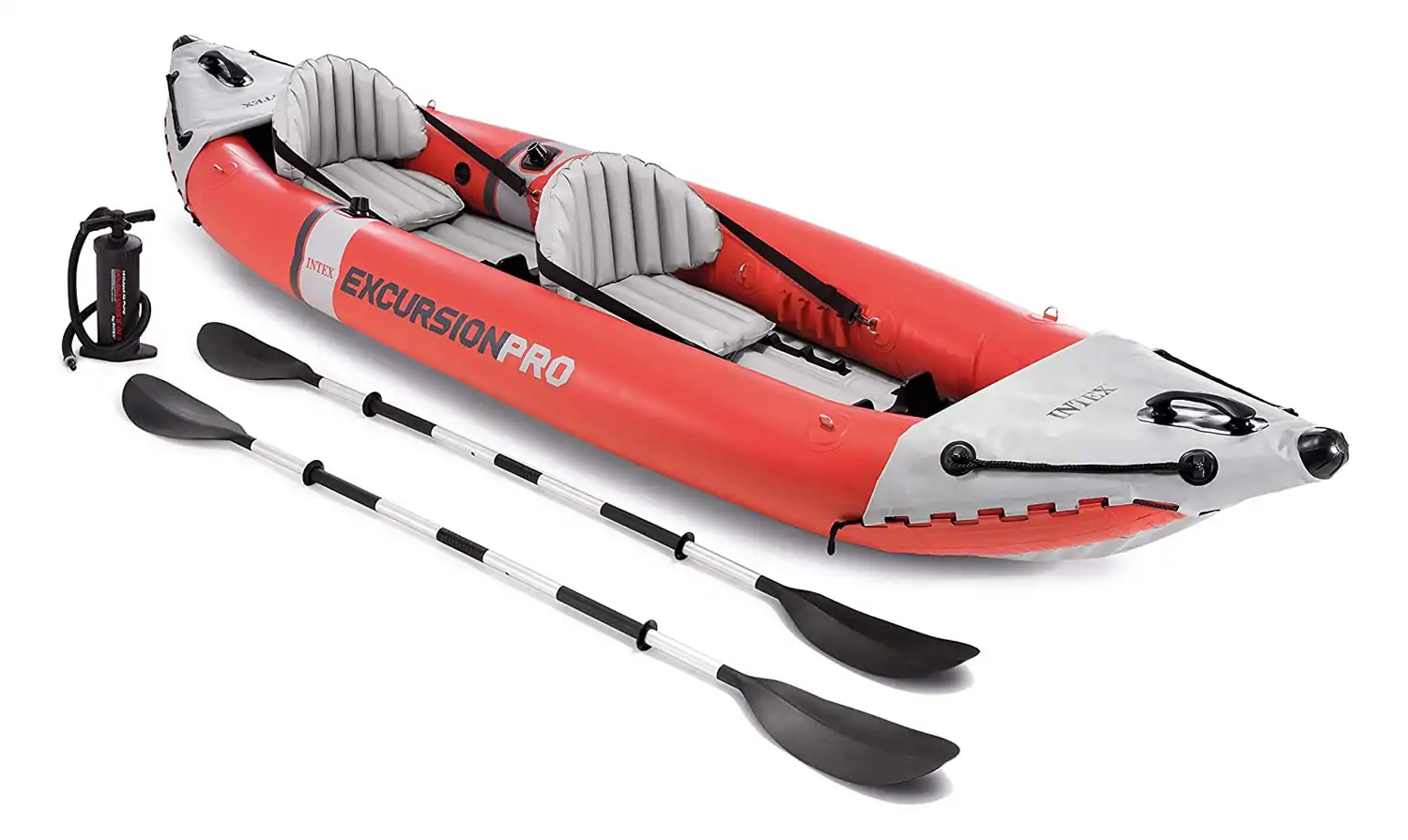 Best Inflatable Fishing Kayak: Intex Excursion Pro Kayak
The Intex Excursion Pro Kayak is the best inflatable kayak for fishing because it caters to fishermen with the accessories included. There are 2 fishing rod holders to place your gear while paddling. The removable and adjustable mounting bracket enables you to add fishing accessories of your choice.
For an inflatable, it's highly durable, thanks to the 3-ply super-tough construction using a high molecular PVC. So, it is resistant to gasoline, oil, saltwater, abrasion, impact, and sunlight.
This kayak is long enough to be comfortable for 2 adults, with 2 floor-mounted footrests and 2 adjustable bucket seats. Also, the Intex inflatable kayak has 2 removable skegs: one for shallow water, and one for deep. You can maximize the 400-pound capacity, thanks to the storage space in bow and stern and the stainless steel D rings. The kayak comes with paddles, a hand pump, carry bag, and repair kit.
2 fishing rod holders
Removable and adjustable mounting bracket
2 removable skews
3-ply super tough construction
Best Single Inflatable Kayak: Intex Challenger K1 Kayak
If you're looking for a decent yet affordable inflatable kayak for one person, the Intex Challenger K1 Kayak is our top choice.
It has great stability because of inflatable I beam floors, there is also a removable skeg which makes tracking easier. When it comes to stability and speed, this kayak is recommended for beginners.
This kayak is made from durable welded vinyl construction which is excellent for durability and ruggedness. It's lightweight at 26.3 pounds. Yet, it has a weight capacity of 220 pounds. You can maximize this capacity with the cargo net and storage spaces at the front and back.
An adjustable, inflatable seat with backrest makes seating comfortable. It also comes with a carry bag, paddle, pump, and repair kit.
Affordable
Durable
Removable skeg
Lots of storage space
That's A Wrap!
Inflatable kayaks are the perfect adventure accessory for someone who doesn't have a lot of space. Occasional kayakers that paddle in two will love the Intex Explorer K2 Kayak. For fishermen that need to take their accessories and gear onboard, we recommend the Intex Excursion Pro Kayak. For a fun time on an affordable single kayak, get the Intex Challenger K1 Kayak.
Happy Paddling!
You Might Also Like: