Top 10 Things To Do In Shenandoah National Park
By
on
This post may contain affiliate links. As an Amazon Associate, I earn from qualifying purchases. Please read my full disclosure.
Despite being located just 75 miles outside of Washington DC, Shenandoah National Park is the perfect place for a quiet retreat.
Mountains, rivers, and forested overlooks offer plenty of things to do both adventurous travelers, and leisurely tourists. If you're looking for someplace new to explore near the east coast, then look no further than this underrated gem.
In this article, we're going to cover the top 10 things to do in Shenandoah National Park including the best scenic drives, overlooks and hiking trails in the area.
Shenandoah Top 10
Skyline Drive
Range View Overlook
Dark Hollow Falls
Bearfence Mountain
Stony Man
Marys Rock
Rose River Falls
Old Rag
Rapidan Camp
Hawksbill Summit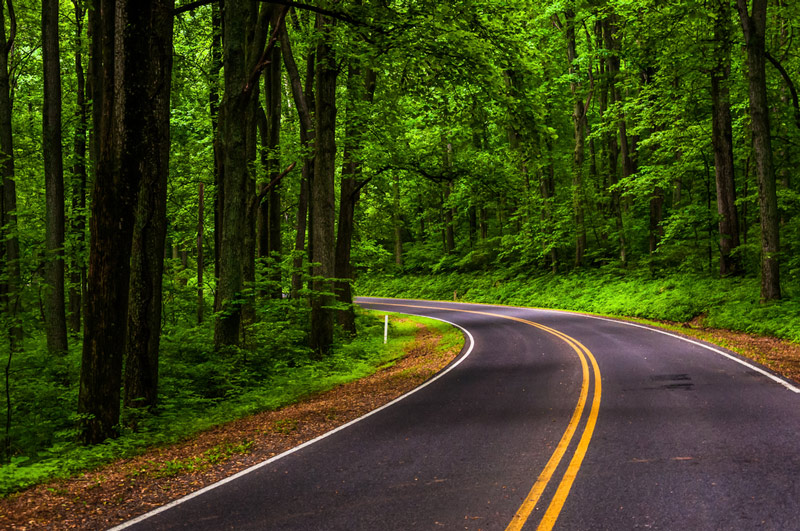 Take A Ride On Skyline Drive
Stretching 105 miles long, Skyline drive runs the length of Shenandoah National Park.
The road acts as both a scenic drive, and a starting point to over 70 mountainous overlooks, trailheads, and picnic areas along the Blue Ridge Parkway.
Driving the route takes about 3-hours in one direction, but you'll want to set aside a full day to explore. Some of the best views and hiking trails in the park are located along this forested roadway.
For an extra special experience, consider visiting the park during the fall season when colorful trees line every corner.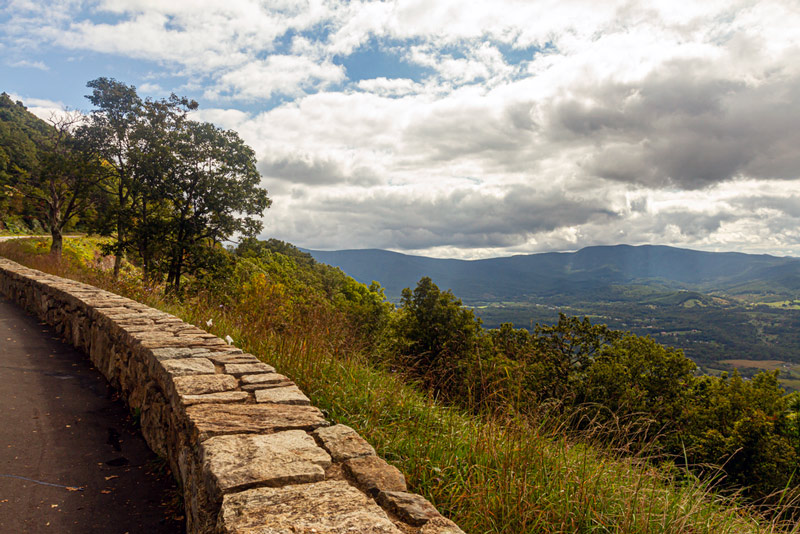 Stop At The Range View Overlook
Range View Overlook is one of the 70 overlooks that lie along Skyline Drive in the Blue Ridge Mountains.
The Overlook can be found at milepost 17 off Skyline Drive, which is clearly marked by a car and a pullout parking lot.
From there, it's just a short walk through a thick forest that gives way rather abruptly to a beautiful and unfettered view of the Blue Ridge Mountains.
Range View Overlook stands 2,810 feet tall and offers a complete 360-degree panoramic view with no buildings or civilization in sight.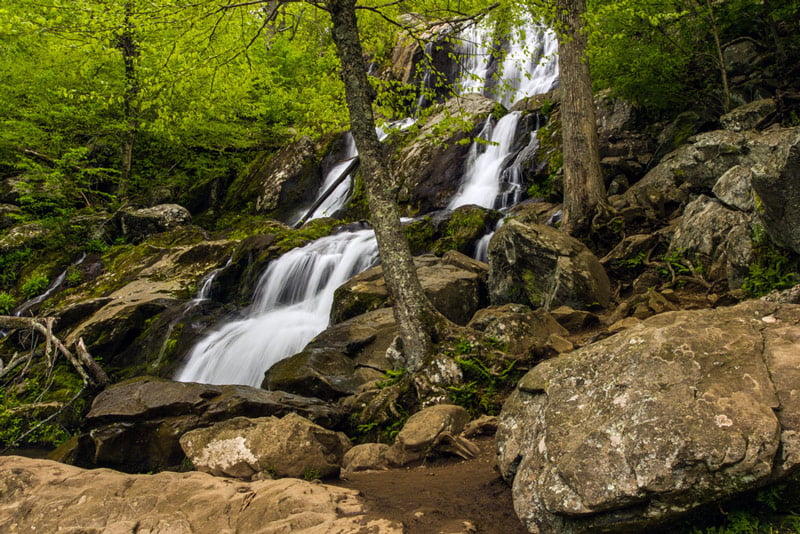 Hike To Dark Hollow Falls
Dark Hollow Falls is one of the most popular waterfalls in Shenandoah National Park, and for good reason. This impressive waterfall is 70 ft. tall, and cascades down the rocky slopes of the mountains into a quiet river.
The well-maintained trail leading to Dark Hollow Falls is a 1.4-mile round trip loop that follows the stream as it spills out over the mountain ridge.
We recommend viewing these falls in the spring when the water and wildlife are most abundant. The trail is full of beautiful wildflowers and clouds of vibrant butterflies, not to mention plenty of birds soaring overhead.
Bird lovers, nature lovers, and families can all enjoy this easily accessible hike to Dark Hollow Falls.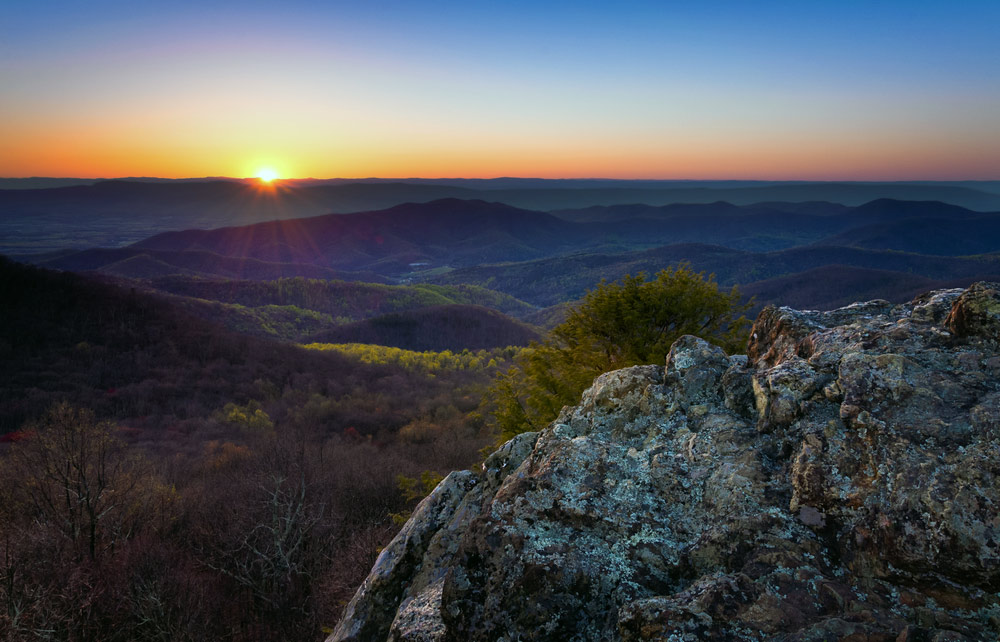 Scramble Up Bearfence Mountain
Bearfence Mountain is a popular hike in Shenandoah National Park because it offers a fun yet challenging rock scramble at the very top of the mountain.
Once you've reached the top, visitors will be rewarded with incredible 360-degree vistas of the surrounding mountains.
You can enjoy these views without scaling the rock face, but you'll get a quieter, less crowded viewing spot if you do.
You can also choose between a short or long hike at Bearfence Mountain. There is a short loop for families or beginners, but Bearfence Mountain is also part of the Appalachian Trail system, so you can make the trek as long as you want.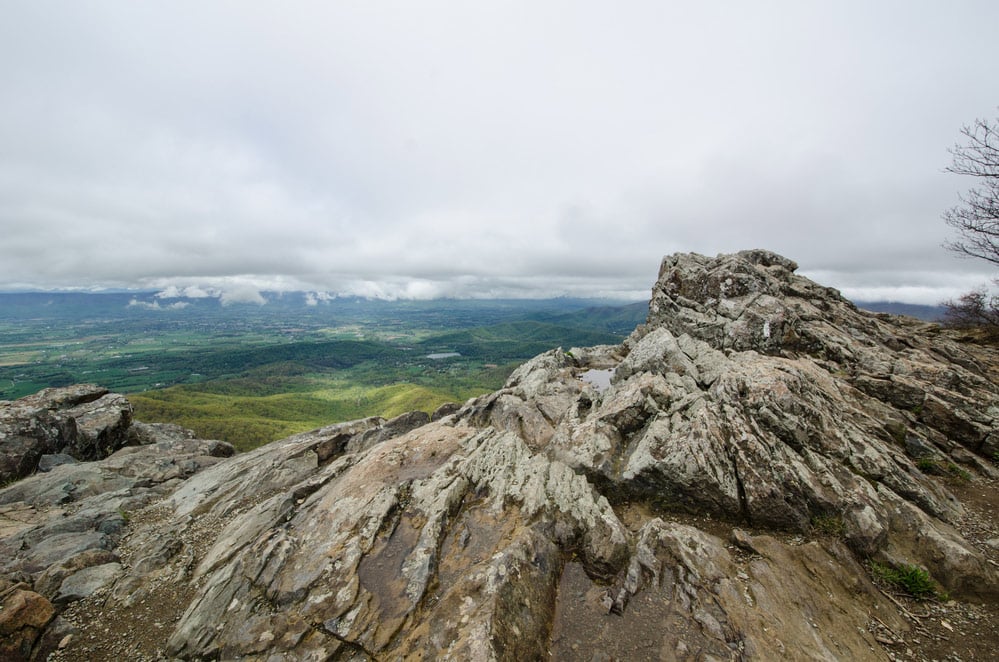 Climb Stony Man
Stony Man is the second tallest mountain in Shenandoah National Park, reaching over 4,000-feet at its summit.
This attraction offers some of the best panoramic views of the surrounding mountains, including the Shenandoah River to the south and the faraway slopes within George Washington National Forest.
There are various ways to get to Stony Man summit, so you can choose the length and difficulty of your hike. If you just want a great view without the effort, you can access the summit quickly by parking off Skyline drive and walking ½ mile or less to the summit.
If you want a moderate hike, there is a 40-minute hike via the Little Stony Man route. The Appalachian Trail also hooks up to the summit as a 1/3-mile detour from the main trail.
True to its name, Stony Man's summit is a treeless boulder land to explore, testing out views from each rocky outcropping. Boulder hopping is a fun activity for kids and adults alike.
Summit Mary's Rock
Mary's Rock is a granite mass with excellent views of the Shenandoah Valley and Massanutten Mountain.
It is one of the oldest rock formations in the National Park and offers a 360-degree panoramic views that will take your breath away.
The climb is a 3.8-mile roundtrip hike with 1200 feet of elevation gain. There's an extensive rock scramble to reach the top of Mary's Rock that is entertaining without being too hard.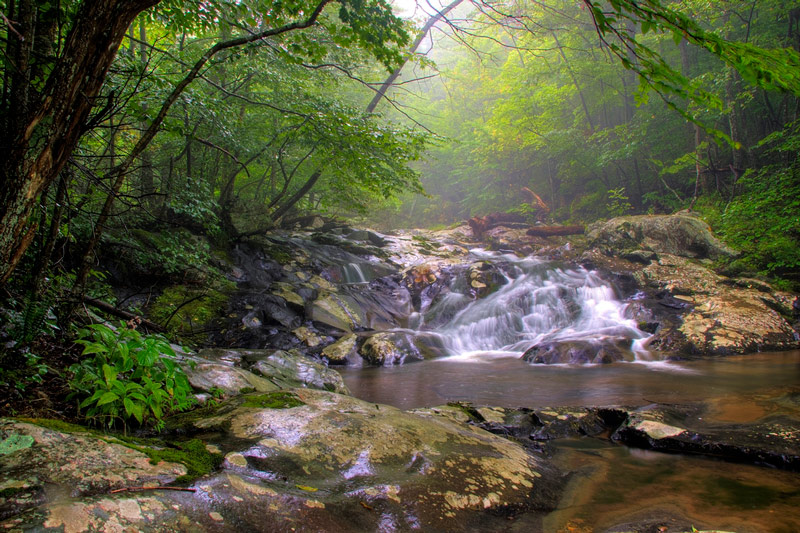 Hike To Rose River Falls
Rose River Falls is another set of gorgeous cascades within Shenandoah National Park. This is a great place to visit for tourists who are looking for a little more solitude because it's less popular than Dark Hollow Falls.
The 4-mile hike to the falls is also a much more scenic trail in our opinion.
Along the way, you'll encounter numerous types of topography on the Rose River Falls loop hike, including steep rocky scrambles in certain sections.
The loop begins with a steep decent from the trailhead at Skyline Drive to hook up with the Rose River along which much of the trail follows until you reach the falls.
Not only can you see both Rose River Falls and Dark Hollow Falls from the Rose River loop, but you can also access a ¼-mile detour trail from the Rose River loop to Dark Hollow Falls, so you can see both falls in one moderately longer hike.
The most spectacular hikes always have a combination of water and mountain, and Rose River Falls checks all the boxes. It may be a difficult trek, but you'll hardly notice the exertion with the amazing views around every corner.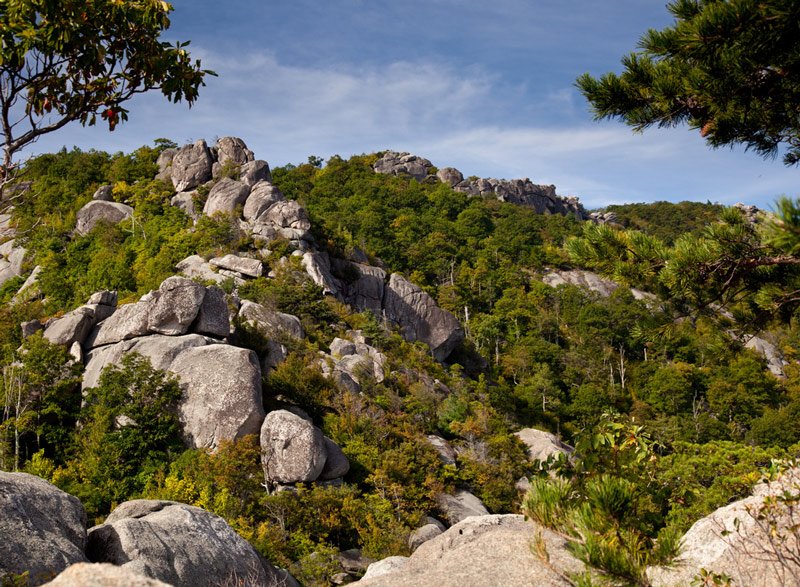 Summit Old Rag Mountain
Old Rag Mountain is not for the faint of heart. It is one of the park's most remote destinations, requiring a long, arduous, and highly rewarding 9-mile round trip hike plus a rock scramble to reach its 3,200-foot summit.
If you're an avid hiker or climber, you'll love this challenging trek with access to various granite rock faces for advanced climbers to scale with equipment. Climbers come from near and far to climb these rock faces.
Climbers have designated various climbing routes along different sides of Old Rag's slopes for bouldering and trad line techniques.
For non-climbers, the hike itself offers a sampling of all the best natural perks the Blue Ridge Mountains have to offer including waterfalls, streams, forests, rock scrambles, and amazing views.
Visit Rapidan Camp
If you're a history buff looking to travel back in time, then Rapidan Camp is a captivating time capsule that conserves its historical integrity.
Rapidan Camp was President Herbert Hoover's summer retreat grounds, built in Shenandoah Park in 1929 to give the President and his guests a much-needed respite from the turbulent times of his presidency.
While present-day Camp David is a lavish and luxurious compound fit for royalty, Hoover's Rapidan Camp was specifically designed to embrace the simplicity of nature, blending seamlessly into the natural surroundings with humble and unpretentious harmony.
Thirteen cabin-like buildings linked by stone and wood passageways comprise Rapidan Camp, each cabin serving as sleeping quarters, play spaces, meeting houses, and communal eating halls.
Hoover named each of the buildings according to its purpose, giving the complex a sort of summer camp-feel that aptly reflects his personality.
Today, the complex has been restored to its 1929 glory as a historical landmark and tourist destination.
The cabins are surrounded and engulfed in the greenery of the thick forest with a rushing river and various cascades running behind and between the cabins.
The smells, sounds, and picturesque vision of this compound are utterly delightful. You'll understand why Hoover spent so much time here.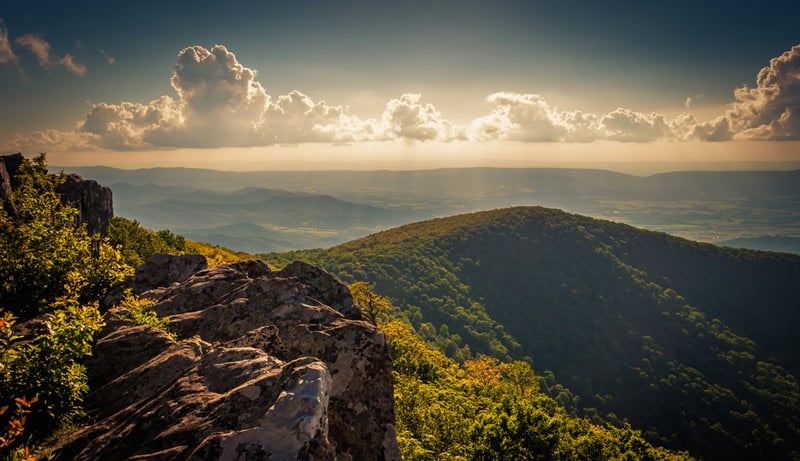 Picnic At Hawksbill Summit
Hawksbill Summit is the tallest peak in Shenandoah National Park at 4,050 feet with two different trails to reach the summit.
There's the Upper Hawksbill Trail that begins from a trailhead off Skyline Drive, which is an easy 2-mile round trip hike through a breathtaking fir and red spruce forest that is a rarity in Virginia's climates.
The Lower Hawksbill Trail is even shorter than the Upper Hawksbill Trail, but it is incredibly steep and rocky with significant elevation gain. Your lungs are sure to feel this one, but climbers and weekend warriors will enjoy the challenge.
Since Hawksbill Summit is the highest point in the park, you will have the best view of the Shenandoah Valley. Plus, there are stone buildings constructed by former Virginia Senator Harry Byrd called Byrd's Nests that provide great picnic spots for visitors.
So, bring a picnic and enjoy a birds-eye view of the Blue Ridge Mountains and forested valleys of Shenandoah National Park with family and friends.
That's A Wrap!
No matter who you're traveling or how much of a hiking novice you may be, Shenandoah National Park has a trail, vista, landmark, or drive that is sure to enchant you.
Kids and adults alike will find peace and adventure in Shenandoah National Park, traipsing through the thick green forests, chasing waterfalls, or marveling at incredible views of the majestic Blue Ridge Mountains.
You Might Also Like: