By
on
This post may contain affiliate links. As an Amazon Associate, I earn from qualifying purchases. Please read my full disclosure.
The state of Alaska is home to some of the largest and least visited parks in the US. These stunning sites offer a mix of volcanic mountains, icy glaciers, and unforgiving wilderness.
Many of the National Parks in Alaska can only be reached by seaplane, boat, or on foot. The journey is not for the faint at heart. But if you're up for the challenge, there is no place with more spectacular scenery or quiet solitude.
There are 8 National Parks in Alaska. In addition, there are 11 areas affiliated by the National Park Service.
National Parks In Alaska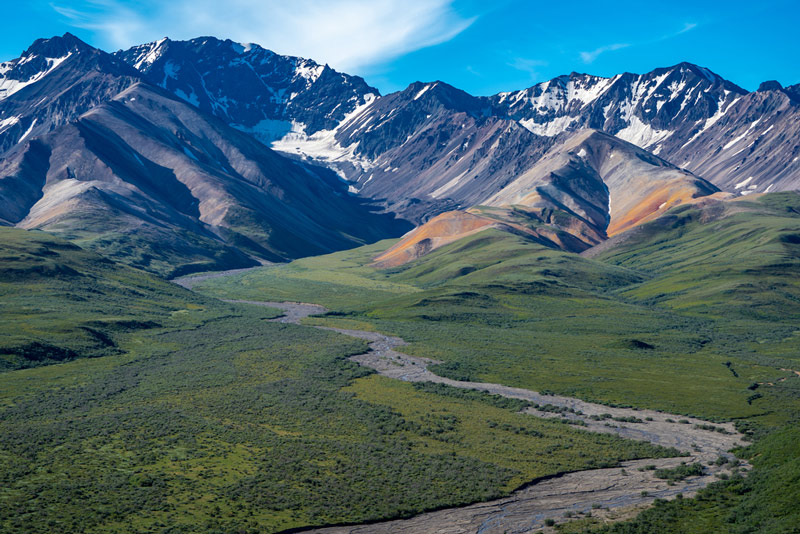 Denali National Park And Preserve
Denali is one of the most exemplary national parks in Alaska. It is home to the highest mountain in North America standing at 20,310-feet tall. The Denali wilderness area occupies a stunning 6-million acres which is more than enough space to keep you occupied for a lifetime.
If you love the outdoors, there is an endless list of things to do in Denali. Miles of hiking both on-trail and off-trail is an enjoyable way to experience the wilderness.
Wild animals both large and small roam freely throughout the park making for the perfect photo opportunity. Grizzly bears, black bears, wolves, caribou, and moose can be seen from the roadside. In fact, most visitors have the best chance of seeing these large animals while riding the park bus.
Narrated tour buses are a great way to cover large areas of the park without having to break a sweat. There are a number of different tours available including natural history tours, tundra wilderness tours, and the Kantishna experience tour which travels the entire 92 miles park road and back.
In the winter, mushing, snowmobiling, winter camping, and viewing the Northern Lights are among the most popular activities. Sled dogs are available for demonstrations year-round, and they are the ideal way for park rangers to travel throughout the wilderness when it gets snowy.
Getting There
Getting to Denali National Park is not easy. There is one entrance along Alaska Highway 3 at Mile 237. By car, the drive is about 4.5 hours north of Anchorage.
Some visitors choose to take the Alaskan Railroad train rather than driving. This scenic ride takes around 7 hours.
Of course, there are also air charter services and private buses available from Anchorage if you are short on time.
Camping
Camping and backpacking are some of the best ways to experience the park. There's nothing like waking up in nature or going to sleep beneath the northern lights. Denali National Park has several campgrounds available to both tents and RV campers.
All of the campgrounds are fairly primitive having no water or electric hookups. While all of the campgrounds have potable water and toilets, many are vault-style toilets only.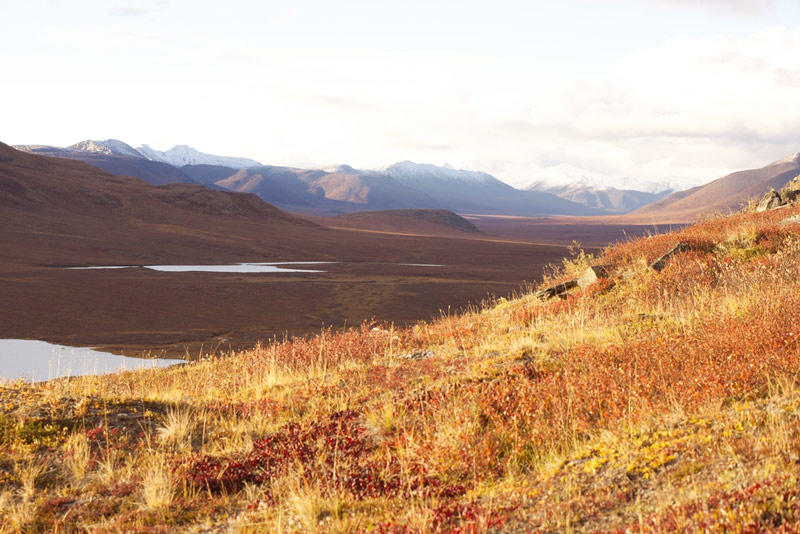 Gates Of The Arctic National Park And Preserve
The Gates Of The Arctic is one of the finest wilderness on the planet, covering 13,283 square miles in the entire north of the Arctic Circle. It is home to only one village known as Anaktuvuk Pass and is located far from any roads.
With one of the coolest names, the 'gates' refer to two mountains named Frigid Crags and Boreal Mountain. They frame the Koyukuk River and offer an excellent passage for floating visitors.
Gates of the Arctic is unique because it has no visitor centers, campgrounds, or National Park Service facilities.
Instead, you'll find rugged mountains with treeless slopes, boreal forests, and glaciated valleys. Additionally, it has six scenic and wild rivers, tundra slopes, and miles of valleys to hike.
The preserve is home to various wildlife such as Dall sheep, bears, wolves, wolverines, and moose. The grayling and Arctic char in the clear stream and the deeper lakes are also home to various fish. Additionally, the Western Arctic caribou herd makes the only available traits in this park.
Getting There
The only way for visitors to reach Gates of the Arctic is by hiking in or flying. Small airlines offer daily flag stops to Coldfoot, Bettles, and the Anaktuvuk Pass.
It's a remote attraction for many backcountry travelers for backpacking treks, float trips, or base camps. To get there, you can join a guided trip for hiking or rafting in the summer. In the winter, cross-country skiing or dog mushing is the only way in.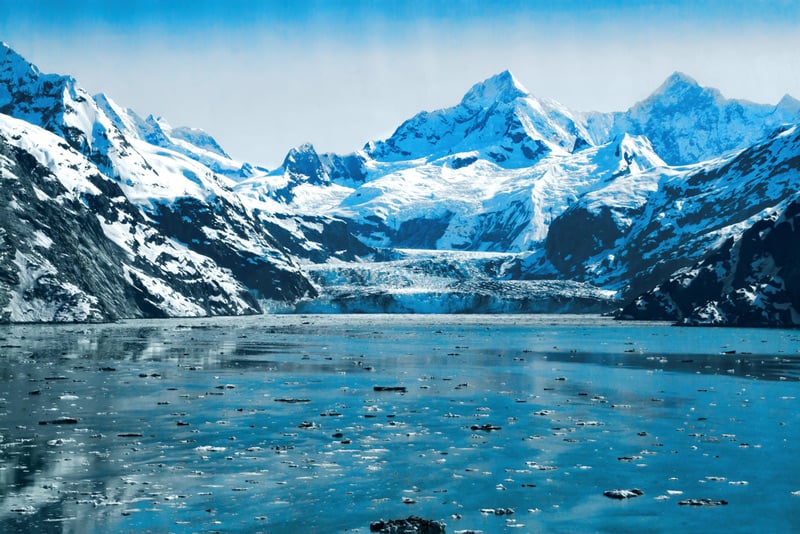 Glacier Bay National Park And Preserve
The Glacier Bay is a 3.3 million icy wilderness which was named a national heritage in 1992. It is home to marine wildlife, lofty mountain peaks, massive glaciers, and ice sculpted fjords.
This spectacular site catches the eye of every cruise ship that is headed north through Southeast Alaska. Glaciers cover 27% of the entire park, which total to more than 50 named ones.
The park has the Fairweather range to the west, which are the highest coastal mountains on the planet at 15,000 feet.
One-fifth of Glacier Bay is covered by marine waters rich with marine life such as orcas, sea otters, harbor seals, porpoises, threatened Stellar Sea lions, and endangered humpback whales.
It also has a large brown and black bear population and even blue glacier bears. Additionally, it contains moose, wolves, Sitka blacktail deer, bald eagles, and mountain parks.
Some of the most popular activities in the park include taking boat tours, river rafting, whale watching, glacier viewing, fishing, and kayaking.
Getting There
Glacier Bay can only be entered by plane or boat. Alaska Airlines offers a daily jet service from Juneau during the summer. Most people arrive in the park via cruise ships or on tour boats.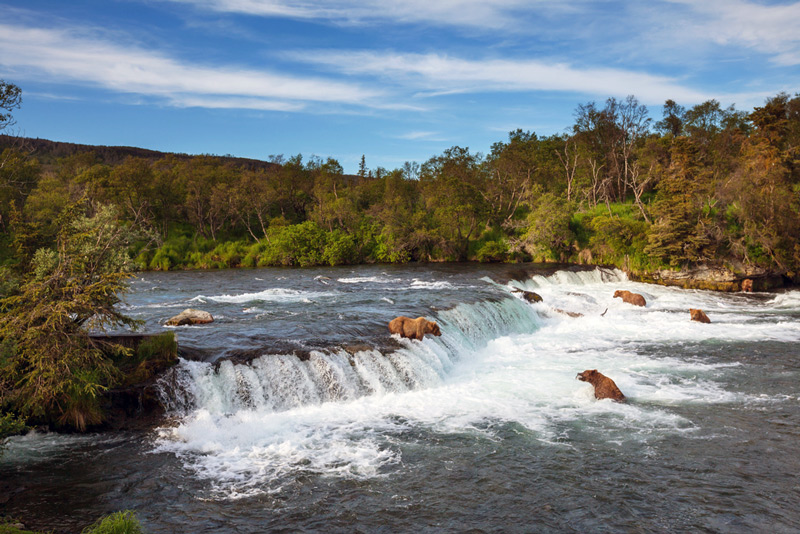 Katmai National Park And Preserve
Located in Southern Alaska, Katmai National Park is a wild landscape with lakes, mountains, forests, and tundra. You'll find many watersheds here with hundreds of untamed rivers and streams. This park has abundant salmon in Brooks falls which attracts a lot of bears. You can view these bears on lookout platforms at adjacent brooks camp.
Sport fishing, bear watching, boating, hiking, and camping are some of the most popular activities in the park.
Aside from the watersheds, this park also features the "Valley of Ten Thousand Smokes", an area where lava once flowed and ash has formed after a massive volcanic eruption.
Here you can study the effects of climate change, volcanism, and other major large scale landscape processes. This park shows human adaptation to ecological and environmental changes for over 9000 years.
Getting There
To access Katmai National Park, you can use floatplanes and arrive at Brooks Camp's main Visitor center on Naknek Lake. Another way to get there is by boat.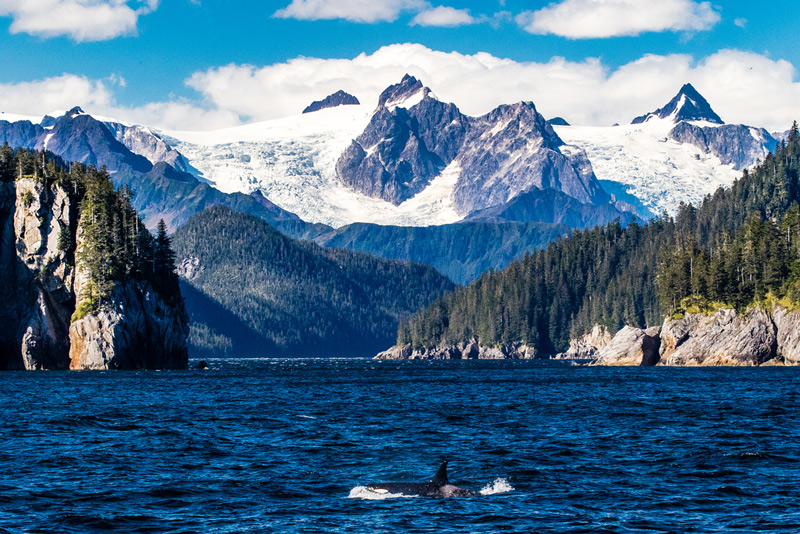 Kenai Fjords National Park
Ancient earthen forces built Kenai Fjords National Park. It has glaciers that resemble a coastline raked by giant fingers.
50% of the park is covered by tidewater glaciers, which churn against rocks to form fine dust known as glacial flour that flows into bay waters. These minerals enhance the healthy ecosystem for plankton and phytoplankton, which support larger animals.
In this park you will find thriving marine wildlife such as sea lions, harbor seals, sea otters, humpback, porpoises, puffins, orca whales, and kittiwakes.
Some day tours offer kayaking services so that you can explore the landscape closely.
If you want the park's information, you can get it at the nature center at Exit Glacier and Seward's Small Boat Harbor.
There are also paths on the north accessible from the Exit Glacier Nature Center. The young forest has vast trails that enable people to view the tidewater glaciers from the higher rocky overlook and valley floor. Beautiful features of the park include wildflower meadows and many snowfields with icefield views.
Getting There
Most visitors access Kenai Fjords National Park through day cruises from the nearby town of Seward. The journey can last anywhere between six to ten hours. These cruises take you to either Northwestern Fjord, or the Aialik Bay which are both substantial tidewater glaciers.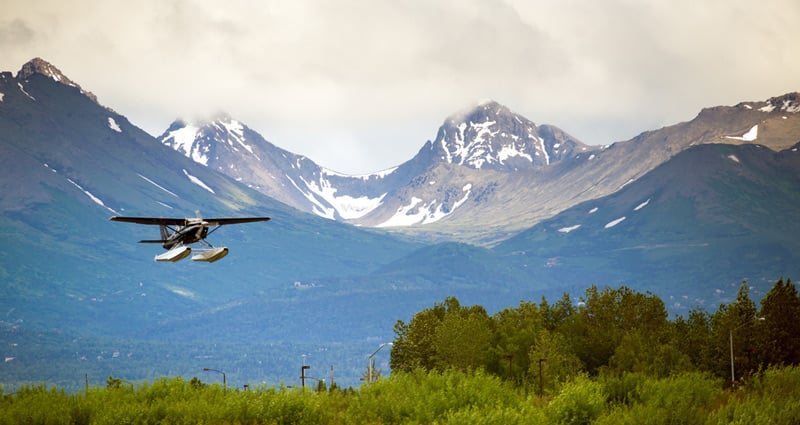 Kobuk Valley National Park
Located 25 miles north of the Arctic Circle in Northwestern Alaska, Kobuk Valley National Park is the least visited park in America.
This vast open space offers no signs of humanity and no man-made trails. The park is cut through in the middle by the Kobuk River, which spreads 61 miles across the area. The Baird Mountains border this untouched park to the north, and the Great Kobuk Sand Dunes border it to the south.
You can find the only Arctic Sand Dunes in America in this park, and it is also home to the largest herd of animals in Alaska. Every fall, half a million Caribou travels through the park during migration to the southern wintering areas coming from the Northern calving grounds. It also has various other wildlife such as porcupines, black and grizzly bears, moose, wolves, foxes, birds, and salmon.
Getting There
Being the least visited parks makes it a challenge to navigate and get to. It would helps to find guidance from people who are well aware of the area's climate and geography. To get to the park's information center, you will need to take commercial planes from Anchorage to Kotzebue first, then journey on to the park.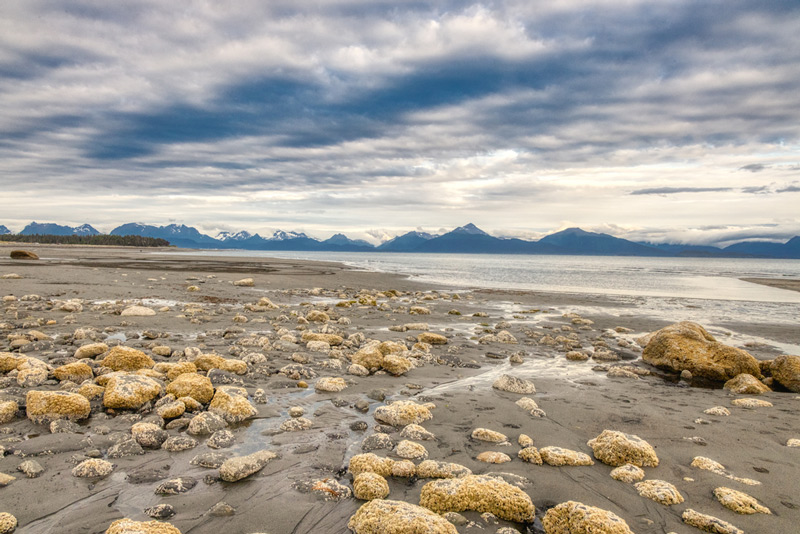 Lake Clark National Park And Preserve
Lake Clark is an untamed wilderness located in the south central crook of Alaska. It has glaciers, volcanoes, tundra, glacial lakes, and rivers that occupy more than 4 million acres.
It is also home to a fantastic array of wildlife. You can sight animals such as Caribou, grizzly bears, sockeye salmon in streams, and even wolves. The fish make the park have a unique ecological dynamic, which also supplies one of the essential salmon sources known as the Bristol Bay Fishery.
This park is so vast that weather patterns can split between the coast and the interior. The coast region has frequent fog, rain, and mild winters. In contrast, the interior area can have cold temperatures of up to -40F. When planning your adventure, it is critical to keep tabs on the forecast. You should also make sure you have all your supplies before entering the preserve.
Biking, hiking, bear and bird watching are some of the most popular activities in the park. Many people also choose to use boats, canoes, and rafts to paddle through the water system. Local tour companies offer guided tours, organized events, and other great opportunities throughout the park.
Getting There
You can get to Lake Clark by hiring a small plane from nearby Homer, Kenai, and Anchorage communities.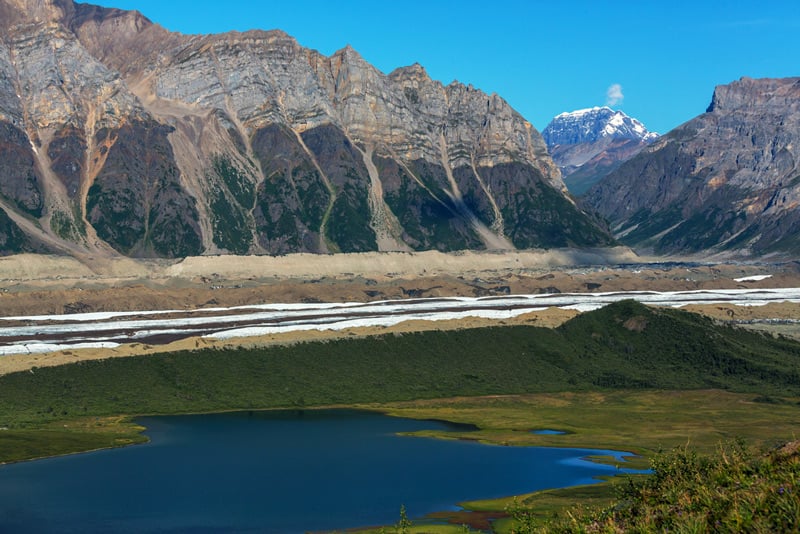 Wrangell – St Elias National Park And Preserve
Wrangell National Park is covers a huge areas filled with vast glaciers and peaks. You can find tidewater, receding or advancing glaciers in stream and river sources.
It is also home to fantastic wildlife and historic mining sites. You can float on the rivers, hike the mountain, ski on glaciers and fly over the landscape to experience this wilderness.
There are very few roads, so many travelers do not enter the park but can observe significant peaks such as Sanford, Drum, Blackburn, and Wrangell from nearby highways.
All the Wrangell mountains are volcanic, but the only active mountain is Mount Wrangell, which removes steam near the summit. The Malaspina Glacier flows between Yakutat bays from St Elias Range, more extensive than Rhode Island state.
Braided streams and meandering rivers flow from glaciers. The largest river is the Copper River, which forms the Preserve's Western boundary and empties into the Gulf of Alaska.
Wrangell National Park and Preserve is home to a variety of wildlife and plants. Mountain slopes have dwarf shrubs, plants, and grasses, which mountain goats and sheep eat. The Caribou on the park feed on sedges and lichens on Wrangell's slopes. There are also other wildlife such as moose, bears, salmon, and different types of fish.
Getting There
The most popular way to get to this park is via Alaska Highway 4. The main park visitor center is located at mile marker 106.8 which is about 200 miles northeast of Anchorage.
Alaska National Park Accredited Sites
Alagnak Wild River
Alaska Public Lands
Aleutian Islands Word War II National Historic Area
Aniakchak National Monument And Preserve
Bering Land Bridge National Preserve
Cape Krusenstern National Monument
Inupiat Heritage Center
Klondike Gold Rush National Historic Park
Noatak National Preserve
Sitka National Historical Park
Yukon – Charley Rivers National Preserve
Check Out These Other National Park Sites