Oregon is one of the most diverse states in America. It has a mix of high deserts and arid shrub-lands on the east side. The west is dotted with and lakes and volcanos.
Dense evergreen trees and mixed forests also make it the largest timber producer in the US.
All of these unique features combined make Oregon a fantastic place to visit.
What National Parks Are In Oregon?
There is one National Park in Oregon. There are also two National Monuments, and three National Historic Sites in Oregon.
Crater Lake National Park
Oregon Caves National Monument and Preserve
John Day Fossil Beds National Monument
Fort Vancouver National Historic Site
Lewis and Clark National Historical Park
Nez Perce National Historical Park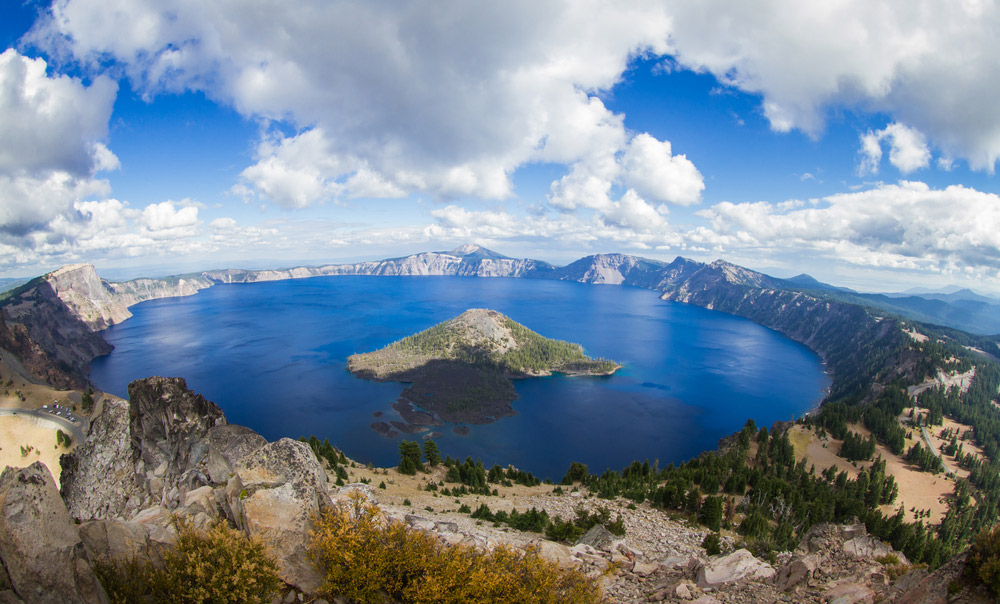 Crater Lake National Park
Known for its picturesque views, Crater Lake National Park has been in existence since 1902 making it the fifth oldest national park in this country.
The most prominent feature is it's awe-inspiring lake, which is the deepest lake in the country; and the ninth deepest lake in the entire world.
The Creation of Crater Lake
In addition to its beauty, one of the things that make Crater Lake so amazing is that a group of Native Americans witnessed it being created 7,700 years ago when a cataclysmic volcanic eruption triggered the collapse of a tall peak.
Crater Lake National Park is considered a sacred place by Native Americans as well as many visitors. The volcano was over 400,000 years old by the time it had its now-infamous eruption.
The eruption was also one of the largest of any eruption in the Cascade Mountains and is said to have released 75 times more material than the 1980 eruption of Mt. St. Helens.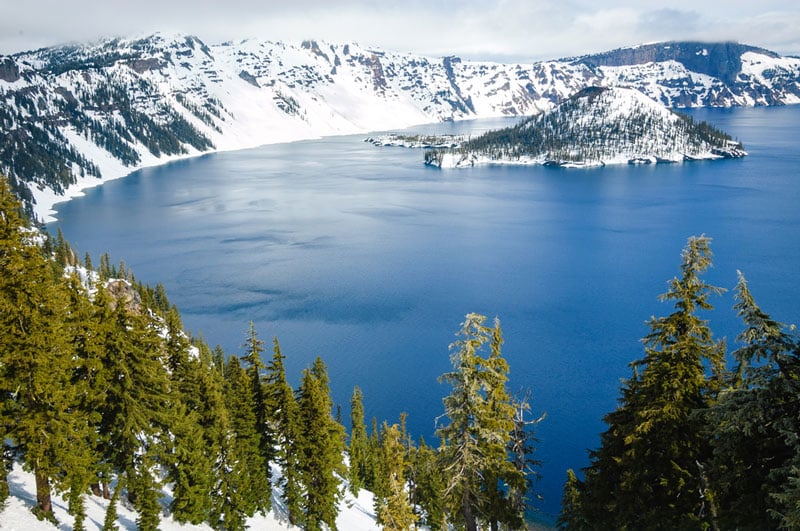 A true sight to behold, a variety of artists, photographers, and sightseers travel to Crater Lake to paint, take pictures, and to genuinely be inspired by its gorgeous purity.
Surrounded by cliffs that are almost 2,000 feet high, although its various views can be enjoyed all-year-round, many people prefer to visit the lake during the late summer and early fall, when the weather is mild and there is relatively little precipitation.
If you are considering visiting Crater Lake National Park, here is a list of potential activities:
Camping and hiking
Fishing
Swimming
Boat tours
Trolley tours
Stargazing
Volcanic exploration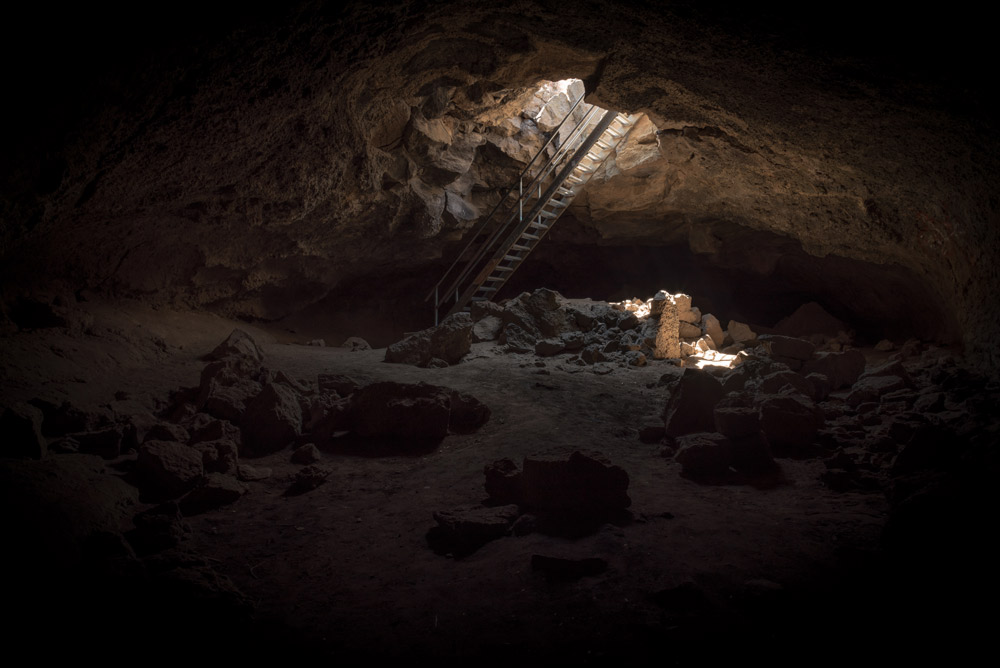 Oregon Caves National Monument & Preserve
This National Monument and Preserve is known for being one of the last historical sites that provides us with real-life glimpses into things such as the technology, individualism, innovation, and communal sharing of the pioneers of this nation.
Before becoming an official monument in 1909, the Oregon Caves National Monument & Preserve was almost turned into a hotel and resort. This was one of the original plans until the venture proved to be unfruitful and people began to realize its true historic value.
Nevertheless, the first permanent building that was created was built in 1924. It is still standing to this very day and is now being used as a Visitor Center. However, they did have to add a third floor and an archway to make it more useful and visitor-friendly. In addition, the two upper-level floors are now being used as a dormitory area for seasonal guides.
FIND FREE CAMPSITES
The Dyrt Campground Finder
This is our favorite app for finding free campsites & public campgrounds.
Download offline maps with Public Lands, National Forest, and Bureau of Land Management boundaries.
44,000+ public and private sites listed. Over 1 million campgrounds reviewed.
TRY 30 DAYS FREE
Once the chalet was built, they also went on to build a series of rustic cabins, which were built in 1926. The cabins were originally created for visitors, however, over the years, they were transformed into lodging for the summer rangers who stayed on campus.
In other words, although the site was going to be used as more of a commercial area that could have been more of a tourist spot and getaway, the area was slowly changed to be a historical landmark that people visited to absorb the rich history of the area and this nation.
Things To Do At The Oregon Caves National Monument
If you are considering visiting the Oregon Caves National Monument & Preserve, you can look forward to the following activities:
Cave tours (guided by park rangers)
Observe the diverse variety of wild life
Hunting trips
Six walking/hiking trails
Touring through the Oregon Caves Chateau, a National Historic Landmark
Grab some lunch, dinner, or a snack at the Chateau's 1930s era dinner, the Caves Café.
Camping
Visit the bookstore and Cave Exhibit at Oregon the Caves Visitor Center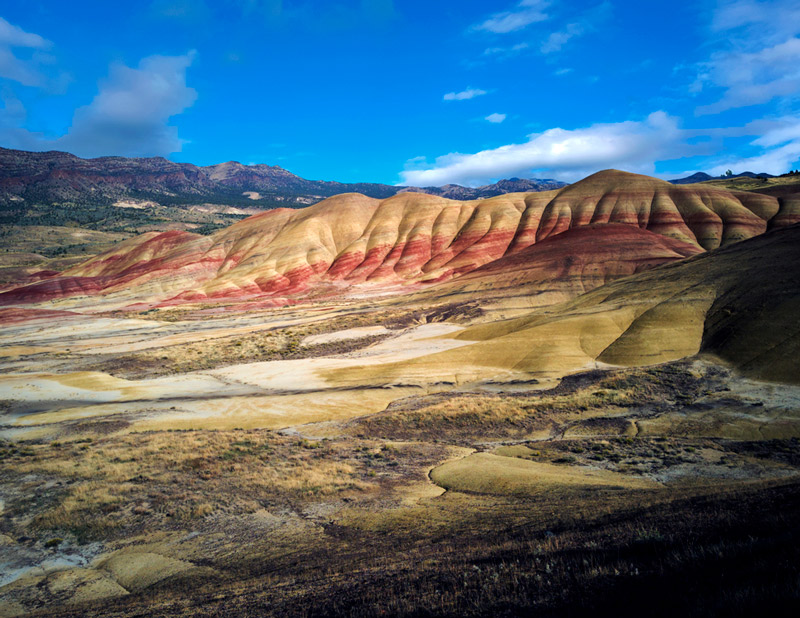 John Day Fossil Beds National Memorial
John Day Fossil Beds National Memorial comprises vibrant rock formations which have served to preserve and provide a record of climate change, plant and animal evolution, as well as the ecosystem over the past 40 million years.
The park is most well-known for its amazingly well-preserved layers of fossilized plants and animals that lived between 45 million years ago up until about 5 million years ago.
This makes it an ideal location for scientists, such as archeologists and geologists, who are dedicated to uncovering the history of the world using concrete evidence left by mother nature.
This massive monument consists primarily of Sheep Rock, Clarno, and Painted Hills. This not only makes it historically important, but it is also a beautiful and scenic location that attracts people from all walks of life.
Covering a total of 13,944 acres, the land consists of riparian zones, semi-desert shrublands, and vibrant badlands. This monument is a major attraction as hundreds of thousands of people are known for visiting it each year.
Things To Do At John Day Fossil Beds National Memorial
If you are interested in visiting the John Day Fossil Beds National Memorial, you can look forward to the following activities:
Walks the trails
Take pictures
Draw/ paint/ create art to immortalize the landscape
Have a picnic
Visit the Historic James Cant Ranch
Visit the Thomas Condon Paleontology Center
Observe the wildlife
Examine the fossils
Fishing
Participating in astronomy programs at the Painted Hills Unit
Rafting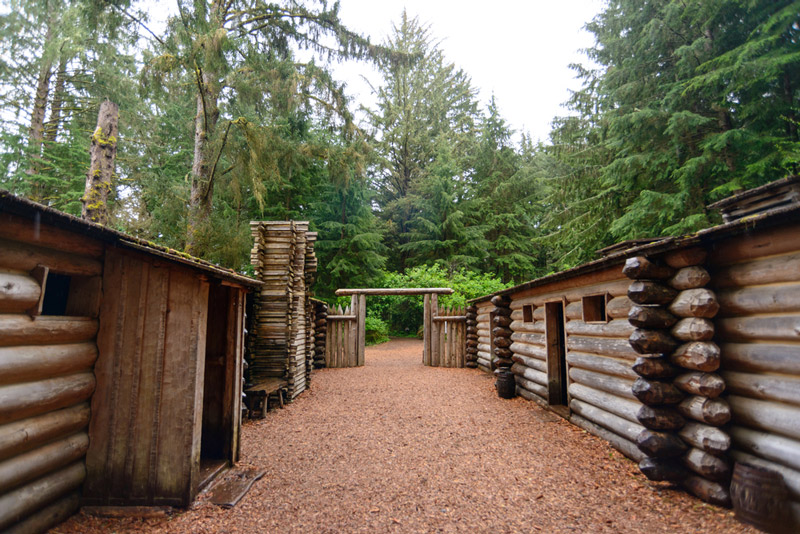 Lewis and Clark National Historical Park
Known for being a historical site that was used by some of America's most famous explorers, Lewis and Clark National Historical Park comprises 12 sites that are stationed along the Pacific Coast.
The park also tells the profound history of the native coastal people, making it a site that plays an intricate role in American history overall.
Located near the mouth of the Colombian River, Lewis and Clark National Historical Park includes both state and federal lands. Some of the sites it includes are as follows:
Fort Clatsop
Netul Landing
Station Camp/Middle Village
Fort to Sea Trail (since November 14, 2005)
Salt Works
Clark's Dismal Nitch
In addition to the natural sites at this national park, the park also includes a replica of the Native American longhouse which is located at a Clatsop Indian village.
Also, the park allows visitors to explore forts that were built by explorers in order to seek refuge from the brutal winters. This makes it a park that is frequented by schools and groups of kids and adults who are interested in learning about the history of the area.
Things To Do At The Lewis And Clark National Historical Park
Although this site is often used for educational purposes, there are plenty of recreational activities to participate in. However, many visit the park in order to both learn about the past and experience one of the most educationally-relevant parks in the entire country. If you are interested in visiting the park, here is a list of potential activities to enjoy while you're there:
Self-guided cell phone/ audio tours
Fort programs (Netul Trail Guided Walks, Raising the Colors/Lowering of the Flag, Flintlocks: Tools of Survival, Historical Demonstration, and more)
Ranger-guided kayak and canoe tours
Hiking
Paddle-boating
Walking trails
Observe wildlife
Various seasonal events (Summer camp, the Lewis and Clark Trail Run Series, and more)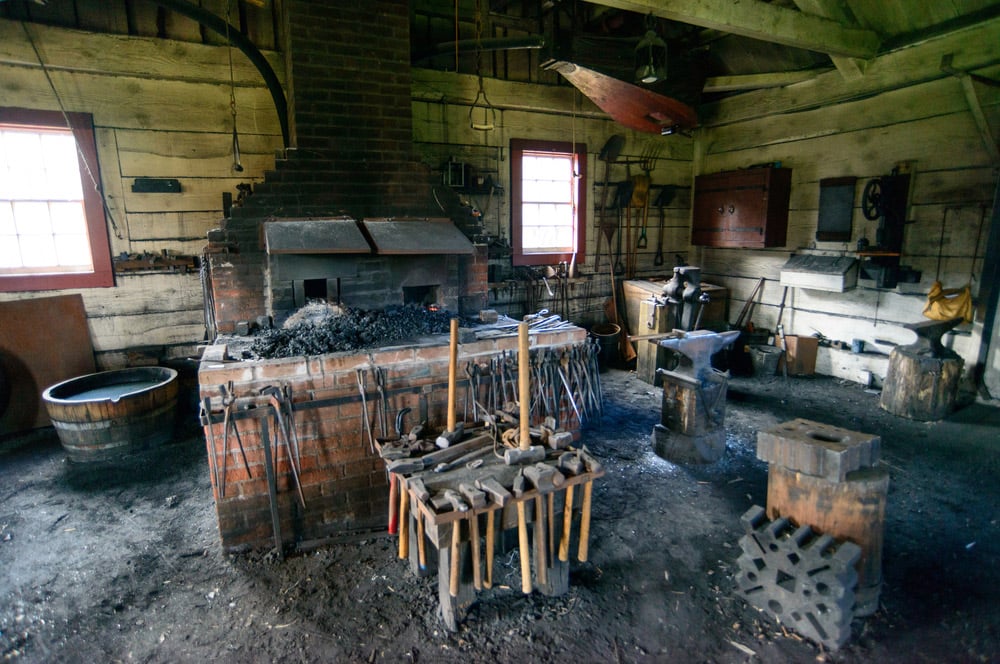 Fort Vancouver National Historic Site
Located just north of the Colombian River, Fort Vancouver National Historic Site is a historical site that is stationed in Oregon and Washington.
The site consists of two sites, one of which is located in the site of Fort Vancouver ( now the modern-day Vancouver, Washington), and the other of which is the former residence of John McLoughlin in Oregon City, Oregon.
Known for its profound cultural past, Fort Vancouver National Historic Site was once a site that was used for things such as fur trading, as a station used by the military, and the origin of the American Pacific Northwest.
As a historic Army Post and an area that was once a fur trading post owned by the British, this area includes a historic house that was designated to be one of the first-ever national historic sites within the western region of this country.
It was also one of the largest multicultural areas of the Pacific Northwest, which makes it a long-lasting testament to the principles which this nation was built upon.
Given that the army took over the site once it was abandoned by the British, it also serves as a long-lasting monument to American tenacity and ingenuity.
Things To Do At Fort Vancouver National Historic Site
If you are considering visiting the Fort Vancouver National Historic Site, here is a list of potential activities:
Hands-on exhibits
Visit and walk the various walking trails
Take the one or two-hour self-guided tour
Visit the Pearson Air Museum
Take a jog on the cross-country running course
Check out the historical weapons program
Experience a variety of cultural demonstrations (such as the kitchen, the blacksmith shop, the bakehouse, the carpenter center, the garden, and more)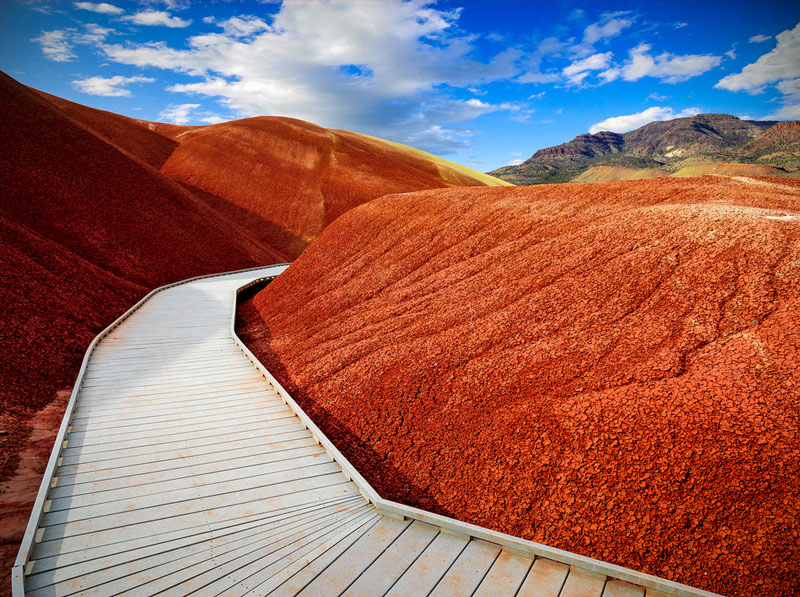 National Trails In Oregon
In addition to the National Parks and Monuments, Oregon has four National Historic Trails:
California National Historic Trail
Oregon National Historic Trail
Lewis and Clark National Historic Trail
Ice Age Floods National Geologic Trail
National Parks Nearby: