Best Camping Water Container
By
on
This post may contain affiliate links. As an Amazon Associate, I earn from qualifying purchases. Please read my full disclosure.
Whether you're car camping or living the #vanlife, a water container is a must-have accessory for outdoor adventure. It's always a good idea to pack more water than necessary because you never know how far you'll have to travel between refills.
We've broken down the most popular and best camping water containers to help you decide what to pack on your next road trip.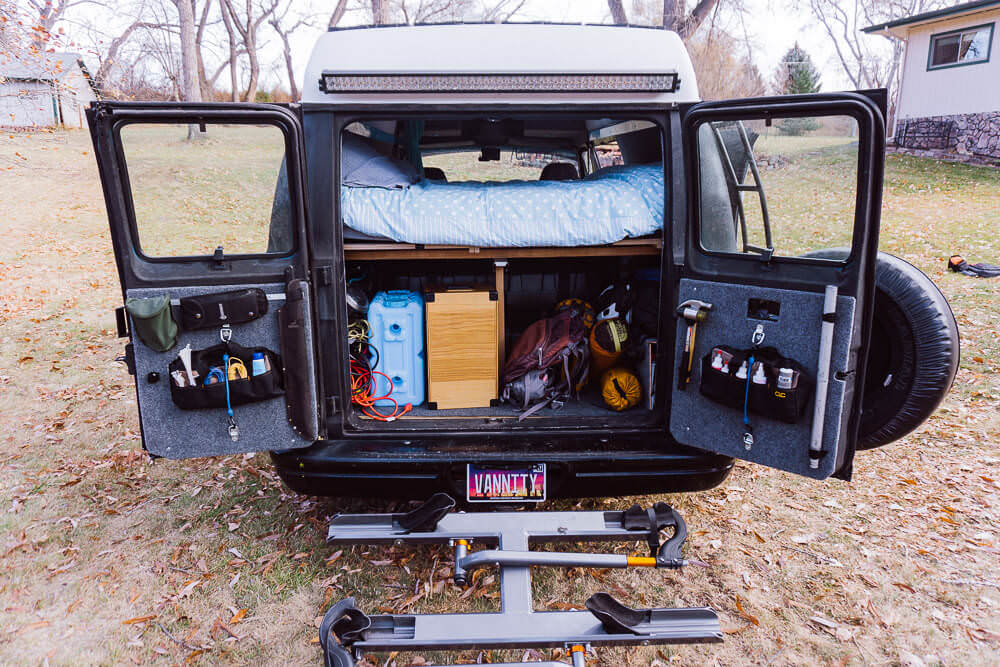 Where to fill your camping water Jug
You might be surprised to find that it's easy to get a hold of free water to fill your water container (at least in North America). Nearly every campground is going to have a water spigot on-site, but here are some other locations you may not have considered:
Visitor centers: National Parks, State Parks, Forest Service Offices and City Visitor Centers often have a water spigot outside to use. If you don't see one, just go inside and ask! They should be able to direct you to the nearest potable water spigot.
Dump Stations: Not all dump stations have potable water but many do, and they will be marked accordingly. You can find dump stations outside many marine and RV retailers, some gas stations like Flying J and Pilot, or check out this website to find a dump station near you.
Beaches and Parks: Some beaches and parks will have free water available. This is a great place to look if you happen to be near one—just make sure that it's a potable spigot.
Paid Campgrounds: Even if you're not staying at a campground many will allow you to fill up your water tank for a small fee; just drive in and ask the host.
Grocery Stores: If all else fails, stop into your local grocery store or Walmart. Many have water fill stations inside where you can purchase water by the gallon. We've seen prices around 37 cents per gallon if you bring your own jug.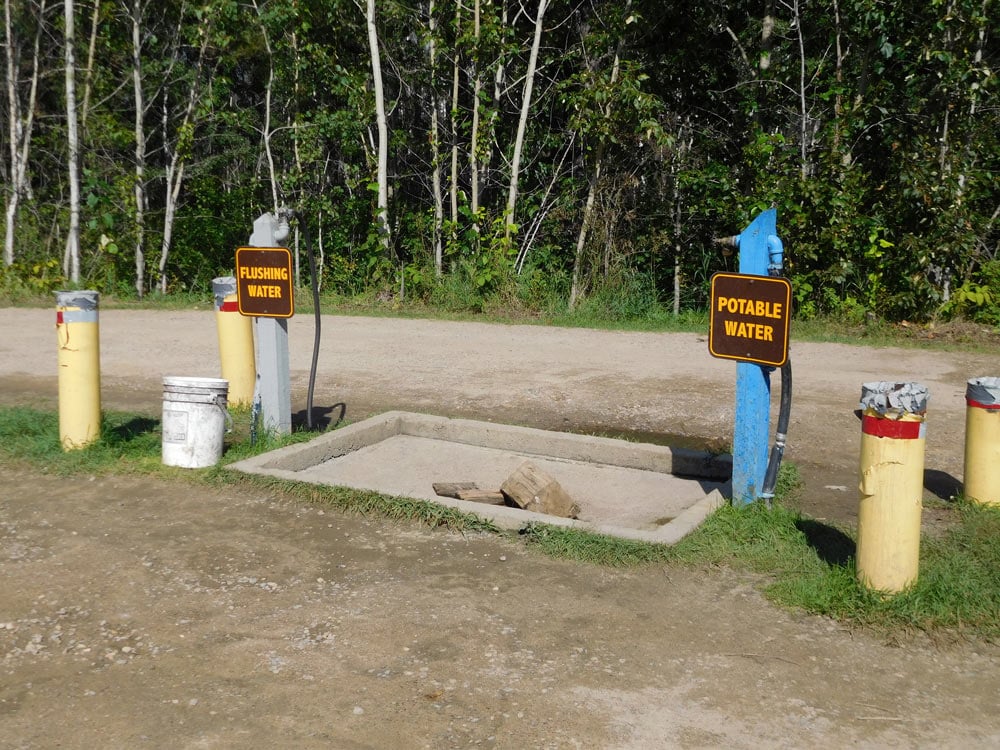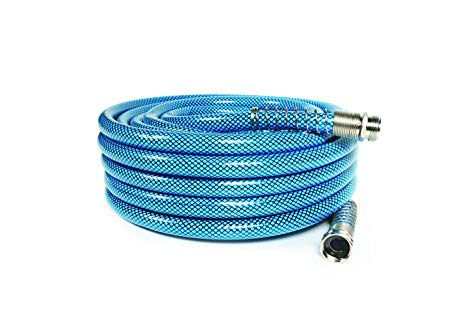 Filling Accessories
It's worth mentioning a few items that may make your water containers easier to fill. Always use a potable water hose when filling from any spigot. This is especially helpful if you want to leave your container in the car while your fill it.
A water bandit is a rubbery connection that will fit your hose on one end and almost any size outlet on the other. Not all water spigots are the same diameter so these are handy to have while you travel.
Features to look for in a Water Container For Camping
Before you go out and grab a water jug for your trip, there's a few things to focus on. Size, construction quality and portability are all important factors. Knowing what features to look for will help you decide on the best portable container for you.
Safety
It should go without saying, but purchasing a water container intended for potable water should be the number one factor on your list. You should not just grab any container off the shelf. Of course, all of the containers we reviewed are BPA free and food safe.
Some campers prefer to use steel or metal containers rather than plastic. If that's your prerogative we recommend taking a look at the Sansone Stainless Steel containers which come in a variety of compact sizes and have a removable spigot included.
Size and Capacity
Size matters when it comes to camping water containers. Not only do you want something that can last several days, but you also want to keep in mind your personal carrying capacity.
A gallon of water weighs just over 8 pounds, that means these containers get heavy fast. If you're incapable of carrying 40+ pounds you should not buy a 5 gallon container. Opt for something smaller instead.
On the other hand, if the container won't be leaving your car often maybe you want to go for something larger. Van lifers and RV travelers may benefit from traveling with a water tank that holds 20 gallons or more!
Personal Carrying Capacity
As mentioned earlier, bigger is not better if the container is too big for you to move out of the car. Consider multiple, smaller water containers that can be easier to carry than one large tank.
Water containers are large and awkward. If you have to option, we recommend purchasing one with carrying handles. These are going to be especially useful if you stay anywhere with a walk-in campsite. Or when you need to run to the fill station.
Stackable or Collapsible
The shape of a water container also plays a big role. Round containers look nice, but they don't pack as well into a camping vehicle. We like to look for containers that have straight edges and are more square for packability purposes.
Some containers are built to stack together. That can save a lot of space in your trunk.
Collapsible water containers are also a good option if you're tight on space. These are especially good for backpacking, walk-in campsites or when you simply don't want deal with the hassle of a large container at the end of a trip.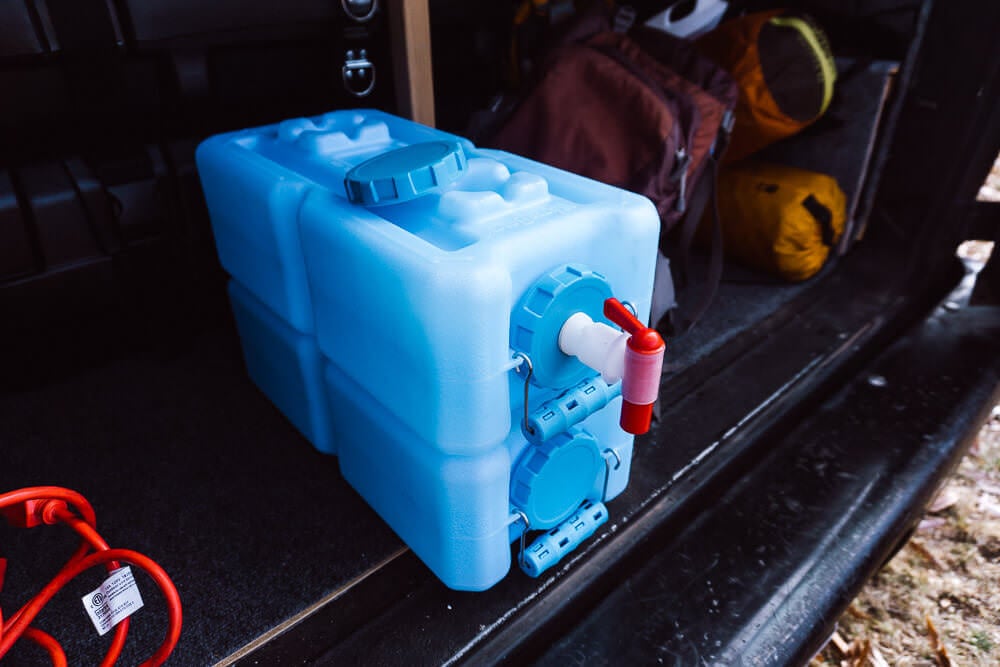 Durability
Not all containers are built the same. A steel container will be more durable than plastic; but plastic has come a long way. Look for containers with thick walls that can withstand high heat and freezing temperatures.
Rigid containers are more durable than collapsible ones but they also tend to be slightly more expensive.
Spigots and Leak Points
Some camping containers come with spigots and others do not. Either way, you'll want a proper seal. Anything with a rubber gasket seal is going to be less prone to leaks than a standard plastic cap. You'll want to make sure that there's a rubber gasket seal on every opening of the container.
Also pay attention to where the spigot is located. Spigots on the side of the container are great for pouring but they can also leave a mess in your trunk if not properly closed.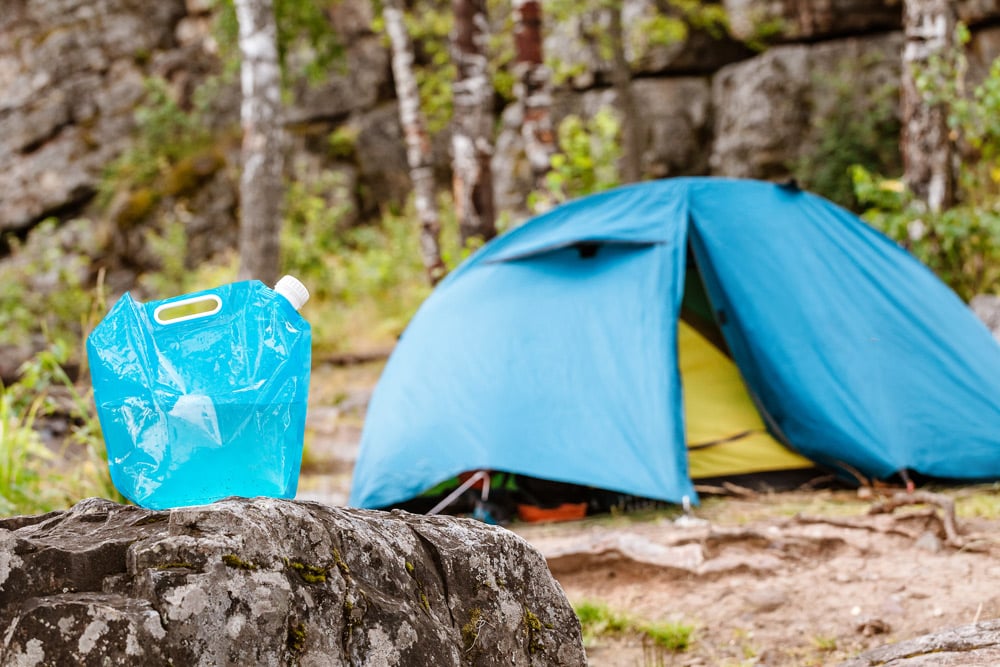 Cleaning
Often the difference between a water jug and a water tank is the size of the opening. Water tanks tend to have smaller openings with a spigot included and a handle.
Water jugs have larger openings at the top but that also makes them easier to clean. Our favorite water jug, the WaterBrick has a spigot attachment you can use in place of the water cap when you get to your destination.
Best Camping Water Jugs Reviewed
MOST DURABLE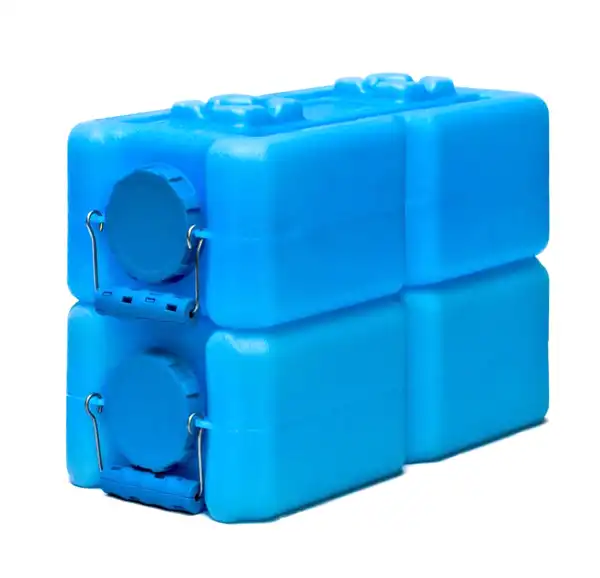 WaterBrick makes our favorite water containers and we bring them along on every camping trip. We like these containers because they are compact and easy to carry. The jug holds 3.5 gallons of water making them about 30 pounds when full.
Waterbricks were built for the over landing community and are popular 'survivalist' water jugs. That's because they are extremely durable. The containers have thick walls made with high density polyethylene (HDPE). They're designed to be banged around when rock crawling. In over three years of use we've yet to experience any leaking issues.
A few other things we love about the jug is the overall shape and design. Waterbricks are rectangular with extrusions for cross-stacking multiple bricks. They also have removable metal handles that swivel down so any number of bricks can be stacked side-by-side maximizing space.
Finally, the water brick has a large opening that you can fit your whole hand into for cleaning. That also makes them good for storing other items besides water. You can replace the large cap with an optional spigot when it comes time for a drink.
Waterbrick also makes a companion storage container that stacks along with it's water containers. We use two of these for storing dog food in our van during road trips.
Check Current Price: WaterBrick
BEST VALUE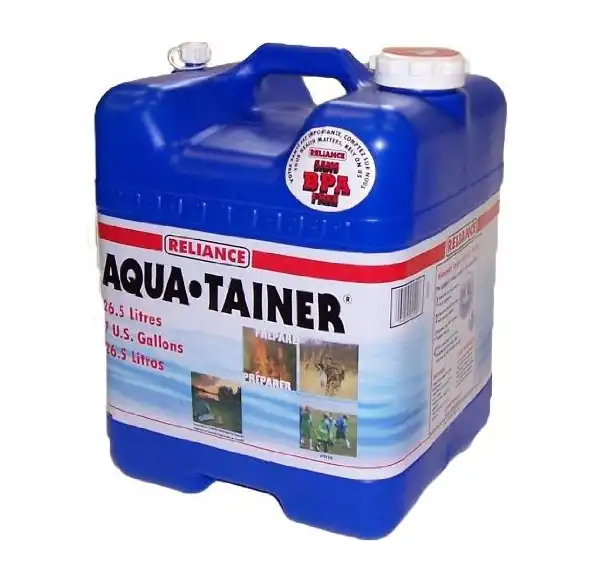 If you're looking for a camping container that's a little bigger, the Aqua-tainer by Reliance Products is one of the most popular brands out there. This is a 7 gallon water container that will weigh just under 60 pounds when full. That's a lot of water!
It's recommended that campers drink at least 3 liters of water per person per day. At 26.5 liters this jug should keep two campers hydrated for about four days.
Reliance Products makes some of the least expensive rigid water containers on the market; but they don't come with spigots. You'll have to lift and pour the water out yourself and that can get pretty heavy.
Aqua-tainers are square but they don't stack because the handle will get in the way. They also have a smaller opening at the top so you won't be able to do a deep clean with your hands.
With all of that said, this is the best bang for your buck product.
Check Current Price: Aqua-Tainer
BEST COLLAPSIBLE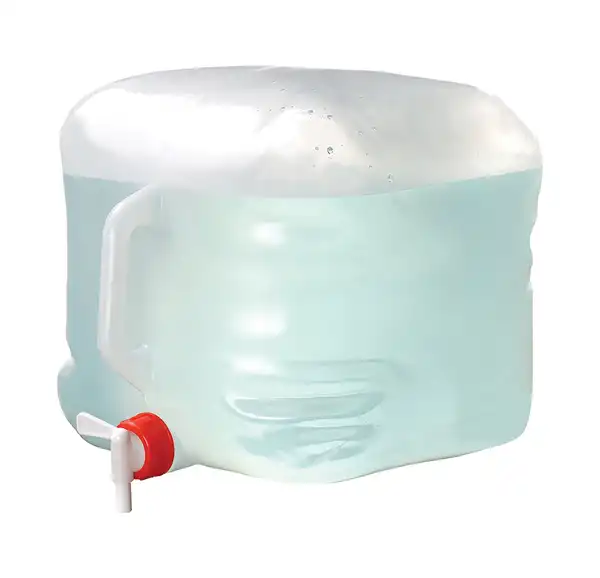 Collapsible containers are one of the best ways to save weight and space when you're finished camping. Coghlan's makes a 5 gallon collapsible container made out of heavy-duty polyethylene.
This container comes with a handle and a spigot so it's especially easy to pour. It's also clear so you have a good visual of exactly how much water is left.
The downside to this container is that the spigot opening is fairly small. It won't fit a standard garden hose and may be difficult to clean.
Check Current Price: Coghlan's Camping Container
BEST LARGE WATER TANK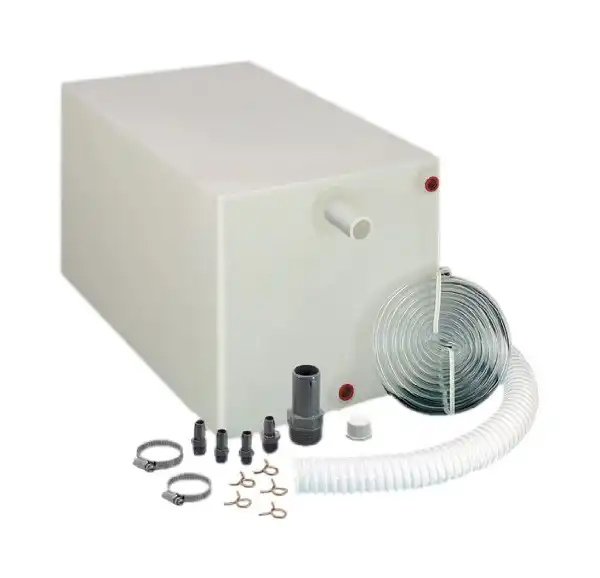 Barker is well known in the RV community. They manufacture a variety of water products and accessories just for RV travel. We recommend this large, 20 gallon tank to anyone traveling in a camper van or RV that doesn't plan on removing the tank on a frequent basis.
The tank dimensions are 32 x 12 x 12 inches and it's rectangular with very straight edges to fit under your sink.
Barker tanks are heavy duty and weigh 14 pounds dry. They do not have carry handles or spigots because they aren't meant to be carried around. Instead, they have hose inlets and come with a few hose clamps, tubes and supplies to hook up your water system.
You can buy Barker water tanks in a variety of sizes and dimensions to fit your rig. 15 gallon, 20 gallon, and 26 gallon are some of the most popular.
If you're interested in learning more about how to hook up a water system in your camper van, we recommend reading these links:
Check Current Price: Barker 20 Gallon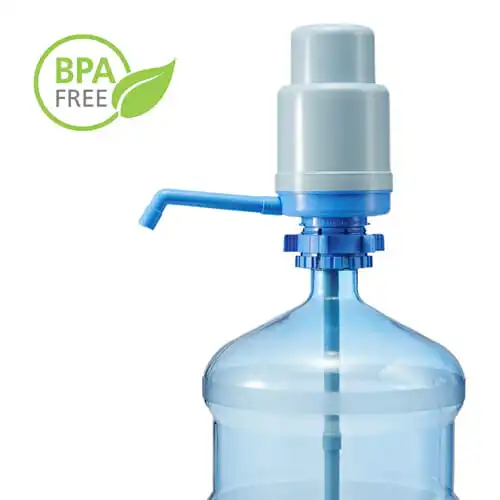 This is a pump and spigot that fits most standard 5-6 gallon water bottles. You've probably seen these jugs at Walmart or your local grocery store.
Purchasing 5 Gallon Water containers is a good route to take if you travel infrequently or if you're already using them at home. You can buy the tanks pre-filled then just screw the pump on top for easy access to water.
There is no batteries or power required and you can control the speed and pressure of the water on your own.
Check Current Price: Dolphin Hand Pump
The Bottom Line
Waterbrick camping containers are the most durable, compact and easy to handle. Aqua-tainer makes larger containers that come at the best value. Barker Manufacturing is the go-to choice for RV and camper van travel.