RV Water System Accessories and Upgrades
By
on
This post may contain affiliate links. As an Amazon Associate, I earn from qualifying purchases. Please read my full disclosure.
Camper plumbing systems are complex! And they often require more on-going maintenance than any other part of the RV. Luckily, there are a lot of system upgrades to make everything easier to manage.
Some of the best RV appliances come factory installed, and others have been highly recommended by experienced RV travelers. Before taking off on your next adventure, we recommend taking a look at your RV water system. See if you're missing any of these items, and upgrade as needed!
Benefits of various RV water system accessories:
Avoid leaks in piping
Fill your fresh water tank faster
Potable water will smell and taste cleaner
Dumping a black water tank will be faster and more sanitary
Less wrestling with piping and plumbing connections
You'll always have water; even when boondocking
You can stay off-grid longer with the right equipment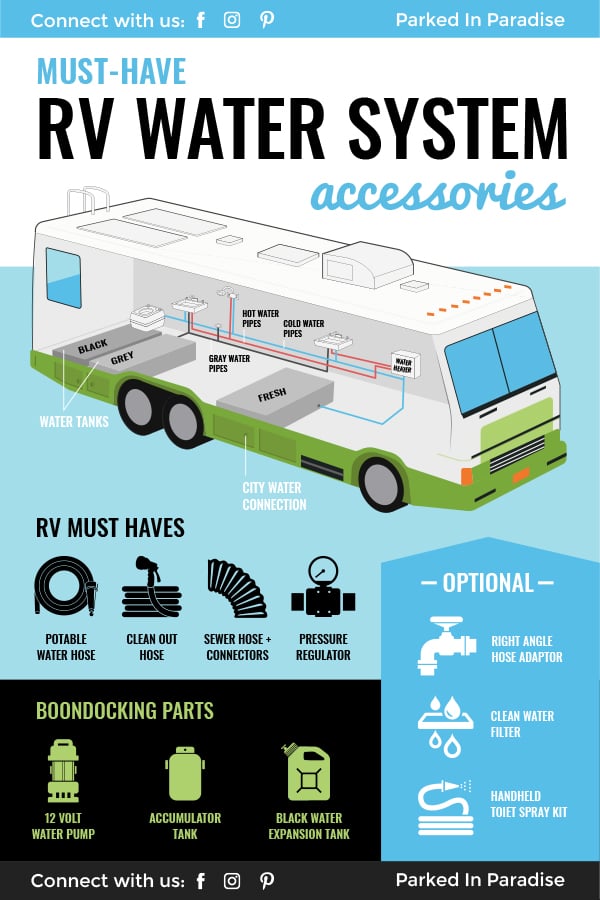 RV Water System Accessories
Potable Drinking Water Hose
Never fill your freshwater tank without a food-safe potable drinking water hose. Your freshwater tank supplies the sink, shower, and toilet of your motorhome.
RV potable water hoses are lead and BPA free. We recommend traveling with one or more hoses totaling 25 feet in length because you never know how far your camper will be parked from a city water connection.
Quick tips: To keep your hose clean, store it by screwing both ends together. Never use your hose for anything other than potable water.
---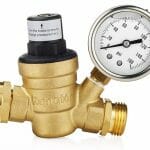 Water Pressure Regulator
RV plumbing systems are built to withstand water pressure of 40-60 PSI. Any higher, and you risk leaks in water piping and connections.
City water is highly pressurized and often exceeds 60 PSI. For this reason, you should travel with a water pressure regulator.
The pressure regulator will screw directly into your potable water hose between the city water connection and your hose.
---
Water Tank Filler with Shutoff Valve
If your water hose is too big to fit down the inlet in your RV, a water tank filler comes in handy.
This helps to fill the tank quickly without having to wait for air bubbles to settle down. It's a faster and easier way to fill your fresh water tank when using a city water spigot.
---
Right Angle Hose Adapter
This 90-degree connector screws directly into your RV city water fill tank. It will eliminate strain on your hose preventing kinks and leading to a longer lifespan.
---
Water Bandit
Occasionally you may find yourself spending the night at a campground with an oddly sized water spigot.
A water bandit has a rubbery connection on one end that lets you attach your potable water hose to nearly any size outlet.
---
Inline Water Filter
A filter can help improve the taste and quality of your drinking water. Inline water filters attach directly to your potable water hose.
This is a disposable filter that will last an entire camping season.
---
Shower Head Upgrade
Stock RV shower heads are notoriously cheap and inefficient. An upgraded RV showerhead is designed to conserve water by giving you a higher pressure with lower flow.
These shower heads are easy to install and come with a flexible hose making it simple to wash off your pets or move around freely in such a tiny space.
---
Cleanout Hose
You never want to use anything other than a potable water hose for fresh water. And that means you need a separate hose just for cleaning out your sewer hose, washing the gray and black water tanks, and keeping your RV clean.
We recommend grabbing a secondary cleanout hose designed in a color or style completely different from the potable water hose. That will take away all of the guess work and ensure that you never accidentally use your potable water hose for cleaning out a waste tank!
---
Sewer Hose Kit and Connections
A sewer hose kit assists with dumping your black water tank. We recommend traveling with both a 10 foot, and 20 foot hose with fittings.
While you can skimp and buy cheaper versions of most water accessories on this list, do not skimp on buying a cheap sewer hose! You want one with thick sidewalls and tight connections so you don't spring a leak. Quick tip: You can screw the two ends of the hose together for storage to keep everything sanitary.
---
Sewer Hose Support
This product helps to hold the sewer hose in place and prevent a failed connection between the RV and dump station.
It's a recommended accessory if you're camping at a site for long periods of time and want to avoid other travelers from tripping or moving your sewer hose connection.
---
RV Water System Upgrades And Replacement Parts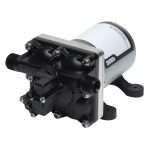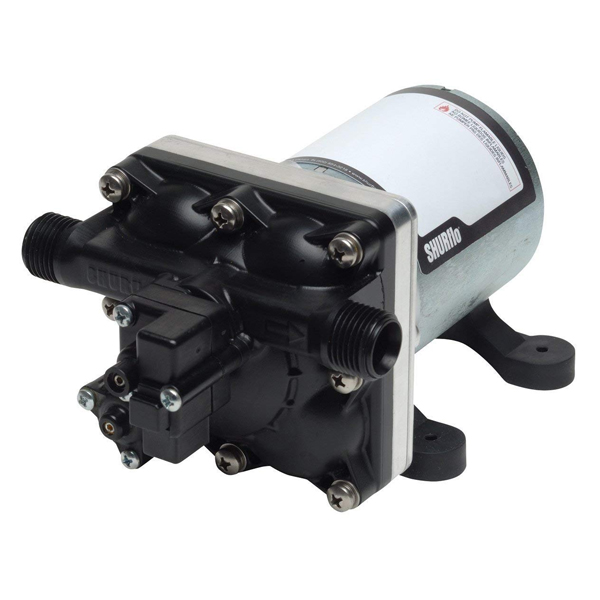 12V Electric Water Pump
12v water pumps are used to pump water through your RV plumbing system when a city water connection is not available.
Most water pumps are incredibly reliable and will last for years. The main reason water pumps stop working is from not properly winterizing your RV or allowing water to sit stagnant in the pump for months at a time.
If you need to replace your RV water pump, or want to learn how to prime a pump for boondocking, we wrote an article on the best 12v water pumps for an RV that you should read.
---
Accumulator Tank
An accumulator connects to your 12v water pump and improves the flow of water.
This tank keeps a reserve of pressurized water which means the 12v motor will not have to cycle on and off as frequently saving electricity and reducing noise.
Some RVs come with an accumulator factory installed. If yours does not, this is a nice upgrade to make if you do a lot of boondocking.
Special note: Accumulators are not necessary if you have a variable speed water pump.
---
Water Tank Level Monitoring System
Factory-installed tank monitoring systems are notorious for having a short lifespan or giving inaccurate readings.
That's because most tank monitoring systems that come with an RV have sensors located inside the water tanks. Over time, these sensors get water-logged or inhibited with waste and debris.
Newer tank monitoring systems use foil strips with sensors that stick to the outside of the water tanks. These are very easy to install and don't have the inaccuracies of sensors inside the tanks.
Special note: Tank monitors that use sticky foil strips only work on plastic water tanks. If you have metal water tanks, you'll need to replace them with a different type of sensor.
---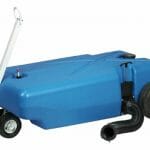 Black Water Expansion Tank
If you've never heard of a black water expansion tank, its because this accessory is made for boondocking. Boondockers typically camp off-grid for long periods of time away from established campgrounds.
A black water expansion tank holds your black water and waste water when there is no dump station nearby. This can greatly extend the length of your trip.
---
Lightning Rod (Electric) Water Heater
There are two types of RV water heaters: direct spark ignition (DSI) and pilot light heaters. Both of these use propane to heat your water.
A lightning rod connector screws right into your hot water heater an allows you to use electricity to heat your water rather than propane. This can be cheaper than buying fuel and you won't have to wrestle with lighting a faulty pilot light.
This video is a good intro on how to install a lightning rod water heater.
---
Water Heater Bypass
This is an extra piece of tubing containing two valves that allows you to bypass water around the water heater. There are two reason to use it: drain the water heater faster, and save money on winterizing your RV.
With a water heater bypass, you save gallons of anti-freeze by not having to fill your water heater each winter for storage.
---
Toilet Hand Sprayer Kit
A hand spray kit is used to clean out your toilet after use. Some RVs come with these pre-installed while others simply rely on the extra bit of water pressure that a toilet provides.
These spray kits can be a big upgrade to your RV bathroom if you don't already have one. They'll help keep the bowl extra clean and smelling fresh longer.
---
Fresh Water and Waste Water Systems
Your RV has two water systems: fresh water and waste water.
The fresh water side includes your fresh water tank, 12v pump and city water inlet. These parts deliver water to all of your faucets and fixtures. There is a one-way valve built into the city water inlet and a one-way valve leading to the water pump.
The waste water side includes your black and gray water tanks as well as all the drain piping.
Filling a fresh water tank
If city water is available, you can fill your fresh water tank by simply connecting a potable water hose to the city water inlet. There may be some sputtering faucets at first as the remaining air gets released out of the system. That is normal.
City water may operate at a higher pressure than your RV can handle, so you should always use a water pressure regulator to keep the system below 60PSI to prevent damage.
Using fresh water when boondocking
When you go camping off-grid, your faucets rely on a 12v water pump to deliver pressurized water from the fresh water tank through the piping. To do this, you'll need to prime your water pump.
The process involves opening each faucet one at a time, turning on the pump, and allowing water to flow through until all air has been released out of the system.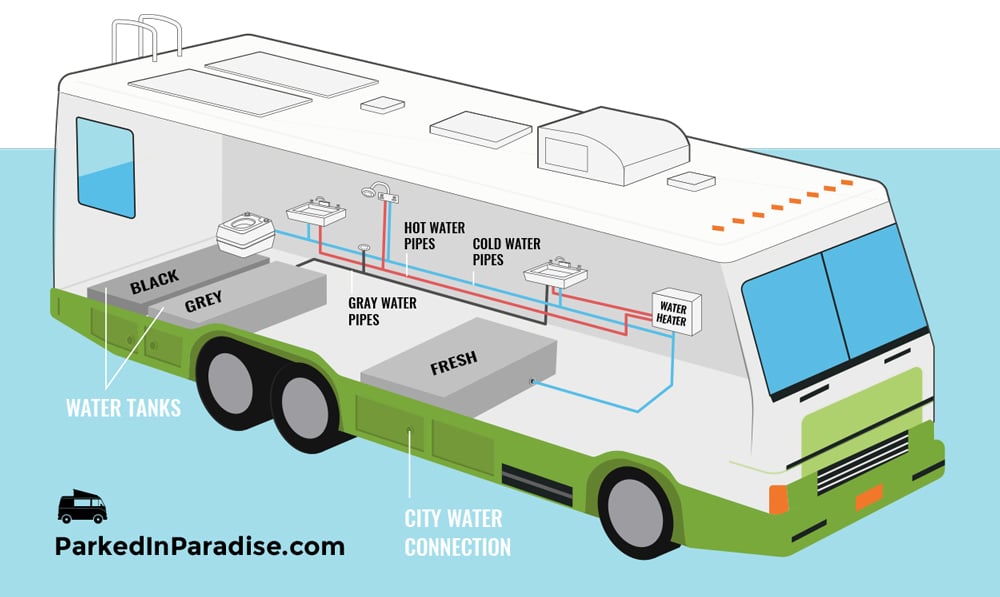 RV Plumbing System Repairs
Modern RV plumbing systems are designed with polyurethane tubing (PEX). This is the best material because it's reliable and sanitary. PEX tubing normally comes in either blue, white or red. Brass fittings and crimp rings are used to connect PEX piping.
Old RV systems are plumbed with polybutylene piping (PB pipe). It looks like a gray, plastic material. Connections between PB pipe are often brass or a gray plastic, and crimp rings are either aluminum or copper.
PB pipe breaks down over time, especially at the connections. Repair parts are also getting harder to find as more people switch to PEX.
As your old RV plumbing system begins to break down, you should replace the components with newer PEX piping.
This isn't something that you have to do all at once, but you should upgrade as you find leaks or as your camper ages.
Connecting PEX to PB Pipe
If one of your old pipes springs a leak, remove or cut out the damaged area. Then replace the pipe with PEX. This is an easy process. Most RVs use 1/2 inch tubing throughout. You can connect PEX to old PB piping using a universal compression fitting, or a transition fitting.
Brass fittings are push to connect
Transition fittings use aluminum or steel cinch crimps
Items to replace RV piping
Replacing waste water connections
Waste water flows through black ABS piping, just like you would find in a house. The connections use standard fittings and ABS pipe cement to seal them together. You can find all of these items at any hardware store.
Household compatibility
Most parts of an RV plumbing system are household compatible. That includes all fixtures and faucets, sink drains and traps. You can easily upgrade shower heads and sink faucets with the same household items that you find at Home Depot.
Replacing RV components with household fixtures is a quick and easy way to get better quality accessories in your RV.
The only items that aren't compatible are RV specific like dump gates, valves, sewer hose connectors and external drain valves.
Bypass Plumbing
Winterizing your RV requires tens of gallons of anti-freeze. A water heater bypass is an extra piece of plumbing you can add around your hot water heater. When it comes time for storage, the bypass makes your heater faster to drain. It also allows you to winterize your plumbing system without having to fill the entire water heater tank.
Extending Water Tanks
Anything that keeps you off the grid longer is a big upgrade for a long term traveler. Aside from electricity, one of the biggest things that will drive you back into the city is plumbing limitations.
Black water and gray water tanks fill up fast, and that's probably the first reason to head home early. There are a few accessories you can add to make your tanks last longer:
Black water expansion tank
Gray water transfer pump
Composting toilet
Black water expansion tank
This product acts as a portable RV dump station. When the black water tank gets full, you can dump it into the expansion tank just as you would at a regular dump station. Then just seal it up, and keep camping until you drive to a city dump station. Expansion tanks come in a variety of sizes and larger ones have wheels and carry handles to make them easy for transport.
Gray water transfer pump
Gray water tanks normally fill up much faster than black water tanks. Adding a transfer pump between them lets you pump some of the excess gray water into the black water tank and extend your stay.
Composting toilet
Using a composting toilet rather than an RV flush toilet can greatly extend a camping trip. Composting toilets use no water. If you install one, you can turn your black water tank into a second gray water tank.
Composting toilets are also great for the environment because they don't use any chemicals. Plus you won't have to deal with the hassle of emptying waste water.
COMPOSTING TOILET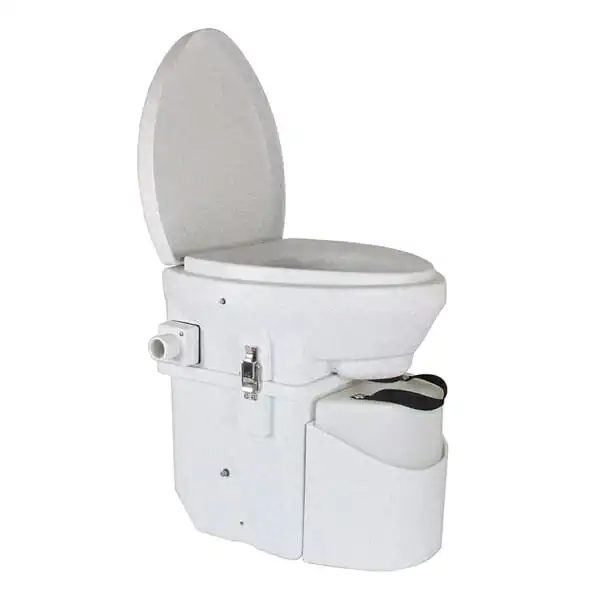 Nature Head
Portable composting toilet with an easy-to-turn crank handle. Eco-friendly, easy to install, minimizes odor, and allows you to travel weeks without emptying.
CHECK LATEST PRICE
Plumbing Maintenance Tips
RV plumbing systems sound complicated, but they are easy to upgrade and repair. The best thing you can do for your RV water system is to take good care of it and avoid damaging activities. Only flush water, waste and toilet paper down your drains!
Avoid flushing these items:
Food scraps
Grease and oils
Chemicals and flammable liquids
Formaldehyde
Pine oil
Keeping the smell down
Finally, nasty smells should not be a part of your RV experience. The best way to avoid smells is to flush drains with lots of water frequently. It's not necessary to use any cleaning products. But if you must, use a biodegradable tank treatment like an enzyme.
Dump your black water tank more frequently in hot weather. But always wait until it's at least 1/3 full to allow everything to flush through the system.
Continue Reading