The Best Screen Houses And Tents For Camping And Picnics
By
on
This post may contain affiliate links. As an Amazon Associate, I earn from qualifying purchases. Please read my full disclosure.
Screen houses offer all the scenic vistas of camping along with shelter, shade, and protection from biting insects. The screened-in sides let breezes through, but not flies, gnats, or mosquitoes.
In the heat of the day, screen houses can be a shady spot for lunch or a place where younger campers can play. In the evening, light a few candles, and it turns into an outdoor bistro perfect for a bug-free glass of wine after a long day of hiking.
Not only can you dodge the bugs, but it's also a great place to shelter yourself from a short rain shower.
What is a Camping Screen House?
A screen house for camping is a special tent designed to keep the bugs out. The sides are made of a tight mesh fabric to keep insects out, but let the breeze in.
Screen houses are perfect for eating and relaxing when the sun starts to fade. They can be especially useful in humid and muggy environments, camping near the water, or on visits to the beach where you could encounter sand flies.
The set-up is usually simplified for screen houses, which gives you more time to enjoy the outdoors. Screen houses tend to be lightweight and pack up easily, making them convenient to take along.
Who Should Use a Screen House for Camping?
Screen houses are affordable and comfortable so they can be enjoyed during a number of occasions.
Families with small children like to use screen houses as a shady spot for play or napping. Outdoor-loving adults will find them useful for dining and relaxing. Screen houses can also be convenient spots to store food since their mesh walls will keep out flies and other pests.
Car camping and overlanding
Camping near bodies of water
Beach camping
Picnics
Sunny environments
Backyards
Tailgates
Festivals
Children's play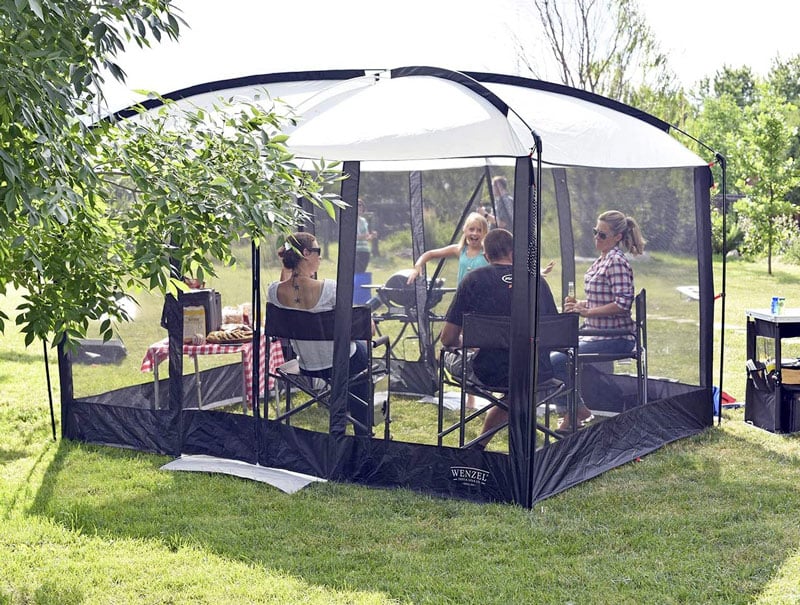 What to Look for in a Campsite Screen House
When looking for a screen house to add to your outdoor adventures, there are several factors to consider.
Price: Screen houses tend to be cheaper than the traditional camping tent. That's because they don't need to withstand elements like heavy snow and rain. They also use fewer materials because much of their construction is covered in mesh. The lower price makes screen houses a good accessory to have even if you don't go camping frequently.
Size: A screen tent isn't the type of gear you would pack for backpacking. Instead, most campers opt for a larger structure where you can fit a couple of chairs or even a picnic table!
If you camp with a crew, you may want to get a larger screen house to accommodate more people. Camping as a couple, though, might not call for more space than two would need.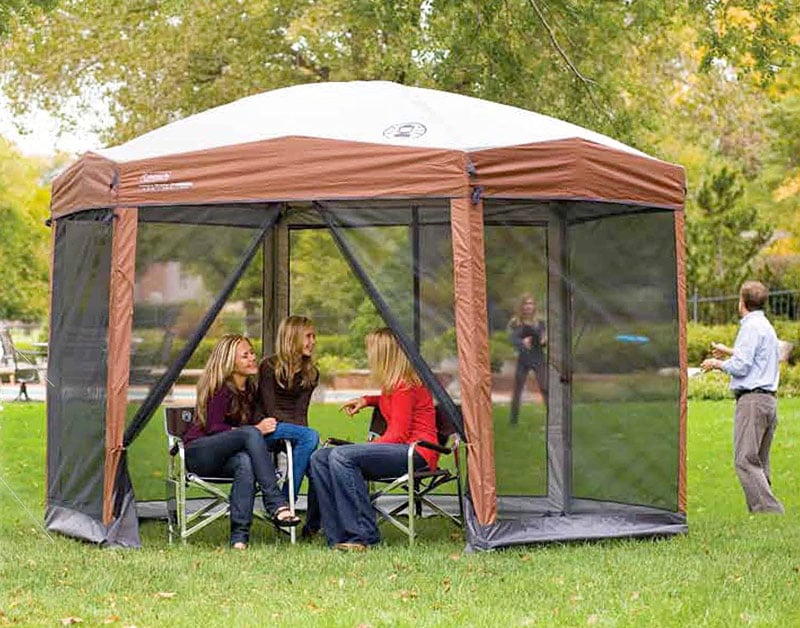 Screening: All screen houses should have mosquito netting, a must for bite-free camping. Some screen houses are waterproof, and some also offer sun protection with a UPF (Ultraviolet Protection Factor), limiting the number of ultraviolet rays that will reach your skin. To keep your skin safe, check for fabric that has UPF protection level of at least 30.
Doors and Floors: Door placement and flooring differ among screen tent styles. Screen houses that will spend more time in the backyard or at the ballpark may not need flooring.
If you plan to grill in your screen house, do so in a model without a floor for safety. If you are taking a screen house on more rugged outdoor adventures, you will want a floor to keep feet dry when it rains and insects and other wildlife out.
Weight: Generally, the heavier a screen house, the more windproof it is, but weight can also make it more difficult to transport and store.
If you plan to camp near your car, then weight probably isn't a significant factor. However, it's more important if you'll need to carry your screen house a far distance to your camping spot.
Ease of Set-up: One of the rules of successful camping is to spend more time enjoying your screen house than setting it up. Even if you are an experienced camper, quick and easy set-up will make your screen house much more enjoyable.
Durability: No one wants to buy camping equipment that wears out after just a few outdoor adventures. Consider the durability of fabric and construction as well as how well it will fit the uses you've got in mind. Some screen tents are made almost entirely of mesh, while others have a tougher fabric lining on the sides.
The Best Screen Tents for Camping Reviewed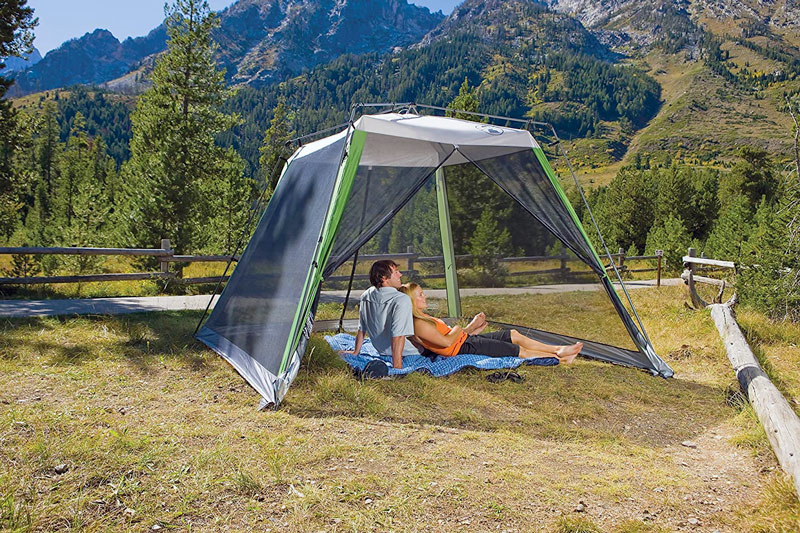 TOP CHOICE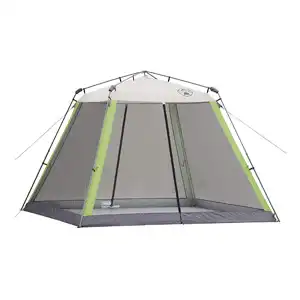 Top Pick: Coleman Instant Screen House
The Coleman Instant Screen House is perfect for couples or small groups of campers that just need a break from the bugs! This model offers the durability that Coleman is known for but at an affordable price.
It's a 15-foot-by-13-foot screen tent with 41.6 square feet of shade. The tent comes with a full floor and two doors which makes it easy to get in and out from either side.
We like this screen tent because it's lightweight (just 25 pounds) and has a quick setup that can be accomplished in under a minute. That means you'll have more time to relax in a bug-free environment.
The Instant Screen House is made from UVGuard material provides a UPF of 50+, allowing you to enjoy the sun safely. The double-thick fabric ensures this screen tent will serve you season after season, and a one-year limited warranty is included. It all fits inside its own carry bag for easy storage.
Affordable
UVGuard fabric
Fast set-up
2 doors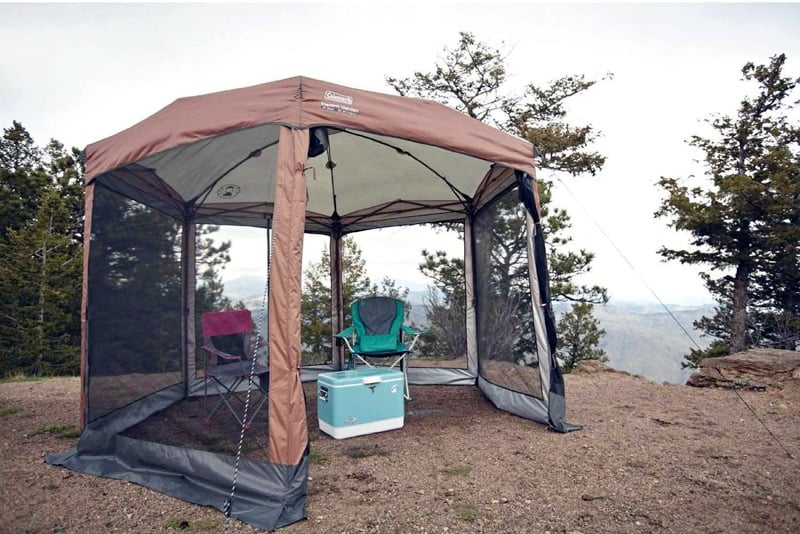 MOST DURABLE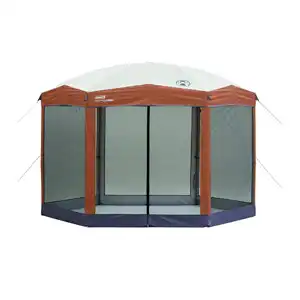 Most Durable: Coleman Back Home Screen House Screened Canopy Tent
Coleman's Back Home Screen House only takes up a 12-foot-by-10-foot space, but because of its straight-sided design, you get 90 square feet of shade.
While this structure isn't as light as some of the others (45 pounds), it comes with some extremely durable poles and extra thick fabric. That means it can withstand some intense rain and will last for years of camping trips. It also has double-thick UVGuard fabric construction is durable for adventure after adventure and gives you UPF 50+ of sun protection.
The Coleman Back Home Screen House has two large doors and has an 8-foot, 4-inch center height. So it's ideal for accommodating plenty of friends and family. We recommend this tent if you want to do a lot of backyard picnics or host parties.
This model doesn't have a floor, so you'll be able to safely grill inside or wiggle your toes in the grass underneath.
Although the tent is large, telescoping poles make the assembly easy. Coleman included comfort grip technology to keep your fingers from being pinched during set-up. A wheeled carry bag is included for easy transportation and storage.
Lots of shade
Extra durable fabric
UVGuard fabric for sun protection
Wheeled carry bag for transportation
BEST POP UP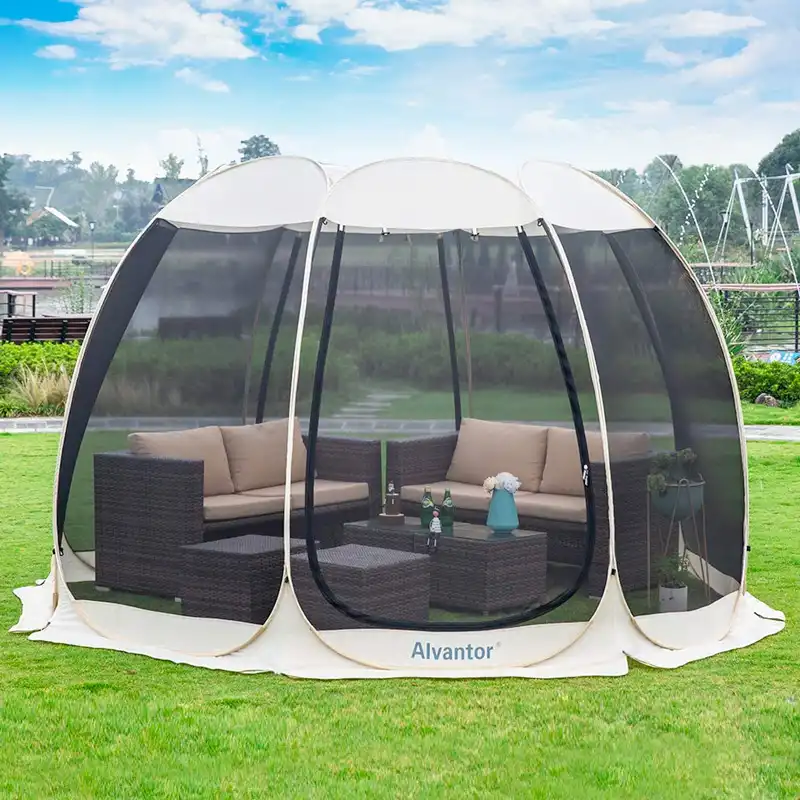 Best Beach Camping Pop Up: Alvantor Screen House Room Outdoor Camping Tent
The Alvantor Screen House Room weighs just 15 pounds making it the lightest of the tents on our list. It also uses a pop up design so you can literally get the whole thing set up in a couple of seconds.
We think this screen tent would be perfect for beach or backyard camping because the design will keep the sandflies out, but it's not waterproof so you wouldn't want to use it as a shelter.
The pop-up screen frame is rust-resistant fiberglass so it would do great next to the ocean. And the fabric top provides UPF 50+ of sun protection.
This hexagonal tent has two large doors with double-sided, rust-resistant silicone zippers to keep bugs out. This model is also floorless, making it a safe spot for grilling with four or five of your family and friends.
A one-year limited warranty is included, as is a carry bag for easy storage.
Lightest weight tent
Sun protection of UPF 50+
No assembly required
Accommodates four to six people
BEST FOR PICNICS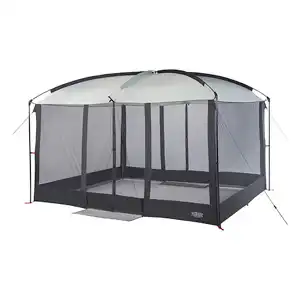 Best for Picnics: Wenzel Magnetic Screen House
Large enough to fit over a generously sized picnic table, the Wenzel Magnetic Screen House is among the largest tents we've reviewed, and it comes with a 10-year warranty, So you can plan to enjoy this model for at least a decade of adventures.
The structure is made with steel and fiberglass telescoping poles. And it has magnetic-strip doors with automatic closure so you can enter and exit the tent without dealing with zippers. That's perfect for kids and pets.
Even though it's big, the Wenzel Magnetic Screen House weighs only 18 pounds, making it among the lighter models reviewed.
It also comes with a floor so you can have full protection against insects from top to bottom.
Magnetic strip doors
10-year warranty
Affordable
Lightweight
That's A Wrap!
If you're looking for a small tent that's perfect for a couples camping trip, the Coleman Instant Screen House is our top choice. It provides all the features we like, including durability, space, and ease of set-up, at the most affordable price.
For a larger and more durable option that can withstand all the elements, we prefer the Coleman Back Home Screen Room.
The Alvantor Screen House would make the perfect beach camping tent if you're looking for something that will offer shade and bug protection. It also requires no set up which is perfect for hitting the waves.
Finally, the Wenzel Magnetic Screen House is a good choice if you are hosting a picnic. The magnetic strips let you enter and exit hands-free without having to deal with the hassle of zippers.
Continue Reading: