Best Large Camping Tents For Friends And Family
By
on
This post may contain affiliate links. As an Amazon Associate, I earn from qualifying purchases. Please read my full disclosure.
Camping is more fun with friends and family. Of course, the more people in your camping crew, the more gear you'll need to pack, and that includes the tent.
Packing one large family camping tent can be easier than setting up multiple smaller ones. You'll only need to clear one flat space, and you can enjoy the camping experience together rather than splitting into groups.
There are a few features to look for in a large camping tent that you wouldn't need to consider in something smaller. Standing height and room dividers are just a few examples. In this article, we're going to discuss what to look for in an extra-large tent, and give a few recommendations of our favorite brands.
Why Use A Large Camping Tent?
Extra-large camping tents are ideal for large groups of people. While that probably sounds obvious, it's important to remember that the sleeping space in a tent is significantly smaller you would expect.
For example, a tent rated for four people is really only comfortable for three adults and their gear.
Generally, you want a tent designed for about two more people than the number of campers who will use it. So if you have a family of five, you may want to consider a tent designed for 7-8 people unless you want to be packed in like sardines.
If you're bringing a camping mattress or cots, the footprint you'll need grows even larger.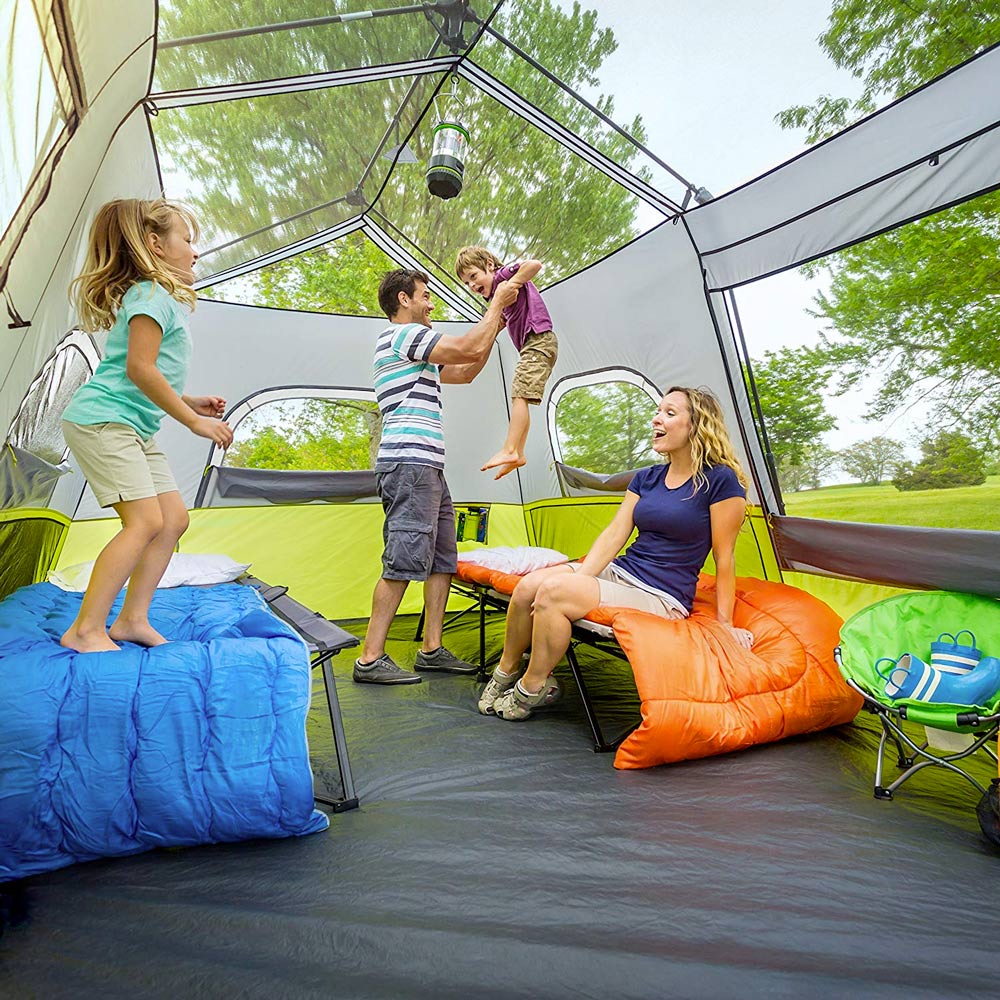 Having multiple rooms is a huge advantage in large camping tents because with more people you can section off areas to change clothes throughout the day. You can separate gear storage from the sleeping space, or split kids and adults into their own area.
Privacy is something you don't get much of in the outdoors. Tents, in general, are not very private so with a large group you'll appreciate being able to have a little space to yourself rather than sleeping in one big room.
Temperature control is something you may not have considered. But some campers like it breezy with the windows open and others like to snuggle up. When you buy a tent with multiple sections everyone can get a little bit of what they want.
There's less gear to pack. When you only need to keep track of one tent for the family instead of two or three you'll save space overall and there will be less to keep track of. Not to mention, you only need to set up one tent and clear out one camping area. So the whole assembly experience is faster overall.
Save money by purchasing one big tent instead of multiple smaller ones.
Big tents are better in poor weather. If you happen to get stuck in bad weather during a camping trip the last thing you want to do is split up from your friends and hide from the rain in your own individual tents. Extra-large camping tents are big enough to set up chairs inside and play some games while you wait out the rain.
Large tents are normally taller than 2-3 person camping tents. As mentioned earlier, that makes it easier to hang out inside when it's raining, or change into a swimsuit for a day at the lake.
Disadvantages Of Large Camping Tents
Every product is going to have its disadvantages. With a large camping tent, size can be a good thing or a bad thing. These tents are bulky and heavy, even when packed away for travel. That makes them ideal for car camping, but not so great for backpacking.
Not only are they going to take up more trunk space, but you'll also need to find somewhere to store them inside your house. An unused closet, basement, garage or under the bed are all great places to store your camping gear.
Setting up large tents can get complicated. An individual will likely struggle setting up a four-person or larger tent on their own. You'll need at least one other adult to help – unless you buy a large tent specifically designed for one-person setup.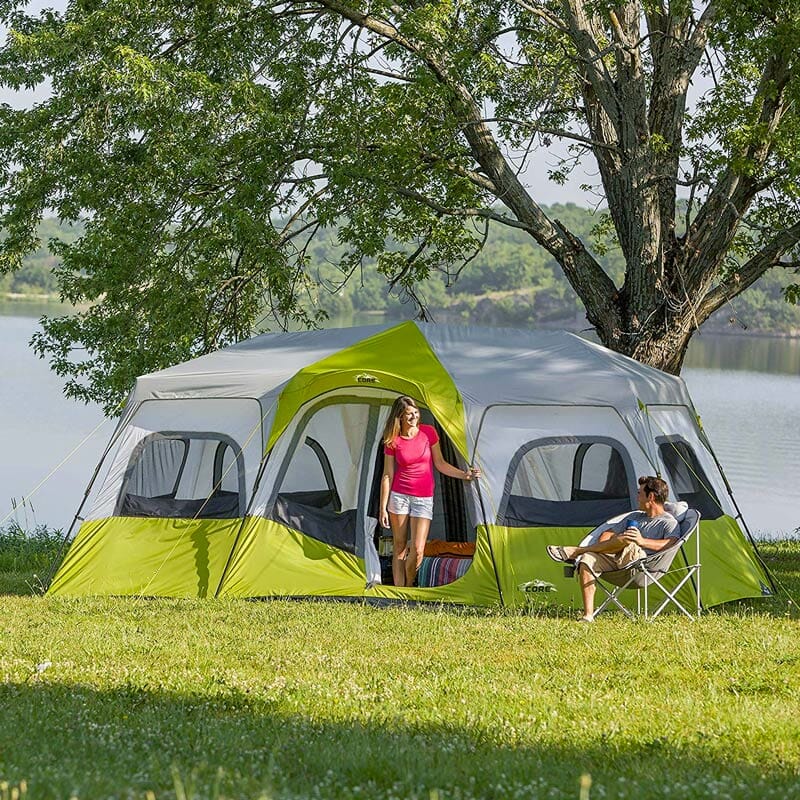 What To Look For In A Large Family Camping Tent:
Before you run out and purchase the biggest tent you can find, there are a few features you might want to pay special attention to. Listed below are some of our favorite features to look for in a large camping tent.
Shape
Most extra-large tents have either a rectangular or square shape, although you can also find a few circular ones. Pay attention to the slope of the sides. Tents with more vertical walls are going to have a greater amount of standing room inside.
Some tents have extra rooms tacked on that taper off considerably on the sides. That may be ideal if you're camping with kids, but if you are camping with all adults no one is going to want to sleep in the short compartment.
Size
Packing the proper size tent is going to make or break your camping trip. As mentioned above, you probably want a tent built for about two more people than the number planning to use it. For example, a family of four will feel the most comfortable in a six-person tent.
Your sleeping style and the type of gear you plan on packing is also going to make a difference. If everyone is sleeping on cots or camping mattresses you should get a bigger tent.
Normally if you're going through the process of setting up a large tent it doesn't take a lot of skill to set one up that's even larger. When in doubt, size up! There's not much difference between a 10 person tent and a 12 person tent aside from all the extra space you'll be gaining.
Interior Height
If you're going to buy a big tent you might as well get something practical to use. Tents that are tall on the inside will allow you to stand up, move around and change clothes comfortably inside. Generally, family-style tents can reach six feet at the midpoint.

Sectioned Rooms
The best part about a large camping tent is the fact that many of them have separate rooms that can be sectioned off. These are great because you can put the kids to bed earlier and not disturb them when you go to bed later that night.
Separate rooms are also ideal to use as changing rooms throughout the day. And it gives people more privacy during the night.
Canopies
In addition to extra rooms, some camping tents have a canopy or awning that extends out from the roof. Canopies are useful because they block the sunlight in the middle of the day or protect you from the rain in stormy weather.
They're often the perfect place to set up a table for dining or games, store wet gear, or keep your pets.
Ventilation And Doors
Ideally, you will probably want mesh windows or doors for each of the individual sections of the tent. Not only will it provide you with cooling airflow, but you won't have to crawl over other people to use the bathroom in the middle of the night.
Electronics Port
E-ports are a modern invention but they are a pretty handy feature. An electronics port is a waterproof portal that you can run an extension cord or wires through to the inside of your tent. These are great for powering lights or charging small electronics inside the tent.
Pre-Attached Poles
All tents use poles to provide a secure frame. When selecting a big tent, you want pre-attached poles. They're already attached to the fabric, so you don't have to slide them through the material. While sliding poles is fairly easy in a smaller tent, it's often complicated to do in a large tent. Pre-attached poles are also important if you want the ability to set up the tent by yourself.
Tent Materials
Tents are made from a variety of different materials. It's arguably the most important aspect of the tent. The most popular tents are made of polyester or nylon with a polyethylene base.
Polyester: Most tents are made from polyester. It's lightweight, durable, and water-resistant. In many ways, polyester is similar to nylon. However, it resists UV rays far better.
Nylon: If you're looking for strength, choose a tent made from rip-stop nylon. Additional fabric is woven into the nylon to help prevent tears. They're frequently used to make tents for extreme weather conditions.
Polyethylene: Almost no tents are made from 100% polyethylene. However, you'll often find this material used to enhance a tent's waterproofing abilities. It's primarily used for tent flooring.
Canvas: A classic material that's not used too often for modern tents. Although it ventilates well, it's not particularly waterproof. It's also heavy, even when broken down.

Dark Rest Tents
Tents that are labeled as dark rest tents are made with a material that blocks sunlight heavily. This is a cool feature because it will allow you to sleep late into the morning. They stay cooler in the hot sun, and it's a great place to put young children down for a nap in the middle of the day.
We wrote a whole article on blackout tents if you're interested in learning more. These are great for light sleepers; and one of the large tents we've reviewed has darkroom technology.
Best Large Family Camping Tents Reviewed
BEST FOR GROUPS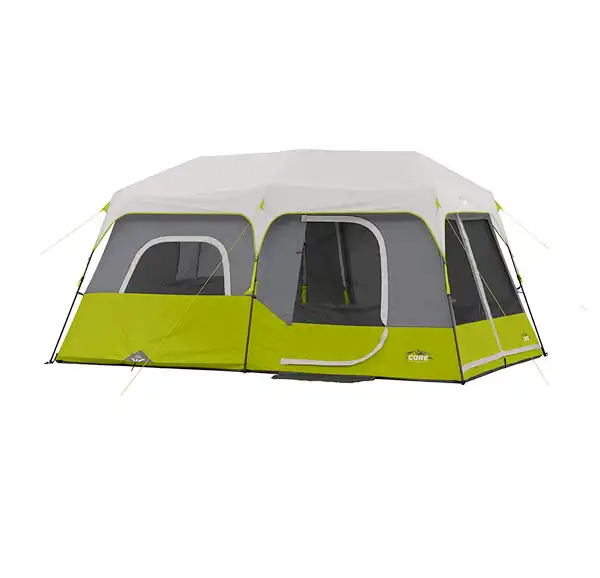 Top Choice: Core 9-Person Instant Cabin Tent
CORE has a number of large camping tents on the market. Our favorite is the 9-Person Instant Cabin Tent. This tent is affordable and big enough to fit up to two queen air beds. It also has plenty of wall storage space to keep gear organized and dry.
We like this tent because it's extremely easy to set up. Assembly and takedown can be done in just a minute or two. It also has some nice features like a room divider to split it in half, an e-Port and adjustable vents on the ground to keep it cool.
Features:
Fits nine adults plus gear
1 room divider
Lightweight material blocks rain and snow
Ground vents keep the interior cool in warm weather
BEST DARK ROOM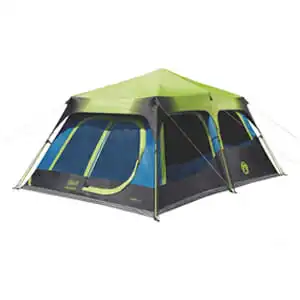 Best Dark Room: Coleman Cabin Tent With Instant Set-Up
Coleman is a trusted name in camping gear, and their 10-person cabin tent is no exception. A cool thing about this tent is that it comes with darkroom technology. Dark rest tents can block up to 90% of sunlight so you can sleep in past the sunrise or take naps easily during the day.
This tent can fit four queen-sized air beds plus gear. The total interior space is 14 by 10 feet with a center height of six feet and seven inches. That should be more than enough space for all your friends. Plus, there's a room divider in the center to split it into two rooms.
Pre-attached poles make the tent easy to set up in just a few seconds. It's also one of the most portable tents we've reviewed because it weighs only 20 pounds.
Features:
Fits ten adults with room for camping equipment
Waterproof and durable
Setup takes a minute or two
Darkroom technology
MOST VERSATILE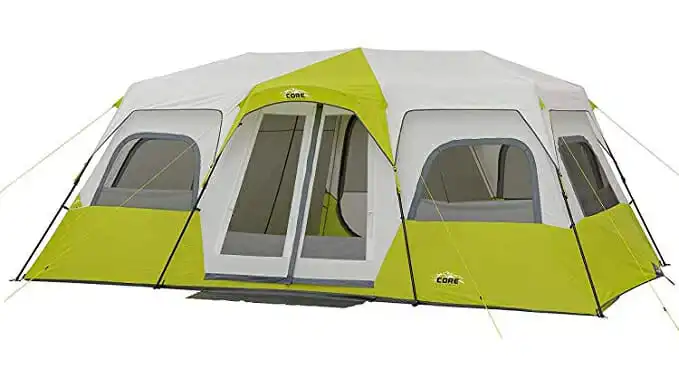 Most Versatile Tent: Core Instant Cabin Tent
The CORE 12-Person Instant Cabin Tent is the largest and most versatile tent we've reviewed. It sleeps 12 and has two dividers allowing you to create three different rooms. Two entryway options are available: a D-door and a T-door. That makes it easier to move around and you get more control over the best set up for your family.
CORE proves that setting up a large tent doesn't have to be a hassle. It has pre-attached poles, so you only have to unfold the tent and click the legs in place. Setup takes about two minutes from start to finish.
Pros:
Sleeps 12
Durable and waterproof polyester construction
Pre-attached poles allow for fast setup
Moveable dividers allow for three-room configurations
BEST VALUE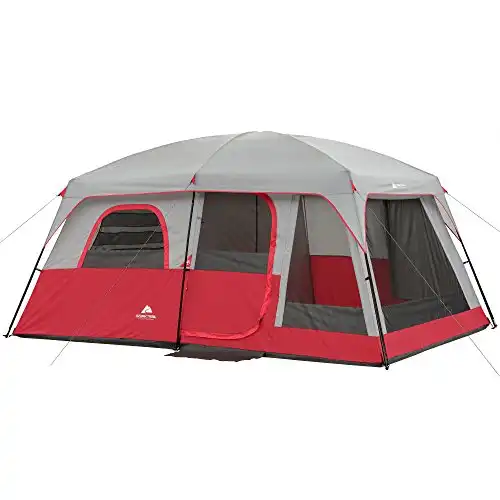 Best Value: Ozark Trail Family Cabin Tent
If you're looking for a basic tent that won't break the bank, the Ozark Trail Family Cabin Tent is our favorite. Although not packed with special features, this is spacious and will fit 10 adults inside. The total footprint is 14 feet by 10 feet and it has one room divider to add a little more privacy.
It also has an e-Port and a gear loft to keep your camping accessories stored off the ground.
Pros:
Fits 10 adults
Divides into two rooms
Includes carrying case
e-Port
That's A Wrap!
Large camping tents are a great way to relax with the whole family without feeling like you're sleeping on top of each other. Our favorite large tent is the CORE 9-Person Instant Cabin because it is quick to assemble but still lightweight and portable enough to take on a bunch of family trips.
The Coleman Cabin Tent is unique because it comes with darkroom technology so you can sleep in later. The CORE 12-Person tent is the most versatile with 3 room dividers, and the Ozark Trail tent is the best choice if you're on a budget.
Continue Reading: