Best Blackout Camping Tents For Light Sleepers (Review)
By
on
This post may contain affiliate links. As an Amazon Associate, I earn from qualifying purchases. Please read my full disclosure.
Nature doesn't always cooperate with your plans. While harsh weather is always a possibility, excessive sunlight is also a common issue. Traditional tents do a terrible job of blocking early morning light, which means you'll likely wake up at the crack of dawn, whether you want to or not.
Fortunately, blackout tents are an effective and comfortable solution. These unique tents block sunlight to create a cool, comfortable environment perfect for sleeping at any time of day. That makes them a great piece of gear for busy campgrounds, festivals, or families with kids.
TOP CHOICE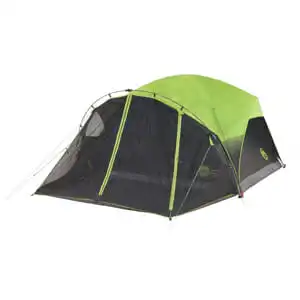 Coleman Dome Tent
Blackout fabric blocks up to 90% of sunlight. Resists water, wind, and rough weather. Fully enclosed screen room to protect gear. E-Port to run electricity inside.
CHECK LATEST PRICE
Best For Large Groups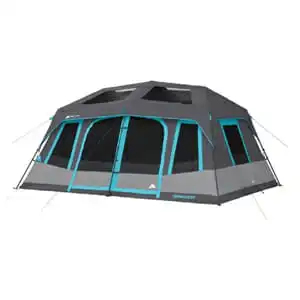 BEST VALUE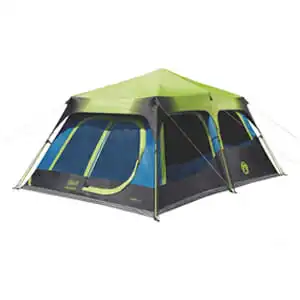 What is a Blackout Tent?
Are you familiar with blackout curtains for use in the home? Blackout tents are similar. They use a unique fabric to block light and create the darkest interior possible.
While some darkroom tents use traditional tent fabric, only darker, the best blackout tents use a material that absorbs and diffuses light. You can find blackout tents capable of blocking up to 99% of all incoming light.
Blackout tents also tend to stay cooler than other tents. The best ones use climate control fabric and ventilation techniques to lower the interior temperature. Although specifics vary based on the brand and the outdoor conditions, your blackout tent can be 10 degrees cooler or more compared to the outside.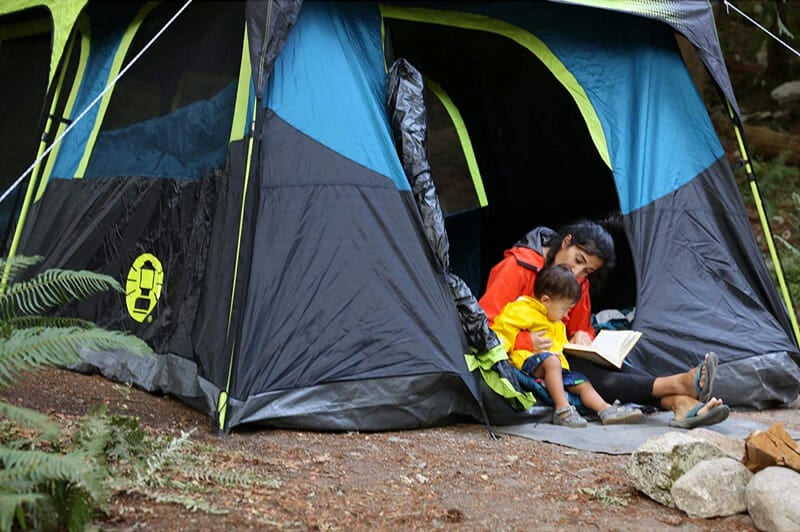 Who Should Use A Dark Rest Tent?
Blackout tents are popular among a wide range of campers. Anyone who struggles to stay asleep in a bright environment will find these types of tents ideal for sleeping.
Light sleepers: Bright sunlight can negatively impact your sleep, especially if you're a sensitive sleeper. A dark rest tent can make campers feel more comfortable in a dark and cozy environment.
Camping with kids: Blackout tents are often a good idea when camping with children. When younger kids need a nap during the day, a dark tent provides the perfect spot. Families also won't have to deal with children waking up at the crack of dawn which gives everyone a more comfortable morning.
Northern hemisphere camping: If you've ever spent a summer night in northern Minnesota, or all the way up in Alaska you'll know the sun never seems to set. Blackout tents are ideal for these environments because they'll help you get to sleep before the sun goes down.
Camping in hot environments: Desert camping or sleeping in the southwest can be brutal during the summer months. Dark rest tents can block the sun and keep the temperature cooler than your standard tent.
Festival-goers: Blackout tents are perfect for blocking out bright lights and activity. That's especially helpful when you're spending time around other campers that are sleeping on a different time schedule.
Astronomers: If you enjoy stargazing, these tents are a top choice for astronomers, hunters, or anyone else who enjoys nighttime camping activities and wants to sleep during the day.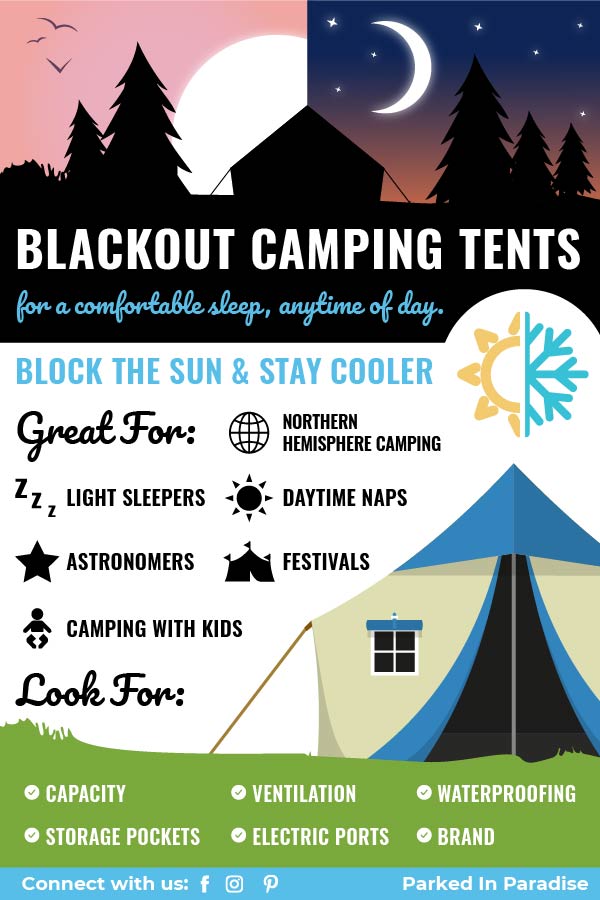 Features to Look For In A Blackout Tent
While blackout tents have many shapes and styles, they all have a few standard features you'll want to consider when shopping. Look for the following:
Capacity
Tent capacity is the most notable feature to look for when planning out any trip. How many people are going camping in your group? If you're camping solo or with one other person, a small tent is the better option because it's easiest to transport and setup. For families or groups, you might want a sectional tent with room dividers. You can find tents that can fit up to 10 comfortably.
Ventilation
Like all tents, ventilation is extremely important. You want to look for adjustable openings that allow for airflow. In darkroom tents, mesh panels are often hidden behind a light-blocking rainfly. That way you can still open the tent up to sunlight if you desire.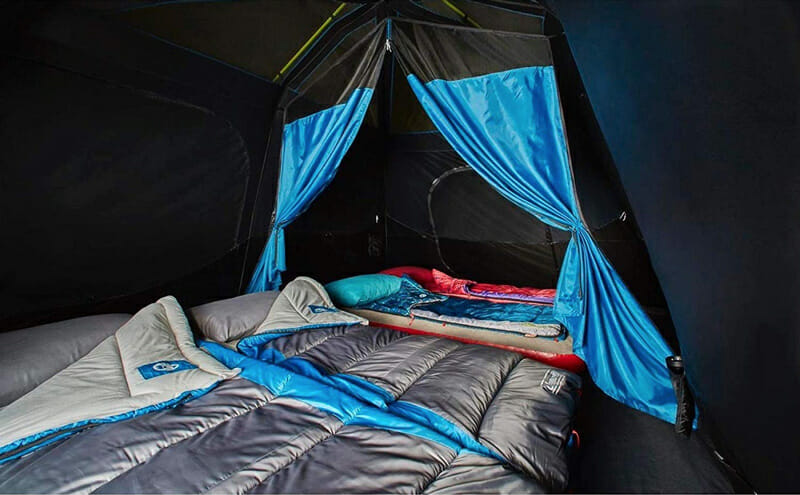 Waterproofing
All openings such as windows and vents should have awnings or other material to prevent water from dripping inside. Also, look for inverted seams and welded corners, these are two important design features that will help keep you dry.
Storage Pockets
If you're a camper who likes to stay organized, consider a tent with lots of storage pockets or space to hang your gear. Keeping equipment off the ground will open up the sleeping space and make the tent feel larger.
Electric Ports
For the ultimate camping luxury, look for a tent with an E-port. It's a special opening that allows you to run an electric cord inside your tent without leaving the tent open to the elements. E-ports are a common feature of Coleman tents.
Brand
There are not too many brands that produce blackout tents. Coleman is probably the most popular and they have a few different darkroom tents in their line of products. Before purchasing a dark tent, make sure that it's actually rated to block light. Some tents like the Coleman Sundome are colored to look like blackout tents but do not block 90% of light so it's important to read the description.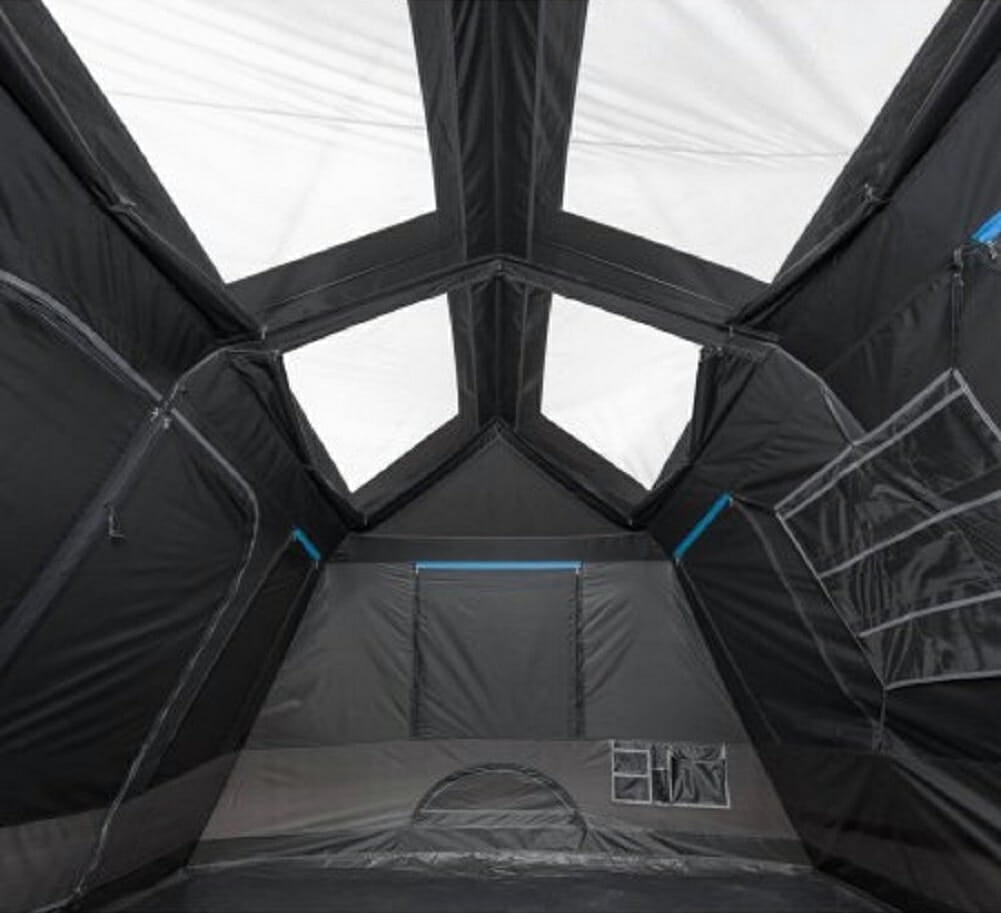 Frequently Asked Questions
Do blackout tents create complete darkness?
Some high-end tents block up to 99% of all sunlight, which creates a near-dark environment inside. However, most tents block around 90% of all incoming light. You'll still have some visibility inside. However, the tent will remain dark enough for comfortable sleeping.
Do the light-blocking properties fade with time?
It can. High-quality dark tents use special fabrics to block light. Their light-blocking properties shouldn't fade over time. However, cheaper tents often use a blackout spray, which can wear off after consistent exposure to the elements. Generally, you want blackout fabric instead of the spray kind.
Best Blackout Tents Reviewed
TOP CHOICE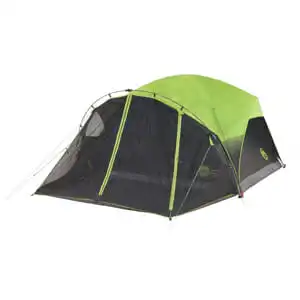 Coleman Dome Tent
Blackout fabric blocks up to 90% of sunlight. Resists water, wind, and rough weather. Fully enclosed screen room to protect gear. E-Port to run electricity inside.
CHECK LATEST PRICE
The Coleman Dome Tent is a favorite among campers because of its reliable and versatile design. We like the fact that it comes with a fully enclosed screen room to protect your gear from any type of weather.
Its footprint is 9×7 feet, big enough to fit a queen-sized air bed, which makes it ideal for couples or families with young kids.
This tent blocks up to 90% of direct sunlight and keeps the internal temperature comfortable even on a hot summer day. Welded corners and inverted seams keep water from getting in. And the sturdy frame withstands winds up to 35 mph so it's an ideal all-weather tent.
Features:
Blackout fabric blocks up to 90% of sunlight
Resists water, wind, and rough weather
Fully enclosed screen room to protect gear
E-Port to run electricity inside
Best For Large Groups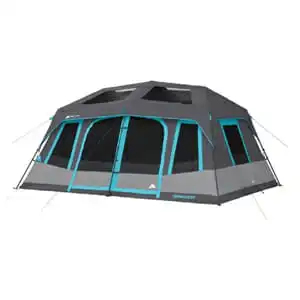 The Ozark Trail Instant Cabin Tent houses up to 10 adults comfortably. That's enough to fit the whole family plus a couple of friends. This cabin-style tent design has eight windows, multiple skylights, and removable room dividers. The floor space fits either two queen-sized air mattresses or ten adults in sleeping bags.
Despite the large size, setup is simple. The poles are pre-attached, with no assembly required. Just unfold the poles, and the tent is ready to use in just a minute or two. We like this tent because the blackout fabric keeps it dark even in direct sunlight. It stays comfortably cool, too, even when packed with people.
Features:
Fast setup with pre-attached poles
Windows, skylights, and room dividers
Blackout fabric blocks light and regulates temperatures
BEST DARK ROOM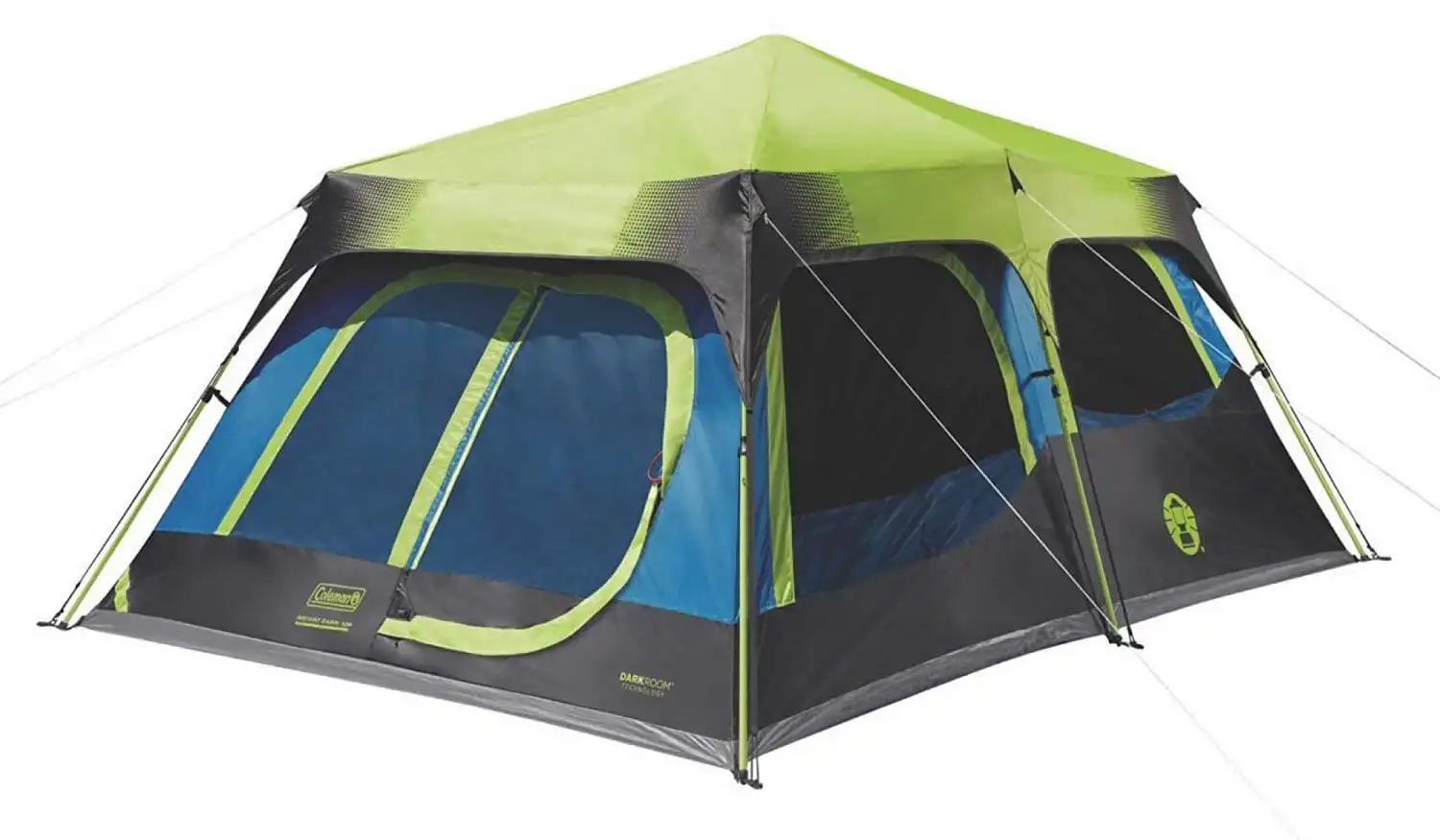 Another excellent option from Coleman is the Cabin Tent with instant setup. It has many of the features you'd expect from the brand, including Polyguard double-thick fabric with darkroom technology that blocks up to 90% of sunlight.
What we like most about this tent is the quick set up. You can get the entire tent up in about one minute. It's a non-frustrating option if you want a large tent but don't want to spend lots of time getting it ready.
This tent stays cool in hot temperatures and whisks water quickly in rainy weather. Inverted seams and welded corners keep the heaviest rain at bay. The inside fits four queen-sized beds with a six-foot ceiling. A divider creates two large rooms for privacy.
Features:
Blocks up to 90% of sunlight
Pre-attached poles allow for fast, easy setup
Large interior holds four queen mattresses
That's A Wrap!
All the tents on our list create a cool, dark environment designed for peaceful sleeping at any time of day.
If you're looking for a large dark rest tent, choose either the 10-Person Cabin Tent from Ozark Trail or the Coleman Cabin Tent. They're ideal for large families or groups of friends.
Pick the Coleman Dome Tent for Camping if you want a general-purpose blackout tent for two adults. It combines an easy setup with reliable light blocking.
You don't have to let the rising sun dictate your camping schedule. A blackout tent is a perfect way to stay cool and well-rested when spending time in the great outdoors.
Continue Reading: