Best SUV Tents And Hatchback Tents For Camping
By
on
This post may contain affiliate links. As an Amazon Associate, I earn from qualifying purchases. Please read my full disclosure.
Camping tents come in all shapes and sizes. No longer are they limited to the ground; in fact these days you can find specialty tents made for truck beds, rooftops and even hatchbacks. Each type of tent serves a specific purpose and SUV tents are no exception.
If you enjoy camping and own an SUV, jeep, hatchback or minivan, then purchasing an SUV tent is something to consider.
Hatchback tents attach to the rear of your vehicle. The design allows you to maximize your living space by essentially doubling the footprint of your tent. They can lead to a more comfortable campsite experience and provide extra weatherproofing that would be hard to achieve with a canvas tent alone.
In this article we're going to cover the benefits of an SUV tent, what to look for in a hatchback tent, and give our recommendations on the top rated products available today.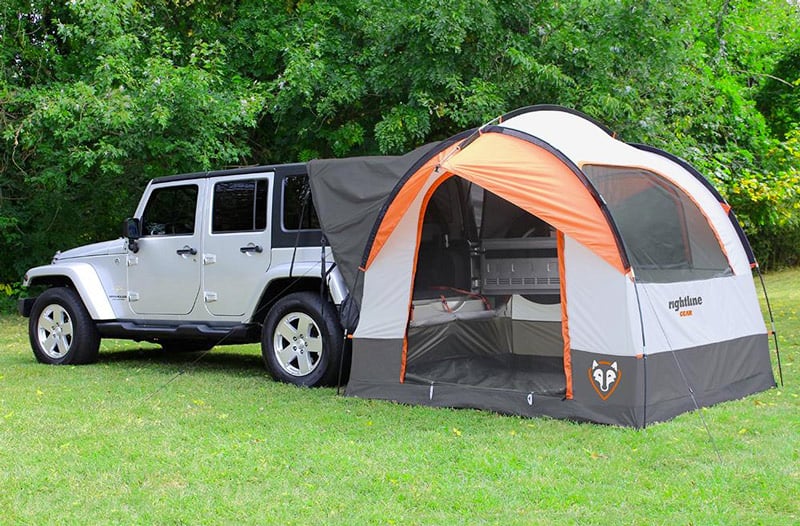 Why Use A Hatchback Tent?
Hatchback tents attach to the back of your Jeep, Minivan or SUV using restraining straps fastened to the wheel wells and an elastic band around the back of the vehicle. You can think of them as an extension to your vehicle's trunk space.
Many SUV tents are designed to work as either a standalone unit or a trunk tent. These types of tents are perfect for overlanding, camping on rocky and uneven terrain, or family camping trips where you may need a little more space. There are a lot of benefits that an SUV tent features over a traditional camping tent. Here are some of the main reasons people use them: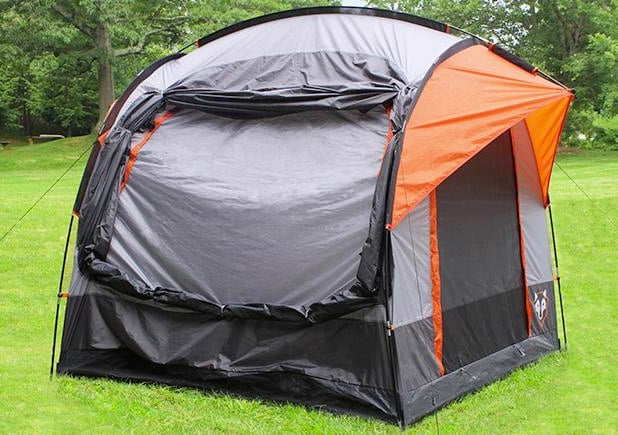 Double your floor space: With a hatchback tent you have the option of sleeping in the trunk of your vehicle or on the ground. You can get a larger tent with less material because the trunk will be used as an expansion. This is especially useful if you need more sleeping space for a larger group of people.
Comfort: You can choose to either sleep in the trunk of your car, or on the ground directly outside it. The trunk will keep you warmer because you're off the ground, and you won't have to worry about rocks and uneven terrain ruining your sleep.
Weatherproof: Wind and rain will be substantially blocked compared to a standard tent. That makes them the optimal choice in nearly any type of weather. In the summer when cars get hot, you have the option of moving to the ground floor to sleep. SUV tents have mesh doors and windows that can provide plenty of ventilation.
Gear is easily accessible: Because the inside is so much larger than a standard tent, you can keep your gear next to you at all times. If a portable refrigerator is plugged into your trunk, you'll be able to access it right from within the tent. Overall that means you'll have a quicker set up because you won't have to pull all of the gear out of your trunk when you get ready for the night.
Standalone shelters: One thing you may not have considered is that many jeep tents can also work as standalone tents if you happen to bring a different vehicle on your trip. That means unlike truck tents, you can use these hatchback tents for more than just car camping. This dual-purpose really helps to justify the price if you're not sure how long you'll continue to own your current vehicle.
What To Look For In An SUV Tent
SUV tents come in a variety of sizes, styles, and colors. Choosing the best one is highly subjective, as it depends on your needs, lifestyle, and family size. With so many different kinds to choose from, it's easy to feel overwhelmed. Below we've listed a few features to look for that will help you to make a more educated decision on which SUV tent is best for you.
Size
We no longer live in the age of the Model-T. Modern vehicles range dramatically in size, shape, and style. Luckily, car tents are designed to reflect this variation. While the initial sizing depends on the type of vehicle that you own; hatchback tent manufacturers strive to fit the widest range of vehicles possible. Most tents are highly adjustable and can fit snugly over sedans, SUVs, minivans and jeeps.
You should always take a look at the specific sizing requirements before purchase; but chances are good that you will be able to find a tent that fits your car.
As with traditional tents, SUV tents will list a maximum capacity. Occupancy is specified by how many people can fit in the trunk (2), plus how many people can fit in the tent portion. Most tents are designed to accommodate between two and six campers. Of course, there are plenty of exceptions to this standard. For example, some tents merely act as mesh screen doors between the interior of your car and the great outdoors. Others are expandable tunnels with plenty of space and even individual rooms.
Ultimately, the size of your ideal SUV tent depends on the free space in your vehicle, and the size of your party. If you're caught between two differently-sized tents that both fit your car well, consider choosing the shelter that provides the most space. This can help lessen any claustrophobic sensations, as well as give you plenty of room in which to move around.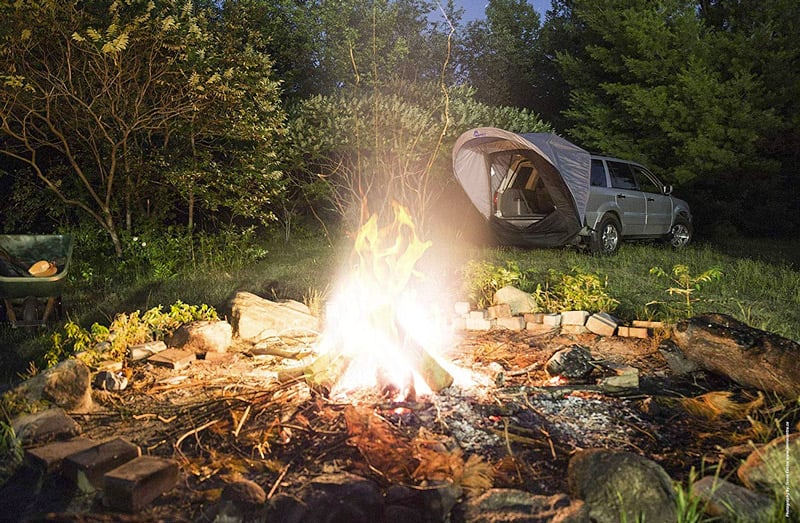 Materials
Like all outdoor gear, you want materials that will stand the test of time and use. Flimsy plastic poles or sheeting can result in drafty, uncomfortable camping at best. At worst, these inferior fabrics can cause water damage in the interior of your vehicle.
Polyester and nylon blends tend to fare well after many uses, and most tents come with thicker bases to ward off possible rips and tears. These fabrics are lightweight and easy to clean, as well as being waterproof. Large elastic bands generally do a great job of sealing off the back of your car against the elements. But if you're looking for even more protection, you can add some heavy duty magnets between the transition material and your car to get an even tighter seal.
As far as frameworks go: fiberglass, steel, or aluminum are all good materials to look for. Fiberglass is the most inexpensive solution, and it doesn't rust, making it a great choice for any camper.
Ventilation
If you've ever been inside of a vehicle without air conditioning or functioning windows, you understand how important ventilation is. Not only does ventilation allow areas to cool down during hot days, but it also provides the necessary influx of clean air to keep you alive. Though most cars are not entirely airtight, carbon monoxide can build up over time, causing breathing difficulties among other symptoms.
One of the most significant aspects of an SUV tent is its ability to safely and conveniently refresh the stale air in your car. Mesh ventilation windows keep pesky insects out while allowing cold, clean air inside. The most affordable car tents are simple, meshed windows that attach to the open trunk of your vehicle. They don't provide additional living space, but they do let the fresh air permeate your car while also keeping the bugs out.
When choosing an SUV tent, we recommend picking one with multiple doors and windows to provide plenty of ventilation. It will not only help regulate the temperature of your camping site, but also provide a breeze and keep your car free from carbon monoxide.
Waterproof
As we mentioned previously, most car tents are waterproof. The amount of waterproofing varies from tent to tent, and a small selection is not waterproof. If you're concerned about the impact that excess moisture might have on the interior of your vehicle, get an SUV camping tent with a high waterproof rating.
The higher the number, the more water pressure it takes to penetrate the fabric. During surprise thunderstorms or inclement weather, it's also possible to seal off your tent from your vehicle, lessening the amount of moisture build-up. However, choosing a tent with a high waterproof rating should eliminate the need to ever do this.
Also, be sure to choose a tent with an included rainfly that covers the entire shelter. Though many tents feature a rainfly, not all of them cover the whole roof of the housing, leading to leaks to pooling.
SUV Tent Accessories
Accessories are not necessary with an SUV tent. But there are two items that will make you feel even more comfortable during your camping trip:
Heavy duty magnets: can help to really seal off your car from the elements. Use these to pin down the tent fabric around your trunk. They are especially useful in smaller vehicles.
SUV air mattress: if you're going to sleep in your trunk, you might as well make it as comfortable as possible. Blow up air mattresses are the best way to make yourself feel as if you're sleeping in your own home even when you're boondocking.
The Best SUV Tents Reviewed
Now you know which features to look for in an SUV tent, we'll give you some of our top picks in each category. We've chosen these tents based on user reviews, rugged materials, and affordability.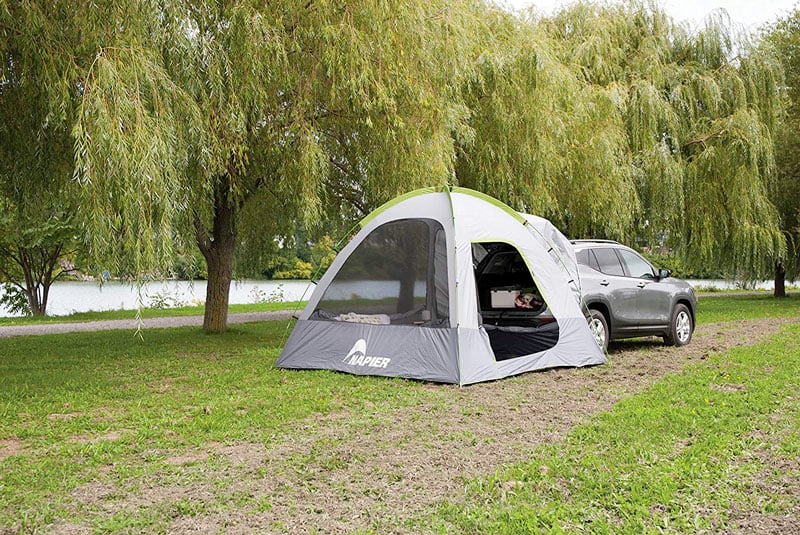 TOP CHOICE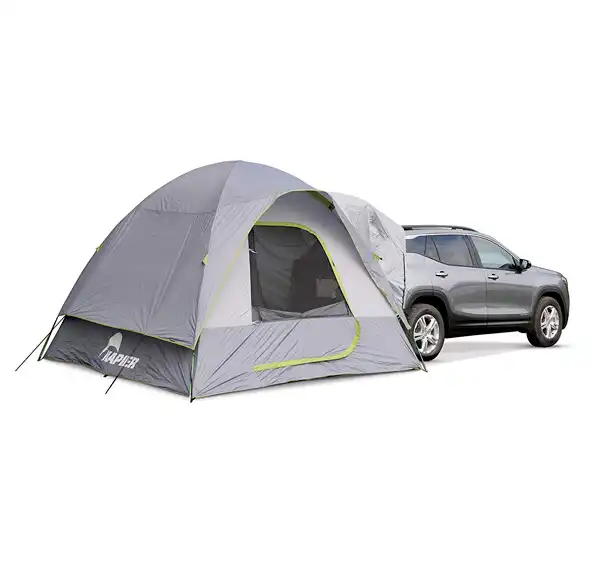 If you're looking to get the best bang for your buck, it's difficult to do much better than Backroadz SUV Tent. With a sleeping capacity of five, a maximum headroom height of seven feet, and three large mesh windows for ventilation, there is plenty of space to move around.
Though this tent doesn't have separate rooms, it does have lots of storage options including a lantern holder and gear pocket. Gear pockets are somewhat rare in car tents, as manufacturers assume that you will use the floor of your car to store most of your gear and supplies. A universal sleeve ensures maximum compatibility, though the fit varies from extremely snug to somewhat loose, depending on your vehicle.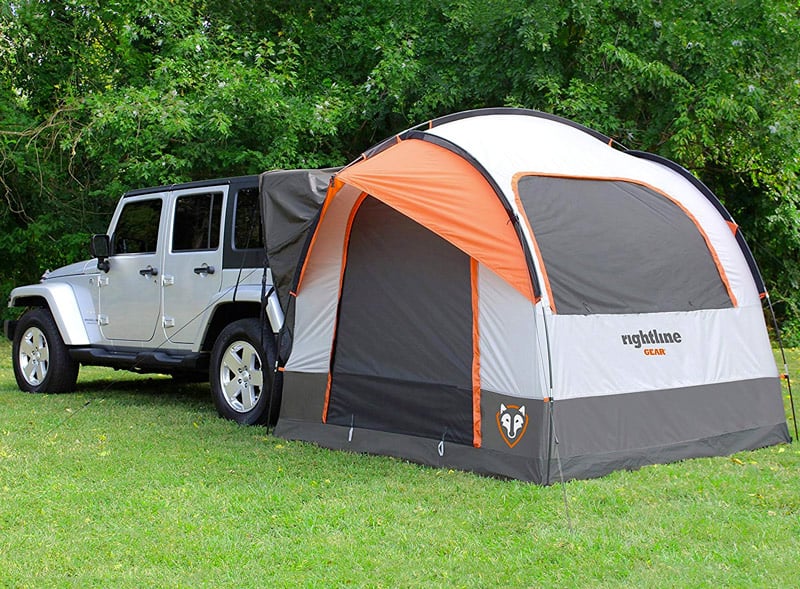 MOST WATERPROOF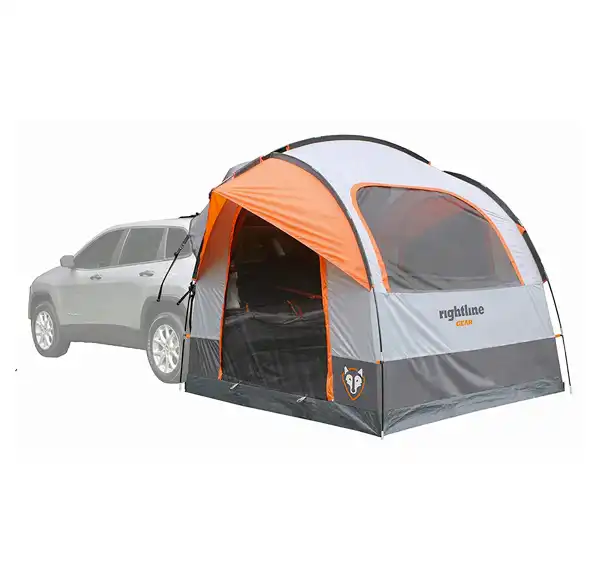 For the best protection against rain, we recommend taking a look at the Rightline Gear SUV Tent. With a sleeping a maximum of just four adults this tent is not incredibly expansive. But it it more than makes up for the space with a waterproof rating of 2000mm; which is far higher than a standard shelter. The tent is designed to secure tightly to your vehicle and encourages rain to slide away from both the car and the tent canvas.
A bathtub base protects against mud, puddles, and some flooding. All of the seams are also tape sealed to help keep you and your gear as dry as possible. This tent also includes a one-year warranty which provides extra assurance, in case you ever have any leaks or issues.
How To Set Up The Rightline Gear SUV Tent: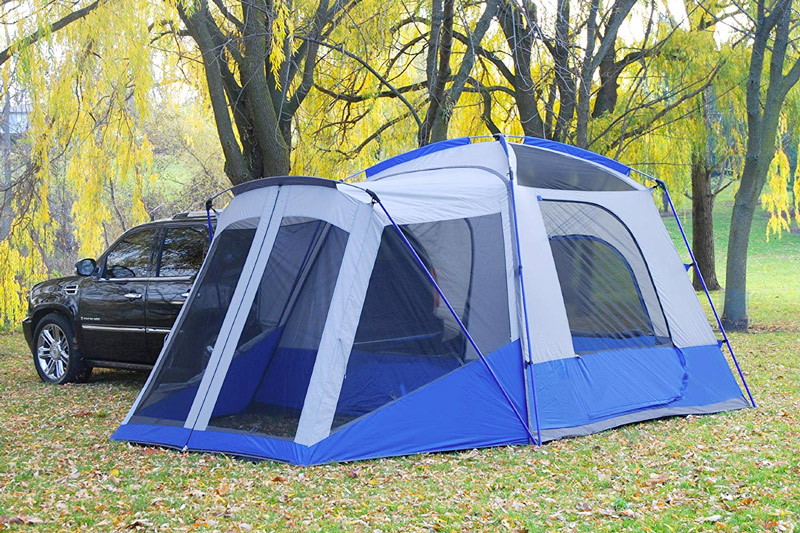 BEST FOR FAMILIES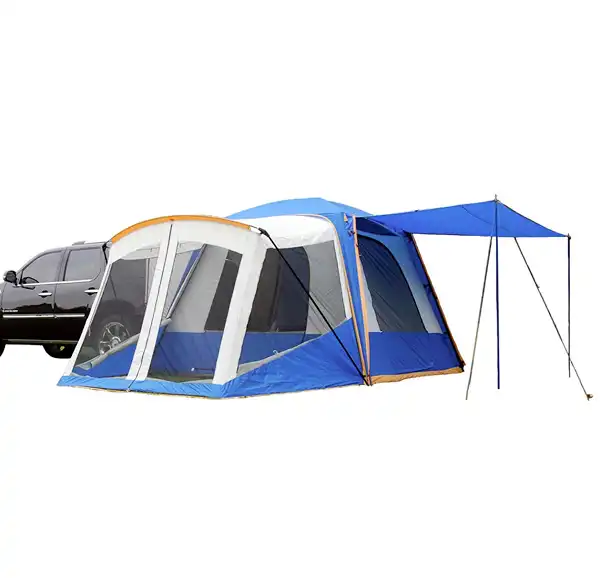 No matter the size of your family, it's vital that everyone has their own space. When you're traveling and camping in your vehicle, personal space can be hard to come by.
The Napier Outdoors Sportz 5-Person SUV Tent provides the most space for you and your family. There are two distinct areas within the tent, making it easy to assign the kids to one side, and the adults to the other. If this expansive car tent isn't quite enough on its own, you can also utilize the cargo space in your vehicle while the tent is attached.
We like that this large tent can provide enough room for everyone to escape the rain or eat indoors when the bugs start to swarm. Like the Rightline Gear and Backroadz tents, this shelter can be used as a standalone unit as well as an attached SUV tent.
If you like to go camping with a lot of gear, this is the tent to consider.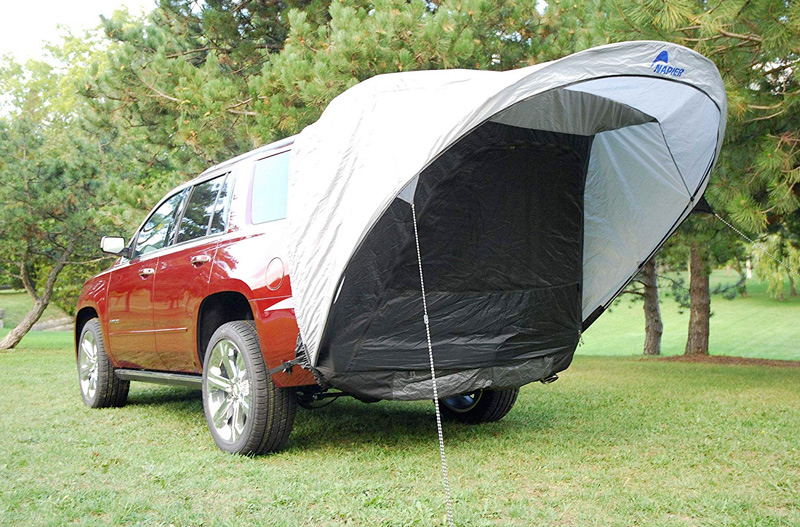 MOST AFFORDABLE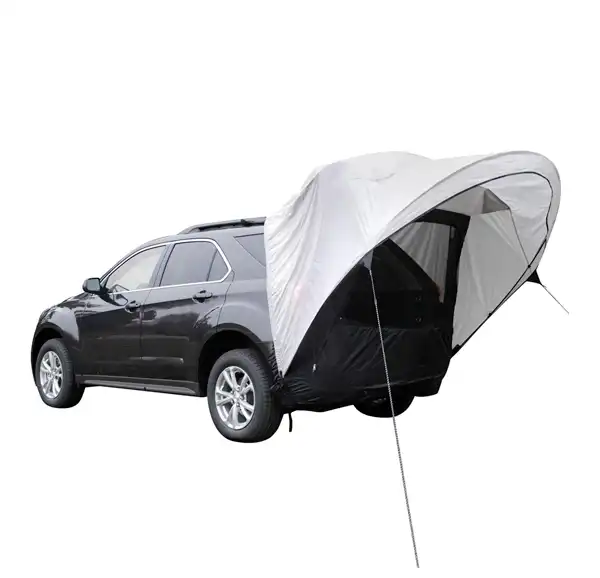 Car tents aren't exactly cheap. But they don't have to cost hundreds of dollars. If you're on a tight budget, but eager to try out camping in your car, consider the Napier Sportz Cove SUV/Minivan tent. This tent primarily functions as an awning. It's great for tailgating, picnics, blocking the sun and rain; but provides absolutely no additional living space on the ground.
It will provide plenty of ventilation to your vehicle and keep the bugs away while sleeping soundly in your trunk. Also, the canopy is highly reminiscent of the Conestoga wagons made so famous during pioneer times. Any history buff will be proud to own this car tent.
Final Thoughts
With so many SUV camping tents to choose from, it can be difficult to settle on the right one. But your preferences, family size, and primary concerns can help you narrow down your options.
In our opinion, Backroadz SUV tent is the best value, particularly if you're new to SUV camping. If you want to give car camping a shot but you're on a budget, the Napier Sportz Cove is the best bang for your buck. The Rightline Gear SUV tent will be the best for rainy days, and the Napier Sportz 5-Person SUV tent is an excellent choice for family camping or traveling with a lot of gear.