Best Instant Pop Up Tents For Family Camping (Review)
By
on
This post may contain affiliate links. As an Amazon Associate, I earn from qualifying purchases. Please read my full disclosure.
Camping can be complicated. You need to get to your destination, pack proper clothing, food, water, and supplies. If you're hiking to a primitive campsite, this list of items becomes even more complex; and you're required to carry everything your back. Typically, the most substantial and cumbersome thing is your tent.
Instant pop up tents can make campground set up easier. They are lightweight and self-constructing; ready for use within seconds of deployment. This makes them ideal for families and tired hikers that have more things to worry about than constructing a tent.
If you're looking for a way to save time and energy but still want the full camping experience, consider purchasing a pop up tent. In this article we're going to go cover features to look for in an instant tent, what to avoid, and give recommendations on our favorite pop up camping tents.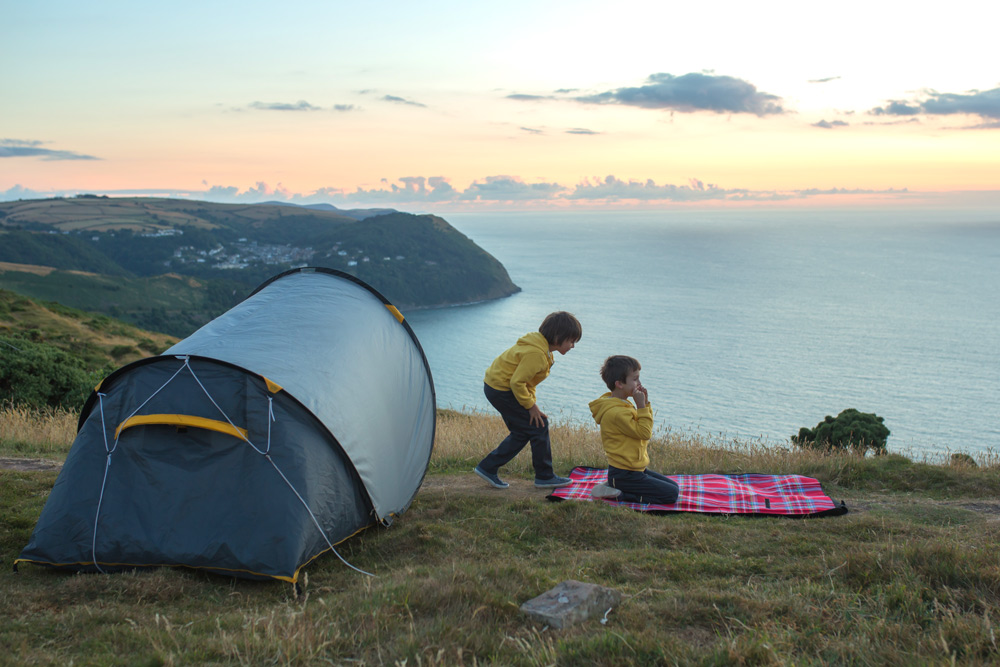 What Is A Pop Up Tent?
A pop up tent, also known as an instant tent, is a tent that requires minimal construction. You simply remove the tent from its bag, unstrap it, and the light metal poles 'pop' the fabric into place when you extend them. There are also hybrid pop up tents, which require a little work, but much less than your standard camping tent.
When you're done with your trip, instant tents fold down into their original bag. They can be 'cinched' shut. Which is why some people refer to them as cinch tents (there is also a brand called Cinch! which is another reason for the name).
Who Should Buy A Cinch Tent?
Campers spending the night in comfortable, summer weather
Large family camping trips when there is less time to set up a tent
Campers on a budget
Beach goers looking for sun and UV protection
Festival camping
Large tents can be used for backyard BBQs
Pop up tents are available in a wide range of sizes and are typically inexpensive. They are built to save you time and energy when you get to the campground. The design and easy set up makes them ideal for large families that need to get something up quickly. They are also great for first-time campers on a budget, or as cheap tents to use at festivals or on the beach for shade; just throw one in the back of your beach wagon.
You might also find they are a fun way to set up a backyard campsite for the kids.
Downsides To Pop Up Tents
While these tents are perfect for camping in the summer months and in ideal weather, there are a few downsides. Pop up tent fabrics tend to be thin. They are not as as rugged as other types of tents so it's not something you would want to bring along on a multi-day trek. The lightweight design can become in issue in windy weather. And while many pop up tents on the market use waterproof fabrics, leakage can still be a problem during strong storms; unless you invest in a rainfly and ground tarp.
Instant tents are really meant to be used as a one or two season tent rather than something to camp in year-round. But they are incredibly convenient and easy on your wallet.
Thin fabrics
Not incredibly rugged
Not designed for year-round use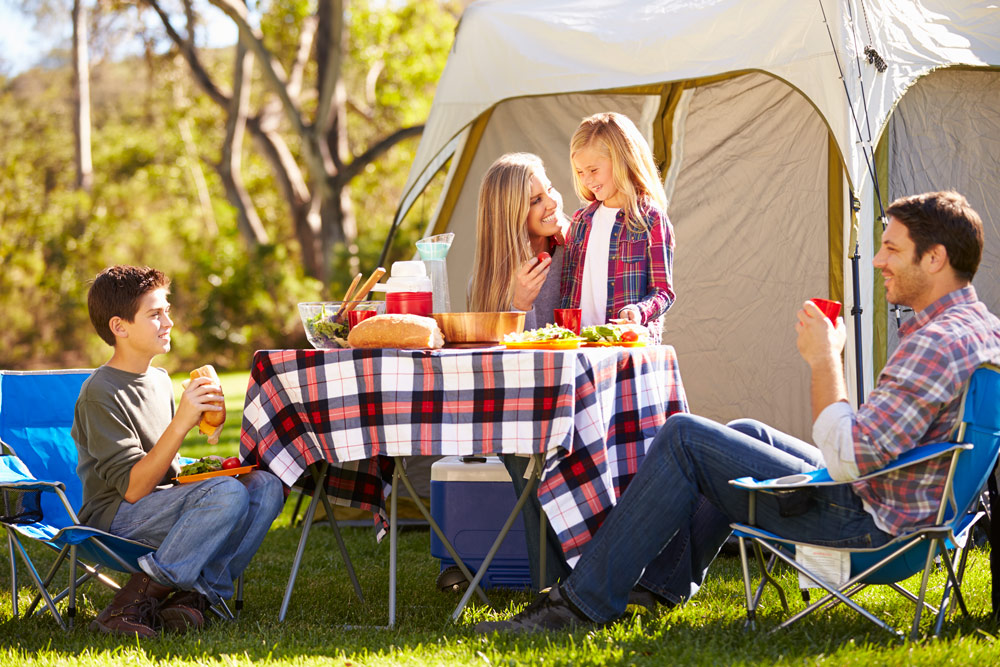 What To Look For In An Instant Tent
When seeking out the best pop up tent, there are several factors to consider. How many people do you plan to sleep in your tent? What type of weather or activity are you planning on using it for? Answering these questions can help you to narrow down your options and choose the most appropriate instant tent.
Size
There are pop up tents for individuals, and there are massive constructions capable of housing ten people. Larger tents tend to be heavier, as they incorporate more material. The size of your ideal tent is not only dependent on how many people you intend to take camping. It also depends on the amount of gear you want to have with you; and how much time you plan on spending inside your tent.
Keep in mind that most tents are rated for their max capacity of people sleeping–not for comfort.
A 4-person tent may fit four people sleeping side by side, but it's probably only going to be comfortable for three. Because pop up tents are so inexpensive, we recommend sizing up if you have the budget. You'll appreciate the extra space for your gear.
Shape
Most, though not all, pop up camping tents feature a square base and a dome-like ceiling. These tents typically sleep two to four people with ease. The dome-like sides and roof allow rain to wick off the tent without pooling at the top. This feature is critical when camping in wet areas, as the last thing you want is to take on water while seeking shelter.
The form of a pop up makes them feel a bit smaller and more compact inside than your traditional tent. Taller tents are naturally going to feel more spacious inside even with a smaller footprint.
Doors
Tents with multiple doors and windows are going to feel larger and more open. We recommend getting a tent with at least two doors unless you're camping solo. That will prevent you from having to step over your neighbor to use the portable toilet in the middle of the night.
Ventilation
Most instant tents are made of waterproof materials, and these types of fabrics don't tend to breathe. For that reason, you'll want to look for tents that have a lot of ventilation options. Mesh windows on the sides are easy to keep dry and open, even during wet weather.
If you're eyeing a tent with a mesh ceiling, make sure it includes a rainfly. Multiple areas of ventilation, with protective waterproof coverings, is the best way to go.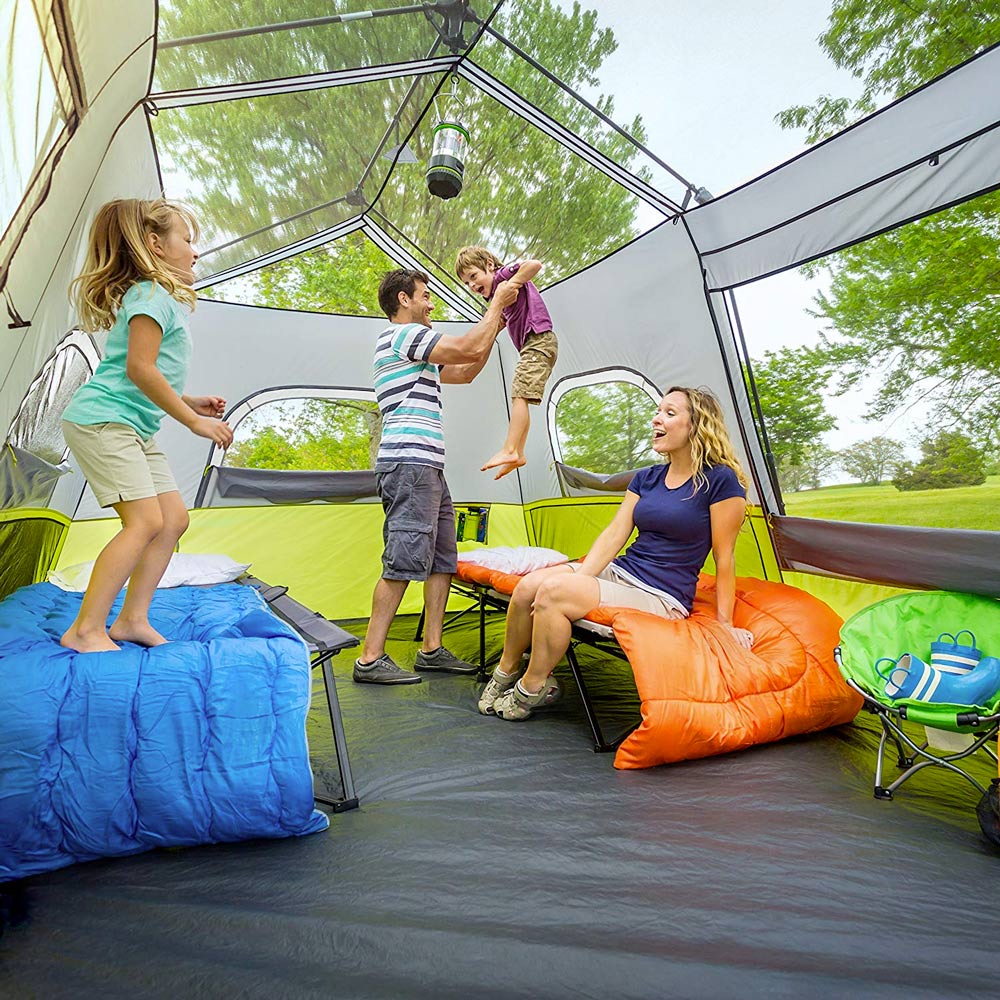 Weight
Pop up tents are notoriously lightweight. The average two-person instant tent weighs about five pounds. This low weight is excellent for hikers, as it alleviates a little burden from their pack. After a few miles of hiking, your shoulders and ankles will notice the difference. Unfortunately, this feature can become a problem in windy weather.
Because pop ups are so lightweight, it's important to stake down your tent after set up. Most pop up tents include staking loops. Stakes will make it far less likely that your tent will fly away while you step outside.
Waterproofing
As we mentioned before, pop up tents are usually waterproof. Unlike canvas tents which collect water over time, the synthetic material used in pop up tents repels moisture. However, the fabric is thin; allowing condensation to form when the temperature changes.
Checking the zippers and seams of your tent is key to keeping things dry. When camping with a pop up tent, it's essential to set up in a dry area. If this isn't possible, keep a square of plastic tarp with you. You can place this tarp on the floor of your tent to help keep the moisture at bay.
On sunny days, the thin fabric of a cinch tent is often preferred over some of the heavier more traditional tents.
Materials
The self-erecting frame of most pop up tents tends to be fiberglass poles. They are inexpensive to manufacture and easy to use. The fabric can vary greatly, though synthetic blends tend to be the most popular choice. The best pop up tents feature thin nylon and polyester. The base of a pop tent is made of stronger materials, because it will come in direct contact with sticks, rocks, mud, and other hazards.
Maintenance
Many instant tents, when purchased new, include warranties. These warranties last anywhere from a year to several years, depending on the specific model and manufacturer. Though a warranty can grant you some peace of mind, the best way to make your tent last is to maintain it. Unlike maintaining a car, it's actually straightforward to keep a tent in good condition.
Before packing the tent away, especially into storage for several months, be sure that it is free of dirt, debris, or moisture. Packing away a wet or dirty tent can lead to mold, which renders your brand-new canvas completely unusable.
How To Fold A Pop Up Tent
One of the most frequently asked questions about pop up tents, is how to fold them when it comes time to take down the campsite. Packing up the tent takes a bit of trial and error and will become easier over time. This is the most difficult process of an instant tent. Fortunately, there aren't too many steps to keep track of. This video by Cinch! shows how to pack up your instant tent no matter what shape it is:
Instant Tent Accessories
Pop up tents do nearly all of the work for you when it comes to set up. That said, because of the lightweight materials, tent stakes are essential. Similarly, if you want your tent to last for years, investing in a proper ground tarp will prevent the bottom of your tent from rips and tears.
The Best Pop Up Tents Reviewed
By now you should have a much better idea of what to look for in a pop up camping tent. Below you'll find some of our favorites for each type of camper. We've chosen these tents based on features, ease of use, and affordability.
MOST AFFORDABLE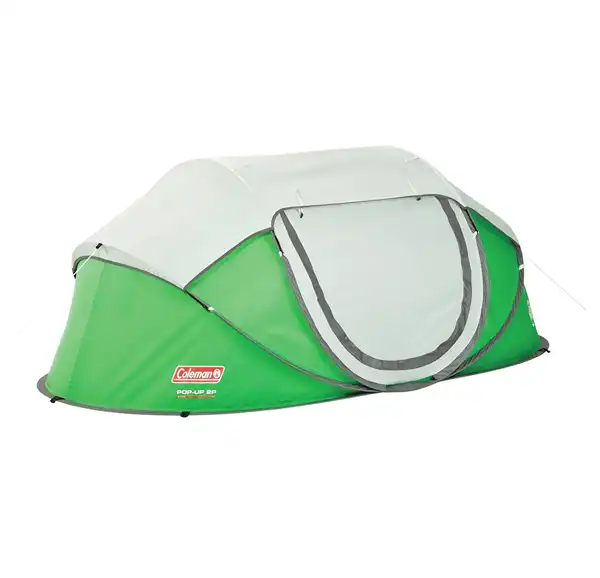 Coleman tents are known for being affordable and practical. The Coleman 2-Person Pop Up Tent is no exception. The entire shelter constructs itself in under ten seconds; and can be taken down in less than a minute. It has one large door in the front and two large mesh windows on the top which can be covered by a rain fly in poor weather.
The tent is low to the ground making it more wind-resistant than some of the others and and features an oval-like base. The biggest complaint we've seen about this tent is the floor fabric is a bit thin. For that reason you would want to pack a ground tarp as well if you're camping somewhere abrasive.
BEST FOR GROUPS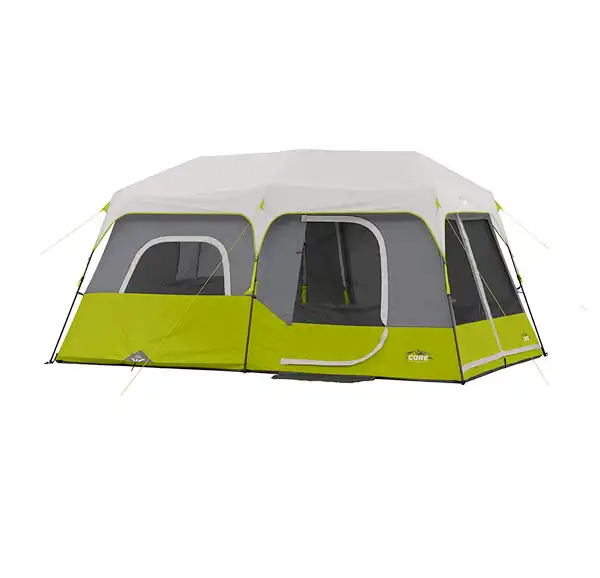 For barbecues, get-togethers, and group camping, you're going to need a large tent. With a sleeping capacity of up to nine people, the CORE 9-Person Instant Cabin Tent is our top choice. Even with its massive size, this tent sets up in only one minute.
Like all instant tents, the poles are pre-positioned so all you have to do is lay out the tent, extend the poles and stake it in the ground. The spacious tent can easily fit two queen sized camping mattresses inside and still leave extra space for activities.
This tent comes with a rainfly, but in perfect weather the mesh roof can be revealed providing ample amounts of light along with it's large windows and multiple doors.
Setting up the CORE 9-Person Instant Cabin Tent
BEST FOR COUPLES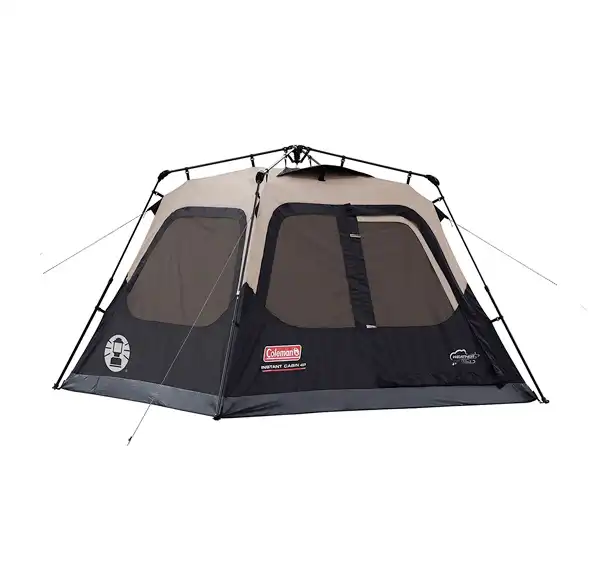 If you're looking for just enough space for you, your gear, and that special someone in your life, look no further than the Coleman Instant Cabin. With an official capacity of four persons, this tent has enough room for one queen-sized airbed and a few bags. This size is the perfect medium between a cramped 2-person tent and a too-spacious 6-person tent.
Like the others on this list, the tent has a quick set up, vented rainfly and is designed with weatherproof fabrics. The biggest benefit to the Coleman Instant tent is the fact that is has such a tall interior height compared to its footprint–4 feet, 11 inches. That makes the tent feel much more spacious inside compared to some of the others.
BEST FOR HOT WEATHER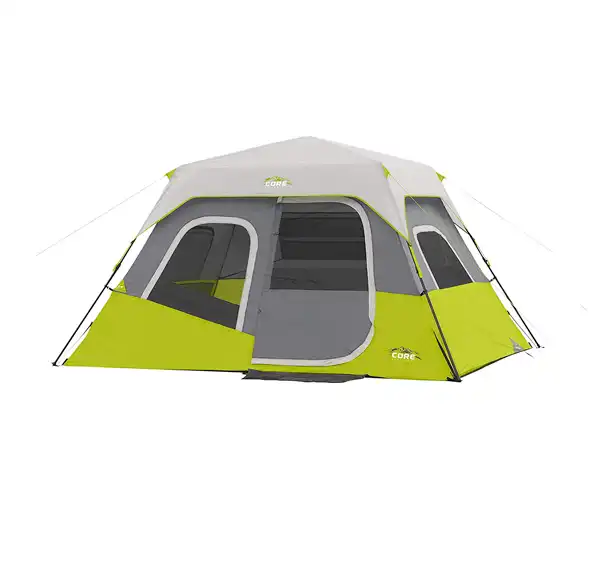 The CORE 6-Person Instant Cabin Tent shares many of the same qualities as the CORE 9-person structure; but its smaller size makes it more camping friendly. This summer-friendly tent was made to stay dry and cool, even on the most humid afternoons.
With a gear loft, storage pockets, and a lantern hook, you can keep your belongings off the ground. The best feature of the CORE tents are the multiple mesh windows and doors. These tents have a high amount of ventilation, especially without the rainfly making them the perfect hot weather tent.
That's A Wrap!
Pop up tents may come in all sorts of shapes, sizes, and styles, but one thing rings true of them all. They are incredibly easy to set up. Many of these tents weigh less than ten pounds, making them easy to transport. No matter what kind of camper you happen to be, or how many people you intend to camp with, a pop up tent is an easy and affordable solution to tent-pitching woes.
To recap our favorites, the Coleman Two-person tent is our favorite budget-friendly tent while the CORE 9-Person tent is best for family camping or larger groups. Want to stay cool and comfortable during hot weather? The CORE 6-Person Instant Cabin Tent is the best choice. Need some quality time with your significant other? Coleman's Instant Cabin is just for you.
We hope that we've helped guide you in the right direction. Good luck, and happy camping!
Continue Reading: